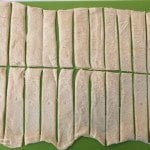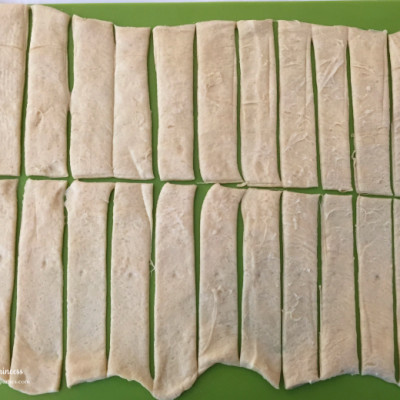 This recipe comes from my cousin, Heather, and is a family favorite. I love the flavors and think it's perfect for a Fall treat. For those on Weight Watchers Plus (2) apple bundles are 3 points (adjust up if you add a topping.)
3

green apples

1

package Pillsbury Crescent Roll Dough Sheet

1

orange

1.5

tbsp

butter

1/4

cup

granulated sugar

1/4

cup

brown sugar

2

tsp

ground cinnamon or pumpkin pie spice

Zest of 1/2 the orange

*salt to sprinkle over the top
Preheat oven at 375

Unroll the crescent roll sheet and cut into 24 strips.

Cut apples with an apple slicer. If you don't have an apple slicer cut apple into 8 wedges.

Wrap dough strip around apple wedge.

Place apple wedges in a greased oven safe dish, side by side in neat rows.

In a small bowl mix sugars, spice, and orange zest together.

Melt butter then brush wedges with melted butter and sprinkle sugar mix on top of wrapped apple wedges.

Squeeze juice from the orange into the dish so there is a thin layer of orange juice along the bottom. (I squeezed the orange right over the wedges and down the sides.)

Right before placing in the oven I sprinkled a little bit of salt on the wedges because I like a little salty taste and it brings out all the flavors.

Bake at 375 for 25-35 minutes.

Top with whipped cream or powdered sugar and sprinkle a bit of the sugar mix. Serve warm or cold.