Thank you to Evite for sponsoring this post. #BeThere #ad #PaidPost #PartyOnTheFly #LifesBetterTogether #Evite All opinions are completely my own.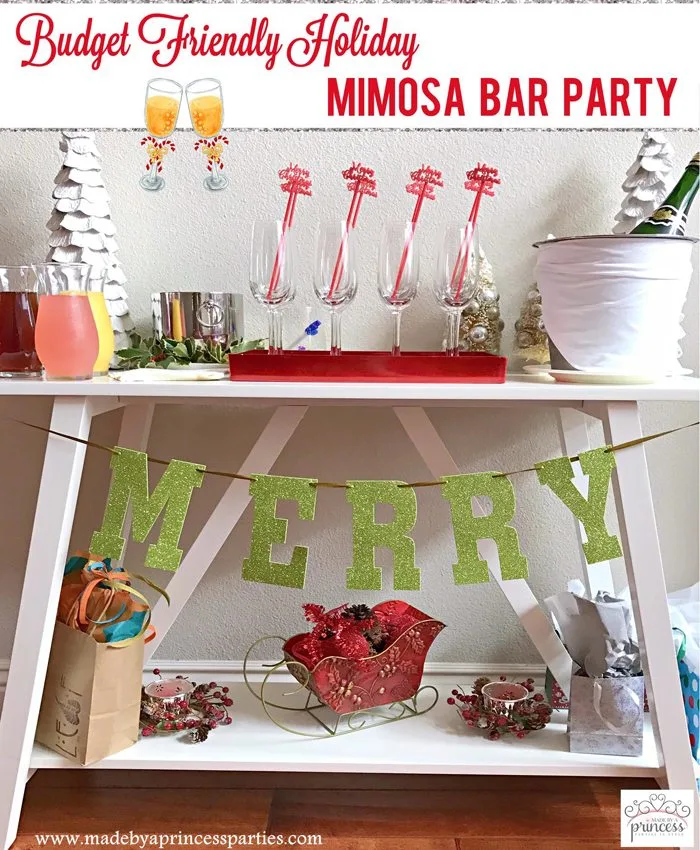 My love of parties and champagne really is no secret so when Evite challenged me to spend $100 or less on a holiday get together figuring out the theme was a piece of cake! I am going to show you how to throw together a Budget Friendly Holiday Mimosa Bar Party with some decorations you already have, some items from your own cupboards, and a budget of $100. Join me and 14 other party bloggers for this round of #PartyOnTheFly inspiration and ideas!
I know you probably think I'm crazy telling you can throw a party under a $100 but you really can do it if you are careful, creative, clever, coupon conscience, and crafty.
Let's start with the invitation. Evite makes it really easy to send out a pretty (and free) invite. If you are a procrastinator (like I was for this event) it is really the only way to go! I love their new Create Your Own option which allows you to upload a picture or graphic of your choice. I chose this gold and ivory design because it reminded me of champagne bubbles…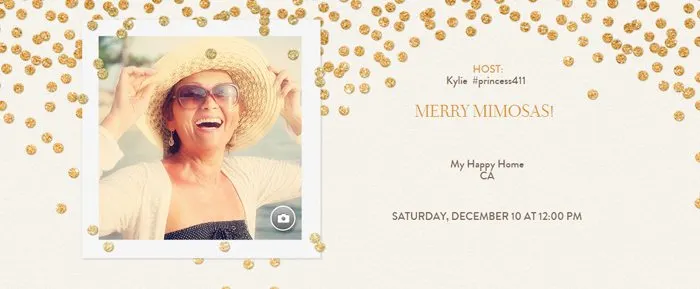 I created an image to go along with my party theme called, "Merry Mimosas" which I uploaded in just a couple of clicks…

You can download this graphic to use for your own parties as well if you like by clicking the image below then saving it to your desktop.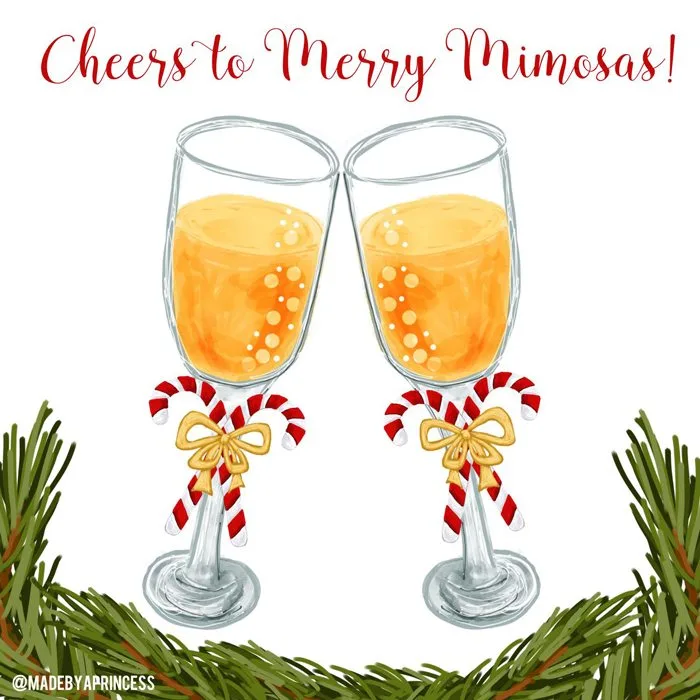 Once all the party details are in add your guests and send away! Now I'm going to tell you how I planned this party on a budget…
Tip #1 – Serve Appetizers
Serving a full blown meal can be very expensive so opt for finger foods and appetizers. You can always start with fruit, cheese, and crackers and build out from there. What I love about these foods is that they are crowd-pleasers, they fill the table nicely, they are not expensive, and there are so many different options…you really can't go wrong. Once you have chosen your fruits, cheeses, and crackers, you can then move on to you something savory. This can be a plate of salami, sausages, meatballs, sliders, or mini sandwiches. Sweets…this is probably my favorite one! Mini cupcakes, cookies, brownies, or fudge are all great finger food options. Walmart cupcakes are really inexpensive and can be ordered in any color you need. They will also do a swirl of two colors if you place your order ahead of time without extra charge. A dozen cupcakes at Walmart is less than $7.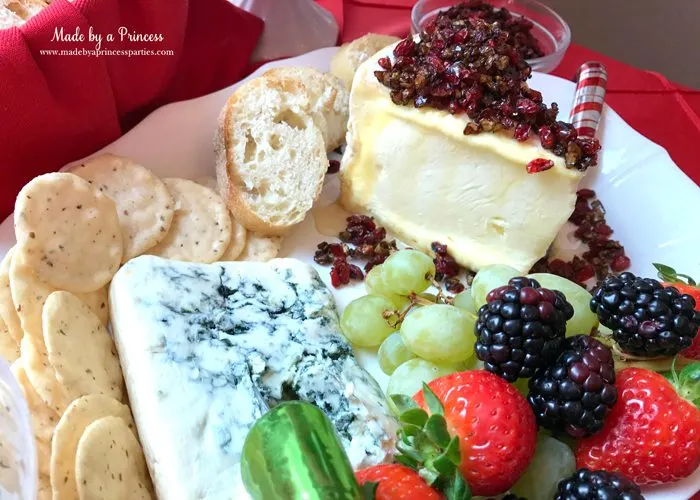 Tip #2 – Signature Drinks
Cut down on drink options and have one signature cocktail. Alcohol is expensive so if do plan on serving it create a custom themed drink which cuts down on the amount and types of different liquor you need to purchase. Also, if friends ask you what they can bring, a bottle of wine is always welcome!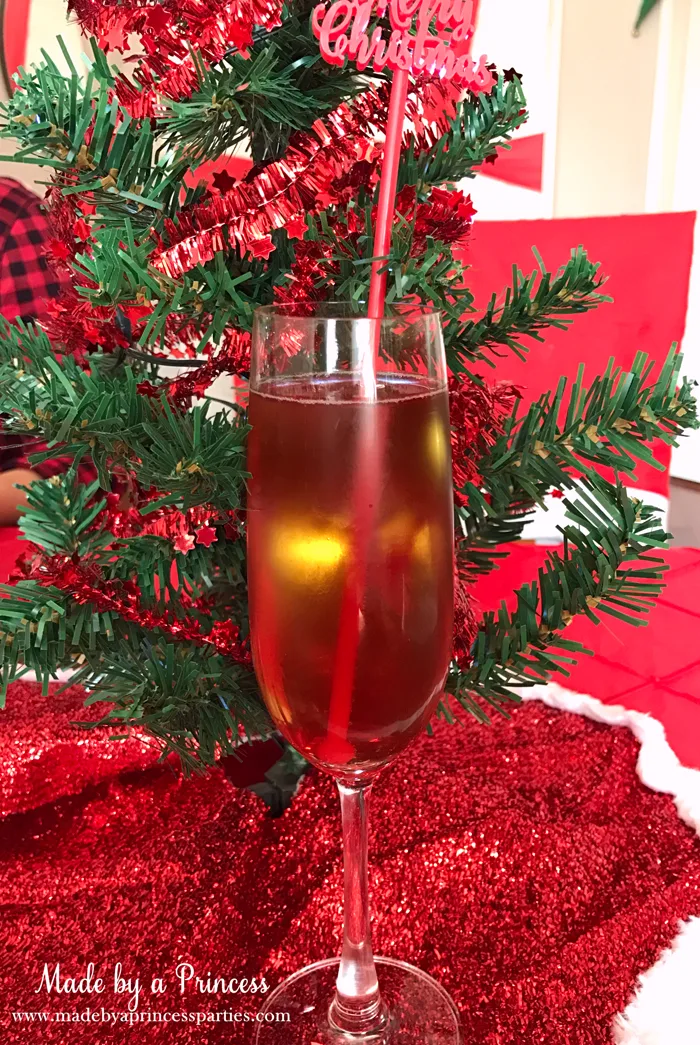 Tip #3 – Shop Your Cupboards & Refrigerator
You would probably be surprised to find what you already have in your cupboards and in your refrigerator. I didn't buy any new decorations for this party, other than fresh flowers. I went through all my Christmas boxes, all my decorating boxes, all my bags of goodies, and came up with everything I needed. As for the food, I found a box of gingerbread mix from Trader Joe's in my cupboard, some barberries in my refrigerator, crushed hazelnuts, honey, 1/2 box of Dark Chocolate Star Cookies that I had taken to a Christmas party last week, 1/2 box of Pfeffernusse cookies from that same party, and creme brulee fudge I made for a blog post.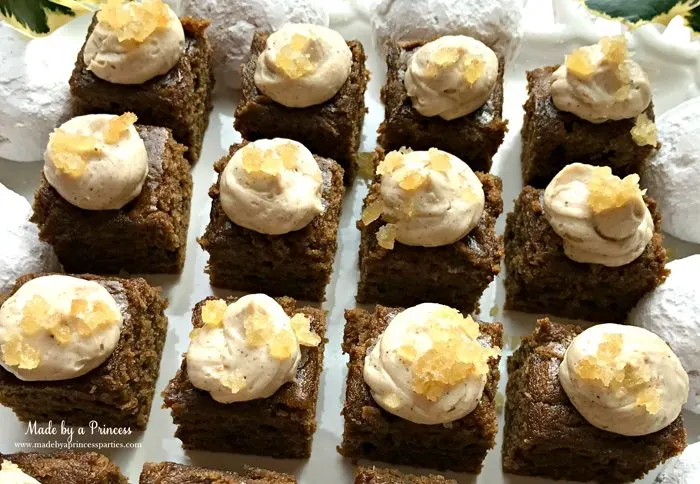 Tip #4 – Shop Your Local Dollar Store
I love the dollar store and find some great items there. Common items like glass vases, votives, glass plates, clear plastic cups, snacks, candles, and wine glasses can all be found at the dollar store. Whenever I have an event I head there first just to see what I can put together. When I planned my Marie Antoinette Favorite Things Party I found all of the blue wine glasses at the dollar store. No one could believe that is where I got them!
These are actually vases from the dollar store filled with pink lemonade, cranberry pomegranate juice, and orange juice.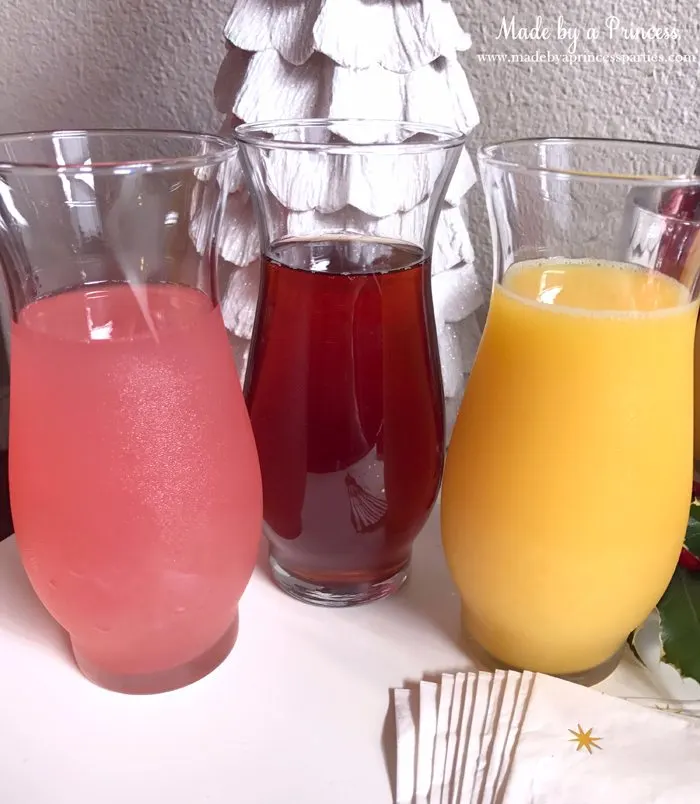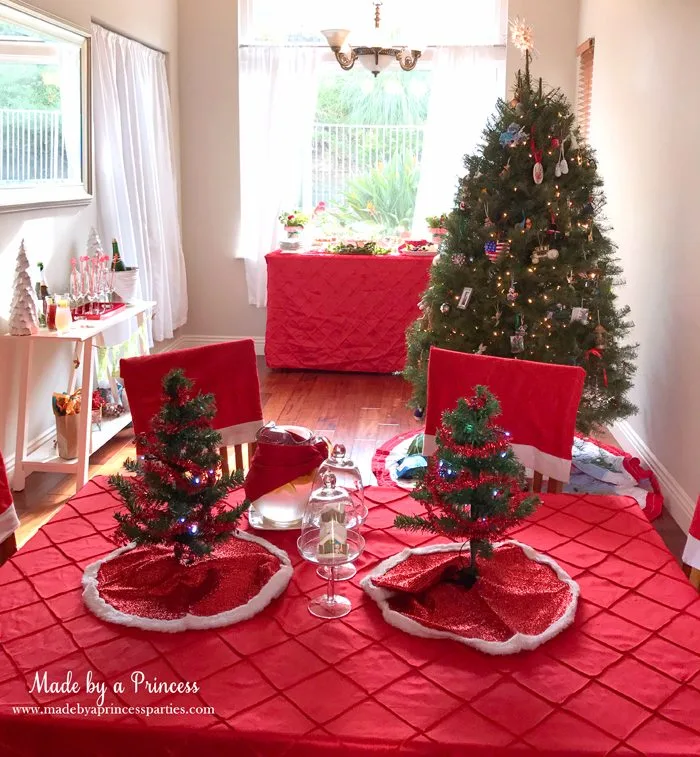 Last year Hallmark sent me this "Merry" glitter banner which went perfectly with my theme.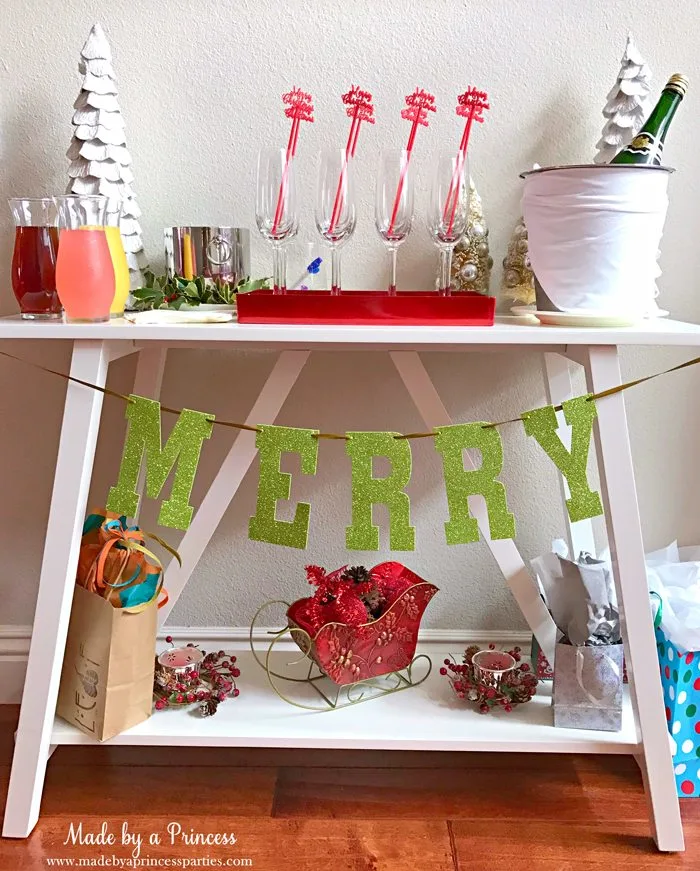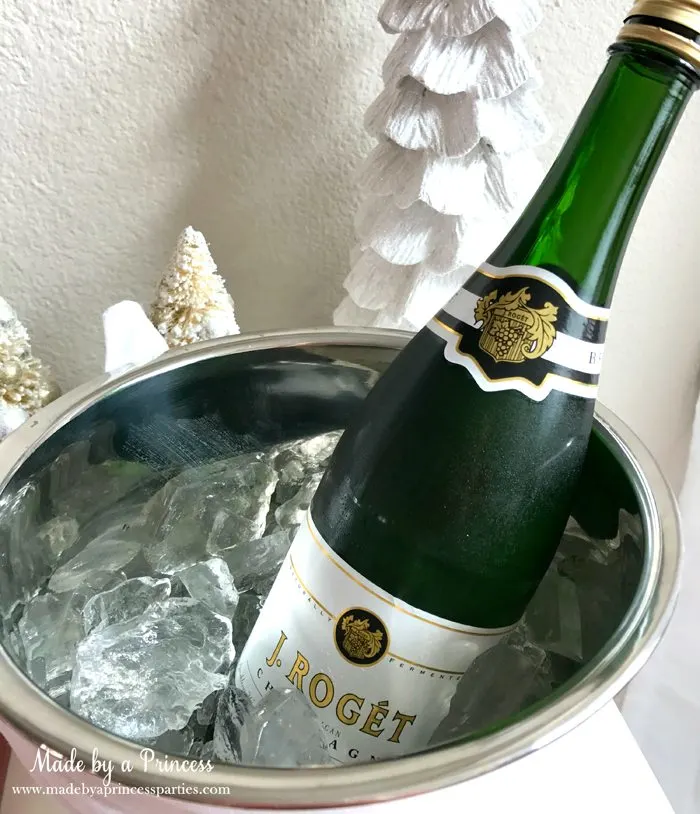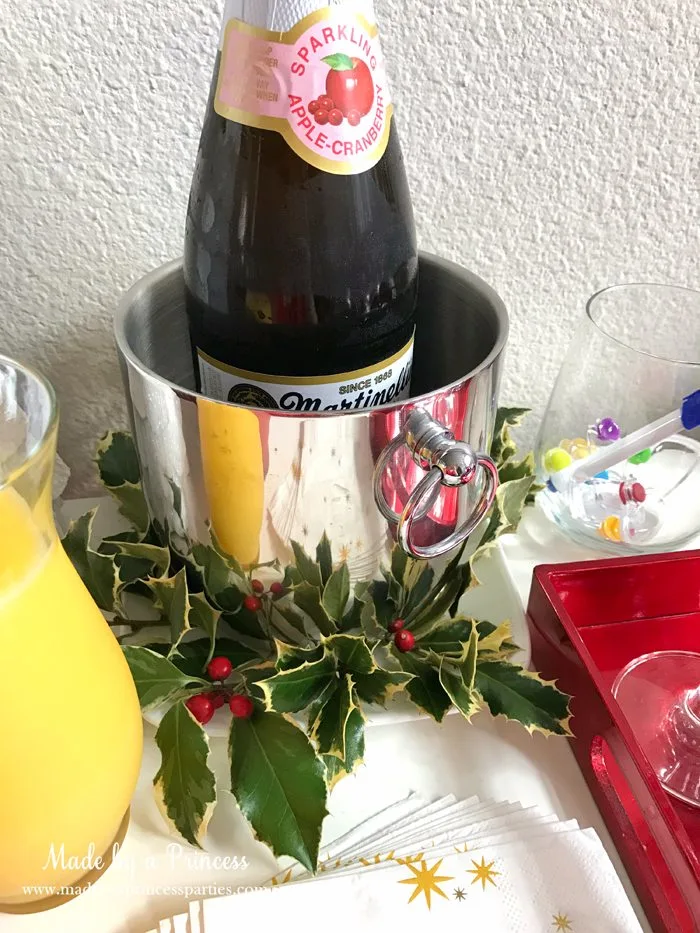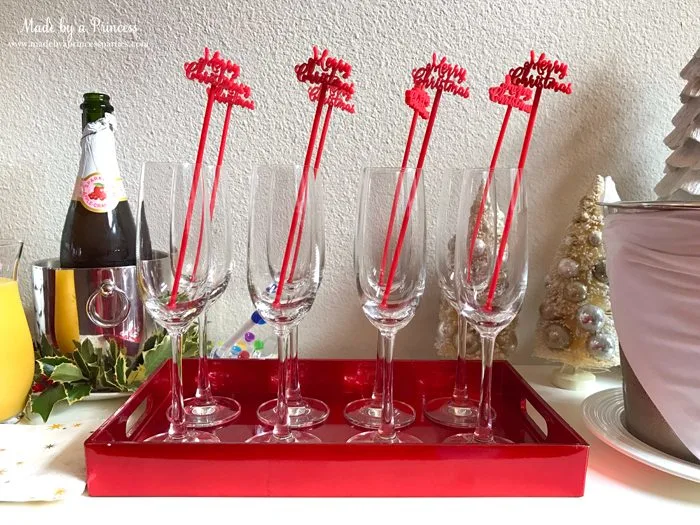 I purchased these drink stirrers at Target for $3 a few weeks ago. I didn't know what I was going to use them for at the time but I'm so glad I picked them up!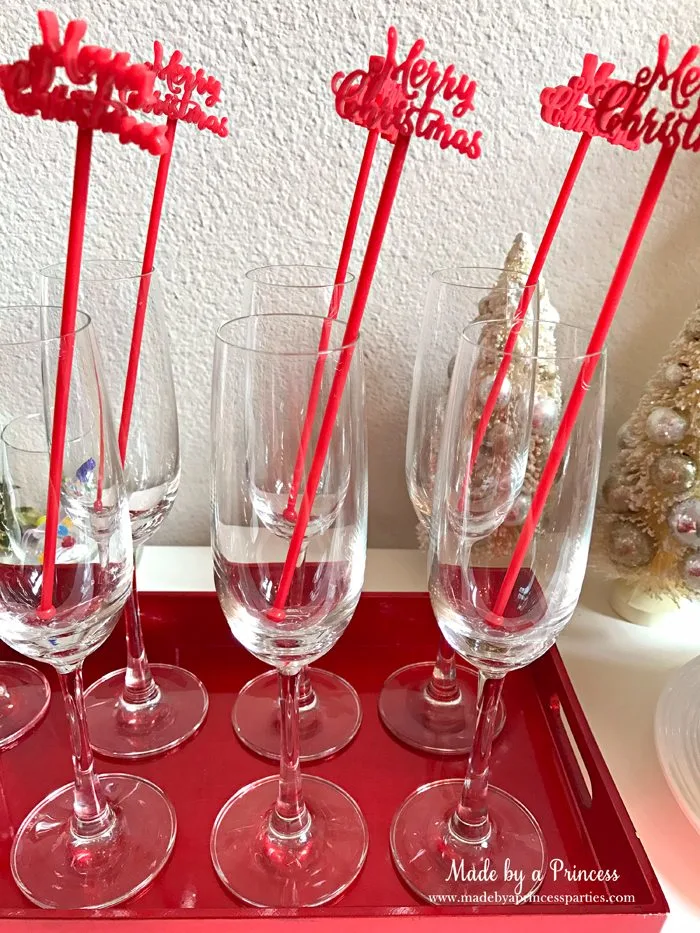 Here's that photobomber again!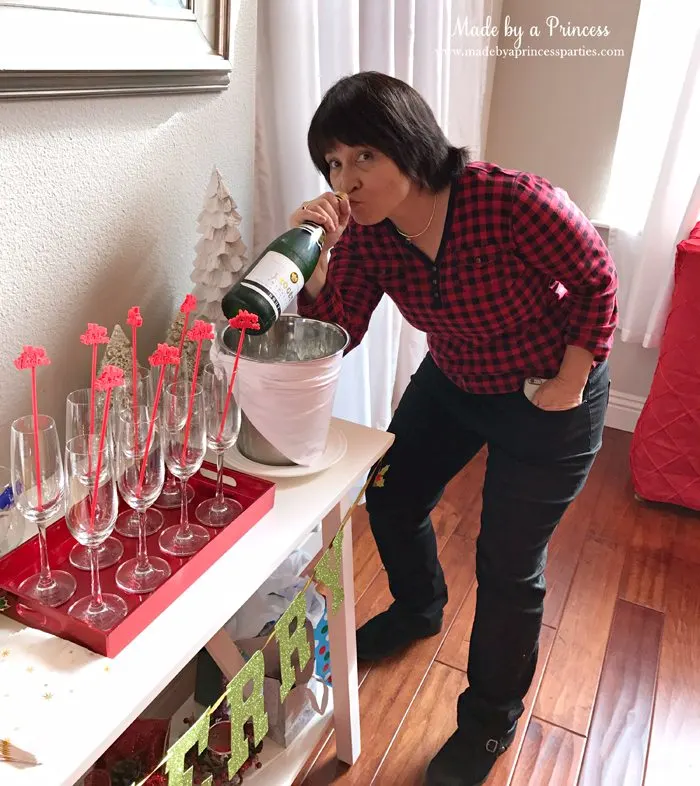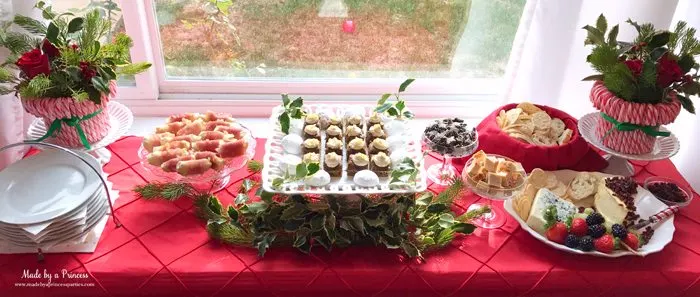 I purchased these beautiful flowers at my local wholesale floral market, Carlos Floral. The roses are actually for another photo shoot (I just borrowed them for this arrangement) and cost $20 for two dozen, the curly pine were $3.50 per bundle, and the holly was $10/lb.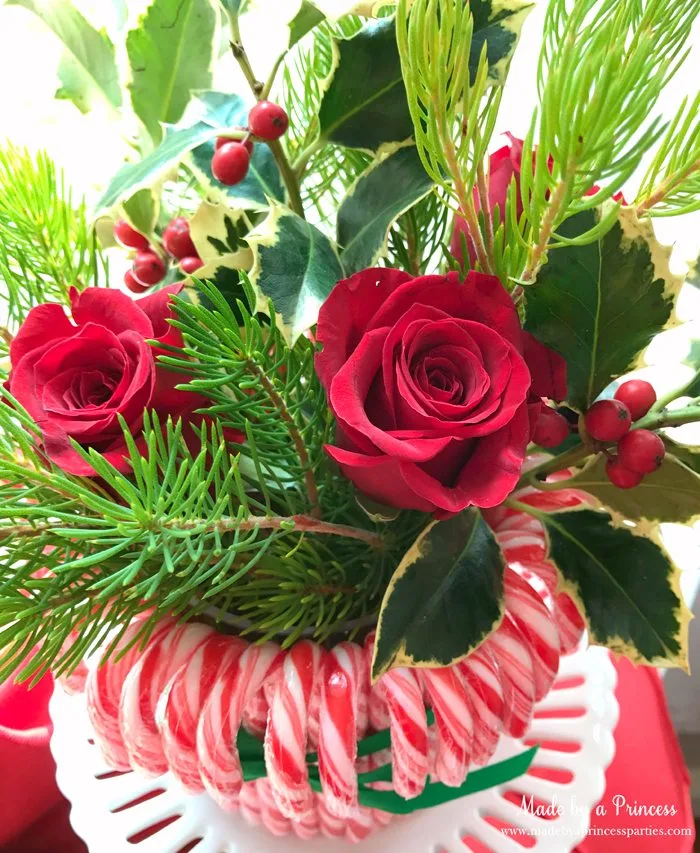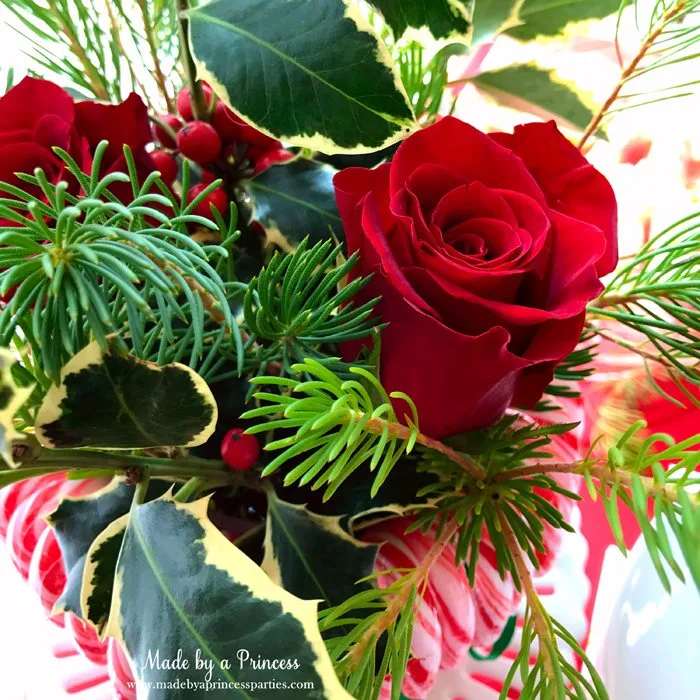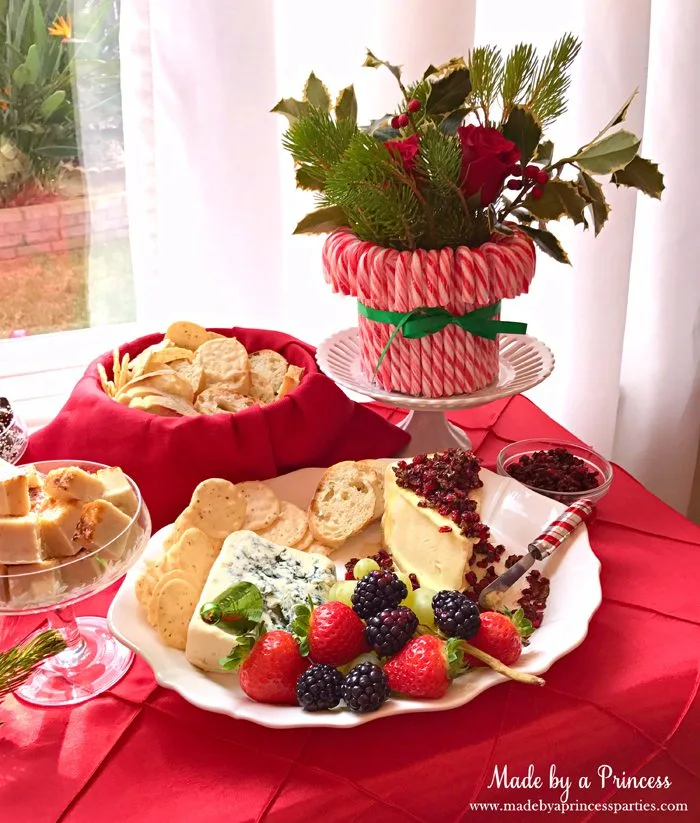 Since we were a small group I only served two types of cheeses. I have a great local store called Frazier Farms and they have the best selection of cheeses. The woman who is in charge of this section was so helpful. I told her how many people were coming, what else I was serving, and what I liked. These were perfect! I was hoping there would be something left over for later but every bit of cheese was gone.
Local stores are great resources. I love Frazier Farms because a) I like supporting my community; b) they have knowledgeable staff; c) have a high end but not high dollar selection of products I need and like; and d) you can get one on one help if you need it. If you live in or around Vista, CA or Oceanside, CA you should stop in and see what they've got. I think it will become of your go to spots too.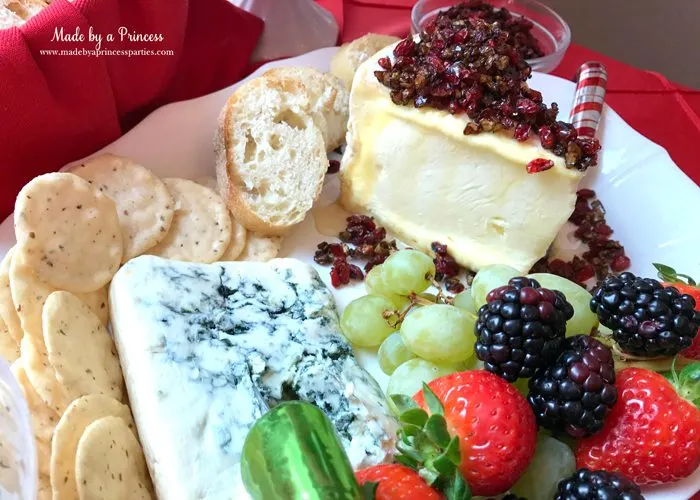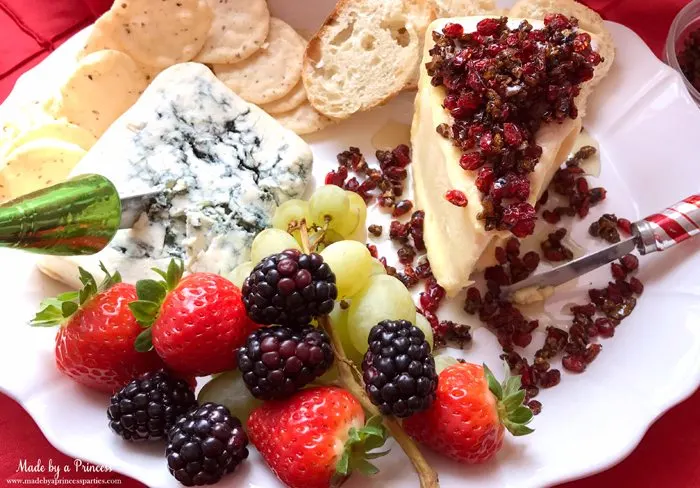 I had some barberries and chopped hazelnuts in the refrigerator so I blanched them in balsamic glaze, pour them over room temperature brie, and then drizzled honey all over it. The tart flavor of the barberries mixed with the sweet honey and creamy brie was wonderful!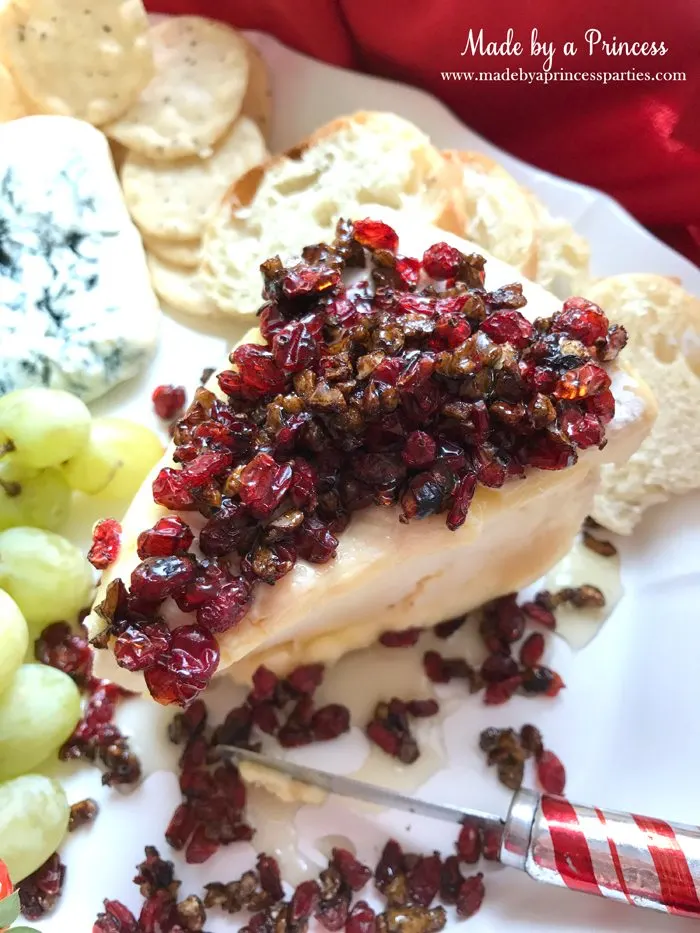 Prosciutto was a bit of a splurge at $5 a package but it is so good I couldn't pass it up. I used two types of pears and mascarpone cheese and wrapped prosciutto around the pear wedge, drizzled honey on it, then sprinkled sea salt and candied ginger on top. The candied ginger was another fun find from my cabinet.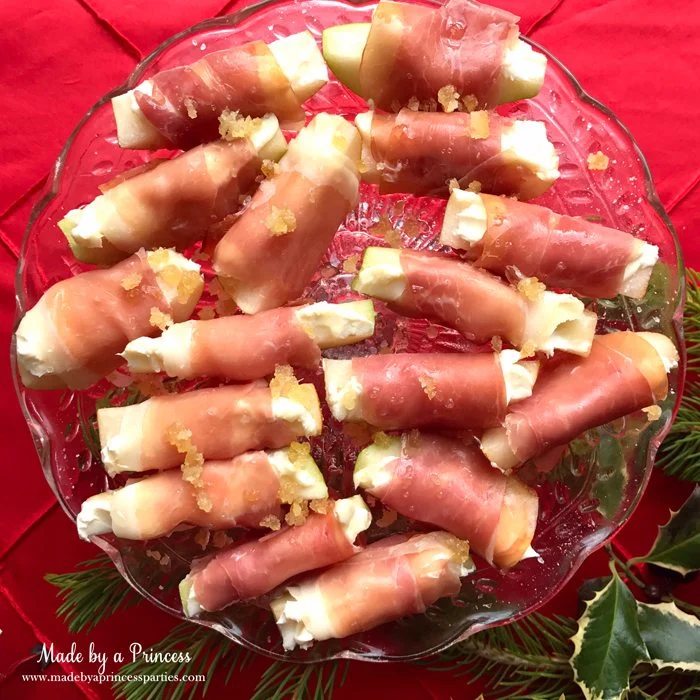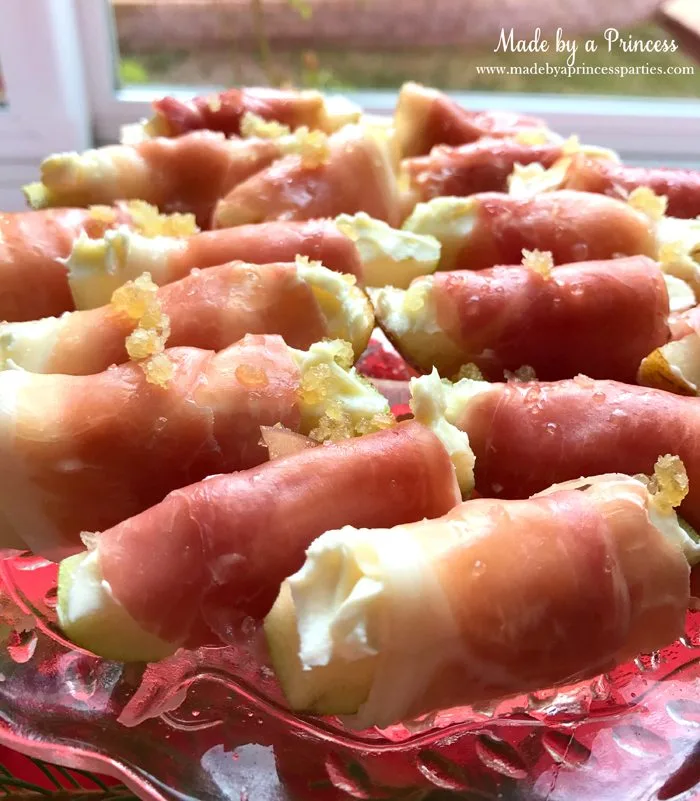 These little bites of gingerbread were big hits. It started as a mix from Trader Joe's but I added allspice, ground ginger, and candied ginger to the batter before I baked it. The frosting is made with cream cheese, brown sugar, ground ginger, salt, allspice, and vanilla extract. I had a bit of candied ginger left over so I sprinkled it on top. I will be making these again for sure.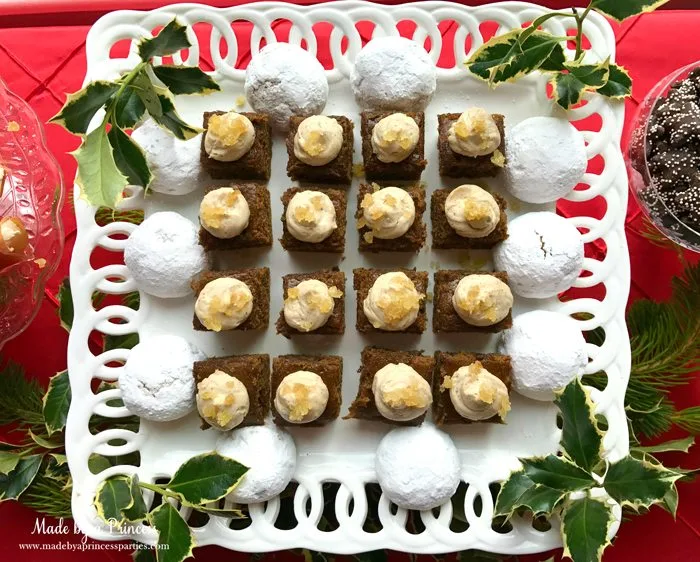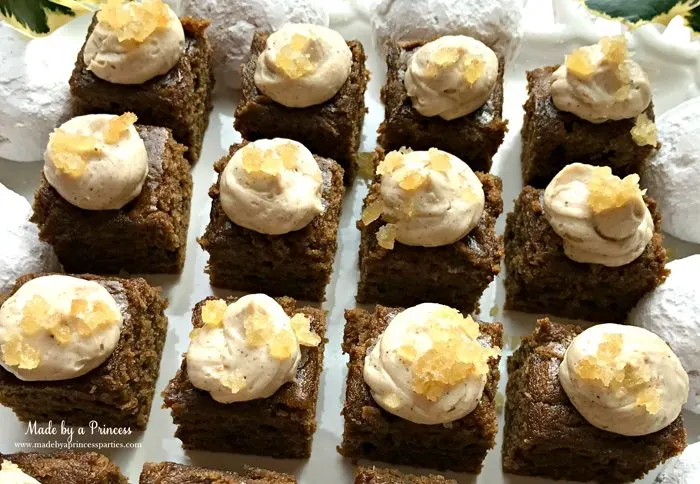 Dark Chocolate Star Cookies from Trader Joe's.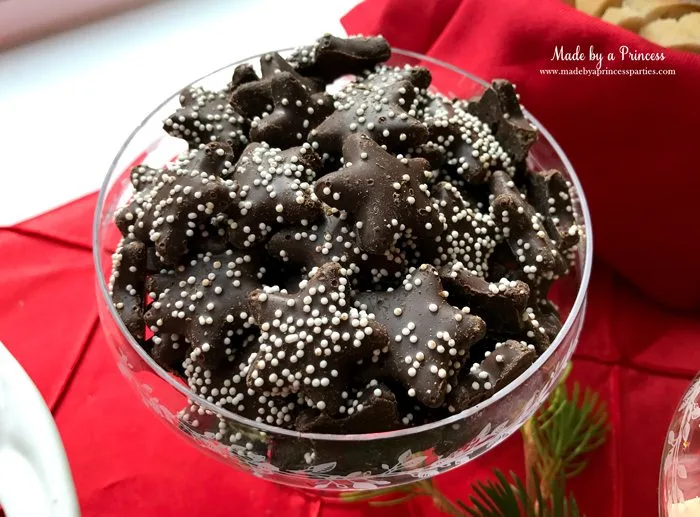 Homemade creme brulee fudge.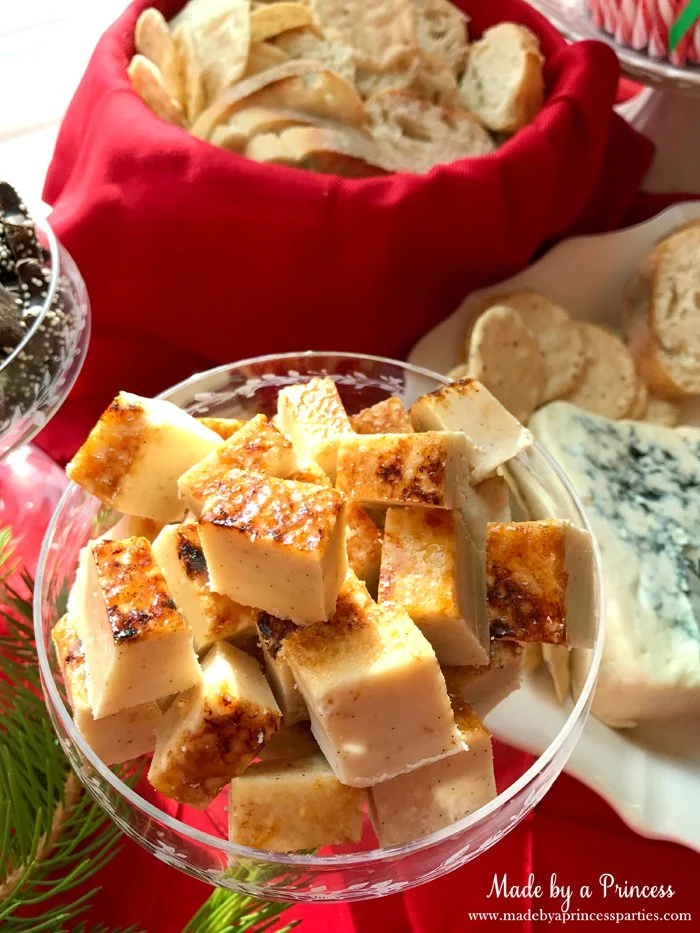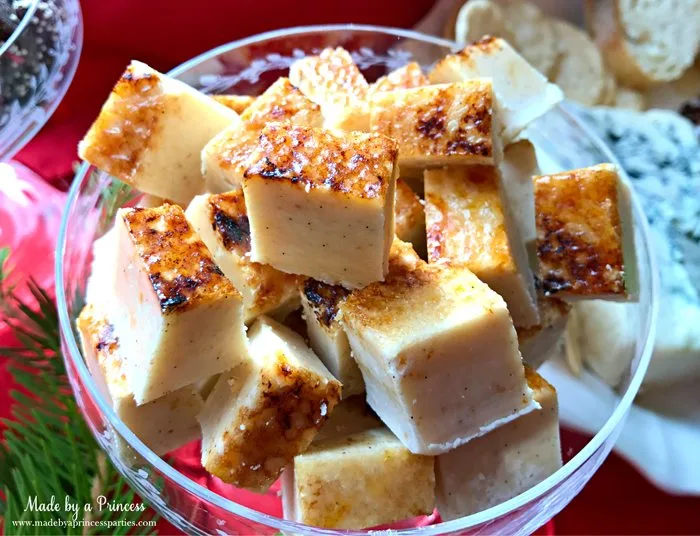 I was limited on space so I placed the napkins under the plates which actually worked out really well. The napkins came from Michael's and were normally $3.99 but were on sale at 30% off. I am a Michael's Rewards member and got an extra 25% off so they ended up being about $2.27 with tax.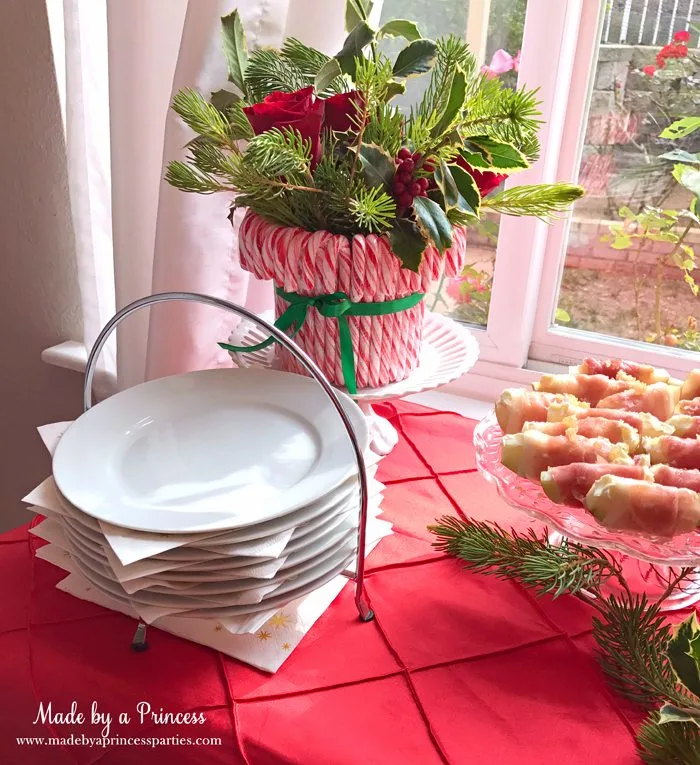 It's always a good idea to serve something non-alcoholic so I had a pitcher of refreshing pitcher of water on the table for my guests. I added fresh cranberries and slices of tangerines for a festive flair.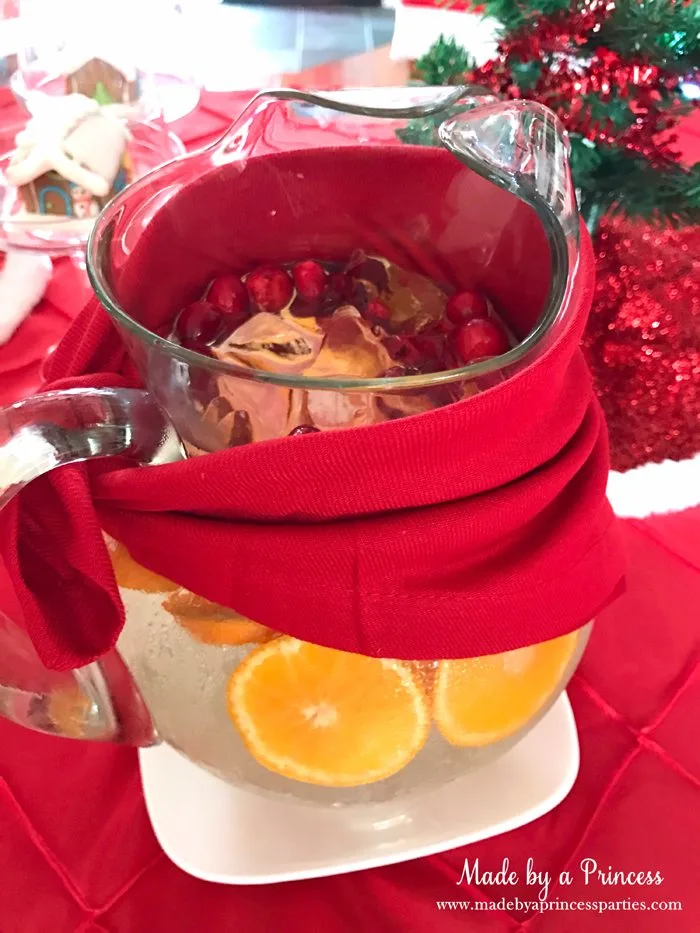 As an added twist we decided to make it an ornament exchange. I ended up getting this really pretty ornament from my friend, Joanna, from a local store called, "Leaf."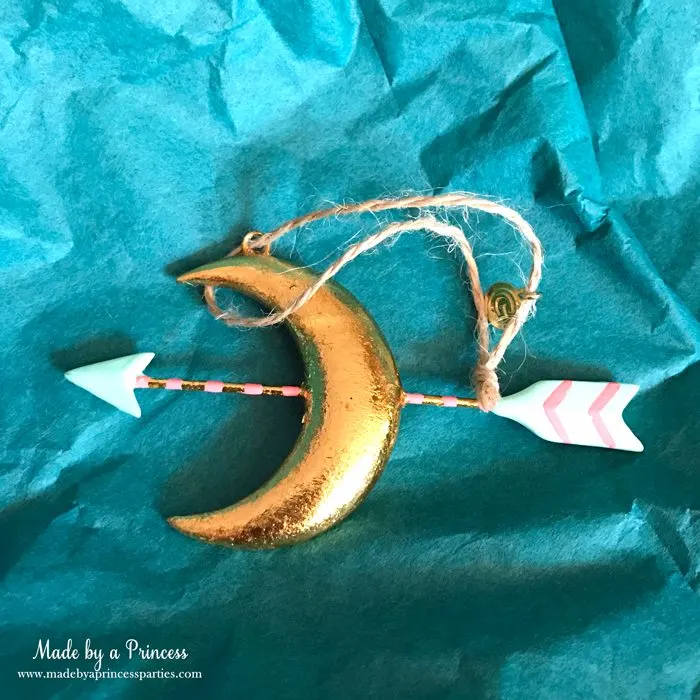 My friend, Andrea, aka "The Photobomber", ended up with this sparkly beauty from my other friend, Kao. Andrea felt particularly drawn to my ornament because of a story her mother used to tell her as a child and I felt particularly drawn to hers because, well, it's sparkly and it's a princess carriage and it's sparkly. Did I mention it's sparkly?! It's really really sparkly. We traded. All is well in our Christmas ornament worlds.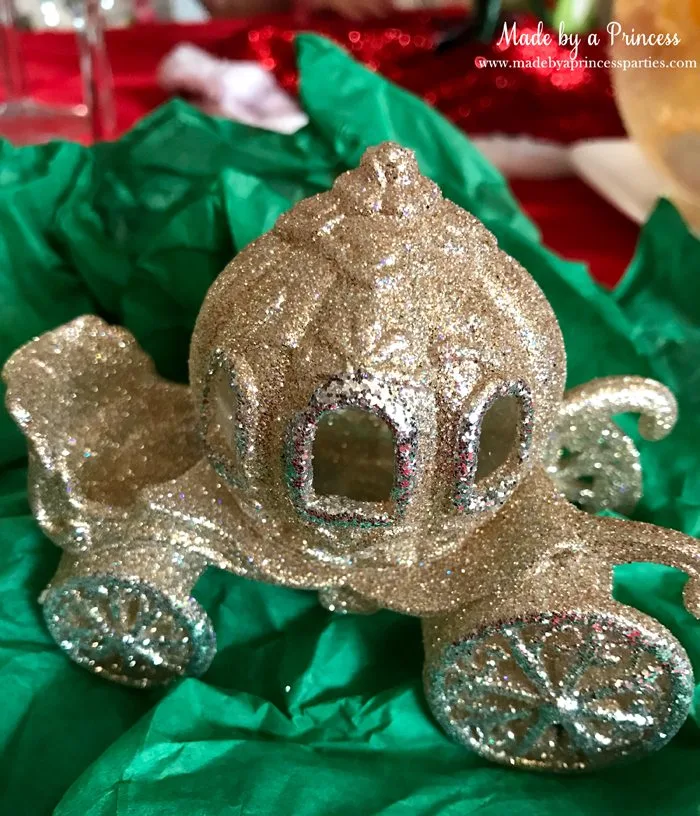 As frequently happens I didn't get pictures of my girlfriends because we were just too busy talking and eating and drinking and giggling and just generally enjoying each other's company. It is so rare that we all get together. I did, however, upload some pictures during the party to our private sharing feed which was pretty fun. As I uploaded everyone was notified and could then comment on them. I really like this feature and this it is a great way to share photos with the group.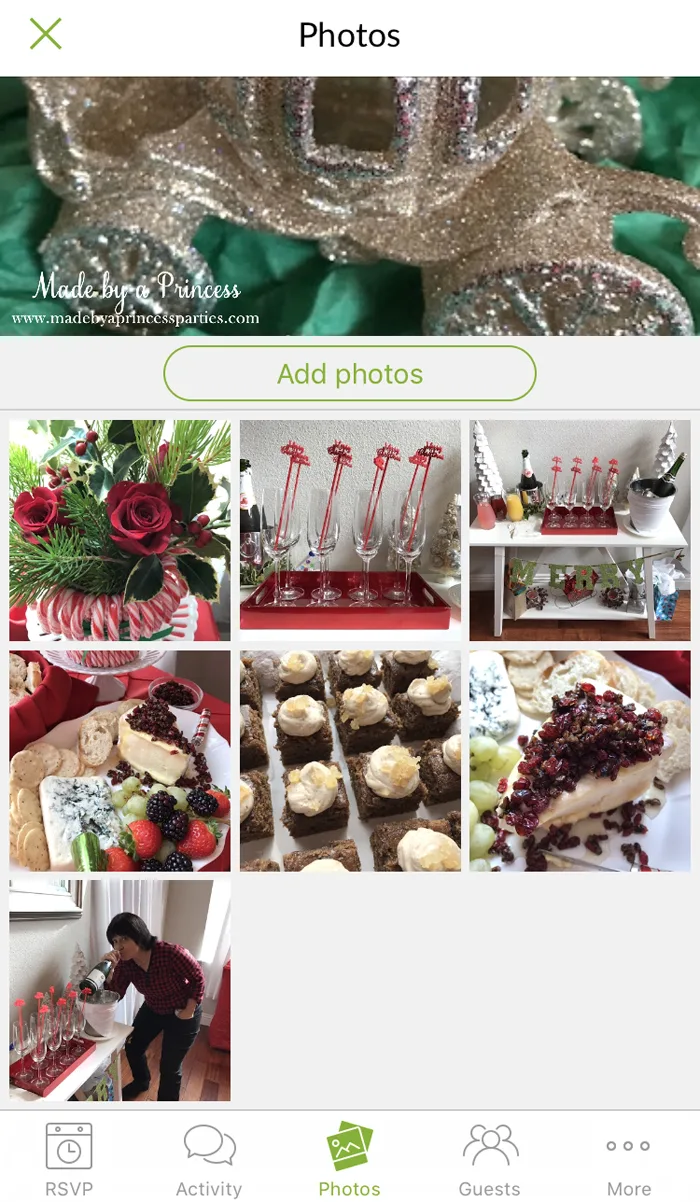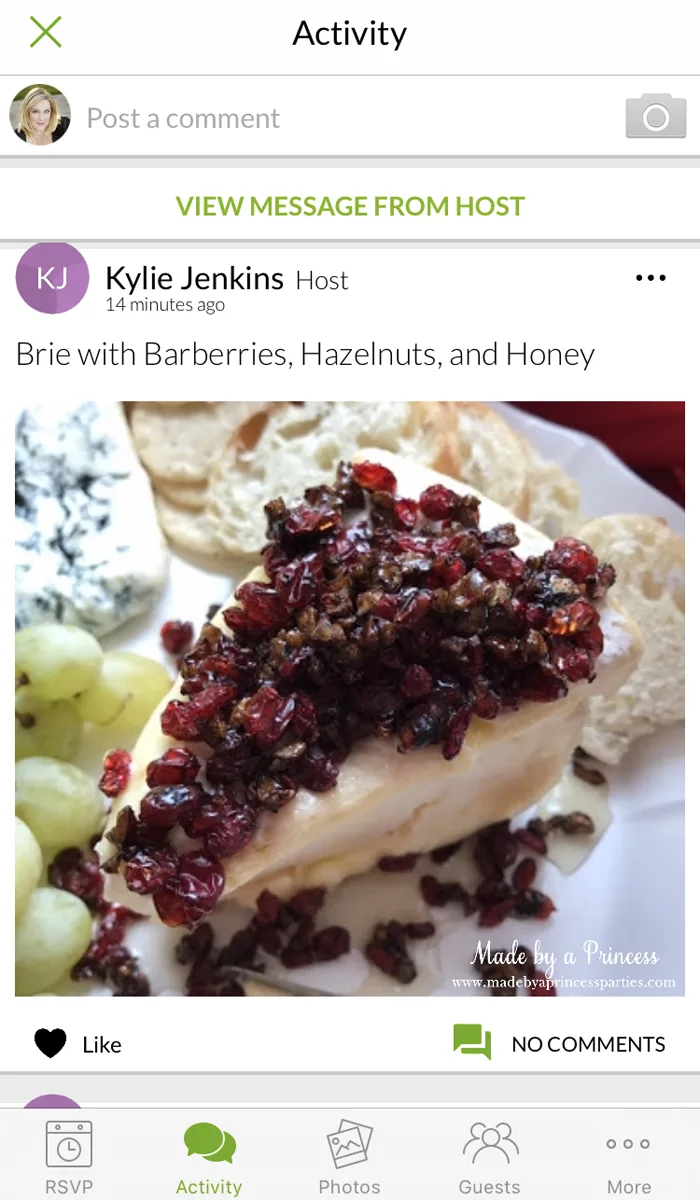 When you're all done Evite will send you a link to a thank you note you can customize with photos you have uploaded from the party that you can send to your guests.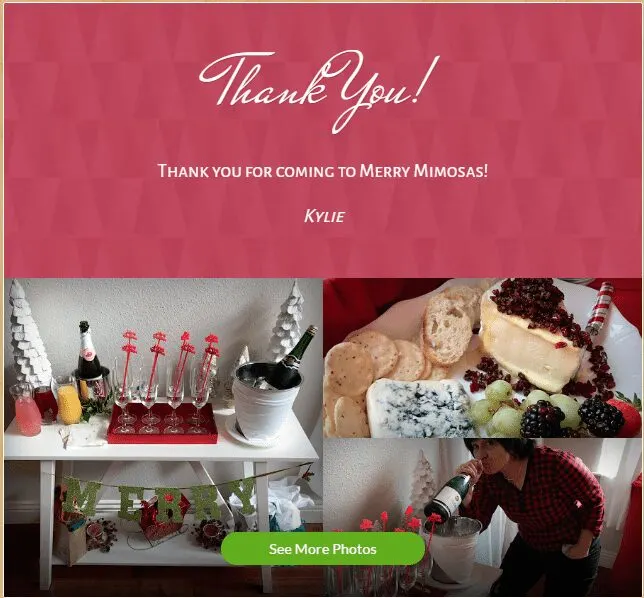 Want to see how my other party friends planned their #PartyOnTheFly? They've got some pretty awesome ideas that you're going to want to steal!
Where I spent my $100:
Carlos Floral, $21 – 3 bunches curly pine at $3.50 ea and 1 lb holly at $10
Frazier Farms, $37 – brie, blue cheese, crackers, cranberry pomegranate juice, and 3 bottles of champagne at $5 each
Walmart, $20 – cream cheese, sparkling cider, cranberries, pears, orange juice, ribbon, and pink lemonade
Trader Joe's, $7.50 – prosciutto and baguette
Michael's, $4.50 – 2 packages of napkins
Dollar Tree, $3.25 – vases
Total: $93.25
Items I already had:
Gingerbread Mix
Candied Ginger
Dark Chocolate Cookies
Pfeffernusse Cookies
Creme Brulee Fudge
Bag of Cuties
Christmas Decorations
Red Roses
Champagne Glasses
Champagne Bucket
Glitter Banner
"Merry Christmas" Drink Stirrers
Items Friends Brought:
Fruit
Marinated Cheese (my favorite cheese in the world!)