Don't want to spend a fortune on a store bought canopy? Create your own! We're sharing how to make a PVC pipe canopy with supplies from your local hardware store.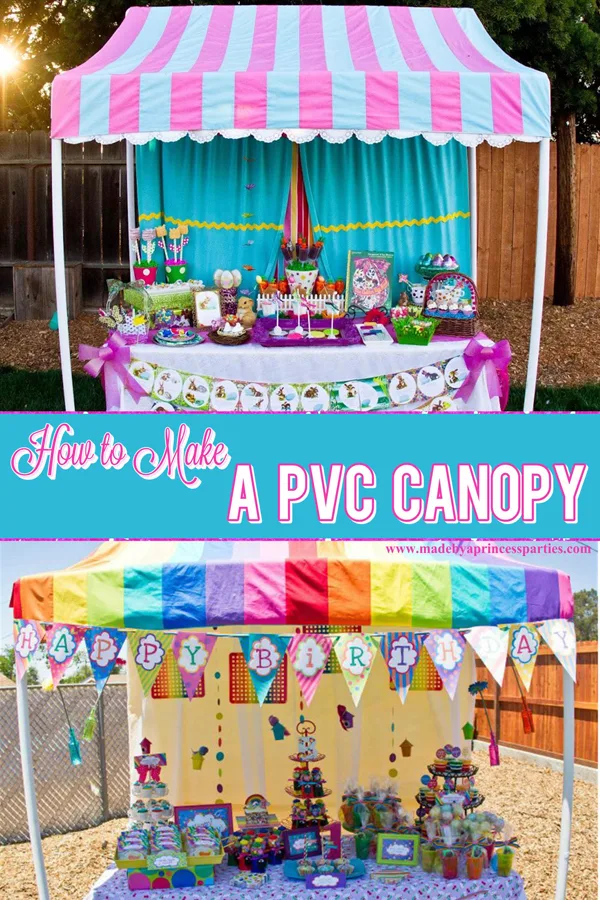 You've seen them at parties and boutiques and thought, "That's super cute. I wish I had one!" Now thanks to my friend, Kenna, of Miss Party Mom, you can create your own. She is sharing her step by step tutorial on how to make a PVC pipe canopy. With just a few supplies you can make your own this weekend!
My friend, Kenna of Miss Party Mom, is not only very creative, she is really resourceful. She and her husband designed this fabulous PVC pipe canopy and lucky for us, is sharing the complete tutorial here. Don't let all the steps scare you…this is a beautifully done and thorough how to and once you do you can put the pieces away for the next party.
Inspiration for a PVC Pipe Canopy
Kenna was inspired by the idea of creating a canopy after seeing a ton of amazing canopies placed over dessert tables on Pinterest. They were all gorgeous and very well made. She wanted one to keep the sun off of "melt-able desserts" in their non shaded backyard. She begged her husband (when it comes to parties you do what you gotta do!) to help make one after finding lots of inspiration on Pinterest. They decided that although the Pinterest canopies were gorgeous- most of them were built out of wood and not "collapsible" which she REALLY needed. PVC is so durable and since she takes these everywhere durable is what she needed. She can actually just take the entire thing apart and leave the pieces outside and wipe them down when needed.
How to Make a PVC Pipe Canopy
Kenna's husband figured he could make the canopy for under $50. He went to Home Depot and got all of the PVC piping, connector pieces and the cement mix. She went to the grocery store and got the cheapest possible cans of food I could find – Hominy Beans from Smart & Final are $2.23 each can. Large coffee cans would work too.
Before you get started here is what you are going to need:
1 1/4″ PVC piping
1 bag of the cheapest cement mix you can find
4 large cans (beans, ketchup, coffee)
Saw
Measuring Tape
Pencil
White Spray Paint
Velcro Sticky Back Squares
1 Queen Size Sheet for the canopy
6 Yards of Fabric (3 in each color)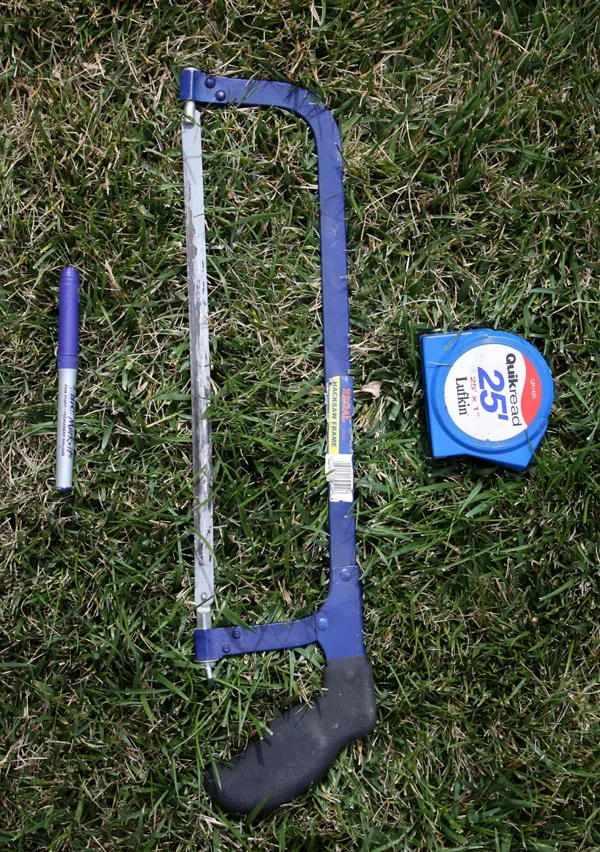 PVC pieces cut to the following sizes:
(2) 2″
(4) 11″
(2) 24″
(2) 48″
(4) 59″
(2) 78″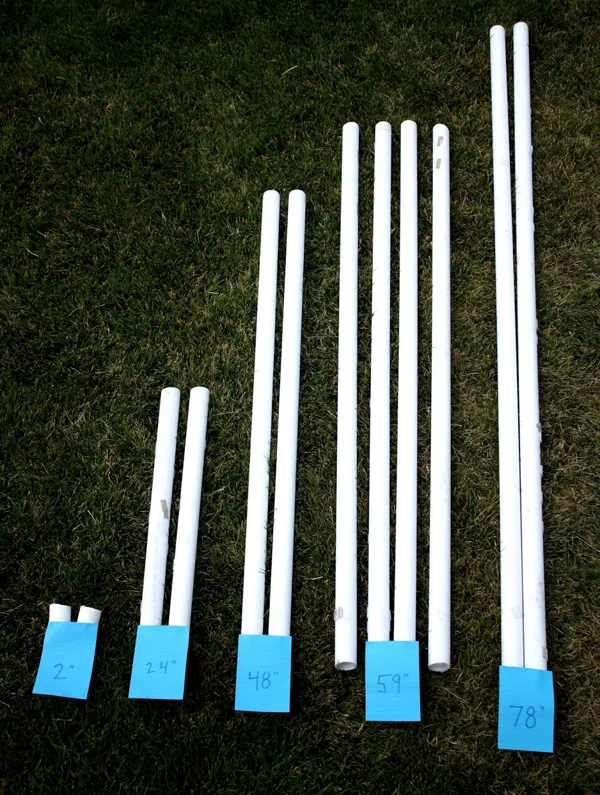 Connector pieces you will need:
(4) T-fittings
(4) 90 degree elbow fittings
(4) couplers
Fill each can with cement mixture and quickly place an 11″ piece of PVC in each can. Push all the way down to the bottom.
TIP: Wrap cans in colored paper or wrapping to match your party theme.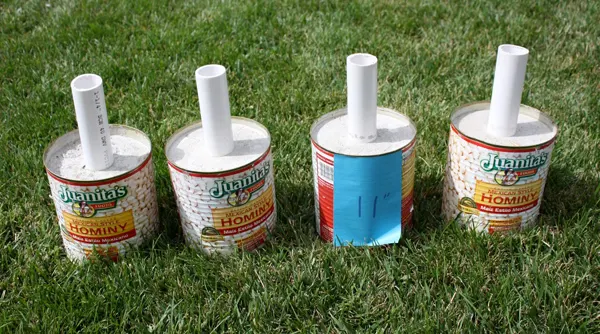 Place your four corners on the ground.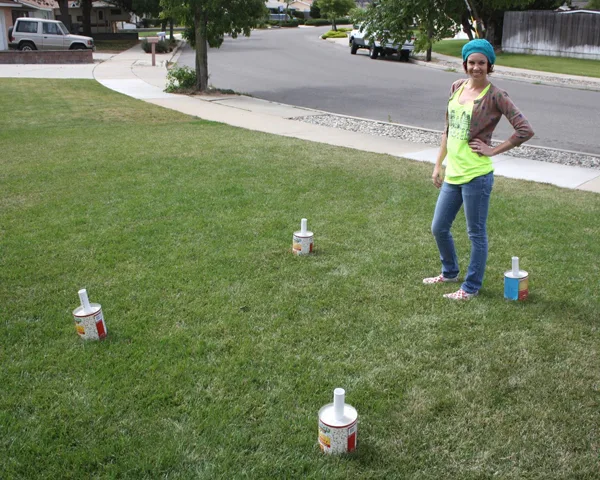 Insert couplers on 11″ pipe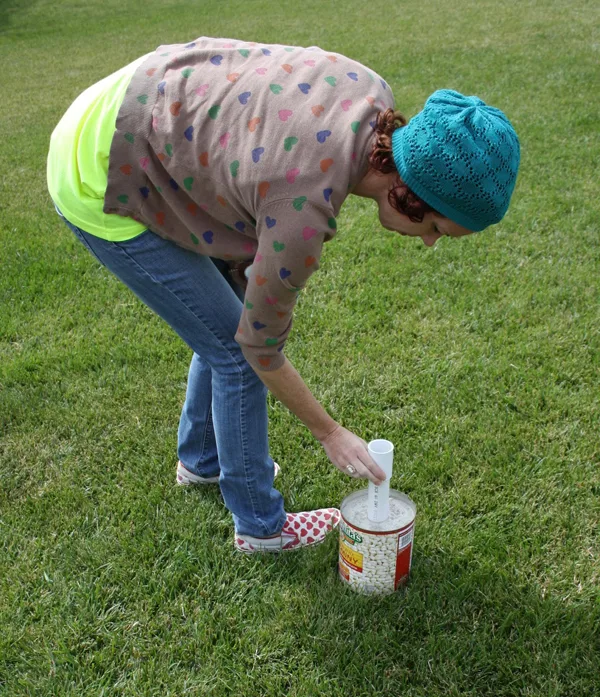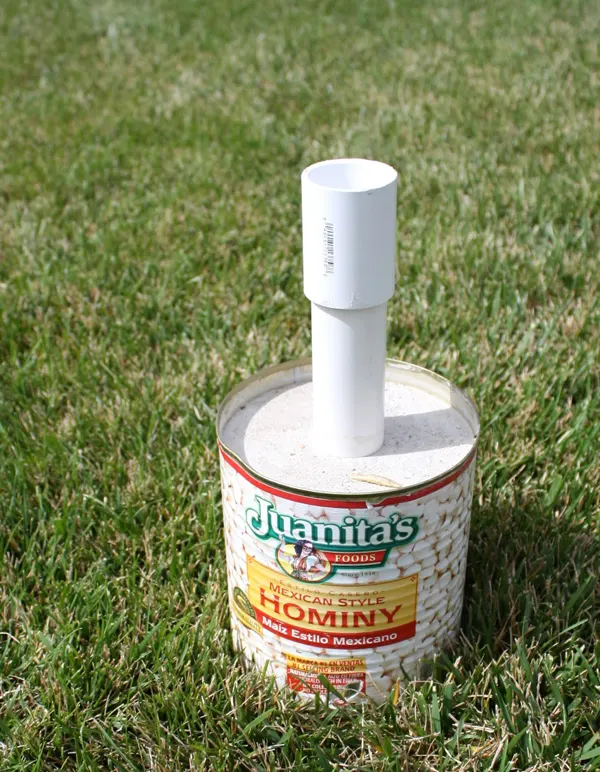 Place the (4) 59″ pieces in each coupler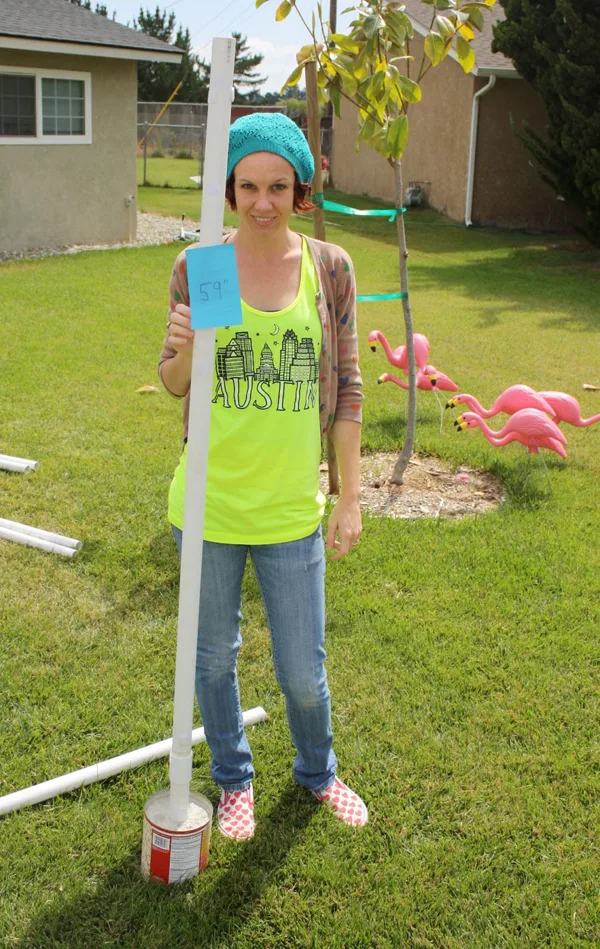 Frame is starting to come together.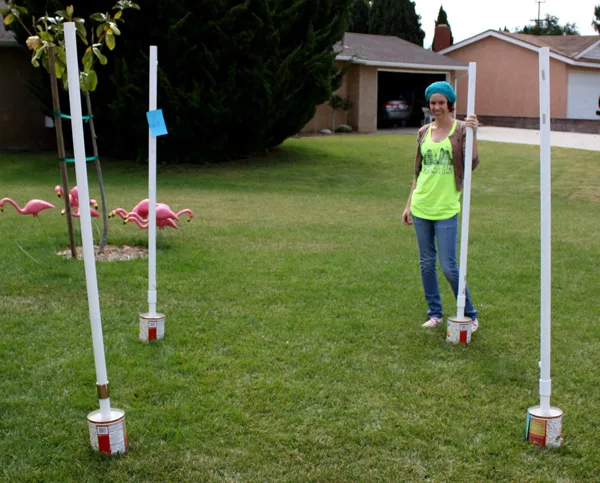 Now place the T-fittings on top of the 59″ pipe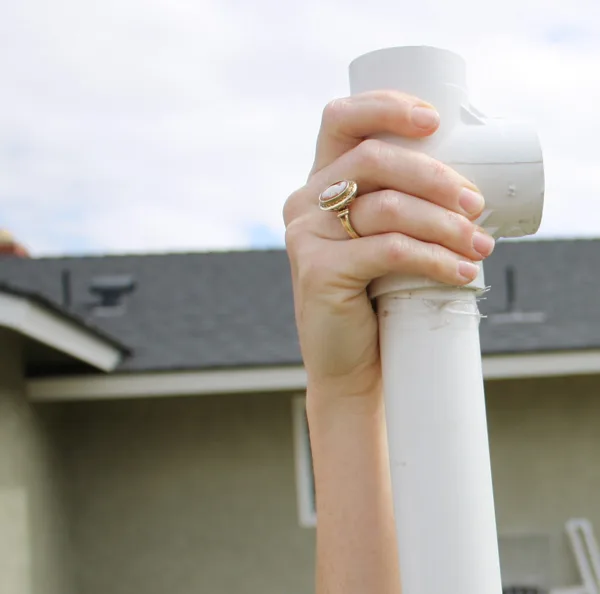 Insert the 48″ PVC pipe inside the T-fittings on both the front and back pipes.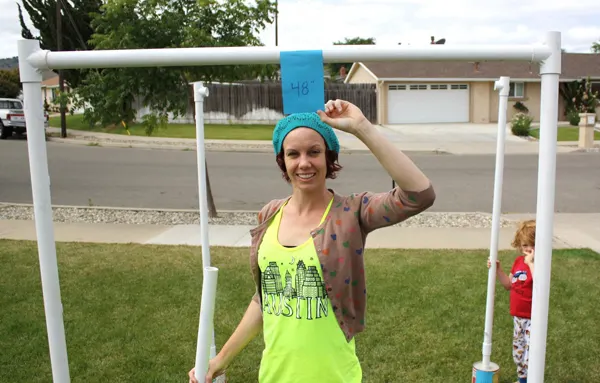 Should look like this from the front.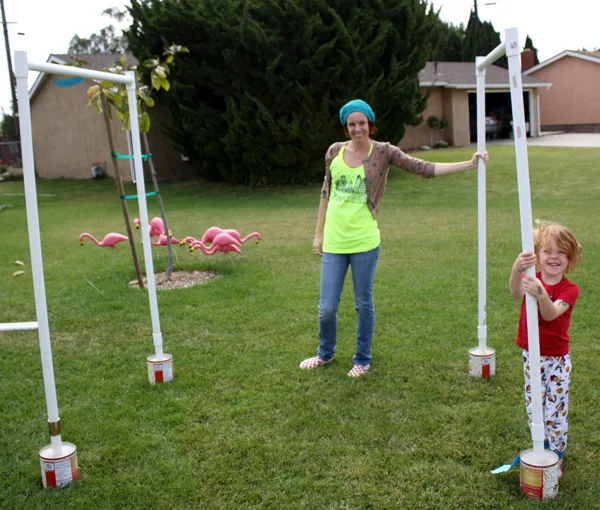 Place (2) 2″ couplers on top of the T-fittings in the front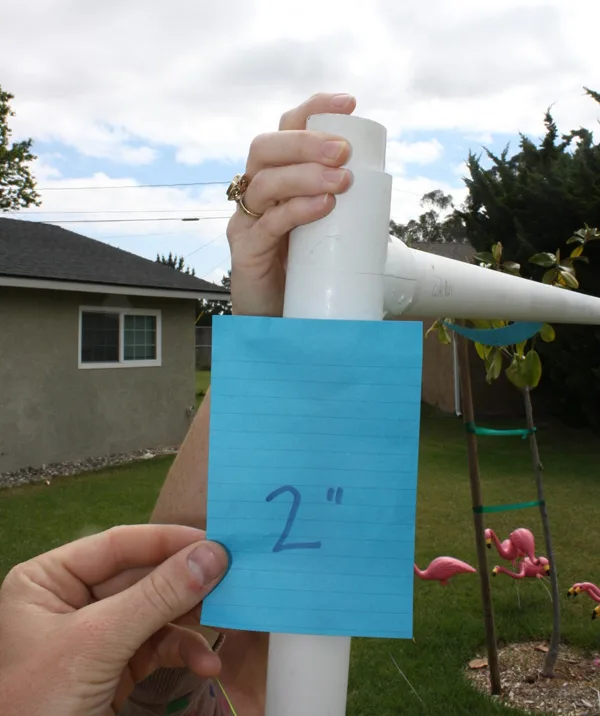 Now place the elbow pieces on the 2″ pieces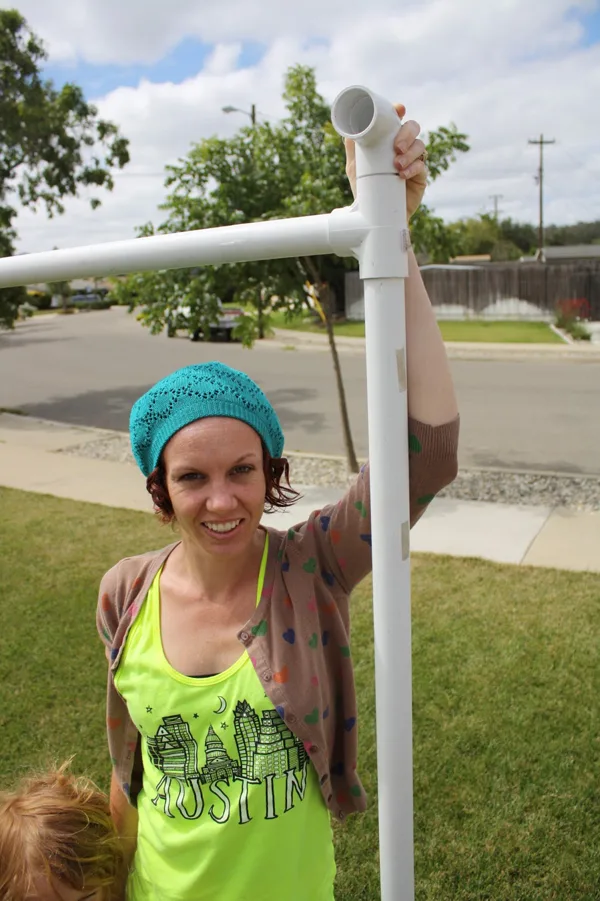 Insert the 78″ PVC pipe between the two elbows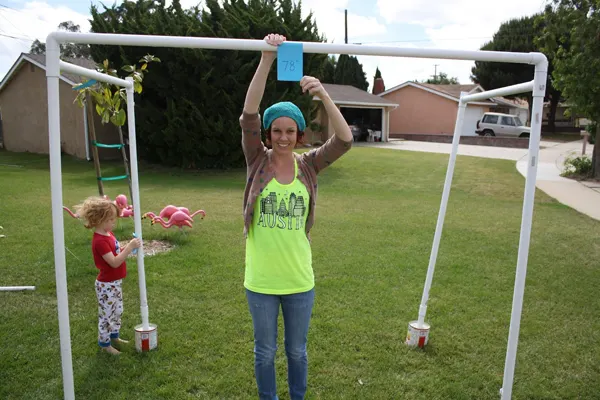 Place (2) 24″ pipes into the T-fitting on the back side of your frame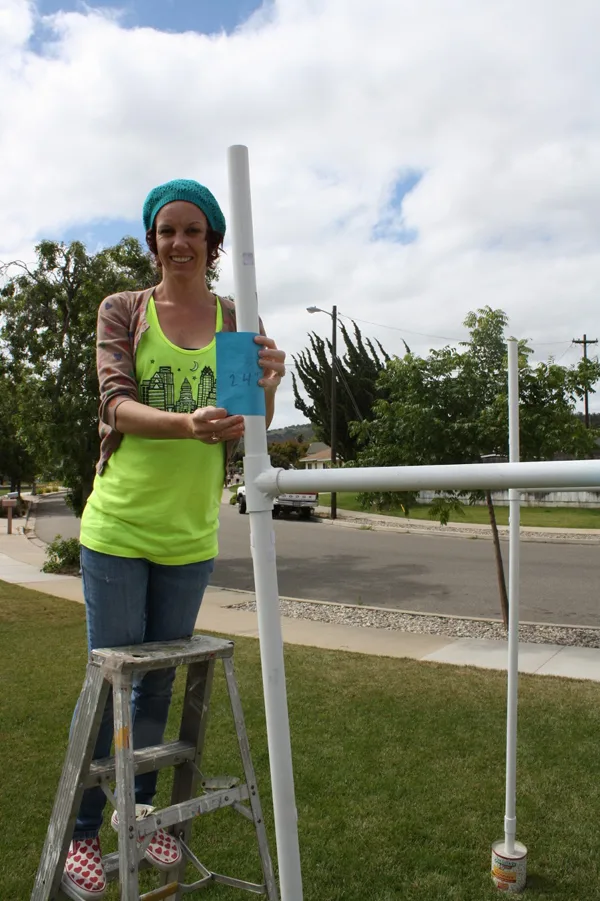 Set the remaining elbow pieces on top of the 24″ piece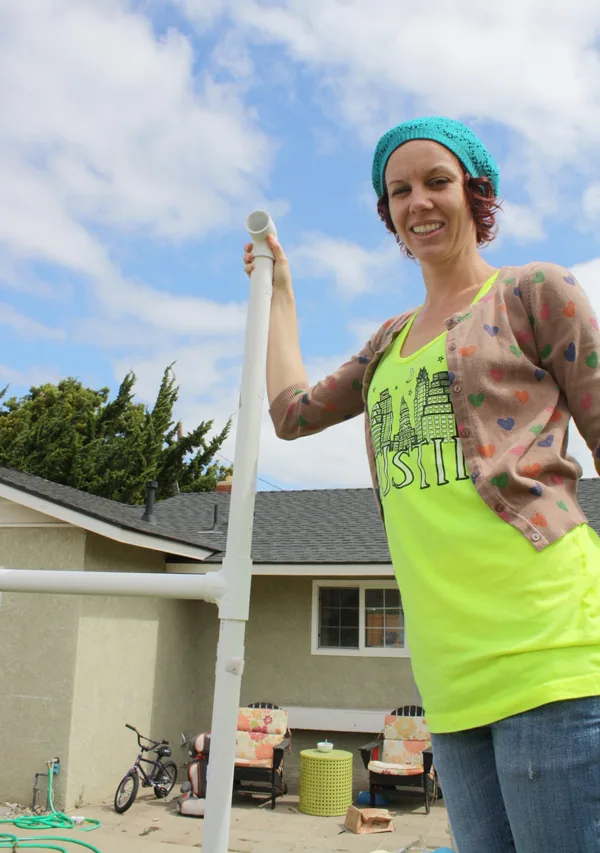 Now insert the 78″ PVC pipe between the two elbows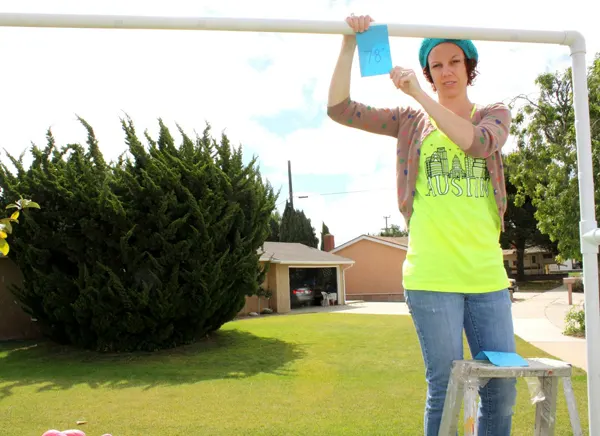 Almost done with the frame!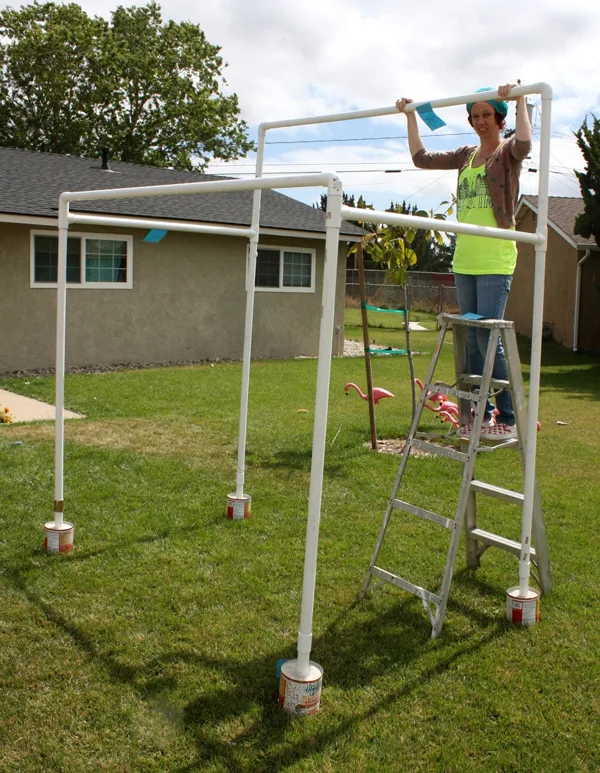 This project took a couple of hours but should be much faster for you since all the math and design has been figured out for you.
TIP #2: When you get the entire thing all put together spray paint small black text on the PVC pipes. Make sure you don't spray the couplers or you won't be able to get them off when you disassemble.
TIP #3: Label each piece so that you know where each one belongs. If you don't, you mind end up looking at the pieces in bewilderment and wishing you had labeled them.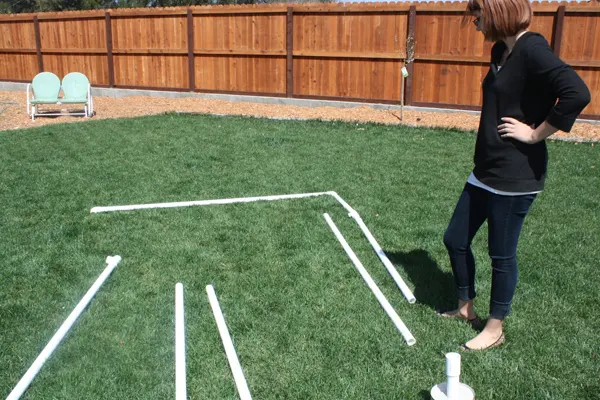 Make the Fabric Canopy
Sewing Method
Kenna used (6) yards of fabric in creating the fabric canopy…3() yards of both colors. You will need to cut (16) 6″W x 86″L strips. Sew together with a 1/3″ seam allowance and then back it with a queen sized sheet. Sew right sides together, leaving about a 10″ opening so you can turn it inside out. Once you've turned it so right sides are facing out, press the opening, and stitch closed.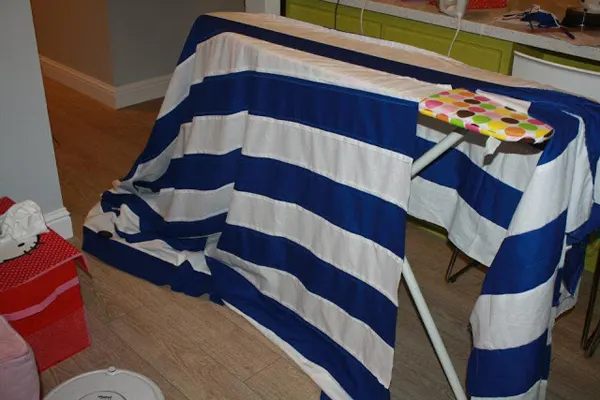 Pin the entire queen sized sheet to the stripes right sides together and then sew. Don't skip the pinning. This is a huge piece to sew and it's important to pin every few inches. The sheet will be a bit bigger than the canopy so make sure to trim before turning it out. Once you have completed sewing the canopy make sure to iron the edges. It is time consuming but really worth it.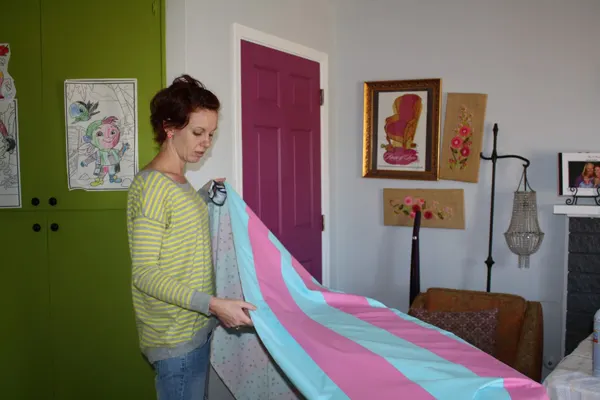 No Sew Method
If you do not sew, you can use a queen size sheet. You can also look for a large striped heavy fabric and "hem" the edges using fabric glue.
How to Install the Fabric Canopy
Attach the canopy to the PVC pipe frame with Velcro squares. Apply a square to the upper back 78″ PVC pipe every few inches. You can purchase the sticky back kind but it is best to sew them on so they don't come off during installation or on a windy day.
Have someone hold the frame so you can focus on attaching the fabric canopy. Move along the edge of the canopy and attach a Velcro square to the PVC pipe so it matches up with the one of the fabric. Pull the fabric canopy to the lower front PVC frame and attach and secure the Velcro squares as you did on the back side.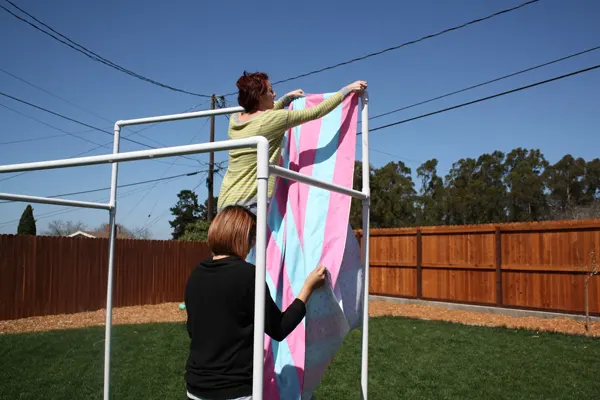 Use the back bar to add a fabric backdrop. You can use Velcro squares or attach with packing tape or photography clamps. You can read more about how Kenna uses backdrops in her Top 10 Party Trends post.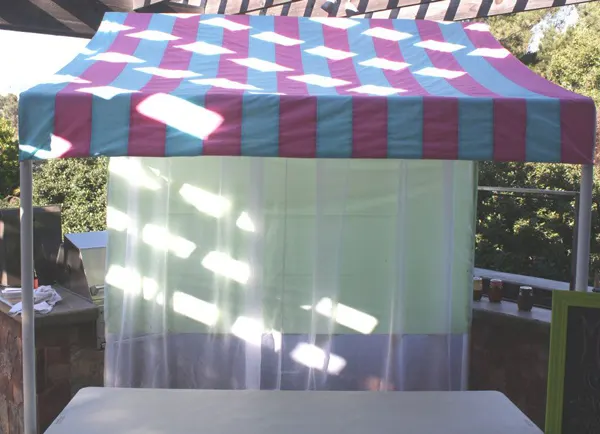 If you look closely you can see how she attached the Velcro squares.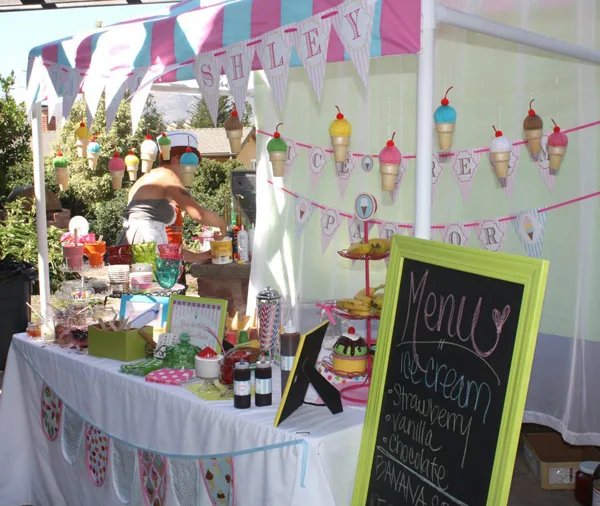 If your fabric canopy ends up a little short, like Kenna's did here, you can attach with fishing line and a needle.
TIP #4: Use packing tape on the back part as well as fishing line and a needle if need be to attach it to the front corners.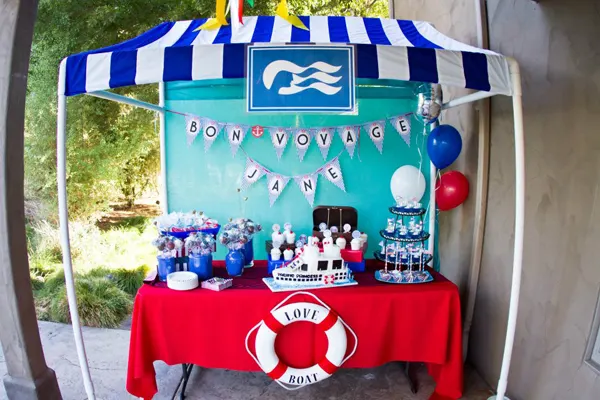 Kenna is sharing this photo as an example of what a loose and un-ironed fabric canopy looks like…she says it bothers her every time she looks at the photo so make sure you iron every time!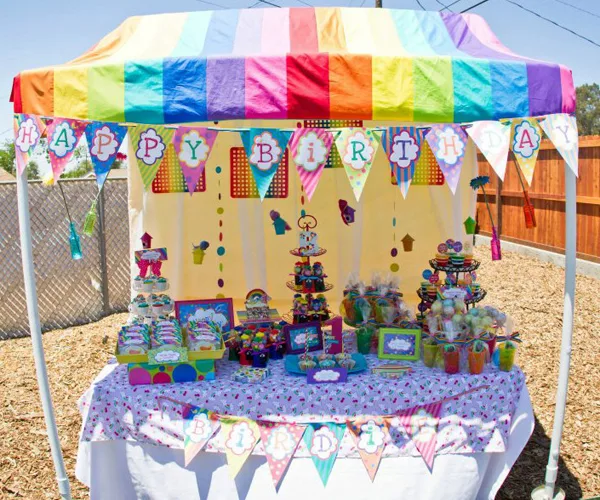 Fabric canopies make the perfect 6 foot tablecloth for dessert tables too.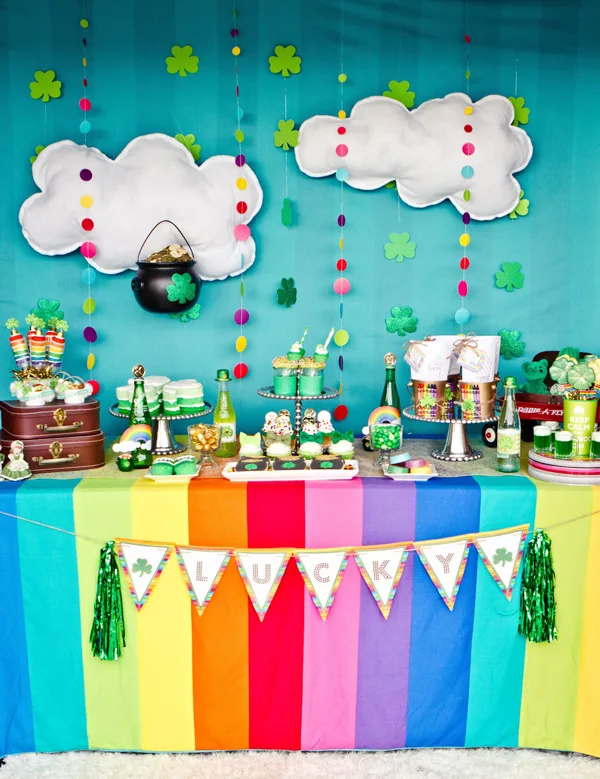 To create this scalloped look, cut small doilies in half and attach with double stick tape.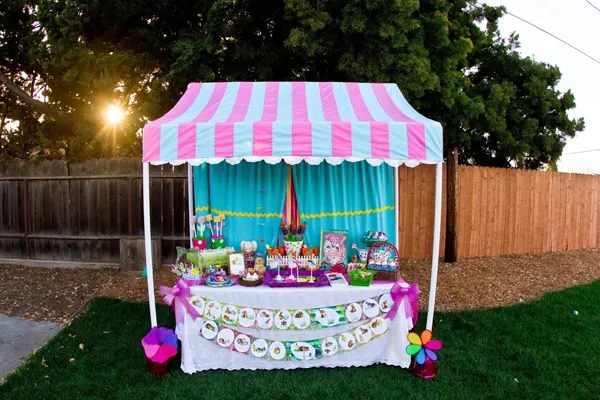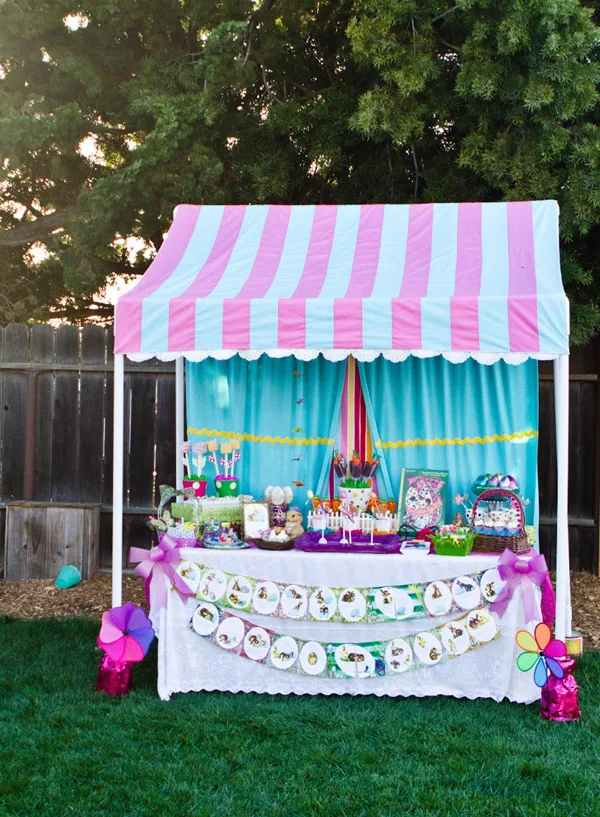 Thank you so much, Kenna, for showing us how to make a PVC pipe canopy! If you create one using her tutorial please share the photo…we'd love to see it!