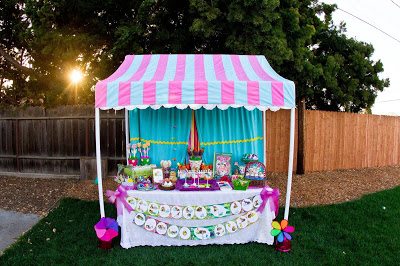 photo credit: Moments Captured Photography
Today I am introducing you to Kenna from Miss Party Mom and her fabulous PVC canopy tutorial.  As soon as I saw it I sent a message to Kenna asking if I could share it because I knew you would love it too. Don't let all the steps scare you…this is a beautifully done and thorough how to and once you do you can put the pieces away for the next party.  Have you met Kenna?  I haven't actually met her yet either but she has an incredibly funny blog called Miss Party Mom that you really should check out. She too is a party planner, a mama, and has what sounds like a very handy husband.  We have a lot in common.  My hubby gets roped into one project or another, some big and some small, and while he may not always do it with a smile, he does do it.  I love you, Hunny!  Below is Kenna's tut in her owns words.  Can I just say her husband rocks?!  My husband is gonna kinda hate him when this is all said and done because I do plan to print this and say, "Pleeeeeease?  Please build this for me?" in a pathetic girly whiney voice that sometimes (usually) works. Hey, when it comes to parties, I'm not proud, I'll beg.

Here's Kenna to tell us How to Make a PVC Canopy, "I came up with the idea for a canopy after seeing a ton of amazing canopies placed over dessert tables on Pinterest. They were all gorgeous and very well made. I wanted one to keep the sun off of a lot of my melt-able desserts in our non shaded backyard for my daughter's 1st birthday and also because- hello! they're cute. So I set out to beg my husband in to making me one the week of my 3rd ever party (an Ice Cream Shop I put together for a clients child's End-of-the-Year Party last June). "Baaa-aaaabe" I called to him, "I neeeeed some he-llllllp" (said in the most pathetic voice ever, trying hard to play the helpless wife- something I do NOT do often). I showed him photo after photo on Pinterest (by the way – husbands hate Pinterest – I'm pretty sure they all curse the day it was made). We decided that although the Pinterest canopies were gorgeous- most of them were built out of wood and not "collapsible" which I REALLY needed (have I mentioned the Party Cave is a tad bit small- and our garage, has um… cars in it?)

So Shawn came up with the idea for a take-apart PVC canopy which was the perfect solution. PVC is so durable and since I take these everywhere and bang them up pretty good- durable is what I needed. I can actually just take the entire thing apart and leave the pieces outside and wipe them down when I need them.

Shawn quoted me under $50 for the structure part of it which gave me another reason to be sold. He went to Home Depot and got all of the PVC piping, connector pieces and the cement mix. I went to the grocery store and got the cheapest possible cans of food I could find- in my case it was Hominy Beans from Smart & Final at $2.23 each can. Large coffee cans would work too.

So let's see… Here's our list of needs…

1 handy man (or willing husband)
1 & 1/4″ PVC piping 
1 bag of the cheapest cement mix you can find
4 large cans of beans, ketchup, coffee- (whatever you can get for the cheapest)
Saw (and said handy man to help you saw?)
Measuring Tape
Pencil
White Spray Paint
Velcro Sticky Back Squares
1 Queen Size Sheet for the canopy (we'll get to that later…)
6 Yards of Fabric (3 in each color)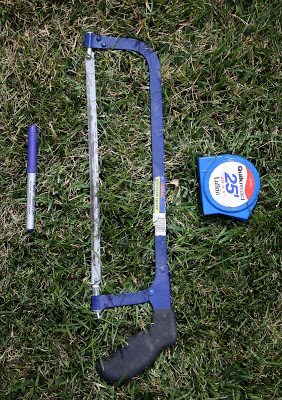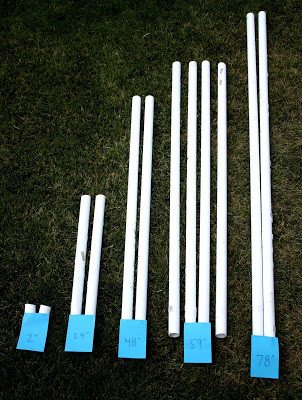 From left: PVC pieces cut to the following sizes: 2- 2″, 2- 24″, 2- 48″, 4- 59″ & 2- 78″ NOT PICTURED: 4- 11″ pieces (photo of them placed inside cans is below)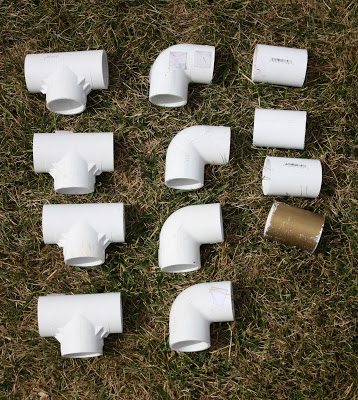 Connector pieces: (left to right) 4: T-fittings, 4: 90 degree elbow fittings, 4: couplers. If you're picking this stuff up yourself (as in you're not making your husband do it), just print this pic and take it in to Home Depot and show a worker… (please ignore the fact that one piece is gold… I got desperate one day and needed that for a dessert table set up…)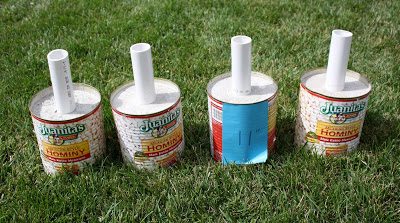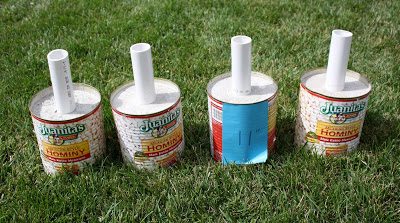 Mix your cement mix and place an 11″ piece in the middle of each of the four cans and push it all the way down to bottom. Tip: Wrap the cans in a matching wrapping paper to your party theme, they'll just blend in that way- instead of have people ask you what you made with the Hominy beans all day…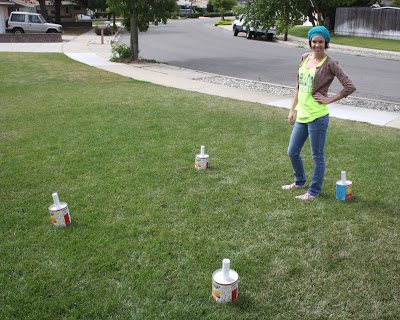 Place the 4 corners…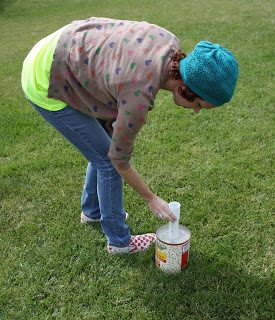 Insert the couplers…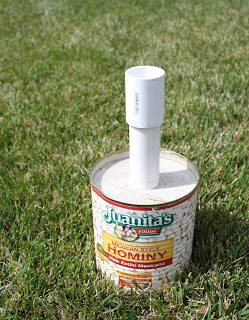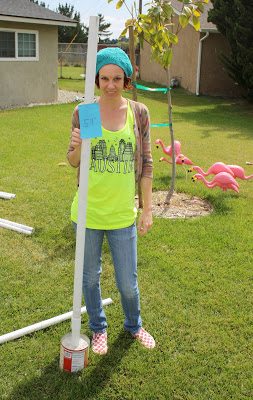 Place the four 59″ PVC pieces inside of all 4 couplers…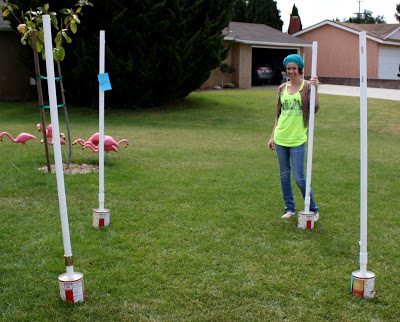 After all four 59″ PVC pieces have been placed inside the couplers it should look like this. Please ignore our flamingos… this is what happens to your lawn when your husband is a youth pastor…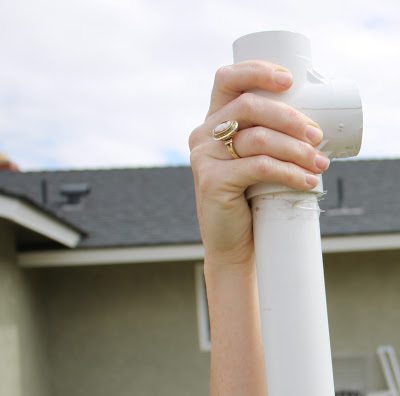 Place the two T-fittings up and down like this…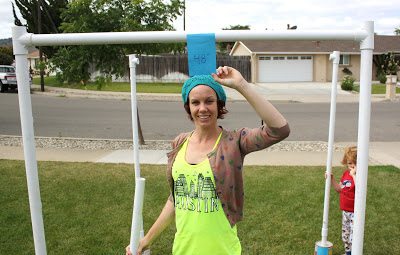 Place the two 48″ PVC pieces inside the T-fittings on both the front and back…. please ignore my son picking his nose…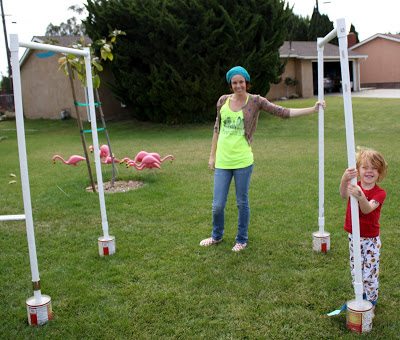 Should look like this when looking at it from the front…
Place two 2″ PVC pieces on top of the two T-fittings in the front…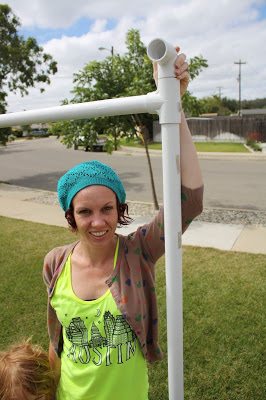 Place the elbow onto the two 2″ pieces (again on the front)…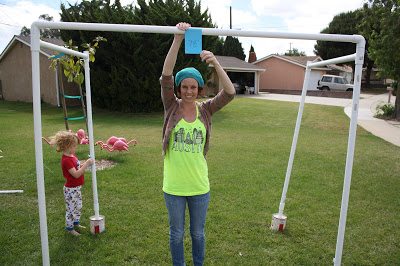 Place a 78″ PVC across the front between the two elbows…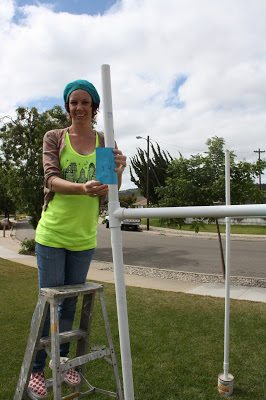 Place the two 24″ pieces at the top of the T-fitting in the back…
And then an elbow at the top of that…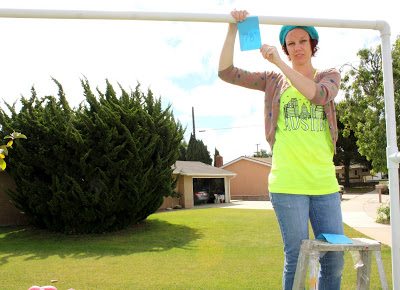 Put the 78″ across the top of that…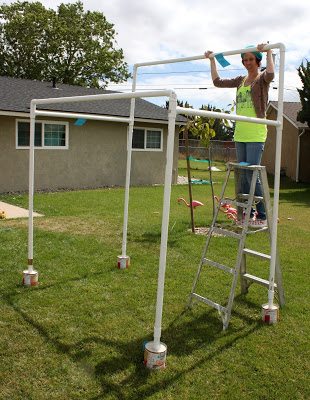 Wow, we're getting somewhere!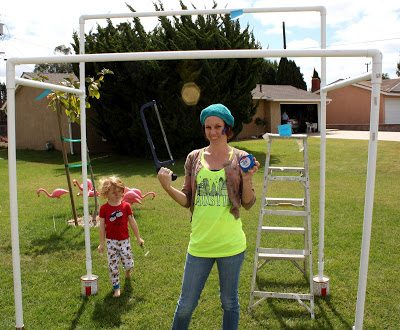 All you need is an hour or two, a couple tools and a little determination!
Tip #1: When you get the entire thing together take your white spray paint and cover up the small black letters on the PVC with it.
Tip #2:  With a pencil add a small label to each of the pieces (ie: "front horizontal") so that the next time you go to put it together you will have a cheat sheet on top of the printed and laminated directions… other wise you might look something like this every time you attempt putting it together…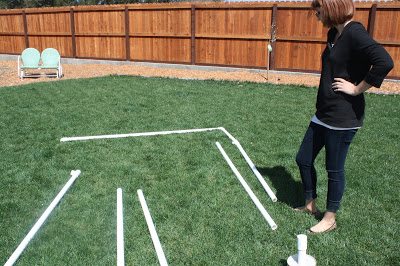 "We've done this before- we can figure it out?"- Hannah
I used 3 yards each in the 2 colors of
fabric- so 6 yards total. (I pieced fabric together on half of the stripes to create the right length in order to save on $ on yardage- if you don't want to have a seam in the middle or an extra step added to the project then you'll need 6 yards of each fabric, however the seam is up so high you cannot even see it so I wouldn't worry too much)

This isn't exactly hard to make but it is crazy tedious and time consuming and
might make you wish you never stumbled upon this tutorial… NOT TRUE- you love a good challenge, right?! The canopy is made of: 16-  6″ wide x 86″ long strips
sewn together (at a 1/2″ seam allowance all around) and then backed with a queen
sized sheet (backed: as in sewn right sides together- leaving about a 10″ opening so you can turn it inside out) Once you've turned it- it's time to sew the 10″ opening closed and PRESS IT AGAIN. You will regret hanging it unpressed, I even have a photo to prove it!
If you *DO NOT SEW*, a fun printed quality queen size sheet would also do the trick. If you sew well enough to sew 2 sheets together for a little more sturdiness (so it won't sag in the middle) even better. It might be a little bigger than you need but nothing that a few more Velcro squares can't hold down. You can also try looking for a large striped heavy weight fabric and just hemming the edges. The largest stripe I have found is 3″ wide (Ikea fabric). These stripes are 5″ wide when done so it's just a matter of preference.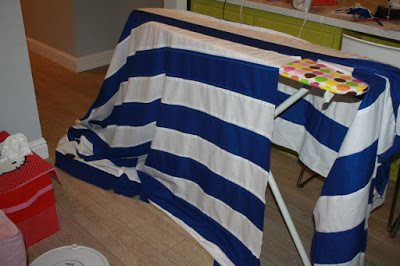 This is what it should look like before the sheet is added: seams sewn in straight lines 1/2″ from edge and pressed completely- pressing takes a lot of time- but it's an important step to make sure the sheet goes on smoothly. Tip: Pin the entire sheet to the stripes right sides together and then sew. Don't skip the pinning! This is a huge piece to sew and you should have a pin every couple of inches if possible! The sheet will be a few inches bigger than the canopy- just trim it off before turning it.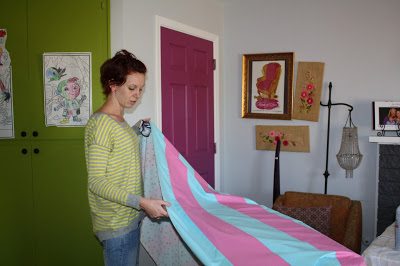 Once the sheet is sewn on completely- the canopy is done! This is a photo taken right after I have just pressed it, no crazy wrinkles ruining my photos!

PUTTING THE CANOPY UP: 

The canopy should be attached to the PVC piping with Velcro squares
which can be purchased just about anywhere (Walmart?) for about $5.00 a
package. Apply a square to the upper back 78″ PVC piece every
few inches and then with someone's help holding the canopy up (so you
can
just focus on holding the edge) go along with the edge of the canopy and attach a
square to it to match up with the squares placed on the PVC. Now pull the
canopy to the front lower PVC and do the same at both of the front corners and on the corner of the canopy so you can again attach it- and a few along the front (78″ PVC) but not too many- as you don't want it
tuckering. Tip: I have also used packaging tape on the back part as well as fishing line and a needle to attach it to the front corners. While both of these work- I still find the Velcro squares are the easiest route.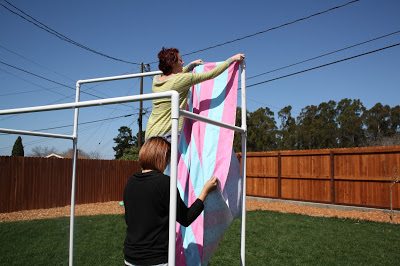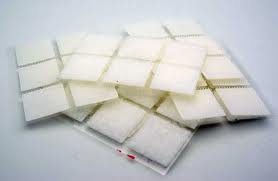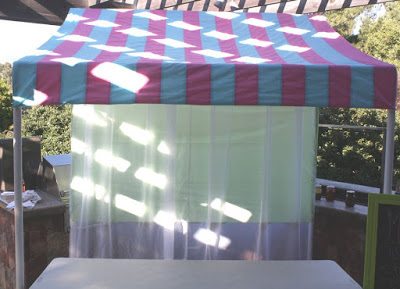 The lower back bar is the perfect place to attach your fabric backdrop… since we all know how I feel about a good backdrop! If you don't, you missed this post…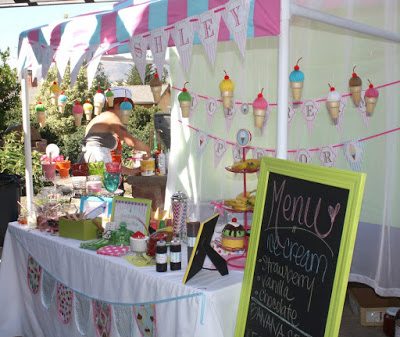 If you look closely you'll notice the Velcro squares on the front corners… Pull the canopy just the right amount of tight from corner to corner- if it's too tight it will create pulls in the front.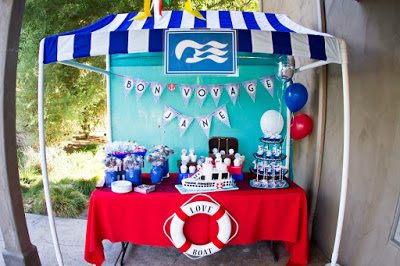 This one turned out a little short (I got a little carried away on the seam allowance) so I attached it to the corners with fishing line threaded through a needle…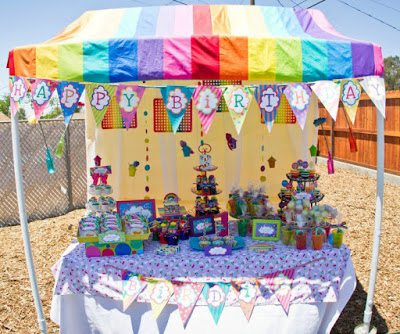 This is what an u-ironed canopy that wasn't pulled tight enough looks like… I'm not proud. It was a hectic party week but it still kills me to do this day!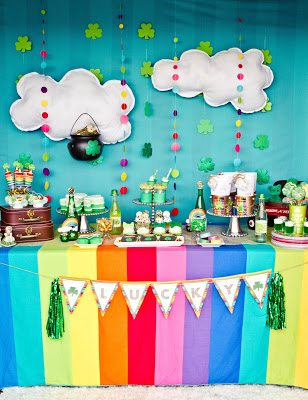 Though time consuming to make, once you have a canopy they also make the perfect 6 foot dessert table tablecloth!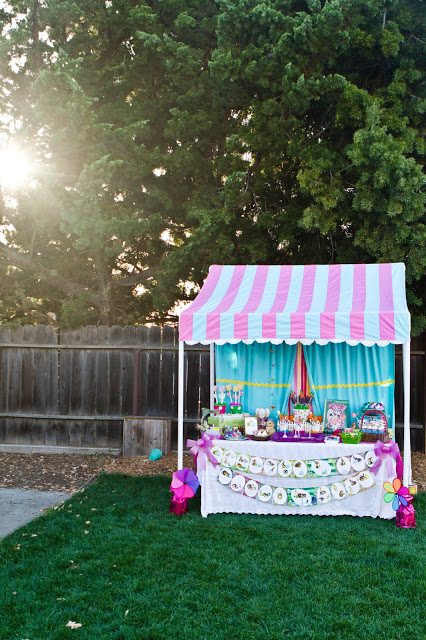 To create the scalloped look on the bottom (I'm sure you can find a tutorial for that!) I just added small doilies to the inside with double stick tape…