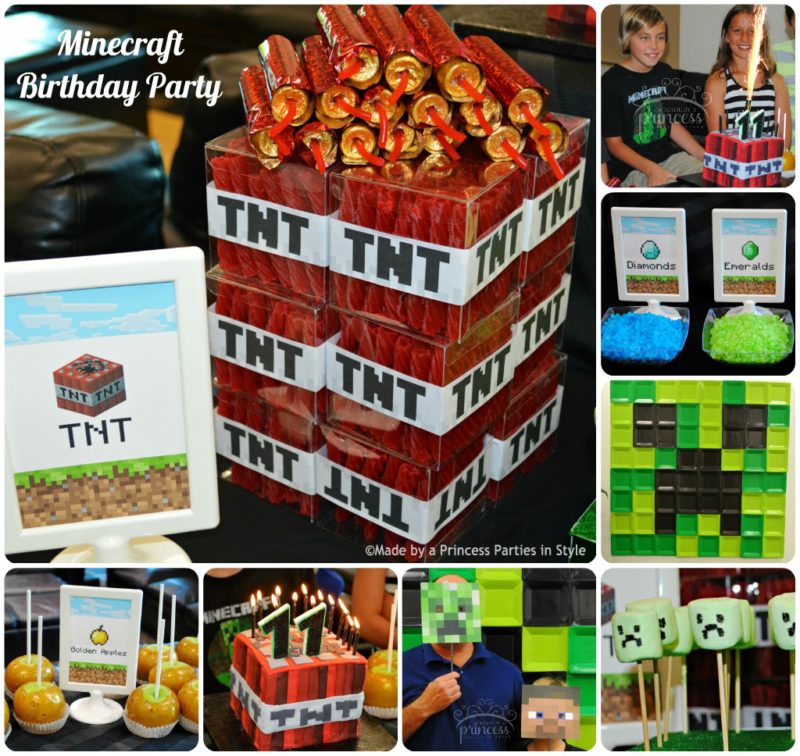 Do you have a Minecraft obsessed child in your house?  When my son starts talking about spawning and teleporting and potions my eyes glaze over.  When I asked him what theme he wanted for his birthday this year I braced myself because I was pretty sure I knew what he was going to say. I was thinking to myself, "Please don't say Minecraft. Please don't say Minecraft."  "Minecraft. Of course."  Yes, of course it has to be a Minecraft birthday party.  It's not that I don't appreciate how much fun he gets out of it because I do, but from a party planning perspective there's just not a whole lot to work with.

 I thought.  
On
ce I got into it I did have fun with the theme and ended up with a party that eight 11 year olds thought was pretty darn cool.  One of the dads came up to me and said I should be a party planner.  Well, thank you!  Here's my card. I did take that as a big compliment and he laughed once I told him what I do.
I had m

y son give me a list of important elements in the game and created a food table around those items.  Granted most of the stuff was junk food but to be honest, the kids ate the carrots first.  There was a lot of candy left over.  The only printables I made this year were the food signs and the TNT labels for the boxes of "dynamite".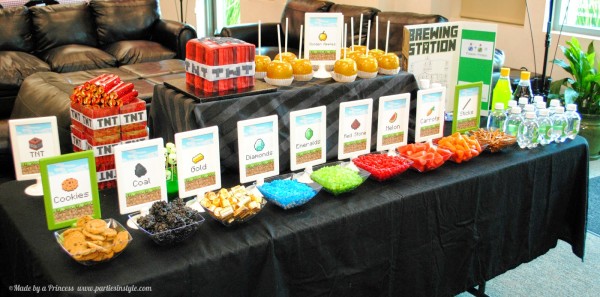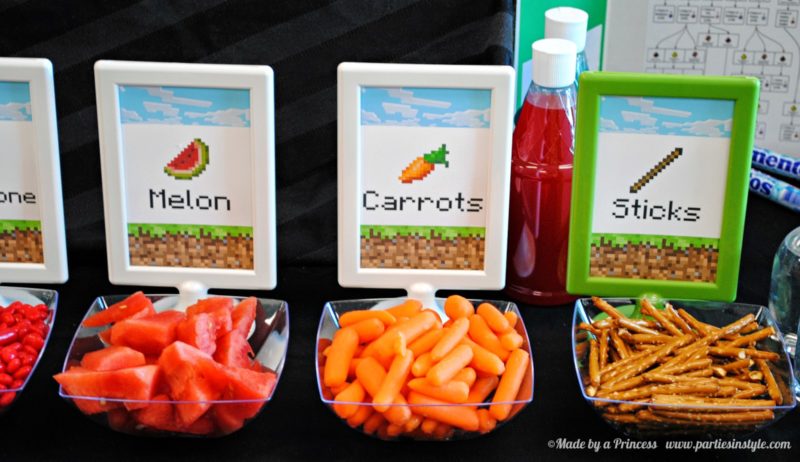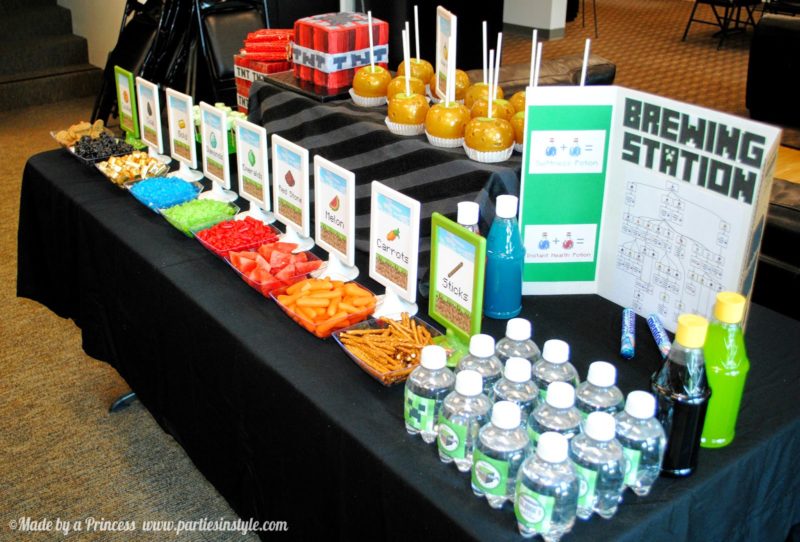 I sa
w a picture of golden apples Roni of Roni's Sugar Creations made for a client and asked her to make me a dozen golden apples for the kids.  They are not only beautiful but taste so good!  I have to say that the apples did not look quite like this when I picked them up.  There were smooth and shiny without any holes but it was so hot that the sugar was separating.  The kids did not care one bit.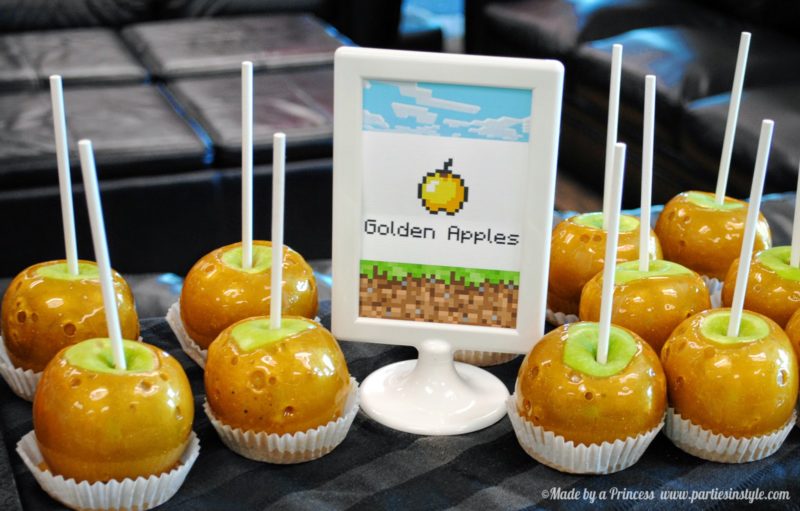 I made TNT

boxes out of licorice and dynamite sticks out of Rolos.  The wick was made with Twizzlers.  I looked for black but nobody had any, unfortunately.
I had seen another mom create a brewing stand for her son's party on Catch My Party and thought that was a really cool idea so my son and I created one too.  I found small seltzer bottles at Walmart as well as some syrup bottles used for snow cones.  My son chose the flavors based on potions in the game. I found a potions table online and created potion recipes with Minecraft clipart

.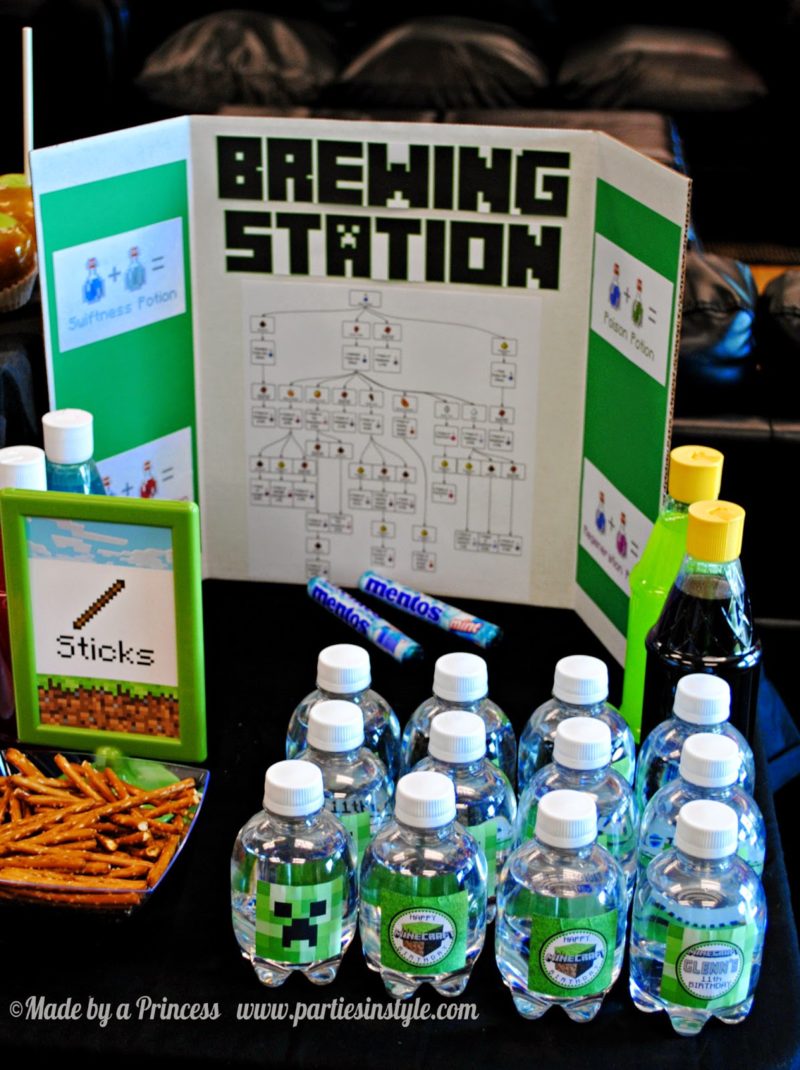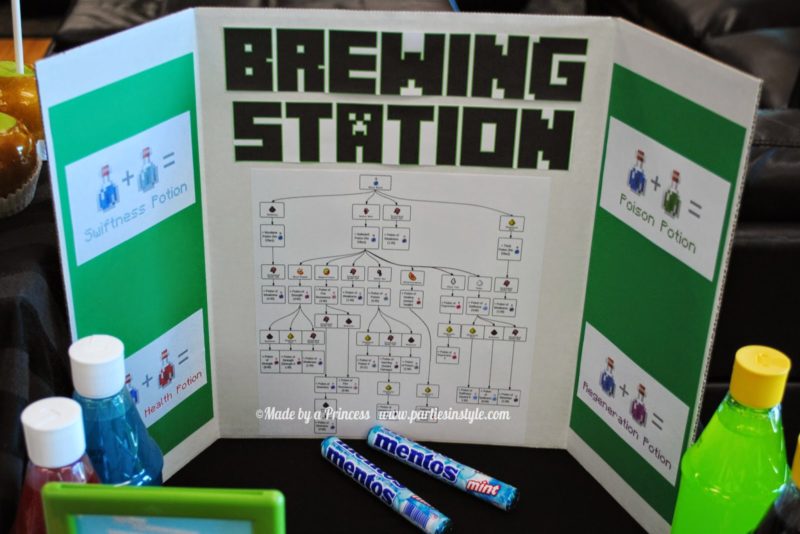 I have done that experiment where you drop a Mentos in coke and it blows up so thought maybe the same thing would happen to the seltzer water as well.  Upside: kids loved it!  Downside: big mess so it is definitely an outdoors thing AND it flavors the water minty so the kids won't drink it. It made my son and his friends happy so I call it a game point for Mom.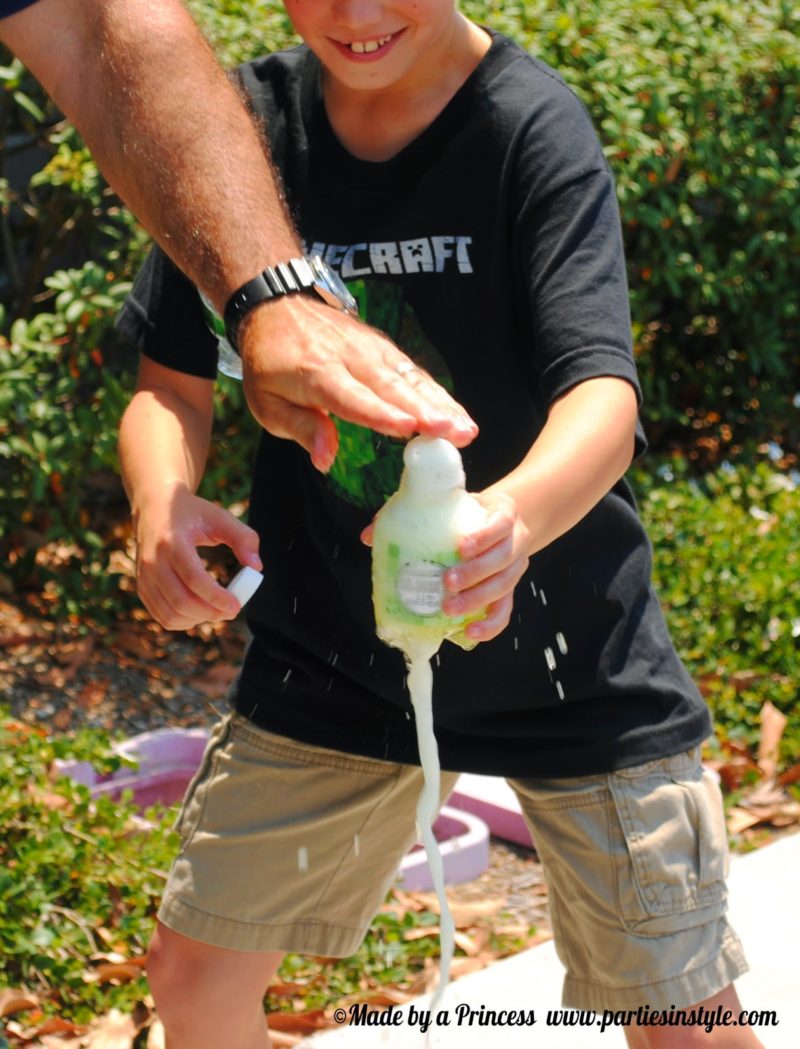 While searching for Minecraft ideas my son found a giant Creeper face made out of plates.  I thought it would be the perfect backdrop for our photobooth so I made one myself using four packages of plates, five foam boards from Dollar Tree, and my glue gun.  Thank you Kellie H. for making my job a whole lot easier…I followed your pattern exactly! I have now made your life a whole lot easier by creating a free printable guide. Just print and follow the template! Download here.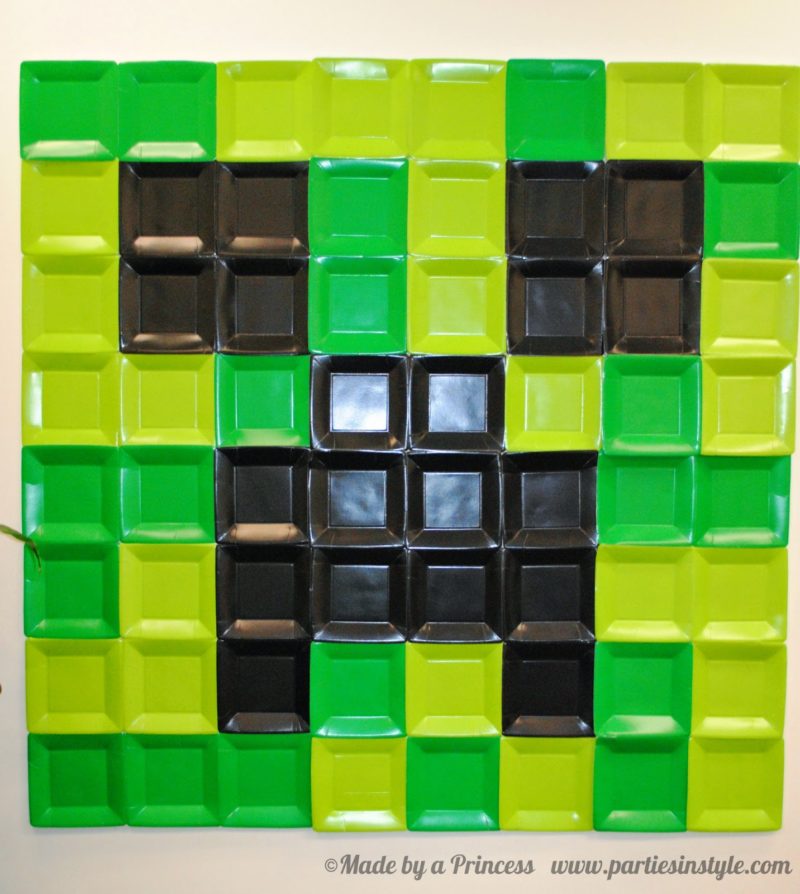 I surprised the birthday boy with these photo props which he thought was a really cool idea. Yay Mom!  *Want to make your own Minecraft photo props? I created a post just for you!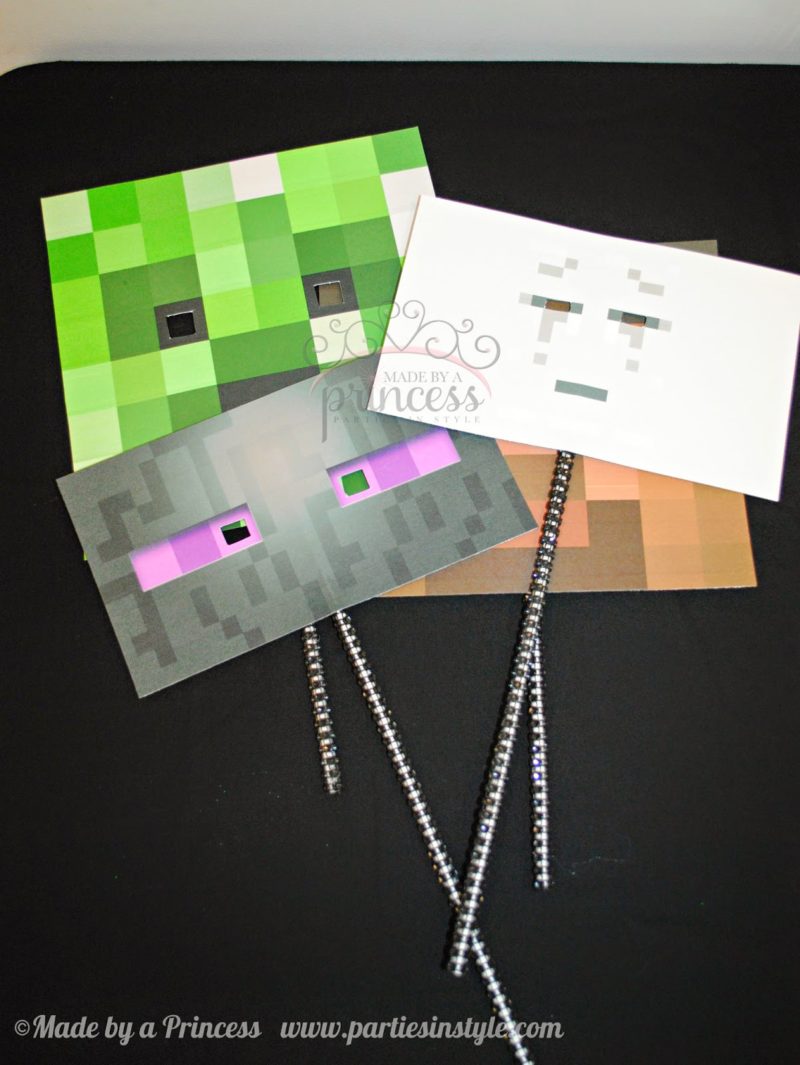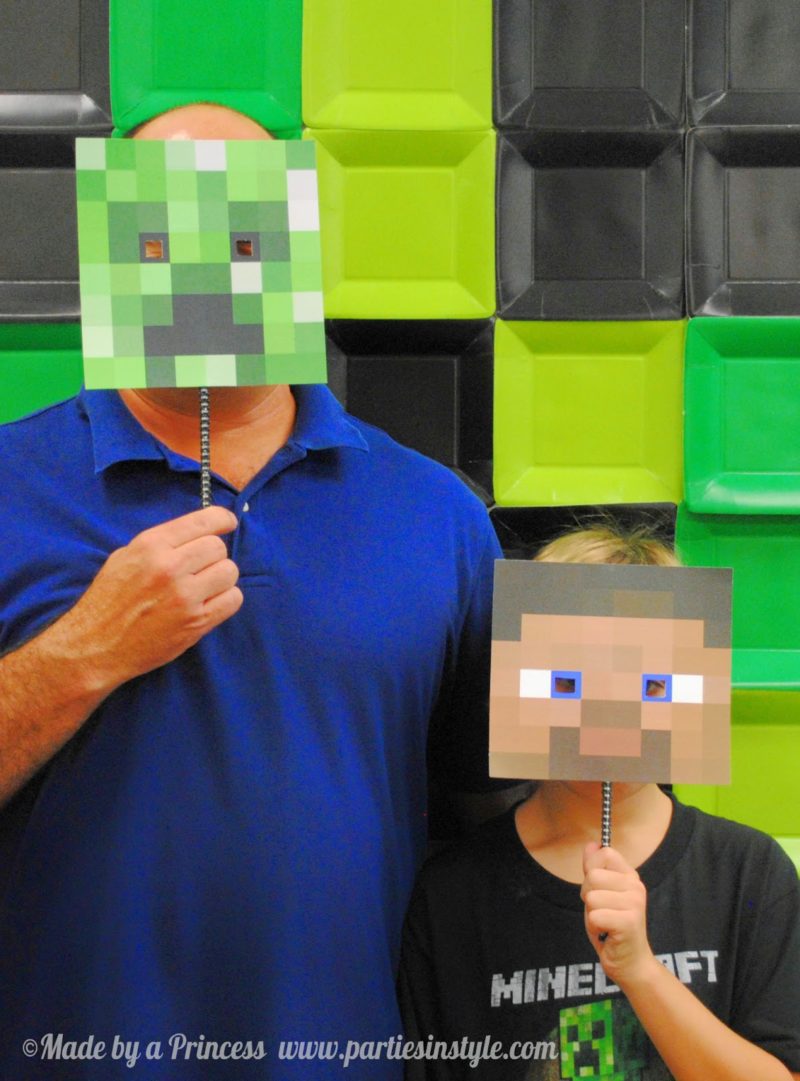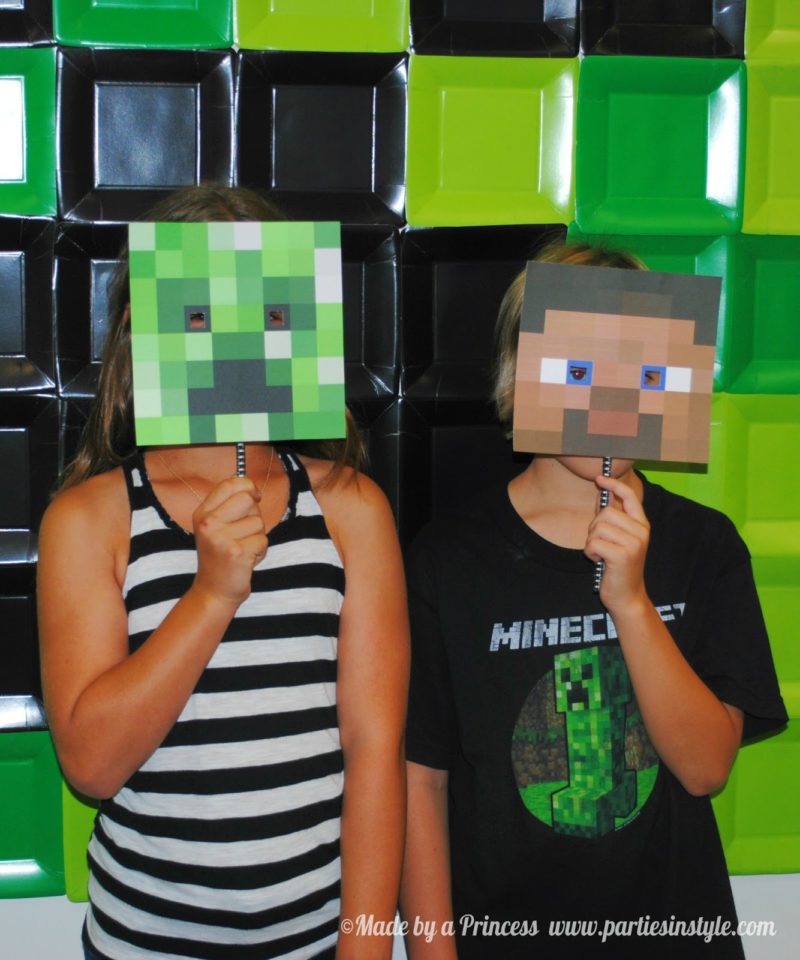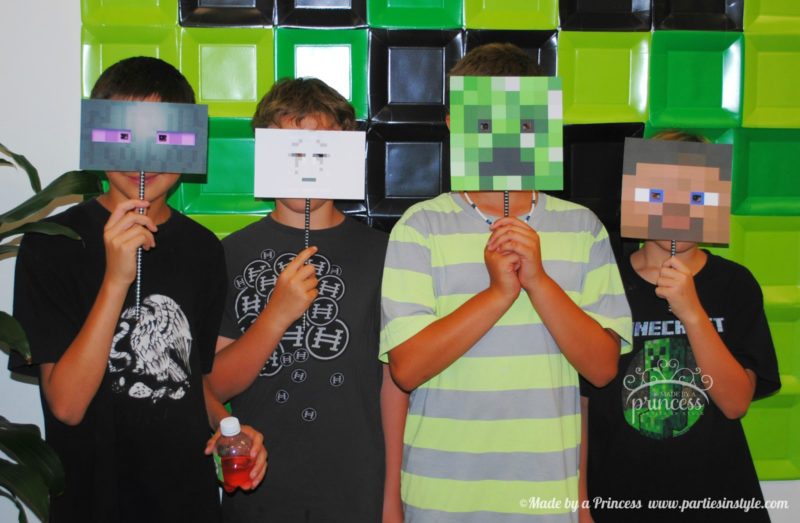 We held the party at one of our local karate studios, AK Martial Arts & Fitness.  It is a great location to host a party because they have a ton of things to choose from for the kids to play.  It was a toss up between dart tag and laser tag.  We opted for laser tag since it would take longer and give the kids more time to play.  Once the kids had eaten, taken pictures, and exploded some potions, we let them do crafts and play

Wii.
The Perler craft was a big hit too.  A few days before the party my son and I created some samples for the kids to follow.  It does take a bit of practice but it was a great activity.  Tip: do not use wax paper, only use parchment paper.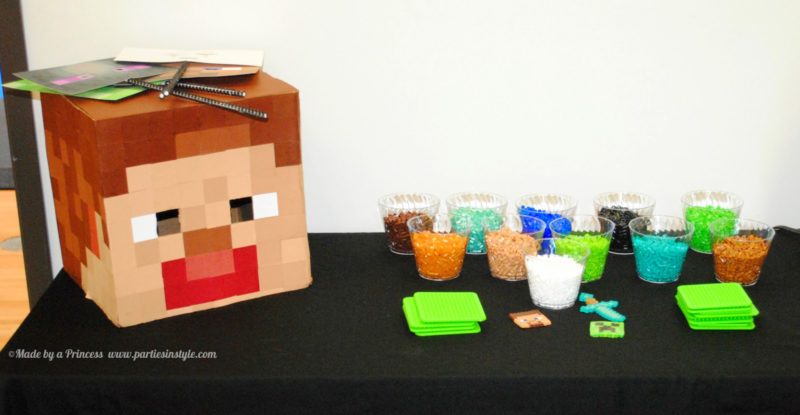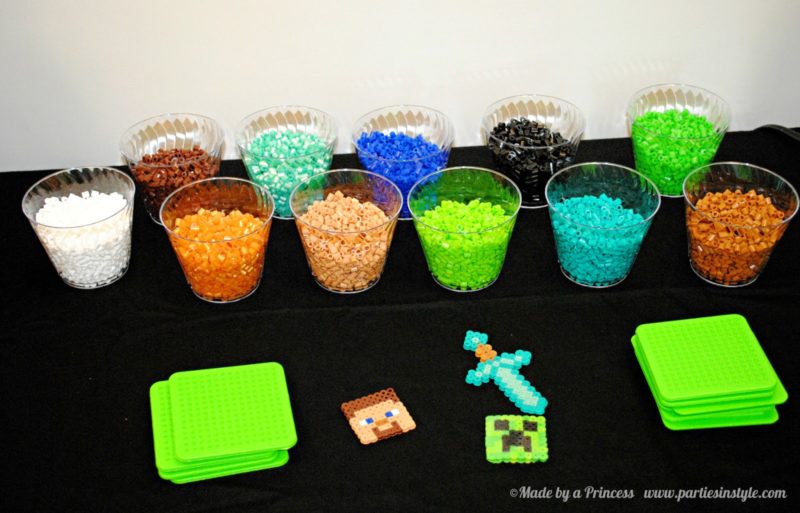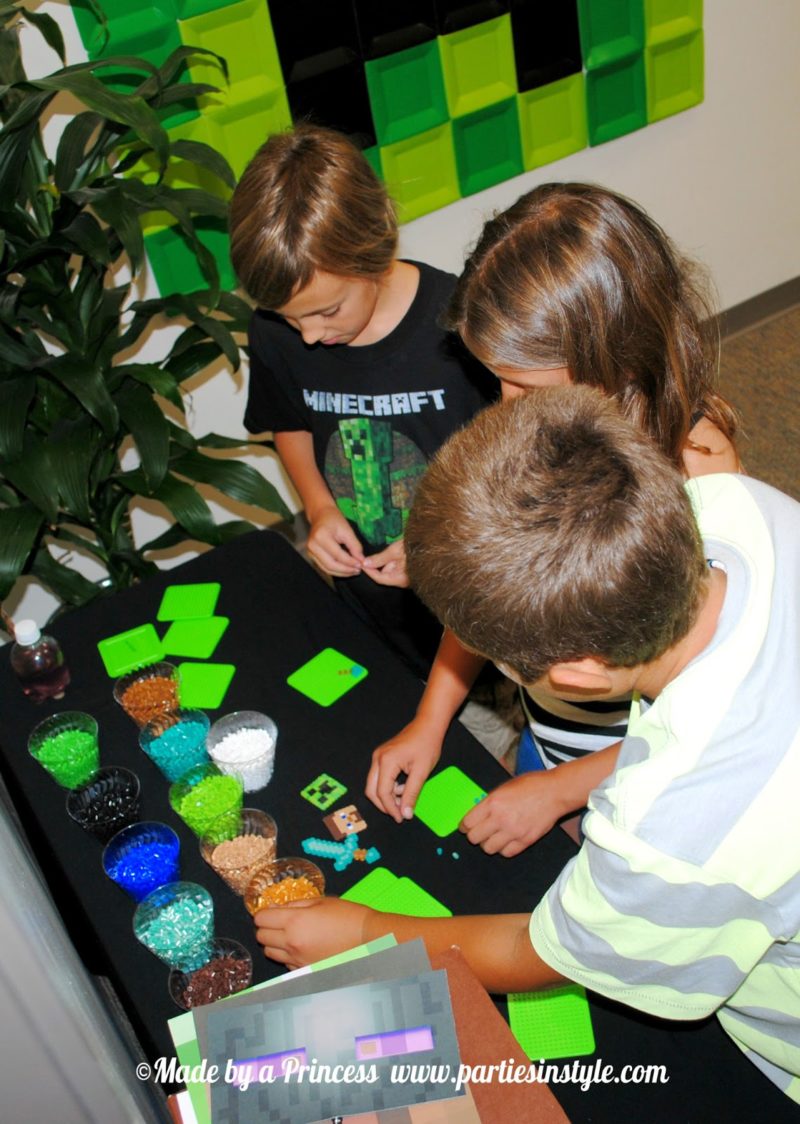 I am not a baker but I will do everything I can to make the best cake possible for my kids. This year the birthday boy decided he wanted a TNT cake. Ooookay.  Got it.  I printed a few pictures of the Minecraft TNT thingy and did my best to match the colors and features.  Like I said, I am not a baker but my son was so over the moon excited the little things (maybe not so little) didn't matter a bit. My favorite part of the whole party was the look on his and the other kids' faces when they turned around and saw the cake "blow up"!  They had never seen one of those candles before and it was priceless.  Best $5 spent for the whole party!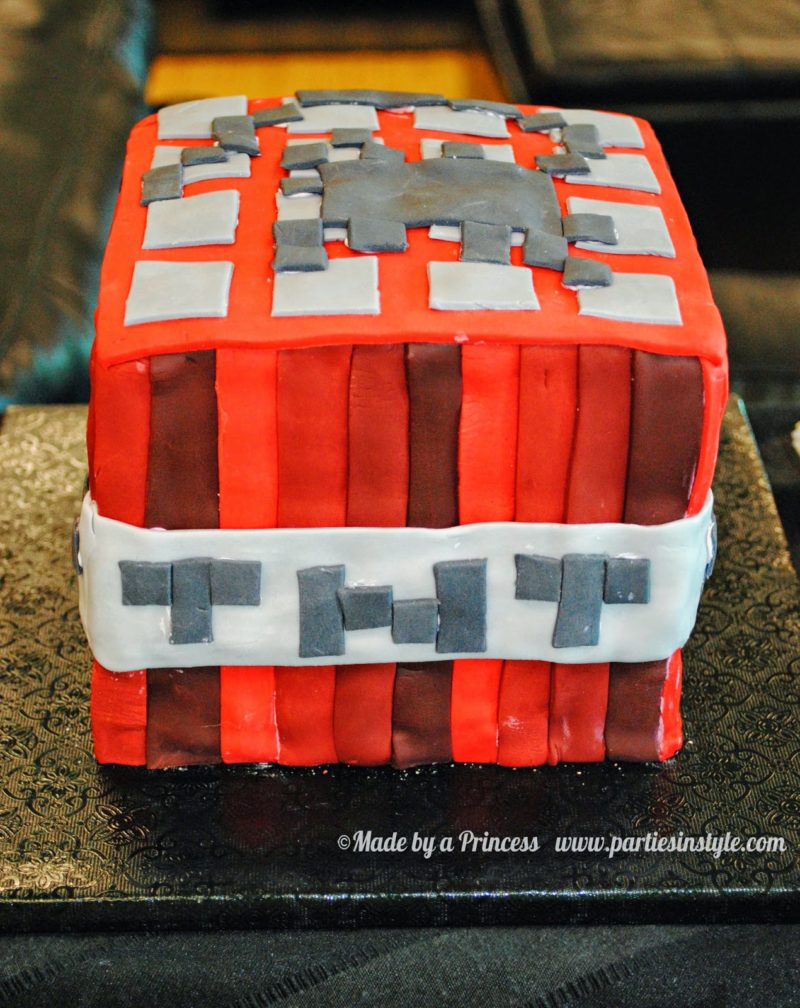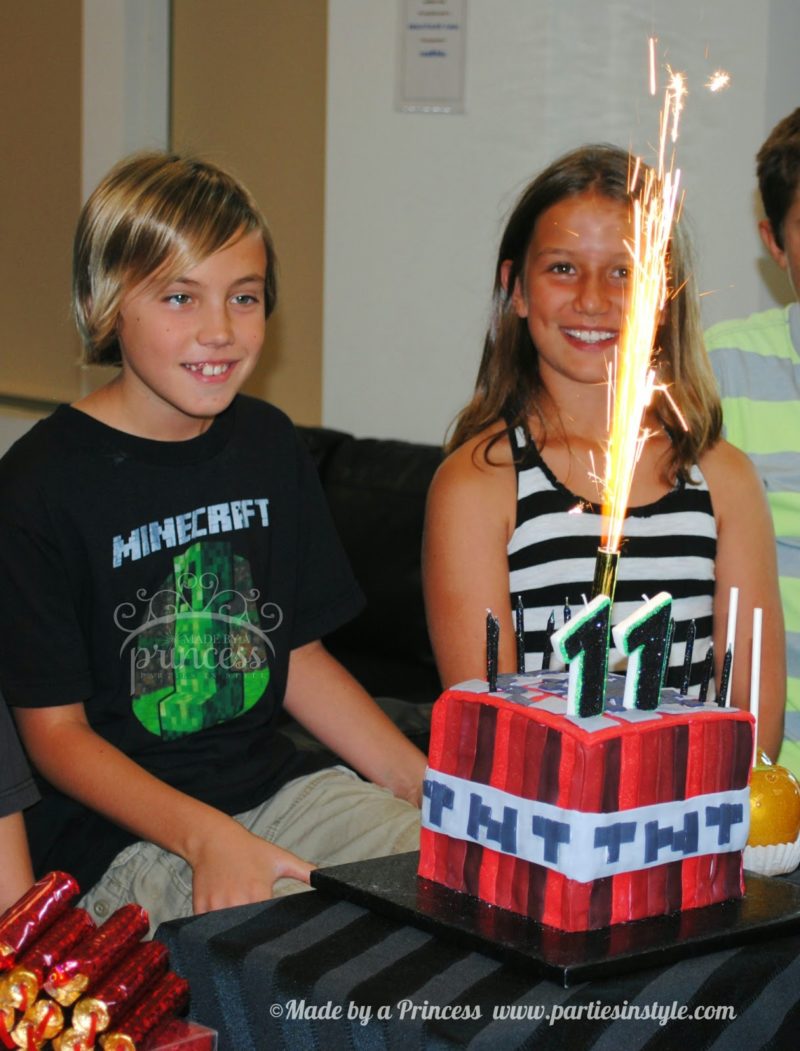 I also glittered birthday candles in Creeper colors. Even boys need a little sparkle

!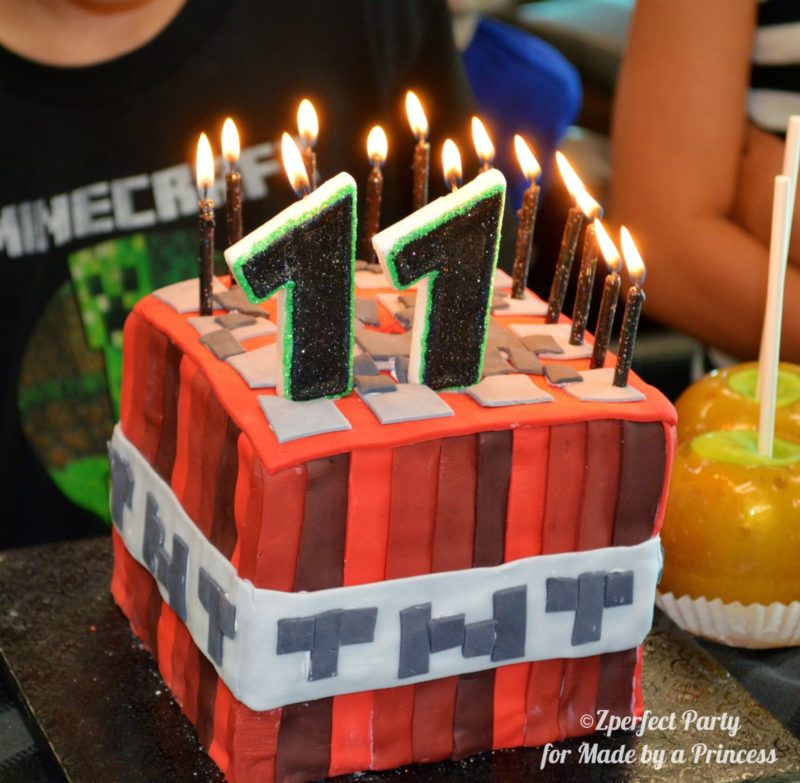 Party credits:
Party Styling, photo props and some printables for personal use: Made by a Princess Parties in Style
Golden Apples: Roni's Sugar Creations
Venue: AK Martial Arts & Fitness
Shop the party! (aff links)

Activity:
Cake:
For the backdrop:
Table & Decorations:
Food & Favors: