You don't need to go to Disney World's Barefoot Pool Bar at the Polynesian Village Resort to enjoy a cocktail. Taste the magic at home with my Copycat Disney Rose Gold Margarita!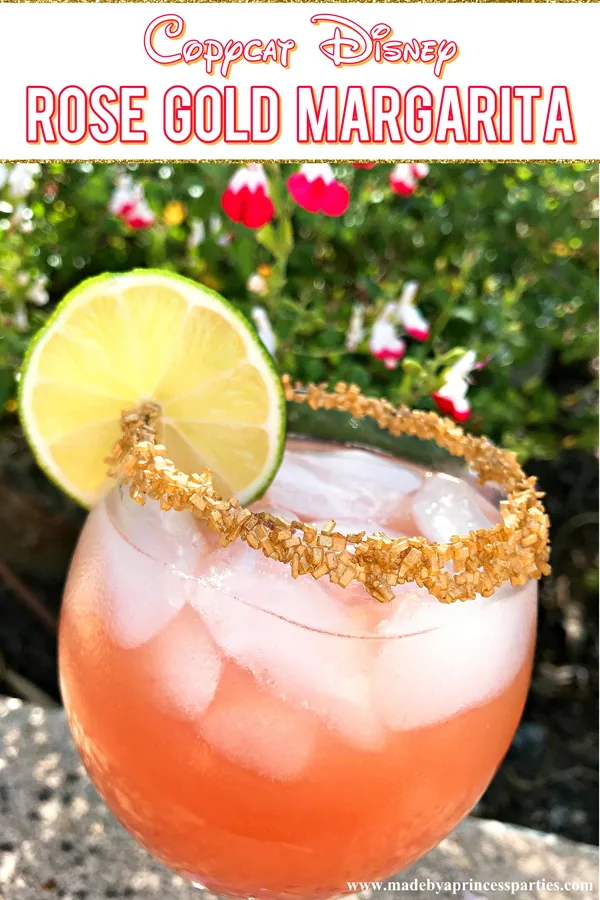 You don't need pixie dust to enjoy Disney World Barefoot Pool Bar's Rose Gold Margarita! My Copycat Disney Rose Gold Margarita recipe is just what you need to bring a little tropical magic into your life.
*post contains affiliate links
Disney Rose Gold Margarita
I have to admit, I'm kind of jealous about all the beautiful millennial pink treats Disney World has to offer. They've got millennial pink cupcakes, cake pops, cookies, milkshakes, and ice cream. Don't get me wrong, I love our Disneyland, but as a person who has loved pink her entire life their millennial pink treats have me feeling kinda left out. Rather than cry in my Starbucks Pink Drink I decided to do something about it…one millennial pink Disney food at a time.
Homemade Margaritas
There is something about fresh homemade margarita that is so appealing, especially if shared with friends. Margaritas from scratch are so much better than the bottled versions you find at the store. We celebrated Cinco de Mayo with some of our best friends and I volunteered to bring the margaritas. I had been experimenting with this recipe the week before and felt like I finally nailed it. This Copycat Disney Rose Gold Margarita is a totally original recipe based on the one found at the Disney World Barefoot Pool Bar in the Polynesian Village Resort.
How to Make Homemade Margaritas
Making homemade margaritas isn't hard but it does take some prep. Before you get started gather all your ingredients and tools and line them up in order you'll use them to make it easy on yourself. You can serve this margarita on the rocks or throw it all in a blender…it's up to you. If you choose the on the rocks version you will need a cocktail shaker with ice and salt rimmed pretty glasses (or sprinkled rimmed in this case).
What Ingredients are in a Margarita?
Many margarita recipes call for pretty much the same ingredients: margarita mix, tequila, Triple Sec or Grand Marnier, simple syrup, squeezed limes, and lime wedges. Here's what you need to make my Disney Rose Gold Margarita:
Margarita mix
Tequila
Key Lime juice
Triple Sec
Guava juice
Mango nectar
Ginger Syrup
Grenadine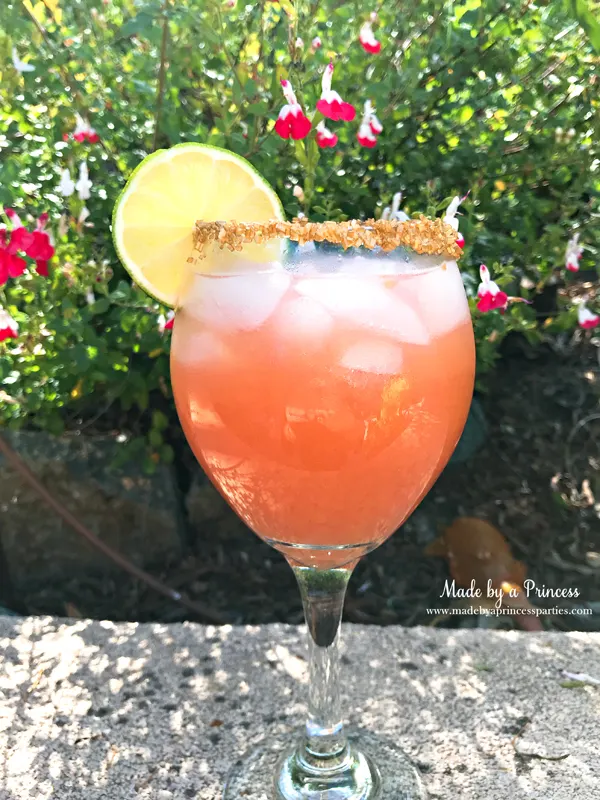 Before pouring your margarita into the glass, dip in triple sec and then in sprinkles so you have a nice big rim of gold bakery bling.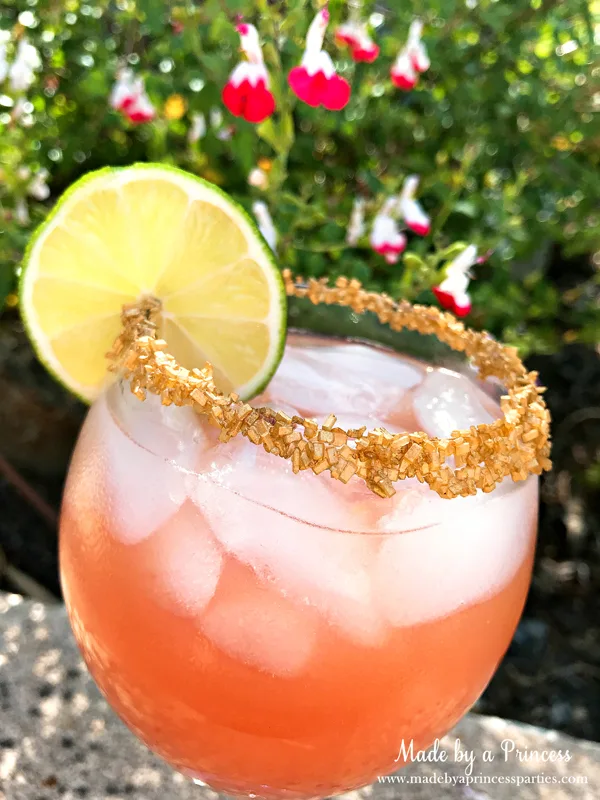 If you want to make it sparkle like mine add some disco dust. The best ones I found are from Bakell. These are food grade and 100% edible which few companies can claim.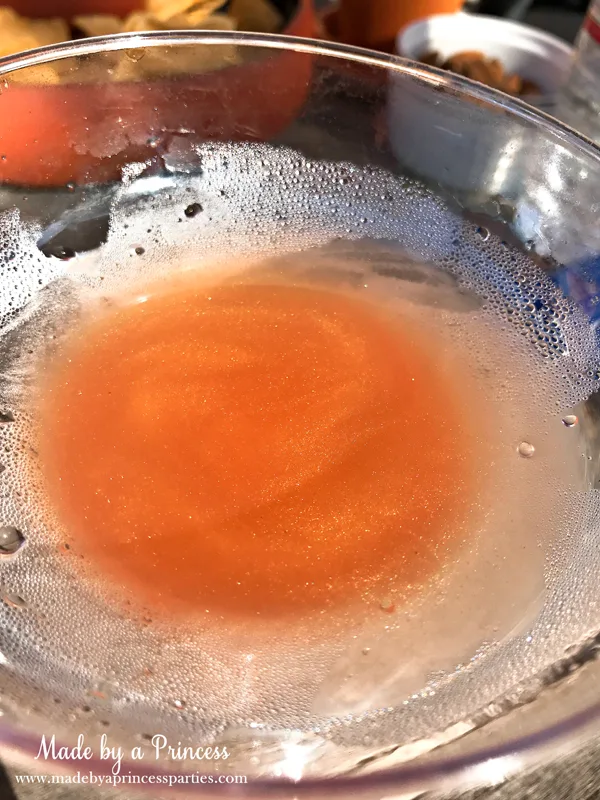 You can see the tiny flecks of edible glitter on the lime. It looks so pretty when you swirl it around!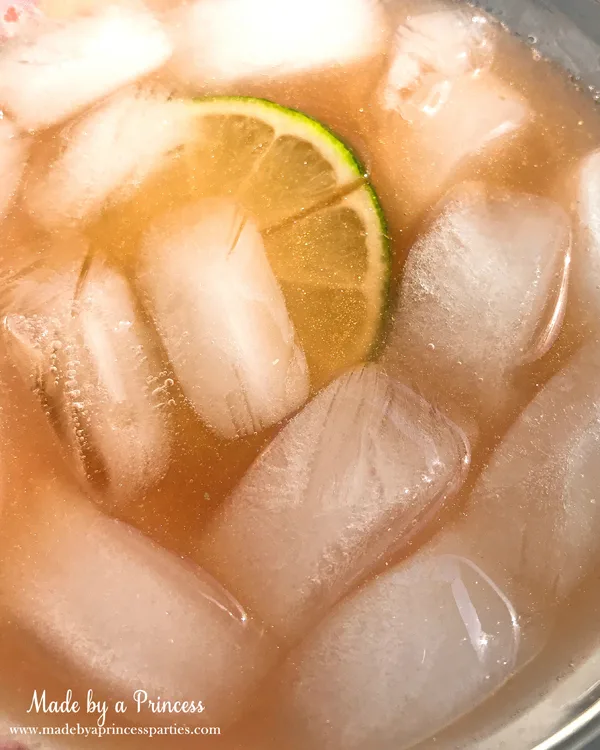 The not so hidden Mickey 😉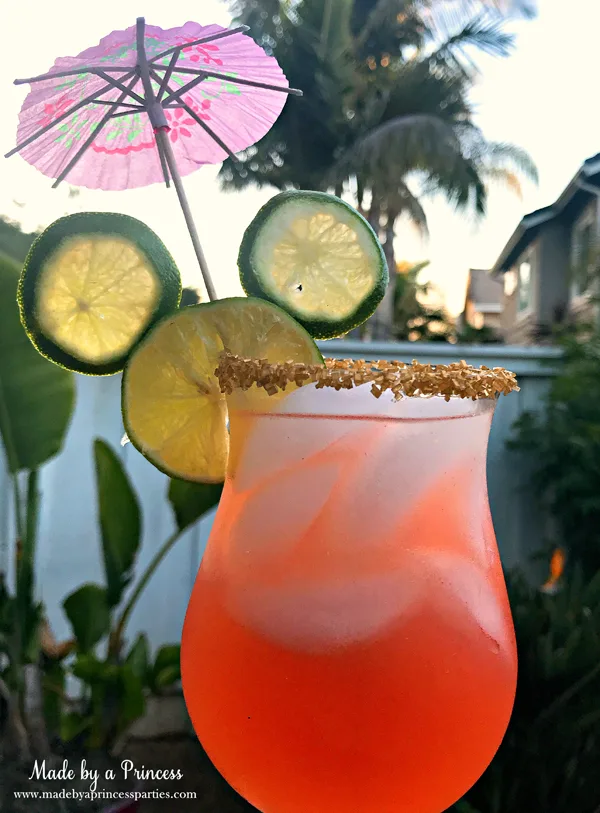 The Margarita Story
My eighth grade social studies teacher used to refer to some of the most interesting tidbits of history as, "backdoor history." These were the juicy nuggets about what really happened that were not in history books. These were my favorite! Here's a little backdoor history for you.
The Origin Story
The origin of the margarita is a little fuzzy. Some believe it was created during Prohibition as people traveled back and forth over the border for alcohol.
Quite a few people claim to have invented margaritas, actually. Here is a timeline:
1930s
1930, tequila based recipe appears in My New Cocktail Book by G.F. Steele.
1936, Iowa newspaper editor, James Graham, writes about finding the "Daisy" cocktail in Tijuana. "Margarita" is Spanish for daisy. Daisy is also a nickname for Margaret.
1936, a drink called the "Tequila Daisy" is mentioned in the Syracuse Herald.
1937, Cafe Royal Cocktail Book compiled by William J. Tarling, contains a recipe for a Picador which calls for the use of tequila, triple sec, and lime juice. Interestingly, this is published by the United Kingdom Bartenders Guide.
1938, Danny Herrera was said to have created it for a Ziegfeld dancer name Marjorie King who was allergic to most spirits but not tequila at a restaurant halfway between Tijuana and Rosarito, Mexico called Rancho La Gloria.
1938, Jose Cuervo says the cocktail was invented in this year by a bartender in honor of Mexican showgirl, Rita de la Rosa.
1940s
1941, bartender Don Carlos Orozco invents a margarita at Hussong's Cantina in Ensanda, Mexico. It is said to have been named after the daughter of then German ambassador, Margarita Henkel. She was the first to drink his concoction of tequila, Mexican orange liqueur called Controy, and lime, thus receiving the honor of having the drink named after her.
1942, Juarez, Mexico at Tommy's Bar by bartender, Francisco "Pancho" Morales.
1945, Jose Cuervo runs an ad campaign stating, "Margarita: it's more than a girl's name."
1947, bartender Albert Hernandez popularizes a margarita version in San Diego at La Plaza restaurant in La Jolla.
1948, Dallas socialite, Margarita Sames created the drink for her guests at her vacation home in Acapulco. Tommy Hilton, of the Hilton chain hotels, was allegedly a guest and enjoyed it so much he brought them back to serve at the hotels.
1948, bartender Santos Cruz creates a margarita for singer, Margaret "Peggy" Lee.
1950s
1953, Esquire publishes a margarita recipe in the December issue. This is the first known and verified publication of the recipe.
1960s
1961, party guest, James "Rusty" Thomson, claims to invent the drink at a party in Houston, Texas. His margarita includes tequila, Damiana Liqueur, lime, crushed ice, served in a salt rimmed glass.
Many many origin stories…no one really knows for sure. We all can agree, however, that they are really really good!
Copycat Disney Rose Gold Margarita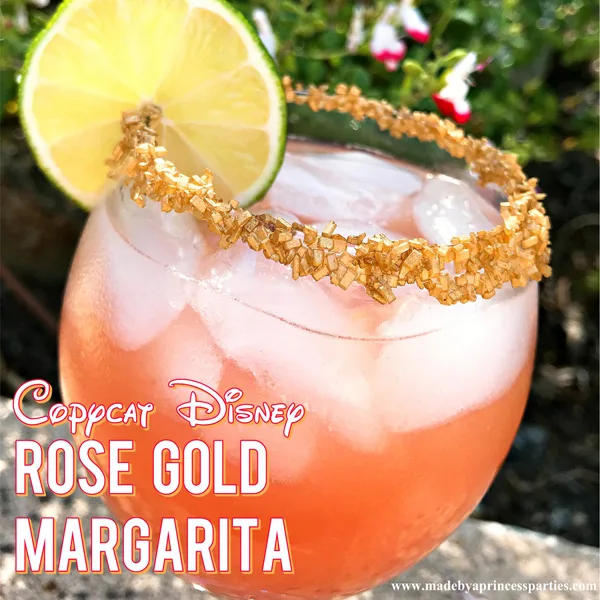 How Many Calories in a Margarita?
There are approximately 950 calories in my Disney Rose Gold Margarita. Are there carbs in a margarita? Unfortunately, yes, there are carbs. If you happen to be counting Weight Watchers Points I hate to break the news to you but it's going to cost you…a whole lotta points. Ouch! Don't let that stop you from enjoying one though! We all need to splurge once in awhile #amiright?