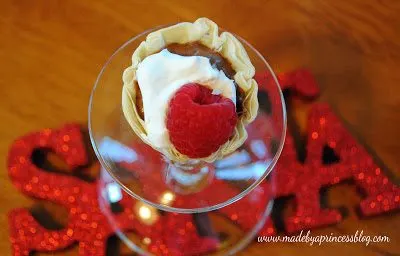 My friend, Andy, brought these lovely little pudding cups to my Favorite Things Christmas Party last month and I just fell in love with how cute they were. Pastry cup, chocolate pudding, whipped cream, and a perky little raspberry…yum!

When I asked Andy for the recipe she was hesitant and then admitted she cheated. What? What do you mean you cheated?! Andy Andy Andy tsk, tsk, tsk. She then told me it was just too easy to be considered a recipe and sheepishly told me how easy it was. Is that all? That's not cheating…that's brilliant! Who doesn't love something that's beautiful, yummy, and EASY? So here it goes Party Princesses…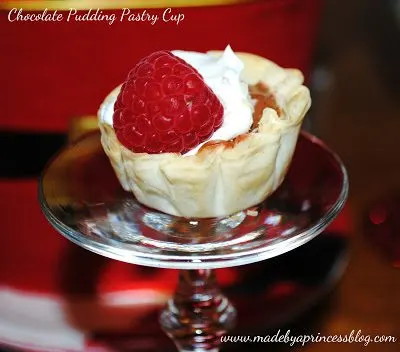 Ingredients:
Puff pastry shells
Instant chocolate pudding (or any flavor you like), prepare according to directions
1 tub of Cool Whip Light
Fresh raspberries

Directions:
Prepare pudding according to package directions. When mixed thoroughly and before it sets, add 2 cups of Cool Whip. Once your pudding as set up and is ready to serve, spoon pudding into pastry shells, add a dollop of Cool Whip and a fresh raspberry. Refrigerate before serving. I would suggest refrigerating at least an hour before serving.

Enjoy!