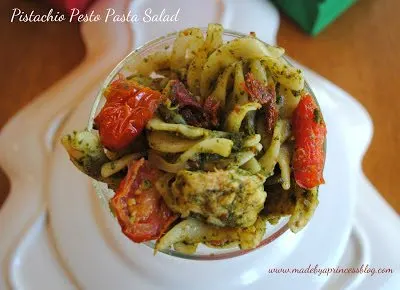 My sorority sister, Leslie, is one of the most perpetually happy people I know. She always has a smile, a hug, and a positive loving thing to say. Her dog was even named Love! Leslie is a very sweet treasured friend who also happens to be a great cook. She is a vegetarian so I know I'm going to eat something that not only tastes great but is also good for me too.

For our Favorite Things Christmas Party she brought Pistachio Pesto Salad and holidayed (I don't think that's a word but you know what I mean) it up with tomatoes, sun-dried tomatoes, and red bell peppers. This was so good! I enjoyed a small bowl long after everyone left and then proceeded to hide the rest in the back of the refrigerator for later. The next day I went to retrieve my secret stash and it was gone! Hubba-hubba-hubby beat me to it. Drat! New hiding place is needed next time.

Ingredients:
1 lb bag or box uncooked pasta, prepare according to directions on package or box
*3 chicken breasts, cooked and shredded or chopped (optional)

2 1/2 cups basil leaves
3/4 cup pistachios
1/2 cup virgin olive oil + 1 tbsp for sauteing tomatoes
*2 tbsp grated Parmesan (optional)
2 tsp sea salt, more to taste if you like
1-2 tsp freshly ground black pepper to taste

1 1/2 cups tomatoes, chopped and sauteed
*3/4 cup thinly sliced onions (optional)

1 red bell pepper, thinly sliced or chopped
1/2 cup sun-dried tomatoes packed in oil, chopped

Directions:
Prepare pasta according to directions on package or box and set aside.

For the pesto: Place basil and pistachios in a food processor and pulse a few times. Slowly add the olive oil in a constant stream while the food processor is on. Stop and scrape the sides occasionally. Add salt and pepper to taste until well blended. Add Parmesan if you like. Set aside.

Gently saute tomatoes with 1 tbsp virgin olive oil and a pinch of salt and pepper to taste. Add onions if you like. Place tomatoes (and onions), sliced or chopped red bell peppers, and sun-dried tomatoes in bowl with pasta, pour pesto and mix well. Add cooked chicken and incorporate well.
This pesto would be great on a baguette, baked potato, and steamed veggies. I just made a fresh batch this morning and my 20 month old devoured it for breakfast.

Enjoy!