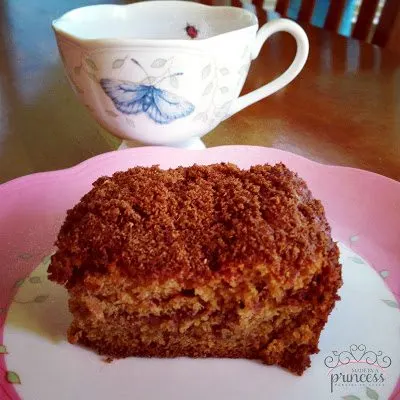 I love quick and easy recipes, especially ones that I can make on the fly when a girlfriend is coming over for coffee. Last Friday my friend Pat of Zperfect Party was coming over to talk shop and have a cup of coffee so I whipped this spiced coffee cake up right quick.
1 (3.4oz) box instant butterscotch pudding
1 (3.4oz) box instant vanilla pudding
1.5 cups packed brown sugar
Preheat oven to 350 degrees. Grease and flour a 9×13 baking pan.
In a medium bowl mix together cake mix and pudding mixes and stir with a fork. Add eggs, vegetable oil, and water with a hand mixer. Add spices and vanilla extract. In a separate bowl mix brown sugar and spices, set aside.
Pour half of the batter in the baking pan. Sprinkle half of the sugar and spice mixture over the batter. For an even coat you can use a flour sifter and sift mixture over the batter. Pour rest of the batter in the baking pan and then sprinkle remaining sugar and spice mix.
Bake for 20 minutes on 350 then turn oven down to 325 and back for 35 minutes more. Use a toothpick to test the center. If it comes out clean your cake is done, if not pop back in the oven for about 5 minutes. Check again.
This would be perfect to make for mom this weekend…hint hint hint 😉