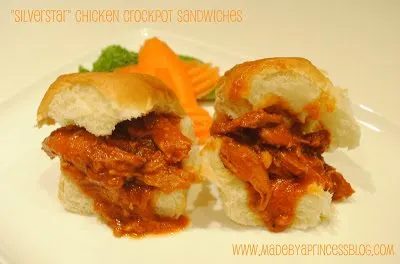 We are big Cowboys. Big. Now, granted, they pretty much stink right now and they make it kind of hard to be fans but we are loyal and going to stick with the 'Boys. A few years ago I told my husband I wanted to make something special when we watched the games. It had to be easy, tasty, and something that would be a nod to our boys in Texas. I found a recipe online somewhere for pulled pork in a crock pot but I am not a huge fan of pork so I had to make some adjustments. After a few tweaks here and there I came up with SilverStar Sandwiches. It's easy, tasty, kind of sweet with a little kick, has ketchup which anyone who knows me knows I love, it cooks in crock pot, and my son likes it…so there you go.
First, get out your crock pot then grab this stuff:
4 boneless chicken breasts, each cut in half (if you use frozen chicken make sure it is thawed and you have squeezed the excess water out)
2 cups of ketchup (I only use Heinz!)
3/4 cup yellow mustard
2 tbls honey
3 tbls brown sugar
1.5 tbls Worcestershire sauce
1.5 tbls light soy sauce
1.5 tbls apple cider vinegar
1.5 tsp ground red pepper flakes (or to taste, I add a little more depending on my mood)
3/4 tsp garlic powder
1 tsp each salt and pepper
Cut eack chicken breast in half and set aside.

Combine all ingredients for the sauce in the crockpot. Stir well. Add chicken and coat well with the sauce.

Cook on High for 3-4 hours or Low for 7 hours. Once the chicken has cooked all the way through shred or cut up the chicken into small pieces and place back into the sauce in the pot. Mix it all up until chicken is thoroughly coated. Continue cooking on High for at least 30 minutes. Reduce heat to Low until you are ready to serve.

Serve on Kings Hawaiian bread or wheat rolls. We prefer the original Kings rolls but it may be too sweet for some.

Serve with crudite (you've got to get your veggies in there!) and chunky blue cheese for dipping (the veggies not the sandwiches!).

Don't forget to say, "How 'Bout Them Cowboys?" while plating. Just kidding. Maybe…
These are great little sandwiches that are a must for us during football season. I made enough tonight to send a little care package to work with my hubby tomorrow. Go Cowboys!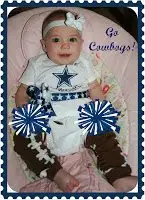 TO PIN YOU MUST BE IN THE ACTUAL POST, NOT THE HOME PAGE.