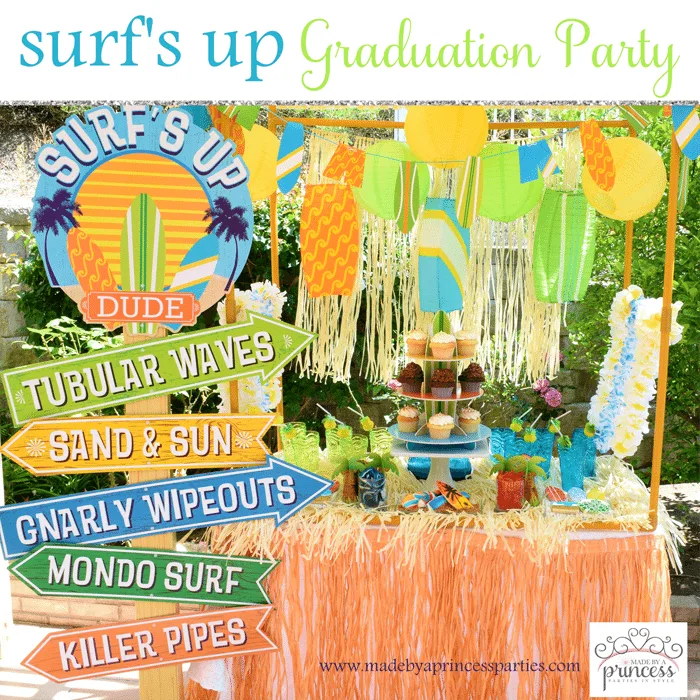 Summer has officially begun! My son graduated from 8th grade last week so it's goodbye junior high, hello high school! I surprised him by putting together a little dessert table with some of his favorite things…lemon cupcakes, gummies, and custom cookies. I chose the surf theme because it's his favorite sport and living in Southern California we are so close to some of the best surf spots around. All of these Surfs Up Graduation Party Ideas would be perfect for any surf themed party.
I was so excited to have found an Evite that matched our theme perfectly! I love using Evites because they have great designs and it is so easy to manage RSVPs.

I was so happy to have found the new surf collection at Oriental Trading. The colors are bright and cheerful and I loved that one of the main colors is lime green which is my son's favorite. The tabletop tiki hut I think is my favorite element though. I love the height it added to the table and was something unexpected. Definitely makes a statement!
I picked up some hula skirts from my local dollar store and used them to decorate the top of the table. They also help hide the poles a bit. The tiki hut comes with a lei garland but I thought it was a little too girly for my son so I added the surf themed garland from Oriental Trading along with the OTC surfboard lanterns and round lanterns I had in my own collection. The raffia fringe hanging from the back is a hula skirt. The grass tableskirt was a great size for my 4ft table.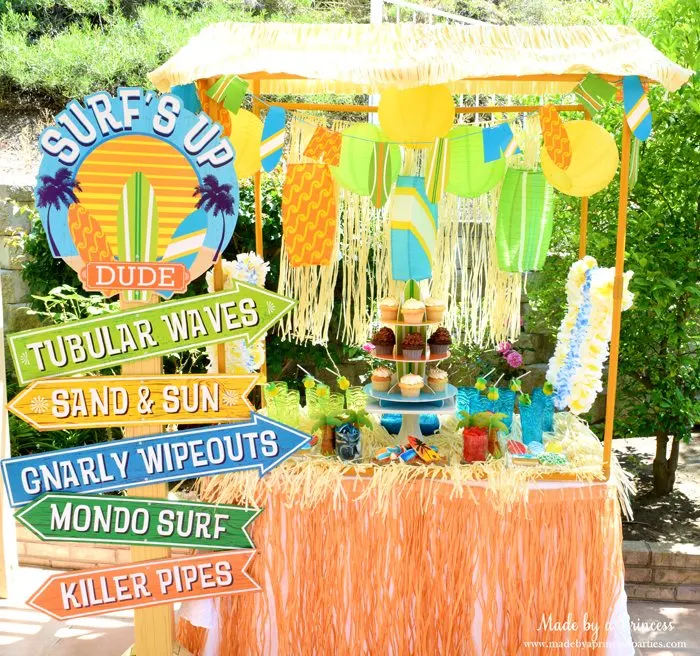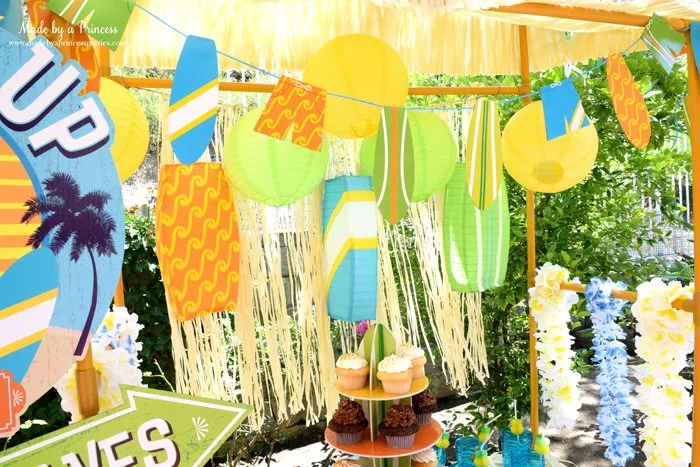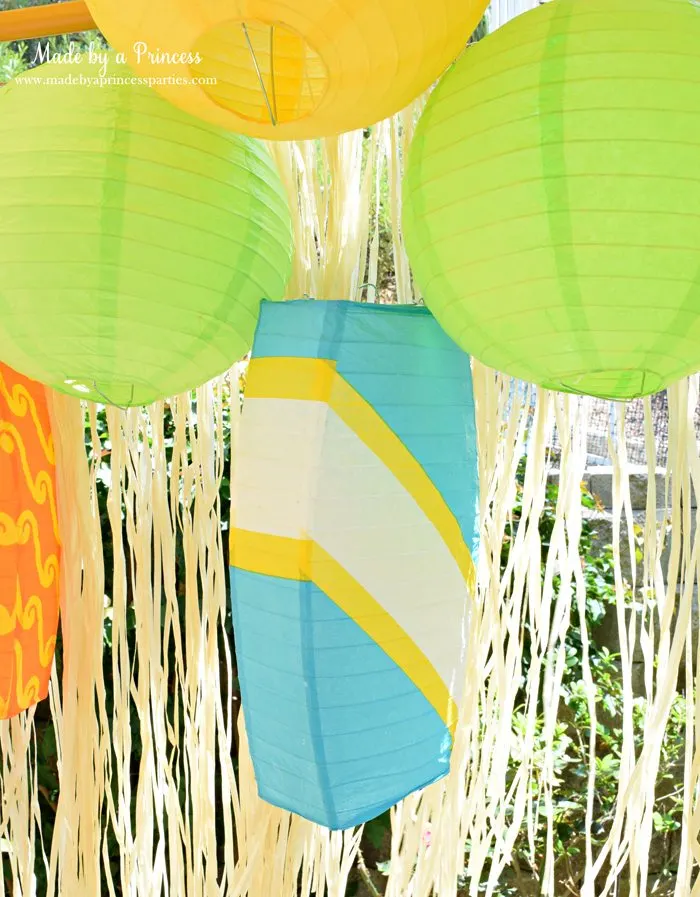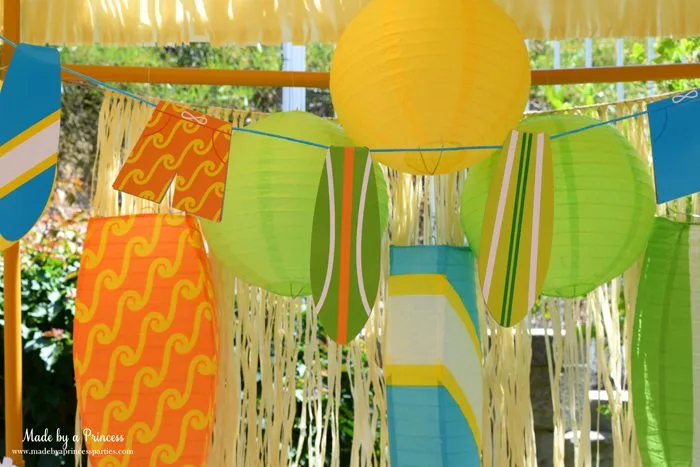 Each guest received a lei…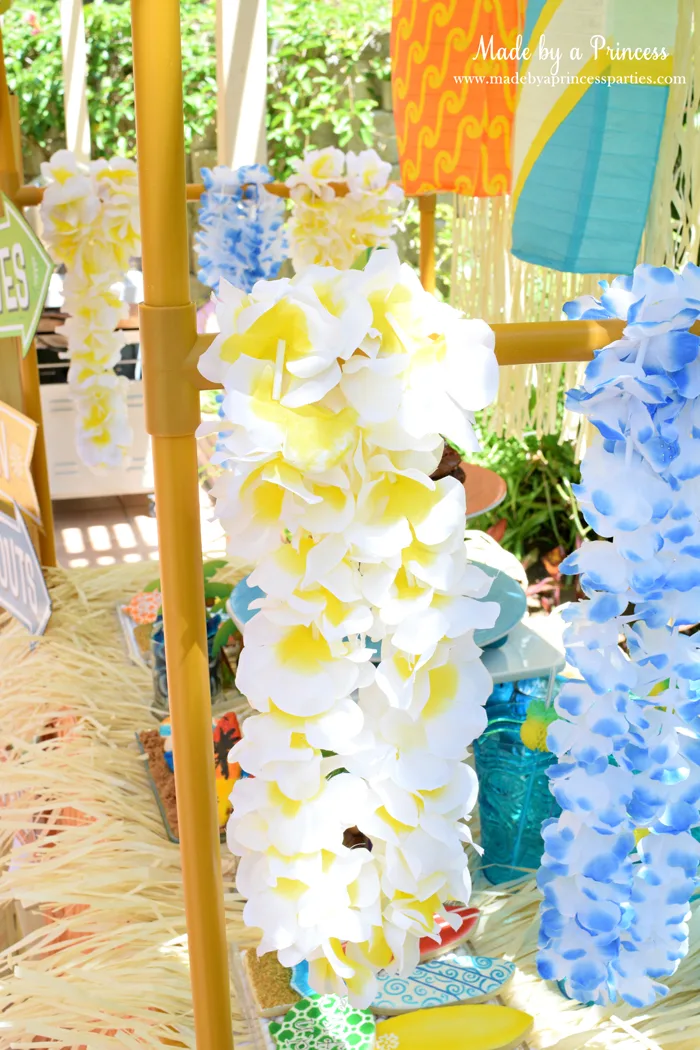 The surf sign is fun too and was easy to put together. I used it as part of my tablescape but it would also be great as a welcome sign.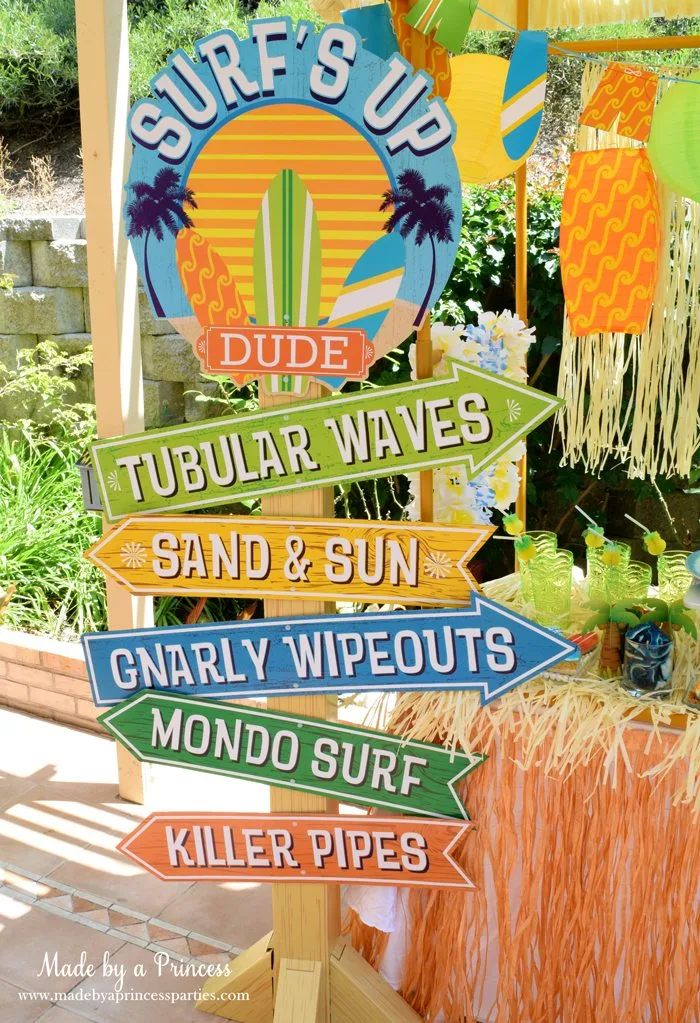 My mom picked up some cupcakes in my son's favorite flavors…lemon meringue and chocolate.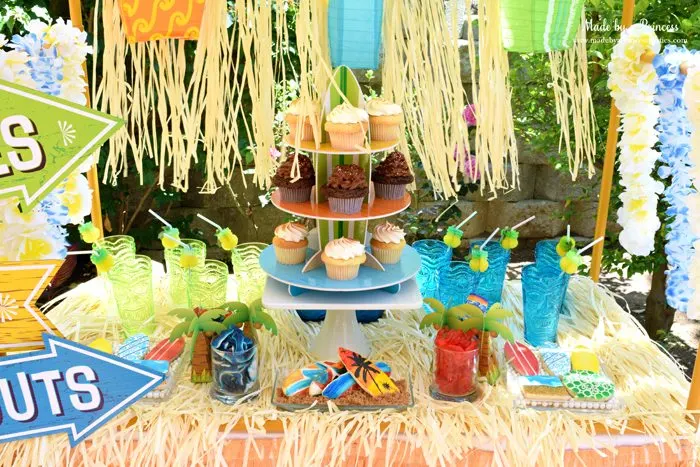 This surfboard cupcake stand was darling on the table and made the perfect centerpiece.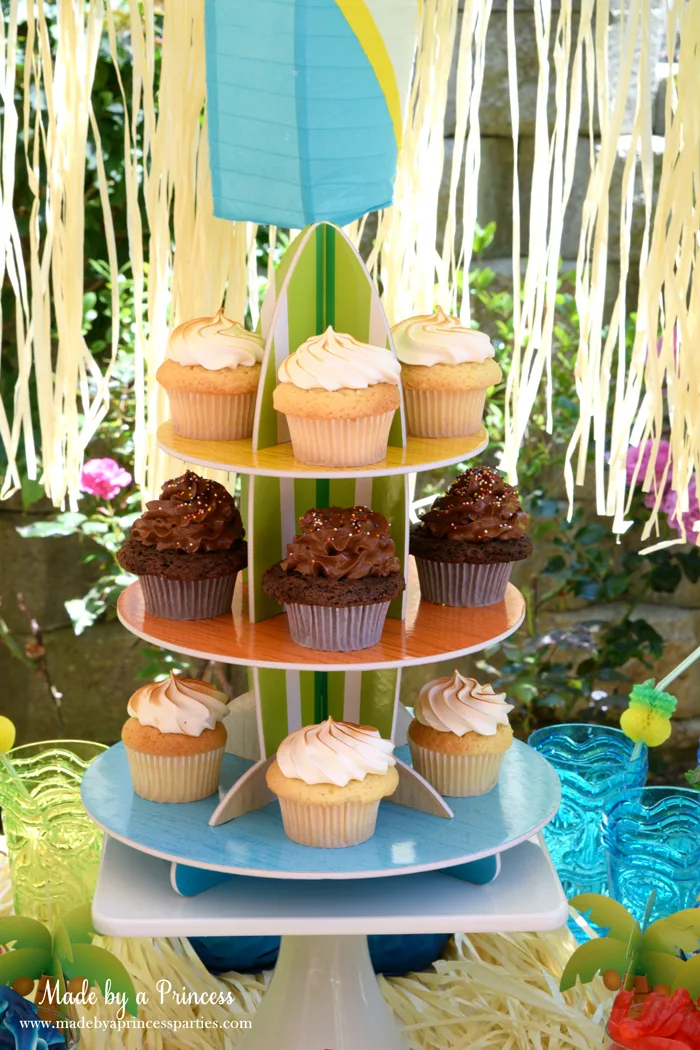 Inexpensive tiki cups doubled as party favors because who doesn't need cute tiki cups for the summer?!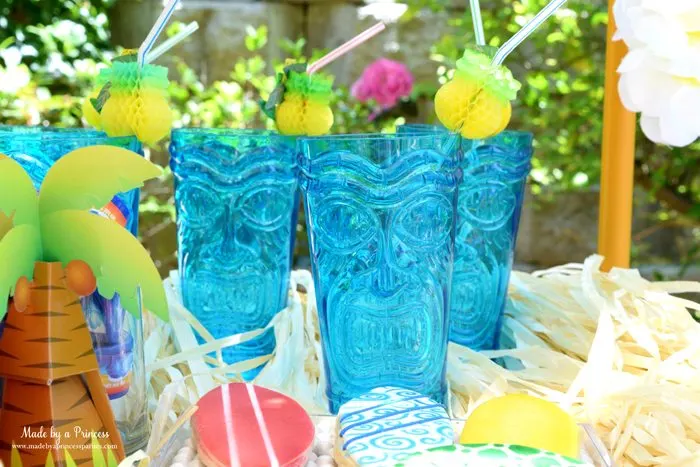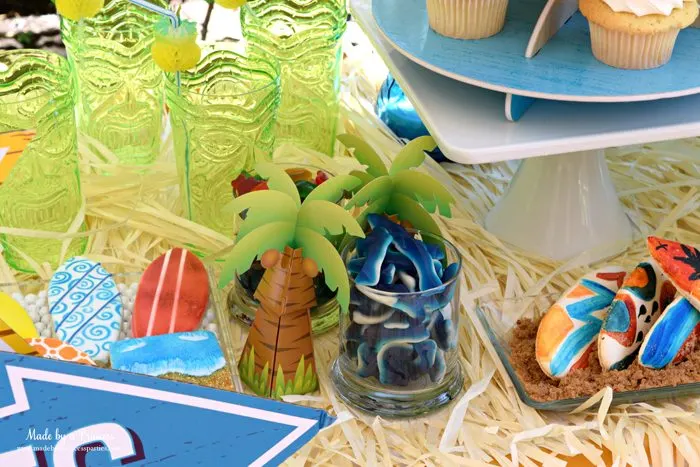 Guests took home some gummy sharks, lobsters, and ocean friends in OTC palm tree favor boxes.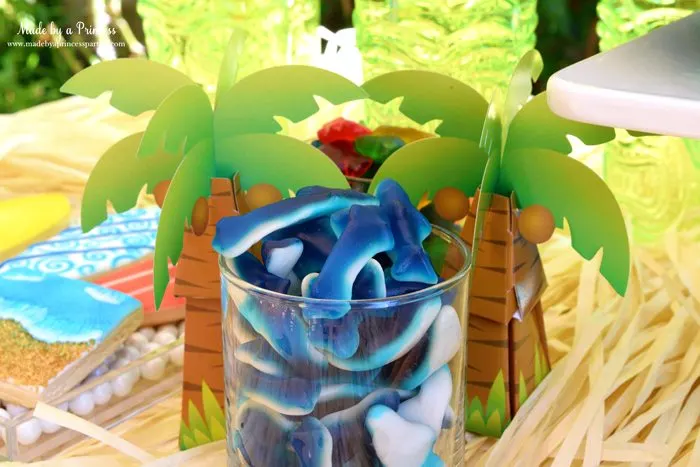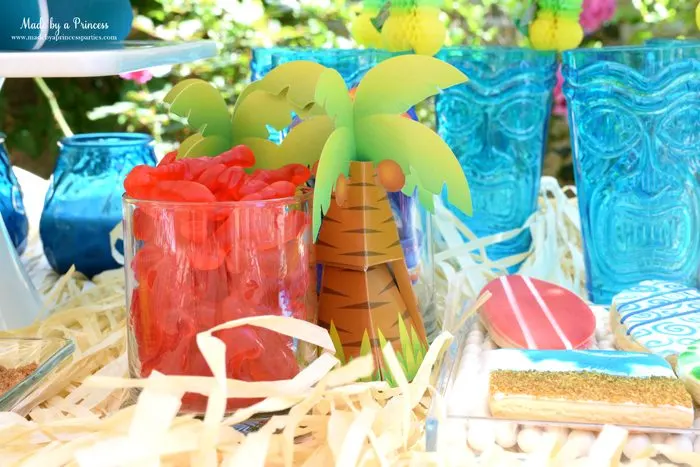 These were just too cute to pass up because I thought they looked like surf wax. Inside is a small roll of gum tape.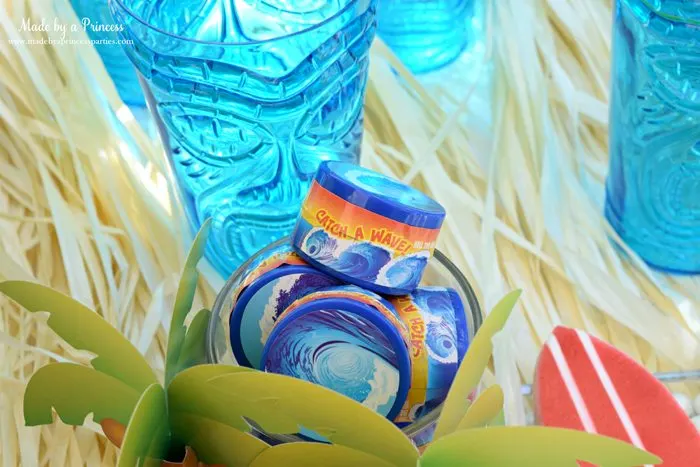 Big Joy Family Bakery here in San Diego created the most beautiful surfboard macarons for me. My son and I love macarons and to have them look like surfboards was so special and unique. A huge thank you to Sowon for creating these for us!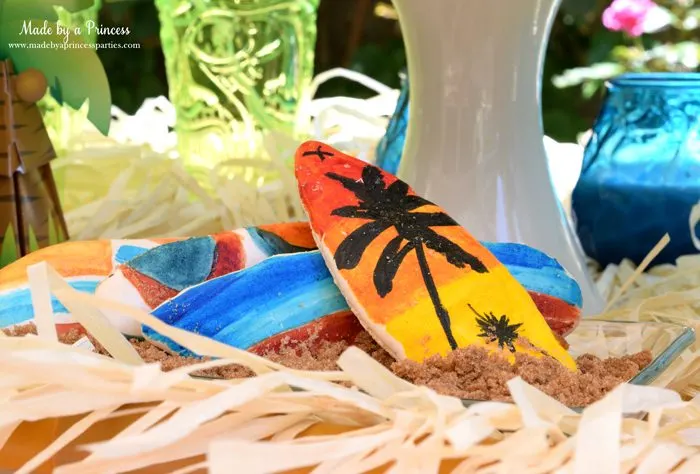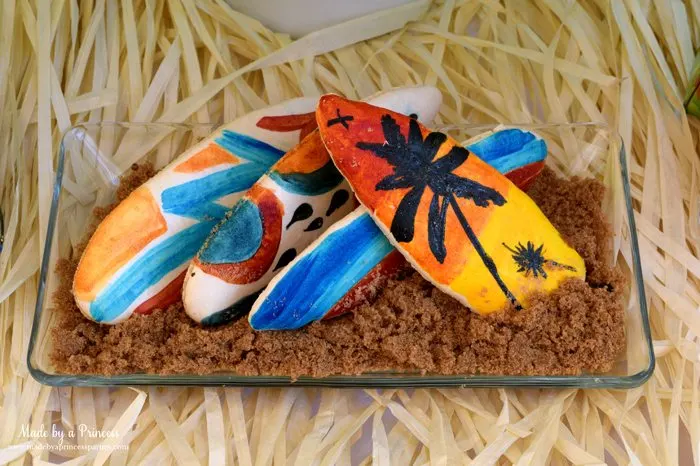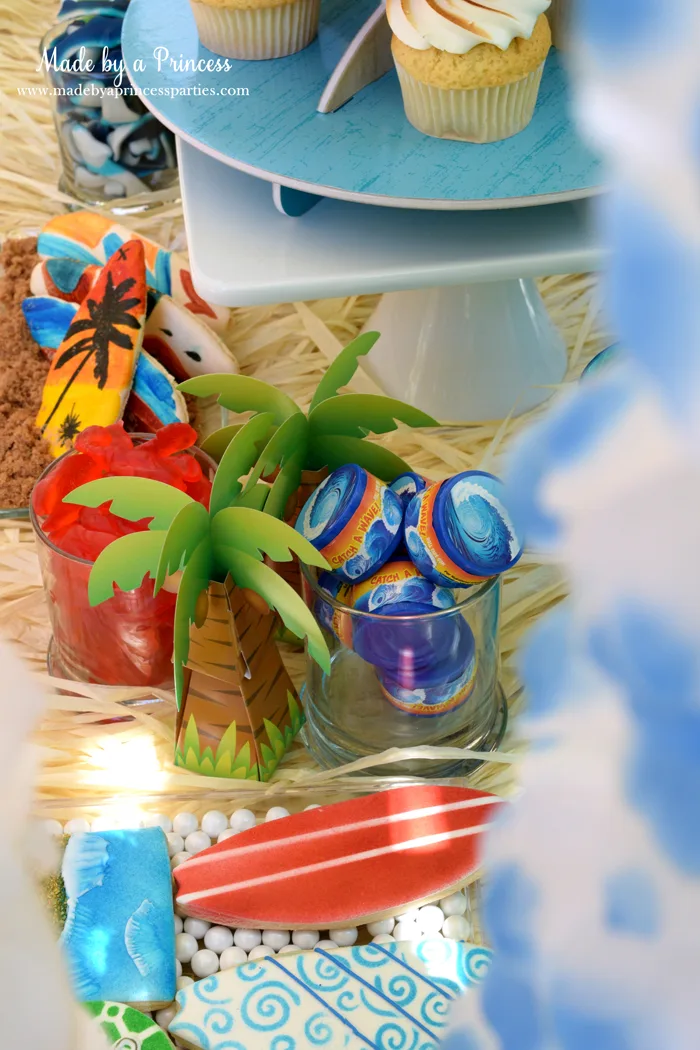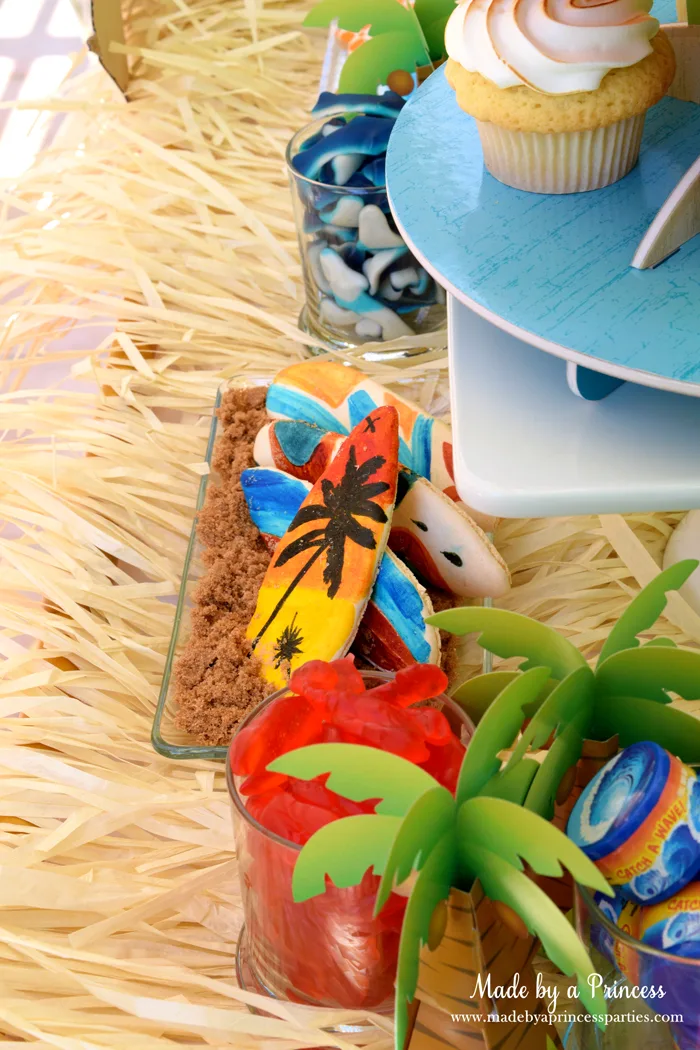 Another family favorite are cookies from Creating Awesomenessity. Katherine always come through for me with the perfect cookies and these were no exception. They not only taste wonderful but I just adore and appreciate her attention to detail. Thank you sweet friend.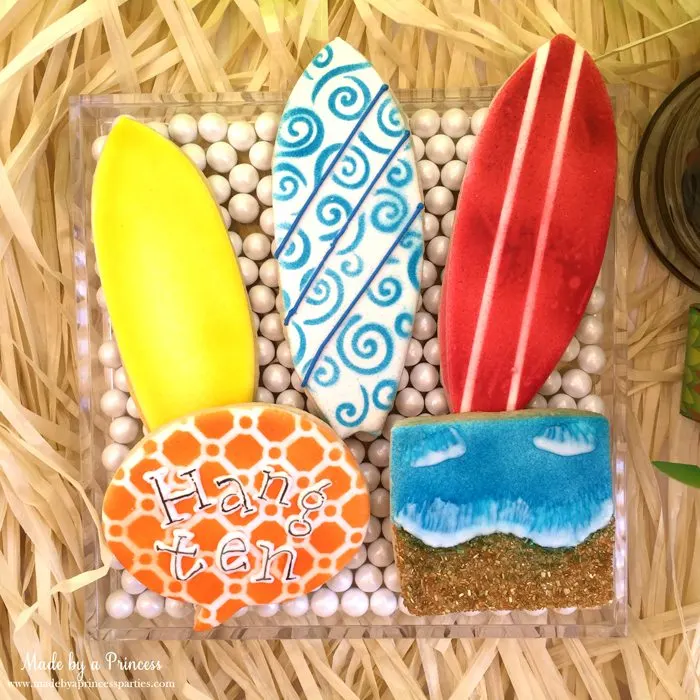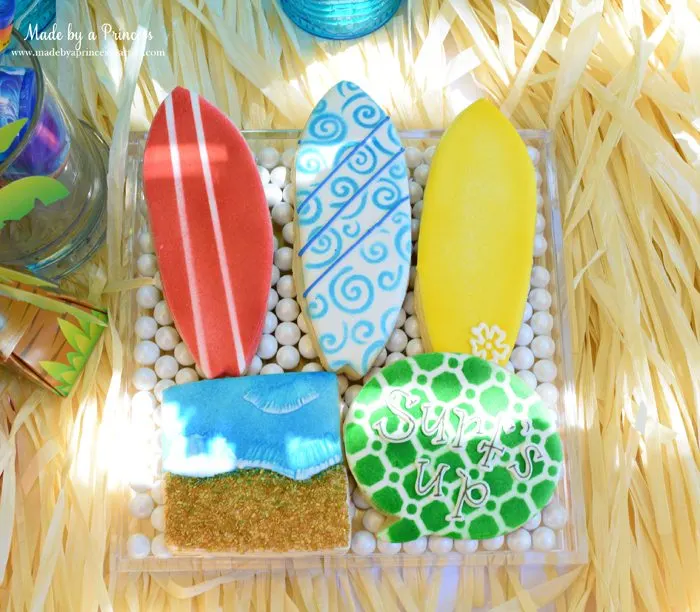 When we got home the graduation Mass everyone was hungry so we fired up the grill and served grilled ham & pineapple skewers, shrimp skewers, Hawaiian BBQ meatballs, coconut rice served in a hollowed out pineapple, fruit salad served in a hollowed out pineapple, Hawaiian BBQ chips, and kettle corn.
It is hard for me to believe that I am now living with a high schooler but we're all ready for this next chapter to begin. This summer will bring lots of change but with family and God all things are possible! I hope you my Surfs Up Graduation Party Ideas post and are inspired to throw your own surf themed party!
Stuck on a theme? Evite has a fantastic collection of invitations..you're sure to find something that inspires you! Check out our hashtags #BeThere #Evite for more party inspiration.
Happy Summer party friends!
This post is part of the Evite Influencer program.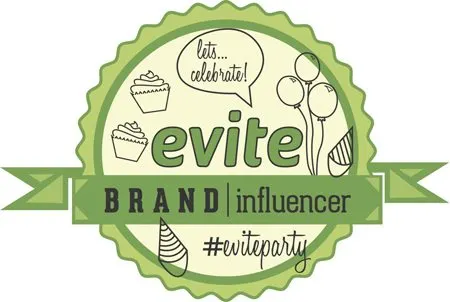 Thank you to Oriental Trading Company for sending me the surf collection party goods!
Vendor Credit:
Oriental Trading Company – surf themed collection party goods
Big Joy Family Bakery – surfboard macarons
Creating Awesomenessity – surf themed cookies