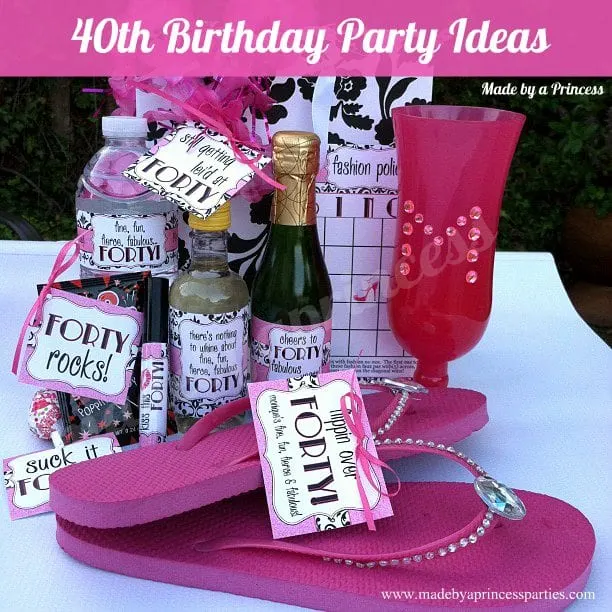 One of my best friends is getting ready to celebrate her 40th birthday this Tuesday and for months we have been talking about what to do. We tossed around a number of ideas: Napa, Temecula for wine tasting, downtown San Diego because none of us get down there anymore, a spa weekend, ….lots of ideas just nothing definitive. One thing was for sure – NO VEGAS! A couple of weeks ago she texted some of us girls and asked if we would be up for spending the day at La Costa to celebrate her big day. Um, let me check…heck yeah! La Costa is great for a number of reasons: 1) it's practically in our backyard so getting there and home is no problem; 2) it's La Costa and they are the #1 spa in the nation; and 3) you can get a day pass for $60 and take advantage of all the spa amenities without having to spend the big bucks on a treatment. Hubba Hubba Hubby said he would watch the kids…I'm in! Last week as we were firming up plans it dawned on me that Monique really shouldn't be planning her own birthday celebration so I decided to hijack the plans. Since she is not a control freak (like me) she was perfectly happy to let me take over and she knows how much I love to plan a party! Party planning was pretty minimal really since we were just going to hang out by the pool all day so I decided we must have goody bags.
In my search for 40th birthday things I found that everything is so negative about getting older, "Forty Sucks", "Forty Blows", "Lordy Lordy looks who's turning Forty". I don't feel old, my friends don't feel old, and I certainly don't want to MAKE my friends feel old so I came up with own version of things.
I turned to some of my favorite places in town to create these goody bags for the ladies. I had a lot of fun doing it and thankful that Monique just let me run with it. She had absolutely no say. None. Whatsoever. I didn't even consult her on the colors! What kind of friend am I?! We have been friends for almost 10 years now though and I think I know her pretty well. She loved it and we had a great time doing (almost) nothing at the spa…it was perfect!
I purchased the gift bags, pink cups, crystals on the cups, and flip flop crystals at Michael's. The bags were not on sale and were kind of pricey but I needed something that would hold a lot of stuff.
The pattern was perfect so I had to have them. The pink cups were on clearance and a last minute find. I turned to the dollar bin for the pink crystals used on the cup.
(Did you know Michael's has an app? All you have to do is show them the coupon on your app and they scan your phone. Very cool!)
We walked around the pool with our custom bling cups and felt very festive. Angie even brought hers to dinner which I thought was really cute. Technically we weren't really supposed to bring in outside wine and champagne but they were very cool about it and even brought us an ice bucket. They were minis so we didn't draw that much attention to ourselves. I think.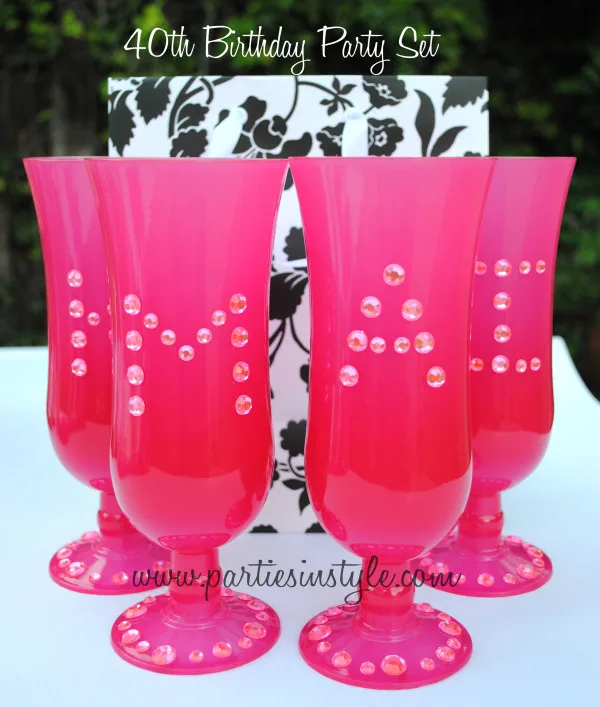 The flip flops, lipgloss, Pop Rocks, suckers, and water bottles were purchased at Dollar Tree.
The crystals on the flip flops were in a kit with a bunch of other flip flop stuff. The cute little string of crystals on the straps were useless. They came off almost immediately but the crystal clip was great and did stay on. If you buy the kit don't plan on being able to use the stickers on your straps.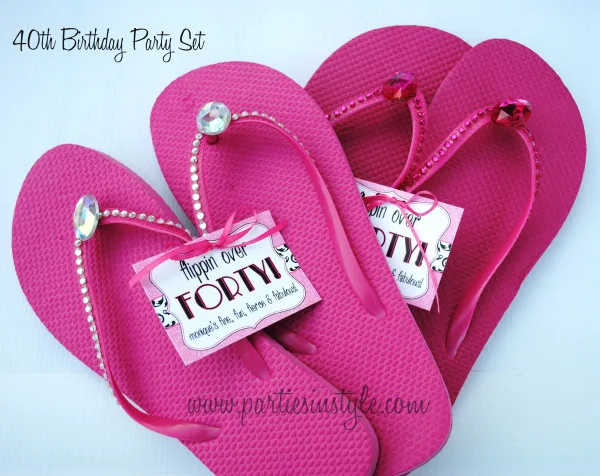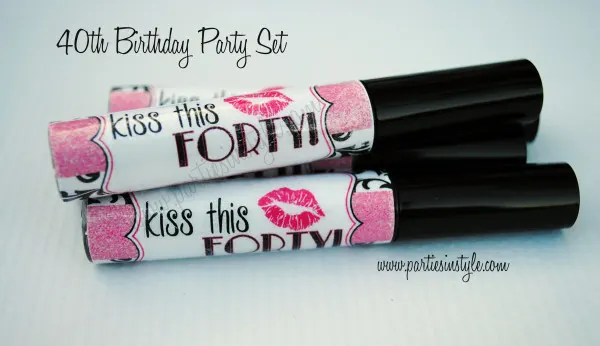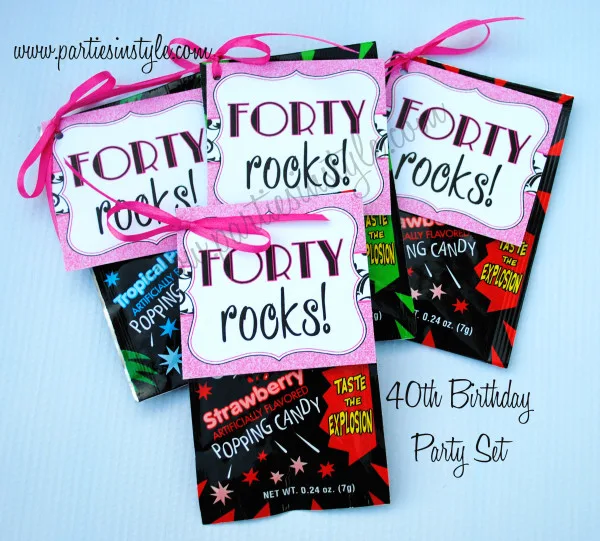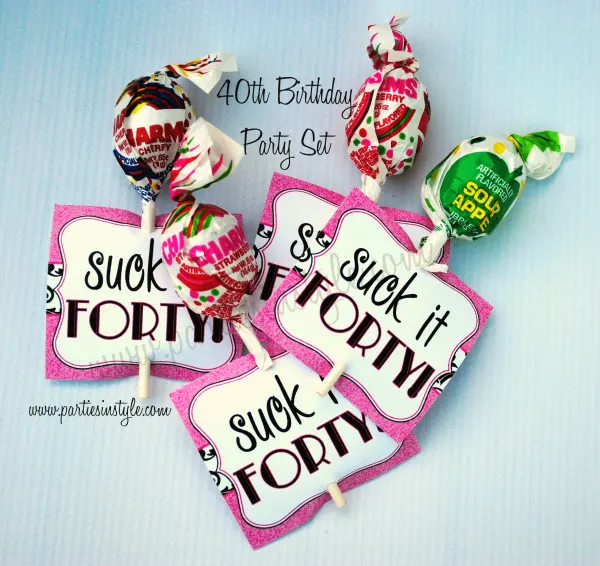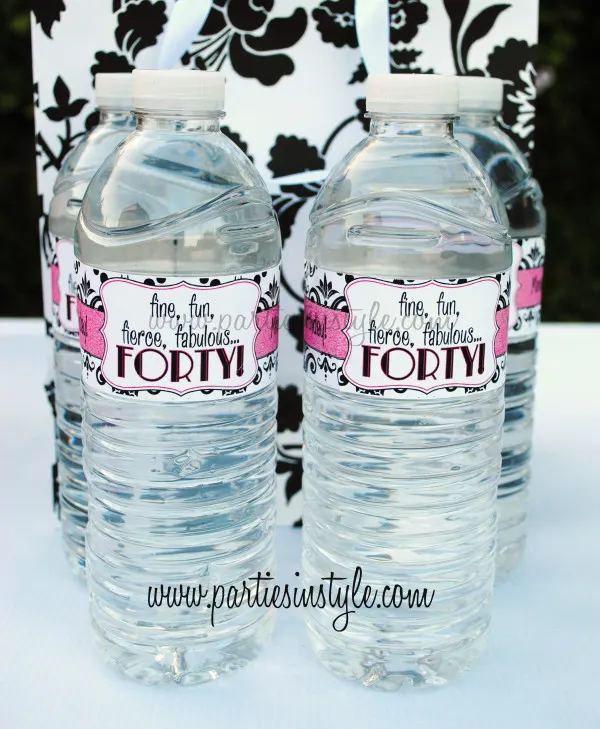 You can now purchase the set right from here!
Colors
Name of Honoree (required)
The champagne and wine were purchased at BevMo and were definitely the most expensive things in the bag. You only turn 40 once though so why not do it right?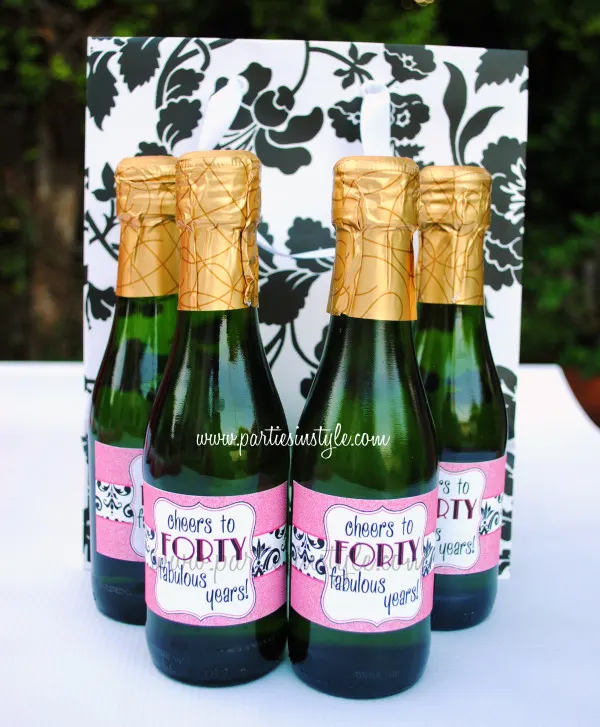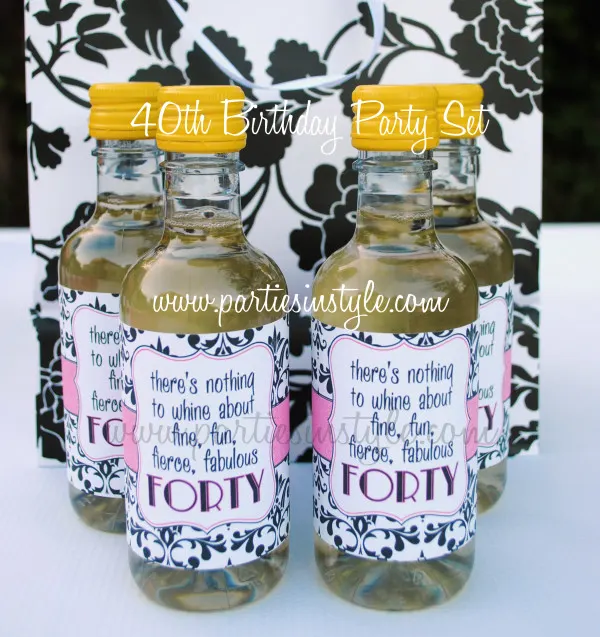 What is not pictured are the perfectly matched napkins I found at Party City that say, "Fierce & Fabulous at Forty". I had no idea these existed when I designed this set. It was all just meant to be. I also got the leis at Party City for $.99 each but I did also see them at Dollar Tree. I also picked up pink and white beach balls (not pictured) here. I wasn't sure if we would actually use them at La Costa but included them nonetheless (because they are pink of course) and wrote "40 is a Hit!" on them in black Sharpie. All of us have kids who will enjoy them.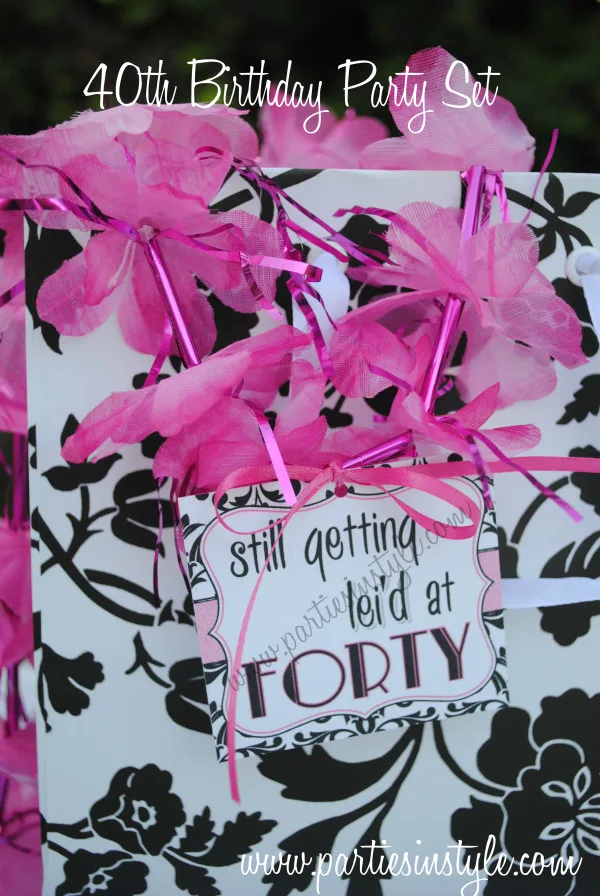 I made these chocolate cookies the night before and I am pretty sure we all opened our bags before lunchtime. Everyone needs something to munch whilst relaxing.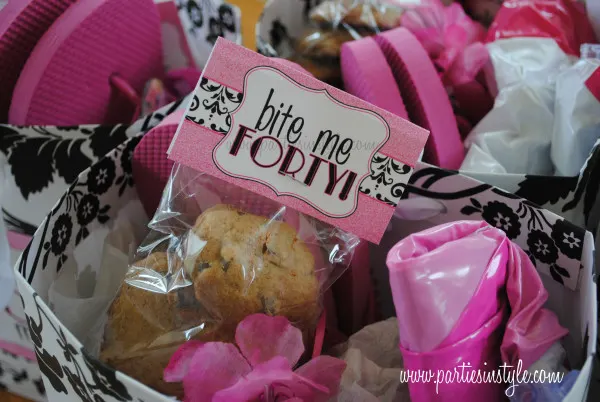 The Fashion Police Bingo game is my own creation. I thought it would be fun to write down all the fashion faux pas we might see around the pool and the first person to get 5 in a row would win. We were honestly too busy being jabber jaws to stop and play but the girls thought it was a fun idea and one that could easily be played at the beach.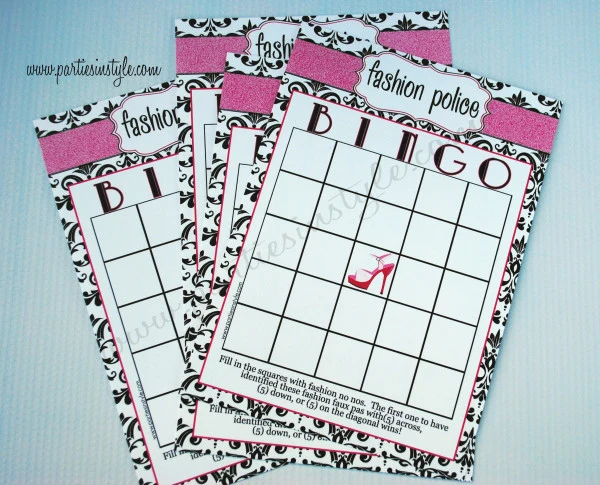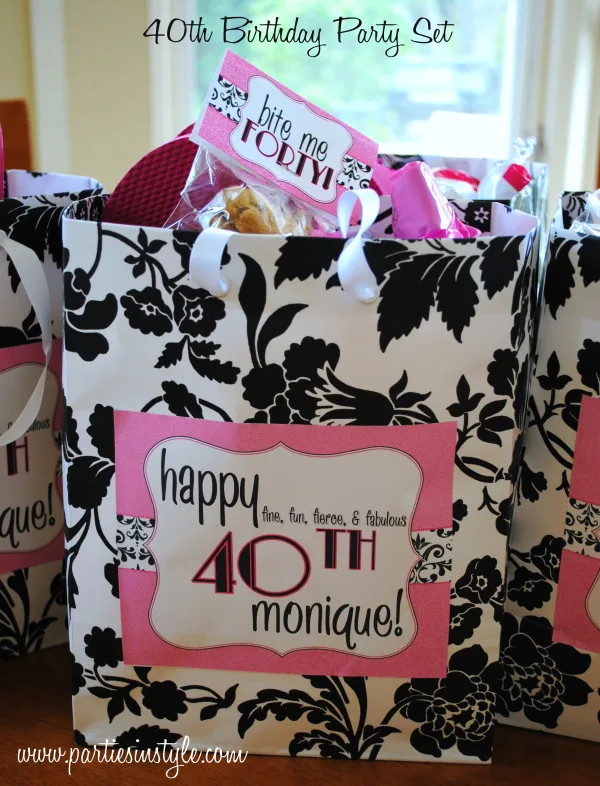 We had beautiful weather, a lovely and relaxing day with girlfriends, and a kick off to a Fine, Fun, Fierce, & Fabulous 40 year old. Happy Birthday, Mermaid!
Shopping Resources: Michael's, Party City, Dollar Tree, & BevMo
You can now purchase the set right from here!
Colors
Name of Honoree (required)