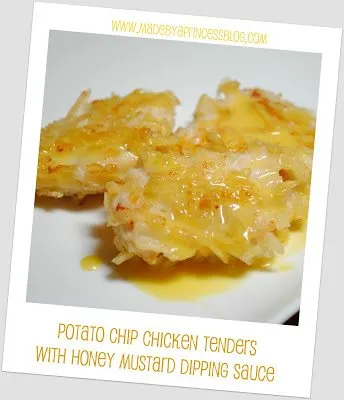 This really should have been yesterday's post for Supper Sunday but I just didn't have time to get it typed up in time. I have made this a number of times before but it has been awhile. I have said it many times before…I love Paula Deen. Her recipes are consistently great.
This recipe is pretty easy and doesn't require a lot of prep. Because I clearly have a problem with following the rules, true to form for me, I changed Paula's recipe up just a little. Sorry Paula.
Potato Chip Chicken Nuggets with Honey Mustard Dipping Sauce
adapted from Paula Deen's recipe
Preheat oven to 350
Cook for 15-20 mins
Honey Mustard Dipping Sauce:
3/4 cup mayonnaise
3 tbls honey
2 tbls yellow mustard
2 tbl orange juice
juice from 1/2 lemon
Horseradish, to taste
Combine all ingredients together and whisk until smooth. Place in refrigerator for 2 to 3 hours to chill. If you want a thicker consistency add a bit more mayonnaise.
Tender Ingredients:
6 chicken breasts, cut into 1.5″ cubes
1 egg
2 tbls milk
1 tbl orange juice
1 tsp each salt and pepper
1 tsp cayenne (optional)
2+ cups of potato chips with ridges
1/2 cup melted butter (to use later)
Give the chicken a quick wash to get all the slimy parts off. Set aside on thick paper towels or a clean dishtowel to soak up excess moisture. Cut chicken breasts into 1.5″ cubes are large bite sized pieces.

Combine egg, milk, OJ, salt and pepper in a bowl and whisk until well incorporated.

Put the potato chips in a ziploc or other plastic bag and smash until completely crushed. The smaller the pieces are the better they will coat the chicken. Place crushed chips in a cake pan and shake to make a nice layer of chips. I have found that using a cake pan is the way to go but anything else just makes a big mess.

Dip the chicken pieces in the egg wash mix, shake off excess liquid over the bowl, and then roll in potato chips. Place coated chicken on a cookie sheet. Repeat until done or pan is full.

Bake on 350 for 15-20 minutes or until golden brown. I turn the chicken pieces over half way through so both sides are crispy.

Serve with honey mustard dipping sauce or ranch dressing.
This is something that kids can easily help with. My son is 9 years old and I had him crush the chips and make the sauce. I did not add horseradish to the sauce last night, mostly because I forgot to get it, but I really didn't miss it. If you like that kick you get from horseradish then definitely try it. The Honey Mustard sauce is really good and makes a great dip for veggies too.
My little Future Lego Engineer (FLE) loved this dinner. He excitedly exclaimed, "This is REALLY good! I am going to have more of this for sure Mommy." (Yes, he still calls me Mommy but sadly I did hear a "Mom" from him this weekend. He quickly corrected himself, more for my benefit than his own, but I know this won't last. All is not lost though, Miss Cupcake is only 6 months old so I have many years left of "Mommy" left, just not from my boy *tear*.) We thought we would have leftovers for tonight but not so sure there is enough for all!
Not only is this a great family/kid-friendly recipe but adults love it too. I have made this for my girlfriends before and they loved it. Actually, the last time I made it for the ladies was for my Christmas Recipe Exchange Girls Night In and not a single little nugget was left to share with the boys. These do freeze well so you could always make a double batch to have some for later.


Enjoy!

TO PIN YOU MUST BE IN THE ACTUAL POST, NOT THE HOME PAGE.