This post is sponsored by BabbleBoxx.com on behalf of Single Edition Media. All opinions are my own.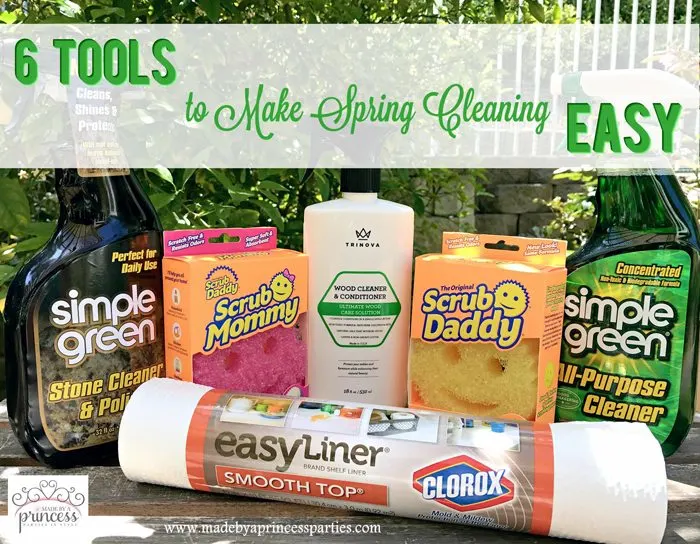 Raise your hand if you love to spring clean. I know…it's not my favorite thing either. I love the way the house looks and smells after but it takes so long. So. Very. Long. I think I have solved this problem now though. BabbleBoxx sent me a box of goodies filled with 6 tools to make spring cleaning easy. My wood tables have never looked better and I smile whenever I see that cute pink scrubber in my sink. Keep reading to find out how I got ready for spring in no time flat!
Spring cleaning is not exactly one of the favorite things to do. I know it's important but I kind of dread it. A few years ago I even bought myself some cute pink gloves thinking that would get me in the mood…not so much. When BabbleBoxx said they were going to send me a box full of spring cleaning supplies I told my almost 15 year old son that I had big plans for him on Saturday. Something we could all day long together. He was immediately suspicious. Smart kid! Actually, spring cleaning didn't take all that long because we had the right tools. We sprayed, scrubbed, and wiped in no time!
This is what I found in my Spring Cleaning box from BabbleBoxx: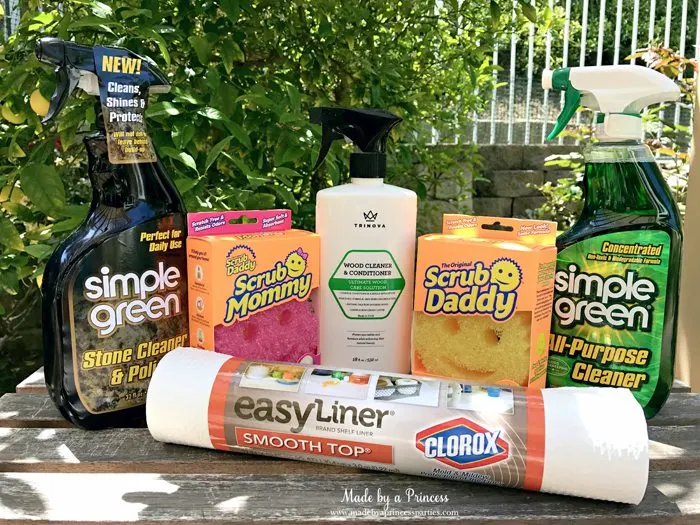 EasyLiner®
Simple Green Stone Cleaner and Polish
Simple Green All Purpose
Scrub Daddy® & Scrub Mommy®
TriNova Wood Cleaner & Conditioner
EasyLiner® by Duck® Brand
EasyLiner® by Duck® Brand now includes Clorox® antimicrobial protection to prevent growth of odor causing mold and mildew. You can cut them to the size you need and they are really easy to clean. I put mine in my refrigerator because the crisper drawer always seems to get so dirty. I like that the top is smooth and the bottom has some grip to it so the liner stays in place. When it gets dirty all I have to do is take the EasyLiner® out, wash, let dry, and set it back in the drawer. This liner is so durable, however, that you can toss it in the washing machine. That's pretty cool.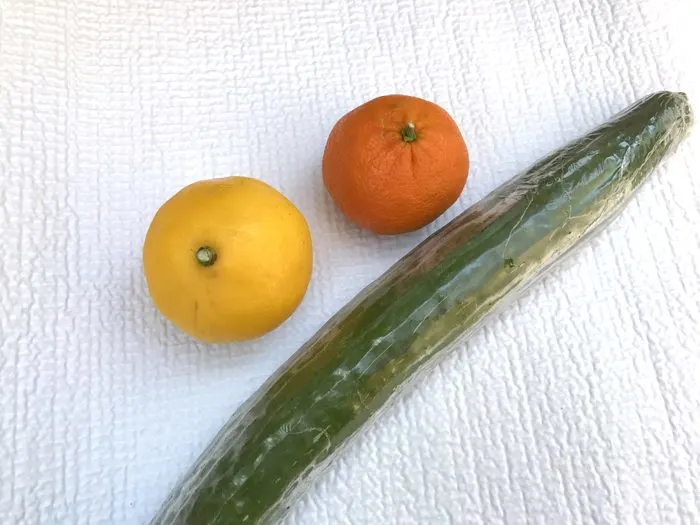 Tip: These liners are perfect for preventing items from slipping in your car. I have used them many times when transporting cakes, cupcakes, or food to and from church. Line a box with the EasyLiner® and then place your item on top of it. No more sliding back and forth in the box!
Facebook
Twitter
Instagram: @theduckbrand
Pinterest
YouTube
Simple Green
Simple Green has been around for 40 years and has been producing environmentally friendly products that are non-toxic, biodegradable, and made in the USA. I remember my mom using Simple Green as a kid. It is one of those products she always had on the counter above the washing machine. Actually, I bet if I stopped over at her house right now there would be a bottle in the laundry room.
At first I didn't think I was going to be able to use the Stone Polish and Cleaner because we don't have any marble, quartz, travertine limestone, or porcelain surfaces in the house. Our counter tops are your run of the mill kitchen counters. I am not even sure what material they are but I do know they scratch and stain pretty easily. I don't know what I was worried about…this worked beautifully!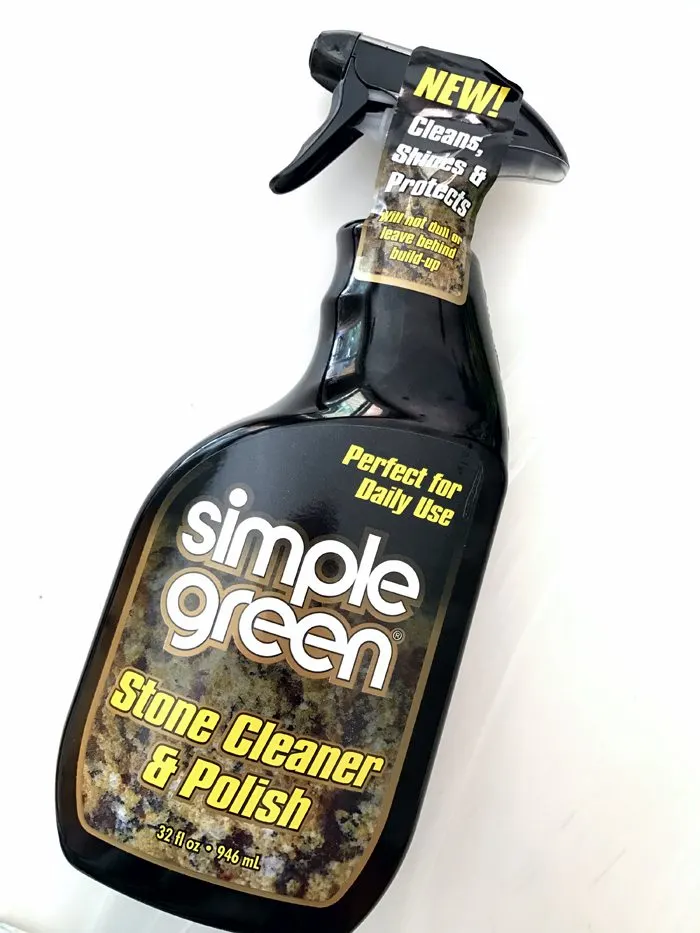 The All Purpose cleaner is the best! I use all over the house. I have a glass door type shower and the buildup of shampoo and grime can get out of hand. I spray Simple Green all over the shower walls, the door, the glass panel, the drain, and the shower knobs and it works like a champ. You can make it last longer if you use a 50/50 water and solution combo too. It really is All Purpose. My husband uses this on the car tires and the family bikes. It cuts grease, can be used to lift stains, and is safe around pets because it is non-toxic.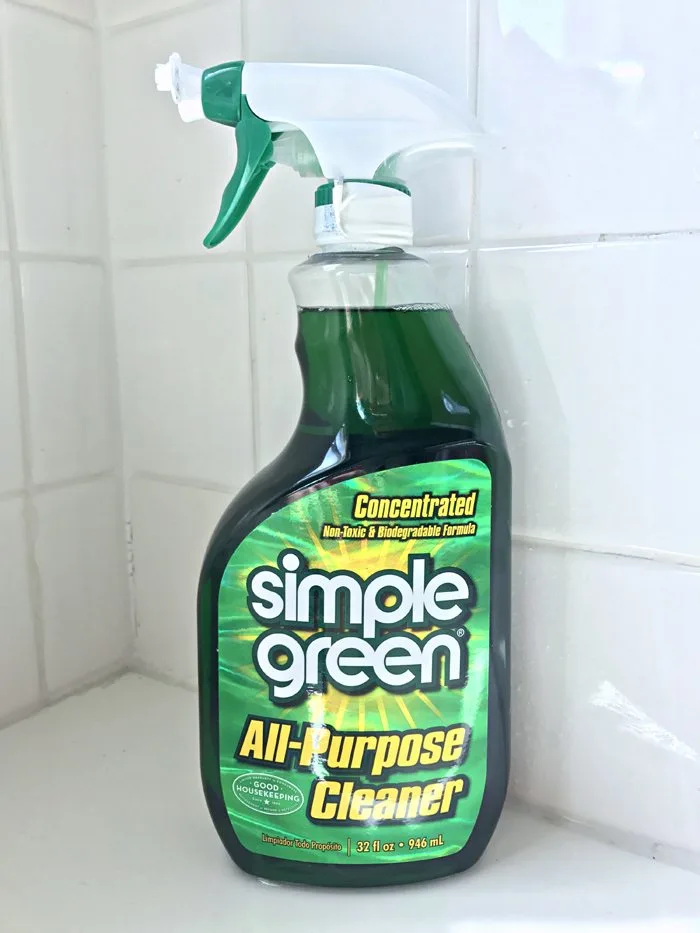 Tip: This is a great ant killer! I have become the official ant killer in our house. This is not a position I applied for or wanted but no one else in the family seems to want to step up so it's all me. We have a terrible ant problem every summer and no matter how diligent I am about sealing food in the pantry or putting food away the little tyrants still come. I have asthma and all of the ant killer products we have purchased in the past have made it very difficult for me to breathe. Simple Green became my weapon of choice quite by accident but it really does the best job and I don't feel like I am going to choke to death on fumes like I do with the other products.
Save $1.75 on any Simple Green product.
Follow Simple Green on Social Media:
Scrub Daddy® & Scrub Mommy®
I was given a Scrub Daddy® at one of my Favorite Things parties and thought it was the cutest thing…until I opened the BabbleBoxx and saw Scrub Mommy®…she's pink! These work really well but don't last too long if you use them everyday. They will start to degrade but you can still use them. I finally tossed the first one I had when it was no more than the size of a golf ball. In cold water the scrubber is firm and is soft and pliable in warm water. You can put it in the dish washer to clean as well which I really liked. You can hold it like a ball or stick your fingers through the eye holes for a tighter grip. My kids like to put their fingers through the eyes of course. I tossed mine in there every few days. Scrub Daddy® is an American company and was featured on Shark Tank.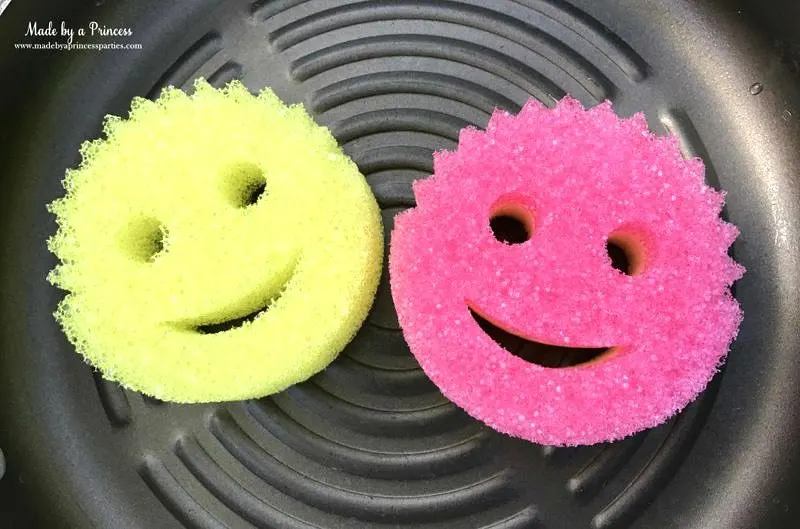 The Scrub Mommy® works a little differently in that she cleans and scrubs. One side has a sponge and the other side is just like Scrub Daddy®. The soft ResoFoam® is 6x more absorbent than leading brands.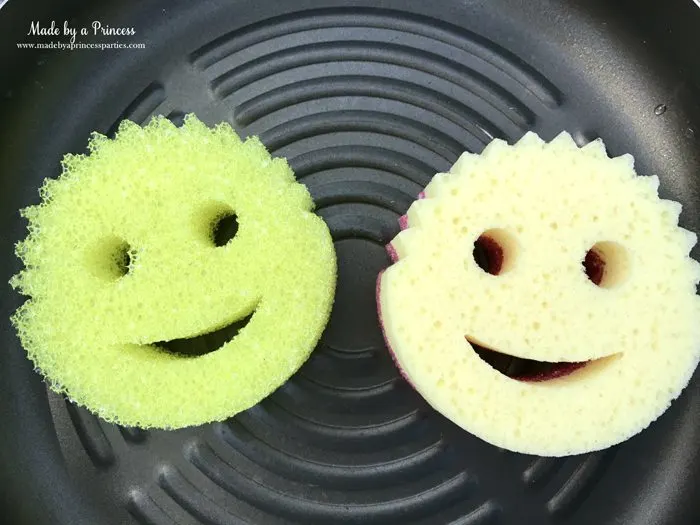 I haven't been using this very long so I can't comment on the longevity of the product but I like that is has a spongey side as well. One thing I have noticed about my Scrub Daddy® is that it does not smell stinky like traditional scrubbers and sponges. I really really like that!
Twitter
SnapChat: @thescrubdaddy
Instagram
Facebook
TriNova Wood Cleaner & Conditioner
Years ago, long before I had kids, I purchased lovely coffee and side tables from Pottery Barn. I saved my money and proudly walked into the store and bought these ridicously expensive (for me anyway) tables. I couldn't wait to put pretty candles on them, a few coffee table type books, and coasters I found in La Jolla to prevent water rings. The drawers were filled with extra candles, matches, more coasters, playing cards, a pad of paper, and the remotes for our TV and DVD player. It was beautiful. I was very proud. Like was clean and neat with just the two of us.
Enter our first child. Gone were the candles, matches, coasters, and table books. The table was filled with toys, burp clothes, and baby bottles. Coasters? Forget that…those were just things the baby tossed on the floor. The table looked a little worn but still in good shape, no water marks, no big scratches…until my son broke his arm. My precious little two year old broke his arm at preschool getting out of a toy car and had to get a cast. Maybe he had an itch, maybe he was curious about the sound his cast would make on the table, I'm not sure, but I heard this terrible scraping noise and found my darling boy scraping his cast back and forth along the edge of the table. Nooooo! That was it. From that moment on that table has taken a serious beating. Twelve years and another kid later and this poor table looks like it has been through a war. I had all but given up on it ever looking nice again.
Enter TriNova. Our poor coffee table looks so much happier now. I love that this product isn't greasy and did a great job cleaning, polishing, and conditioning my table. I used it on my dining room table and chairs as well and they now look like they've had a mini makeover as well. It's easy to use, doesn't leave grease streaks behind, and will make your furniture shiny again. I don't have any unfinished wood products in the house but I understand it is meant for unfinished wood as well.
Before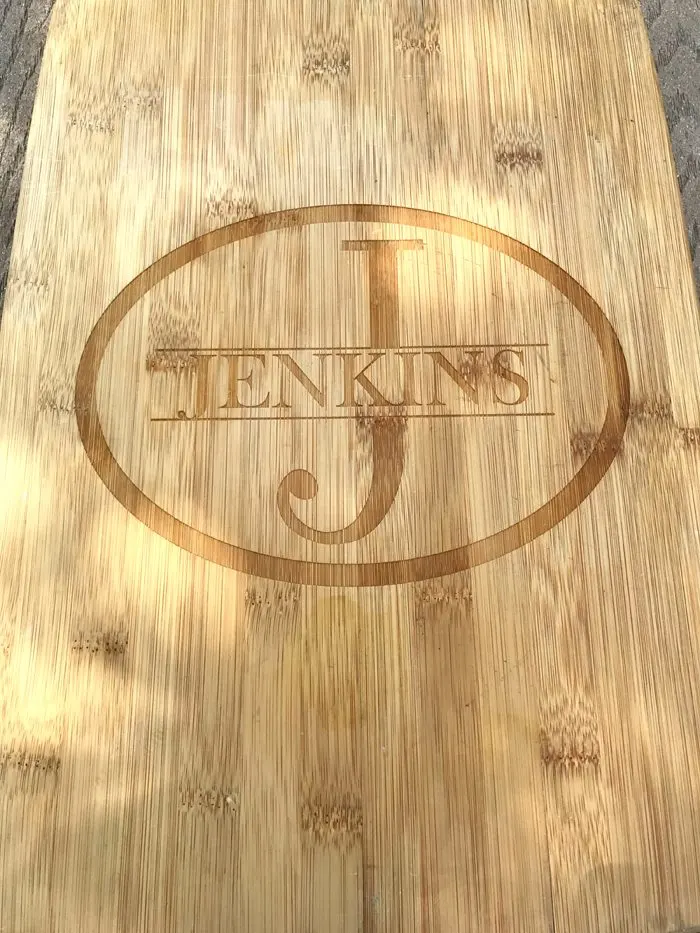 After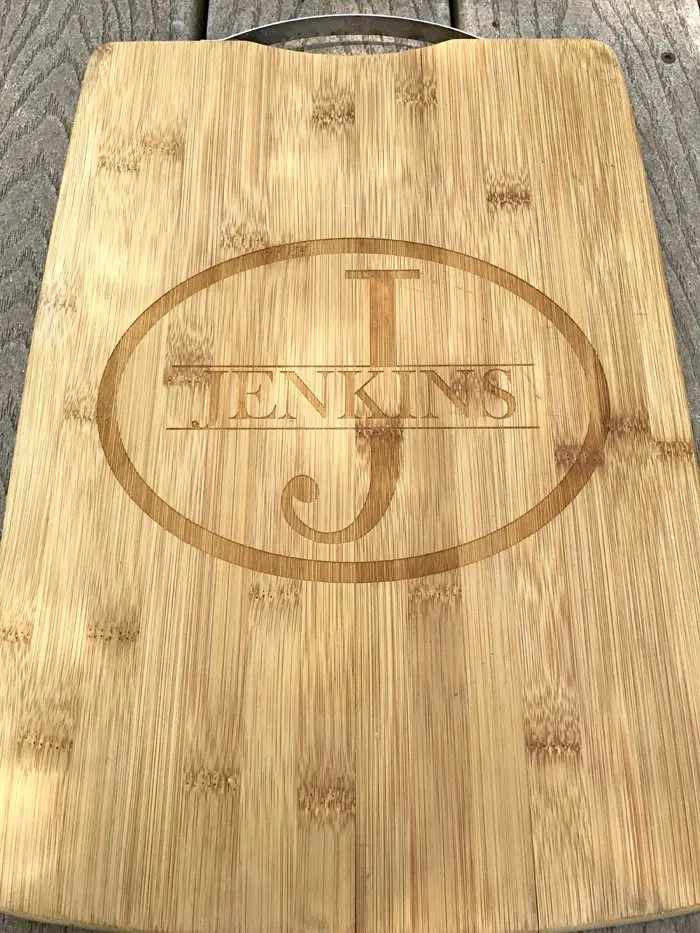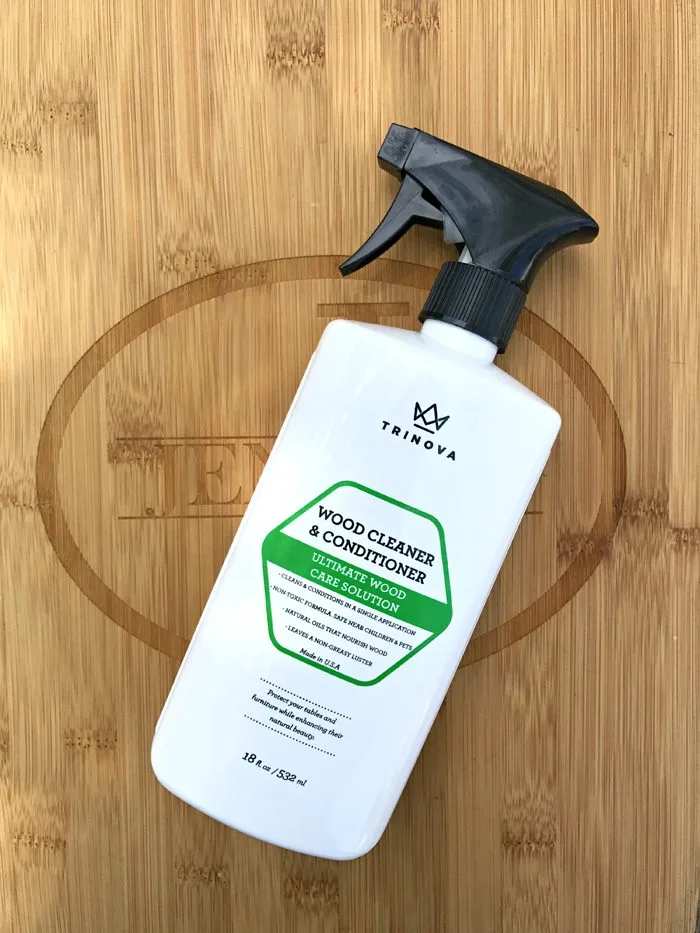 SALE: Babble20 = 20% off expires 11:59PM 4/30/17
How do you get ready for spring cleaning? Have any tips to share? I would love to hear them!