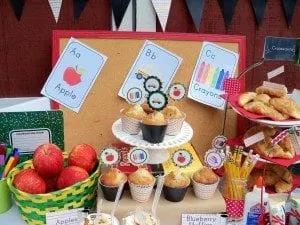 Have your kids started back at school? Mine started today and even though my son is almost a middle schooler I kept it together and didn't cry. That's a big deal for me. Keisha of Cupcake Wishes and Birthday Dreams is back to help us wind down the final week of Back to School Month!
Keisha says: "How much fun would it be for your child to walk out the door on the first day of school to a Bus Stop Breakfast Bar? Not only is a Bus Stop Breakfast Bar a great way to get the little ones excited about the new school year, it is also an opportunity for parents and kids alike to re-connect.
Setting up a breakfast bar is super simple. A few weeks before school coordinate with neighborhood parents by assigning a food item for each parent to bring. Set up your table in advance, perhaps the night before with table coverings, platters, baskets and decorations to save time. In the morning, you can tie balloons to your mailbox or hang a banner across your garage door to let your neighbors know there is something fun going on.
For this table display, I set out food that the kids could just grab and go like apples, banana parfait cups, blueberry muffins, croissants, cereal bars and apple juice. I also put an educational spin on it by including foods that begin with A-B & C!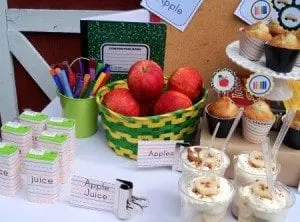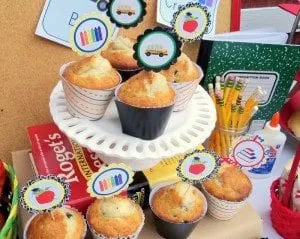 For a special treat, you can fill decorated paper sacks with school supplies like pencils, mini paper pads, erasers and pencil sharpeners to hand out as goodie bags.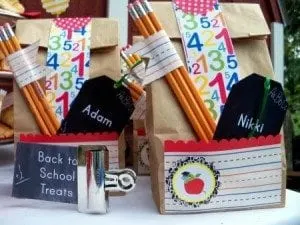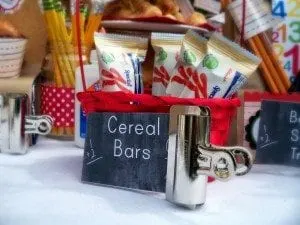 This breakfast bar is an event that doesn't have to just happen on the first day of school….you can plan to have one once a month or even host a similar event in the colder months with hot cider, hot cocoa and donuts! There's so much you can do to get your kids revved up and ready for school in the morning! What do you do to get your kids excited about the first day of school?"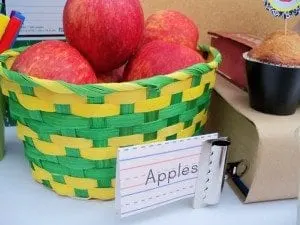 Thank you for sharing your Back to School Breakfast Bar, Keisha!