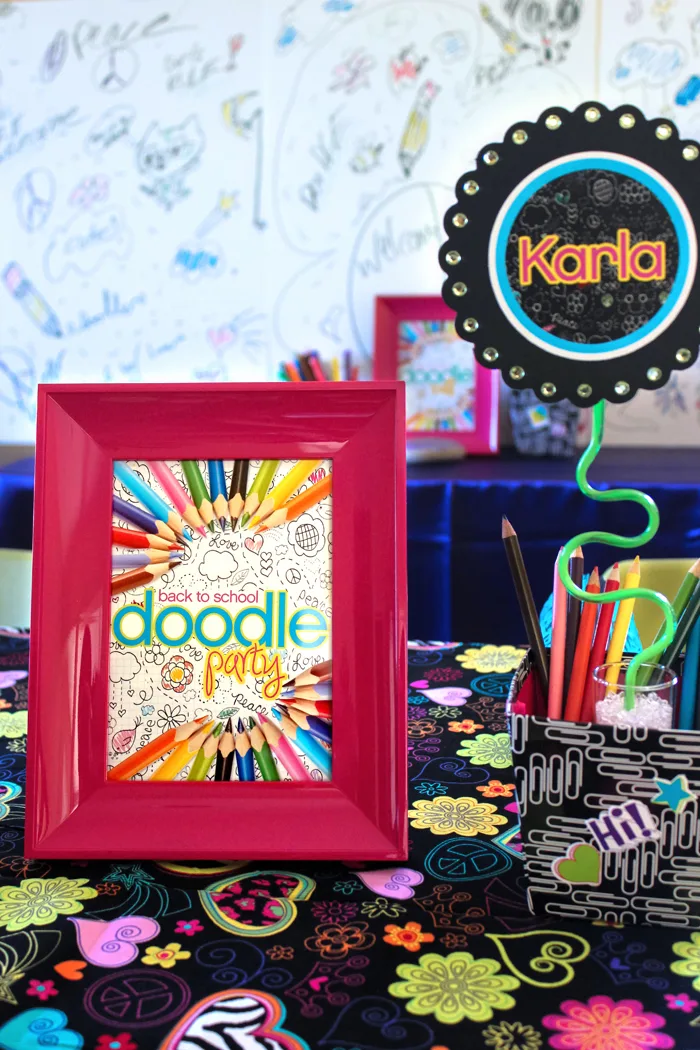 This is the most colorful Back to School bash I've ever seen! Tonya of Soiree Event Design is S.U.P.E.R. talented! You like my logo? I love my new logo…she did it! Yep, Tonya took all of my notes and vision and created this beautiful new logo for me! If you don't know her work she's kind of a big deal. She is a monthly contributor over at Hostess with the Mostess and has had some big name celebrity clients like Mariah Carey & Jamie Foxx so she knows her stuff. When she's not hobnobbing with celebs or designing for the Alma Awards she is creating one of a kind party packages. I am loving this creative party and I know you will too!
I'm going to let Tonya tell you about her Back to School Doodle Party and how she only spent $99.50! "It's DOODLE WEEK around here! Doodles are the new trend in party planning! I will share with you all things Doodle Party this week. Kicking it off, I created this "Doodle Art Party!"© theme as part of the Look for Less challenge on HWTM back in September. The theme was Back to School and the challenge was to create a party in one week, with $100 and shopping in one store! I chose to shop in Target. (no surprise there) AND…designed this fabulous "Let's Doodle!" party printable package. Click here to see the full collection in our shop.

Here I'll share more Party tips on how you can pull together this fabulous Doodle Party for just $100. The great thing about this theme is that you can use it for more than a Back to School theme! Art parties are all the rage right now…why not a "Doodle Party!"

CHOOSING THE DOODLE PARTY THEME
I came across a notebook that had drawings all over it and thought about my 9 year old daughter who draws constantly and knew right away a "Doodle Party" would be my theme! I created this party for my daughter and her 3 BFF's! They are going into 4th grade this year and am sure any kid (boy or girl) would LOVE this theme! Who wouldn't want to actually be allowed to doodle on everything!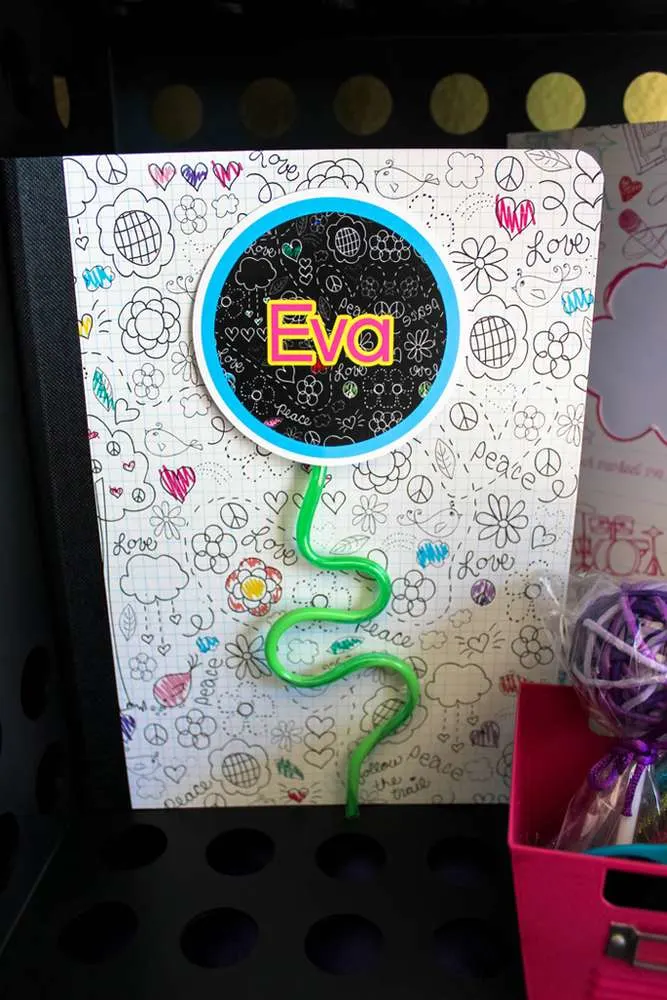 BUDGET CHIC TIP: STOCK UP ON ART SUPPLIES DURING BACK TO SCHOOL SALES!
ALWAYS stock up on your art & craft supplies during back to school season! The deals are incredible and the ONLY time of year that you can buy a pack of Crayola crayons for 49¢. You can almost ALWAYS use these items as party favors or activities for your kid's parties any time of year. I totally scored in the $1 section of Target and since it was back to school season at the time… major sales on all the school supplies! Here's a look at all my loot purchased from Target for the party.
DOODLE PARTY DECORATIONS FOR THE KIDS TABLE
Pulling together this table was so much fun! I had a piece of fabric leftover from another party that I knew would be the perfect look to tie in the "Doodle" concept and give the table a punch of color! I created personalized chairback decor by hanging a magnetic locker sign embellished with each girl's initial and post-it note with an inspiring note. I used dry-erase lined paper boards as placemats for the girls to doodle on while they waited for lunch. Beside each plate is a pencil holder that held their utensils and napkin.

BUDGET CHIC TIP: USE YOUR PARTY FAVORS AS TABLE DECORATIONS!
All the table decorations except for the sign and the tablecloth doubled as take-home favors for each girl which makes cleanup a breeze!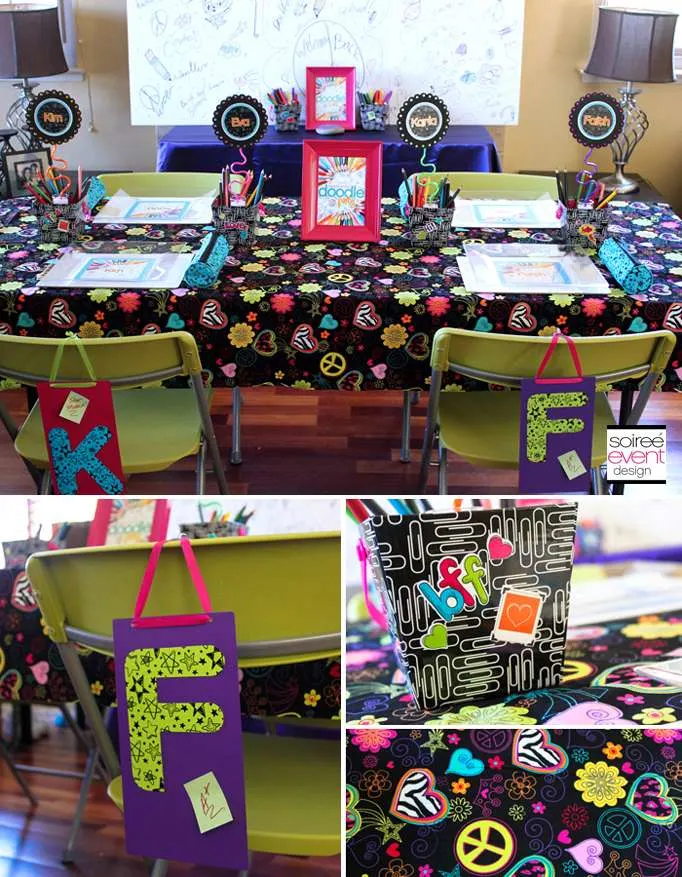 "Let's Doodle!" PARTY PRINTABLES
I custom-designed the party's printables AND…I'm offering my "Let's Doodle!" party printable package for $25 for a limited time. Click here to see the full collection.

I found the perfect black and white patterned boxes to use to hold my blinged out Lolli-tags™ that had each girl's name on them and filled with colored pencils. To pull in the "doodle" look, I put the tags on crazy straws! Don't they just look like doodle lines themselves?

BUDGET CHIC TIP: USE PRINTABLE PLATE INLAYS TO CREATE CUSTOM & PERSONALIZED PARTY PLATES!
So easy to do! I designed plate inlay printables with each girl's name on them that served as placecards. Place the inlay in between two plates that are the exact same size. Just be sure the top plate is clear. Now you have custom designed and personalized plates! Plate inlays come as part of all of our party printable packages.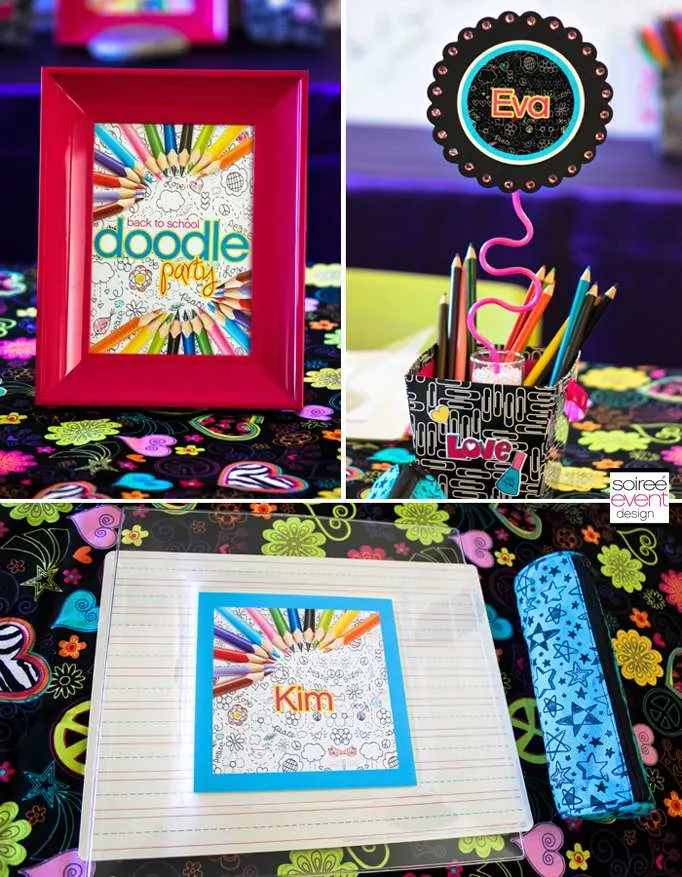 DOODLE PARTY FAVOR BAR
Instead of a sweets bar, I decided to design a favor bar stocked with school supplies that each girl could take home. As with my sweets bar designs, I color coordinated all the favors to match the party theme and displayed them in black crates that each girl used to take home all party goodies! A great alternative to favor bags. The Doodle notebooks were customized with a Lolli-tag™ printable on a crazy straw with each girl's name that was hot glued to the front of the notebook. A great way to create a one-of-a-kind, personalized party favor!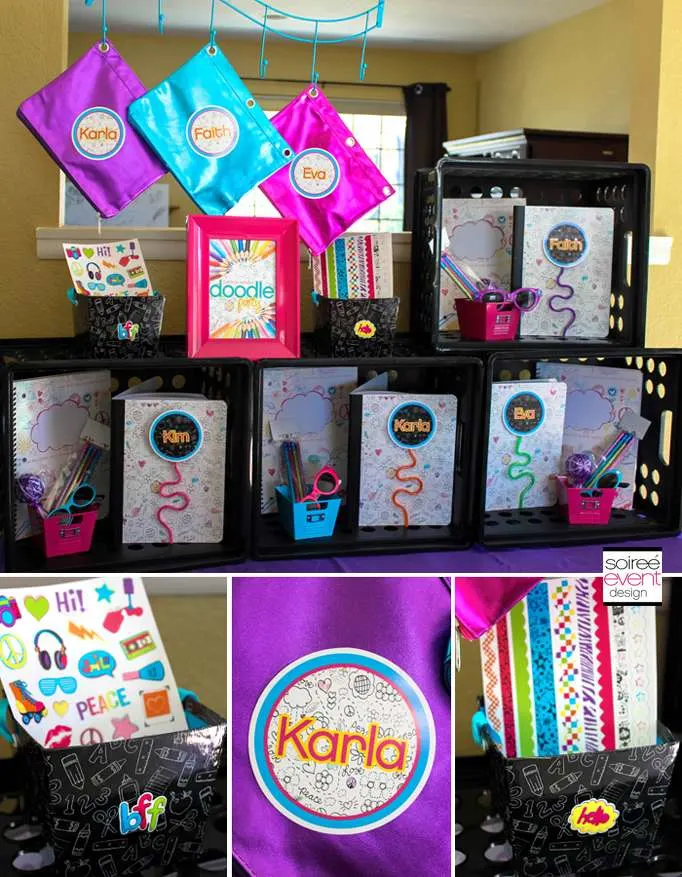 DOODLE WALL PARTY ACTIVITY
The girls LOVED drawing and doodling all over this wall. Just mount up foam core boards to any wall with removeable Command strips, put out markers and let the girls create their magic!

BUDGET CHIC TIP: USE YOUR ART ACTIVITY AS PARTY DECORATIONS!
Have the girls doodle all over the Doodle Wall when they first arrive so that their masterpiece can be displayed during the party which is a great decor element!

TIP: This activity is also a hit for younger kids using banner paper, but be sure to use washable crayons instead of markers to prevent leak-thru to the wall.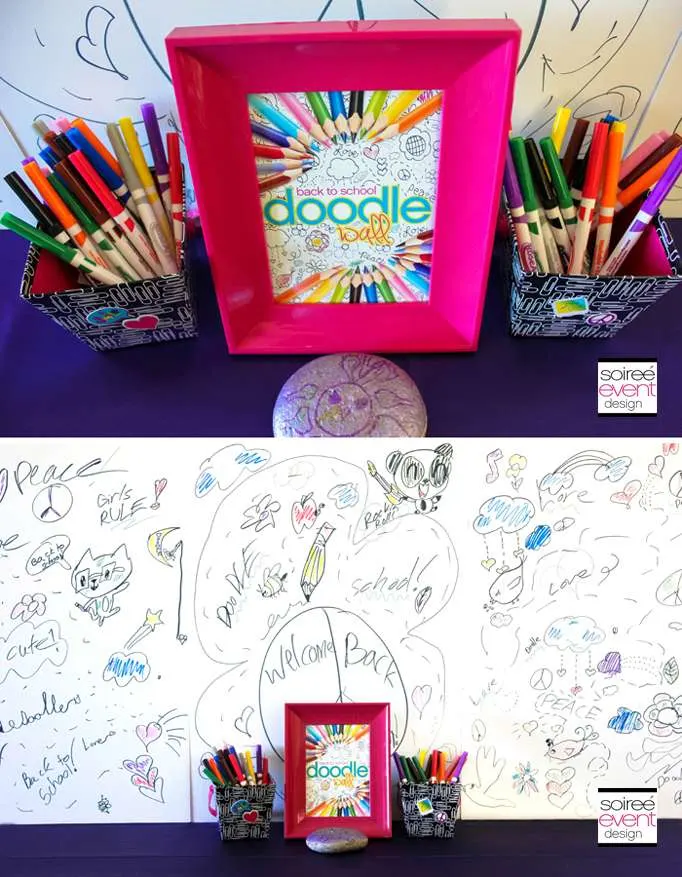 ACTIVITY: CREATE DOODLE T-SHIRTS & SIDEWALK DOODLES
On the invitation, ask each girl to bring a plain t-shirt with them for this activity. You can also provide them with t-shirts if budget allows. Put out some fabric markers and the girls can create their own unique Doodle T-shirts that they can take home. Put some sidewalk chalk outside and the let the girls "Doodle" up the sidewalk. A HUGE HIT!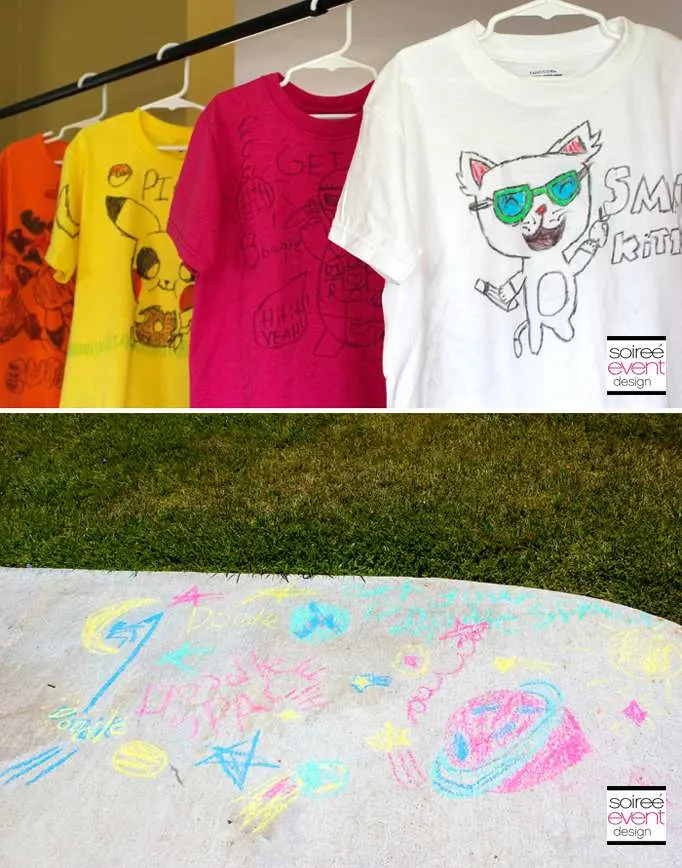 DO IT YOURSELF CAKE POP FONDUE BAR
The girls LOVED this! Bake your own red velvet cake balls with a cake pop maker and use crazy straws instead of dessert sticks to hold them. Melt down the candy melts on the stove then place it in the crock pot and let the girls dip and decorate their own cake pops. I put the sprinkles in stackable school supply containers. Super easy and so yummy!

TIP: You can also buy these from your cake pop baker. Just ask for plain, uncoated cake pops."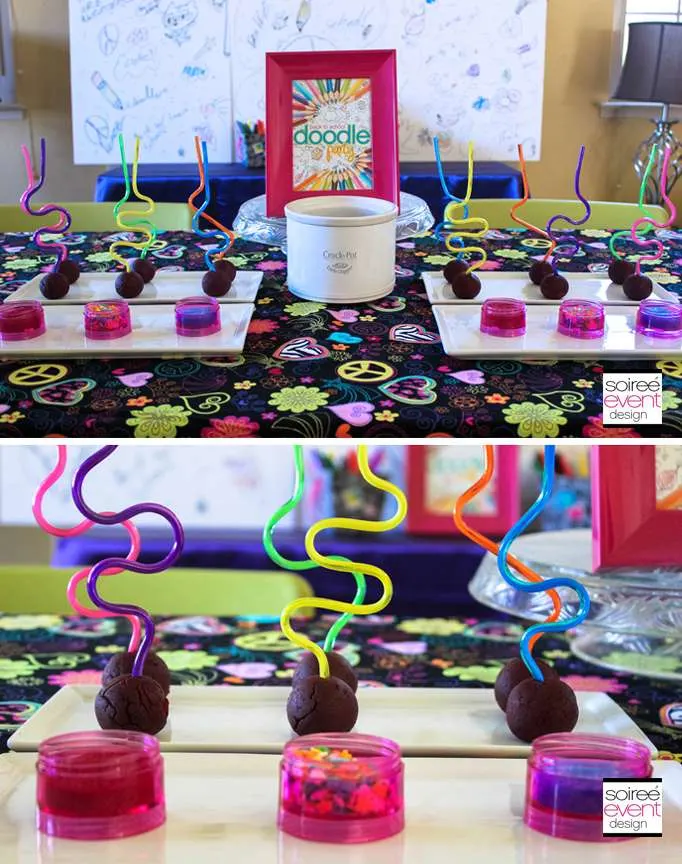 HOW DID SHE DO THAT FOR JUST $100?
Kid Table: $23
4 b&w paper clip boxes: $4 ($1 each)
4 boxes colored pencils: $2 (49¢ each)
1 pack stickers: $1
4 pencil cases: $4 ($1 each)
4 magnetic locker boards: $4
4 magnetic letters: $4 ($1 each)
4 dry erase boards: $4 ($1 each)
plates, frame, crazy straws & fabric tablecloth (I already owned)
Cake Pop Bar: $4
1 box red velvet cake mix: $2
2 twist storage containers: $2 ($1 each)
candy melts, sprinkles, crazy straws & mini crock pot (I already owned)
Activities: $16.50
3 foam core poster boards: $10.50 ($3.50 each)
2 b&w paper clip boxes: $2 ($1 each)
4 boxes markers: $2 (49¢ each)
2 packs sidewalk chalk: $2 ($1 each)
tablecloth, frame & fabric markers (I already owned)
t-shirts (girls brought their own)
Favor Bar: $56
2 b&w doodle boxes: $2 ($1 each)
4 satin supply pouches: $8 ($2 each)
4 packs of stickers: $4 ($1 each)
4 metal locker containers: $4 ($1 each)
4 sunglasses: $4 ($1 each)
4 ponytail holder lolipops: $4 ($1 each)
2 packs of glitter pencils: $4 ($2 each)
4 composition books: $4 ($1 each)
4 spiral notebooks: $10 ($2.50 each)
4 plastic crates: $12 ($3 each)
door hanger & tablecloth (I already owned)
Grand Total: $99.50″
Thank you so much for sharing, Tonya! Love it!
If you would like to get in touch with Tonya you can email her at [email protected], her Facebook page, and her website.