Host a quaint BEAUTY AND THE BEAST Themed Tea Party for Two! #beautyandthebeast #teaparty #belle #belleparty #beautyandthebeastparty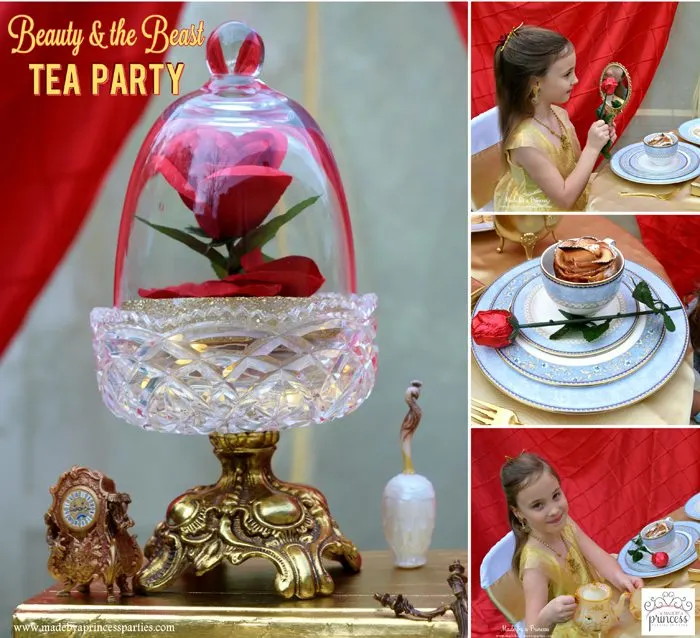 Disney's Beauty and the Beast live action movie opens in theaters on March 17th in IMAX & 3D and I could not be more excited! I remember seeing the original in the theaters in 1991 and falling in love with the story, the music, the library, and that ballroom. Oh that ballroom. Wouldn't it be fun if that were real?! I also remember thinking how wonderful it would be to have a little girl to share this movie with one day. Now, many years later, I have been blessed with that little girl and am anxiously awaiting our movie date together. To celebrate the excitement, we hosted a Beauty and the Beast Movie Tea Party for Two this week and how fortunate that Belle & a friend were able to stop by…
When the original movie came out I was a freshman in college and couldn't wait to see it. The fact that I was 18 going on 19 made no difference to me at all. I will never be too old to watch animated movies, especially if there is a princess involved! I do remember going to the mall right after the movie and buying the tape and listening to it over and over until I knew all the words.
Last week on Friday Family Movie Night we all watched the special edition of the 1991 – "Beauty and the Beast" and I surprised even myself that I still know ALL of the words to the movie and the songs. Well, except one. "Human Again" was not in the original movie or soundtrack so that part of the movie I am not as familiar with. As I sang along to, "Be Our Guest" (my 14 year old was quite impressed that I knew all the words and didn't need to Google the lyrics), so many wonderful memories came flooding back of seeing the original in the theaters.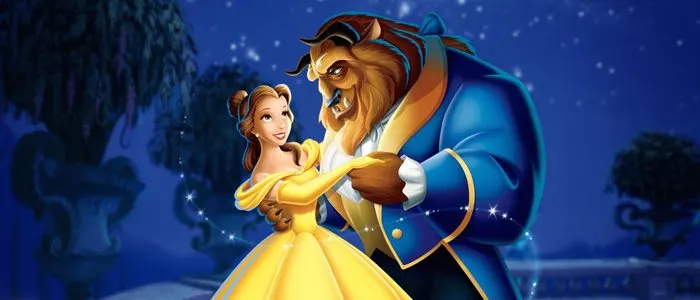 I am so excited to experience this with my little girl and to see her face light up like mine did so many years ago. The fact that my daughter adores Hermione from Harry Potter and that Emma Watson is the one playing Belle just makes it even more exciting.
To celebrate the movie coming out in just a few days we decided to host a little tea party. Every princess needs a new outfit for a special occasion so I picked up Belle's new movie version dress and accessories as a surprise for my daughter. She wanted to host just one friend so we chose one Evite's custom Beauty and the Beast-themed invitations to invite her over. There are several beautiful designs to choose from.
My daughter chose the "Let's Celebrate" design because she loves how beautiful Belle looks in her gown.

I set up the tea party in our backyard and added some of the new Beauty and the Beast toys to the centerpiece.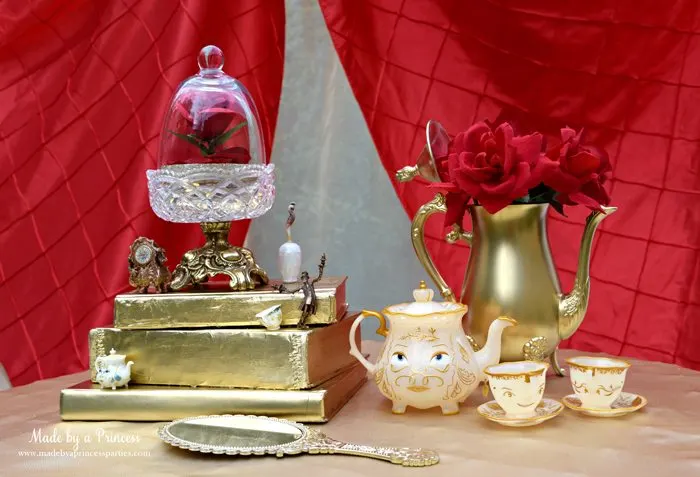 Since Belle loves books I created a book tower and then spray painted them with my favorite gold spray paint. In order to keep the books from moving around, I glued them together and sealed the pages as well. It is a very easy DIY project and one that can be done in less than an hour. I added the mini figures because they're so cute.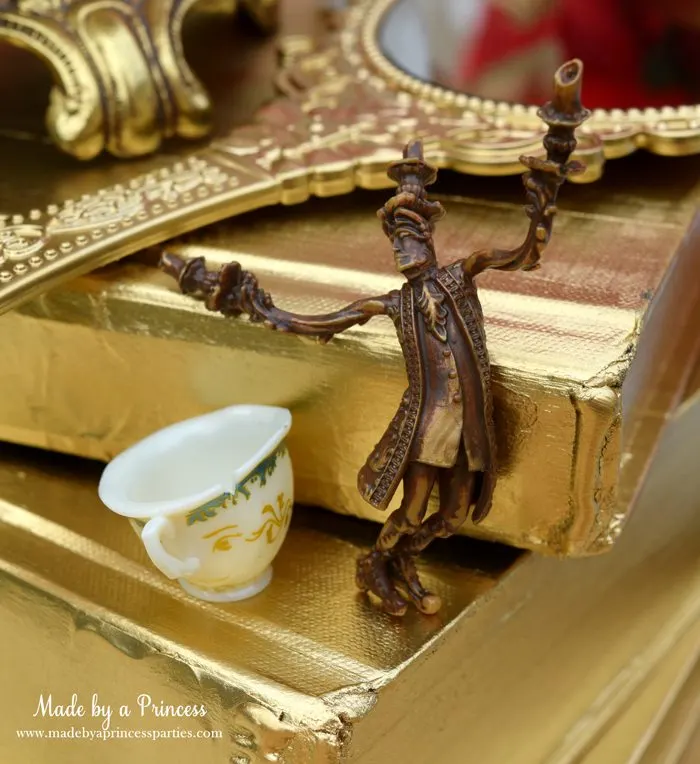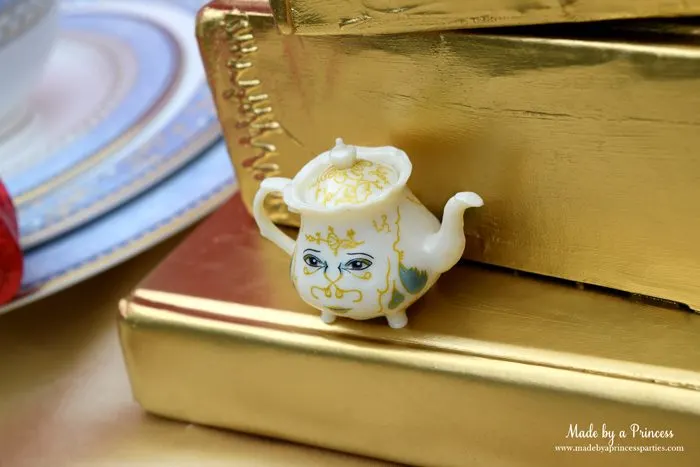 You can't have a Beauty and the Beast party without an enchanted rose! I found the crystal bowl at my local thrift store for $3 and added a battery powered fairy light string on the bottom so that it would look like the rose was glowing. Next I trimmed a styrofoam disc from the dollar store, spray painted it gold, and set it on top of the lights. The rose is from the dollar store as well. I cut the stem and removed some petals so it looked like the petals had fallen, just like in the movie. I had the glass cloche jar already and by sheer coincidence it fit perfectly.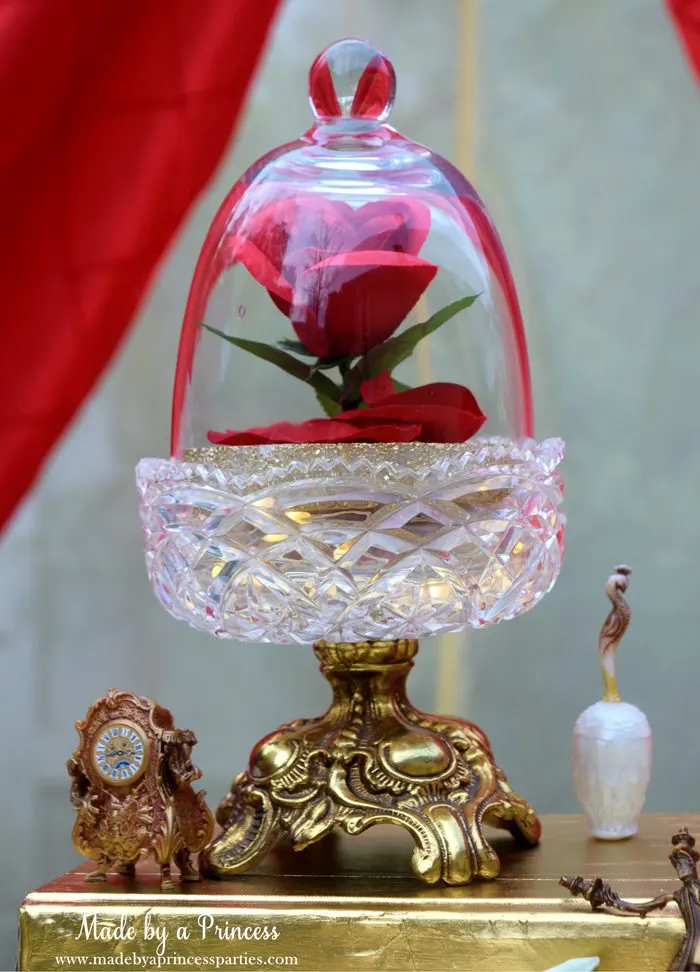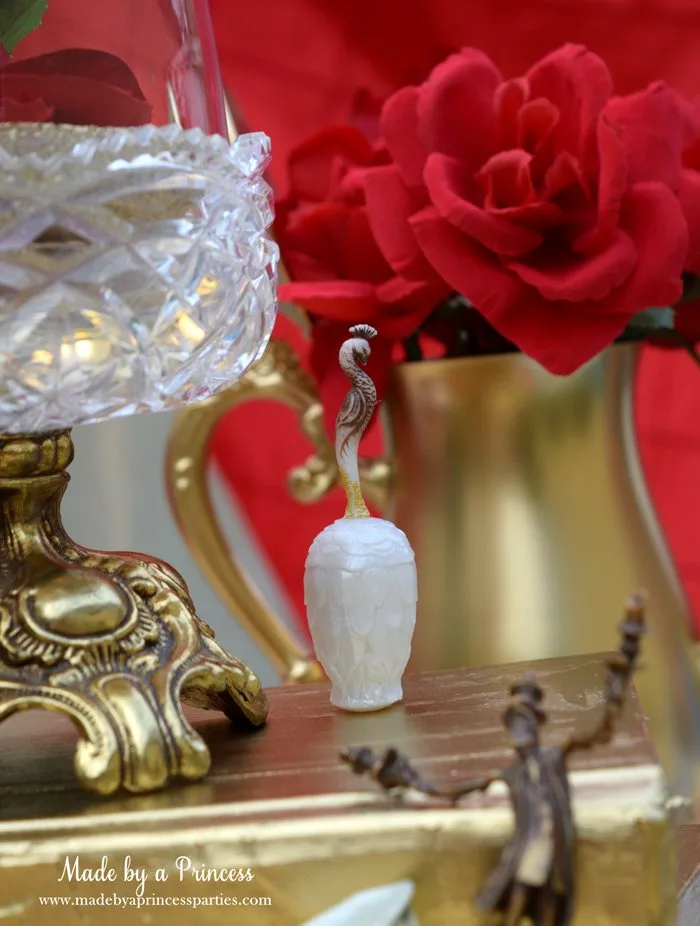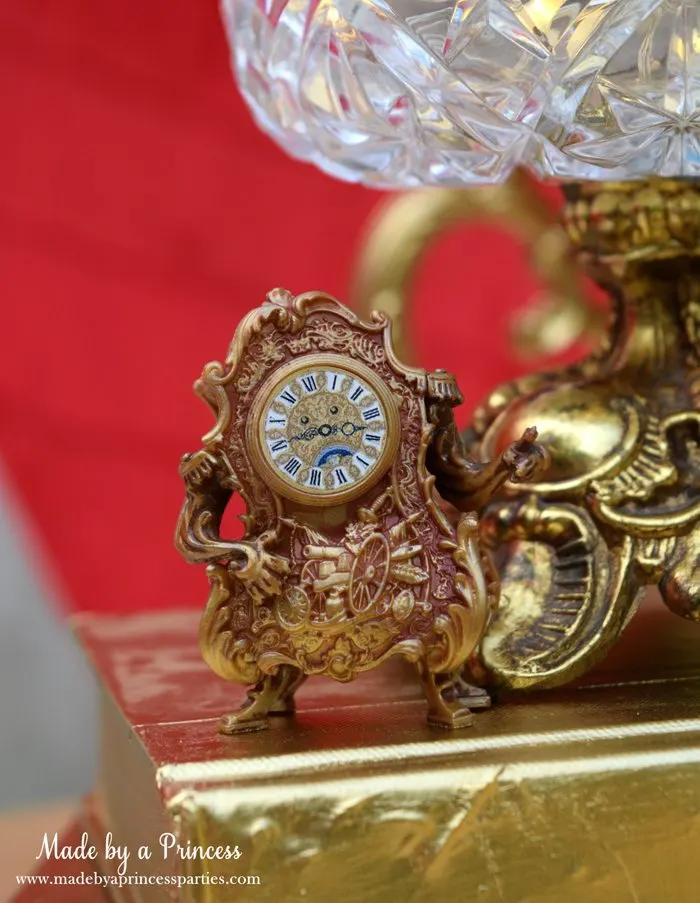 This is a very simple but very "Belle" centerpiece I think and one that cost less than $12 to put together. The tea pot was $6 and absolutely perfect for our tea party table. I spray painted it with the same gold as the books and was careful to protect the spout so it could still be used for tea.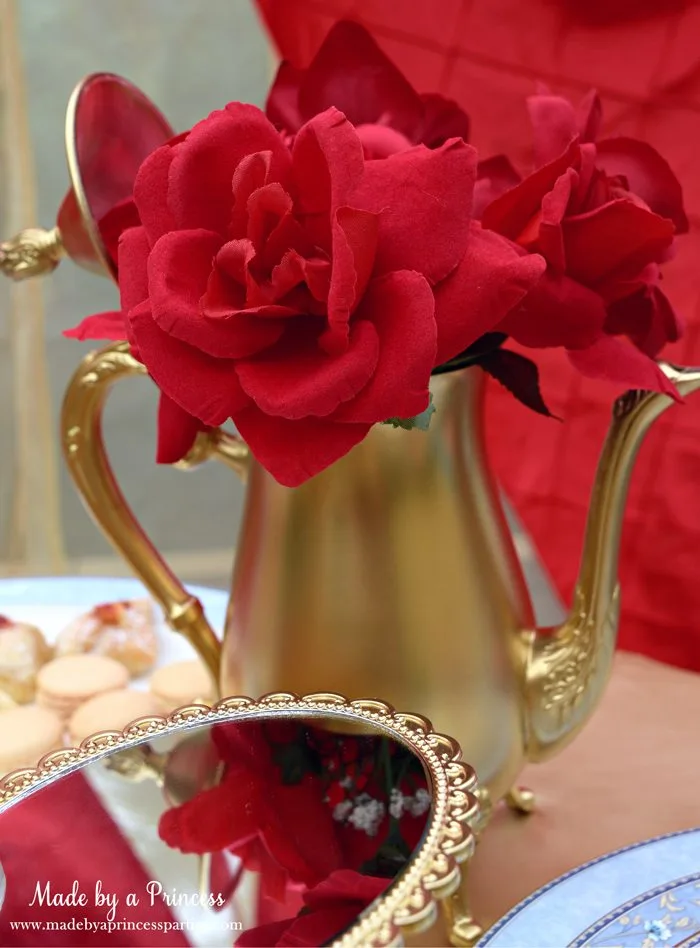 One thing I noticed right away in one of the movie trailers is that the new china set looks so much like my good china! I adore this set and was so happy I got to use it for this tea party. One thing about good china is that it rarely gets used. It was meant to be!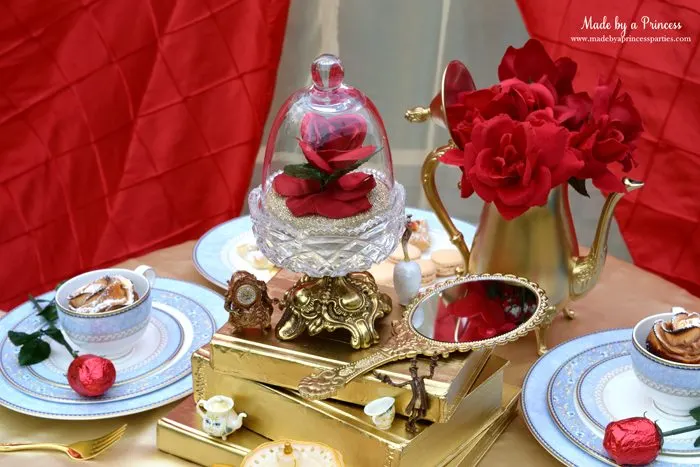 Belle was happy to host her friend, Queen Elsa, for the afternoon…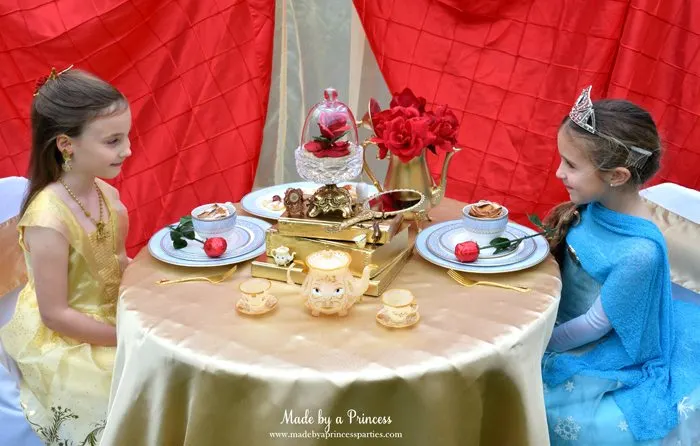 Belle's new jewelry is so pretty! We can't wait to find out the significance of the feathers…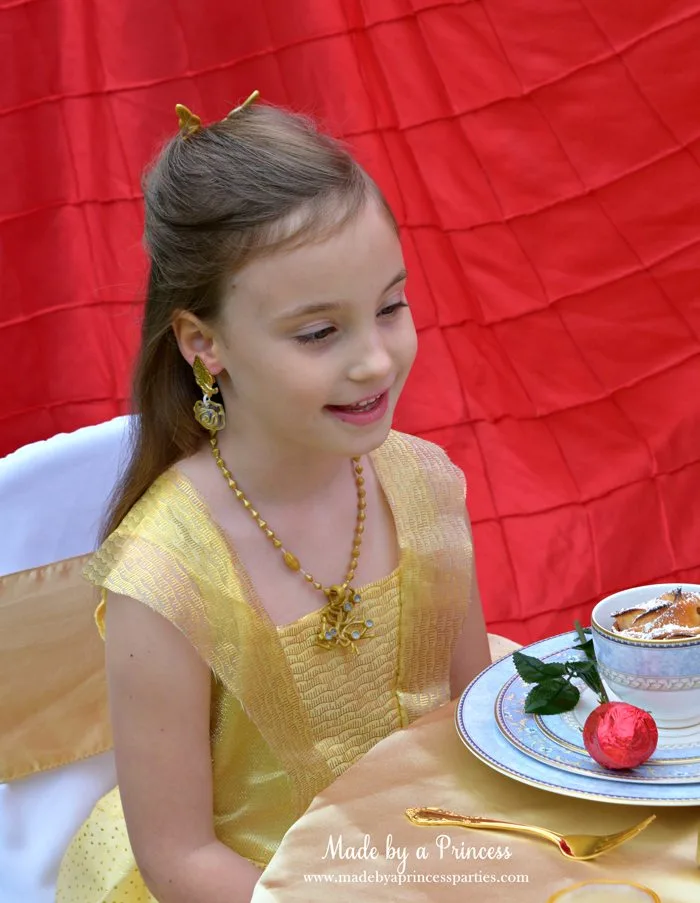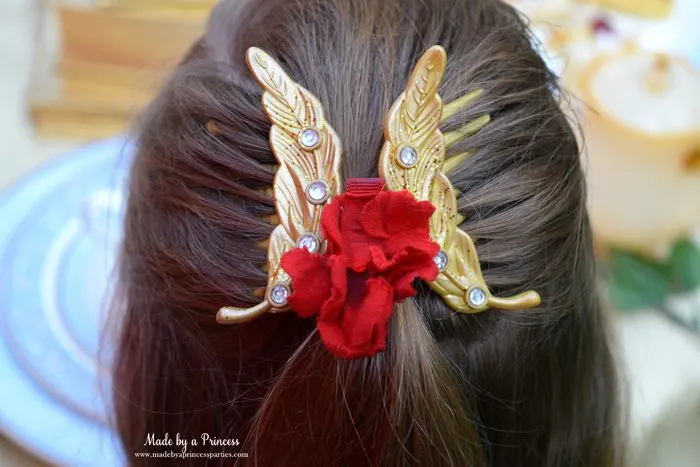 Queen Elsa clearly had a lovely time with Belle!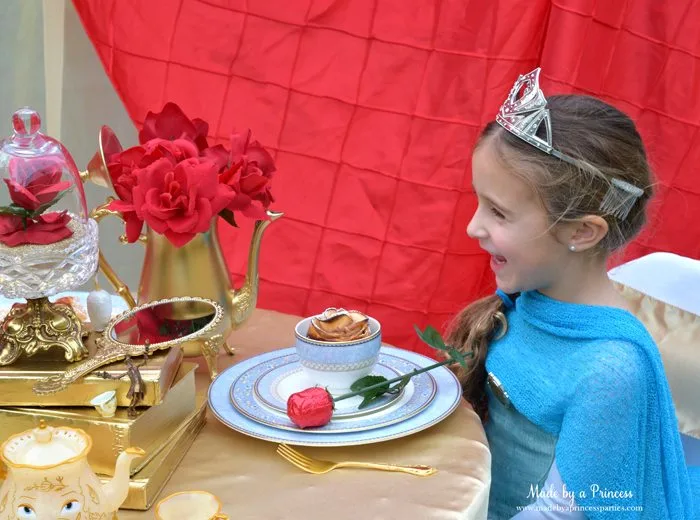 We even had an enchanted mirror. I wonder who Belle was looking for in the mirror. This was the easiest DIY of all. I bought about a dozen "silver" mirrors from the dollar store last year and decided it needed a bit of a Beauty and the Beast makeover. I taped the mirror part and spray painted it gold. Super easy, cost next to nothing, and didn't look at all like a dollar store find. It would be a great party favor for a Beauty and the Beast party.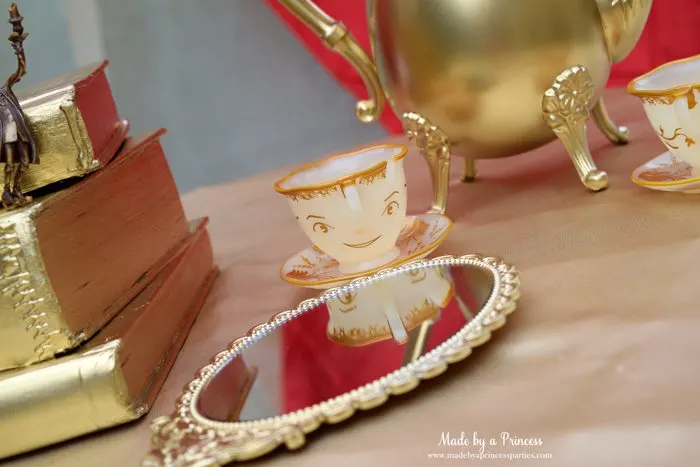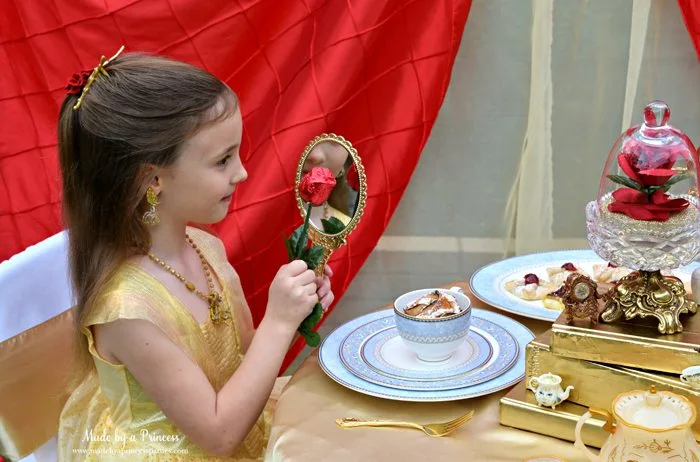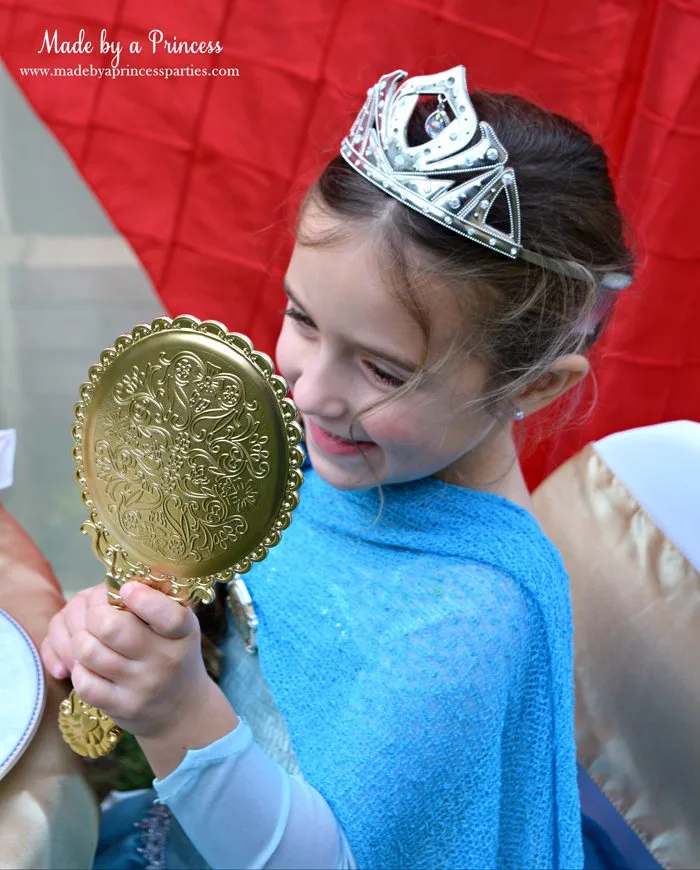 Of course we had story time. Belle shared one about her and the other princesses at the ballet and Elsa shared a story of her and her sister, Anna. These two did more giggling than reading though!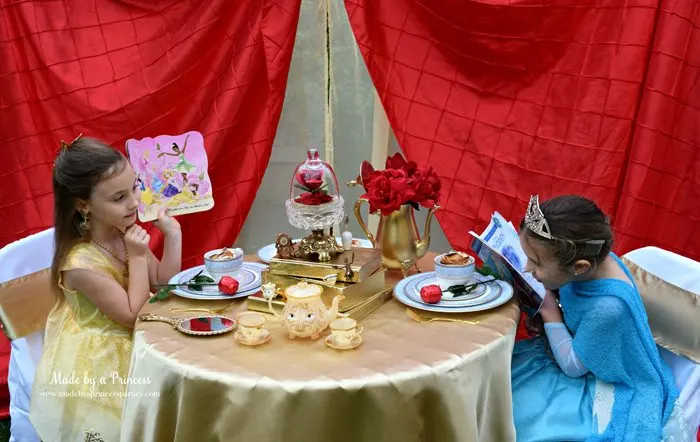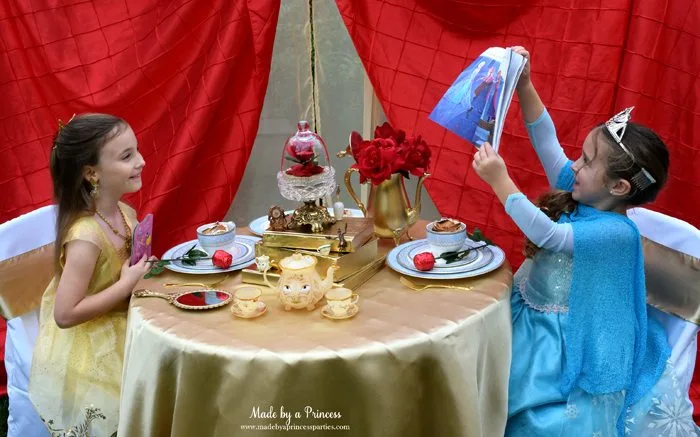 Queen Elsa was very impressed with the forks. She had never seen golden utensils before! Belle assured her they were "real gold."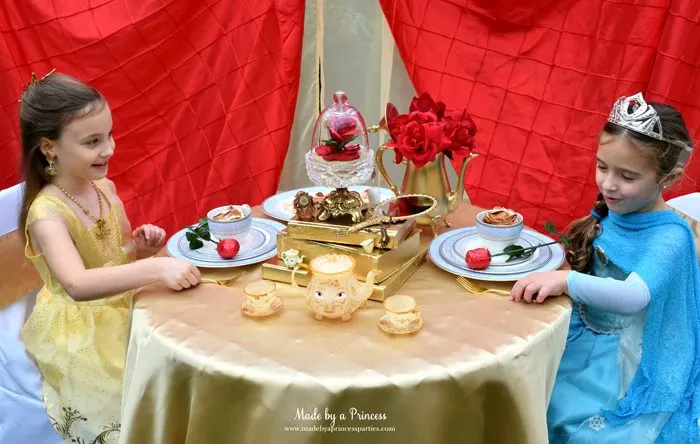 I am just loving this new tea set! There is something special about Mrs. Potts…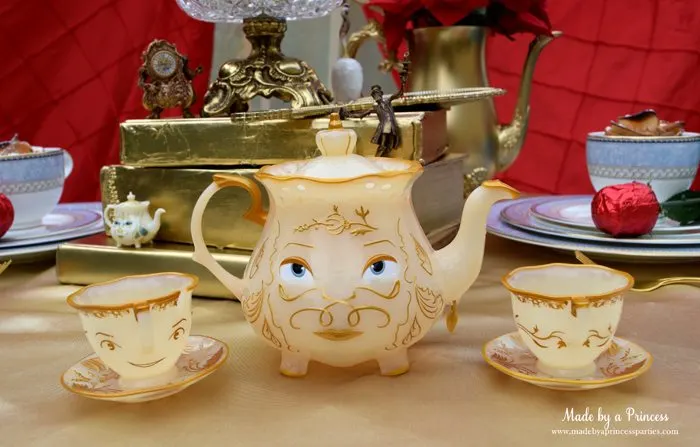 My daughter just figured out that Mrs. Potts eyes move!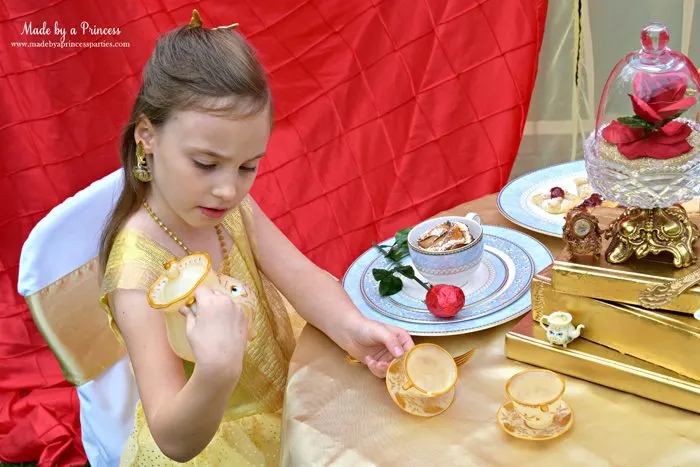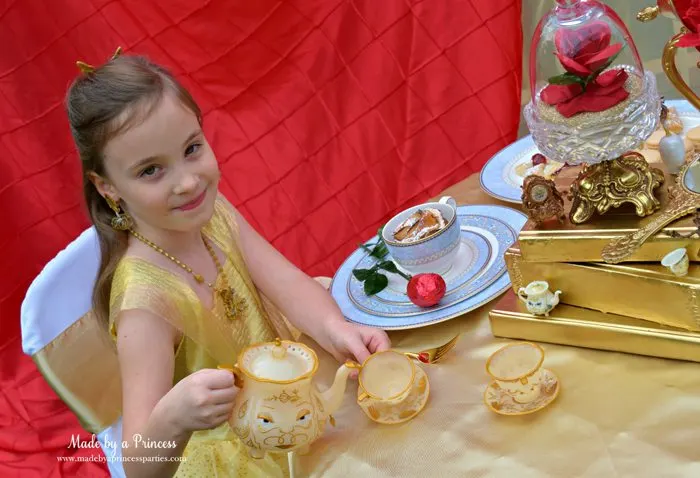 When you tip Mrs. Potts her eyes close.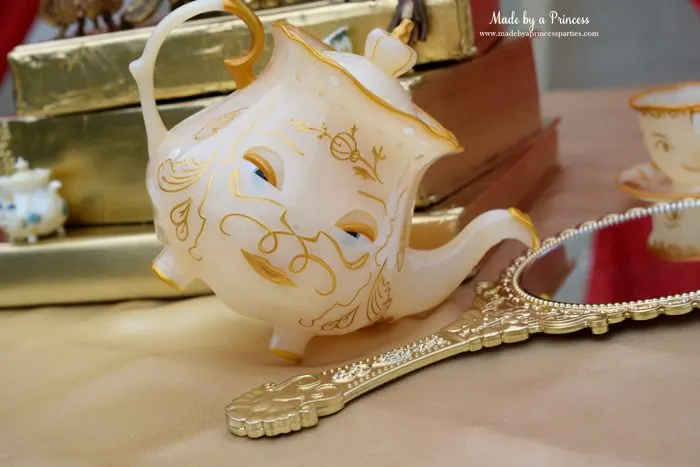 One of my favorite treats I prepared for the girls were apple roses. I had actually never made them before but there were really easy and all you need are apples, puff pastry sheets, and a bit of jam.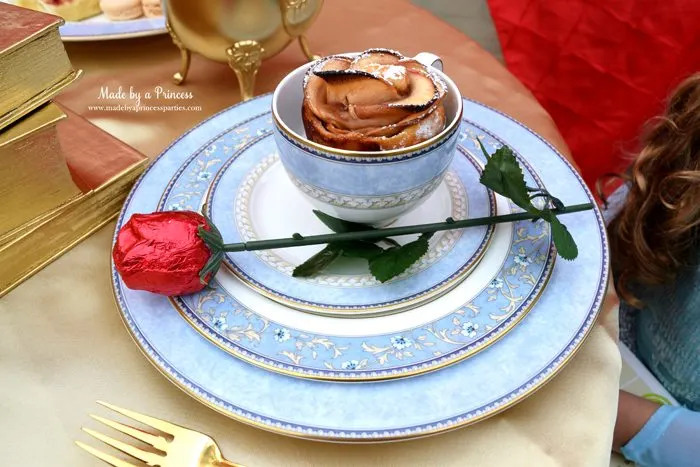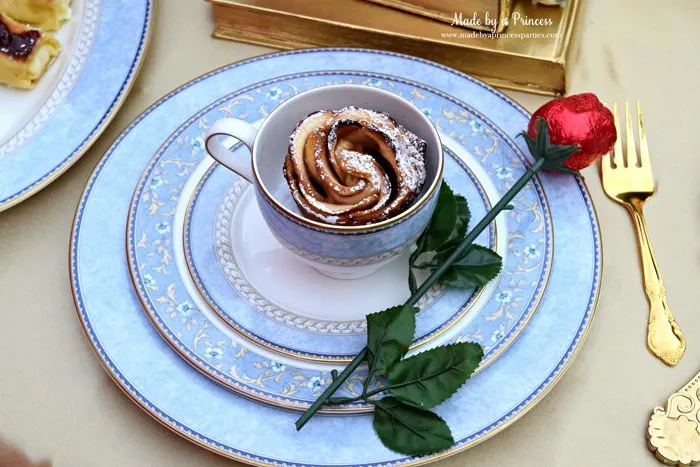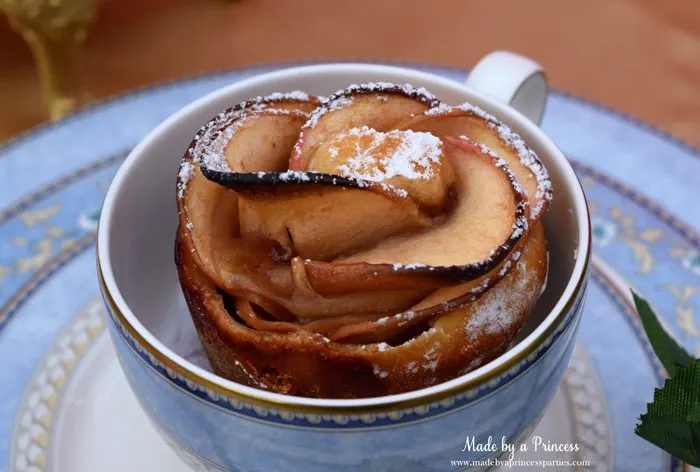 Belle also served cheese blintzes and brie en croute with bit of strawberry jam and powdered sugar and macarons.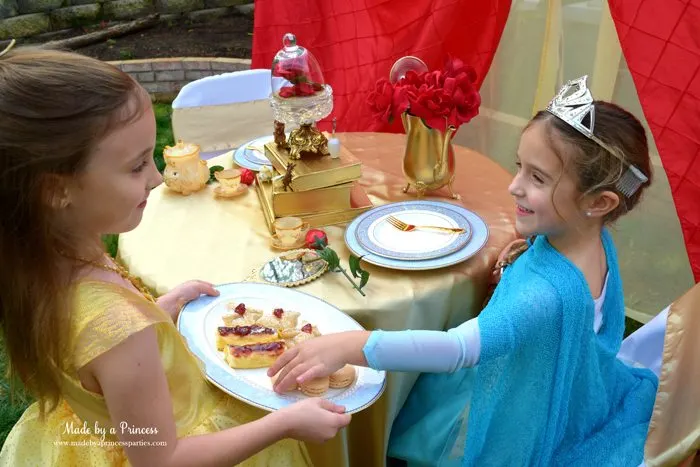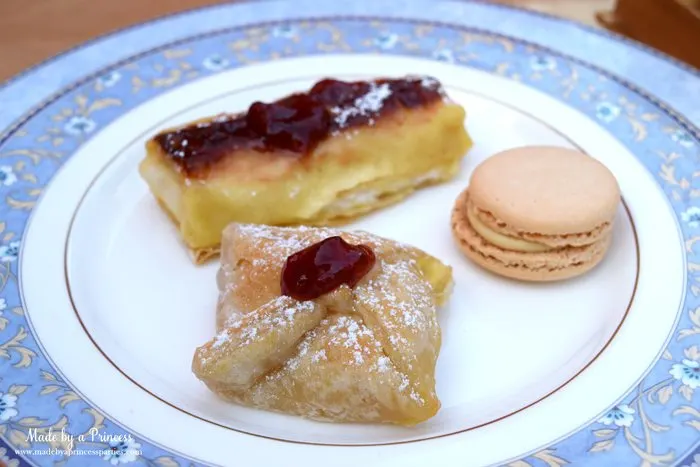 They really loved these chocolate roses and couldn't wait to eat them.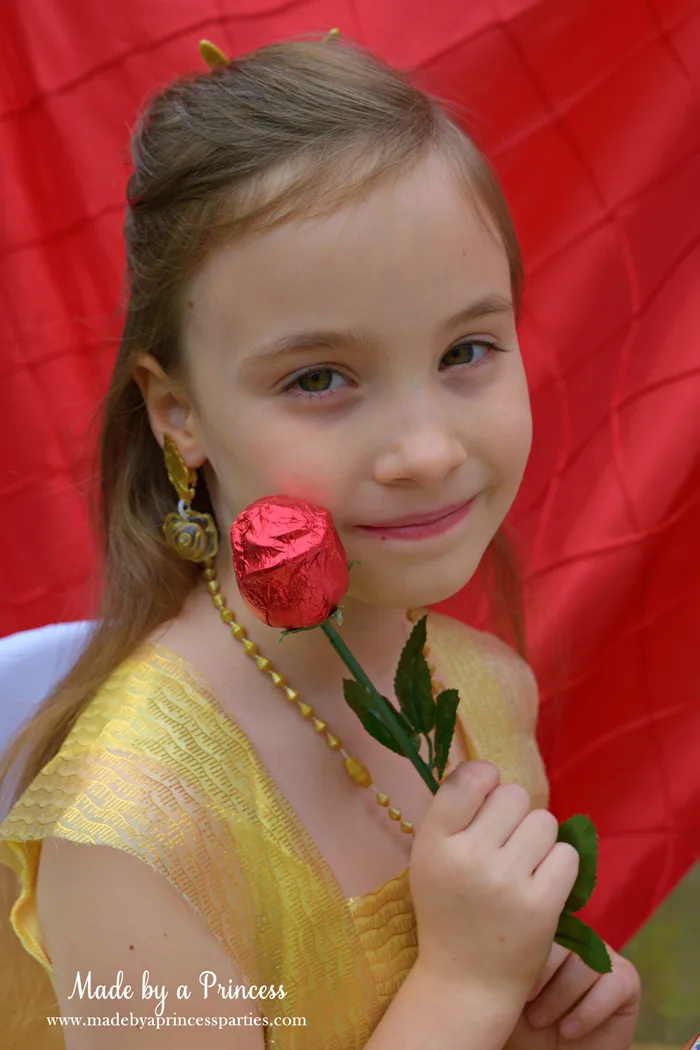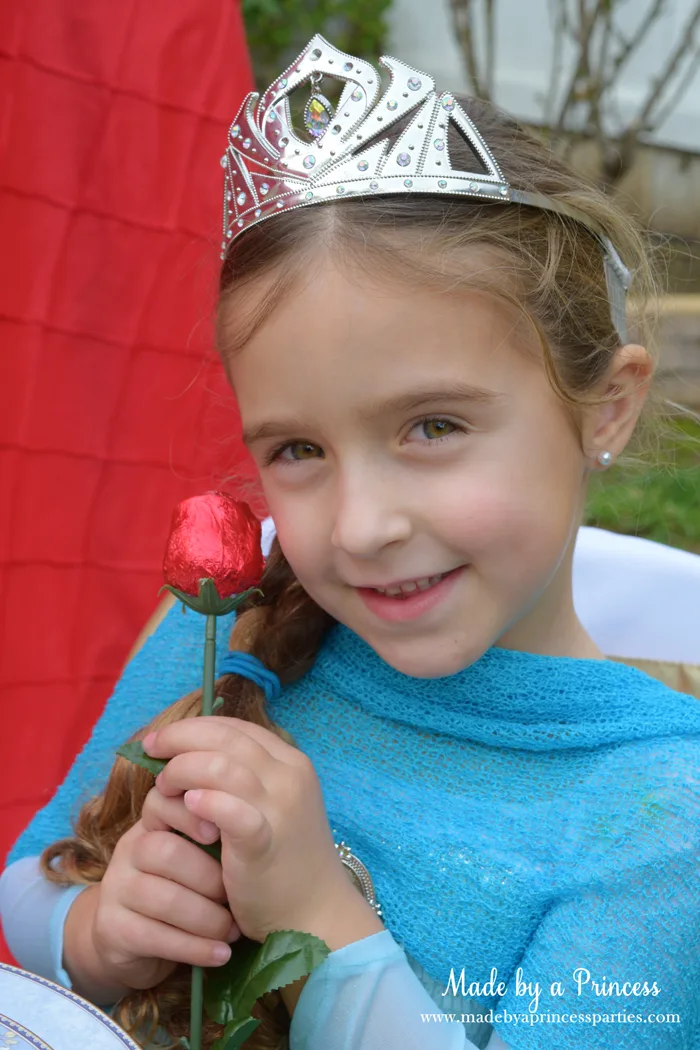 It was getting a bit chilly (yes, even in Southern California it gets cold!) so before they headed inside to sit before the fire and eat their roses I got a couple pictures.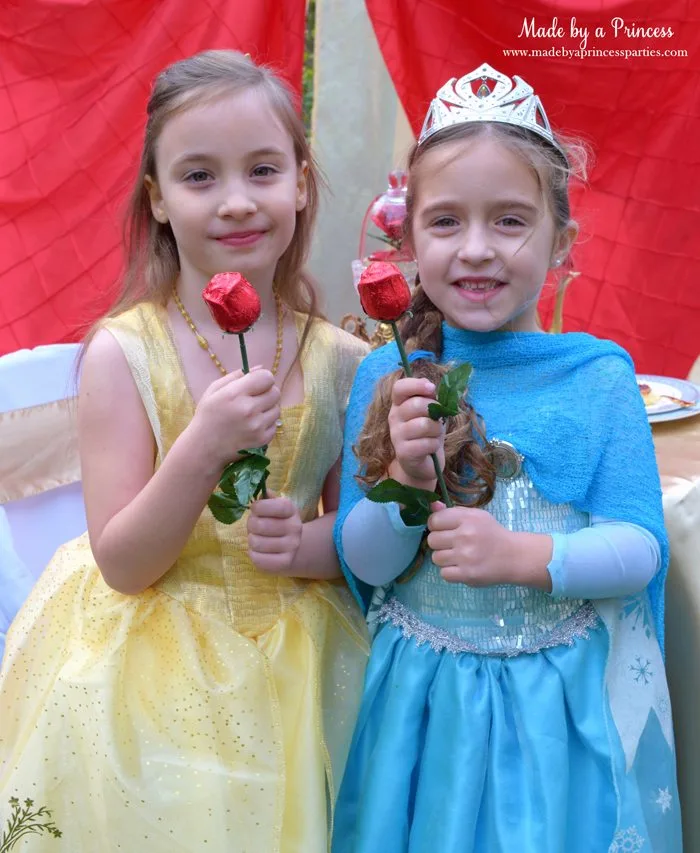 Belle and Queen Elsa had such a great time at their tea party!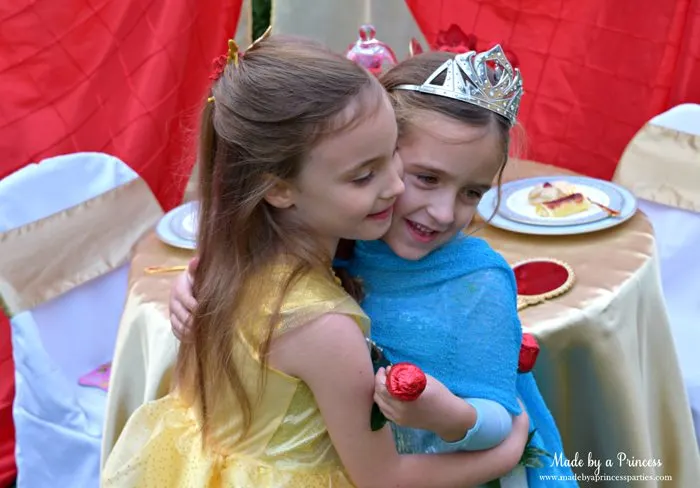 My beautiful princess…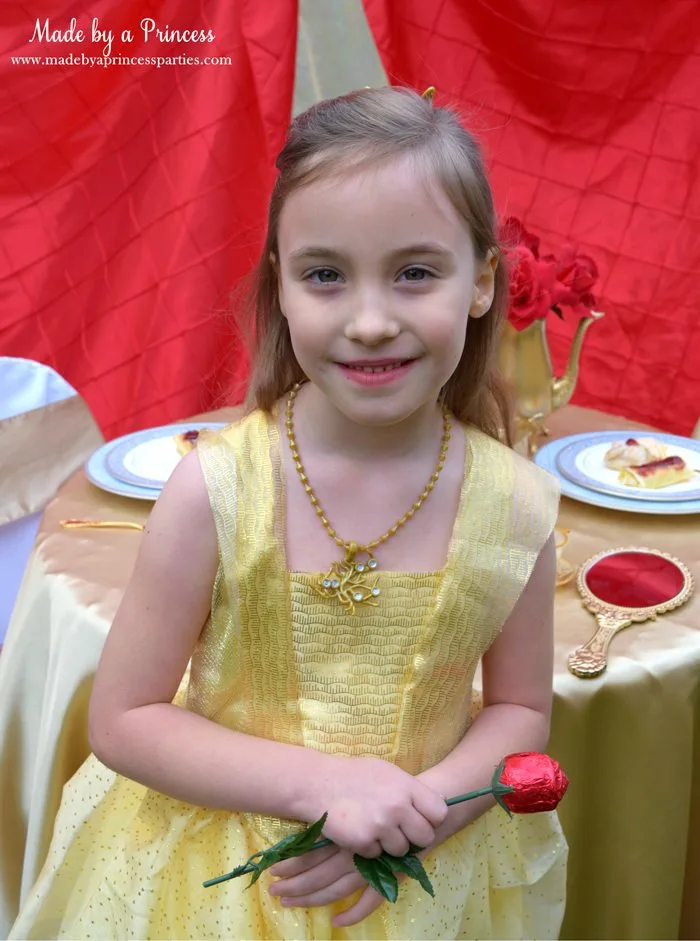 I hope you enjoyed our Beauty and the Beast Movie Tea Party for Two! The movie comes out in just a few days, March 17th, nationwide in theaters in IMAX & 3D near you. Purchase pre-sale tickets online at Fandango now to reserve your seats! Now we invite you to relax, enjoy the show, and be our guest…
#BeOurGuest #BeThere #Evite