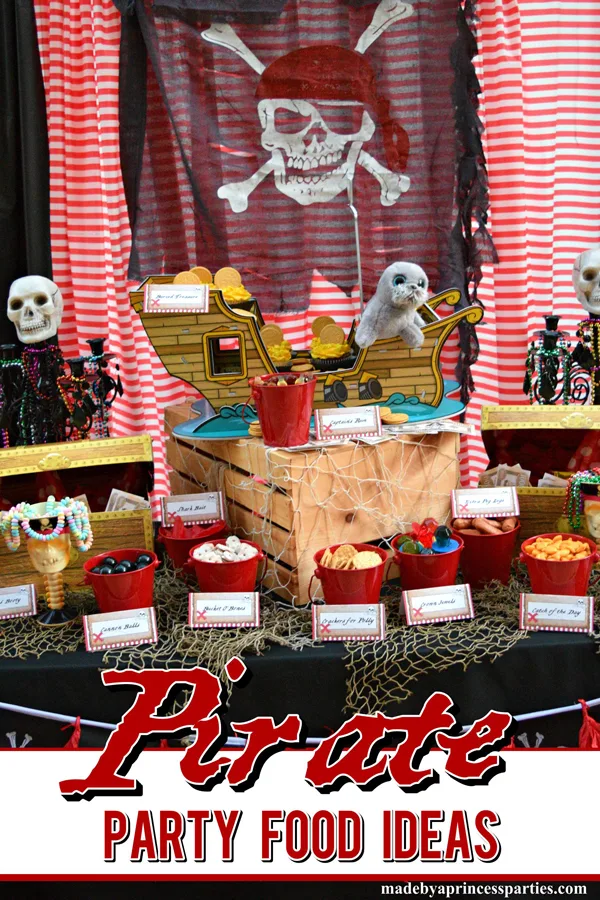 Aaaargh matey…are ye ready to walk the plank? I don't think pirate parties will ever go out of style! I had a pirate party for my son when he turned six and he's nearly fifteen now. He remembers all the details and how much fun they had searching for buried treasure. Today I'm sharing my Pirate Party Food Ideas Free Printables to make your party planning go a little bit smoother. Keep reading for pirate party inspiration.
Pirate Party Ideas
When I planned my son's party nine years ago I was most excited about the buried treasure hunt. I went to the park about a week before and sketched out the area so I could create a map for the kids to follow. I then looked for good spots where I could hide the skeleton keys with clues.
The moms at the park that day must have thought I was crazy. When I was done I had 8 really good hiding spots and some fun ideas for clues. The kids had a blast and loved the silly clues I made. Planning parties for my kids is one of my favorite things to do and something I so look forward to every year.
Aside from the treasure hunt I really really loved making his treasure chest cake. I knew I wanted the cake to open like a real treasure chest which isn't as easy as it sounds! it involved a cardboard base and several skewers to hold it up but it worked and my son loved it. That is all that mattered!
The top is made of rice crispie treats, covered in frosting, and embellished with fondant straps. I used two different colors for the frosting, one brown and one lighter brown, and made it look like wood with a fork. Candy necklaces, Rolos, gold nugget gum, and Necco candy filled the inside to look like treasure. The straps and lock are made of fondant and then brushed with silver luster dust.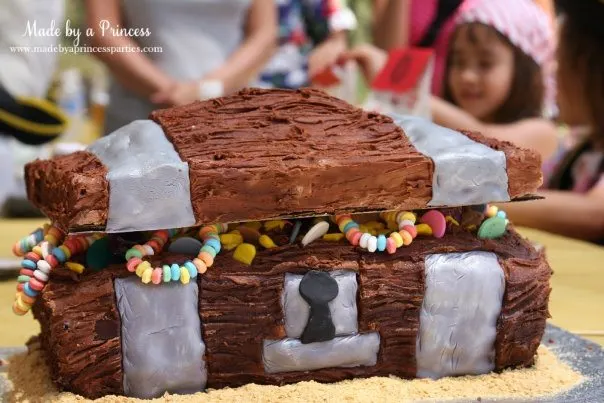 I'm definitely not a pro and really only make cakes for my kids but have so much fun doing it.
Pirate Party Food Ideas
When Birthday in a Box asked me to create a pirate themed party for them I remembered all these things I did for my son and remembered how fun it was so of course I said yes. I wish I had edible gold spray back then because I would definitely have made some gold cookie coins!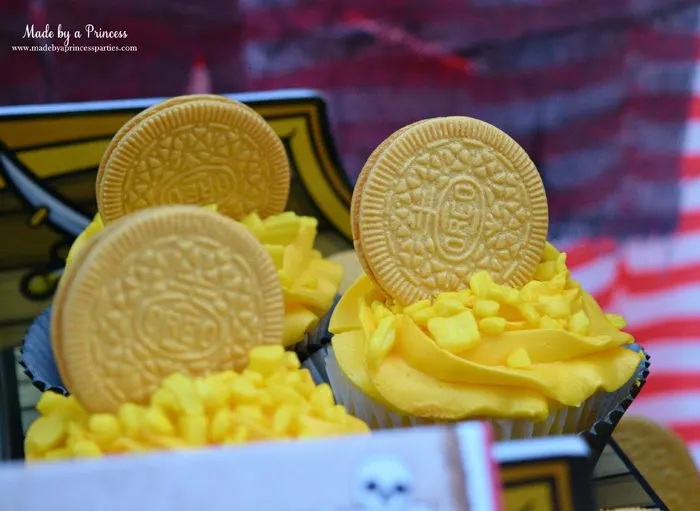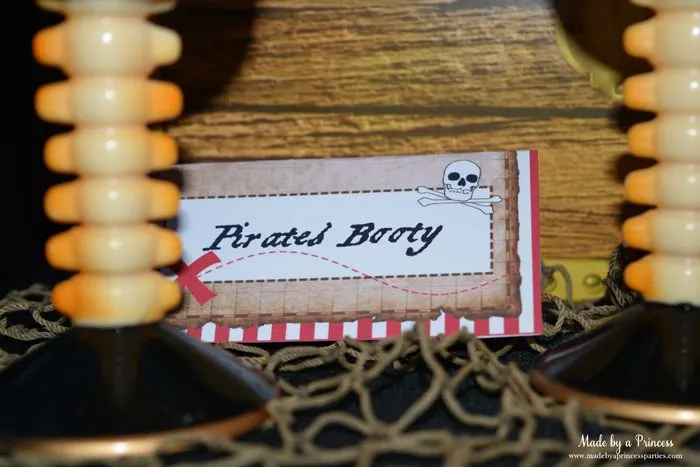 Gold Doubloons – Rolos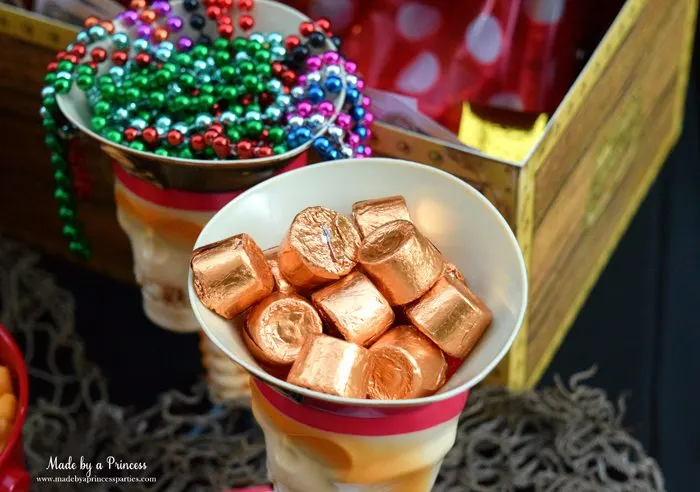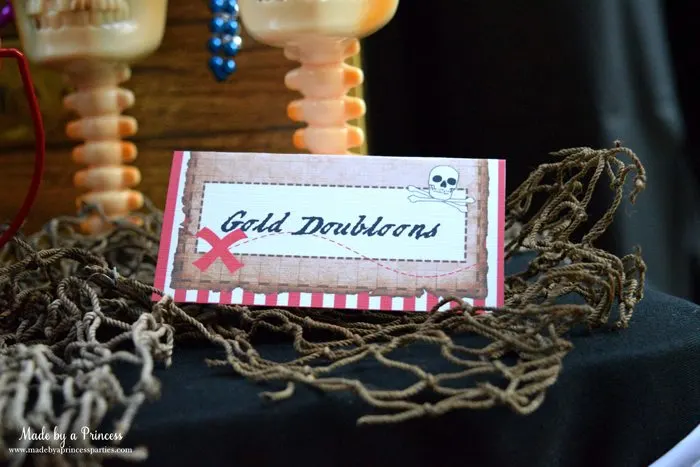 Shark Bait – Swedish Fish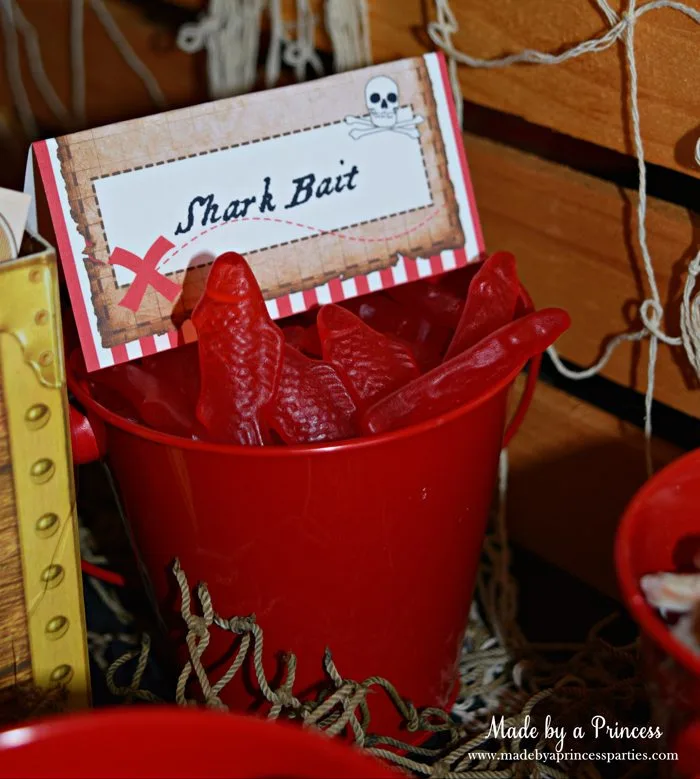 Captain's Rum – gummy coke bottles and root beer barrels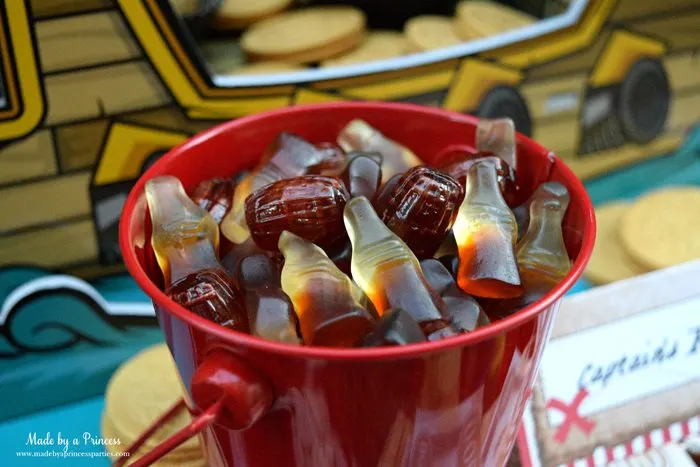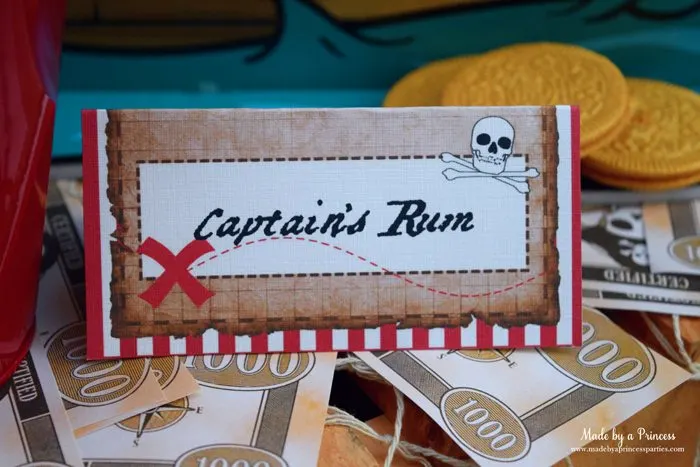 Crown Jewels – ring pops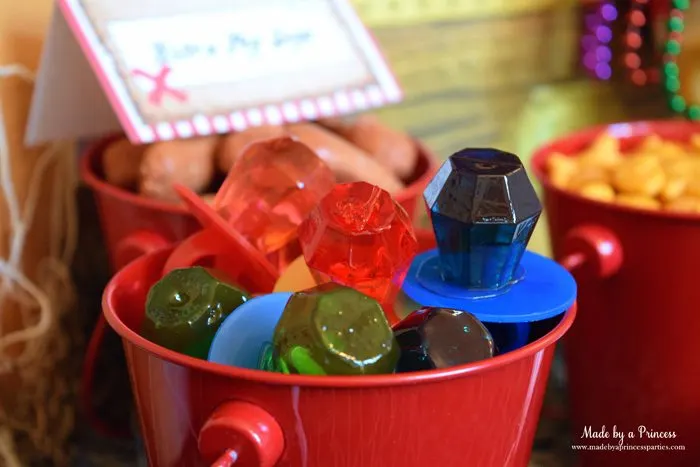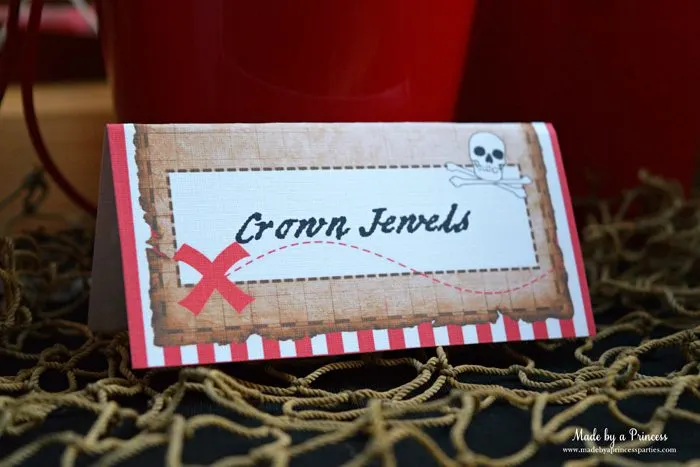 Cannon Balls – black gumballs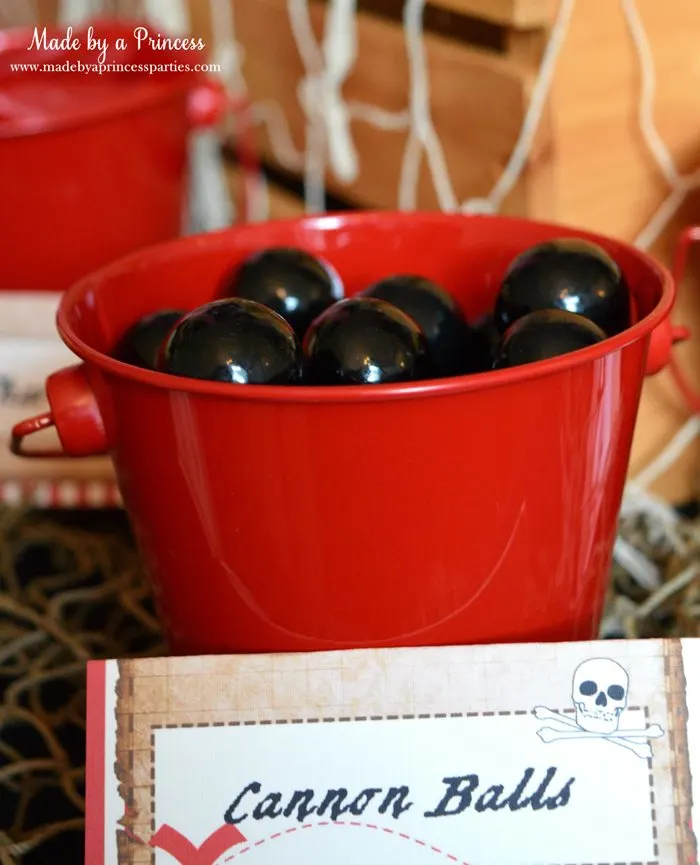 Bucket O'Bones – yogurt pretzels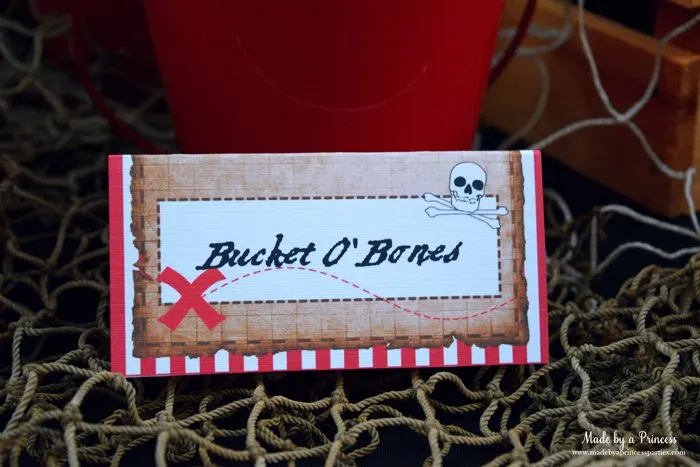 Catch of the Day – Goldfish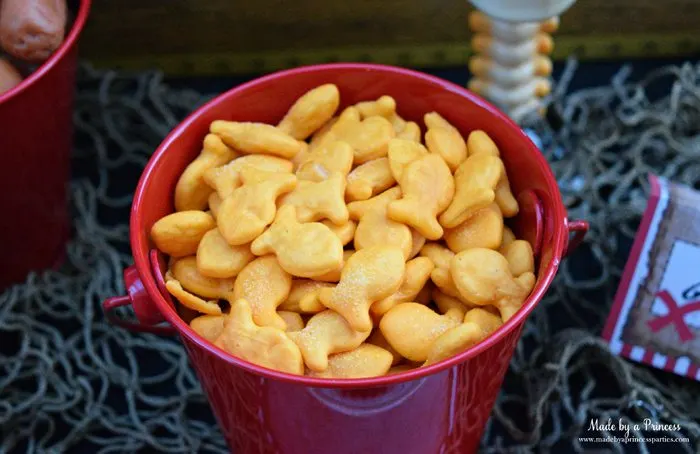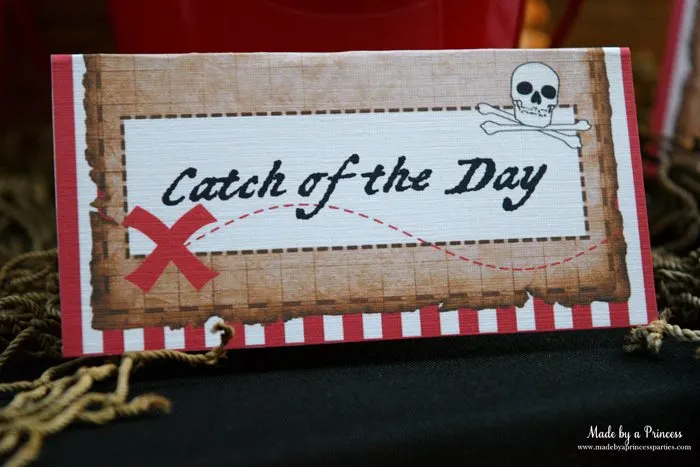 Extra Peg Legs – mini sausages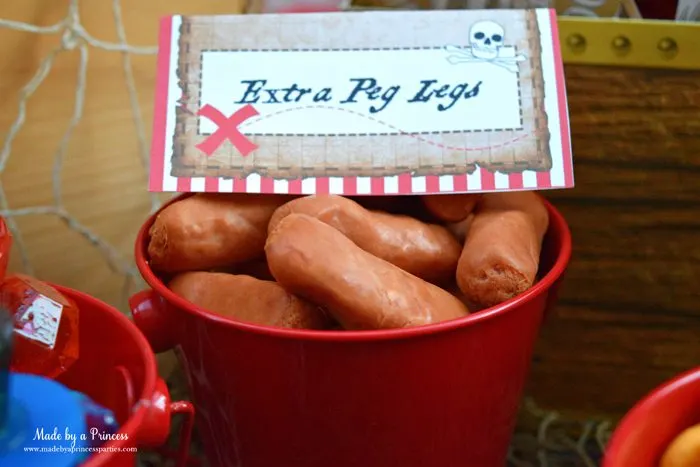 Crackers for Polly – crackers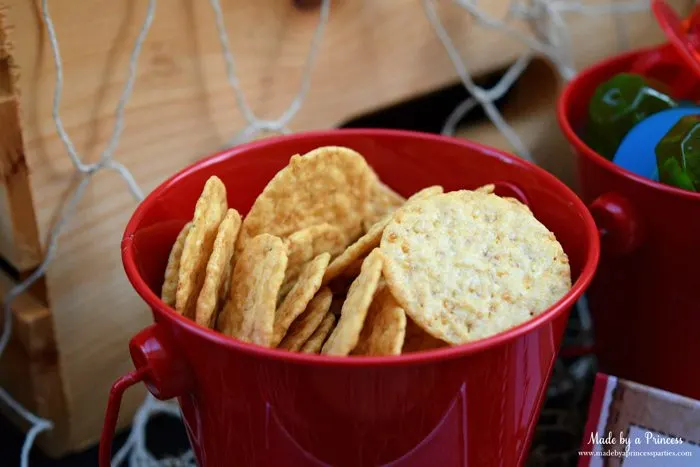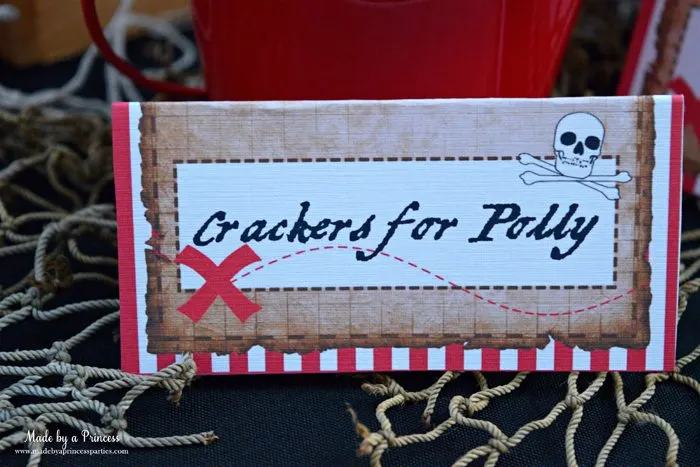 Want the food tents featured in this post? Join my Made by a Princess Castle Community and have access to my secret VIP (Very Important Princess) resource library. There you will find all of my party and holiday printables!
You can check out all the details of the pirate party I created on the Birthday in a Box party ideas page.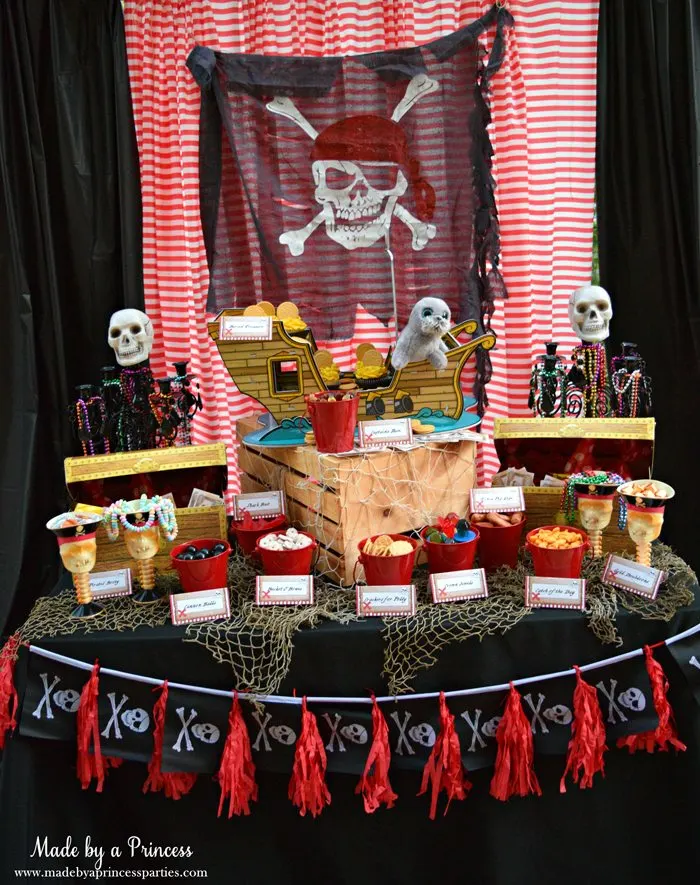 I hope you enjoyed my Pirate Party Food Ideas + Free Printables today. I'd love to see pictures of your parties! Comment below with your favorite pirate food. What would you serve to your crew?