This shop has been compensated by Collective Bias, Inc. and its advertiser. All opinions are mine alone. #acnefree123 #CollectiveBias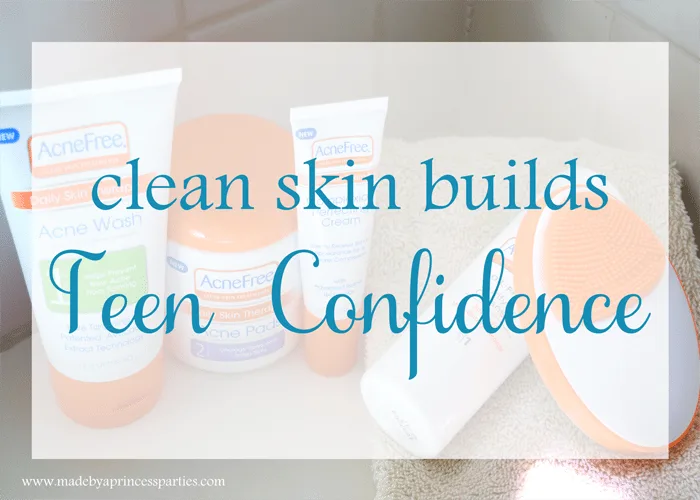 Do you remember what it was like to be a teenager and struggling with breakouts? It was awful! At least I could cover them up with makeup. Well, I have a teenager myself now and we're navigating through this teenage life together and that includes helping him take good care of this skin. Today my son is talking about how Clean Skin Builds Teen Confidence and how he is taking control of his skin and his confidence.
"Hi My name is Glenn and I'm taking over my mom's blog today. I'm going to talk about my experience with AcneFree and how important it is to wash your face everyday. My mom and I have a routine every morning. The alarm goes off at 5:50a, she comes in, and wakes me up, then she wakes up my little sister. Every morning she says the same thing to me, "Get dressed, wash your face, brush your teeth, and take your backpack downstairs." I have to admit some mornings I don't do a great job washing my face and later that day it really shows. My mom tells me I have pretty typical teenage skin and based on what in other kids my age I think she must be right. Typical teenage skin to me means breakouts, blackheads, and oily skin. My mom and I talk about a lot of stuff especially how important it is to take care of my skin and that doing it the right way doesn't take any more time than the wrong way. Don't tell her I think she's right.
For Christmas my mom got one of those face scrubber things and I thought it was pretty cool. I've used it a couple times and liked how my skin felt afterwards. When she told me about these AcneFree products and how I was going to get my own face scrubber I was pretty excited. When I came home from school she had all of these products lined up on the counter, we read the directions together, and came up with a plan on how I would use it.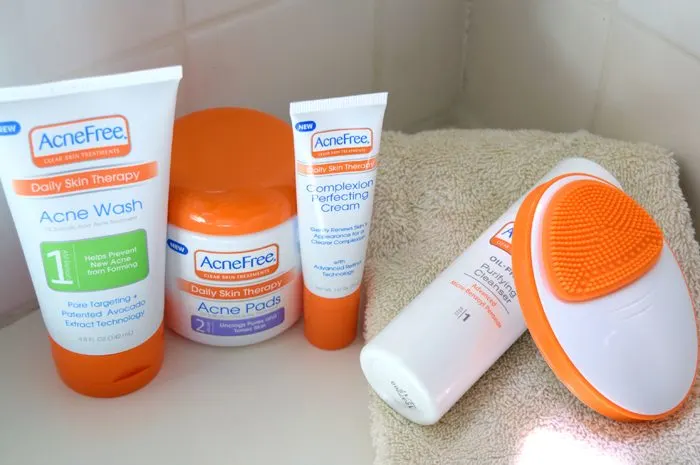 Morning:
Step 1 – I start with AcneFree Daily Skin Therapy Acne Wash. I get my hands wet and put a little of the solution on my fingers then wash my whole face with it. This wash targets my pores and helps prevent new breakouts from popping up. It is lightweight, soap free, purifies my skin, and removes dirt and oil from deep in my pores (sorry if that sounds gross). It is made with avocado extract which helps keep the shininess in control and it smells pretty good.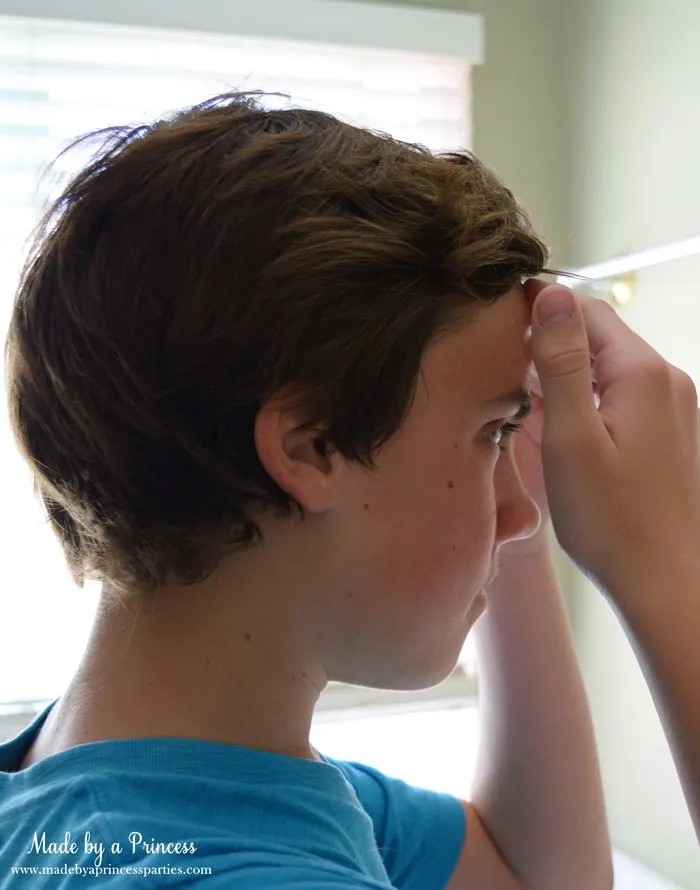 Step 2 – Next I wash my face with the AcneFree Purifying Cleanser & Cleansing Brush. It's oil free and clears blackheads. I like the way it feels and it's really easy to clean. I just wash off the brush and dry it with a towel. I like that it doesn't have a strong smell either. Some products have a tend
ency to smell "girly" (no offense) but this doesn't at all.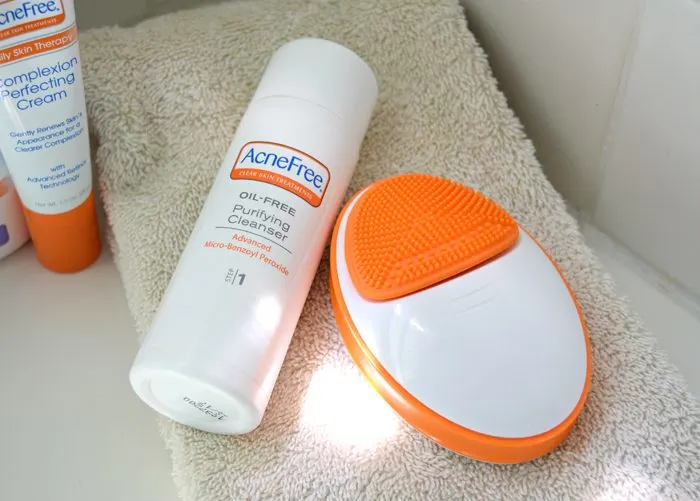 Afternoon:
Sometimes my skin feels oily towards the end of the school day so I'll come home and use the cleanser and brush again. Not everyday but if I need to I will.
Night: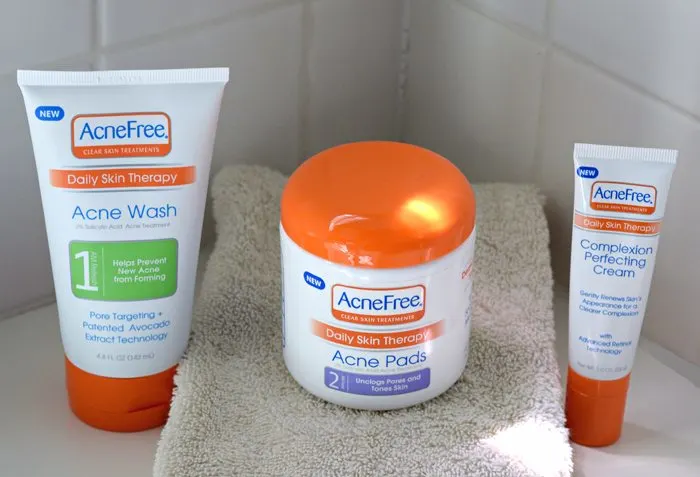 Step 1 Acne Wash – Same as in the morning. Wash my face and dry really well.
Step 2 Pads – These are kind of rough but not in a way that hurts. These are supposed to unclog my pores and prevent new acne from starting. The menthol in the pads sort of feel tingly like my face is really clean. I was doing this every night but I noticed that my cheeks were kind of red so I cut back to every other day which seems to work well for me. No more red cheeks. My mom and my grandmother have sensitive skin so I think I might have that problem too.
Step 3 Complexion Perfecting Cream – I use this when my face is dry and right before I go to bed. It is lightweight and contains something called Retinol that helps my skin look healthier. This also has some conditioners which keep my skin moisturized.
After trying this for the past couple weeks I can honestly say I really like it and think it has helped my skin a lot. I like the way my skin feels and how I feel with clean skin. It's no fun to breakout and it doesn't make you feel good about yourself. When my face is clean and clear I definitely feel better about myself and am not afraid to show my face on Snapchat for instance. I know you're rolling your eyes, Mom! It's true though. I'm 13 and that kind of stuff is important. Well, feeling good about myself is really most important but you know what I mean. I would suggest you get this for your teenagers because it could really help with their confidence. Tell them Glenn said it's true.
I do want to warn you about one thing though. The directions say to make sure you use sunscreen on your face because it might cause some irritation if you don't. I actually forgot to wear sunscreen when I went to the beach with my dad and my face got really red and kind of burned. Make sure you wear sunscreen!
Thanks for letting me tell you about AcneFree. If you have any questions comment below and I'll answer them! Thanks, Glenn"
Ok, I know I'm biased but how cute is my son?! Great job, Glenn!
Join the AcneFree community by getting involved in the conversation and sharing your skincare routine and success stories on Instagram, Facebook, and Twitter.