Before you make plans for your first trip to Universal Studios Hollywood, Los Angeles check out my must read tips to save you time and money!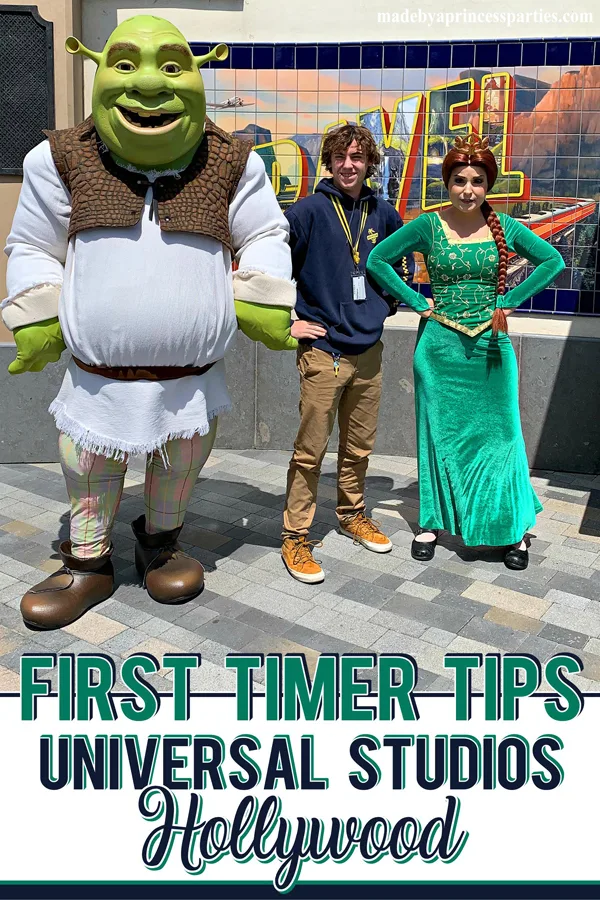 Planning your first trip to Universal Studios Hollywood and don't know where to start? I can help! I'm sharing my top Universal Studios Hollywood tips to help save you time, money, and maybe a headache!
This post sponsored by Universal Studios Hollywood. We were provided tickets but received no compensation. All opinions are my own. Post contains affiliate links.
Tips for First Time Visit to Universal Studios Hollywood
Last month my family and I were invited to spend the day at Universal Studios Hollywood. My daughter and I are HUGE Harry Potter fans so this was really a dream come true for us. I couldn't wait to share the experience of seeing the Wizarding World of Harry Potter for the first time together. As any good Ravenclaw would do, I researched a lot before our trip. I wanted to know about what foods were served, where to buy Butterbeer, how much Chocolate Frogs cost, and secret wand locations in the park.
Before I go any further I feel compelled to admit that I made an 4 page (from and back) list of things to do, see, look for, and buy to carry around in my purse. It is in 10pt font and laminated. You read that correctly….laminated. I didn't stop there. I punched holes in the pages and secured it with a swivel clasp…with a royal blue ribbon. Seriously can't help myself. I believe Rowena Ravenclaw would have been very proud of me though. I will also be sharing our Wizarding World of Harry Potter this week. Here are some of my Universal Studios Hollywood tips to help you prepare for a great day exploring the mysteries of Hogwarts Castle!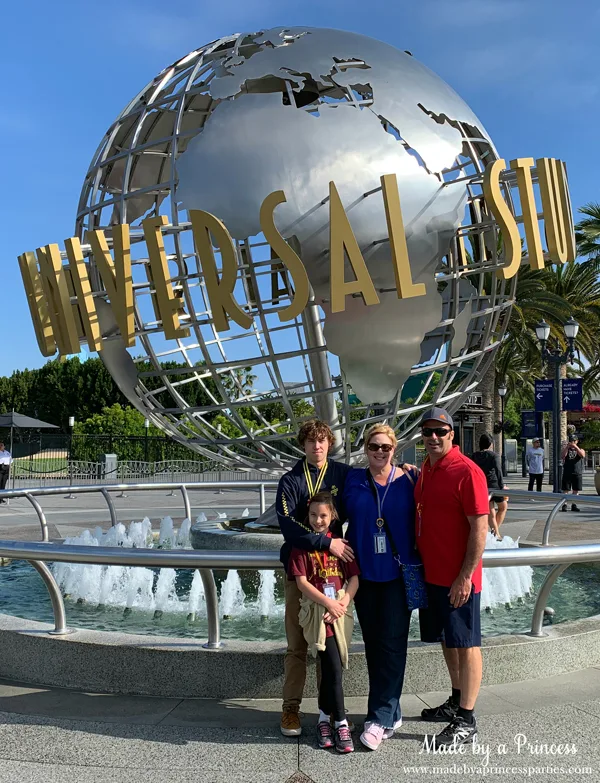 Universal Studios Hollywood or Universal Studios Orlando?
Do you know what I quickly realized when we walked through the gates of Hogsmeade? That most of the things on my very organized, very tiny type, very laminated list were about Universal Studios Orlando! Florida folks! It occurred to me when I couldn't the fire breathing dragon, Daigon Alley, Knockturn Alley, or SugarPlum's Sweet Shop that most of the articles I read were about Orlando. I wondered both out loud and to myself, "How could I have missed that? Did I really not see that they were talking about Florida?!" I did go back to most of the articles when I got home and found there was no mention of which Wizarding World of Harry Potter it was referring to. I felt like I had been studying for the wrong test!
Just so we're clear…everything I am going to tell you is about Universal Studios Hollywood in Studio City, California. So…let's get started with things you need to know before you head off to Universal Studios in Hollywood and the world of magic.
What to Wear at Universal Studios Hollywood
Comfortable shoes. Wear comfortable shoes. Resist the urge to wear cheap sandals because you will do a lot of walking. A lot. Look into good sturdy sandals like Clarks, Merrell, Vionic, or Birkenstocks. If you're looking for cute and comfortable tennis shoes check out these pink Adidas. I love mine!
Absolutely positively do not wear cheap flip flops. Some rides, like "Harry Potter and the Forbidden Journey", will flip you backwards and forwards and nearly upside down. You could very easily lose a flip flop on a ride like that. Also, cheap flip flops have no support and walking on that hard concrete all day is hard on your back.
Wear layers. Depending on the time of year it could be sunny and 78 during the day and then cool off to high 60s at night. Check the weather before you go and plan accordingly. You may never use the sweater you bring but there is no harm in having it in the locker just in case.
Comfortable clothes. Shorts, khakis, cotton pants, lightweight jeans, cotton shirt, linen shirt, lightweight t-shirt. Avoid spandex, short dresses, tight clothes, nylon, and high heels. I am always amazed when I see ladies wearing heels at a theme park. Why, ladies? Why?!
Ready to Go!
Comfy shoes – Check. Light sweater – Check. Express Pass in lanyard – Check. Happy smiles – Check. Hugs from big brother – Check…we're ready to go!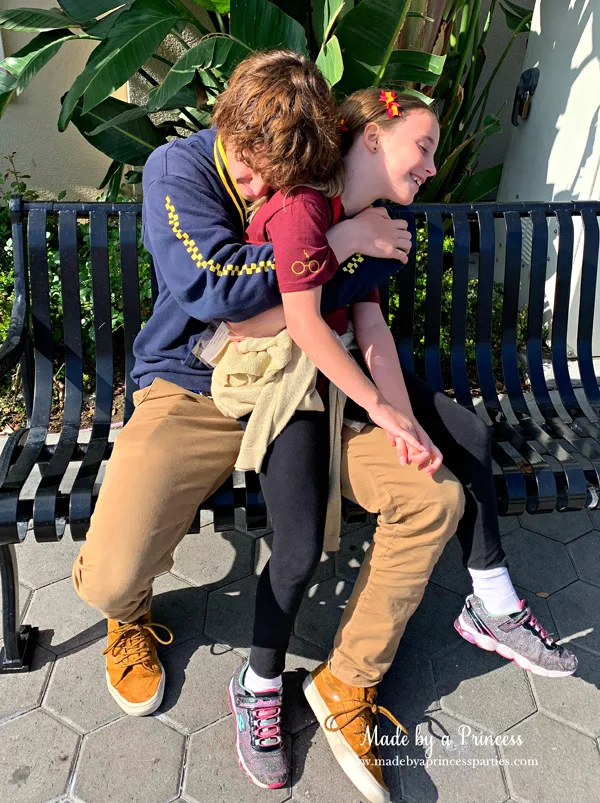 What to Bring to Universal Studios
Essentials
Your Tickets & Your ID. If you purchase online remember to bring your printed tickets and your ID.
Cash. Most places take credit cards but it's always a good idea to have some cash on hand.
Sunscreen. Even if your weather app tells you it's going to be cloudy please remember your sunscreen.
Chapstick. It's important to not only keep your body hydrated but your lips too. Choose one with some SPF in it. I love Mongo Kiss Vanilla Honey.
Hats. If you are or someone in your party is follicley challenged don't forget your hat!
Sunglasses. This California sun can be brutal on your eyes so make sure you bring your sunnies.
Small Stroller. Resist the urge to bring your giant stroller with cup holders and a huge storage compartment. They are bulky and will just weigh you down when you're running from one ride to the next.
Medication. If you require medication throughout the day don't forget to bring it. If it needs to be kept cold you may bring a small cooler (see below) and some ice packs.
Good to Haves
Lanyard. If you intend on upgrading your tickets to Express or VIP you will need a lanyard. You can purchase them all over the park but save time and money and bring your own.
Snacks and Water Bottles. As long as you follow the guidelines for bringing in food (see below) you will be fine.
Layers of Clothing. You may not need that extra sweater but you'll be happy to have it if it gets chilly at night.
Change of Clothes. If you plan on getting wet you might consider a change of clothes. I, for one, cannot stand to be wet at an amusement park so I avoid all water rides but if you do decide to have fun getting soaked you might appreciate some dry clothes.
Wireless Charger. Cell service could be spotty throughout the park and while your phone is searching for a network it's draining your battery. Bring a backup charger just in case.
Camera & Extra Batteries. Don't get stuck having to pay for batteries at the park so throw some in your backpack. You probably won't need them but will be happy you have them if you do.
First Aid Kit. You'd be surprised how many times a first aid kit has come in handy. Yes, you can get assistance from park staff if you really need help but for minor scrapes or pains it helps to have your own.
Hand Sanitizer. Germs are everywhere and you cannot avoid them so have a little hand sanitizer in your travel purse or backpack.
Can You Bring Food and Sandwiches into Universal Studios Hollywood?
Yes, but there are restrictions. You can bring up to 2 liters of water, some small snacks, fruits and veggies, baby food, and anything you need for medical purposes or special dietary needs. You can also bring a small cooler 8.5″ x 6″ x 6″.
Do You Need a Separate Ticket for Wizarding World of Harry Potter in Hollywood?
No, you do not need a separate ticket to get into Wizarding World of Harry Potter. It's included in your general admission and is part of the park. You don't need to show your pass to get in. Just walk through the gates of Hogsmeade and be instantly transported to "Harry Potter World".
How Early Should I Get to Universal Studios Hollywood?
Park opening times vary throughout the year but you should plan on getting there at least an hour before the park opens. The park opened at 10a the day we went and we were in the parking structure by 8:45a. We did have Express Passes which meant we were able to get in 30 minutes before it officially opened. Getting there early means you can take your time getting photos in front of the famous globe without a ton of people. You can also walk the red carpet like a celeb and pretend your family is paparazzi, and you can stop into Voodoo Donuts for coffee and the best donut you have ever had. OMG.
Voodoo Donuts
Everything you have heard about these donuts is true. Not only is the shop super cute in a kitchy gothic kind of way, but the donuts are really fun and creative. We got the voodoo doll and glazed donut. Both were incredible and I couldn't stop thinking about them all day. I regret not stopping on our way out to pick up a dozen to bring home. They are really really good.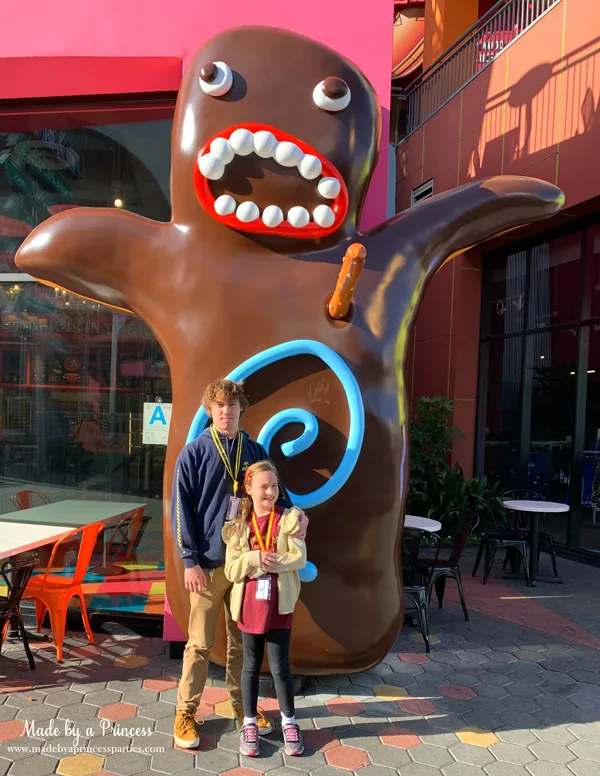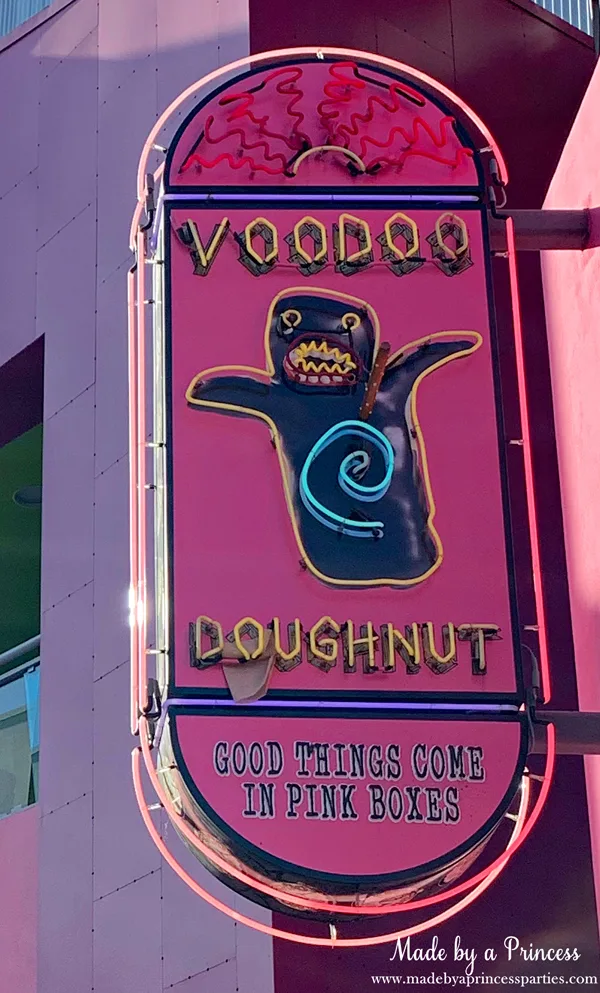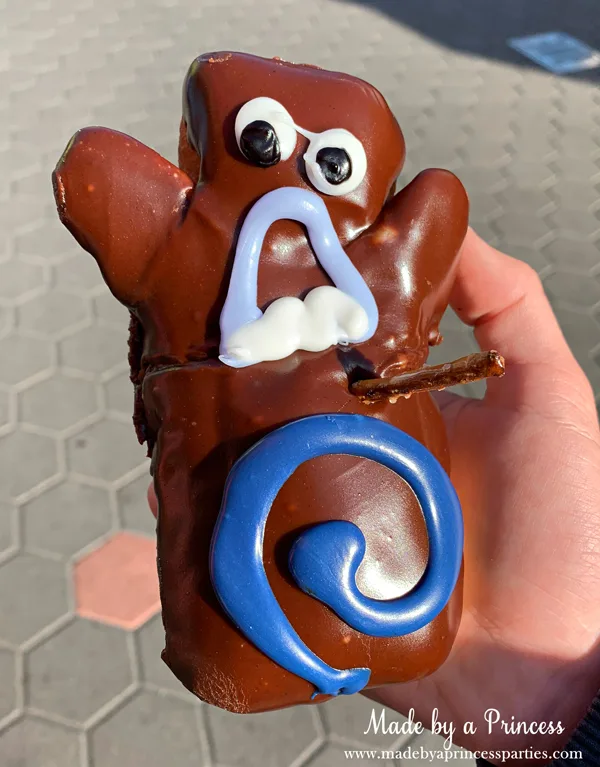 How Much is Parking at Universal Studios?
That depends on how close to the front entrance you want to be. If you want to be really close to the entrance so you can make a quick exit home then expect to pay $50 per car before 6pm for Front Gate parking. Preferred Parking which will shave a few minutes off of your walk will cost you $35 before 6pm. General Parking which leads you into CityWalk and is really not that far from the entrance will cost you $25 before 6pm. We parked in General Parking and ended up at the very end of CityWalk near iFly Indoor Skydiving. If we didn't stop it probably would have been about a 15 minute brisk walk. Plan on the whole parking and walking experience to take about 30 minutes.
There are (5) electric vehicle charging stations:
Frankenstein Garage: 4 ports (Level 2 and Level 7)
Jurassic Parking Garage: 8 ports (Level 1 and B1M)
ET Garage: 16 ports (Level B1)
Woody Woodpecker Lot: 1 port (near Front Gate Parking) ​
Curious George Garage: 2 ports (Level 1)
I do have to say that if we were there one of those days the park closes really late I would probably have appreciated paying the extra ducets to park close to the exit. I was still in pretty good shape at 6pm but on a night it closes at 10pm you might be really thanking me for upgrading to Front Gate or Preferred Parking.
Insider Tip:
Take a picture of your car and where you are parked. By the end of the day your brain might be so fried you just can't remember which level you parked on. It takes two seconds and could save you a lot of time at 10:30pm trying to figure out if you're in Jurassic Park or Curious George.
How Do You Get to the Parking Structure at Universal Studios Hollywood?
From US-101 Freeway: Universal Studios Blvd. Turn right onto Universal Studios Blvd. Follow signs to Universal Studios Hollywood. General Parking is furthest from the main entrance to the Park (south end of City Walk).
You will see a outdoor, glass-covered escalator to your left as you make your way up the road. This is Preferred Parking. Follow the signs to the ticket booth and let them know you want Preferred Parking. After you buy your ticket you will make a U-turn and head back towards the glass covered escalator.
What Should I Do First at Universal Studios Hollywood?
Go to the lockers first. Put your backpacks, snacks, water bottles, and jackets in the lockers as soon as you get there. The park isn't that big so if you need to go back for something it's really not that big of a deal.
Next, stop at the bathrooms. It's no fun to have to get out of line because someone in your party has decided they have to potty at the exact moment and can't hold it. Better yet, if you have time before you get in line to get in do it then as it will save you some time.
Finally, take a minute to review the map and figure out where you want to start your day. If you have the Express Pass you want to do all of this pretty quickly so you are ready when they officially open the park. They open the ropes right in front of the Hello Kitty store so if you get near the store's front door you'll be one of the first to go through.
Once the rope drops be prepared to hit the ground running so you can explore the Wizarding World of Harry Potter bright and early!
What Should I Ride First at Universal Studios Hollywood?
This depends on what your goals are and what you're interested in. If you are there because you are a Potterhead and can't wait to step into Hogsmeade then I suggest you head there first and get in line for "Harry Potter and the Forbidden Journey" or get in line for the Ollivander's Experience. Both of these lines get very very long really quickly.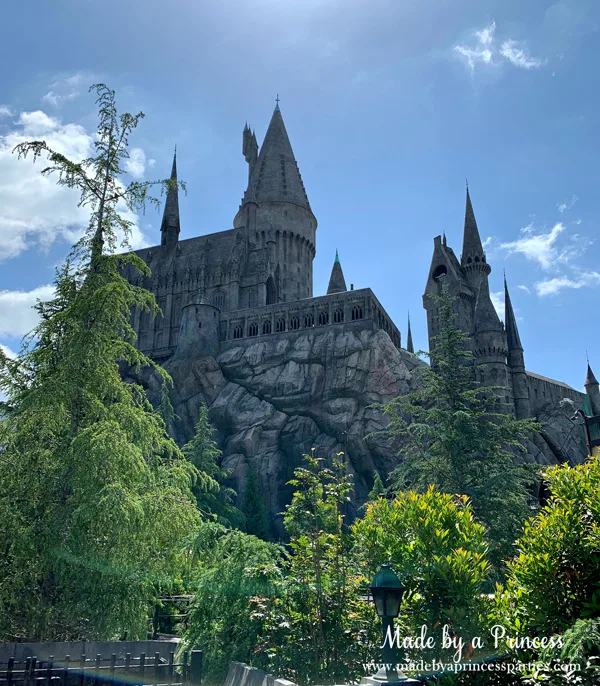 If you want to get the lay of the land and learn about Universal Studios, see the "Psycho" house, go on the hunt for Jaws, or find yourself in a car chase at 120 mph, then start with the Studio Tour. Can't wait to get our hands on a giant pink Simpsons donut from Lard Lad Donut? Then I suggest you begin in Springfield U.S.A. If you're looking to start your day with a thrill then make your way to the Lower Lot and jump on the "Revenge of the Mummy" ride. That ride is sure to wake you up! If you're lucky you might even find a mummy…
Rides & Attractions at Universal Studios Hollywood
We covered a lot of ground for our first time at USH and did everything but "The Walking Dead Attraction", "Super Silly Fun Land", and "WaterWorld". You'll have to keep reading to find out which was our favorite ride…
Character Sightings
One thing we noticed right away is that there are characters everywhere! If your goal was to fill your autograph book with character signatures you could totally do that at Universal Studios. We got lucky and got a picture with Poppy from "Trolls" before she had to leave for a lunch date with Branch.
One thing you won't see are the Harry Potter characters. Universal Studios Hollywood exists in the Muggle world so I'm not really surprised.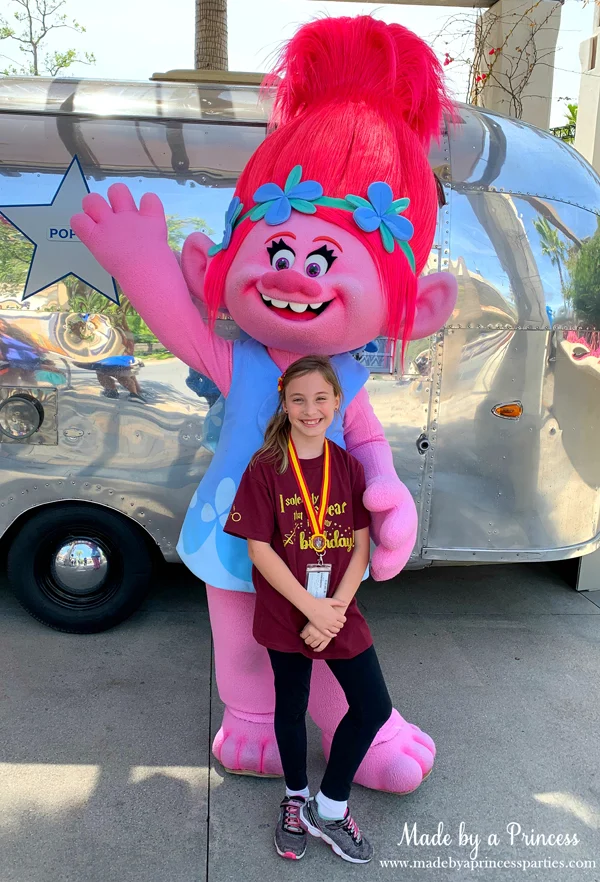 My son wanted a pic with Princess Fiona but sensed that Shrek was feeling a little left out so asked him to jump in. What you don't see is that it led to an impromptu dance party. It seems Shrek was a little jealous and wanted to show off his moves to his bride. I have to say, my son held his own against this big ogre but in the end conceded victory to Shrek. I told him not to worry…we'll find him another princess…one not already involved with a giant green ogre.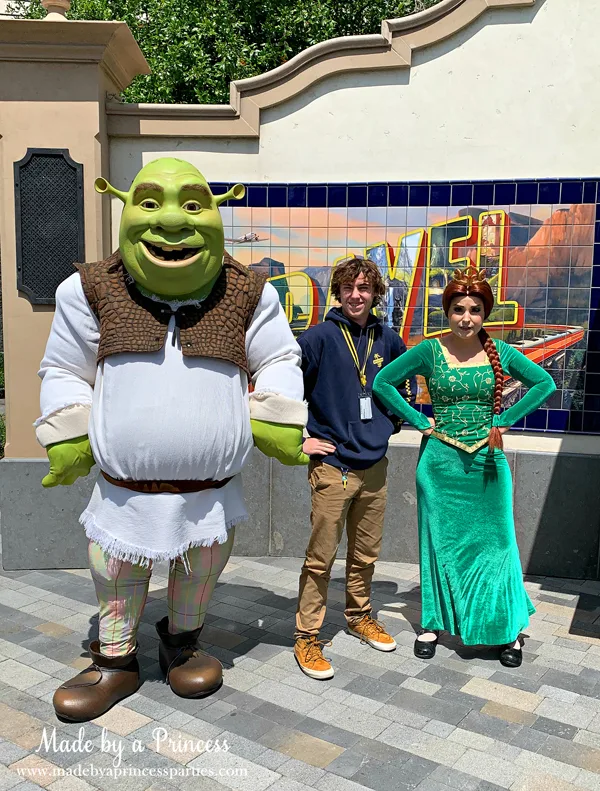 Harry Potter and the Forbidden Journey (Wizarding World of Harry Potter, Upper Lot)
You cannot go to Universal Studios Hollywood without getting on this ride. It's fast, a little scary, exciting, and downright fun. I just love the floating candles suspended above you in the Great Hall as you get on the ride.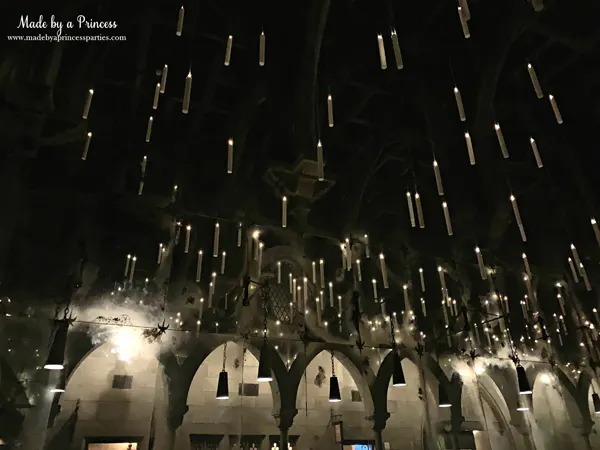 Flight of the Hippograff (Wizarding World of Harry Potter, Upper Lot)
There is not much I can say about this one beyond, "Boring!". Snoozefest. It's super super short, the seats are teensy tiny, and there's not much to it. It is intended for smaller kids but since there are only two rides in the park we wanted to make sure we did it all. The best part was seeing Hagrid's house. If you don't have little kids who can ride this by themselves don't bother. Your knees and back will thank you.
Ollivanders Wand Shop (Wizarding World of Harry Potter, Upper Lot)
Once the ropes have lowered and the park is open go straight to Wizarding World of Harry Potter. While this isn't a ride it is one of the most popular attractions in Wizarding World. The line for the show at Ollivanders fills up very quickly and they can only let small groups in at one time. If you are the chosen by a wand during this experience you should be prepared to buy the wand. You don't have to and nobody is going to force you into doing it but it's kind of an unspoken rule…if the wand chooses you it kind of expects to go home with you.
We were in line for this (wait was only 10 minutes too!) but my daughter decided she didn't want to see the "show". In the event that she was chosen by a wand she didn't want to feel obligated to go with that one…she wanted to choose her own. That's my girl!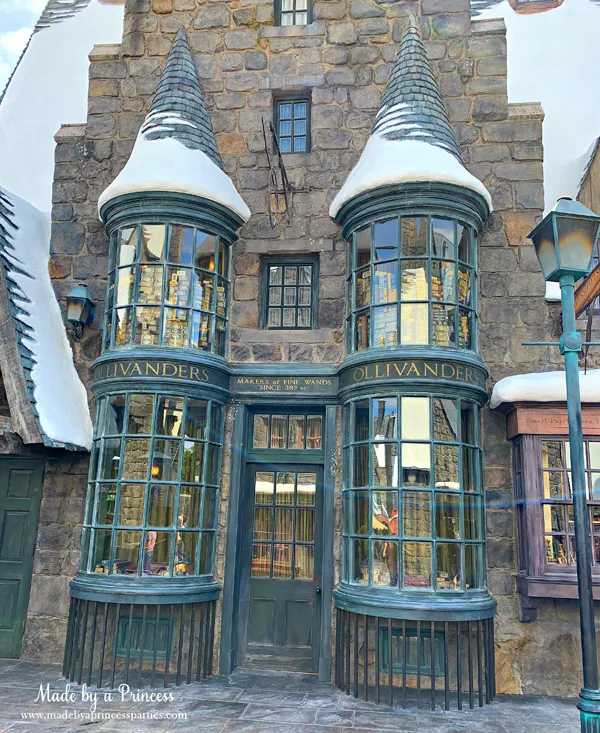 Despicable Me Minion Mayhem (Upper Lot)
We really liked this ride. It is a simulator ride so expect your seat to move along with the actions on the screen. What we loved best though about "Minion Mayhem" was meeting Stuart out front. Stuart is adorable. My daughter was feeling a little shy for some reason and chose to wait out of line with her dad. When Stuart saw her he went over and convinced her to come for a picture. He was so cute my little girl just couldn't resist.
After we snapped a pic my daughter walked back over to her dad. This is Stuart asking my son why she left. Poor Stuart!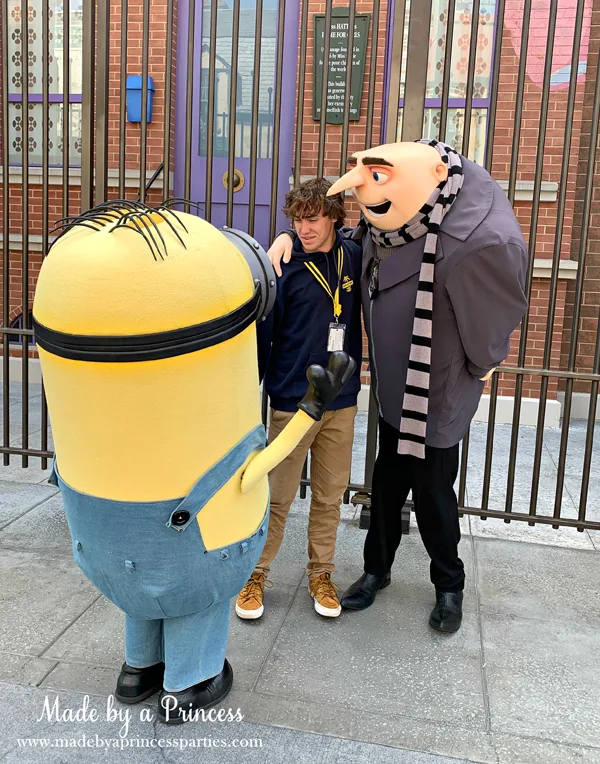 Kung Fu Panda Adventure (Upper Lot)
This was "meh". I thought it was kind of cute but my daughter was not a fan. I really liked how you feel as though you are in the story because the screen wraps nearly around the entire theater. It was well done but I wouldn't spend a lot of time in line for it. We were literally on our way out of the park when we noticed there was virtually no line. We waited maybe 10 minutes while the other group was finishing up. My husband called me just as we were getting in the theater wondering where we were. Whoops. Forgot that we were meeting the guys at the lockers! All in all it was pretty cute but my daughter, not a "Kung Fu Panda" fan was disenchanted.
She has a suggestion for the peeps in corporate…turn this ride into a "Trolls" theme so more girls will like this ride. Ouch. If you like Po and crew you'll love this one I think.
The Simpsons Ride (Upper Lot)
This ride is kooky. If you love the Simpsons you're going to love this one. It's a little strange and the storyline is out there but so are the Simpsons. This is a simulator ride so if you are prone to motion sickness I would sit this one out. I even closed my eyes a few times. Unless you're a diehard Simpsons fan this is probably a one and done type of ride.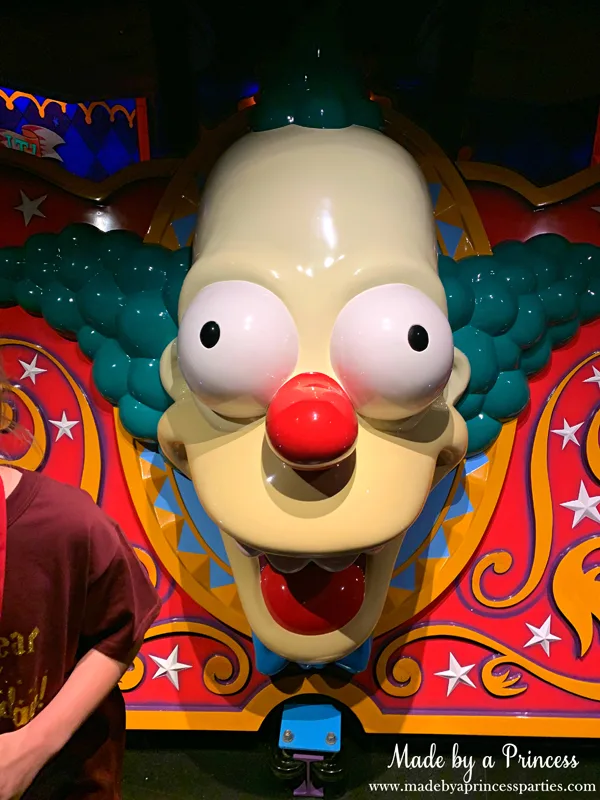 Animal Actors (Upper Lot)
Awww…these animals are so cute and talented! If you have time stop and see this show. I think we saw one of the last shows of the day so it wasn't too hot but I can see where it could get really really hot even under the overhead sails. Our favorite part was meeting some of the animals after the show. Many of the animals are actual working animal actors which we found pretty neat. The owls are gorgeous…and quite famous. Remember Draco Malfoy's owl? The one who delivered packages from his mother his first year? That was an Eagle Owl and he's in the show too. The dog who played "Budderball" in "Santa Buddies" was one of the big stars of the show. My kids loved meeting her afterwards.
The fennec fox is adorable! We wanted to take her home. You can pet some of the animal actors but not the fox. We were all glad we were able to see this show. One thing to keep in mind though, if you have allergies be aware that you will be around dogs, cats, birds, and pigs to name a few. Also, if you're afraid of birds or owls just know they do fly above the crowd during the show. They aren't going to fly on you but near you.
Studio Tour (Lower Lot)
You definitely must do the world famous Studio Tour. I really liked the unexpected appearance of Jimmy Fallon. You'll see what I mean when you ride it. It is a 45 minute experience that gives you a brief history of Universal Studios movies, goes behind the scenes to back lot where they film shows like "The Voice", and takes you through some of the most iconic sets like the "Desperate Housewives" neighborhood, Norman Bates house and hotel from "Psycho", and the town square used in "Back to the Future".
You also see some famous movie cars as shown in the video below but the most exciting parts of the tour are the simulated earthquake in a BART station in San Francisco, the "King Kong 360 3D" experience, and the 4D "Grand Finale Fast & Furious Supercharged" encounter. You will use 3D glasses so if you wear regular prescription glasses I suggest you have those handy. I made the mistake of wearing my prescription sunglasses and couldn't see anything once I put the 3D lenses on because it was just too dark.
You could feel a little motion sickness during the Fast & Furious part but you should be fine if you close your eyes.
One of the dinosaurs from "Jurassic World"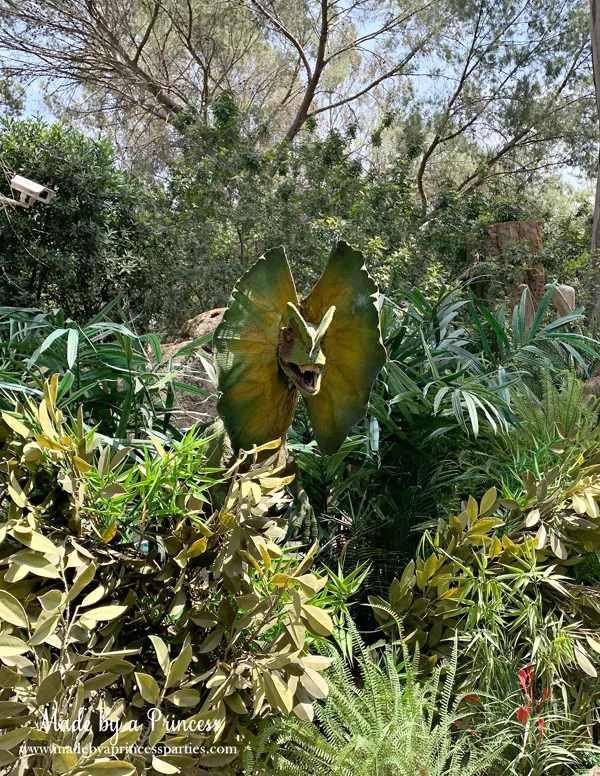 Western town set. Note how small the doors are…that is a movie trick to make actors appear taller.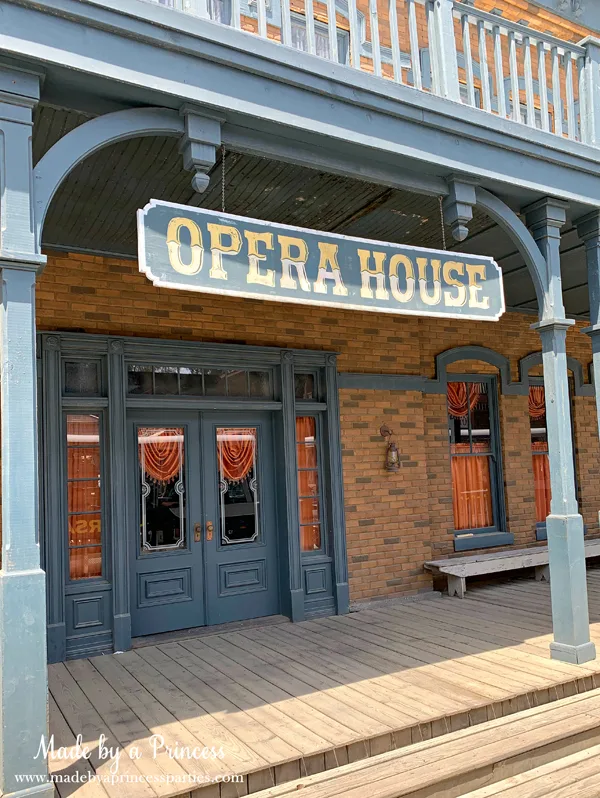 Flash Flood set used in a number of movies including, "Spartacus" and "Big Fat Liar".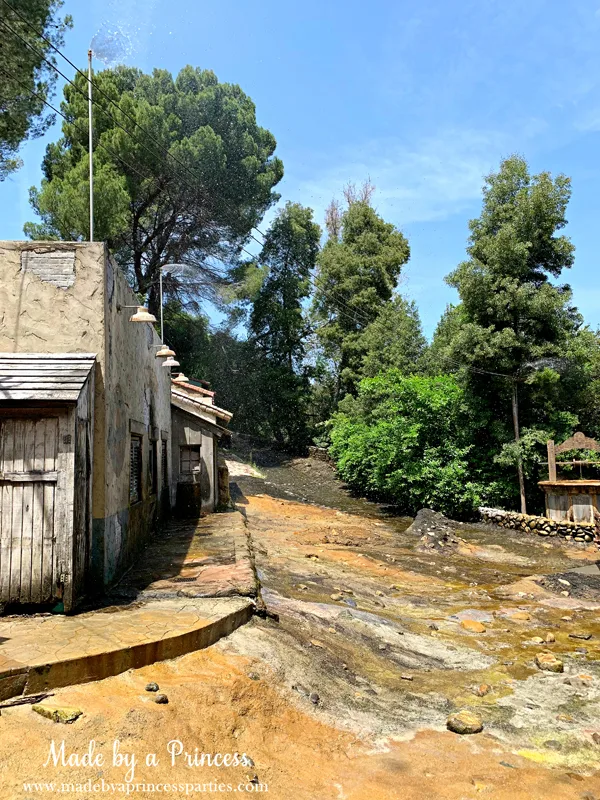 Set used on "War of the Worlds".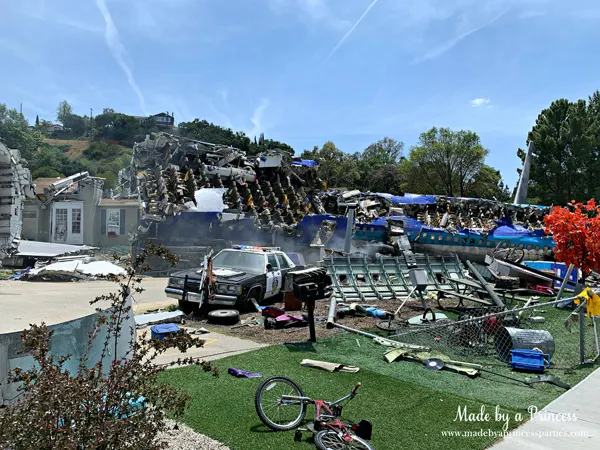 Revenge of the Mummy (Lower Lot)
This ride is awesome!! As much as we loved "Forbidden Journey" we all agreed this was our favorite. You think it's just going to be a simulator ride but it's actually a very fast roller coaster. Something completely unexpected happens about the midway mark and all I can say is make sure you're not wearing a hat or glasses because they could easily fly off. You do have to be at least 48″ to ride "Revenge of the Mummy" but it could be scary for little kids. Things "pop out" on simulator screens, there's a lot of noise and fast movements, and some of the images are a little terrifying BUT you cannot miss this ride. My 8 year old loved it and said it was her favorite ride and wanted to go on it again and again.
My husband and I agreed that our old creaky backs just couldn't take more than once (getting old sucks) but it is absolutely worth riding more than once.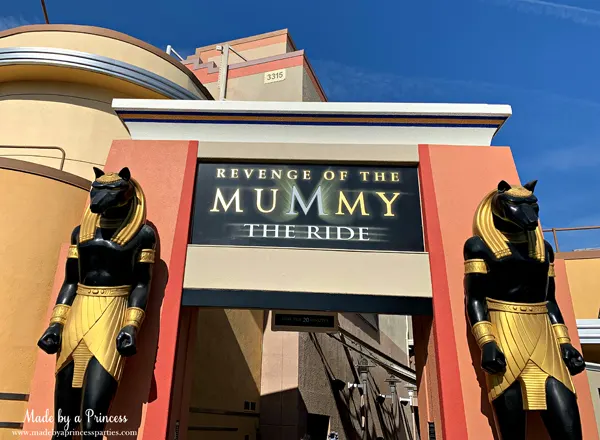 Transformers (Lower Lot)
We loved this ride too. It's fast, loud, full of action, and exciting. Unlike "Revenge of the Mummy" this is not a roller coaster ride…it's a straight up simulator. You do move around a lot in this one and at times feel like you are really being chased by a giant Transformer. I found myself wincing and closing my eyes, bracing for a hit from a bad guy. It's that good! A must see.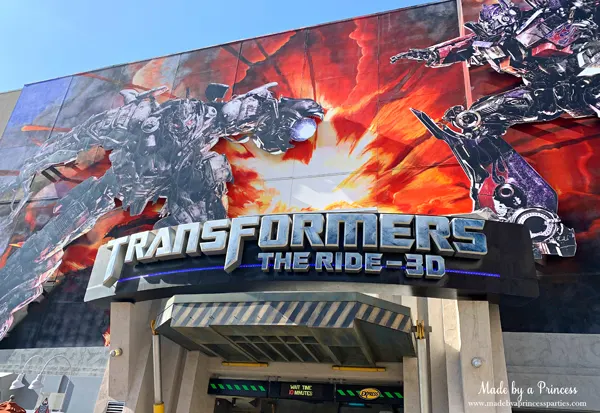 Let's Talk Upgrades…Is the Universal Express Pass Worth it?
Yes. Yes, it is. Are you going to pay more for it? Definitely, but when the lines are long and it's hot you are going to really appreciate spending the extra money on it. Before going to Universal Studios I thought the only real advantage was getting into the park early. I was wrong. We were first in line in all of the rides using the Express Pass and it saved a ton of time. We went on a considerably light day (off season and in the middle of the week) and it still made a difference.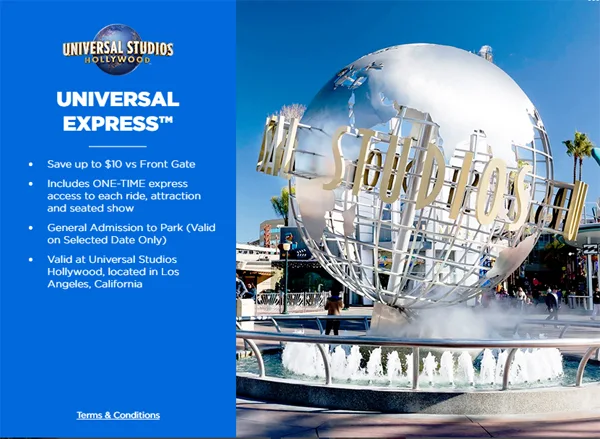 Express Pass Rides List (as of 6/1/19)
The Express Pass does not work on every attraction but nearly all of the big ones. Jurassic World – The Ride is coming this summer and I'm not sure if you can use an Express Pass yet.
Kung Fu Panda Adventure
Despicable Me Minion Mayhem
Flight of the Hippogriff
Harry Potter and the Forbidden Journey
Studio Tour (which includes "King Kong 360 3D" and "Fast & Furious- Supercharged 3D")
Transformers The Ride 3D
The Simpsons Ride
Revenge of the Mummy
The Walking Dead Attraction
Special Effects Show
Animal Actors
WaterWorld
You can purchase the Express Pass tickets online or you can wait to purchase the day of your visit. If it's rainy or a really light day you can wait until you get there to determine whether you want to pay extra for it. If you are going during the holidays, summer, spring break, or a weekend go ahead and purchase ahead of time which will save you from having to wait in line at the gate.
One more thing about the Express Pass…you will need a lanyard with an ID holder. You can purchase fun themed lanyards when you get there or you can purchase ahead of time but you absolutely should have them. I made all of us our own lanyards which reflected our Hogwarts Houses. My husband and daughter are Gryffindors, my son is a Hufflepuff, and I am a Ravenclaw. I'll be sharing a tutorial on how to make your own this week.
What are the Wait Times at Universal Studios Hollywood?
Wait times will vary throughout the day depending on when you go. During holidays, summer, spring break, and weekends expect long wait times. You can track wait times with the Universal Studios Hollywood app though. We went on a very light day and we had the Express Pass so we didn't wait more than 15 minutes for any ride. Keep in mind that during high traffic days even with the Express Pass you will have to wait in line but it's not nearly as long as without it.
What's Coming to Universal Studios Hollywood?
Summer 2019 – Jurassic World: The Ride
In summer of 2019 you can expect to be wowed by the newly renovated "Jurassic World" ride. It is slated to open before Memorial Day and promises to be bigger, better, more intense, and a whole lot more real! This is a water ride so plan to get wet. It will feature new dinosaurs, including our favorite, Blue, lush scenery, new stonework landscaping, and an updated storyline. Guests will board a raft and take a meandering trek through beautiful vegetation with dinosaurs wandering about around them. Things quickly take a turn for the worst when Velociraptors and Dilophosaurus no longer see guests as spectators but as tasty prey. The only way to escape being eaten is down an 84 foot waterfall. I suggest bringing a change of clothes if you plan on taking a chance on this ride!
2020 – The Secret Life of Pets: Off the Leash!
Based on the popular movie with the same name, "The Secret Life of Pets" ride will take guests through the streets of New York City towards an adoption event. Just like the movie, guests will get a peek into what really goes on in the lives of our favorite movie pets while their owners are away. You can find this ride across from "Despicable Me Minion Mayhem".
2021 – Super Nintendo Land: Mario Kart & Donkey Kong
Construction is already under way in Hollywood for Super Nintendo Land. There are a few rumors going 'round that our park will focus on a Donkey Kong video game themed attraction instead of Yoshi. Super Nintendo Land will also contain a Mario Kart video themed game that will make riders feel as though they are IN the video game. Riders will be able to use tortoise shells and banana peels to taunt opponents. This is groundbreaking technology never used by a theme park before. We can't wait to see that!
Are you ready for your first trip to USH?!
So there you have it…my top Universal Studios Hollywood Tips! I hope you found some useful information in here that will save you time, money, and hours of research. Have a great first time at Universal Studios Hollywood!
Don't forget to check out my other posts about Universal Studios in Hollywood: