Ever wondered what it would be like to sit in the same place Harry Potter and his friends enjoyed Butterbeer? Well, you can when you visit Wizarding World of Harry Potter. Check out the Three Broomsticks Hollywood Menu, order Bangers and Mash, and experience all that is magical in the Three Broomsticks restaurant.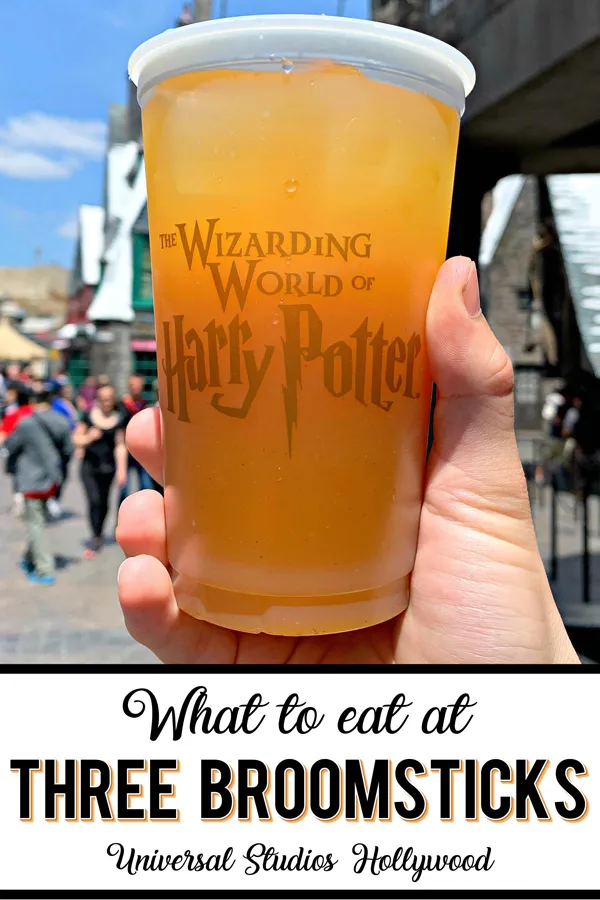 Want to know what it's like to be in the same place Harry first tasted Butterbeer? Sit down near the fireplace and listen to the house elves wash pots and pans. Find delicious and traditional English pub food on the Three Broomsticks Hollywood menu and enjoy the atmosphere just like a Hogwarts student!
This post sponsored by Universal Studios Hollywood. We were provided tickets but received no compensation. All opinions are my own.
Three Broomsticks Hollywood Menu
Look everywhere! There is so much to see in this restaurant. If you listen closely you will hear elves working and if you really pay attention you will see shadows fly across the walls. Sometimes you can see house elves catching floating pots and pans. You might also see flying owls. Blink and you could miss something magical!
The Three Broomsticks also served as an inn in the story so don't be surprised if you see rooms, luggage, and clothing hanging about in the rafters.
Your visit to Three Broomsticks is included with your admission to Wizarding World of Harry Potter so just plan on jumping on the Hogwarts Express and getting off in Hogsmeade to experience what many believe to be the best place to eat at Universal Studios Hollywood.
If you've got early park admission tickets take advantage of virtually no lines and grab some breakfast at the restaurant.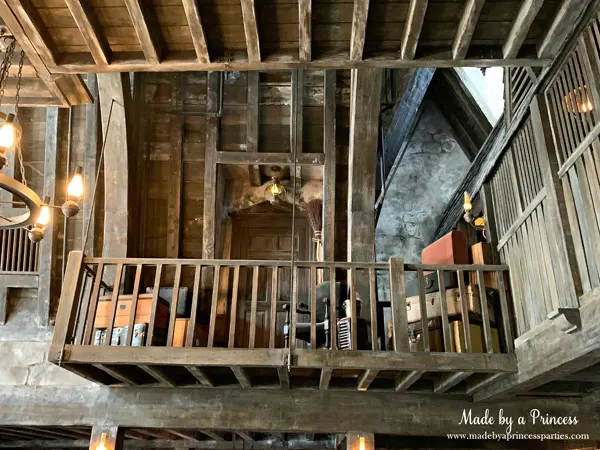 Where is Three Broomsticks Located?
Three Broomsticks is located in "Harry Potter Land" right between Honeydukes and Hog's Head. Actually, Hog's Head is connected to the restaurant so you can go back and forth to get cocktails if you like.
Can You Make a Reservation at Three Broomsticks?
No you can't make a reservation. Just order your food and find a seat. It's a pretty big place with tons of seating and a big patio. They move you through the lines pretty quickly. Our food didn't take very long to prepare at all.
What is There to Eat at Three Broomsticks?
The Three Broomsticks Hollywood menu items change from time to time but what you can count on it always being very traditional British fare. It is a rustic snow capped tavern where Harry Potter had his first taste of Butterbeer. While you won't find any Hogwarts students here but you will find a cozy atmosphere and delicious food.
What is the Three Broomsticks Great Feast Platter?
The Great Feast Platter is a two course meal meant to be enjoyed by a large group. It serves four which works out to about $20 per person with tax. The first course is a salad. The second course includes chicken, spareribs, corn on the cob, fresh vegetables, and roasted potatoes. Pair this with one or two of the delicious desserts offered and maybe a specialty cocktail from Hog's Head.
Three Broomsticks Hollywood Menu (May 2019, menu selections subject to change)
The restaurant opens about 30 minutes after the park opens for early admission. You can purchase breakfast til the 11:00am.
Keep in mind that the restaurant closes a bit before the park closes. If eating here is on your list of things to do make sure you get there at least at hour and a half before closing time.
The restaurant does not provide to go containers but they will give you some tin foil if you ask. It wouldn't hurt, however, to throw some ziploc bags in your backpack just in case you decide to take your leftovers home.
Breakfast (adult $16.99 and children $12.39)
Continental Breakfast: Fresh fruit, croissant and scone, served with jam and butter
Pancake Breakfast: Three fluffy pancakes, bacon, sausage
American Breakfast: Scrambled eggs, potatoes, bacon and sausage, with butter croissant
Traditional English Breakfast: Scrambled eggs, sausage, bacon, ham, baked beans, baked tomato, sauteed mushrooms and potatoes, butter croissant and black pudding
Lunch & Dinner
The Great Feast ($69.99): First course is a fresh garden salad tossed with signature vinaigrette dressing. Main course is a combination of lemon herb roast chicken and spareribs, corn on the cob, fresh vegetables, and roast potatoes. Serves four
Fish and Chips ($17.99): Two pieces of ale battered fried cod, served with chips and tartar sauce
Bangers & Mash ($14.49): Grilled English sausage, creamy mashed potatoes, roast tomatoes, sauteed onions and cabbage, minted peas and gravy
Shepherd's Pie ($15.49): Ground beef and vegetables crowned with potatoes served with fresh salad
Herb Roast Chicken Platter ($15.99): Served with corn on the cob and roast potatoes
Spare Ribs Platter ($19.99): Served with corn on the cob, roast potatoes, and BBQ sauce on the side
Beef Sunday Roast ($24.99): Prime rib of beef, served with fresh vegetables, roast potatoes, Yorkshire pudding and gravy
I got the Shepherd's Pie and, to be honest, thought it was just ok. I really wanted the Lamb & Guinness Stew but, unfortunately, it wasn't on the menu. My adventurous Ravenclaw appetite was slightly devastated. I thought the Shepherd's Pie was a little dry and did not have a ton of flavor.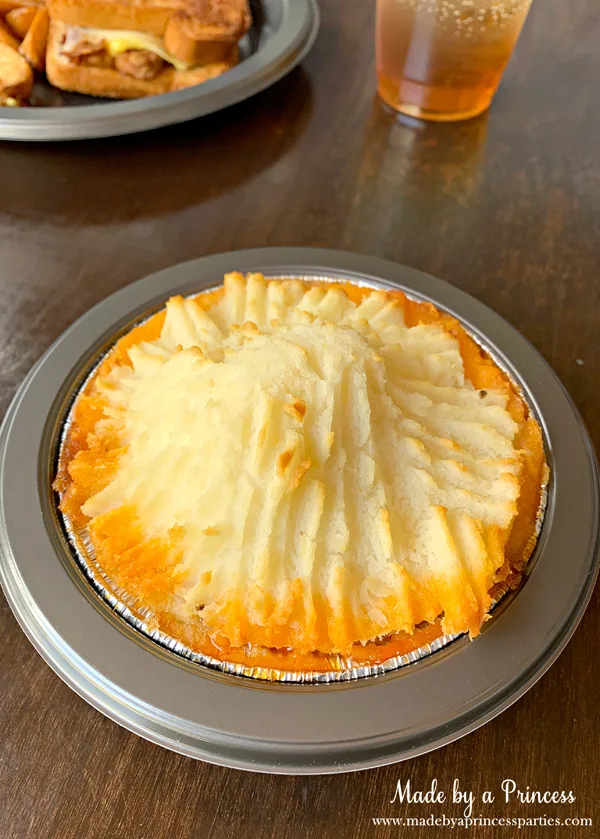 Children's Menu
Fish and Chips ($8.99)
Chicken Quarters ($8.99)
Chicken Tenders ($8.99)
Macaroni Cheese ($8.99)
My daughter got Chicken Tenders. My little Gryffindor is very predicable…while she will usually try new things she really likes traditional food like chicken tenders, chicken nuggets, and macaroni and cheese.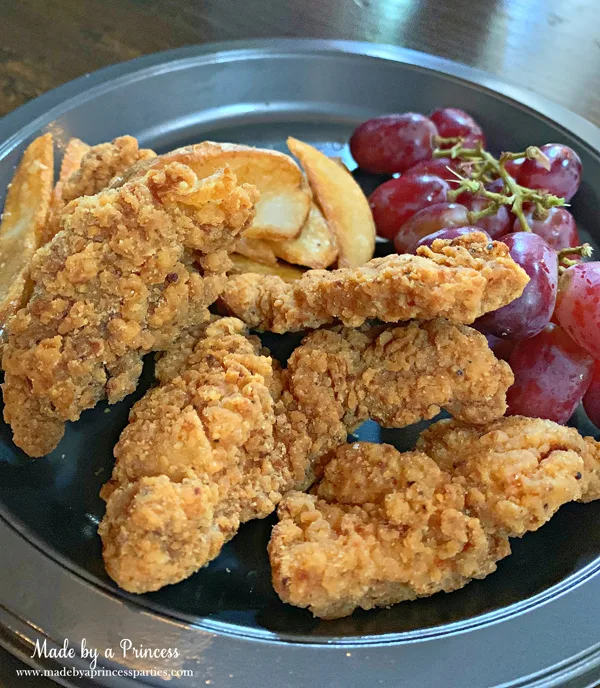 Seasonal Favorites on the Three Broomsticks Hollywood Menu
English Holiday Dinner ($15.99): Roasted turkey, sourdough stuffing, ginger glazed carrots, Brussel sprouts, bacon wrapped sausage, turkey gravy, cranberry sauce
Cheese Toastie with Chicken ($16.49): Grilled English cheddar cheese with chicken, crispy bacon, mustard, sliced tomato, served with salad or potato wedges
Seared Jumbo Asparagus Platter ($13.99): Seared asparagus served with creamy mashed potatoes, cabbage and minted peas garnished with roast plum tomato
Roast Chicken Salad ($12.99)
My son got the Cheese Toastie with Chicken and it was really really good. His Hufflepuff heart was so happy. The bread is fresh and perfectly toasted, the chicken is crunchy and moist, and the potato wedges are delicious. I liked his way more than mine!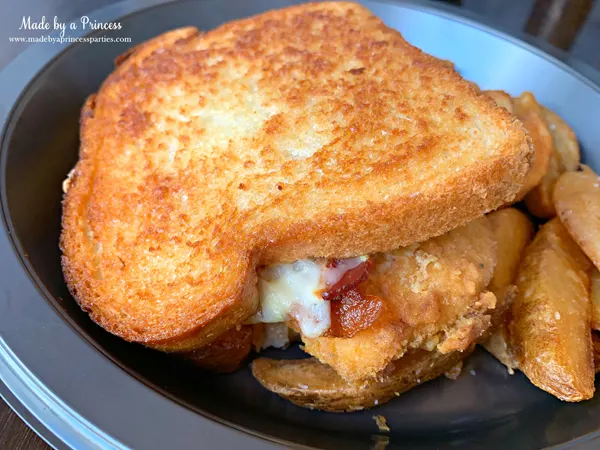 Soups, Salads, & Sides
Soup and Combo (split pea and ham or leek and potato soup and side salad): $9.49
Rotisserie Smoked Chicken Salad: $9.99
Garden Salad: $3.99
Roast Potatoes: $2.89
Baked Potato: $2.89
Seasoned Wedge Fries: $2.99
Corn on the Cob: $3.49
Fruit Cup: $3.79
Drinks
Hot Butterbeer ($7.49)
Butterbeer ($7.49)
Frozen Butterbeer ($7.49)
Pumpkin Juice ($4.49)
Pumpkin Fizz ($4.49)
Iced Tea ($4.49): sweet, unsweetened, raspberry
Lemonade ($4.49)
Lemonade Tea ($4.49)
Gilly Water ($5.59)
Cider ($4.49): Apple or pear, non-alcoholic
Draught Beers ($12.99)
Both of my Gryffindors love the Pumpkin Juice. In fact, my littlest Gryffindor had two! It tastes like a pumpkin apple pie so if you like the tastes of Fall you will like this.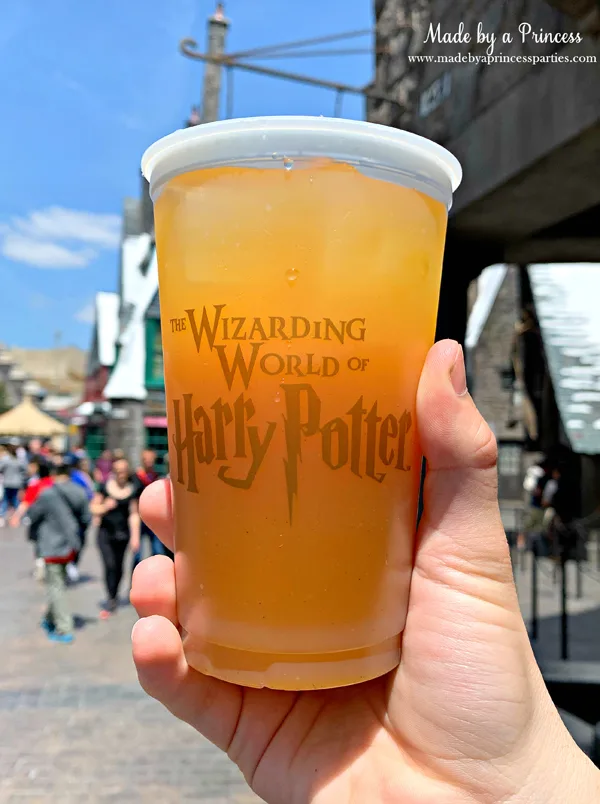 My Hufflepuff son loves the Frozen Butterbeer. It is really sweet and has a distinctive butterscotch flavor.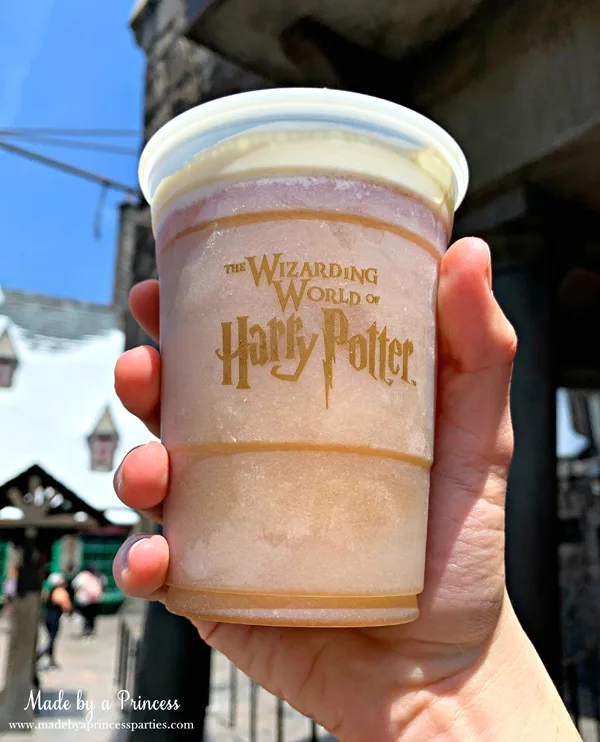 Where are all of my fellow Ravenclaws? You will love this Pear Dazzle. It is light, refreshing, a little fizzy, and really unique. Nothing ordinary will do for Ravenclaws #amiright?!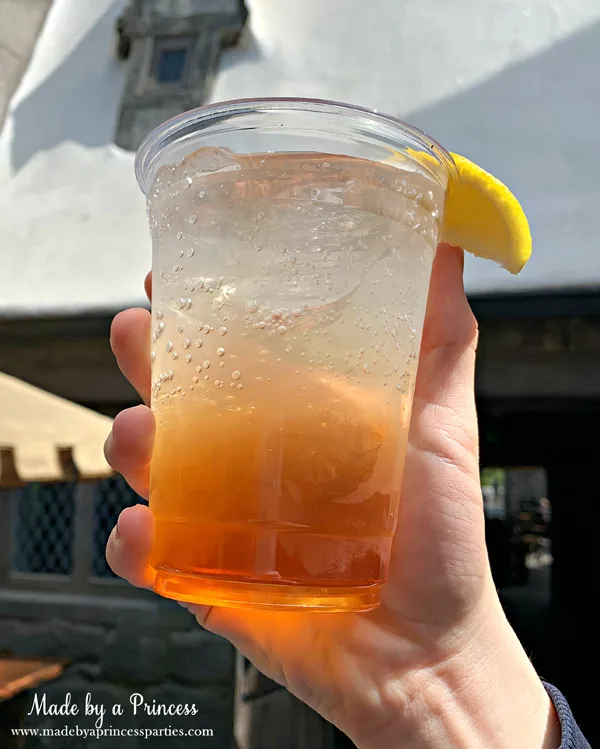 Desserts
Sticky Toffee Pudding ($6.99)
Butterbeer Potted Cream ($5.99)
Butterbeer Ice Cream ($6.99)
Freshly Baked Apple Pie ($6.49)
Chocolate Trifle ($5.99)
We were all pretty disappointed with the Sticky Toffee Pudding. I expected it to be warm and gooey and full of flavor. It is not warm, definitely not gooey, and it is lacking flavor. Maybe we just got a less than great batch because this is a favorite at the restaurant. I really wish I had tried the Butterbeer Potted Cream. Next time for sure!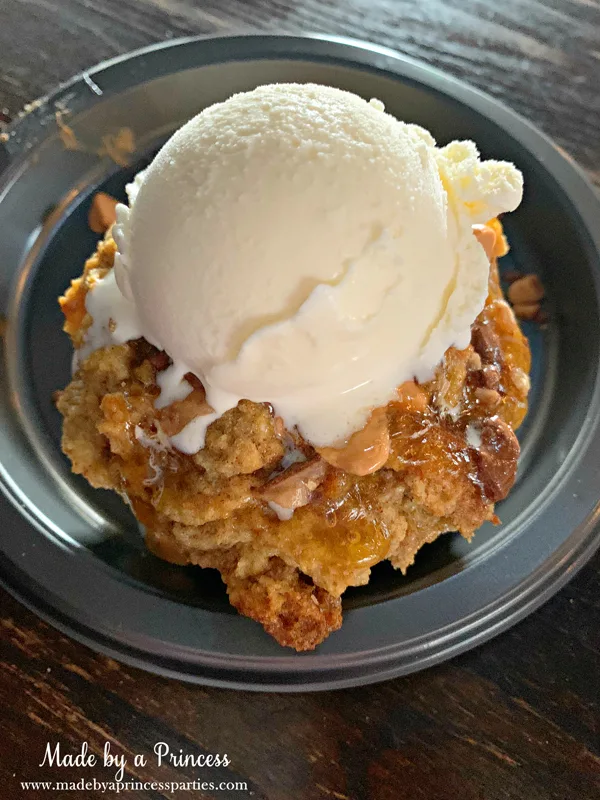 Frog Choir
After lunch enjoy the melodic sounds of the Frog Choir. While there are no set times for performances, they play several times throughout the day so you will likely be able to catch a show.
Hog's Head Menu
If you're looking for a Hog's Head menu check out my Wizarding World of Harry Potter tips…I've got a full list of drinks you can order at Hog's Head.
All in all, our experience at Three Broomsticks was great. There is so much to see and hear in the restaurant. It's not hard to imagine Harry and his friends sitting at one of the tables enjoying Fish and Chips, a Cornish Pasty or two, or a turkey leg. The atmosphere and all of the details really make this a special experience and one of the best Universal Studios Hollywood restaurants.
Maybe one day Universal Studios Hollywood will have a Leaky Cauldron so I can try some of their unique foods like Toad in the Hole, Ploughman's, Beef, Lamb, & Guinness Stew, or Cottage Pie. I'm super interested in the dessert called "Cranachan". According to Harry Potter Wiki it is, "A traditional Scottish dessert made of a mixture of whipped cream, whiskey, honey, raspberries, and oatmeal." Doesn't that sound amazing?!
Don't forget to check out my other posts about Universal Studios in Hollywood: