Planning a trip to Wizarding World of Harry Potter Hollywood? I've got some great tips to make your first trip magical!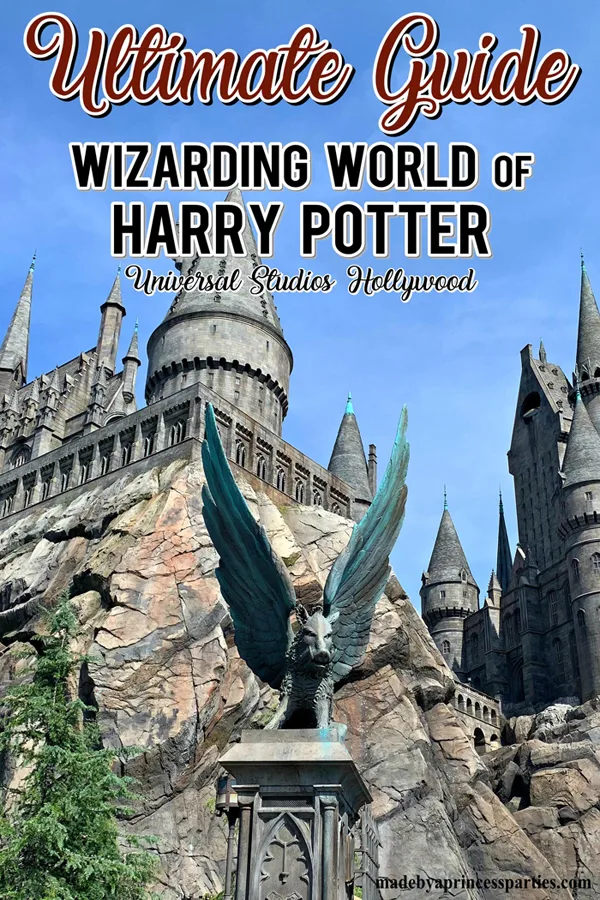 If you haven't been to Universal Studios Hollywood Wizarding World of Harry Potter you're probably wondering what to expect. Can you bring food in? Do you have to buy a separate ticket? How do you get chosen at Ollivanders? I'm sharing some of my favorite tips and tricks that worked for my family when we visited "Harry Potter World" for the first time.
This post sponsored by Universal Studios Hollywood. We were provided tickets but received no compensation. All opinions are my own.
Tips for First Time Visit to Wizarding World of Harry Potter Hollywood
Grab a cup of Butterbeer or Pumpkin Juice and get comfy because I have so much to tell you! You can read all about my tips for first timers going to Universal Studios Hollywood but in this post I'm going to tell you all about Wizarding World.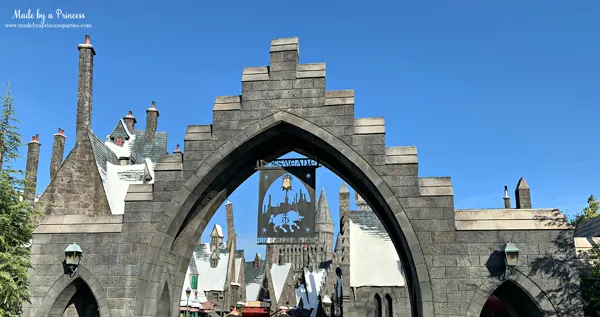 When Did Wizarding World of Harry Potter Open?
Wizarding World Hollywood opened on April 7, 2016. Wizarding World Orlando opened on June 18, 2010 but Harry Potter Diagon Alley didn't open until July 8, 2014.
Do I Need to Buy a Separate Ticket to Get in to Wizarding World of Harry Potter Hollywood?
Nope! Your ticket to Hogwarts is included with your general admission to Universal Studios.
How Do You Get Into "Harry Potter World" Hollywood?
When you go through the gates of the main entrance of the park, walk straight ahead, past "Kung Fu Panda Adventure". Hogsmeade will be on your right.
Things to Know Before You Go To "Harry Potter World"
Early entry is available to anyone who purchases online, has an Express Pass or VIP ticket. If you know you're going to buy a wand then get in line for the Ollivanders wand experience and take your chances having a wand pick you. If you do buy a wand you can store it in the lockers when you ride "Harry Potter and the Forbidden Journey". Both Ollivanders and "Forbidden Journey" will have crazy long lines throughout the day so get these done first thing.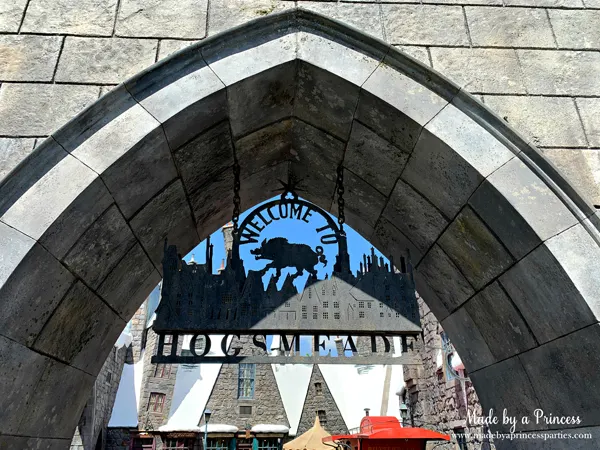 Do the Park in a Few Hours
The park is not huge (unlike Universal Studios Orlando). Once you're done with the rides, Ollivanders, picking out a wand, using your wand, eating, and shopping…you'll still have plenty of day left. You can probably do the park in about 3-4 hours, depending on how long the lines are. While there are not as many shops and restaurants as they have in the Universal Orlando Resort you will definitely be able to find a whole bunch of stuff to eat and buy.
Rides in Wizarding World
There are only two rides: "Harry Potter and the Forbidden Journey" and "Flight of the Hippogriff". Absolutely do "Forbidden Journey" because it's awesome. Unless you have little kids in your party you can skip the mini roller coaster, "Hippogriff". Did you read my Universal Studios Hollywood Tips? You can read more about the ride on that post.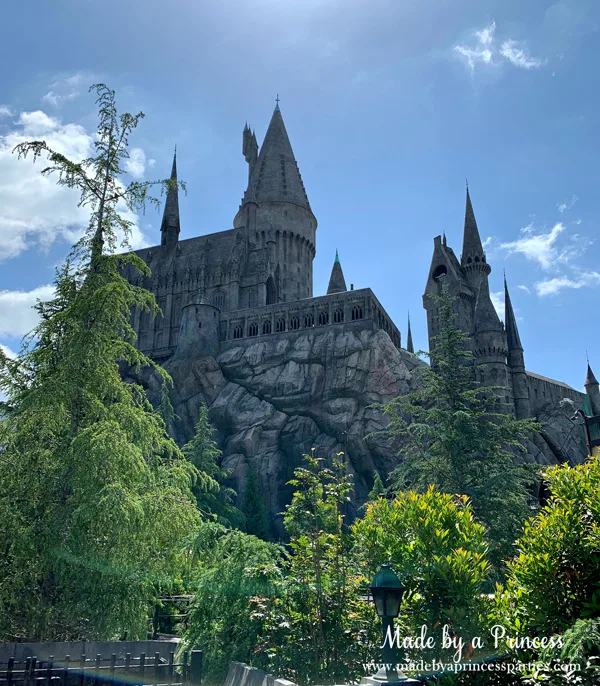 Buy a Wand
In order to really experience the magic of Wizarding World of Harry Potter you really do need to buy the interactive wand. A regular wand is fine and dandy as a prop but it won't do a darn thing in the park. If you don't buy an interactive wand your time in "Harry Potter Land" is going to be much shorter. I'll be sharing all about interactive wands next week.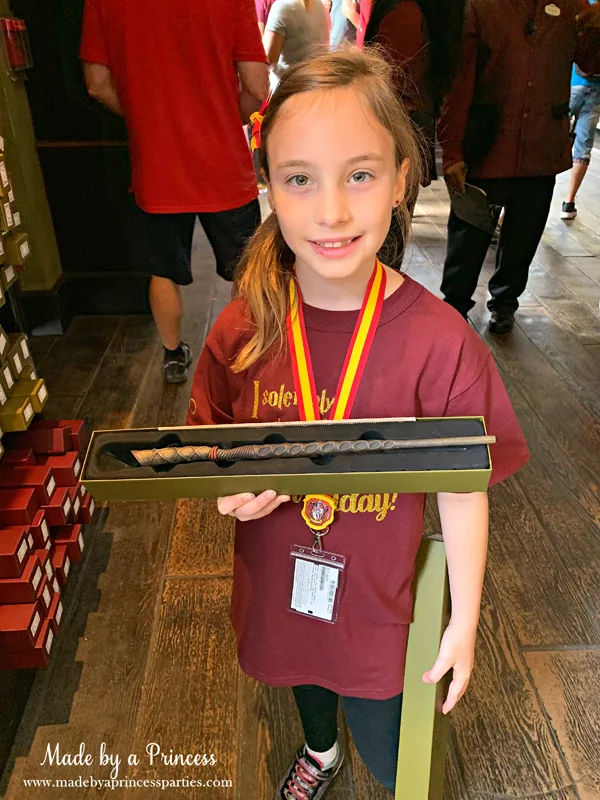 Send a Postcard from the Owl Post
You can actually send a postcard from the Owl Post and get it stamped with a Hogsmeade postmark. One of the coolest things you can purchase in the Owl Post, however, is your very own howler! I meant to go back and get one for each of my kids but I completely forgot. They are about $20 each. Before you leave the park go look in the window of the Owl Post…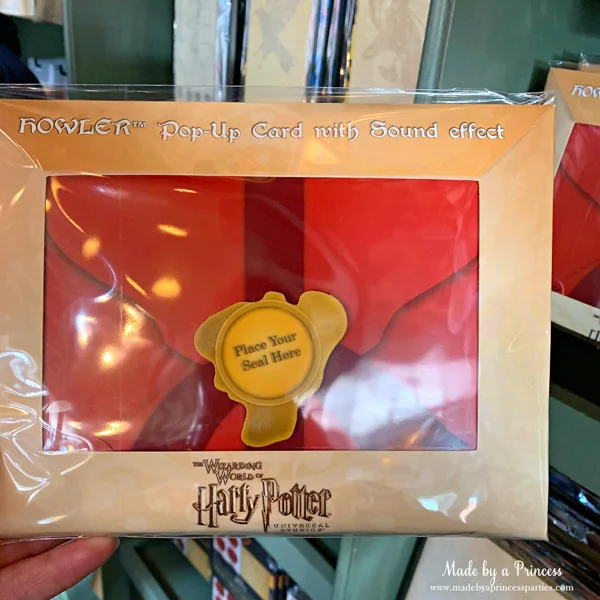 Save Some Money
Unless you want to keep the themed Gilly Water bottle, save money and bring your own water bottles. You are allowed to bring up to 2 liters of water.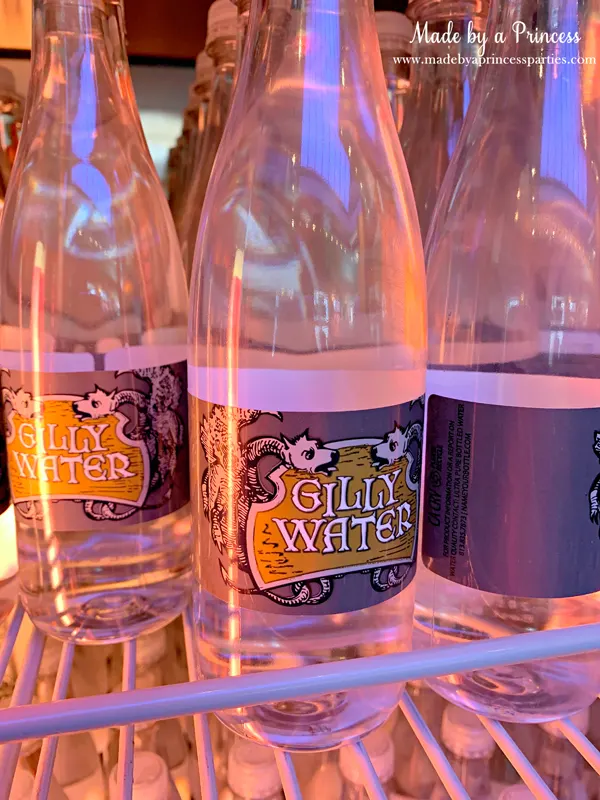 Pack Light
Do not plan on toting a large backpack or purse around. Either take a small crossbody purse or a fanny pack. Trust me when I tell say you really don't want to carry some big cumbersome thing around. I had a small purse and it was plenty big.
Try Themed Food and Drinks
Budget for some themed food. You don't want to leave Universal Studios saying you didn't try the Butterbeer so plan to try at least one type. We tried Pumpkin Juice (2x) and a Frozen Butterbeer and we were happy we did.
*Insider Tip: Ask an employee at Honeydukes if they will trade your Chocolate Frog Trading Card for a different character. You might even get to choose which character you want. Sssshhh…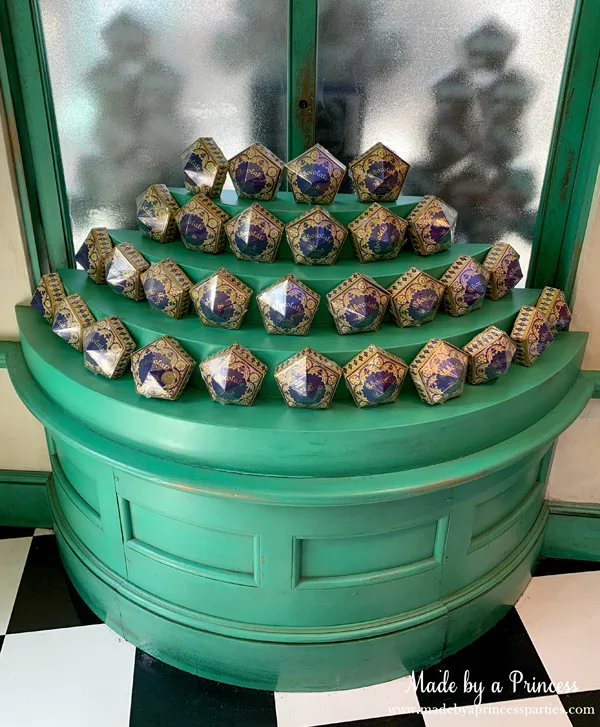 What to Wear to Wizarding World of Harry Potter?
In addition to comfortable shoes, show your house pride and wear your house colors! You can purchase TONS of Harry Potter themed merchandise in Hogsmeade at a number of different shops. For instance, you can purchase t-shirts, sweatshirts, socks, shorts, hats, caps, scarves, sweaters, and Quidditch jerseys at "Dervish & Banges". It took a lot of restraint on my part to not buy up #allthethings to show my Ravenclaw pride.
If new clothing is not in your budget (I totally get it!) you can still dress in house colors. You probably have something in your house colors already in your own closet or dresser. My husband wore a red Polo (Gryffindor), my son wore a yellow t-shirt (Hufflepuff), I wore a royal blue lightweight cotton blouse (Ravenclaw), and my daughter wore a crimson shirt I made especially for the occasion that said, "I solemnly swear it is my birthday".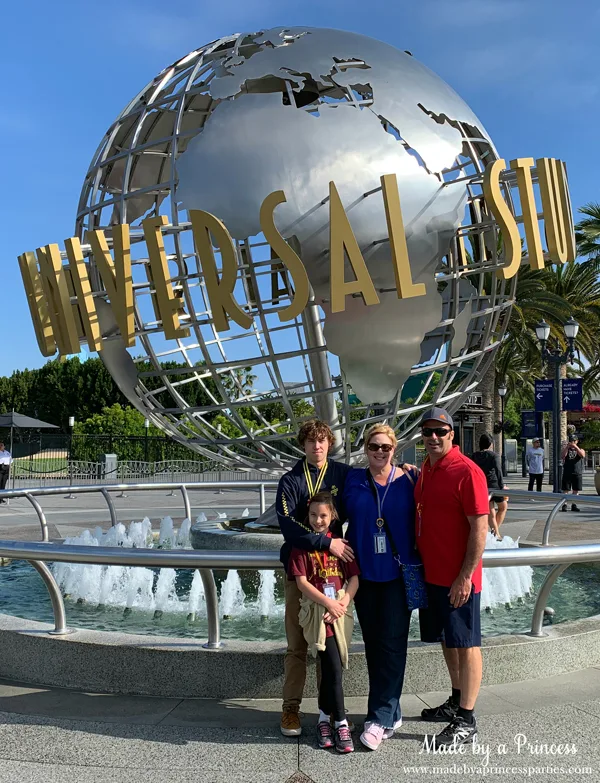 I made this t-shirt for my daughter using my Silhouette Cameo. I love my Silhouette!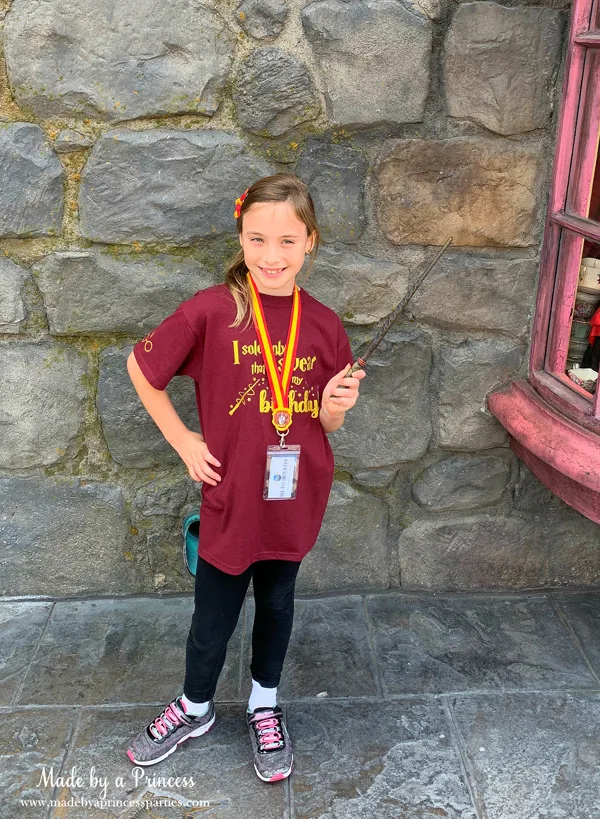 This is also the perfect time to wear your robes. We saw many people wearing (and purchasing) house robes. *Insider tip: Hogwarts robes are really expensive at the park so if you want to dress in robes I suggest purchasing them before your trip. The ones in the park are really nice and very good quality but plan on spending about $120 on each one.
What Should I do First in "Harry Potter World"?
First thing you should do when you step into Hogsmeade is get a picture with the conductor. We walked right up after he greeted us and got a picture. Later in the day there was a really long line so we were happy we get that done right away.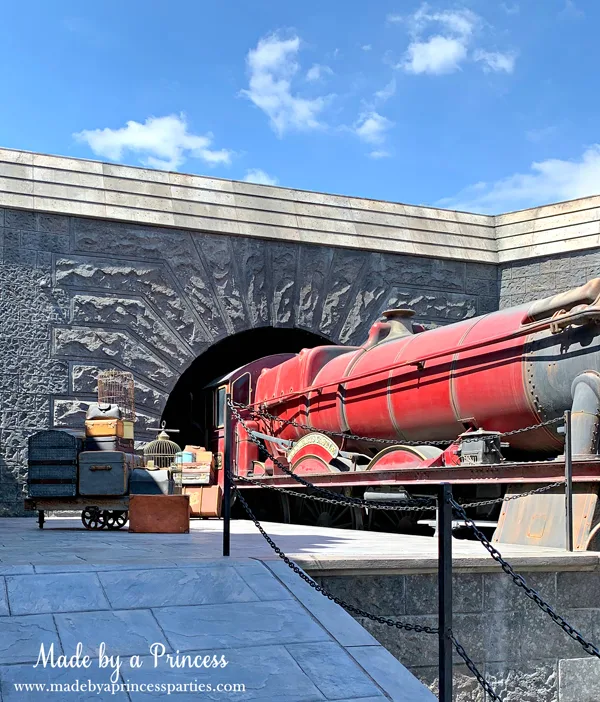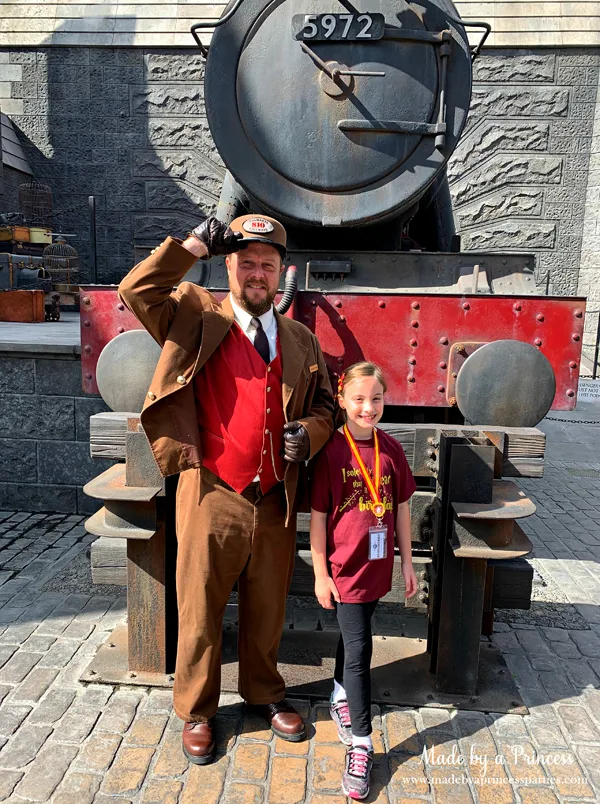 Next, get in line for Ollivanders Wand Shop to watch the wand "show" and then go straight to "Forbidden Journey". After riding "Forbidden Journey" go back to the front of the castle and let them know you'd like to tour it. There is a separate line for touring.
Don't forget to say hi to the Hogwarts Express owl!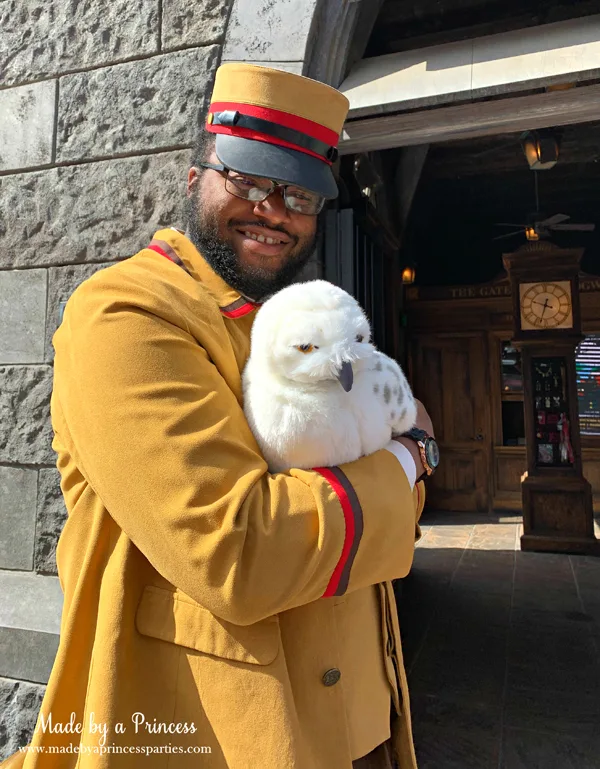 Can You Go Inside Hogwarts at Universal Studios Hollywood?
Yes! "Harry Potter and the Forbidden Journey" is in Hogwarts Castle and it is very cool! I suggest you go on the ride and then go back and ask to do the castle tour. You can walk alongside the riders in line and get a good look at some of the amazing details. It is very very dark in there and easy to get turned around, especially in the Headmaster's Office. If you are a rider you want to stay right when you get to that room. Don't forget to get a better look at the Pensieve.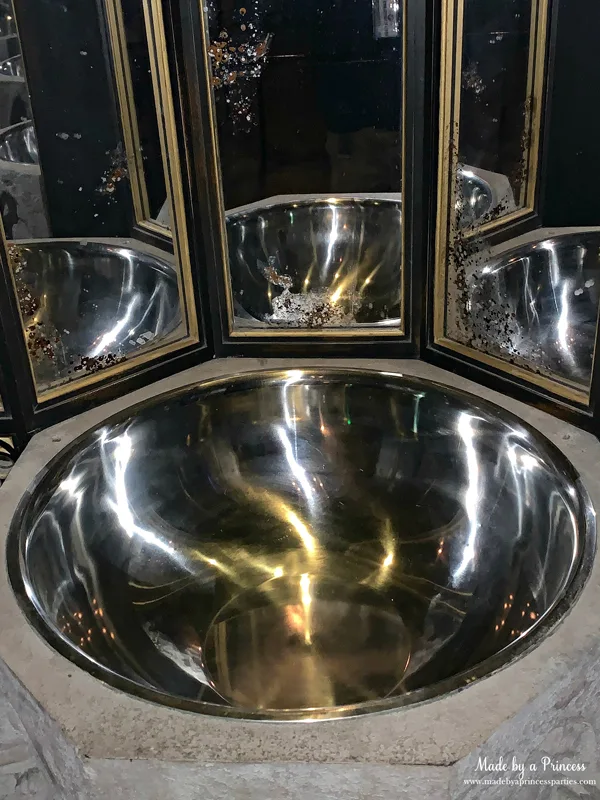 Where Should I Eat at "Harry Potter World"?
The only restaurant in Wizarding World of Harry Potter is the Three Broomsticks. You can get drinks at Hog's Head including domestic and imported beers, Butterbeer, Pumpkin Juice, Gillywater, and Hog's Head Brew as well as a variety of specialty drinks, wine, spirits, and mixed drinks.
There are two Butterbeer carts. One located near the front as you enter and the other next to Ollivanders and Wiseacre's Wizarding Equipment. You can purchase both cold and frozen Butterbeers.
Drinks and snacks can be purchased at the Magic Neep Cart located behind Dervish and Banges in the courtyard. You can also purchase small knickknacks at this cart.
If you are looking for sweets and treats you must go to Honeydukes. There you will find all of the themed candy like Chocolate Frogs, Cauldron Cakes, and Bertie Bott's Every Flavor Jelly Beans.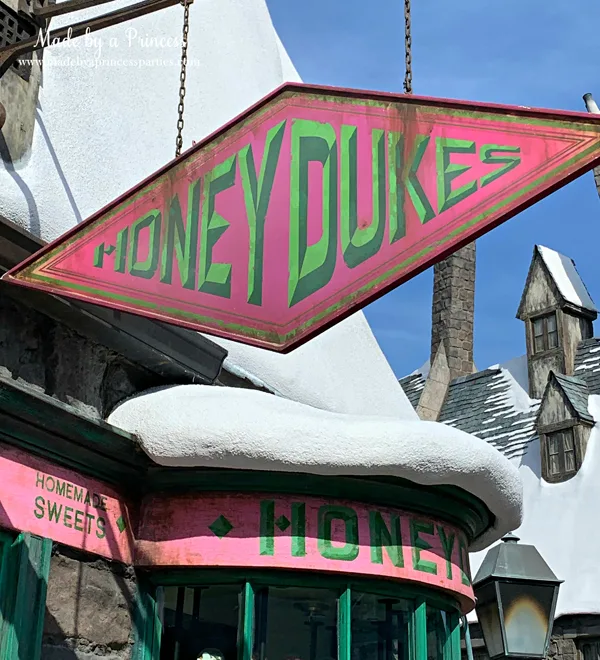 Where Can I Buy Butterbeer at Universal?
You can buy Butterbeer at one of the two carts, in Hog's Head, Three Broomsticks, and Honeydukes.
Universal Studios Hollywood offers four different types of Butterbeer in "Harry Potter Land": cold, frozen, hot Butterbeer, and hard packed ice cream. Each will set you back $6.99. You can find Butterbeer Fudge only in Honeydukes ($9.49). Wizarding World in Universal Studios Orlando also has soft serve Butterbeer Ice Cream ($5.49) at Flourean Fortescue's in Daigon Alley.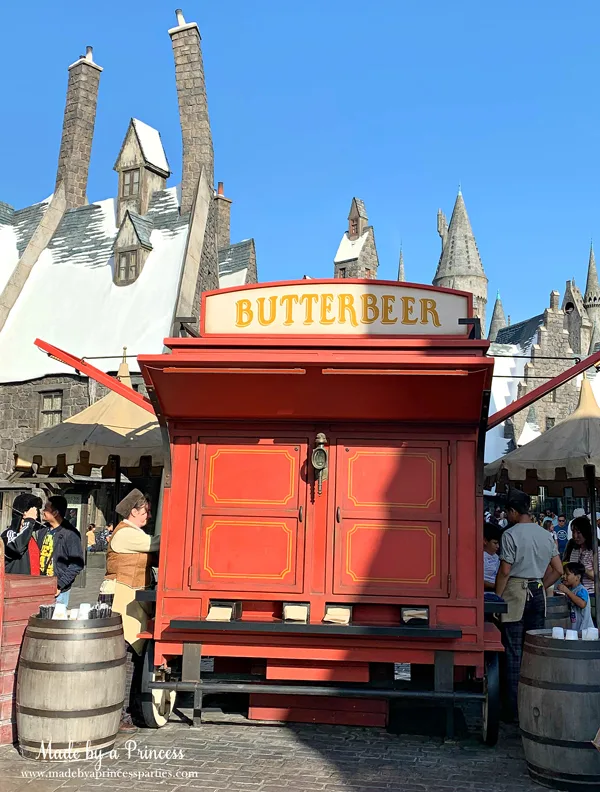 Enjoy a Drink at Hog's Head
Did you know there is a full bar at Hog's Head? I didn't either until the bartender shared her secret. She said very few people know about it but that she could whip up just about anything. While you're there try any number of these delicious drinks. FYI: Don't be surprised if you are told you have to consume your shot at the bar. Officially they are not allowed to let patrons leave the bar with a shot of liquor.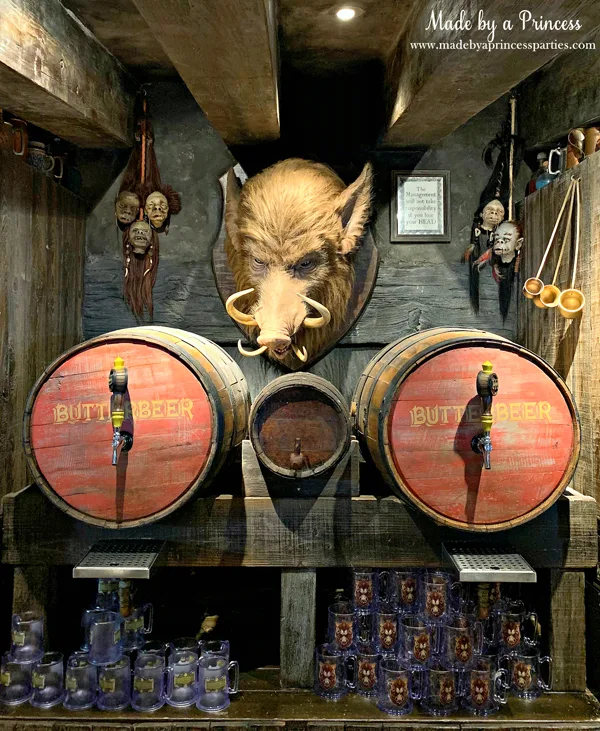 Butterbeer (cold, frozen, or hot): Tastes like butterscotch cream soda topped with thick whipped cream
Pumpkin Juice: Tastes like pumpkin apple pie
Pumpkin Fizz: Carbonated version of Pumpkin Juice
Hog's Head Brew: Smooth red ale similar to Killian's Irish Red
Dragon's Scale: Crisp lager
Wizard's Brew: Stout with a coffee and chocolate finish
Black Hog: Hog's Head Brew on bottom and Guinness on top
Hog's Bite: Strongbow Cider is topped with Hog's Head Brew
The Triple: Formerly called "Deathly Hallows". Golden Strongbow Cider layered with amber Hog's Head Brew then topped with a dark layer of Guinness
Hog's Tea: Strongest drink in the park! Think Long Island Iced Tea (a combination of vodka, gin, rum, and tequila mixed with sour mix & soda). Instead of cola, however, iced tea is used. You can choose from sweet, unsweetened, or raspberry tea.
Pear Dazzle: Made with non alcoholic pear cider, vodka, and a splash of lemonade and garnished with a cherry
Applejack: Jack Daniel's and non alcoholic apple cider
Fire Whisky: Smooth, cinnamon flavored whiskey. Order it as a shot on its own or create your own magical concoction
Amaretto Fire: Fire Whisky and Amaretto plus half a shot of triple sec and 6 oz of cranberry juice
Fire Whisky Sour: One shot of Fire Whisky mixed with sugar and 4oz of sour mix
Fire and Strongbow: Add a shot of Fire Whisky to your Strongbow Cider
Shot of Liquor & Butterbeer: Add a shot of rum, Fire Whisky, Jameson, etc… to any type of Butterbeer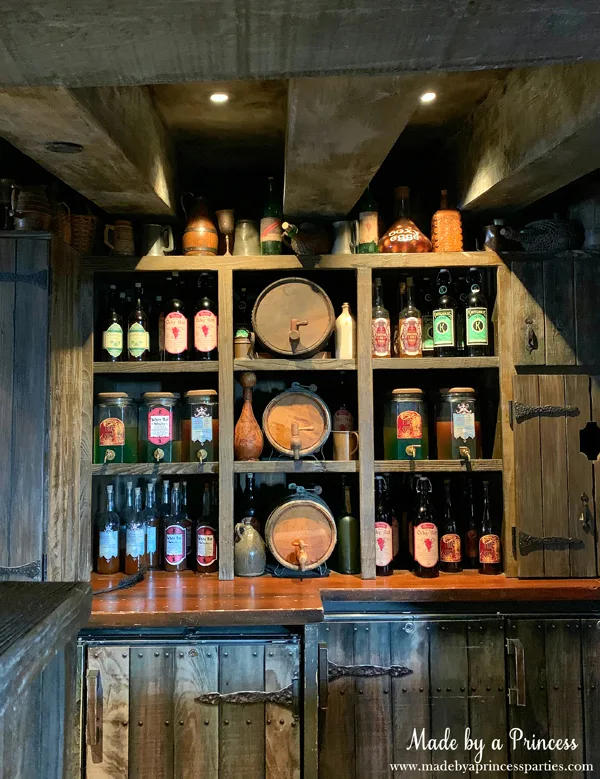 Pumpkin Juice from Hog's Head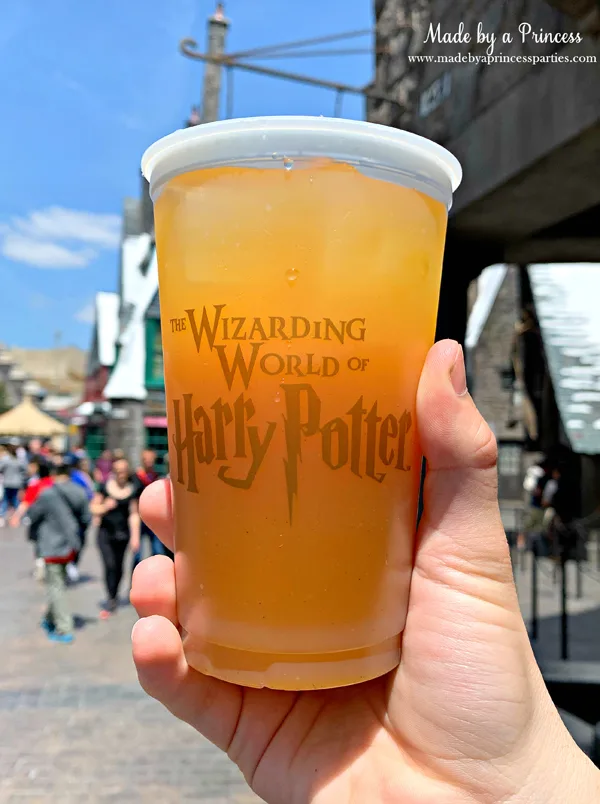 Pear Dazzle is a light and refreshing cocktail found in Hog's Head.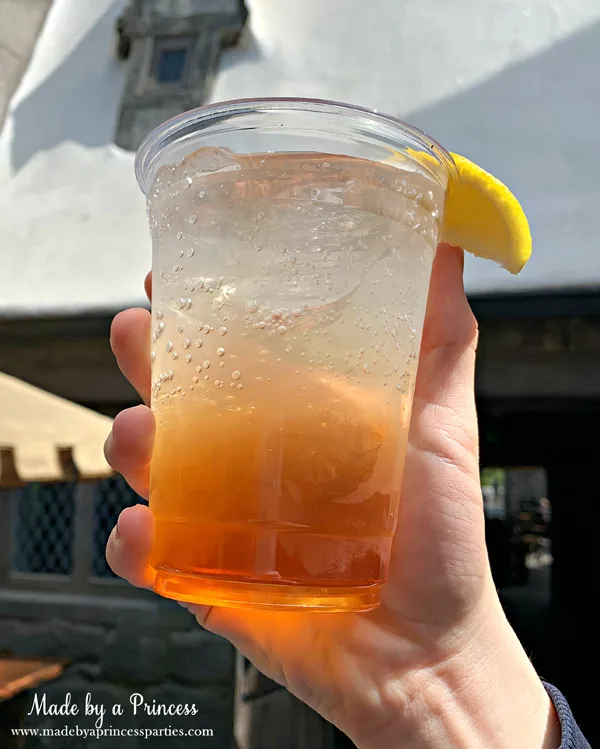 Can You Shop at Wizarding World?
Can you shop at Wizarding World you ask? Yes, yes you can. You can shop A LOT here! There is so much to buy and to look at in the shops you won't know where to begin. I'm going to give you a quick rundown of the shops in Wizarding World Hollywood and what you can expect to find there.
Hogsmeade Station: Hogsmeade Station is right next to the train and to the right when you enter the land. Here you will find Hogwarts Express Train themed merchandise.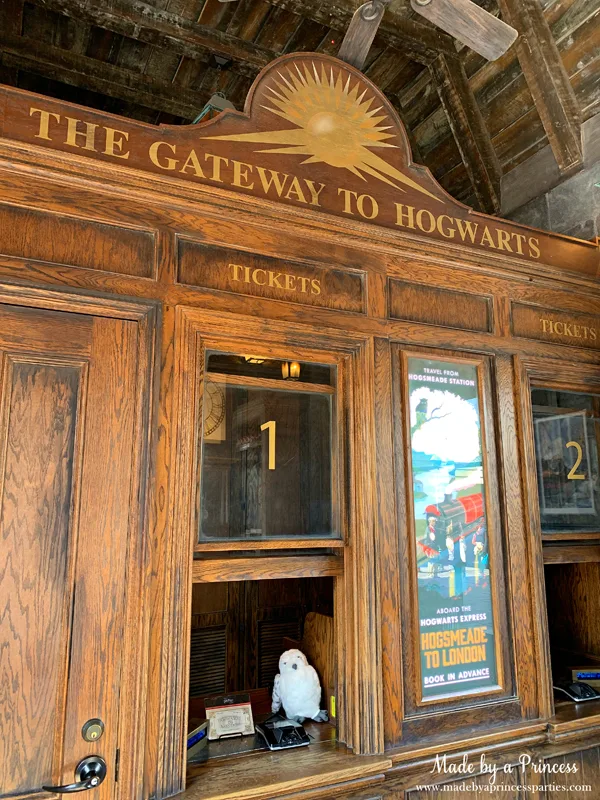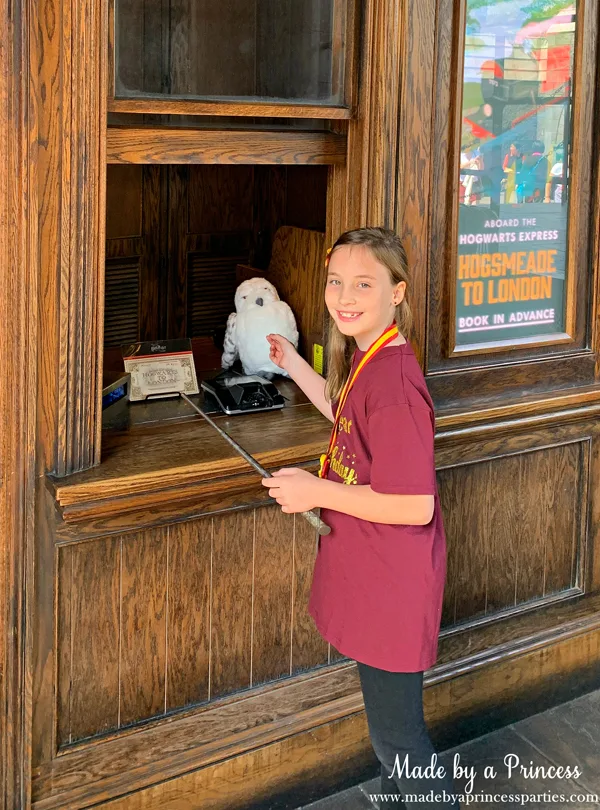 Zonko's Joke Shop: Zonko's is located right as you come into Hogsmeade at the front of the park. The store sells Extendable Ears, Screaming Yo-yos, Pygmy Puffs, joker hats, joke items and gags, and much more. You can also find Fainting Fancies, Fever Fudge, Nosebleed Nougat and U-No-Poo.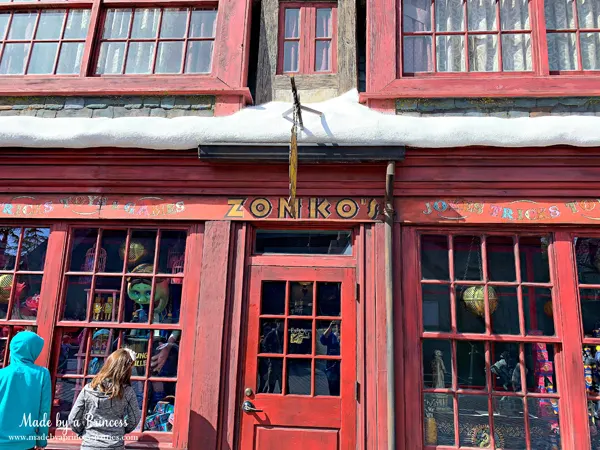 There are so many cute Pygmy Puffs! Choose a pink or purple Pygmy Puff.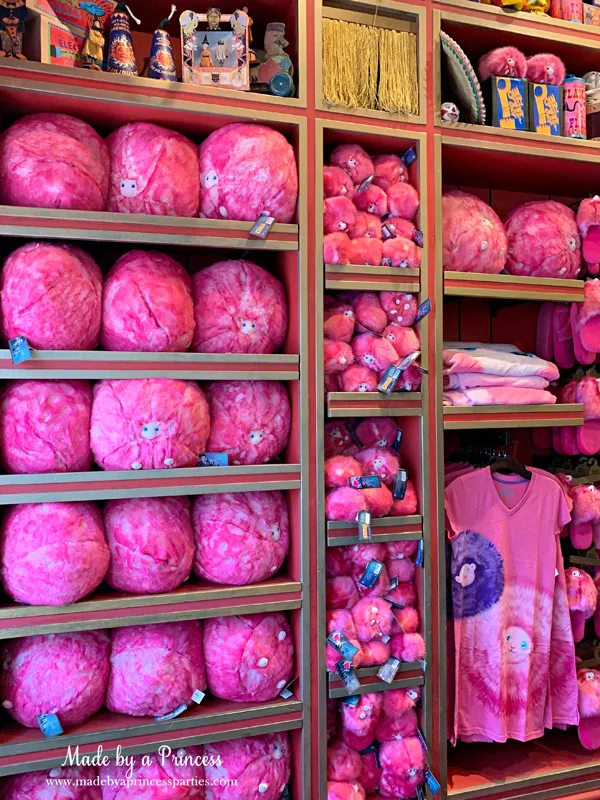 Honeydukes: Honeydukes is connected to Zonko's. You can enter through Zonko's shop but they also have their own doors. Honeydukes sells candy….so much candy. You will find every kind of Harry Potter themed candy in this store. Chocolate frogs, Cauldron Cakes, Bertie Bott's Every Flavor Jelly Beans, chocolate covered apples, Gilly Water, Pumpkin Juice, Sugar Quills, No Melt Ice Cream, Felix Felicis, and so much more.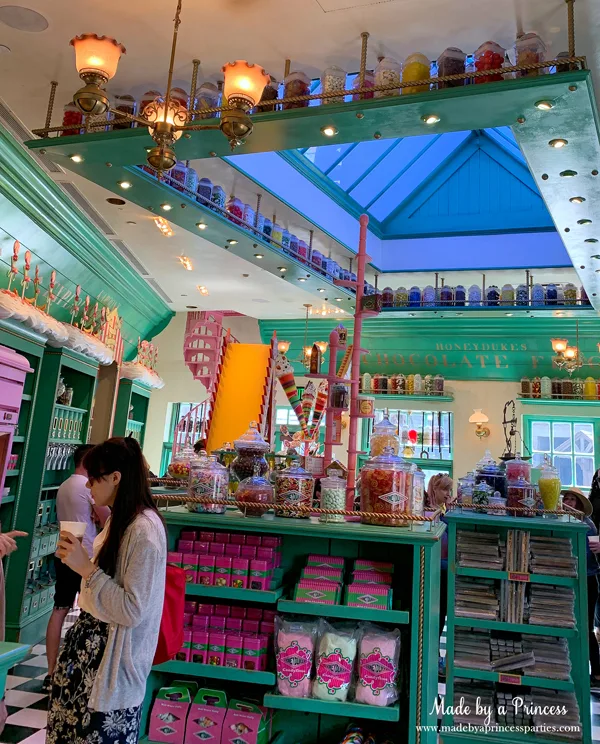 Details are everywhere in Wizarding World so always look up.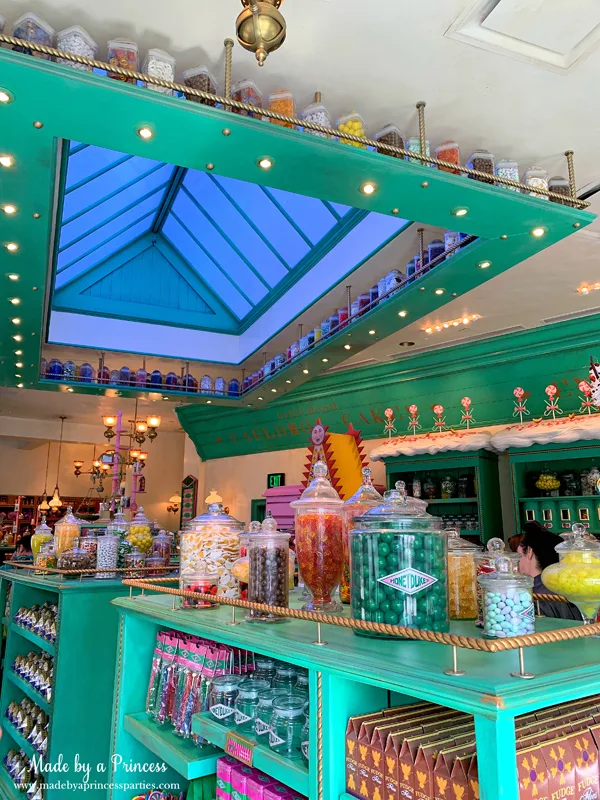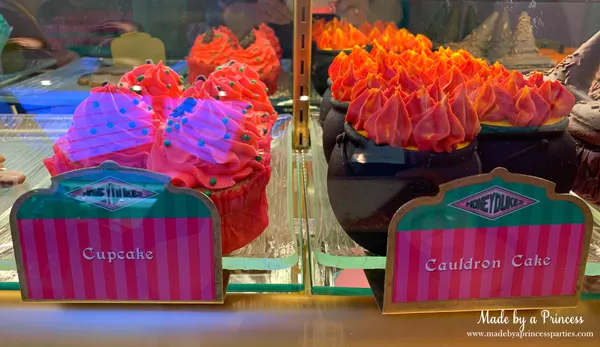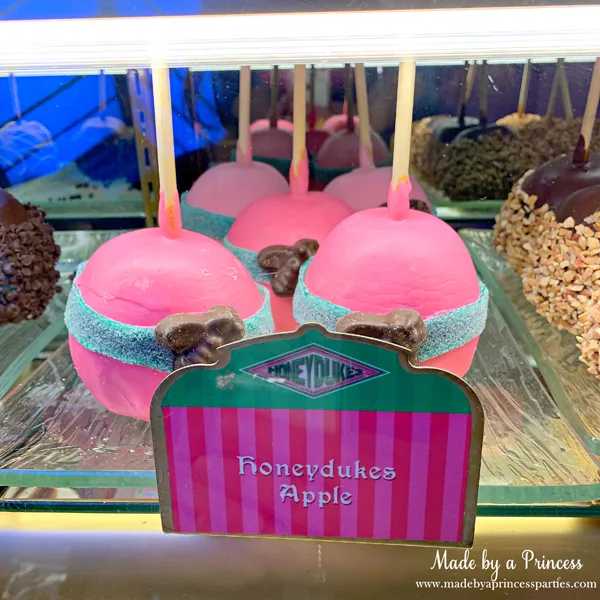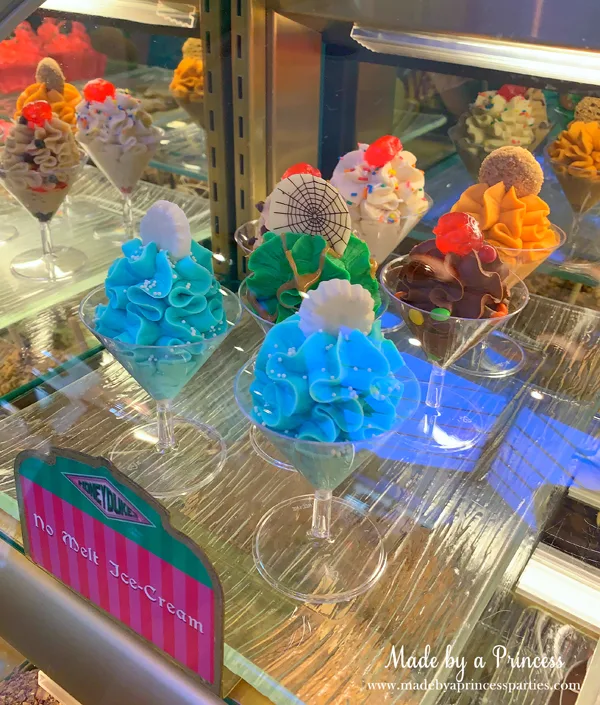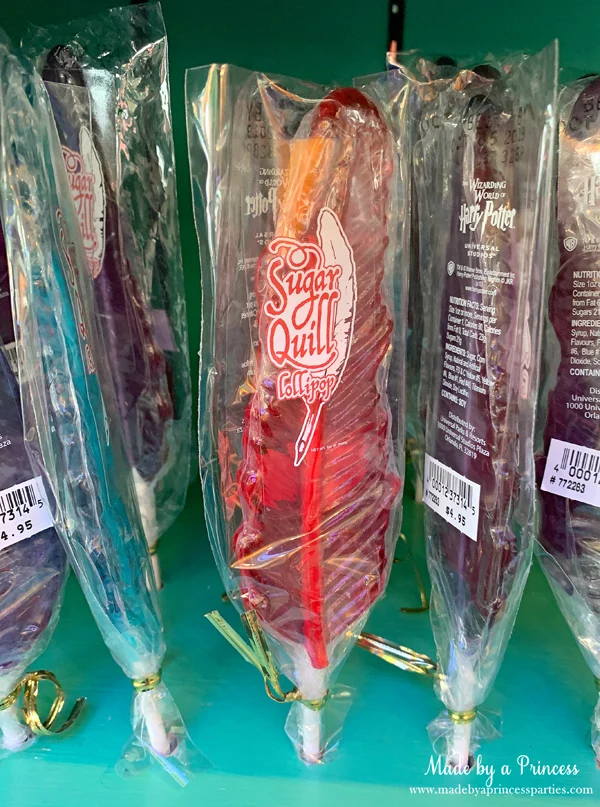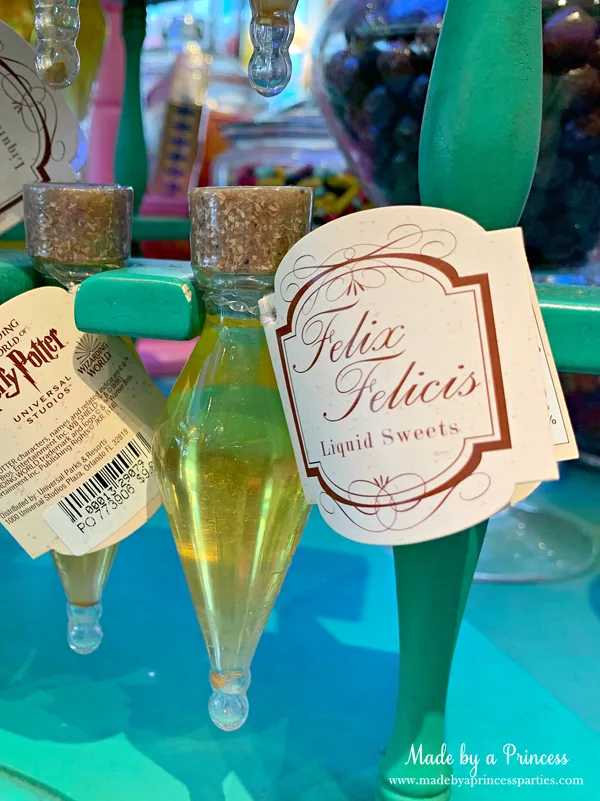 Don't you just love this pink stairwell?!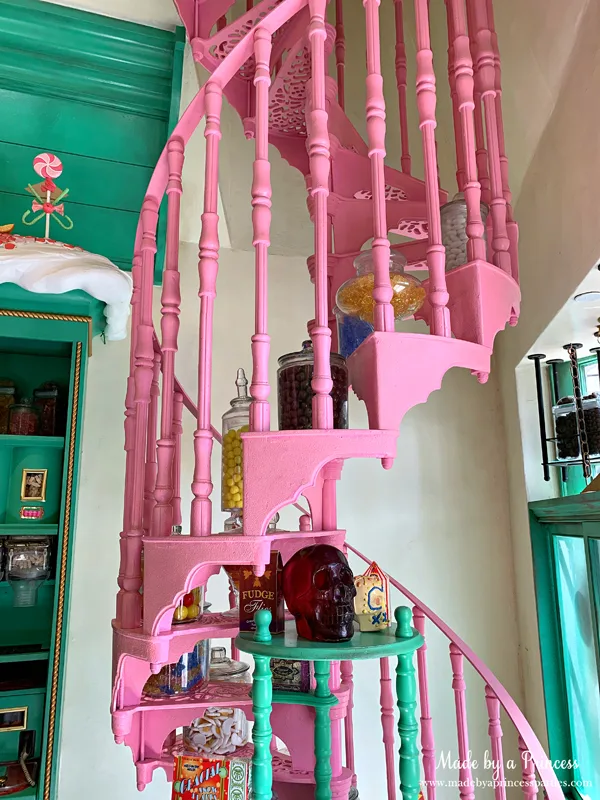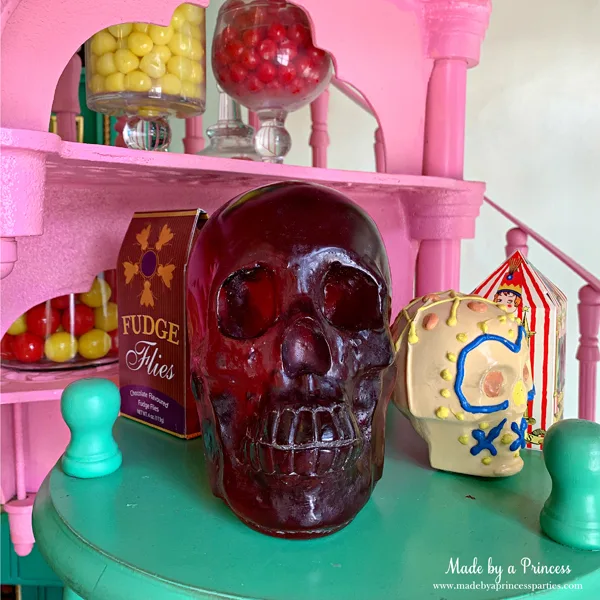 Owl Post: Owl Post is located smack dab in the middle of Hogsmeade. It's a tiny shop but full of fun souvenirs and trinkets. Pick up some stationery, notebooks, journals, pens, stamps, or an owl. Yep, you can go home with your very own owl. Ask me how I know this. You can't see it but I am rolling my eyes as I stare at yet another stuffed animal in my house. My daughter insisted on buying an owl with her own money. She now says (because there is not anymore room on her bed) that the owl wants to hang out with me in my office. Awesome.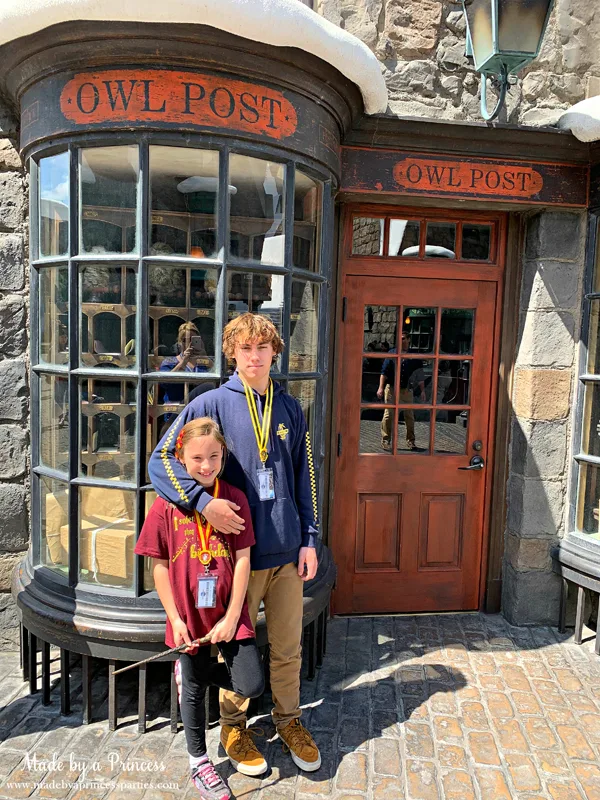 Those owls are staring at me. They better not poop on me too!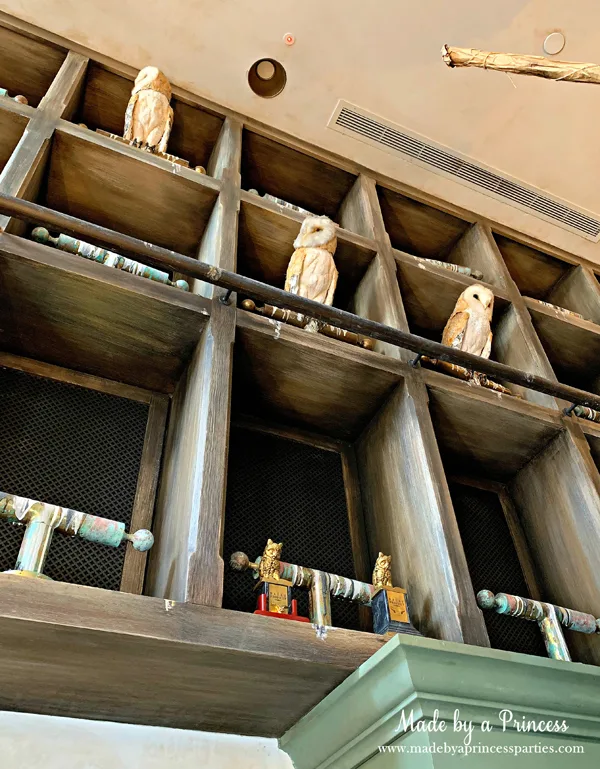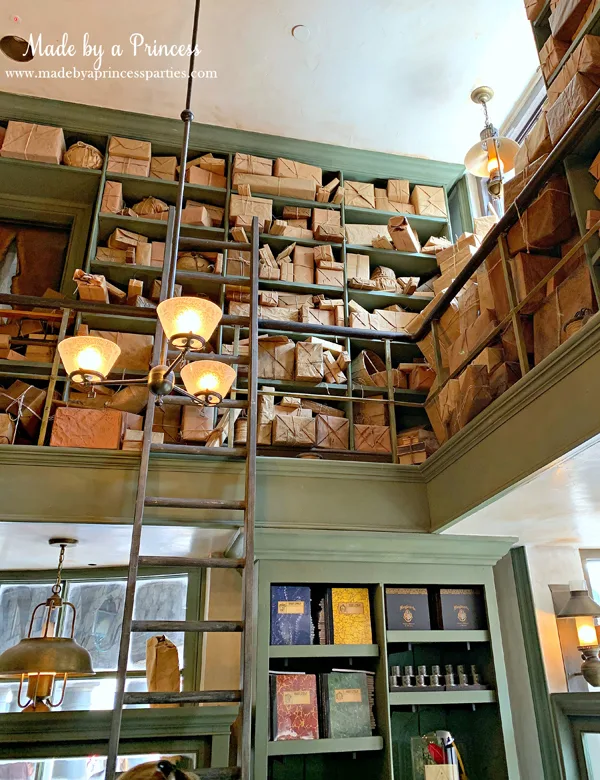 Dervish and Banges: Dervish and Banges is located in the middle of the park and found behind the Owl Post. You can find Quidditch gear, Hogwarts House t-shirts, sweatshirts, hats, backpacks, shorts, jackets, ties, Hogwarts uniforms, and a ton more. This store also houses the famous Monster Book of Monsters. Don't make it mad though…he just might try to get out of his cage!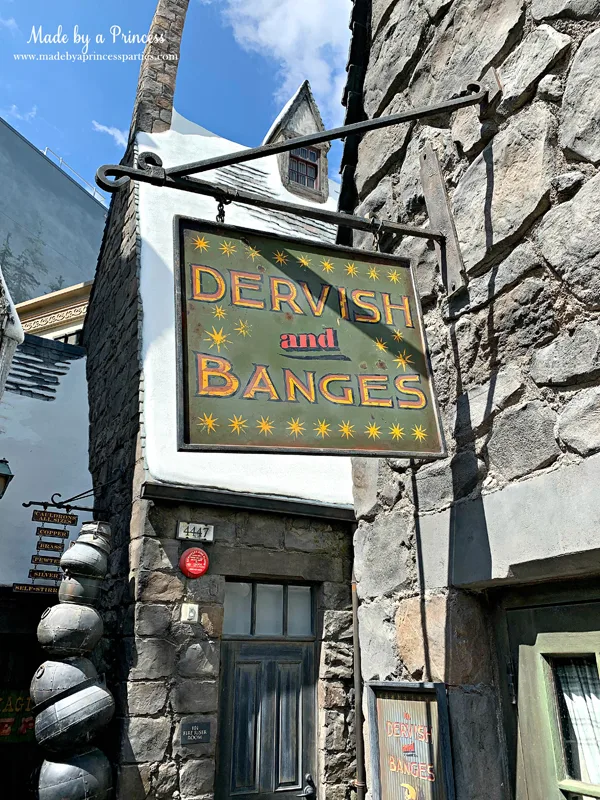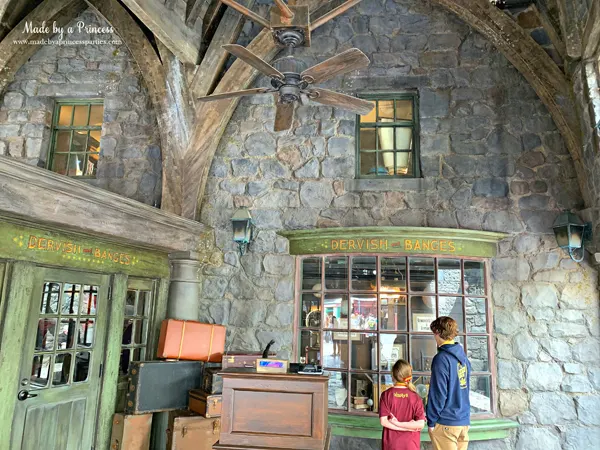 One think you'll notice very quickly is that there are owls everywhere. There is also owl poop everywhere. Not real owl poop but it sure looks real! You will even see it on the ground. Gross but also really cool…they thought of everything here.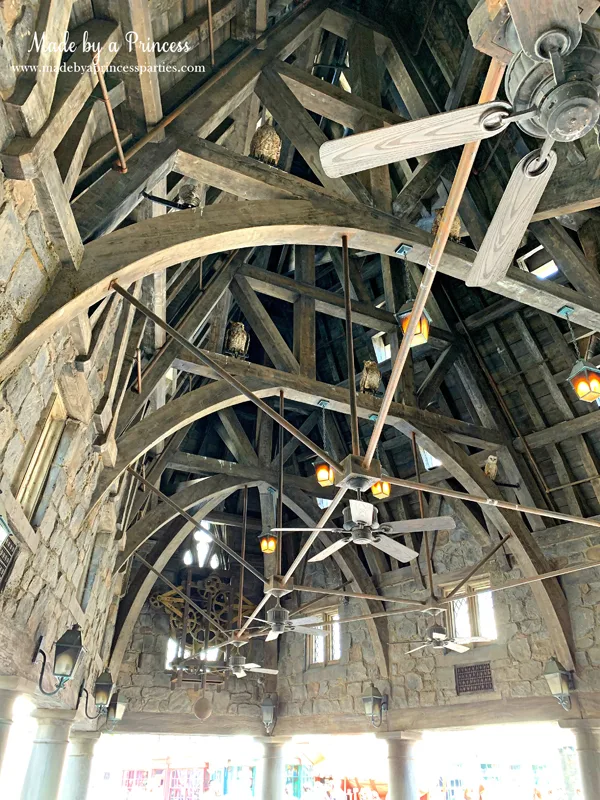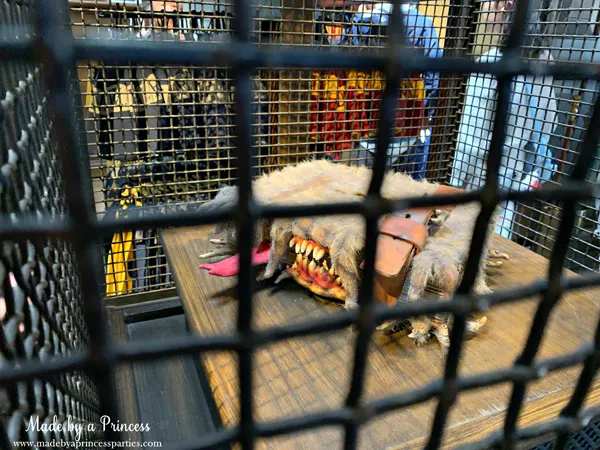 Gladrags Wizardwear: Gladrags is located next to Owl Post. In the window you will see a replica of Hermione's Yule Ball gown. It is gorgeous! Inside you will find Cho Chang's actual dress on display…the actual one she wore in the movie! There is so much to look at in this shop so plan to spend more time looking than buying. You can buy Hermione's ball gown here if you like. The child version will cost you about $100.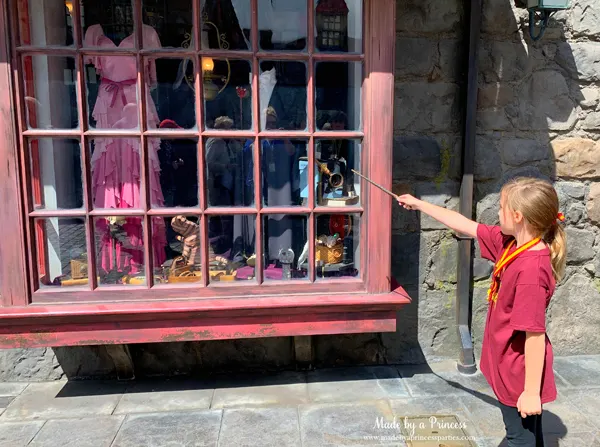 Ollivanders: Ollivanders is located towards the back of Wizarding World on the left side before you get to Hogwarts Castle. If you would like to take your chance at having a wand choose you or if you just want to see the show, then get in line. The part of the shop where the whole wand choosing ceremony takes place is really tiny so only 20 people are allowed in at one time. If you want to skip the experience and just buy a wand you can enter through the main door or through Wiseacre's. At Ollivanders Wands you can choose from a number of character wands or one of 13 different and unique wands.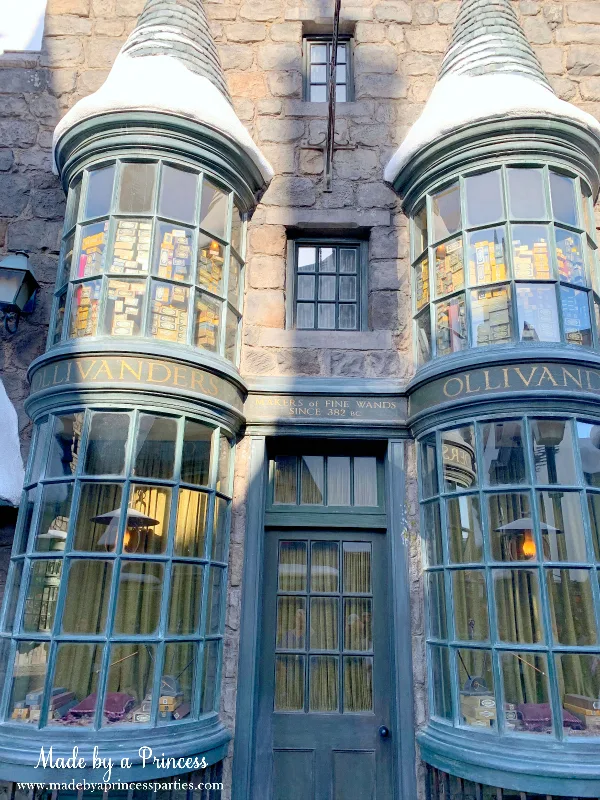 Wiseacre's Wizarding Equipment: Wiseacre's is located next to Scrivenshaft's but is connected to Ollivanders. Here you can purchase house robes, Butterbeer themed items, House t-shirts, Platform 9 ¾™ train station items, Hogwarts™ Express items, wizarding wares and supplies like crystal balls, telescopes, binoculars, armillary spheres, compasses, magnifying glasses and hourglasses. It's a really small shop and there's not much room to move around especially if people are trying on robes. You'll also find some of my favorite purses. I adore Danielle Nicole and her Harry Potter collection. Pick your house then pick a purse!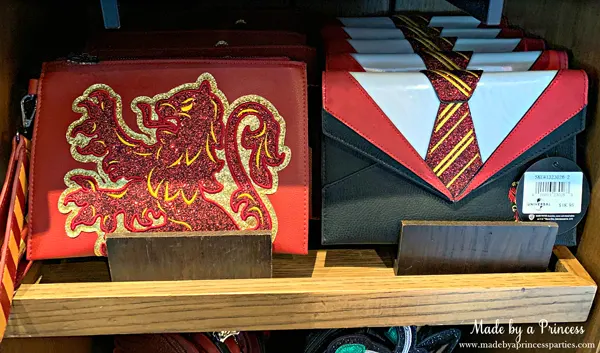 Filch's Emporium of Confiscated Goods: Filch's Emporium is located right outside of the Forbidden Journey ride. In fact, it dumps you right out into the store as you make your way out of the castle. There are TONS of cool things to see in this shop, in addition to the really cool merchandise.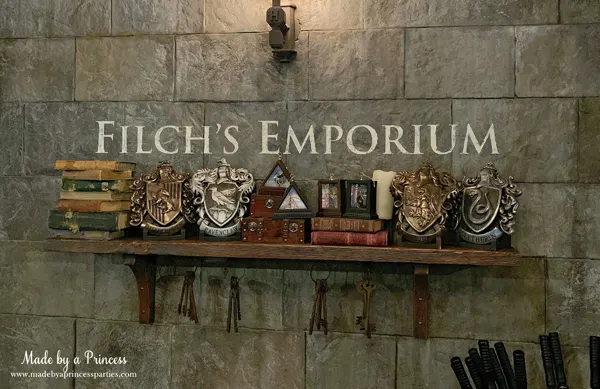 What Should I Buy at "Harry Potter World" Hollywood
Well, if I were you I would stock up on items from my house. I'm a Ravenclaw so if I had my way I would have come home with a pen, notebook, ornament, mug, and maybe a keychain. Oh, and definitely one of the Danielle Nicole Ravenclaw purses. Unfortunately, none of that was in my budget. Cue crocodile tears. Le sigh.
Grab some treats for the ride home at Honeydukes. There is so much in there I couldn't begin to help you make a choice because I'd probably say, "Oh just get it all!" You can definitely get carried away in Honeydukes.
Pygmy Puff Naming Ceremony
If I was going to suggest just one thing it would have to be a Pygmy Puff. They are just the cutest darn things AND you can have a naming ceremony! It's well worth the $15.
Meet our new furbaby…Cookie…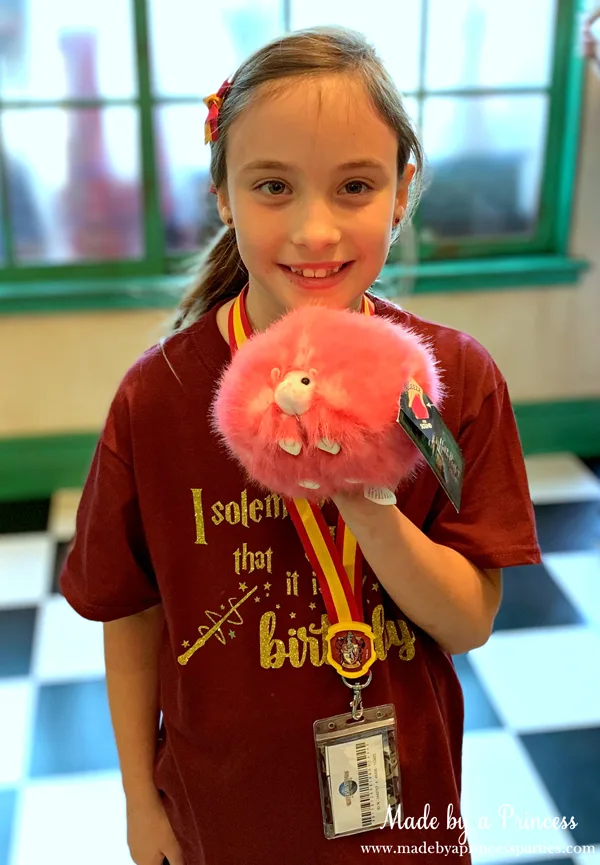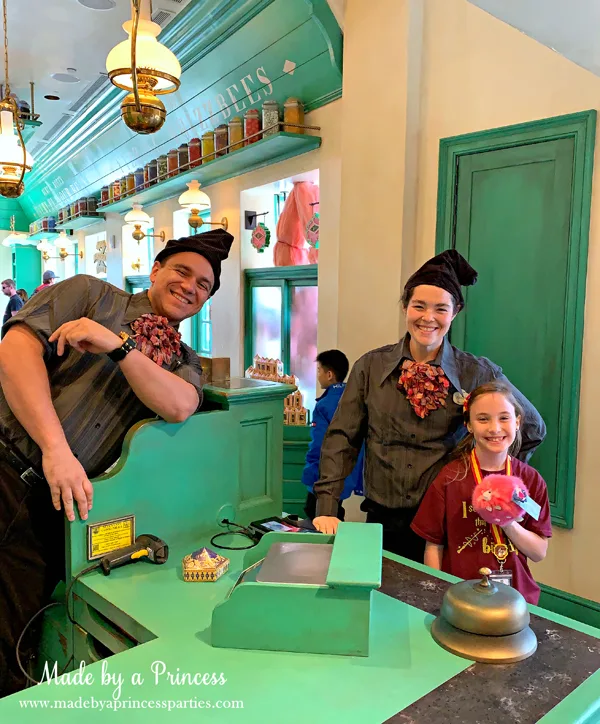 When is the Best Time to Visit Universal Studios?
Before you plan your next trip here are some ideas on best times to visit Universal Studios Hollywood.
Best Times to visit Universal Studios Hollywood Wizarding World of Harry Potter 2019
January 7-17, 22-31
February 1-15, February 26-28
March 4-7, March 11-15
April 8-11, April 29, 30
May is pretty good all month, avoid weekends
June 3-6
September 3-5, September 9-12, September 16-19, September 23-26, September 30, avoid Halloween Horror Nights
October is great, avoid weekends & Halloween Horror Nights
November is great until the week of Thanksgiving
December 2-5, December 9-12, December 16-18
Worst Times to visit Universal Studios Hollywood Wizarding World of Harry Potter 2019
January 1-6
February 15-18, President's Weekend
March, 2nd half of the month due to spring break
April, middle of the month due to spring break & Easter
June
July
August
November, week of Thanksgiving
December, week of Christmas through New Years
I have so much more to tell you, Party Princesses! This is part 2 of my 5 part series sharing all of my Universal Studios Hollywood & Wizarding World of Harry Potter Tips!
Have you been to "Harry Potter Land"? What was your favorite thing there? Have any tips or tricks you'd like to share?
Don't forget to check out my other posts about Universal Studios in Hollywood: