No trip to Universal Studios Hollywood would be complete without going on the Harry Potter Forbidden Journey ride! With a bit of Floo Powder you will find yourself transported right in the middle of a Quidditch match and heralded a hero upon your return. Get your tickets ready to experience the magic!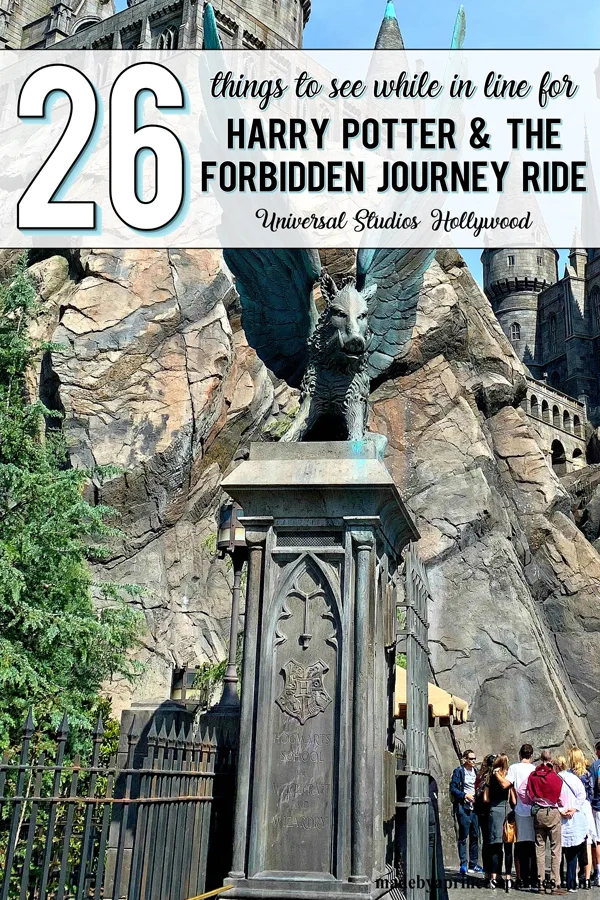 One of the things you absolutely must do in Wizarding World of Harry Potter is go on the Forbidden Journey ride. From the moment you step through the gates you feel as though you have been transported right into Hogwarts Castle. Experience the magic and book a trip to Universal Studios Hollywood today!
Harry Potter and the Forbidden Journey is a Must See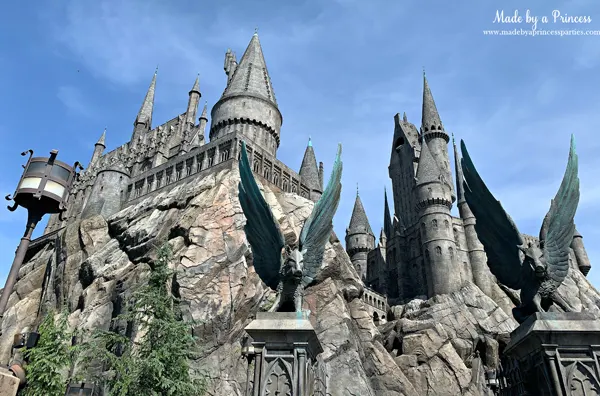 There is so much to see on this ride and if you are a true Harry Potter fan (or Potterhead as we're known) you are going to lose your mind over all the details! I highly suggest doing the ride and then taking a tour. I've seen some pictures of castle tour passes online but we did not need a pass. Maybe on busy days they pass these out.
Also, it is really really dark in there. At least it was the day we went. It was actually hard to see where we were going in some parts of the castle. I think we missed out on some of the cool things in the castle simply because it was so darn dark. We were the only people in the Defense Against the Dark Arts Classroom at one point and I could barely see all of the props around the room. I used the flashlight on my phone and got up as close as possible. With a little light it's amazing what you can see! The details in the castle are pretty astounding.
Things to Look for in the Hogwarts Castle Tour
You could probably spend a good hour slowly going through the castle if given the time. There are details in every corner, everywhere you look. I really wish I had spent more time in the castle. Take your time and really take it all in. Up, down, here, there, and everywhere in between. Here are some things to look for inside and outside of Hogwarts Castle:
Mr. Weasley's Ford Anglia still stuck in the Whomping Willow
The disappearing messages on the castle gate
Look for moving portraits…lots and lots of moving portraits
Mirror of Erised
One Eyed Witch statue
Mandrakes in Professor Sprouts Greenhouse…do you hear Professor Snape lecturing Neville Longbottom?
Statue of the architecture of Hogwarts…you will see all four houses represented at the base of the statue
House points…is your house in the lead?!
Statue of Salazar Slytherin
Stairwell Griffin Gargoyle guarding the entrance of the Headmaster's Office
Tapestry featuring a unicorn behind the Stairwell Gargoyle
Map of Hogwarts
Moving portraits for all four founders of Hogwarts
Professor Dumbledore's Office…he has a message for you so stop and listen
Pensieve in Dumbledore's Office
Defense Against the Dark Arts Classroom…wait for Harry, Ron, & Hermione to come out of the Cloak of Invisibility
Desk in the Defense Against the Dark Arts Classroom that was actually used in the movies
Watch for falling snow in the Dark Arts Classroom
Stained glass window from the Prisoner of Azkaban
The Fat Lady talking portrait
Gryffindor locker
Daily Prophet article
Gryffindor Common Room…watch and listen to the moving portraits
Fireplace in Gryffindor Common Room that Sirius Black used to communicate with Harry
Sorting Hat…it must just sort you into a house!
"No Muggles" sign
You are now in the Room of Requirement and ready to be escorted to an enchanted bench!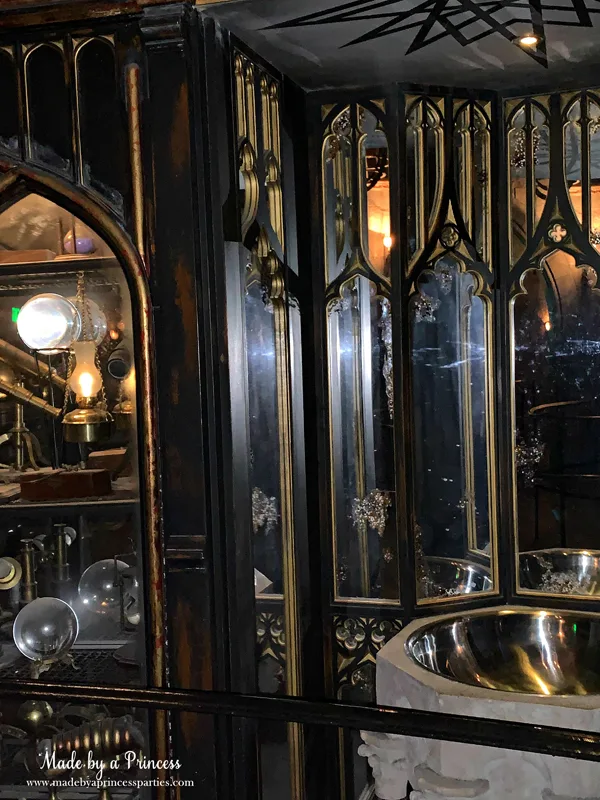 This slideshow requires JavaScript.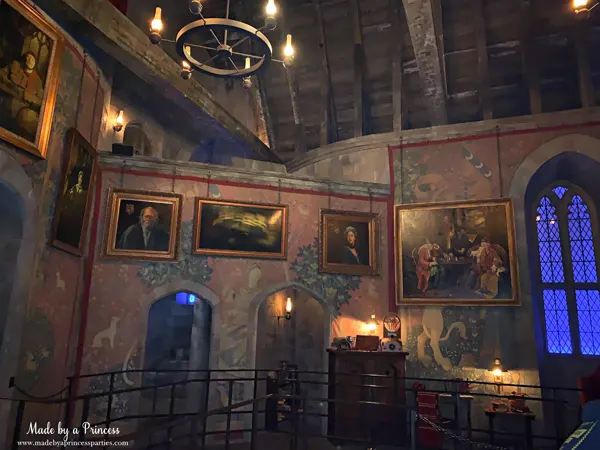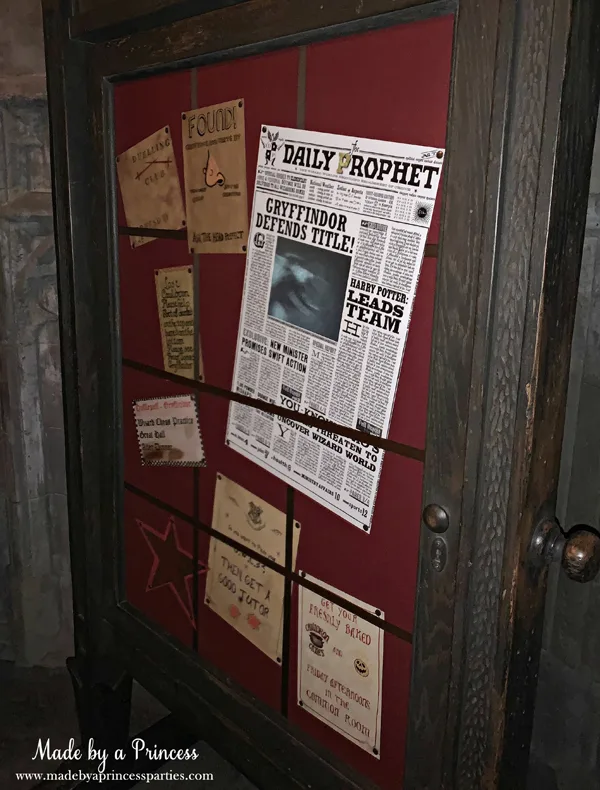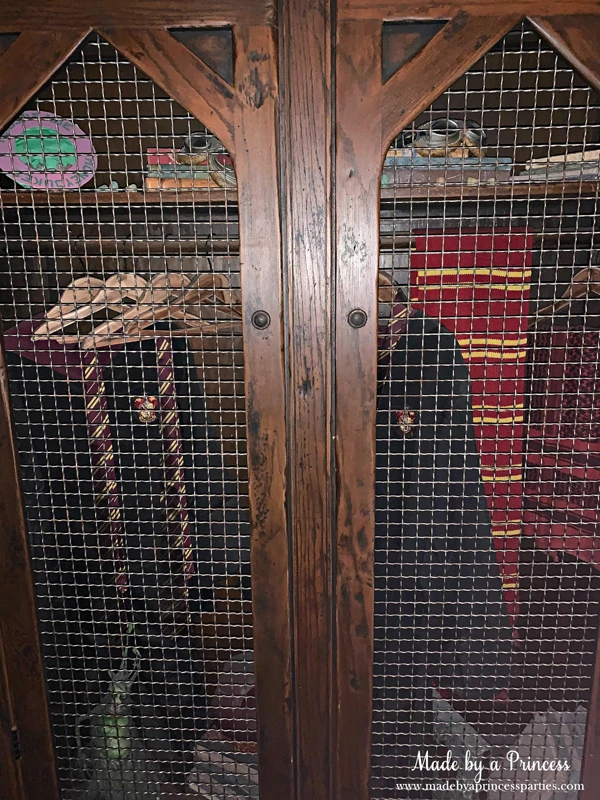 Preparing for the Harry Potter Ride: Harry Potter and the Forbidden Journey Ride
This is a really fun ride and one we all enjoyed. There are some things you should know about it though.
Motion Sickness

If you are prone to getting motion sickness you might want to sit this one out. If you still want the experience and are ok closing your eyes then it's totally worth it. To cut down on the motion sickness, they did remove the 3D element and went back to 2D. Riders have reported it is much better now. My husband gets motion sickness and he was fine. There were a few parts he closed his eyes but he said overall he didn't have any issues. The special effects are really good though which makes it feel so real!

Proper Shoes

Do not wear flip flops or sandals you think will fall off on this ride. You turn all around and end up practically upside down….you don't want to lose a shoe.

Plus Size or Well Endowed Rider

If you are a plus size person or have big boobs you might need someone to help you secure the safety harness for you. Employees are not allowed to help you if you can't do it yourself you will need someone from your party to do it for you. You must be able to hear three clicks and the green light must go on. I panicked and could not get it on myself…I couldn't pull hard enough over my ample bosom. Damn big boobs! I panicked and told them I needed to get off. It all turned out ok. My husband pushed the harness down, we heard the clicks, and the green light went on. Just in case any of you were wondering, I did ask if there are larger seats. I was told that all of the seats are the same size but that there is a little more room if you sit on the end of the enchanted bench.

Use the Lockers

Store your hats, backpacks, shopping bags, purses, phones, and sunglasses in the lockers. There isn't any storage on this ride so you can't stash your stuff anywhere. I bought a small soft sided crossover body Ravenclaw purse a couple weeks before our trip. There was just enough room for my wallet, chapstick, hair tie, nail file (I can't go anywhere without that!), and my sunglasses case. Because this was small I was able to keep it on across my body and sort of wedge it in between me and my daughter. The problem was that there was no room in this purse for my phone which meant I had to put it in my pocket. As we were trying to run out the dementors I felt my phone slipping out of my pocket. Holy crap! With very little space left between the harness and my hip I managed to wiggle two fingers into my pocket just as the phone was coming out. I held my hand like that for the remainder of the ride. Not fun. Moral of the story is put everything in the lockers unless you have a very small purse or fanny pack and ALL of your personal items fit inside.

Single Rider Line

If you don't need help with the harness or don't mind splitting up from your group, think about utilizing the single rider line. During peak park days this line will get very very long but it's a must do so this could be a good option for you.

Very Dark and a Little Scary

This ride from the moment you walk in is very very dark. We loved it but just be prepared for that. Once the ride begins you will be transported via Floo Powder from Hermione on this forbidden journey. Dementors pop out at you, you will fly over the grounds of Hogwarts, end up in the middle of a Quidditch match, and be nearly knocked out of the sky by the Whomping Willow. It is definitely a thrill and a ride you cannot miss. Just be aware that younger riders could get a little scared so prep them for what to expect. I told my daughter that at some point Dementors would jump out but I didn't know when. Apparently, I screamed, "Dementors! Dementors! There are Dementors!" fairly loudly so she had a heads up.

Height Requirement

Riders must be at least 48″ high to ride "Forbidden Journey".


Some Common Questions About Harry Potter and the Forbidden Journey
Where is the Harry Potter ride located in the theme park?
The ride is located at the end of the park. You walk down the main street in Hogsmeade, past Honeydukes, Owl Post, Ollivanders Wand Shop, the Butterbeer cart, and the outdoor stage where the Frog Choir performs. If you were at Universal Orlando Resort you would find this ride in Islands of Adventures.
Is the Forbidden Journey ride a roller coaster?
No, Harry Potter and the Forbidden Journey is not a roller coaster but at times it may feel like it. It uses KUKA Robocoaster technology which basically means a giant claw picks you up and spins you around. It is not your typical ride vehicle.
Does Forbidden Journey go upside down?
You won't go upside completely but it sure feels like it. Harry Potter and the Forbidden Journey ride drops you all the way back and just when you feel like you're going to go completely upside down it starts to bring you back up.
How long does Forbidden Journey Last?
This ride lasts about 4 minutes.
What is the Weight Limit on Forbidden Journey?
The weight limit on Forbidden Journey is about 260-285 lbs. If you are husky, big boned, kinda fluffy, or are well endowed I suggest you try out the test seat.
Which is the best Harry Potter ride at Universal?
Well, there are only two rides at Universal Studios Hollywood and this one is the best of the two.
Shop at Filch's Emporium of Confiscated Goods Gift Shop
Before leaving the castle you really should spend some time in Filch's Emporium of Confiscated Goods. There is so much to see here that you could easily spend an hour just looking at the displays. If the "Deathly Hollows" is your thing you're going to love this store because it is full of "Hallows" merch. In here you'll also find the Marauder's Map, t-shirts, jackets, sweatshirts, bags, caps, pins, keychains, plush toys, glassware, jewelry, travel accessories, collectibles, stationery, books and an assortment of other awesome gifts. I really loved the ornaments and magnets too.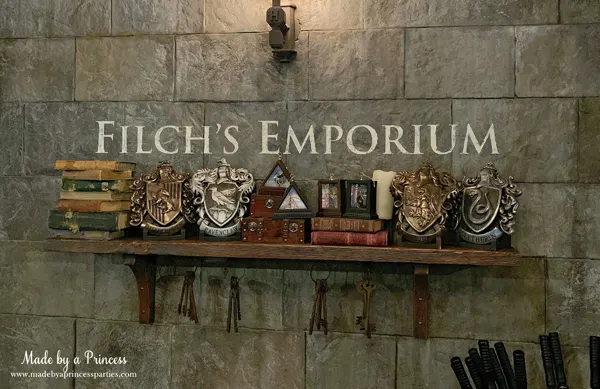 Check out this cabinet of confiscated goods. Filch really does have a nice collection of things he's snatched from the students.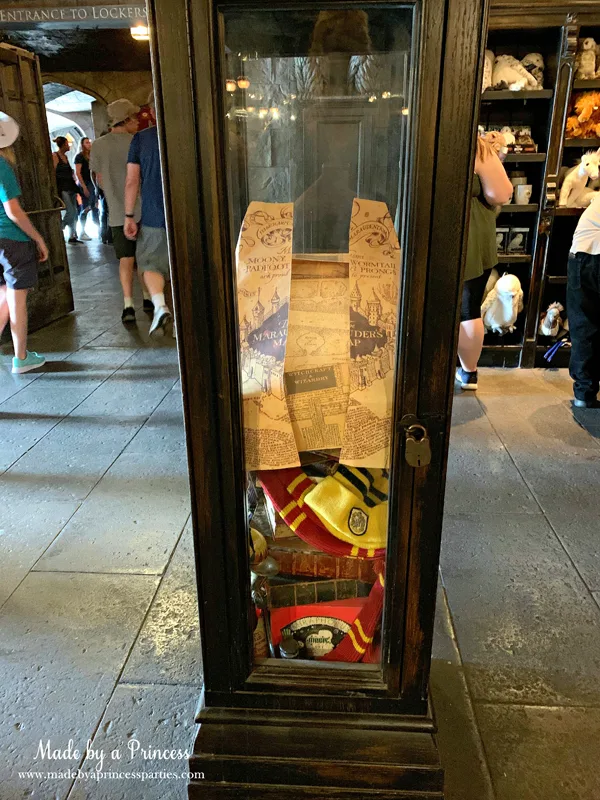 Watch the Marauder's Map very closely…it's magical!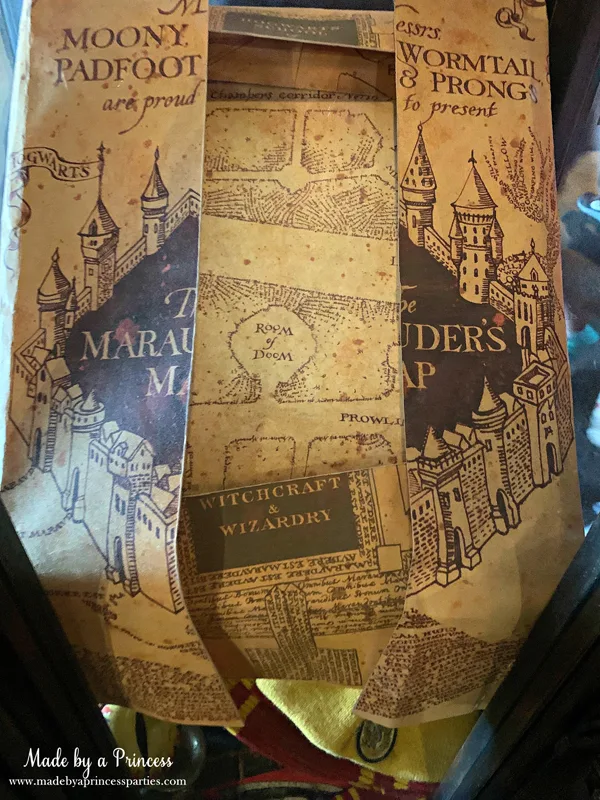 You can purchase the Golden Egg from "Goblet of Fire".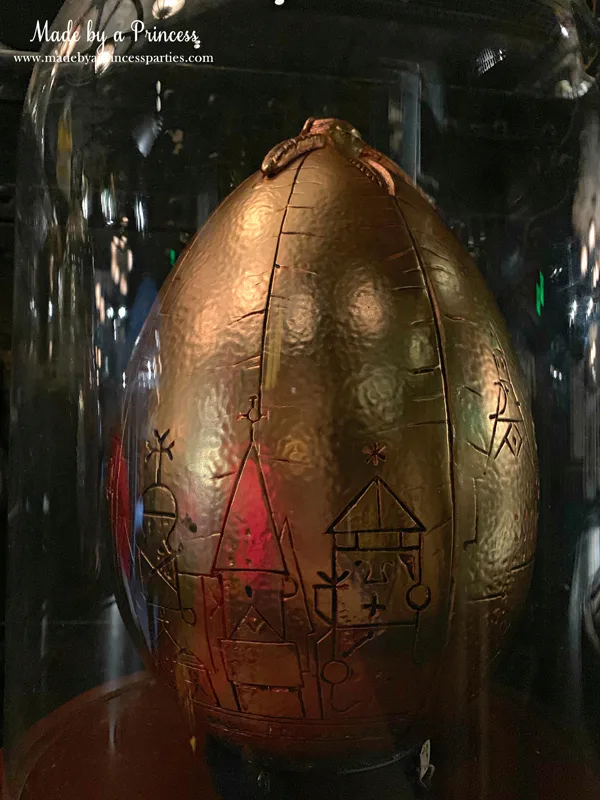 There is so much to see and take in here. Definitely plan to work in a castle tour sometime in your day…you won't regret it!
Don't forget to check out my other posts about Universal Studios in Hollywood: