Looking for some adorable Shopkins Birthday Party Ideas? Grab your Shoppies and favorite shopping buddies and get ready to shop til you drop!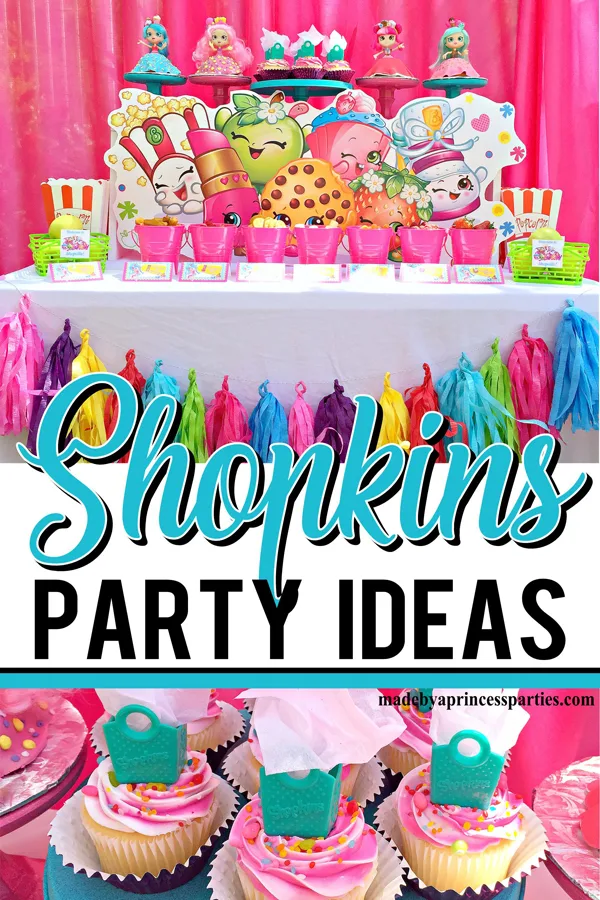 Attention shoppers…it's party time! You can't go wrong with a Shopkins themed birthday party because these little cuties are still the hottest toys around. Take a tip from Poppy Corn and shop til you pop then check out these cute Shopkins Birthday Party Ideas.
*this post contains affiliate links
Adorable Shopkins Birthday Party
Three years ago I threw my daughter, a huge Shopkins fan, this Shopkins birthday party. I had this idea in my head that I wanted my daughter's friends to be able to "shop" because, well, that's what Shopkins are all about. I spent months gathering Shopkins party favors from the Target Dollar Spot and the dollar store. It was not out of the ordinary for me to visit three different Targets in one day to make sure I had enough of the same item. I get a little crazy when it comes to parties! By the time party day came around I couldn't wait for our little guests to get shopping. Before I share our party day storefronts I'm going to show you some fun Shopkins food ideas.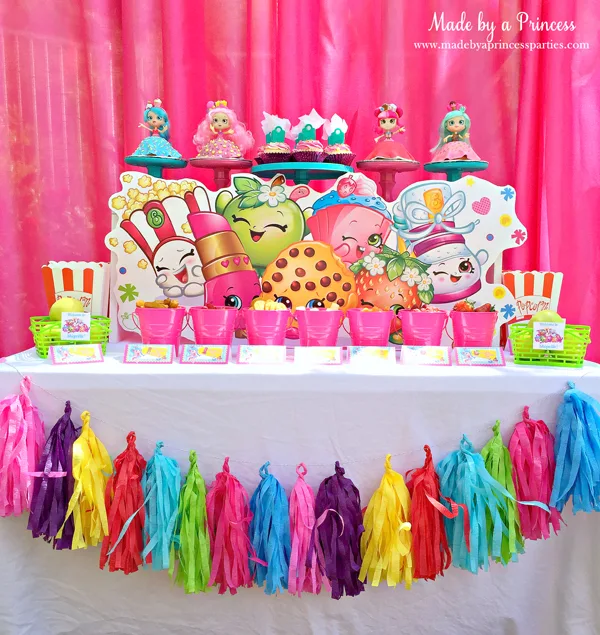 Shopkins Birthday Party Food Ideas
Figuring out the food for a Shopkins party is really pretty easy because so many of the Shopkins characters are based on food. Actually, the hard part is narrowing it down because there are so many to choose from! Here is a list of character based food we served at this Shopkins themed party:
Asbury Raspberry – raspberries
Strawberry Kiss – strawberries
Cheery Churro – mini churros
Chris P Cracker – RITZ crackers
Miss Twist – mini Twizzlers
Wild Carrot – carrots
Apple Blossom – little green apples
Poppy Corn – popcorn in custom Poppy Corn popcorn box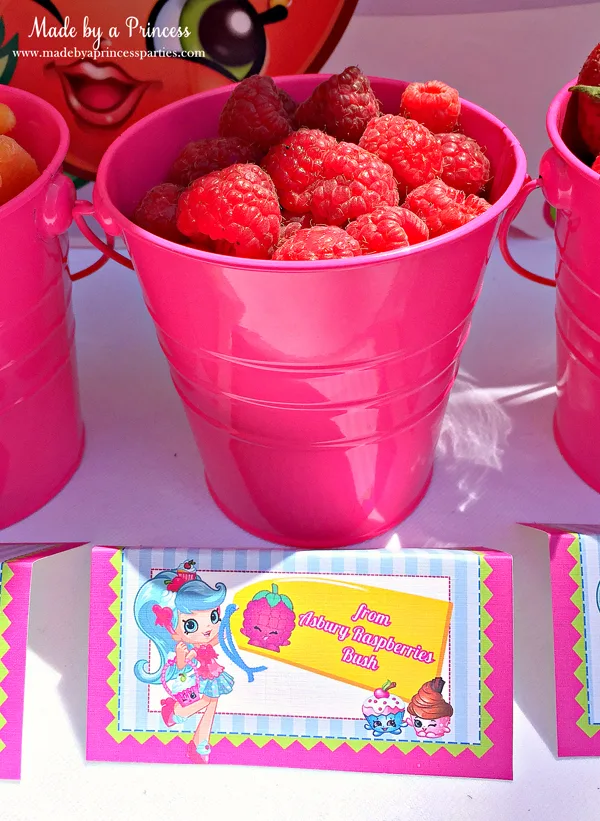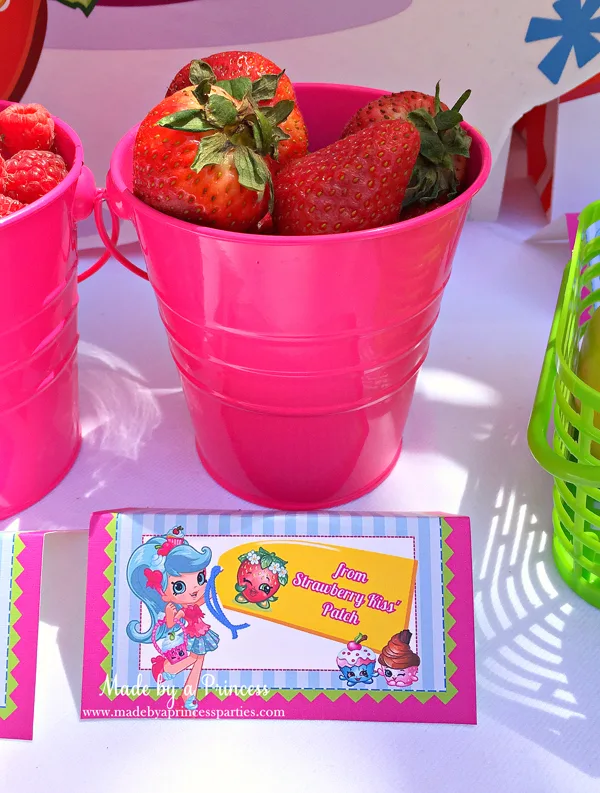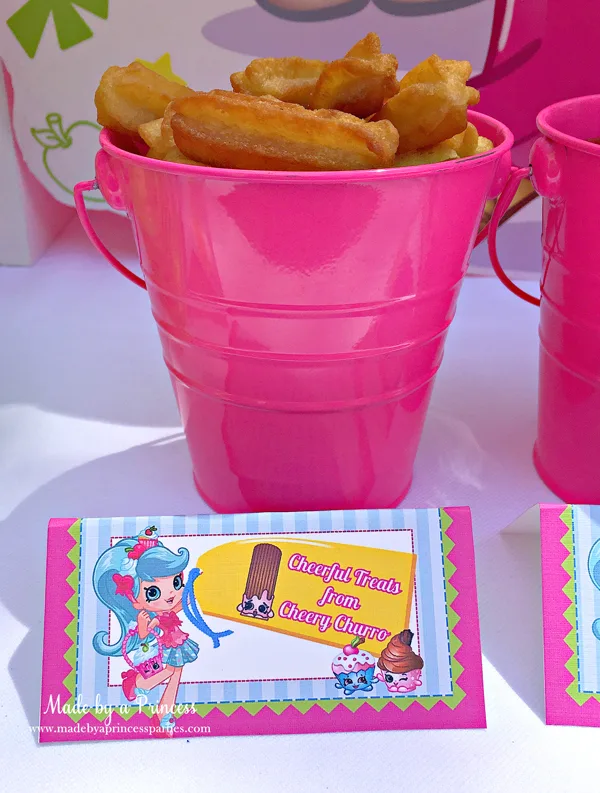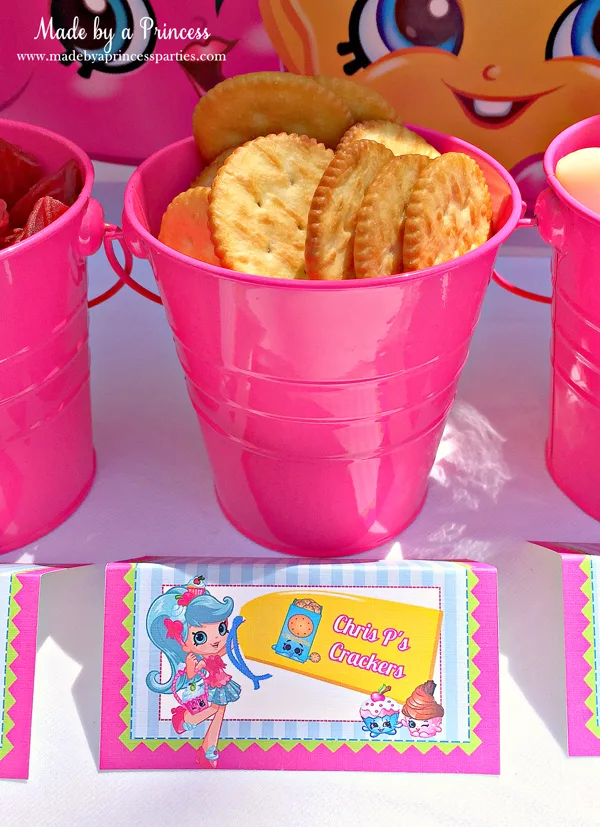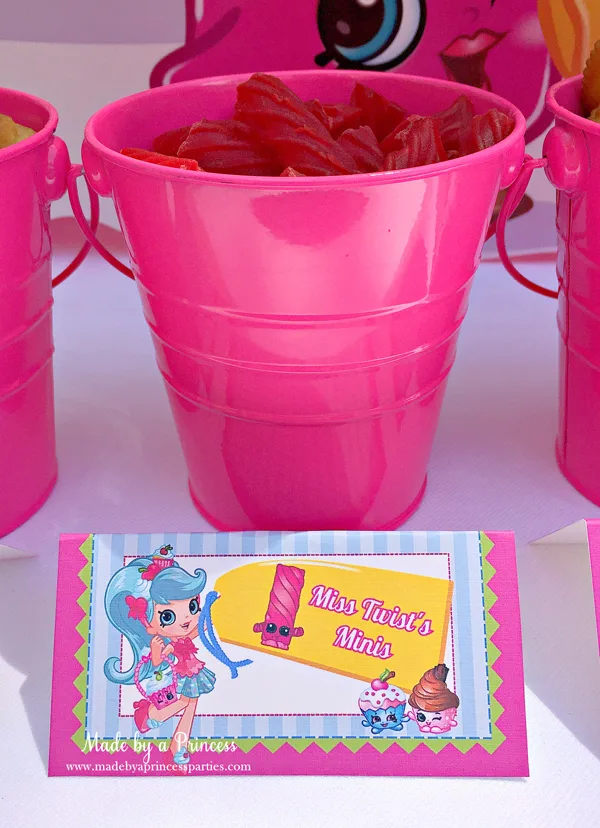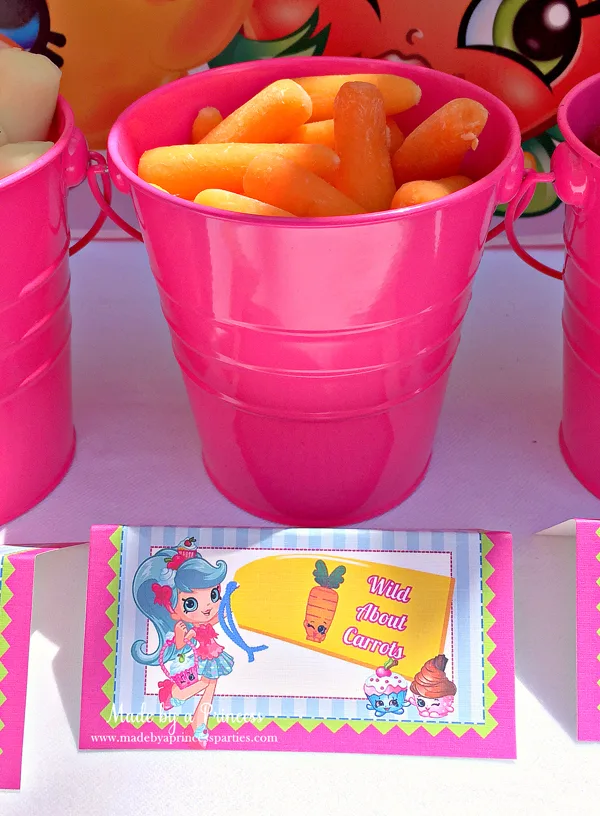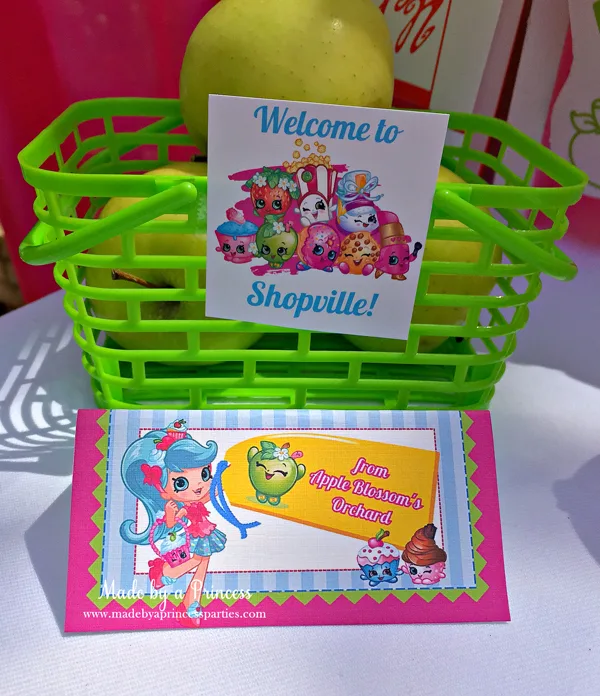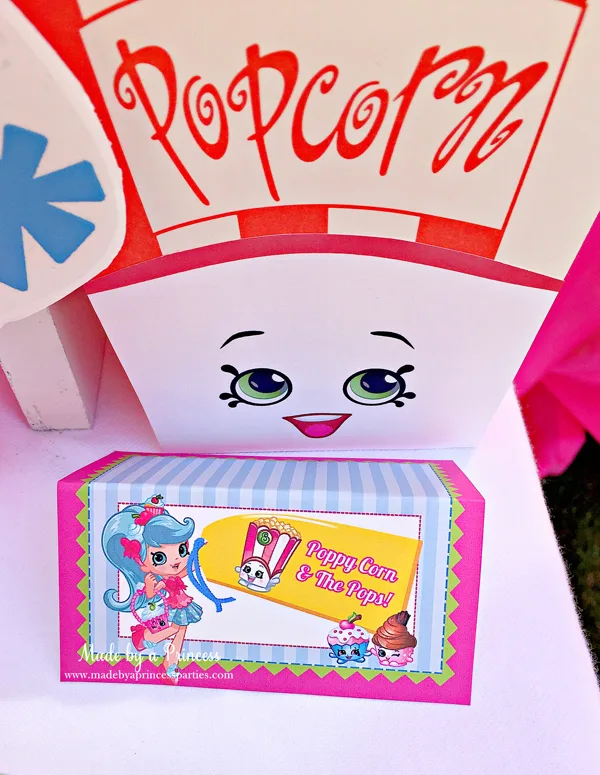 I've said many many times here before that I love themed food so I had a lot of fun putting the food together. I kept it really simple too with hot pink mini buckets from Target. I think they were $1 ea. The food tents I created especially for my daughter's party but I do have another set of Shopkins food tents you can download for free after you sign up for my newsletter.
Shopkins Party Supplies & Decorations
I did a Shopkins photo shoot for Birthday in a Box so I already had a lot of the Shopkins party supplies on hand. You can't really tell from the picture but that big image behind the food buckets is actually a wall decal that I placed on foam boards. I did the same thing for the LOL photo shoot I finished up last month as well and I really like the way it came out. All you need to do is get a clean white foam board, stick the decal on, and cut around the image with a sharp box cutter or X-acto knife. Be very careful not to cut through to your carpet or hardwood floors though! For the larger images, tape two pieces of foam board together, end to end, and then stick the wall decal on the board. When you're done, carefully pull the decal off the board and stick on the birthday girls bedroom walls.
Other than the large Shopkins decal poster and crepe paper tassel garland, I really didn't do much in the way of decorating the food table. The bright colors in the garland really made the table stand out and I didn't think it needed much else. I used hot pink curtains (hanging on a photographer's backdrop stand) behind the table to complete the look.
Shopkins Birthday Cakes
My favorite thing about this party, other than the Mini Mart and Sweet Shop stands, are the mini doll cakes. I was so nervous making these because I wanted them to be just right. My daughter and her friends loved these little Shopkins Shoppie cakes which made the hours of work I put into them worth it.
Pretty in pink Shoppie Peppamint doll cake!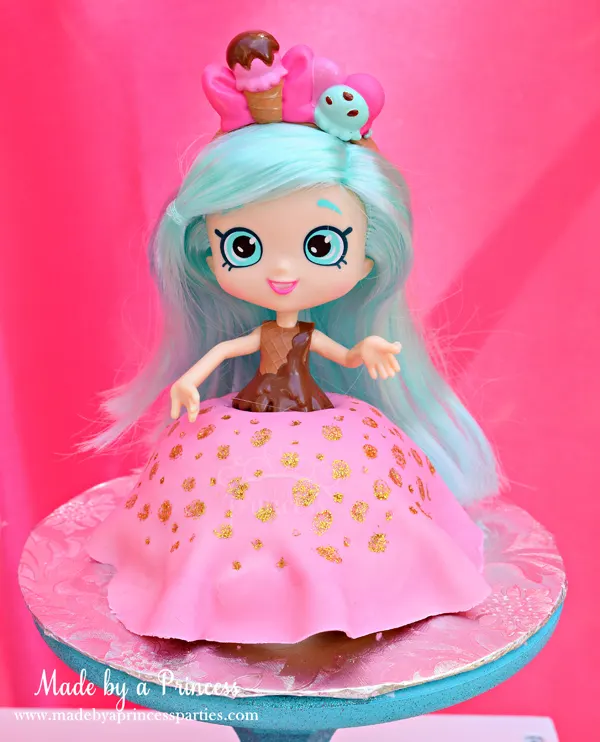 Yes please with sprinkles on top Shoppie Jessicake doll cake!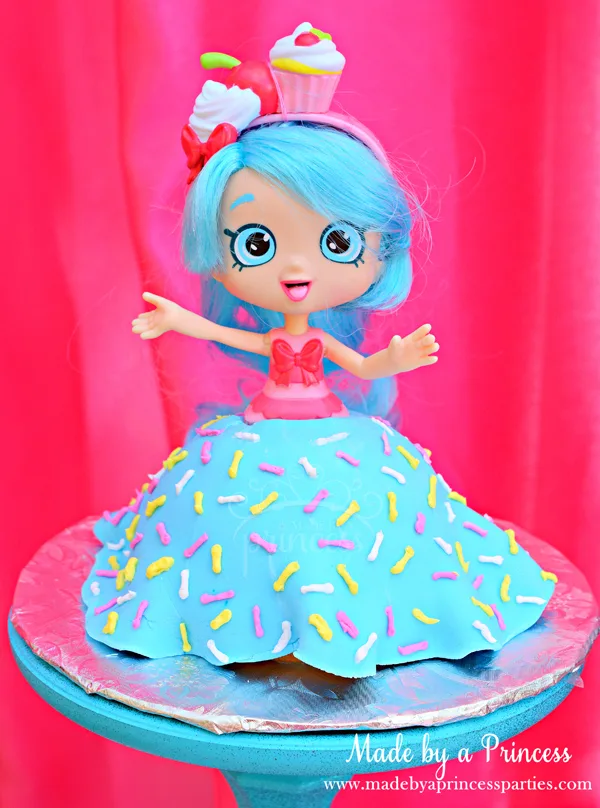 Oh so bubbly Shoppie Bubbleisha doll cake!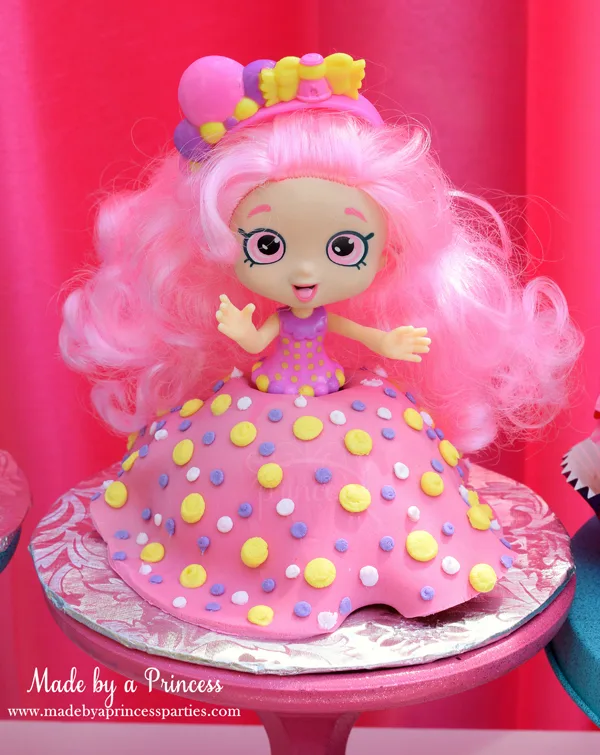 Donut you just love this Shoppie Donatina doll cake?!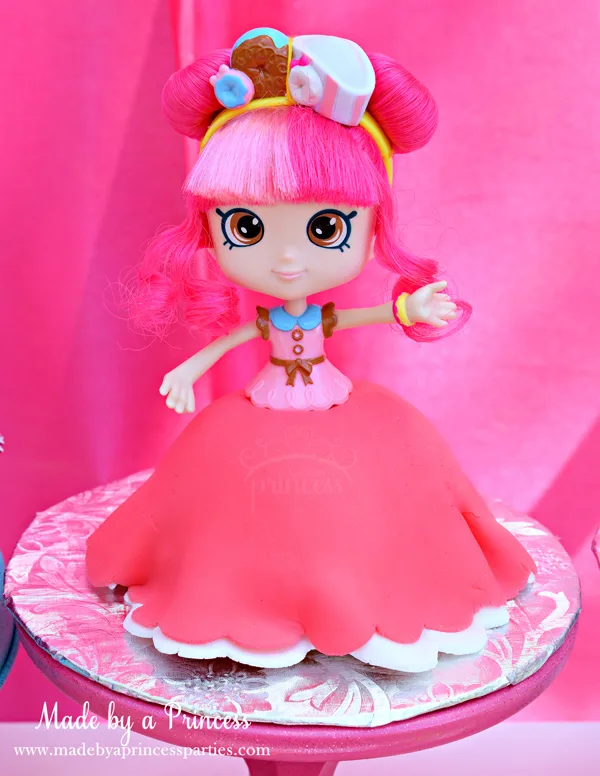 Donatina was my daughter's favorite one so I made her a Donatina costume with custom apron and donut shoes that same year.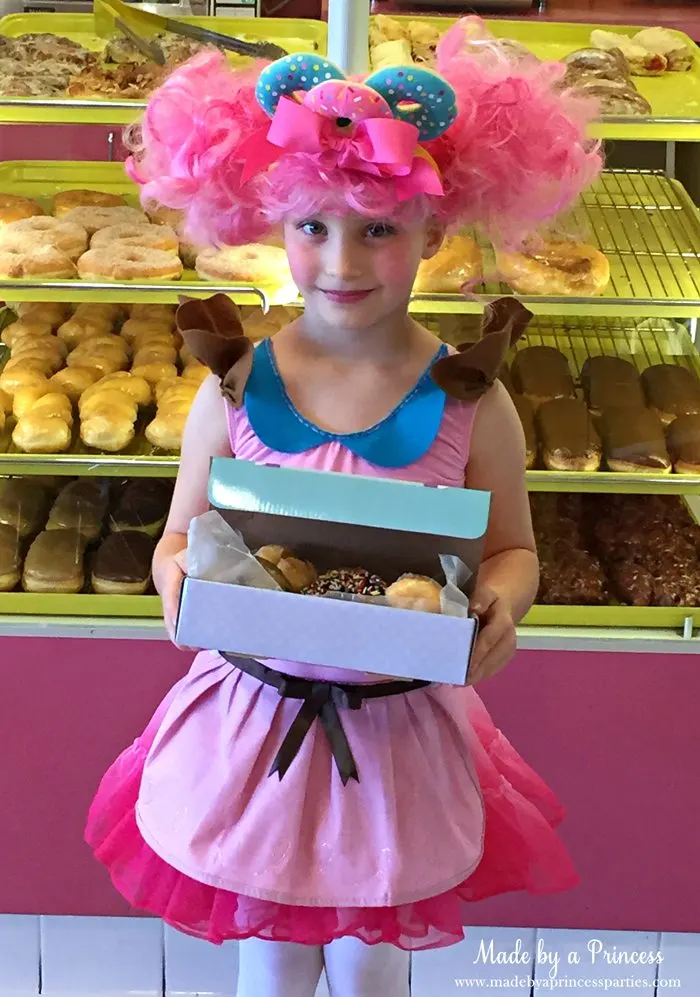 Just in case there weren't enough sweets on the table I just had to make cupcakes. If you have Shopkins around your house I'm sure you've got about a dozen of these little shopping bags too. They make perfect cupcake toppers! Just stick them right on top of the cupcake, decorated with CandyFetti from Sweets Indeed, with a little square of tissue paper and you're done. Super easy and super cute!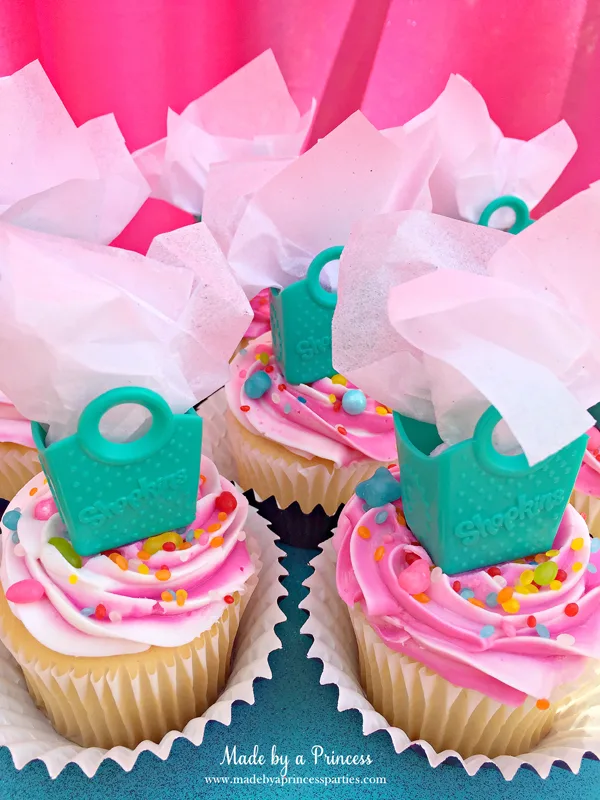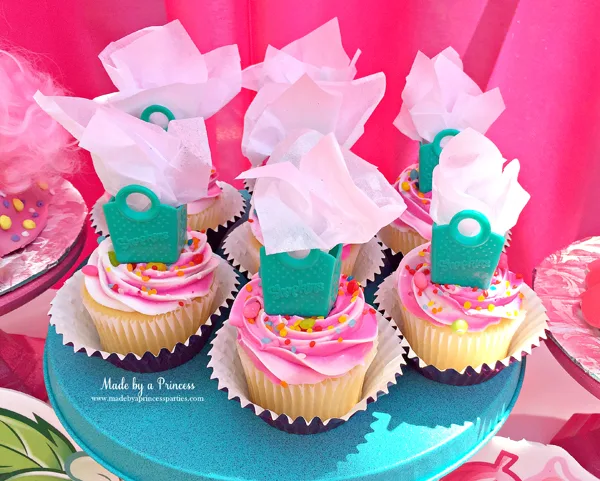 DIY Lemonade Stand Shopkins Shops
This was my favorite part…the custom Shopkins shops! I found two cardboard lemonade stands at Ikea and converted them to look like a Mini Mart and Sweet Shop. In the Mini Mart we had custom water bottles, nail polish made to look like Polly Polish, Smarty Phone lip gloss, Shopkins Play Packs, Shopkins glow sticks, Shopkins erasers, Shopkins stickers, Shopkins lip gloss, and Shopkins Pop Rocks. I found the blue Shopkins shopping baskets at Walmart (I think) and the small baskets came from the Target Dollar Spot around Easter time.
I made all of the signs with my Silhouette Cameo cutting machine.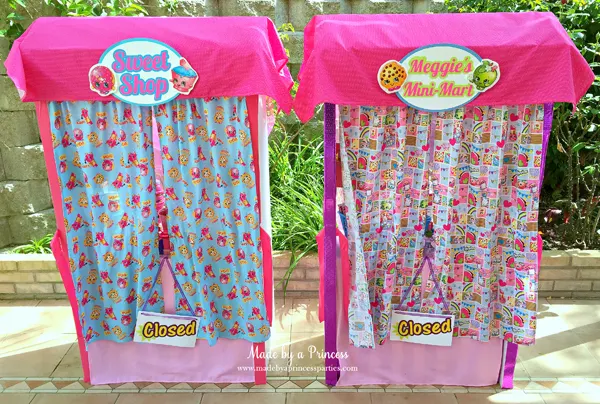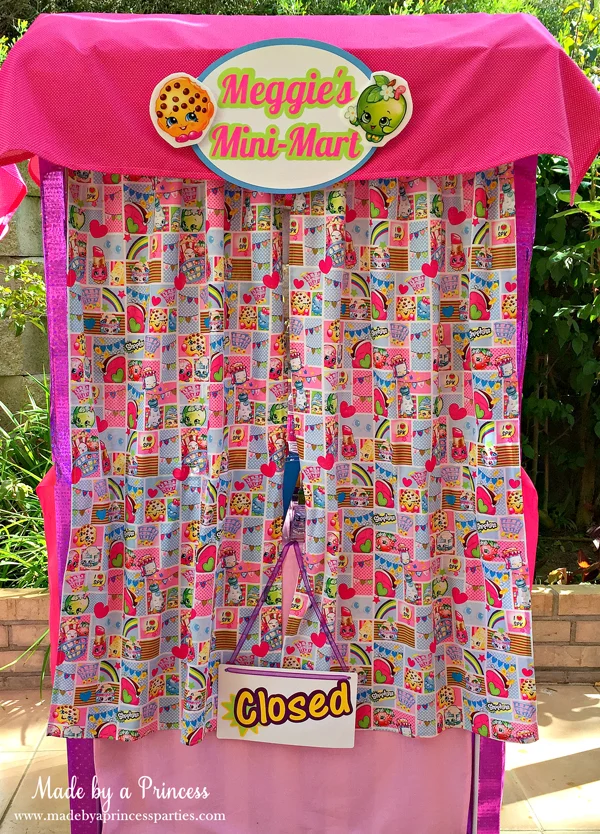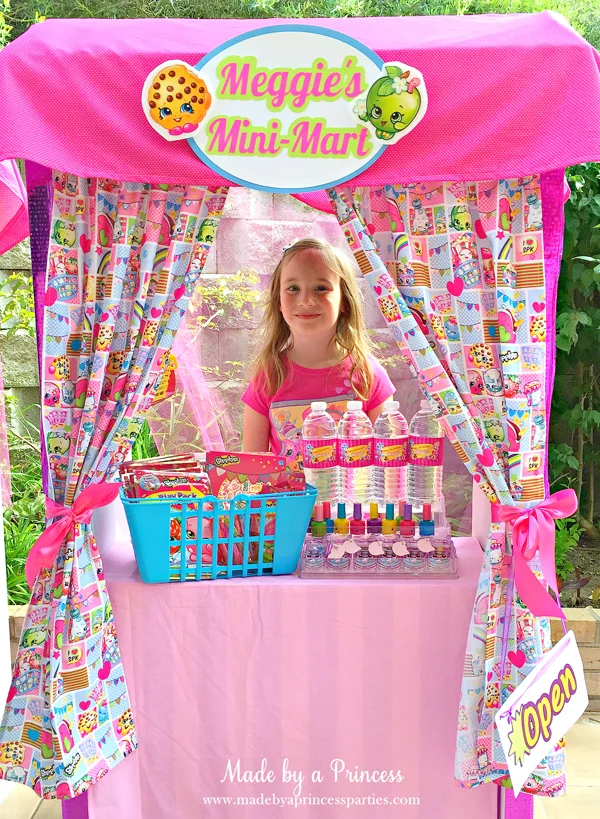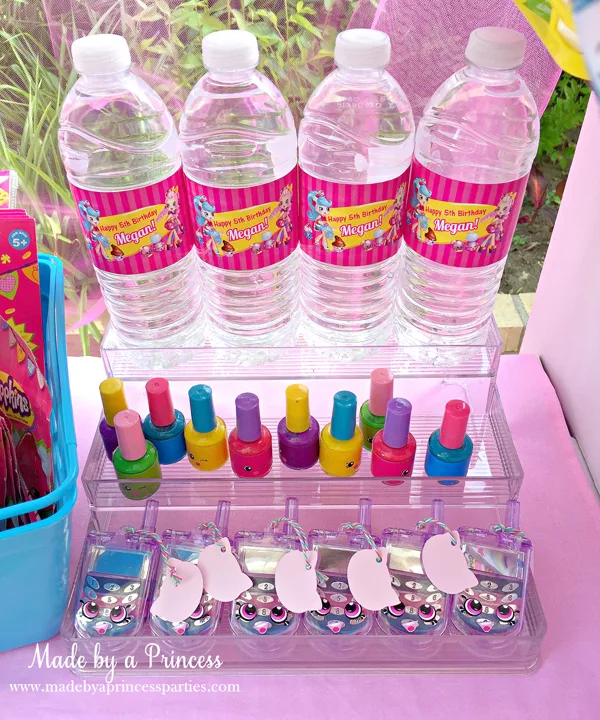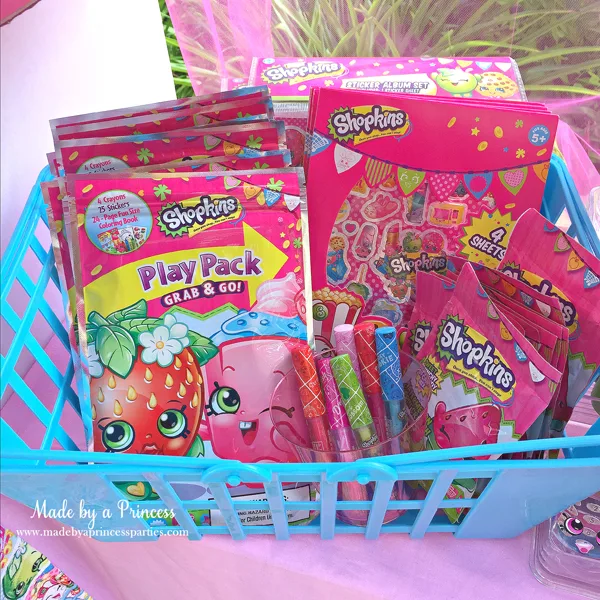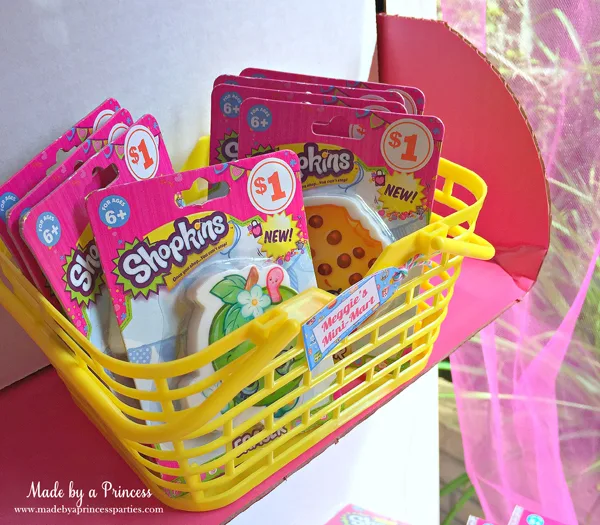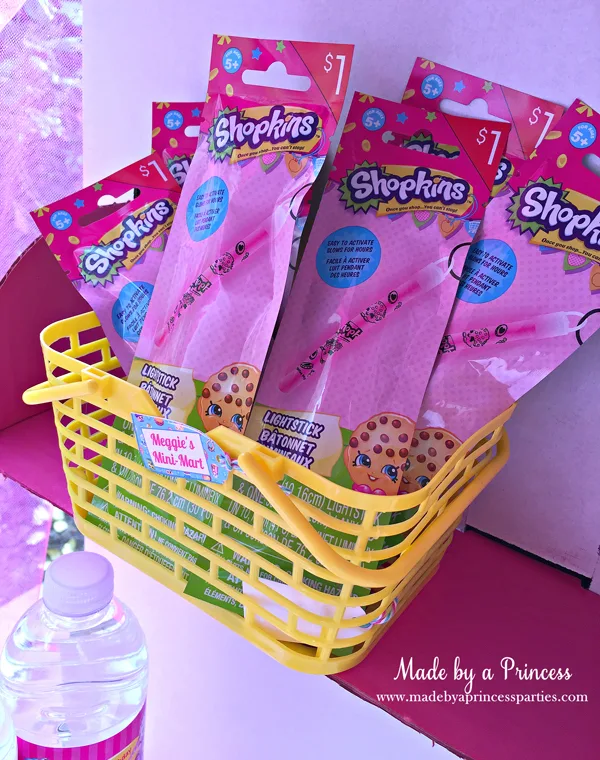 The Sweet Shop had Kylie Cone Sipper Cups, Miss Pressy party favor boxes filled with pink Sixlets, Ice Cream Dream bubbles, pink gumballs, "Asbury Raspberry" gummies, "Bottle Pop" Coca Cola gummies, and "Mandy Corn" candy corn.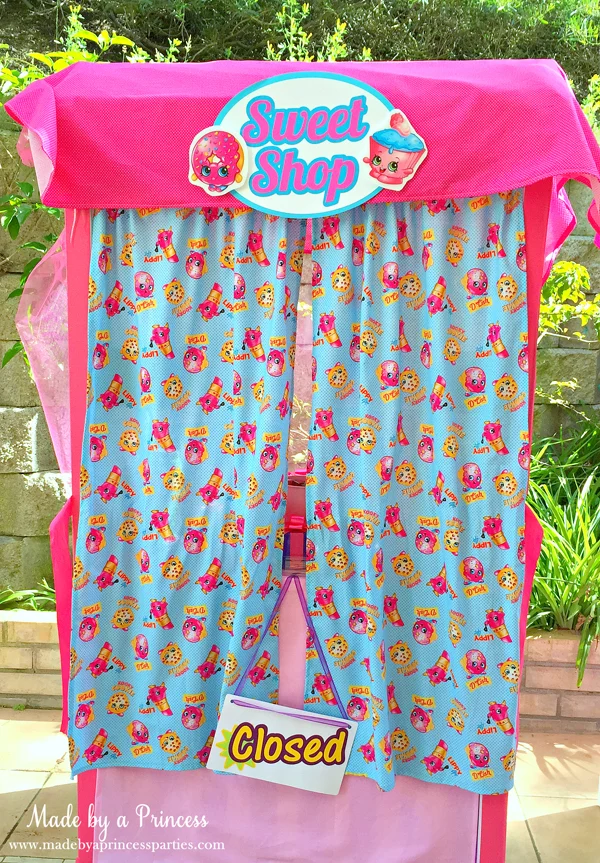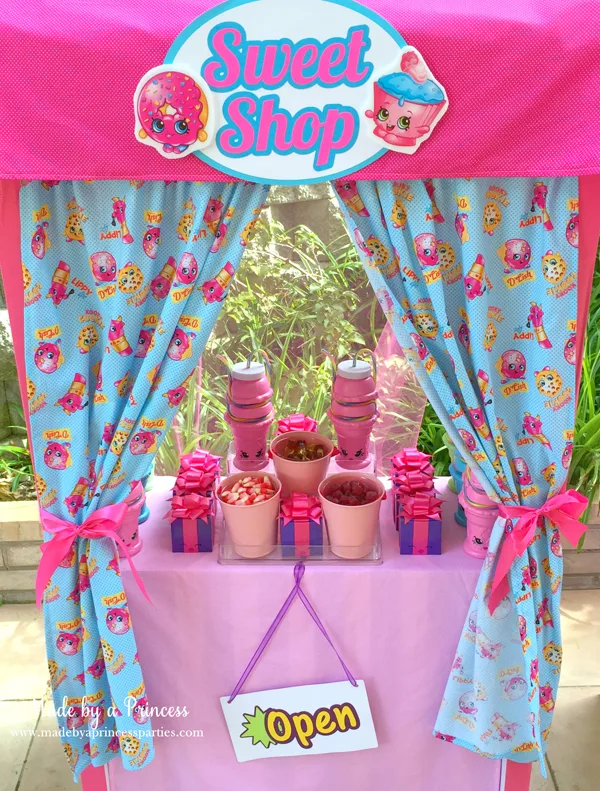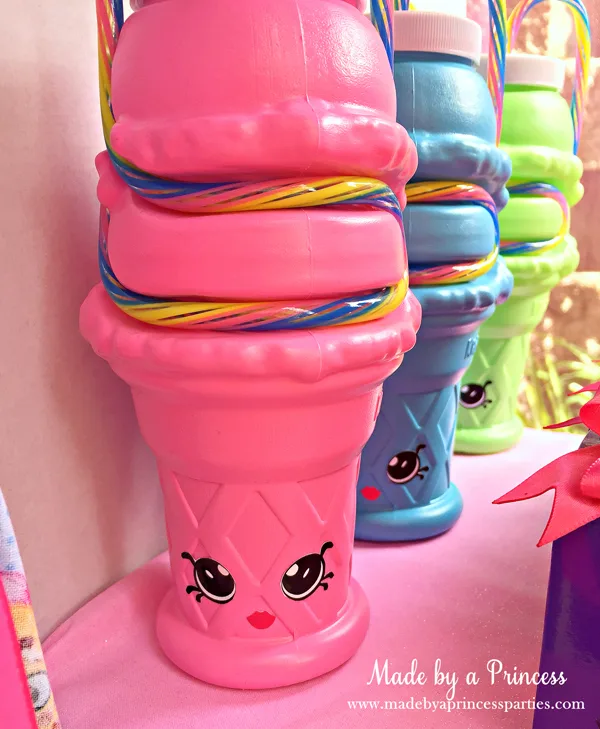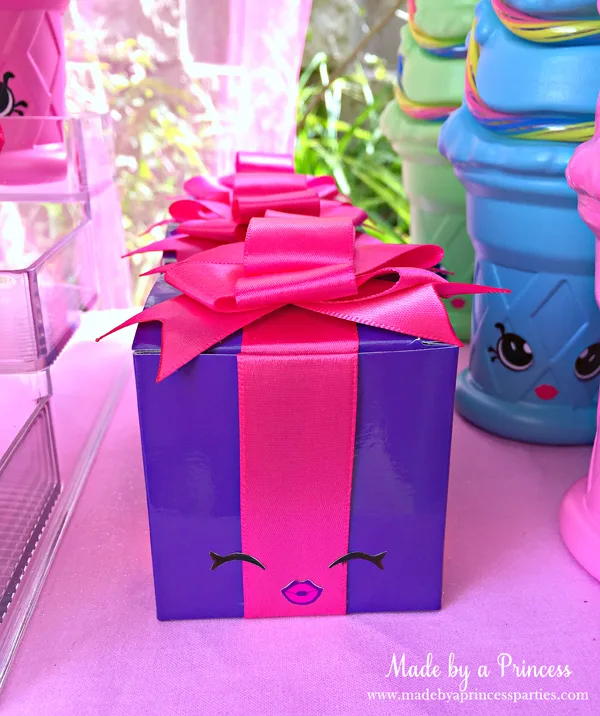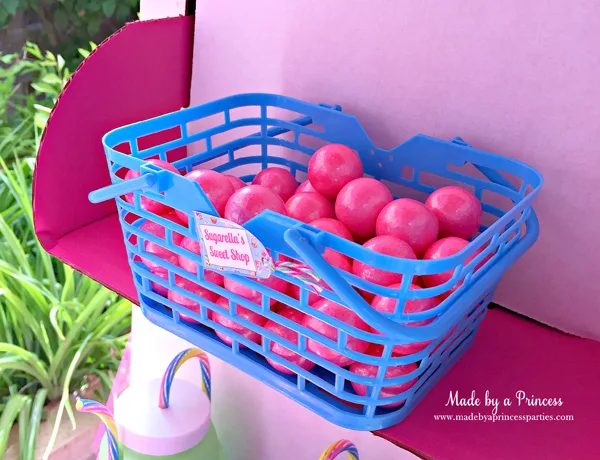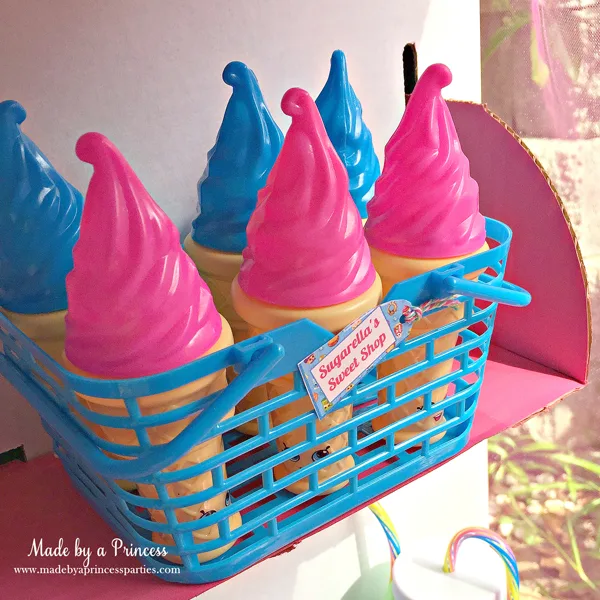 Shopkins Activities and Photo Booth
Every little shopper got a Shopkins shopping bag (of course!), a VIP shopping pass, and a letter to paint and decorate. A lot of thought went into the placement of rhinestone stickers. This activity took about 30 minutes so if you're looking for a slower paced activity this is a good one. I'm pretty sure I got the letters at Michaels.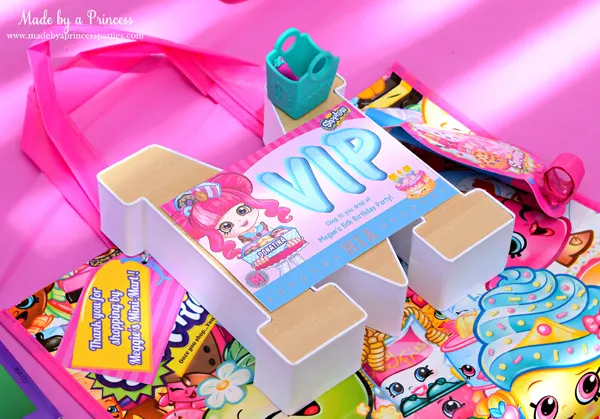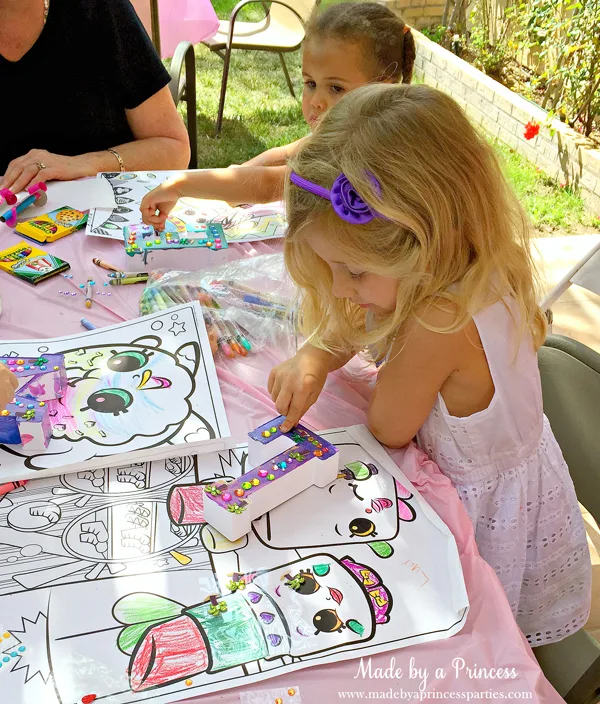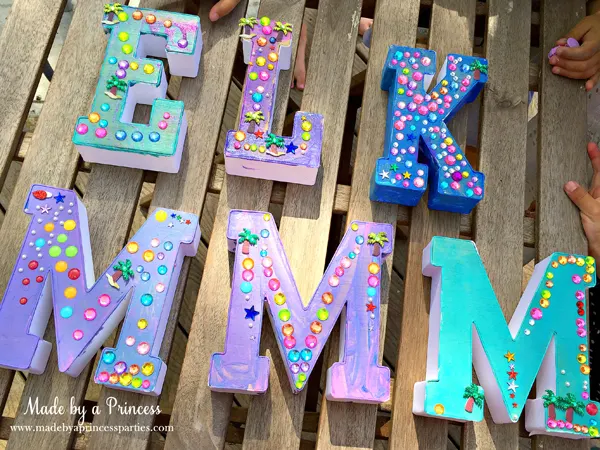 Birthday girl showing off her coloring skills.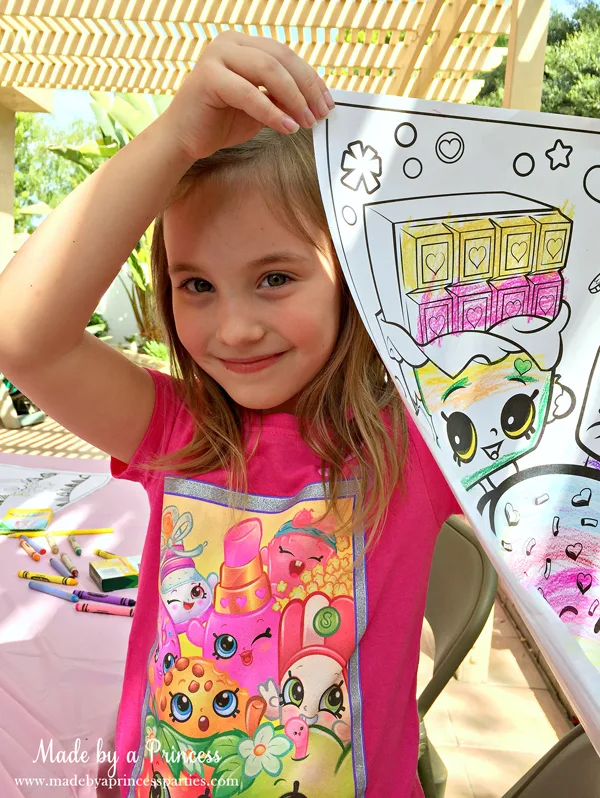 Photo opp! I gathered all the girls in the front to take pictures with cute Shopkins photo props. We let the girls take the photo props home too. The best part of the party was watching each girl "shop" at Meggie's Mini Mart & Sweet Shop…they could not believe they all the goodies they got to load up in their favor bags!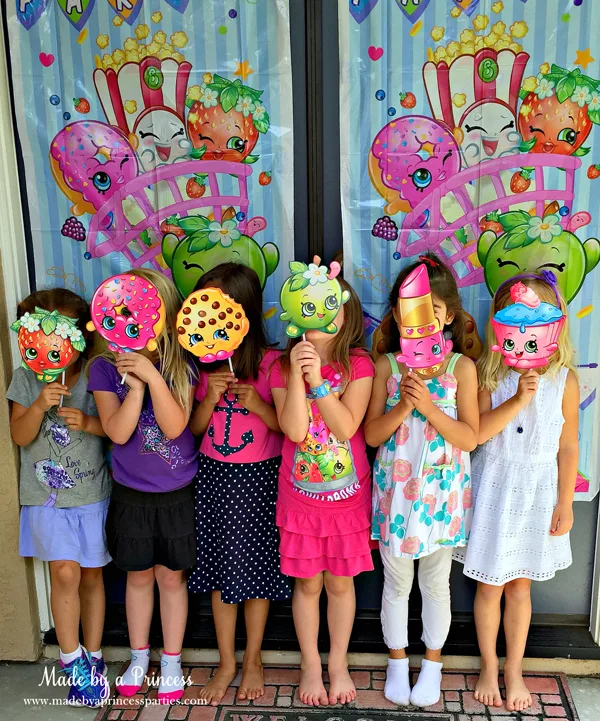 I hope you enjoyed all of these Shopkins Birthday Party Ideas! I can't believe my little girl is turning 8 this year…where does the time go?!