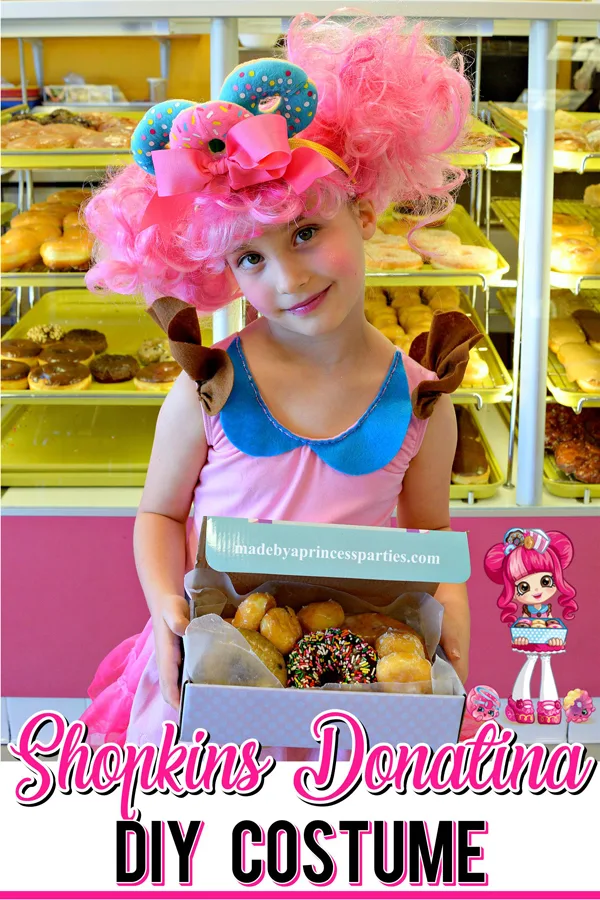 Calling all Shopkins fans! This Donatina costume post is just for you! My little girl is obsessed with Shopkins so naturally she wanted to be a Shoppie. We couldn't find any costumes around so that meant I had to get creative. I think the look on my daughter's face says it all… donut anyone?! Get into the sweet Halloween spirit with my DIY Shopkins Doll Costume tutorial.
*this post contains affiliate links
DIY Shopkins Doll Costume
My favorite thing about Halloween is dressing up. The costumes, the makeup, the glitter- I love it all! I used to go all out with costumes for myself before I had kids. For many years, I made these great elaborate costumes full of details and looked forward to Halloween night just to dress up. I don't make many costumes for me any longer but I love making them for my kids.
This year my daughter insisted on being a Shopkins doll for Halloween. I think Shoppies are adorable so I was totally into this theme! The hardest part was choosing which Shoppie to be to go trick or treating. Actually, she considered going as Strawberry Kiss, Cupcake Queen, or Lippy Lips but ultimately settled on a Shoppie Shopkins costume because she said no one else was going as a Shoppie. I love this girl.
Shopkins Shoppies
The four original Chef Club Shoppies are Donatina, Jessicake, Peppa Mint, and Bubbleisha and each came with their own VIP card. So stinkin' cute! There are now 67 Shoppies. That is crazy! I'm glad there were only a few to choose from in 2016 because there are some seriously adorable new Shoppies!
My little settled on Donatina because she loves the pink hair and the fact that she can pass out donuts at school on Halloween. She is so my daughter! There is a "hole" lot to love about this sweet character! This kids costume did take some time to put together but it was so worth it! I really really wanted to make a donut cart like the one in Donatina's Donut Delights set but I ran out of time. So sad.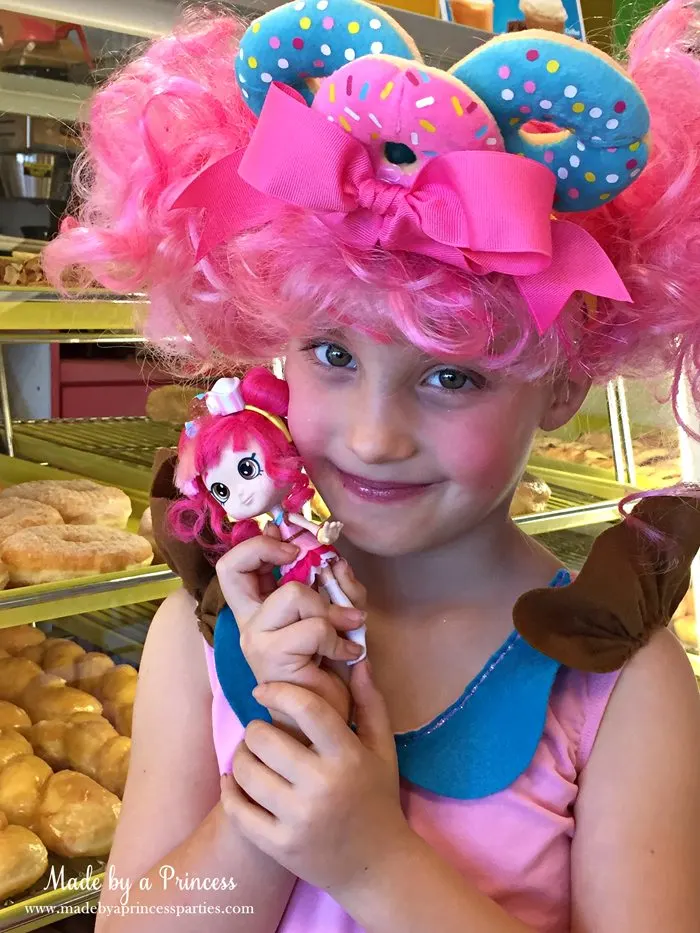 Supplies for Shopkins Doll Costume: Shoppie Donatina
Here is what you will need in order to recreate this costume:
DIY Donut Shoes for Shopkins Halloween Costume, Dress Up, or Cosplay
I started with the shoes. We chose Minnie Mouse dress up shoes because the pink looked pretty close to the color of Donatina's shoes. I created a step by step tutorial on how to make the Donatina donut heels just for you.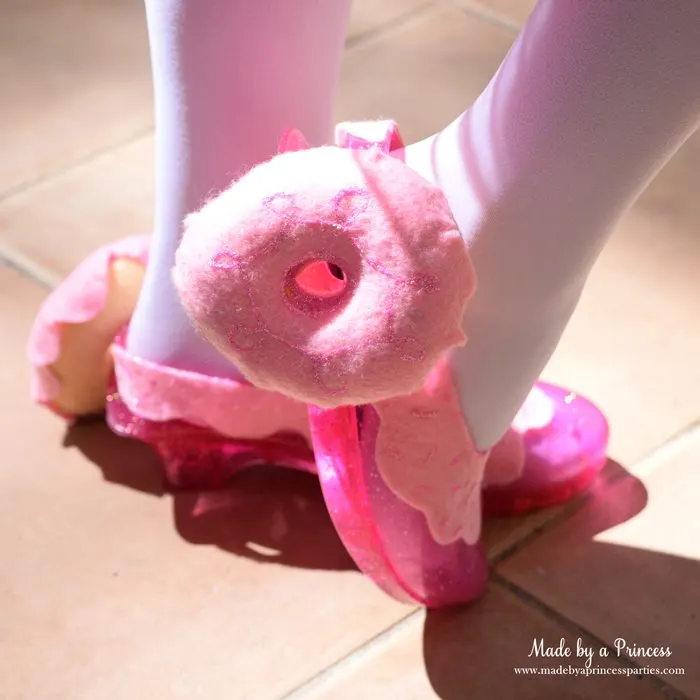 The apron took less than 30 minutes to put together. I added some pink glittery frosting on the apron with glitter glue and set it out in the sun to dry about 20 minutes. You can find the full tutorial on how to make the darling simple apron by clicking the hyperlink.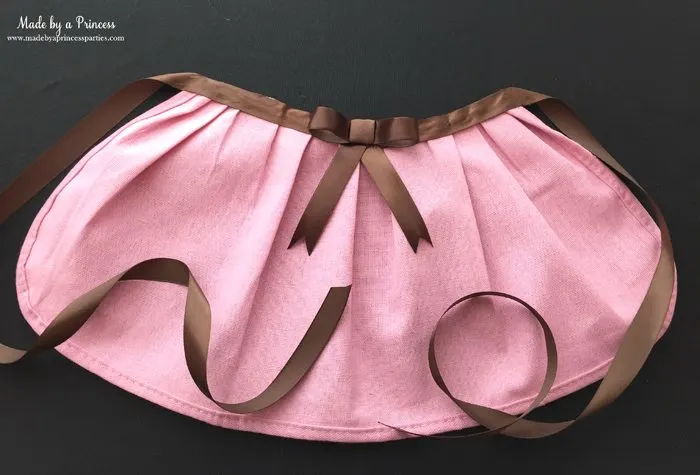 How to Make Shopkins Doll Costume: Shoppie Donatina
First, cut a brown sheet of felt in half.
You can glue the blue collar and brown frosting ruffles onto the leotard but if you intend on using it again I would suggest hand stitching and then removing the stitches when Halloween is over.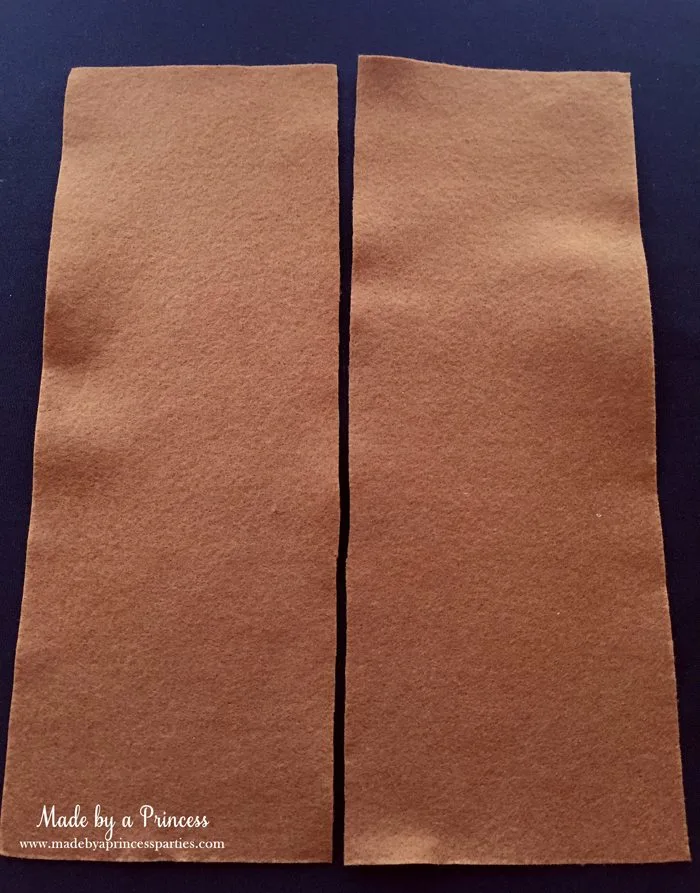 Create Ruffle Sleeves Out of Felt
Freestyle cut the ruffles on the sleeves. They should look a little wavy.
Next, to create the gathered look take your needle and thread and loosely stitch along the straight edge. When you get to the end pull the thread to create a pleated look. Tie a knot to secure. I pressed the pleats down to make it easier to stitch to the leotard but you don't have to. I did find it made it easier to sew.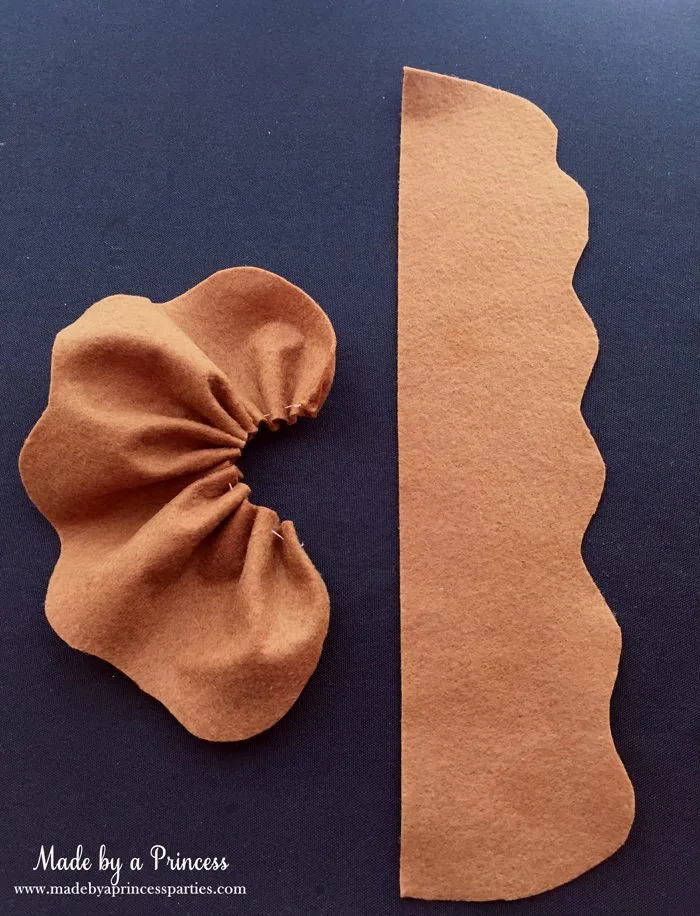 Here is what your ruffles should look like when completed.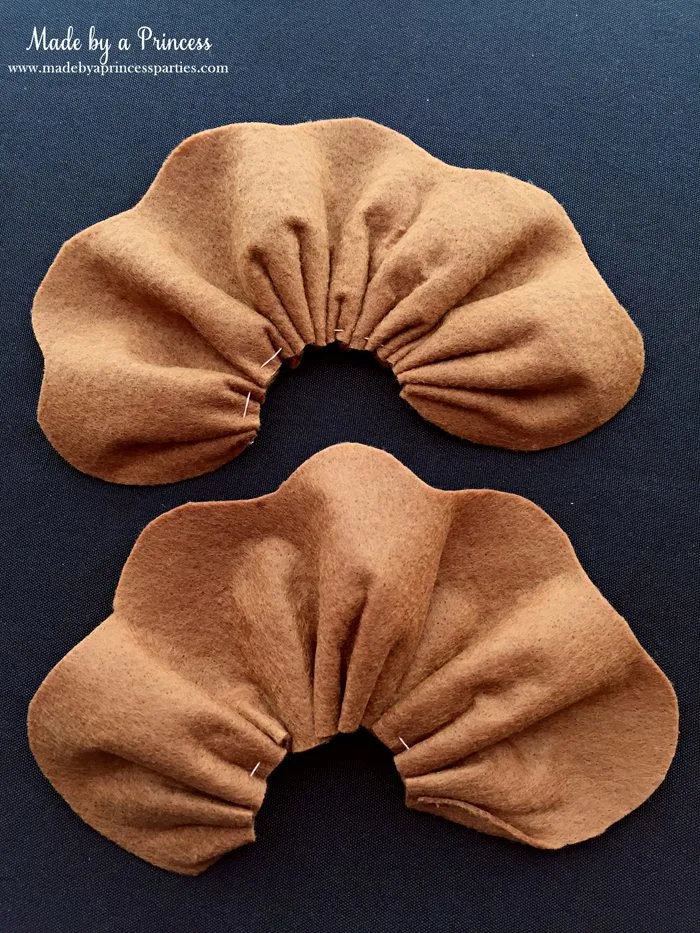 Create the Collar Out of Felt
Now create the collar. Place a piece of blue felt under the neckline as shown below.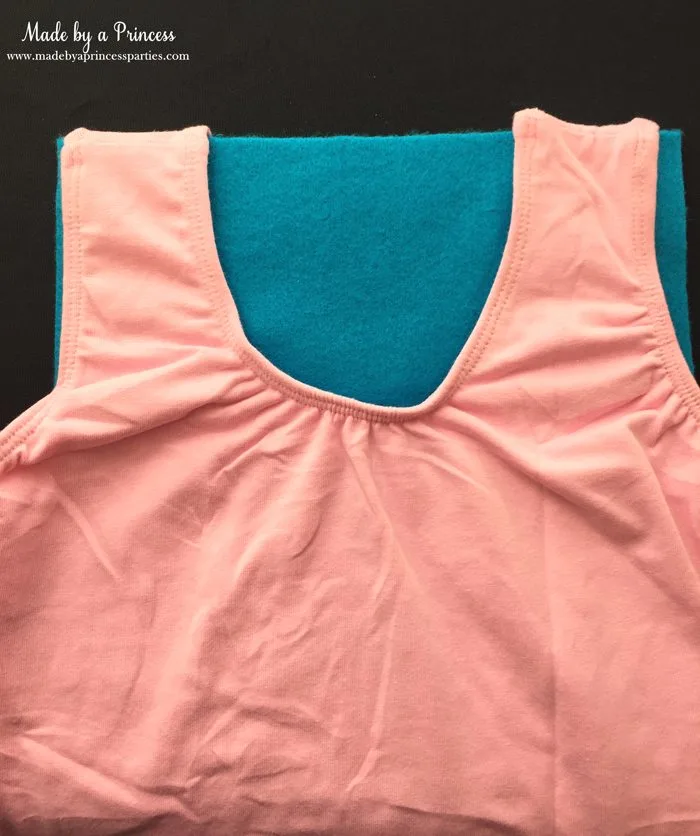 Next, trace the neckline on the blue piece of felt and cut.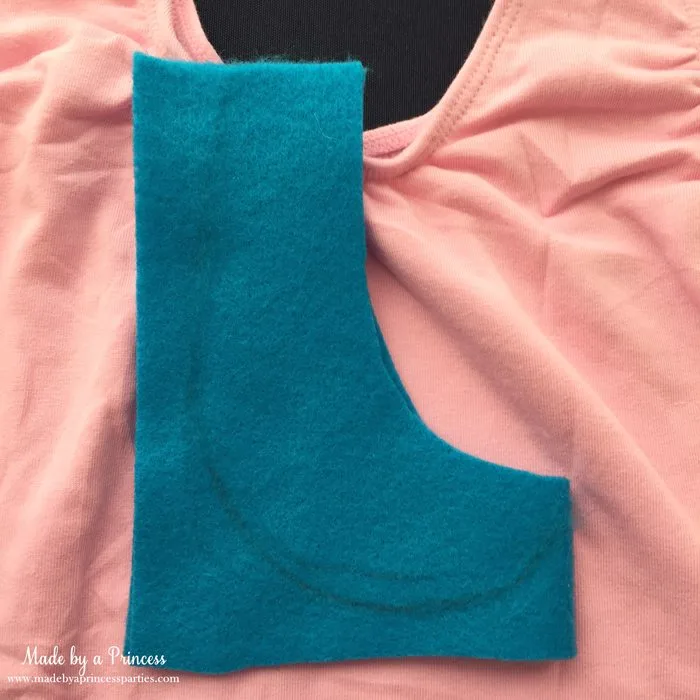 Stitch the collar piece onto the leotard or if you don't intend on using again other than for the costume you can glue it. Do not use Elmer's glue. I would suggest fabric glue or even hot glue.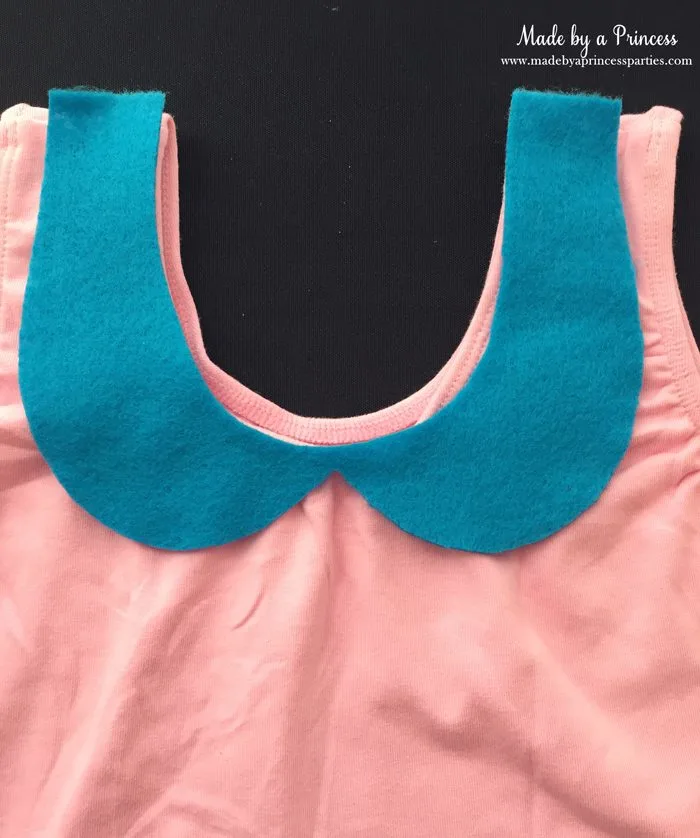 After stitching trim the top to create a nice point at the top.
Now stitch the ruffles around the arms.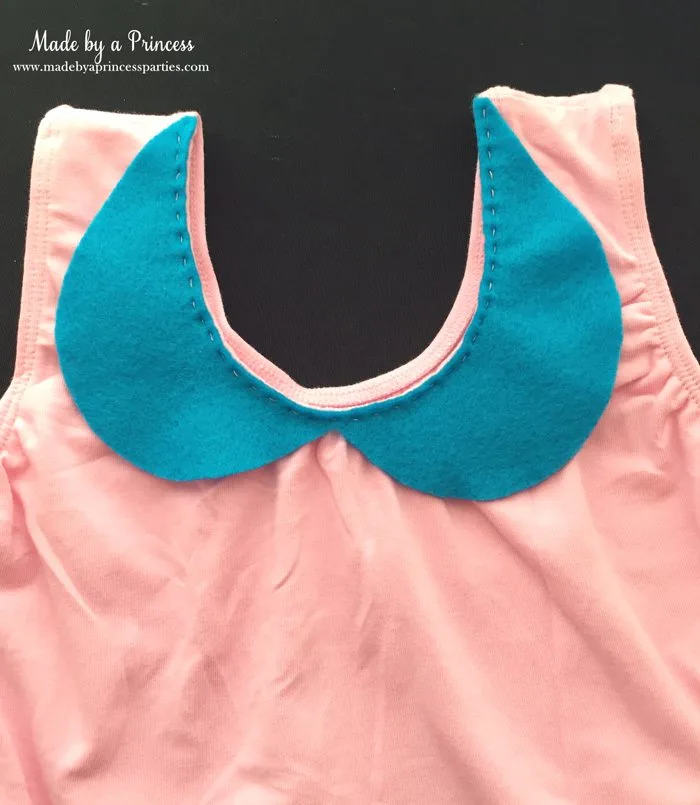 Pink Wig for Donatina's Hair
For Donatina's hair I used the My Little Pony Pinkie Pie wig and pulled it up in two pony tails to look more like Donatina's hair.
For the headband hot glue three plush donuts together, then secure to a yellow headband with more hot glue. Finish off with a big pink bow.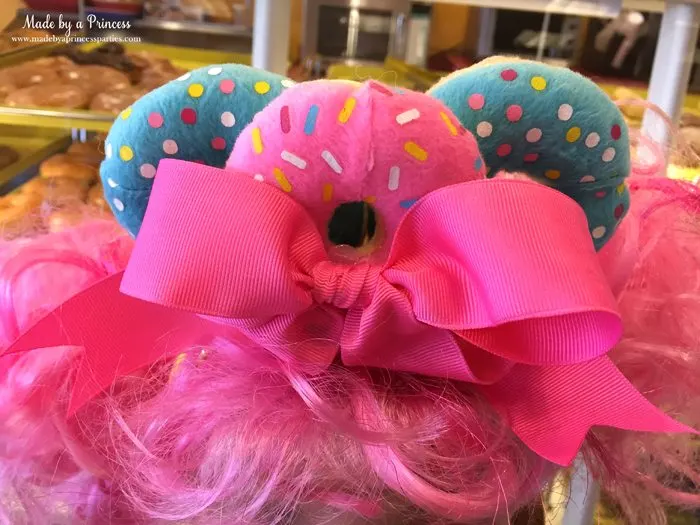 Here is the completed look…wig, headband, collar, and ruffles.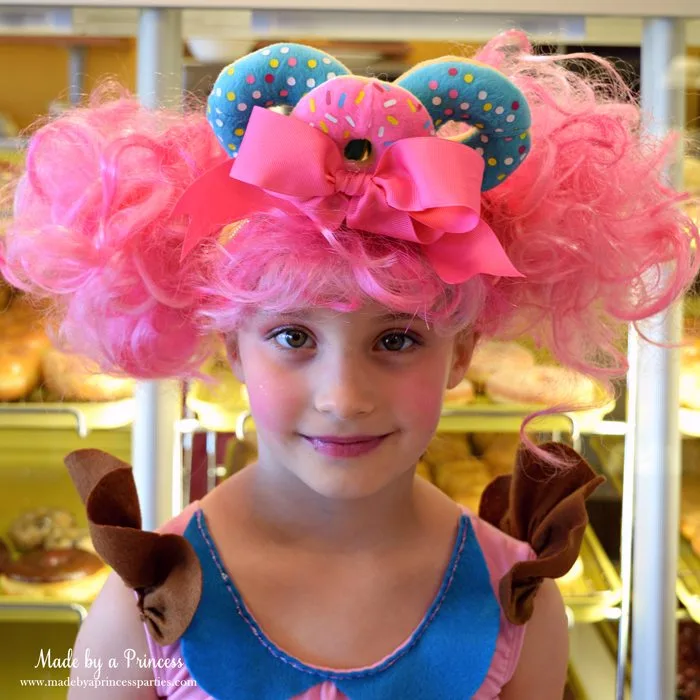 Donatina is ready to show you around her donut shop!
Actually, we visited a local donut shop called Pam's Donuts and one of the owners was kind enough to make this big cinnamon roll to match Donatina.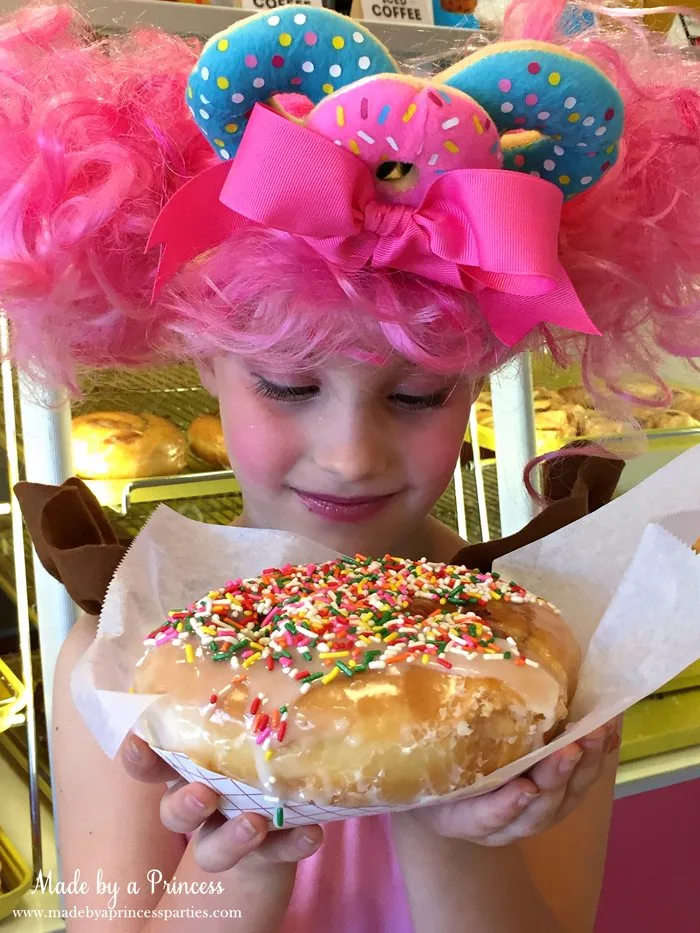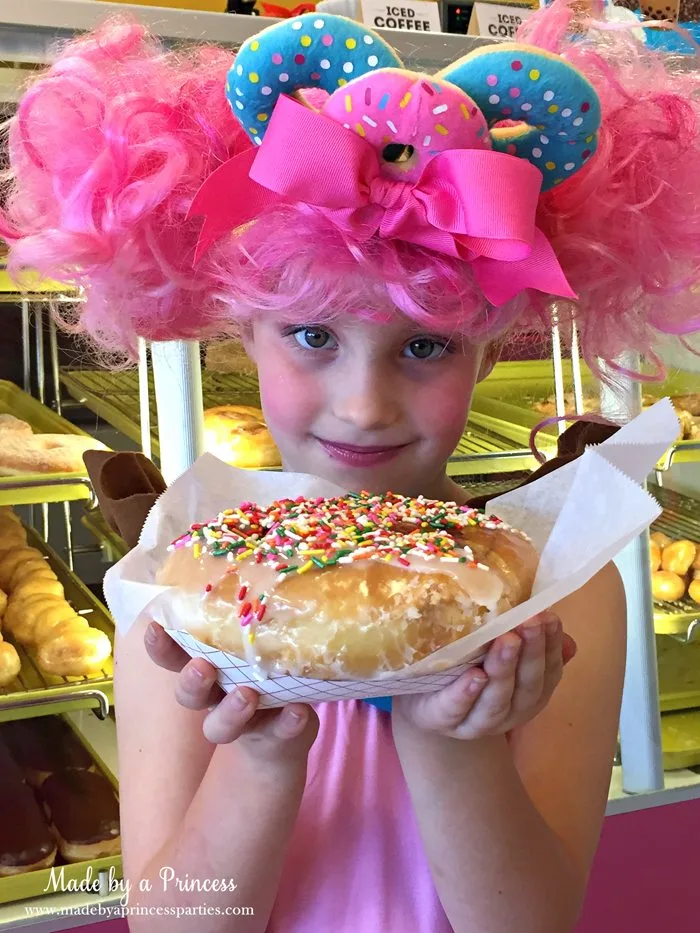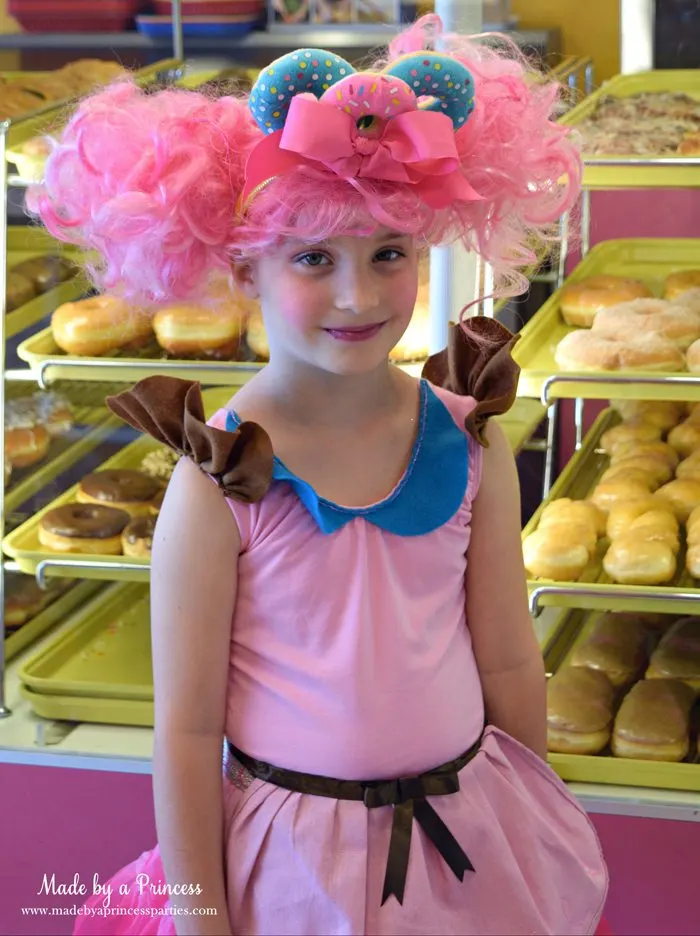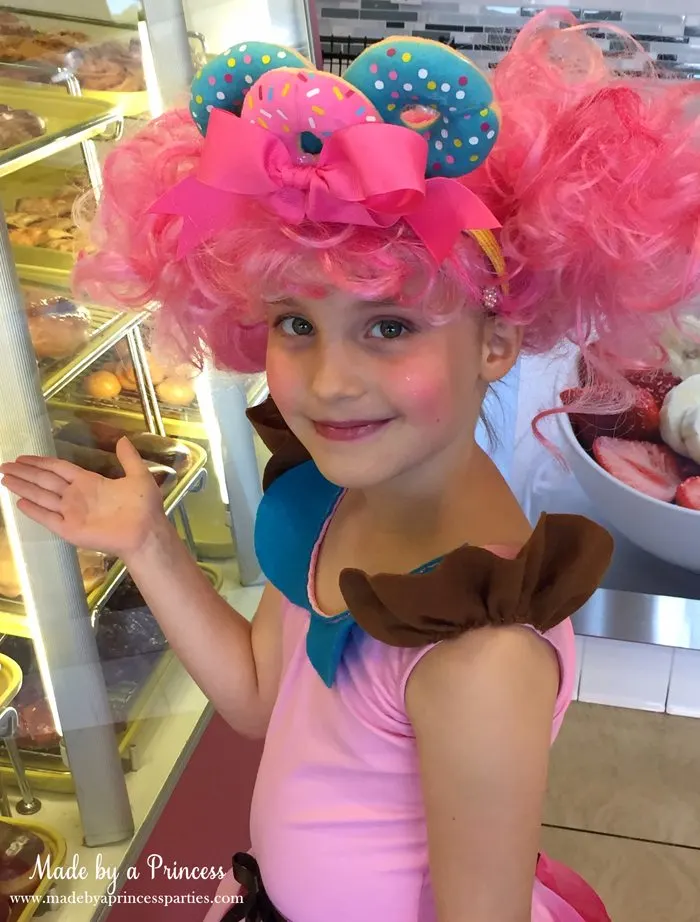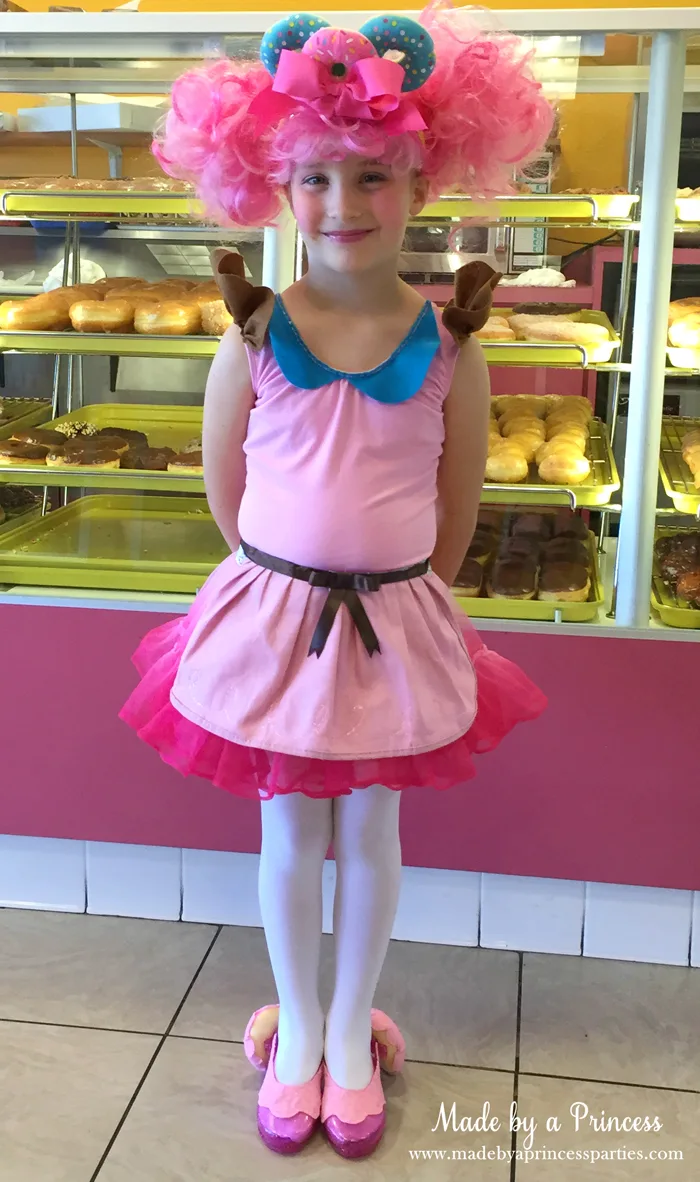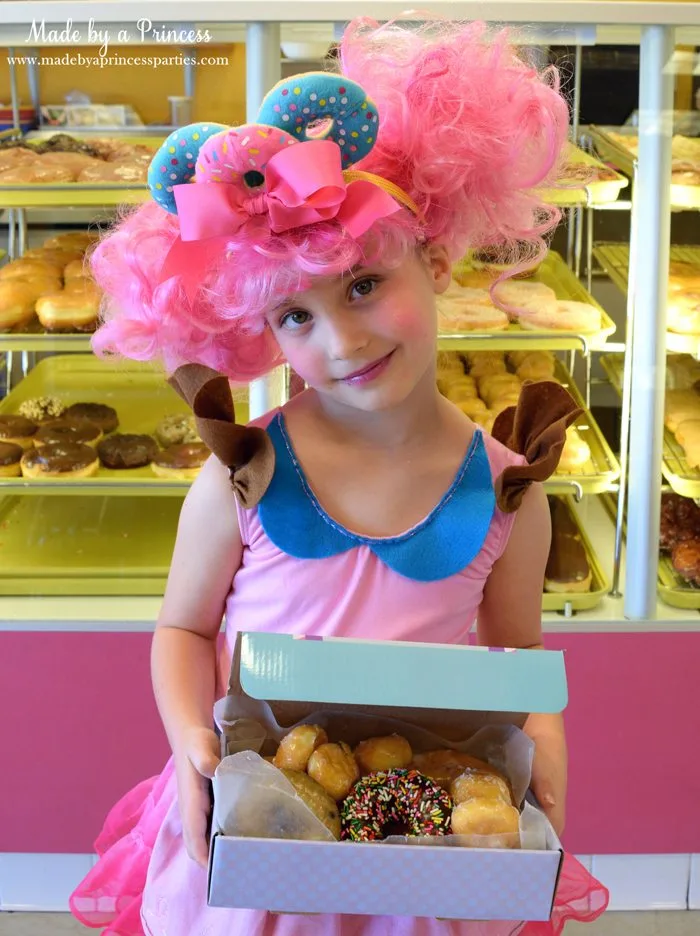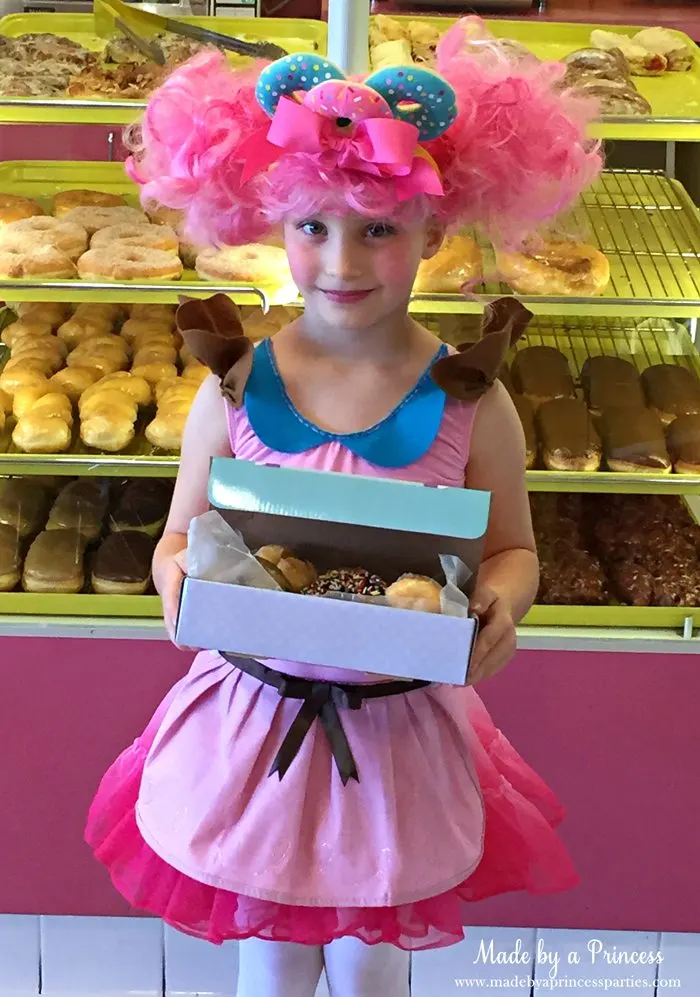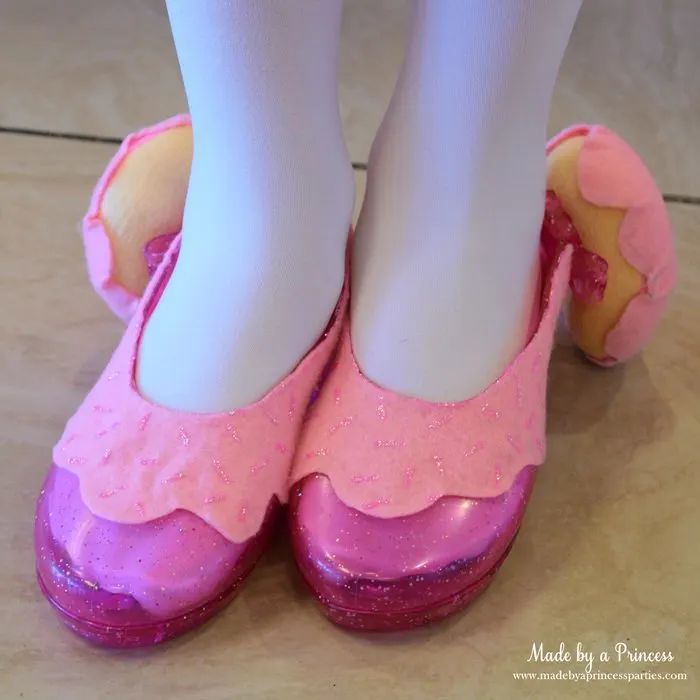 I hope you enjoyed my DIY Shopkins Doll Costume tutorial! Special thank you to Pam's Donuts in Vista for letting me use the shop to take these pictures!
This post was sponsored by Oriental Trading. All opinions are my own.
More Costume Ideas for Girls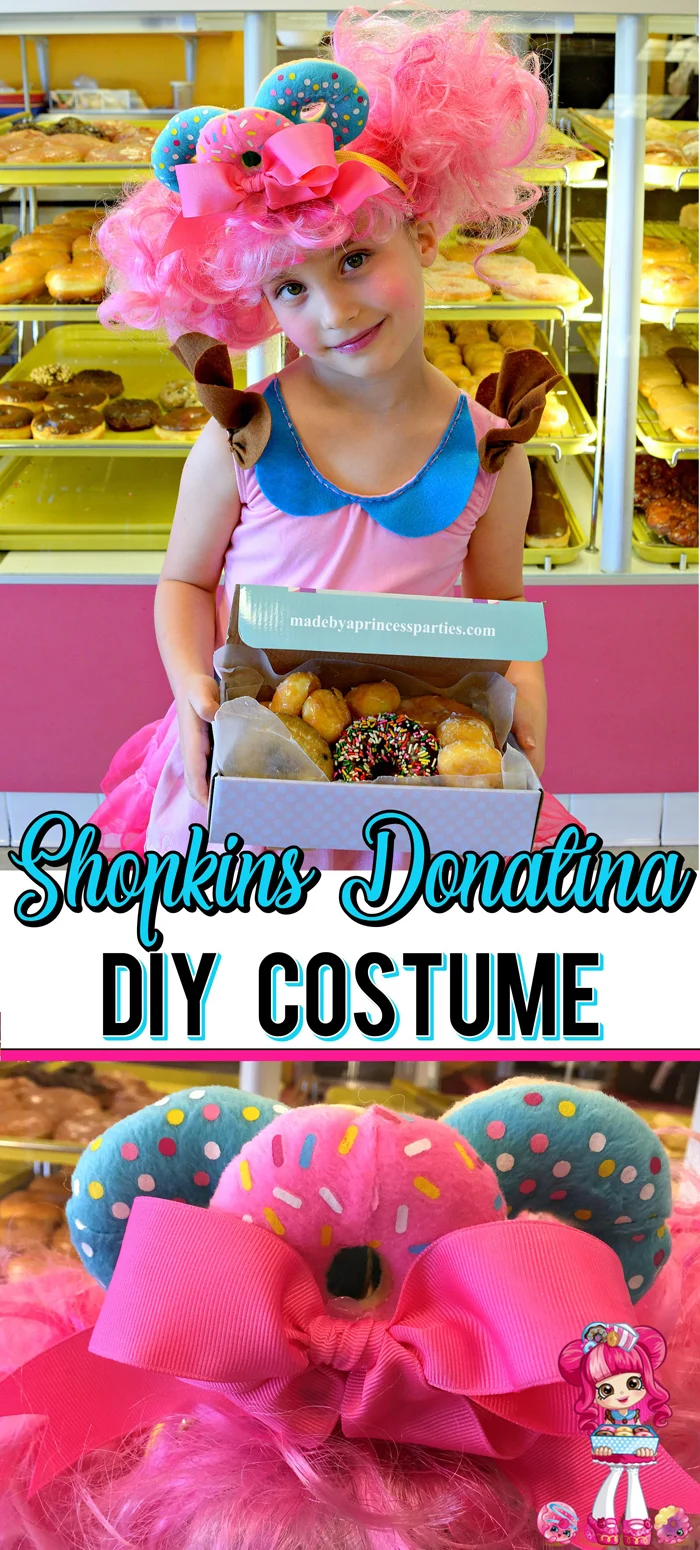 Originally published October 2016
Updated October 2019