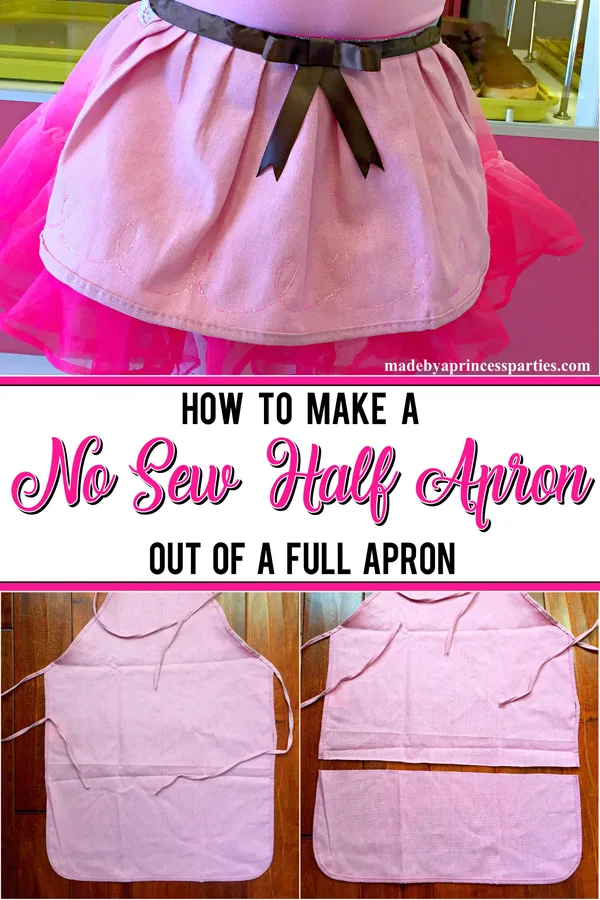 Need a half apron but can't find one? Did you know you can make your own out of a full apron? You can create a darling simple apron for your Halloween costume in just a few easy steps with this DIY Half Apron No Sew tutorial!
*this post contains affiliate links
DIY Half Apron No Sew
This year my daughter insisted on being the Shopkins Shoppie Donatina for Halloween. I have always loved creating Halloween costumes so I didn't let the fact that you can't find any Shoppie costumes out there get in my way.
One of the things Donatina wears is a cute little pink apron. I didn't really want to sew an apron from scratch so I was determined to find a quick and easy solution to my little dilemma. As soon as I saw the pink apron on the Oriental Trading Co website I knew it was going to work out perfectly! A cut here, thread there, iron, and glue…presto! A darling simple apron for her Halloween costume created in no time!
Supplies for a DIY Half Apron No Sew
Here is all you need in order to create this DIY half apron for your Halloween costume (no sewing machine required!):
This project took me about 30 minutes from beginning to end so you can easily create this for your trick or treater. I think this would be adorable for a cupcake or donut themed party as well. You could make them in all different colors and give them to your little guests as party favors.
How to Make a No Sew Half Apron
Lay your apron down on your table or on the floor and determine where you need to cut. Based on the length of the tutu my daughter is wearing under the apron I figured out 7.5″ was going to be the right width.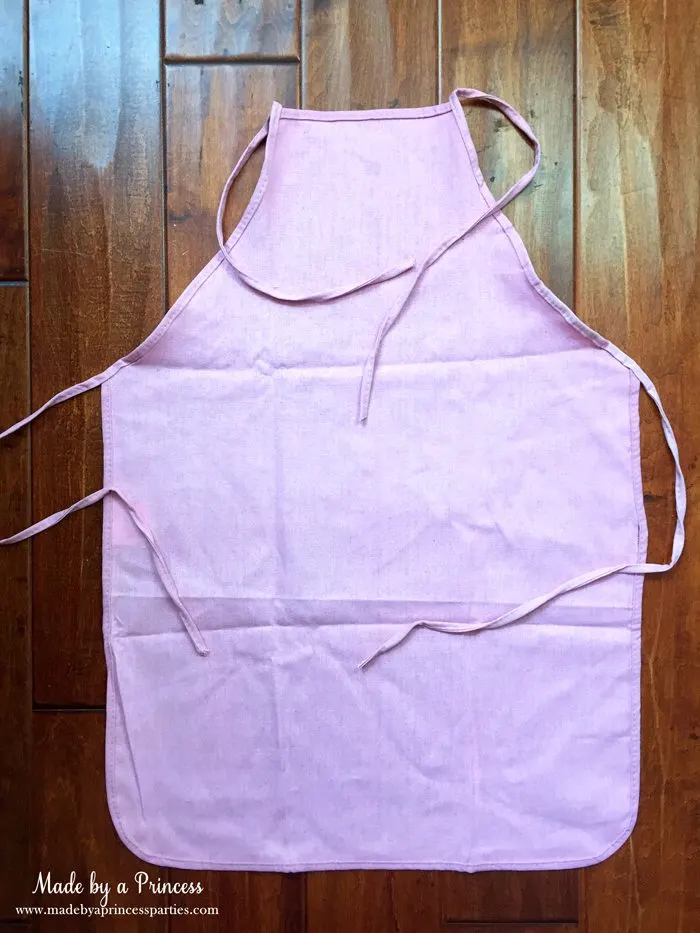 Cut straight across.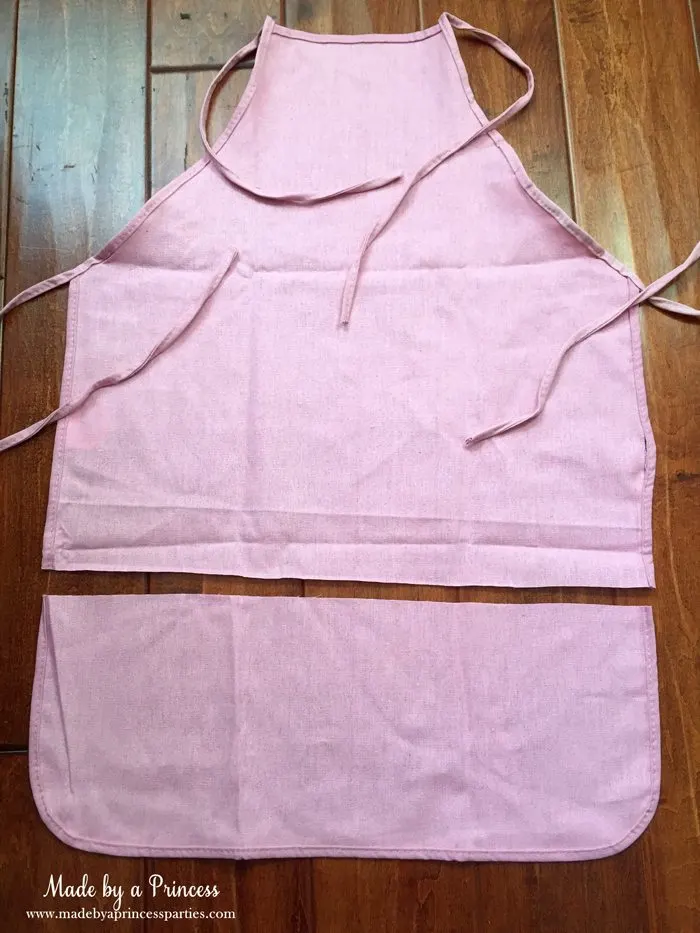 *This step is optional: Take your needle and thread and hand stitch a very loose line. You are going to gather this so you want to make sure your thread is not tight. Long thread lines are perfect. If you do not plan on basting skip to the ironing part.
You do not have to baste the top of the apron. If you prefer you can fold and iron and not bother with a needle and thread.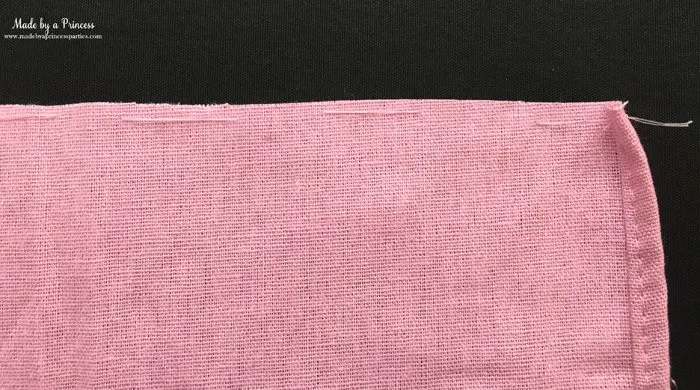 Pull the thread once you get to the end and loosely gather. Tie a knot so it stays in place.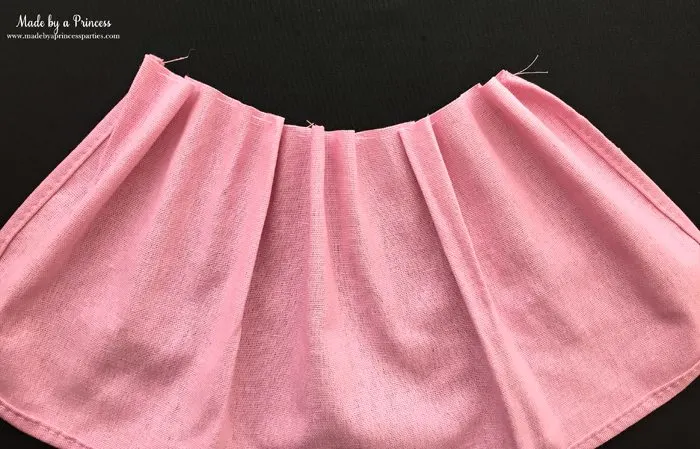 Next, set your iron on medium (or setting 4) and press down until you have some nice pleats.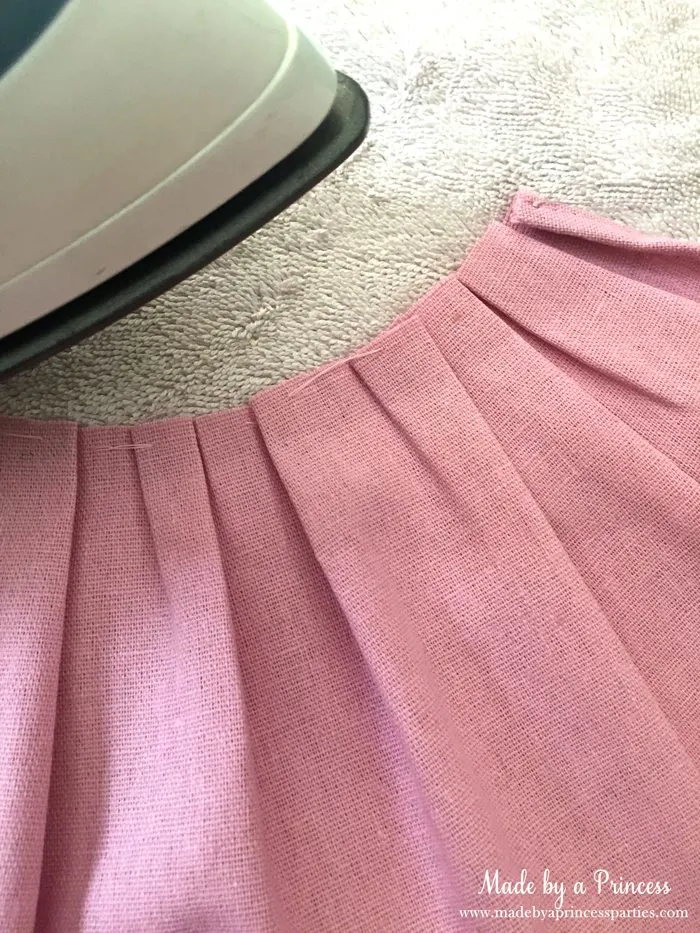 Now, take your long piece of ribbon, enough to go around the waist and tie in a bow, and hot glue to the outside of the skirt. I cut this ribbon to 55″.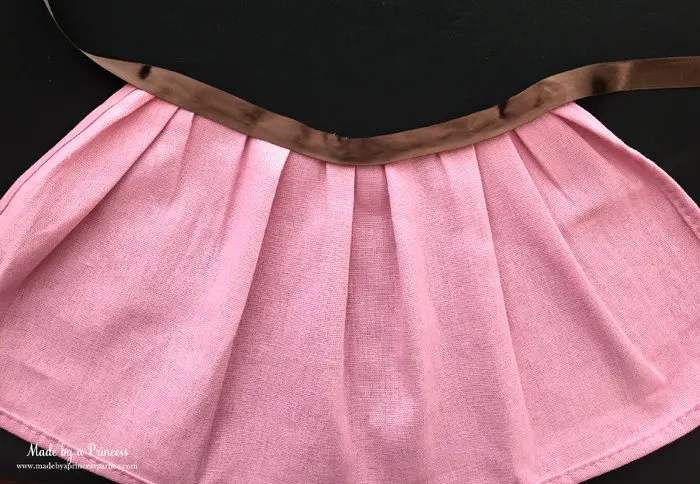 This is what it looks like on the other side.
This step is optional: I don't like seeing unfinished edges like this so I cut a smaller piece of brown ribbon to hide this part.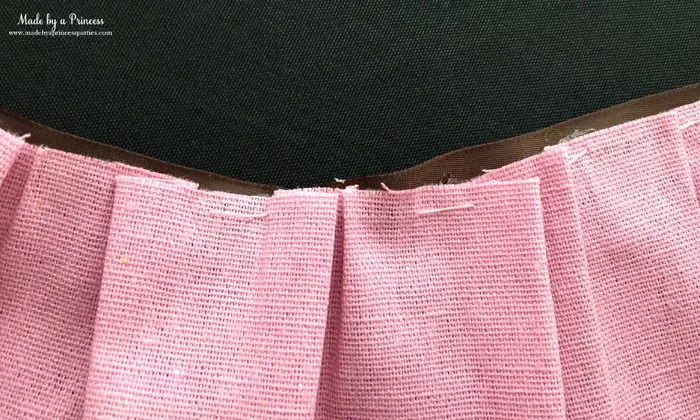 Next, cut a small piece of ribbon to glue on the inside over the unfinished top edge. I would suggest heat sealing the edges of the ribbon as well.
What is heat sealing?
Heat sealing is something I do to all of my ribbon edges to they don't fray. Take a lighter and very lightly brush the flame over the end you want to seal. It will look a little like wax on the edges. This is what you want…a nicely sealed ribbon!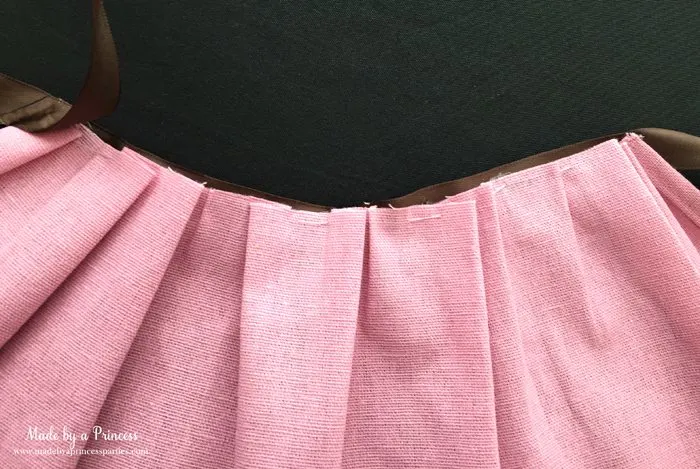 Now the inside of the apron is all done.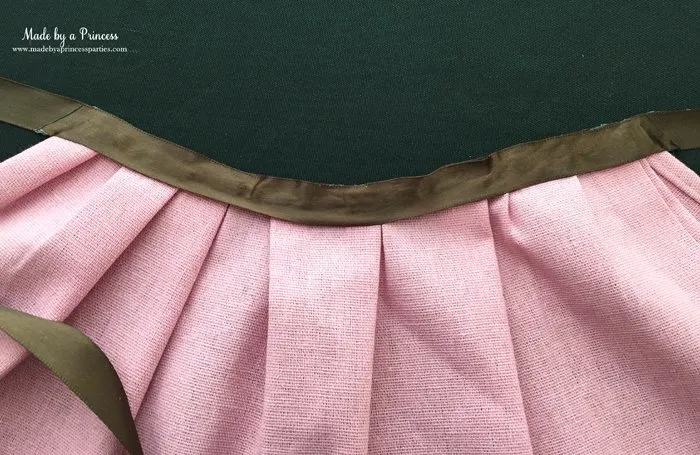 Finally, make a ribbon and glue right in the middle…you're all done!
You can now create adorable simple aprons for Halloween, tea parties, or birthday parties in no time flat using a full apron or even an extra piece of fabric!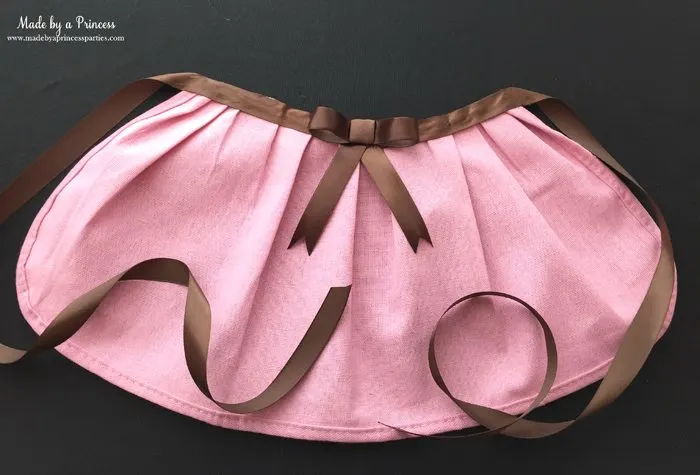 Learn how to make matching Donut Shoes!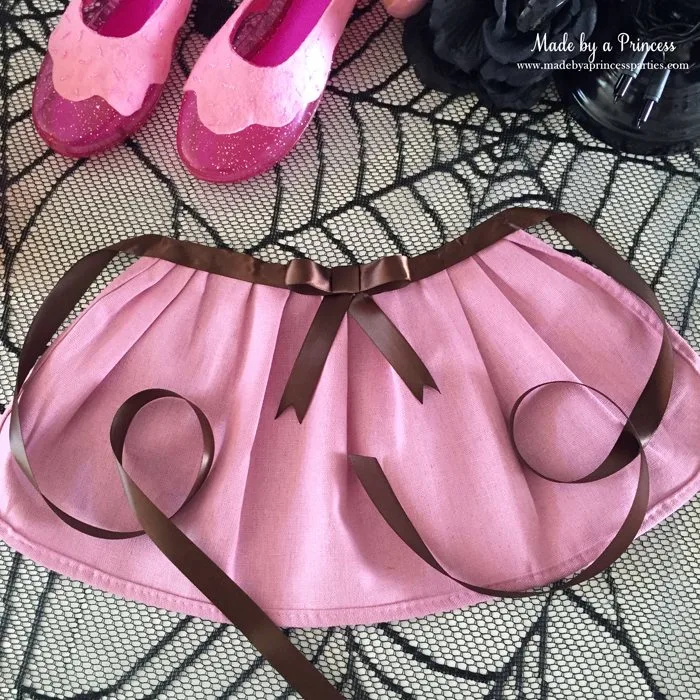 Because I made this for my daughter's Shopkins Donatina costume, I embellished the bottom edge with pink glitter glue to match the Shopkins doll.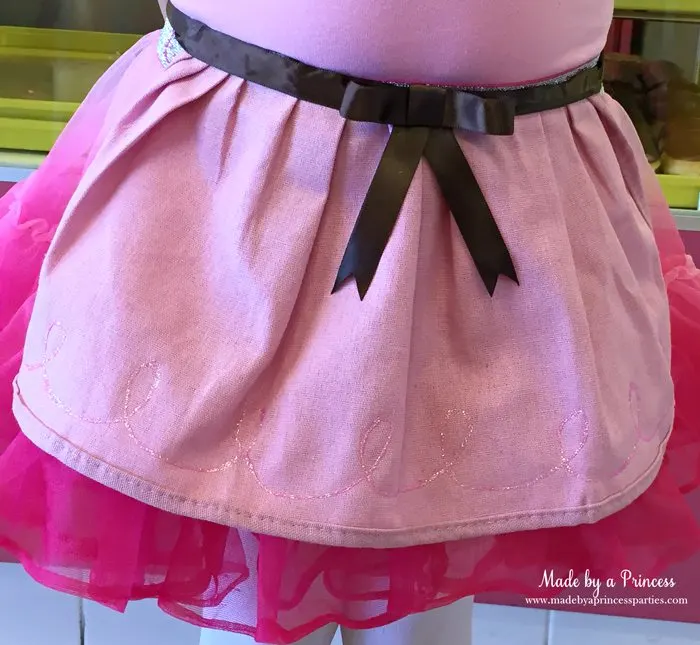 Want the full tutorial on how to make this Shopkins Shoppie Donatina costume? Click the picture below!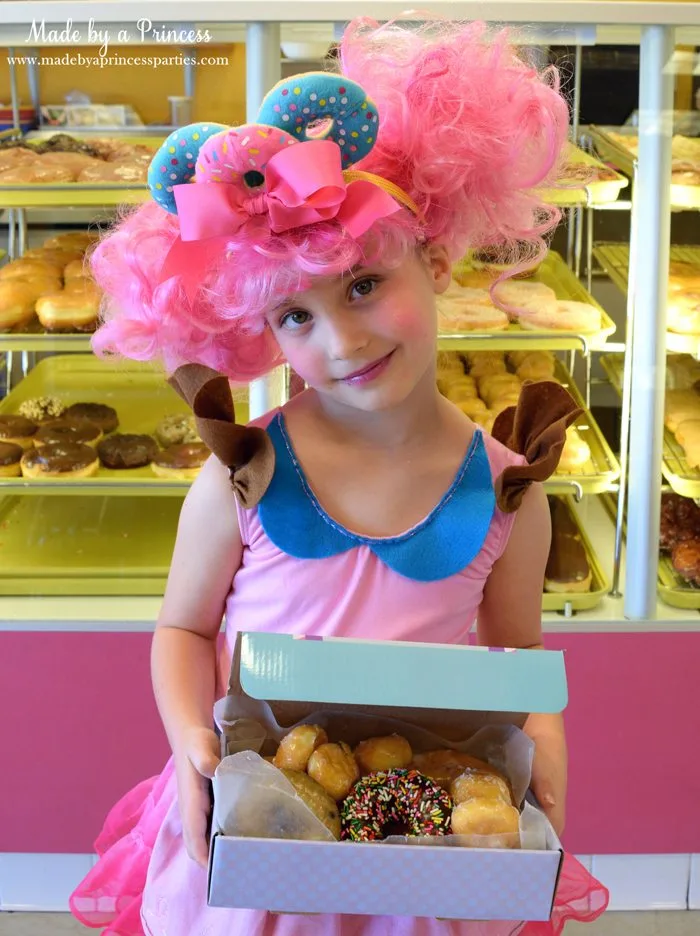 I hope you enjoyed my How to Make a No Sew Apron tutorial!
Thank you Oriental Trading for this sponsored post. All opinions are my own.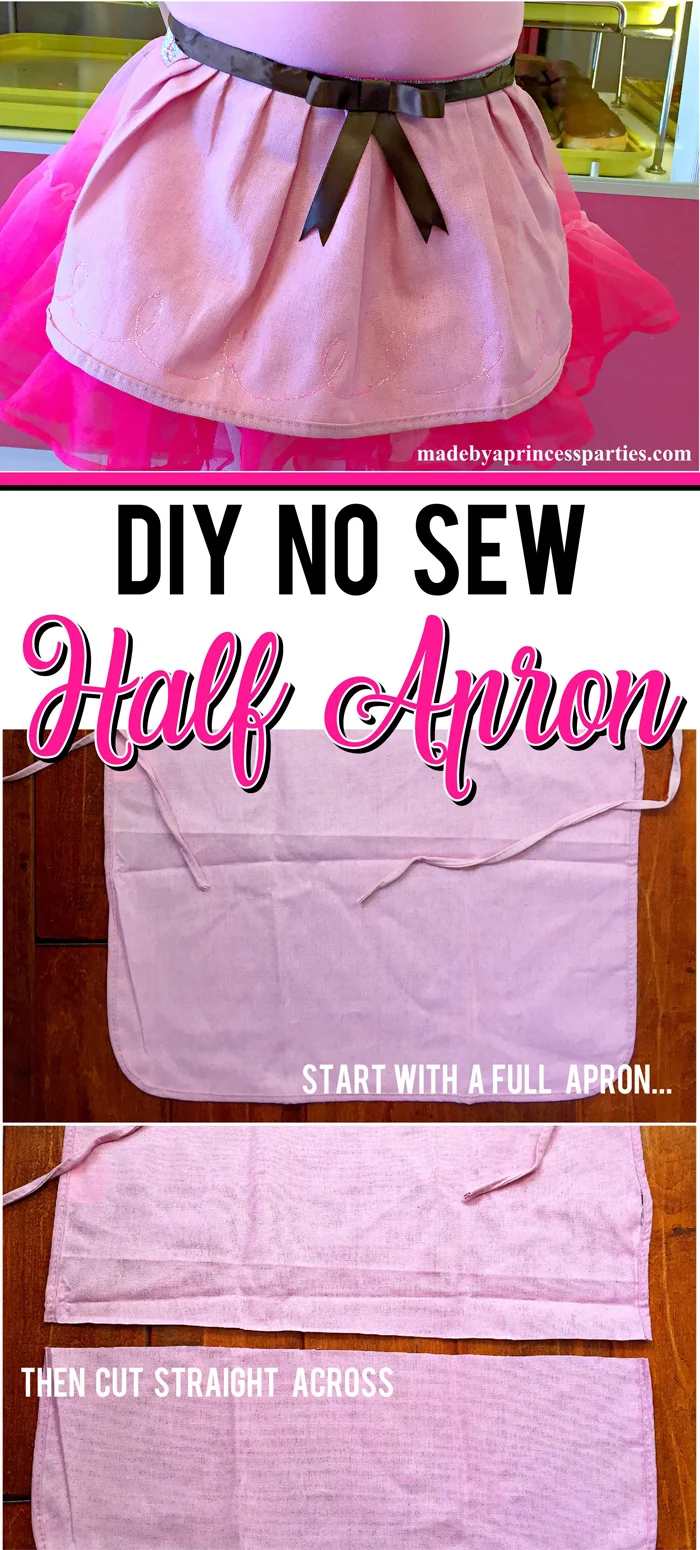 Originally published October 2016
Updated October 2019