This shop has been compensated by Collective Bias, Inc. and its advertiser. All opinions are mine alone. #MadeWithTheMasters and #HeinzBBQ #CollectiveBias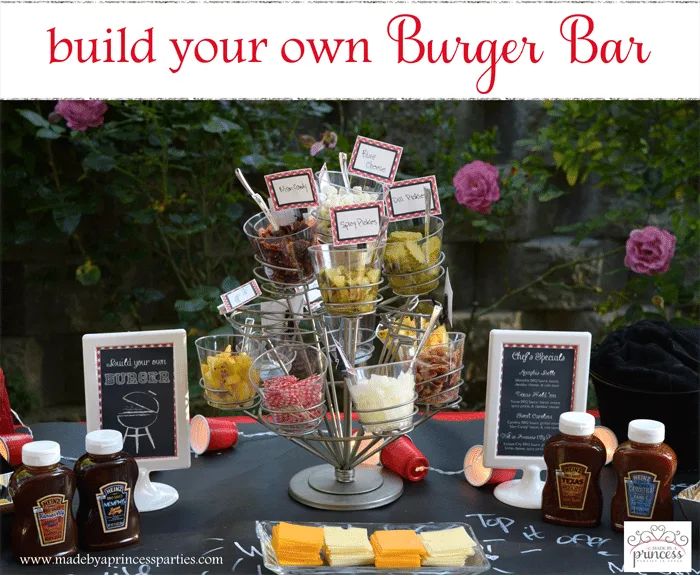 Sun's out, grill's out…that's our motto here in Sunny Southern California. From Spring to late Fall our grill is primed and ready to go at a moment's notice and my hubby the GrillMeister will cook up anything I bring home. We do a lot of BBQ chicken, steak, and hot dogs, but my favorite is a juicy burger. Actually, I really like sliders because they're small and I can have two completely different ones and not feel like guilty at all. To kick off the official grilling season we invited some good friends over and test out some of the new Heinz Pitmaster Collection BBQ Sampler Pack with a Build Your Own Burger Bar. This was a huge hit! The sauces are amazing and full of flavor and in the words of my teenage son on one of his Snapchat pics: #mymomrocks #mydinnerisbetterthanyours #burgerbarsarethebest. I think you'll agree that burger bars ARE the best!
Pick Your Favorite Heinz BBQ Sauce
I have been a Heinz fan all my life. My family calls me the Ketchup Queen and I actually received a basket of different sizes of Ketchup as a wedding gift. It's a long story, a good one but a long one. Suffice it to say I love love love Ketchup. When I found out Heinz had teamed up with some Regional Pitmasters: Joe & Mike Pearce of Slap's BBQ (Kansas City); Dan Brown of Leonard's PIT Barbecue (Memphis); Robert Sierra of S+S Pit Crew (Texas); and Sam Jones of Skylight Inn (Carolina) to create a new line of BBQ sauces I was pretty excited.
I love BBQ and I love Heinz so I was pretty sure I was going to find at least one new favorite sauce for my BBQ chicken. Our go to sauce is Heinz Classic Recipe. It's really flavorful and everyone in the family likes it. My daughter has a double dip method for her hot dogs…first she dips in Heinz Classic Recipe and then in Ranch dressing. To each her own right?
I assumed Memphis would be my favorite because I like sweet and spicy. I was convinced that one was going to be my new go to….until I tried Kansas City. Totally different flavor! It's sweet and spicy but there is definitely a little kick to it. Next I tried Real Carolina. I have never been a huge fan of vinegar based BBQ sauces because I like more sweet than tangy. Well, Real Carolina is definitely tangy but it's also kind of sweet and I really liked it. This is getting really hard! I tried the Texas BBQ Sauce last. I knew it was going to be big and bold…because isn't everything big and bold in Texas?!…but I honestly thought this was going to be too much for me. It is definitely big and bold but I loved it!
My husband & I taste tested all of them and could not decide which one we liked best so we decided to have some friends over to see which ones they liked best. Surely out of 9 adults there was bound to be a clear winner. I'll give you the results of our taste test later…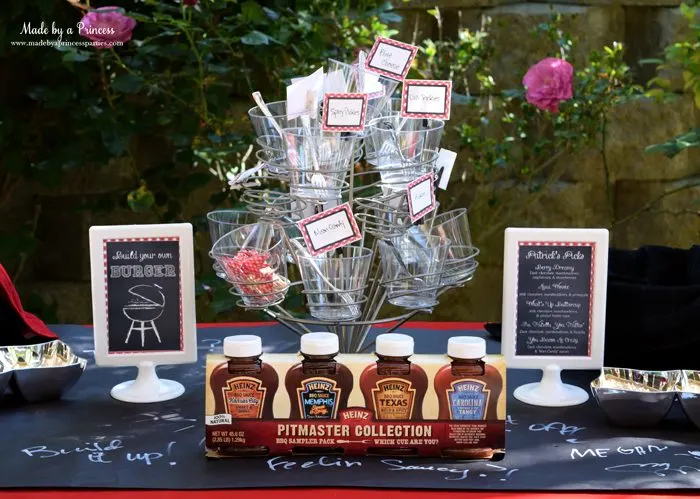 Father's Day BBQ
I never need an excuse to have a party but I am big on themes so the theme of our "Which Que Are You?" Build Your Own Burger Bar was Father's Day. Why Father's Day? Well, I host a lot of girly parties and kid parties so I thought it would be cool to plan one for the man in my life. My husband's birthday isn't until December so I thought what the heck…let's go with Father's Day! I shopped my garage for items I already had and then filled in with just a few new things. I really like the chain garland I found at Party City so I designed the "Happy Father's Day" banner to complement it.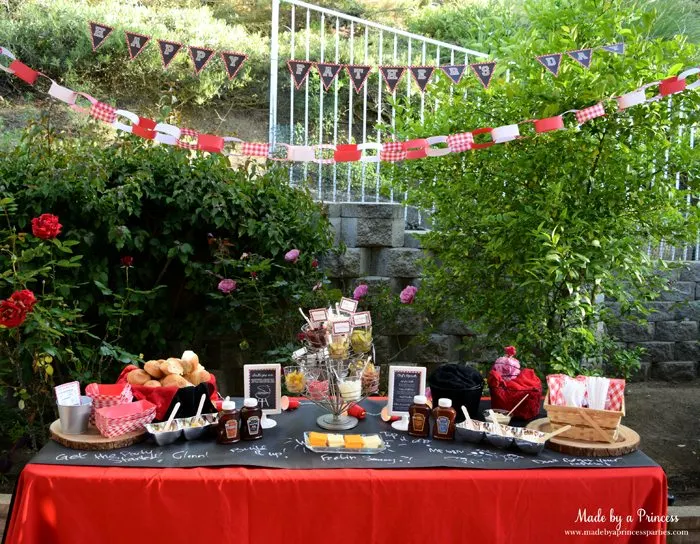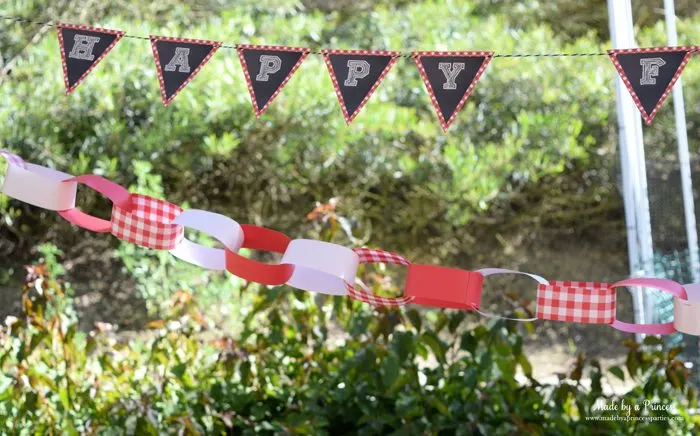 I wanted to create a very family friendly no fuss kind of party so I went with the traditional red and white gingham theme. Cute food trays can be found at your local Party City. The Build Your Own Burger Sheets were designed to match.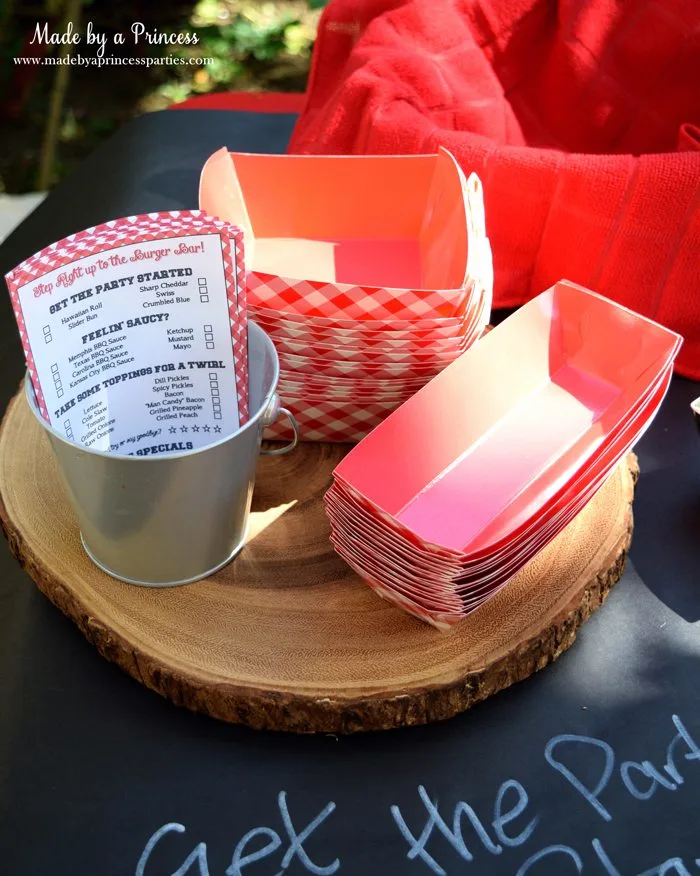 Have guests fill out their forms as they build their burgers and then rate their creation at the end.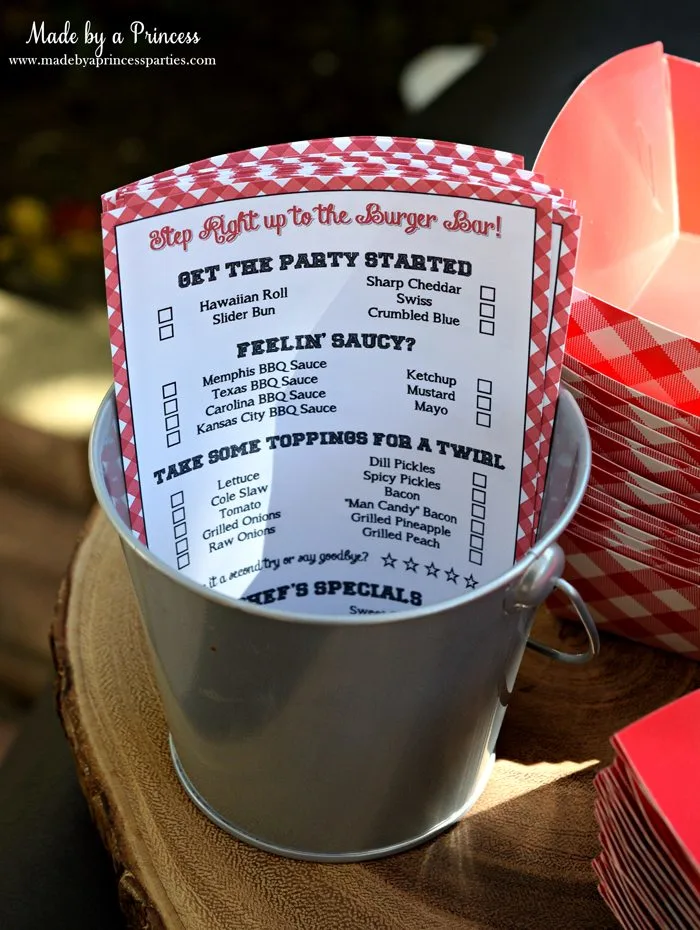 Use mini rolls and Hawaiian rolls as buns.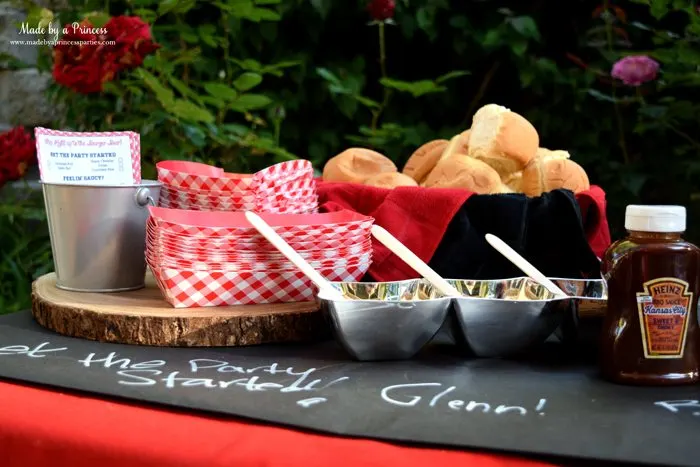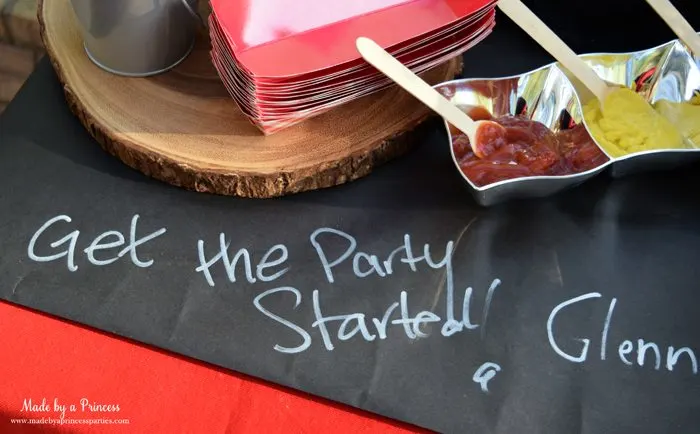 The red tablecloth was purchased for a Valentine's party and matched our BBQ theme perfectly. Use chalkboard wrapping paper to write messages with a chalk marker right on the paper. The kids will have fun with it too. The best part was that it kept the tablecloth clean so all I had to do when the party was is over toss the paper in the trash and put the tablecloth away.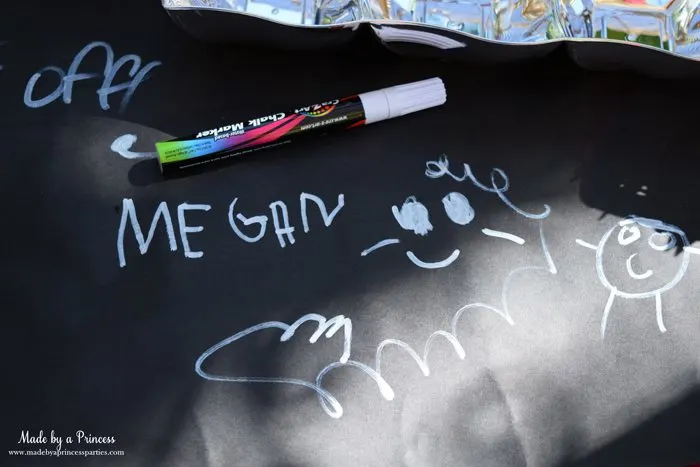 It's important to let your guests know where to find the good drinks…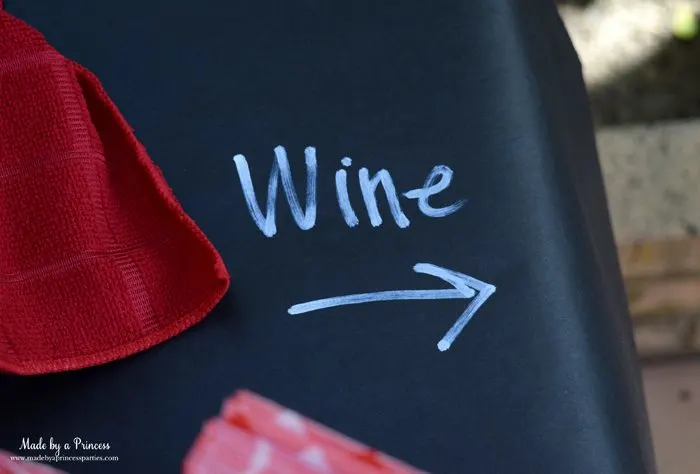 In addition to the Heinz Pitmaster Collection BBQ Sampler pack I served traditional fixings like Thousand Island, Ranch, and mayonnaise. Wooden spoons and plastic trays from the dollar store made clean up really easy.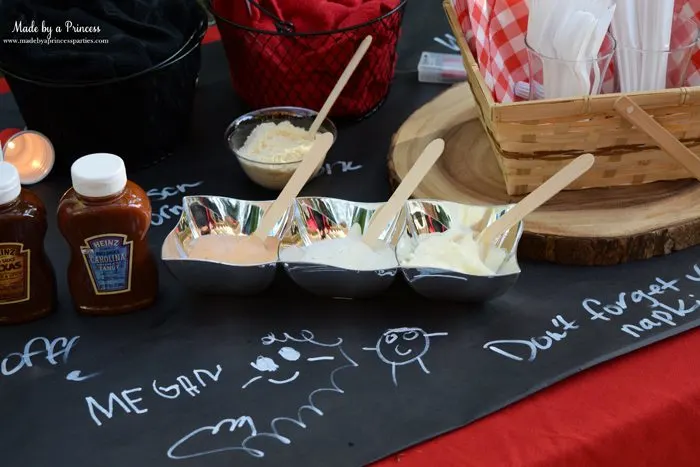 Napkins and this basket also came from the dollar store and fit the theme perfectly.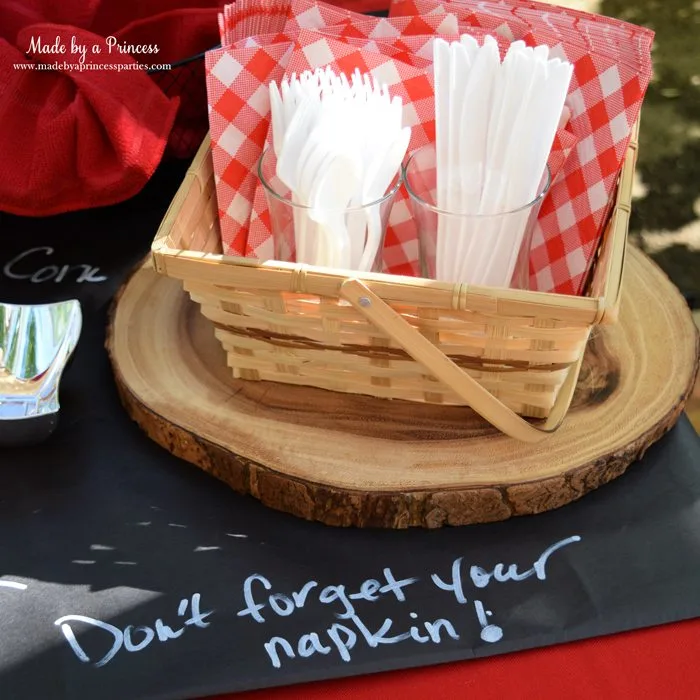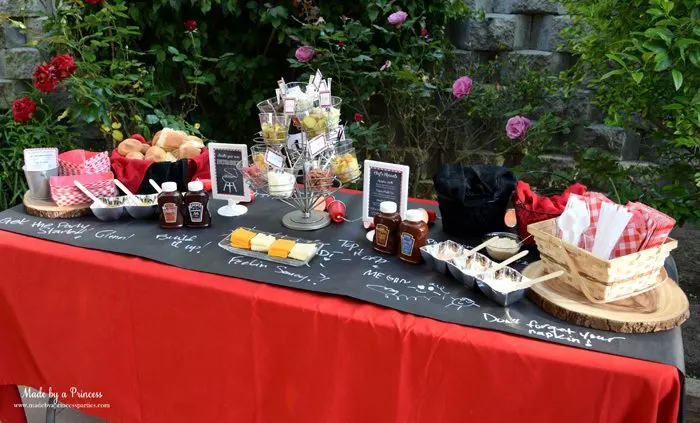 I just couldn't resist designing a few printables.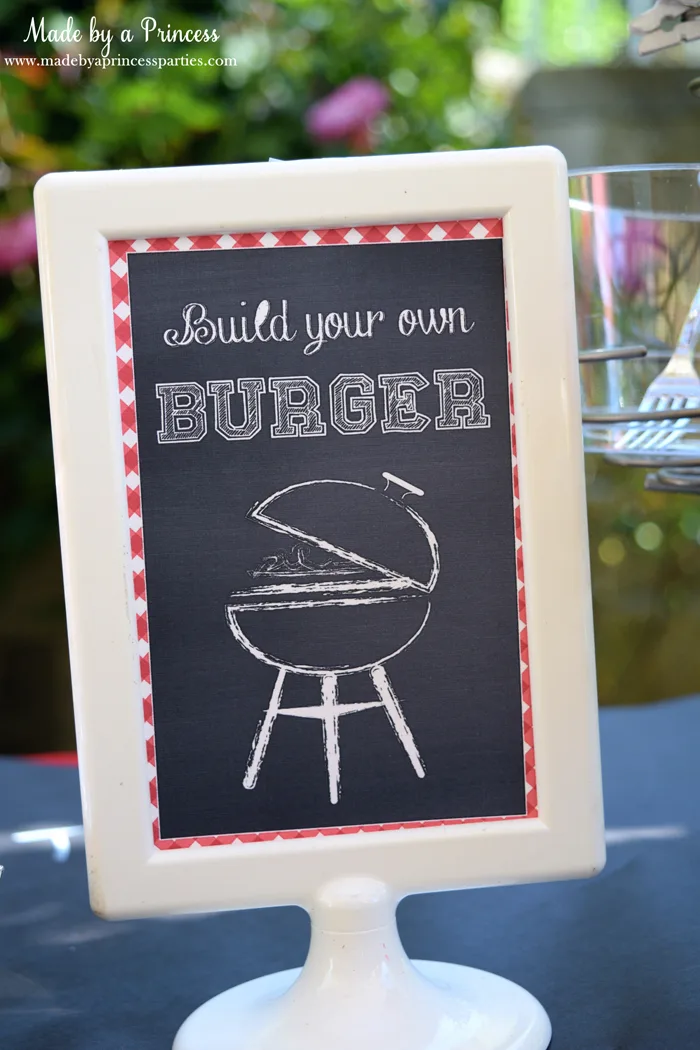 Burger Bar Menu Ideas
This was my favorite part! Coming up with the recipes! After testing each BBQ sauce I created some burger recipes I thought would complement the sauces best. The "Memphis Belle" was the overall winner with "Sweet Carolina" coming in second.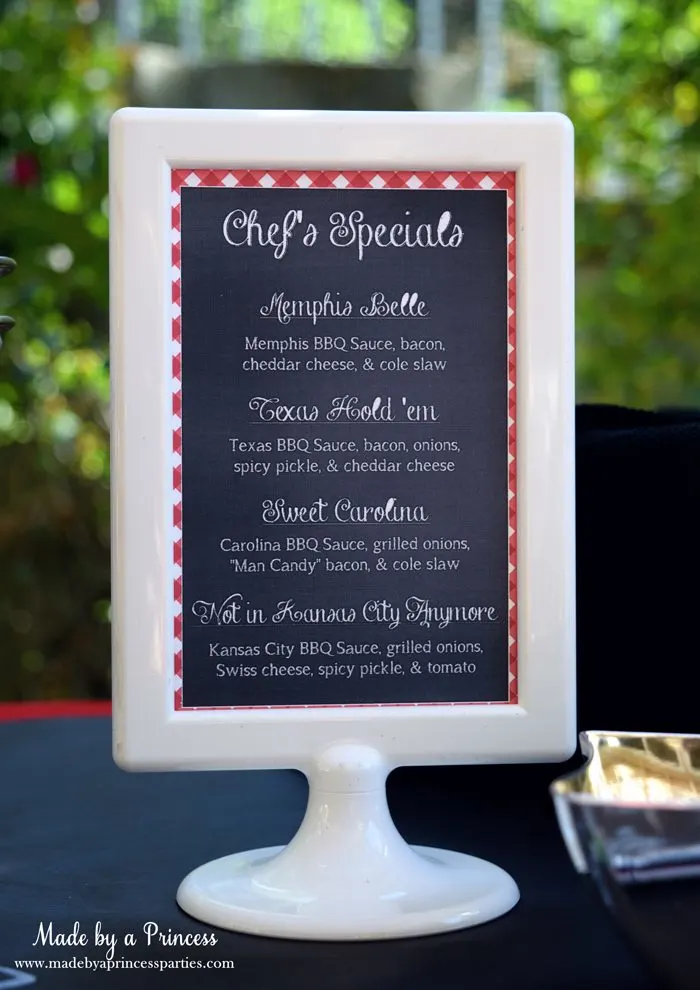 I like to use things I already have in my parties as much as possible. This cupcake holder has been sitting in my garage forever and has almost ended up in the Goodwill bag several times. Last week I realized that it would make a great carousel for our burger toppings…I like to think that it's happy to have found another use besides just holding cupcakes! Plastic cups from the dollar store fit just right.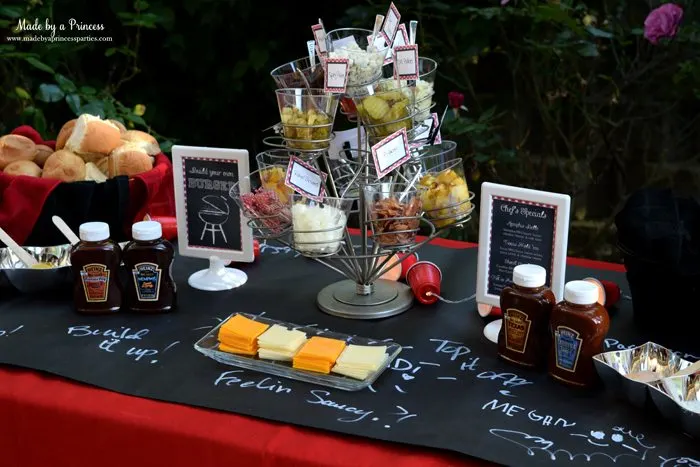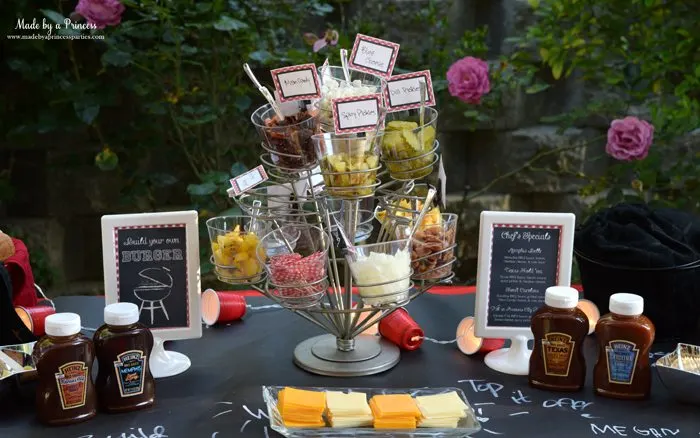 Burger Bar Topping Ideas
We had a great assortment of toppings! Blue cheese, dill pickles, spicy pickles, and of course "Man Candy"! Have you ever had Man Candy? It's this amazing spicy candied bacon that is completely addicting. I will be sharing my recipe soon.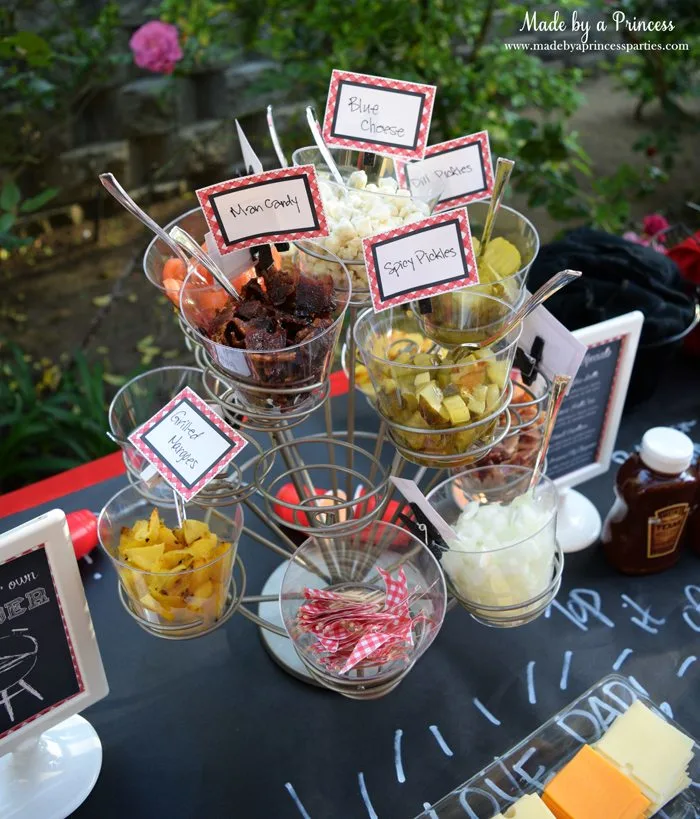 Homemade guacamole! My mom's recipe is the best!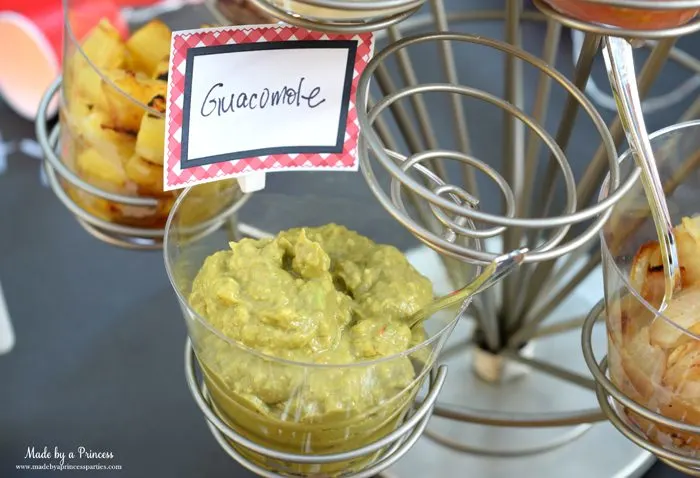 Have you ever had grilled mangoes on your burger? It's so good!!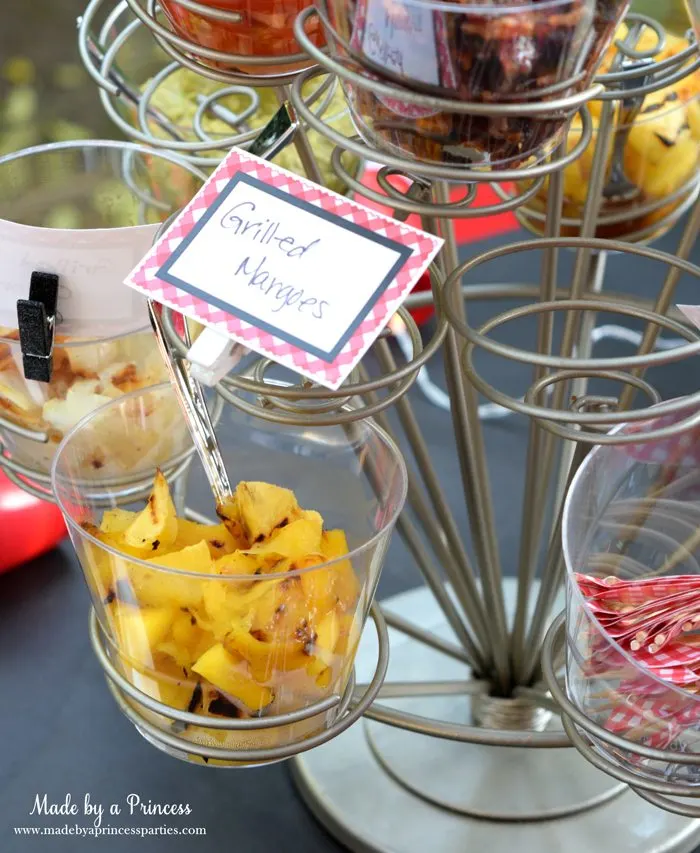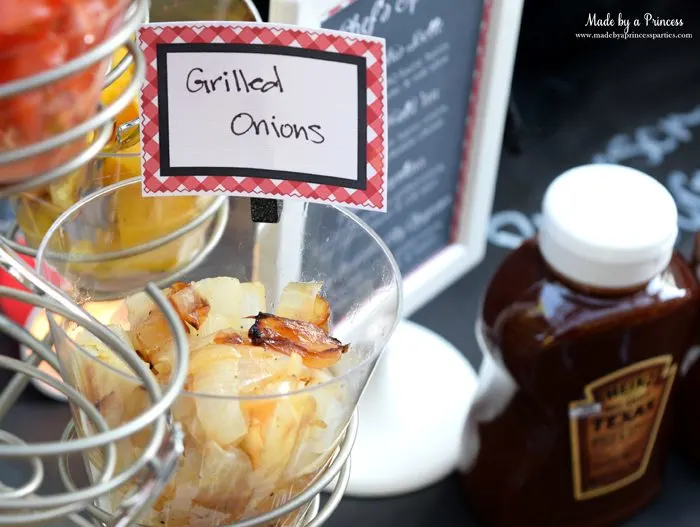 Love grilled pineapples too!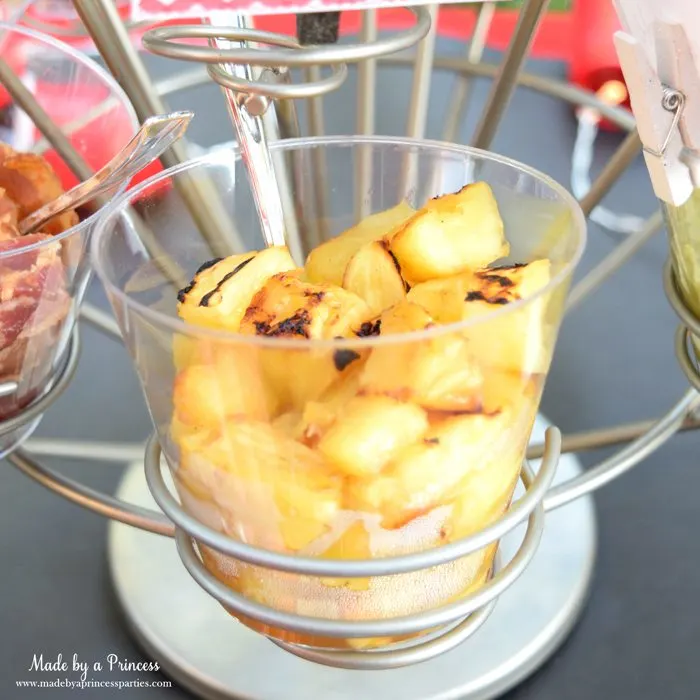 Here's my hubby getting the grill ready…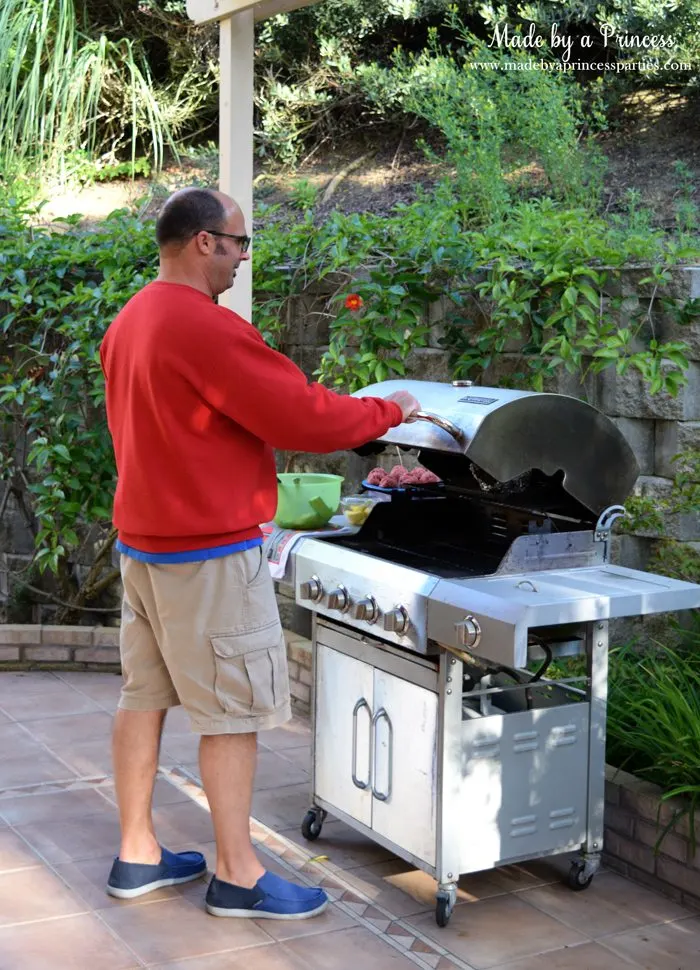 Our first customer! Jim was really excited to try out my burger recipes.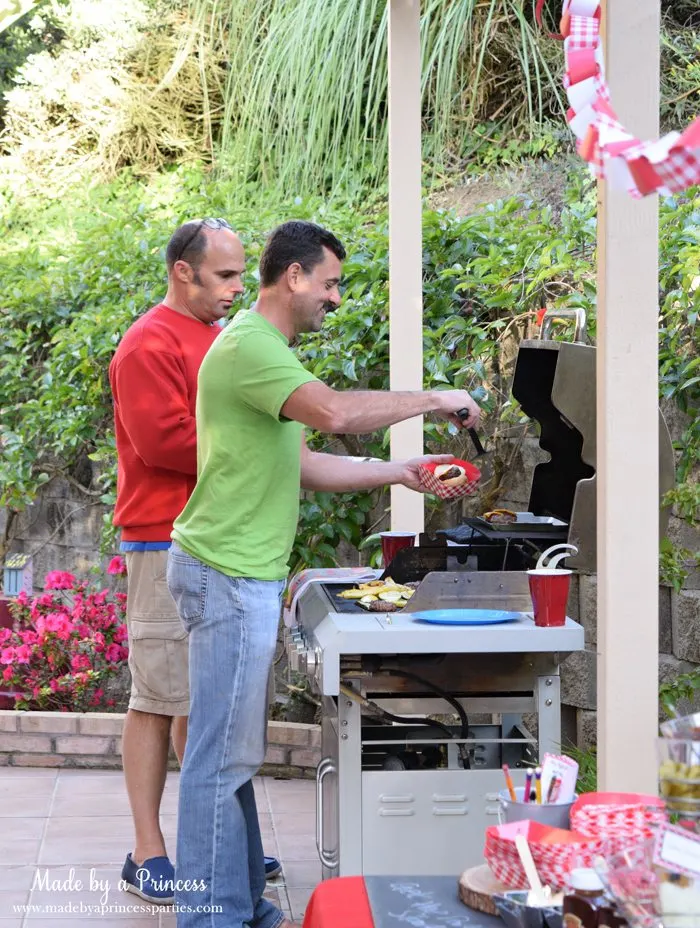 This is his, "The Memphis Belle is incredible!" face…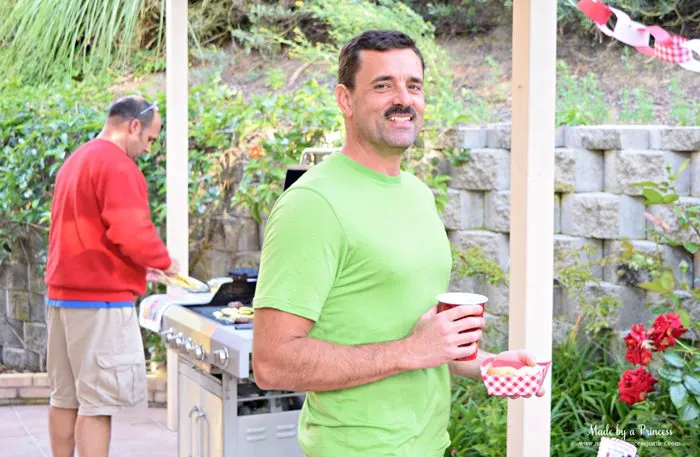 You're up dads!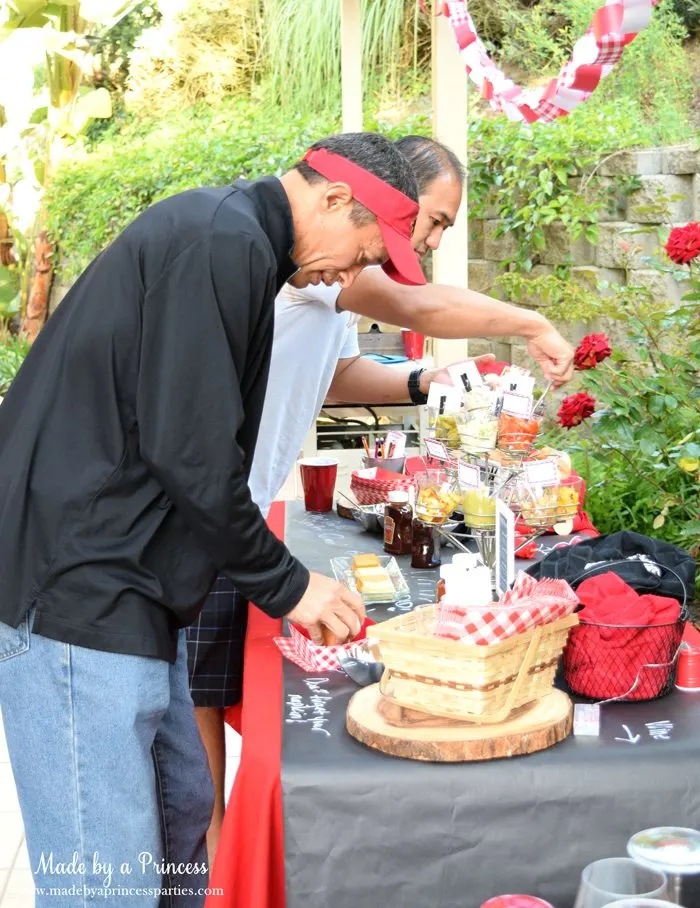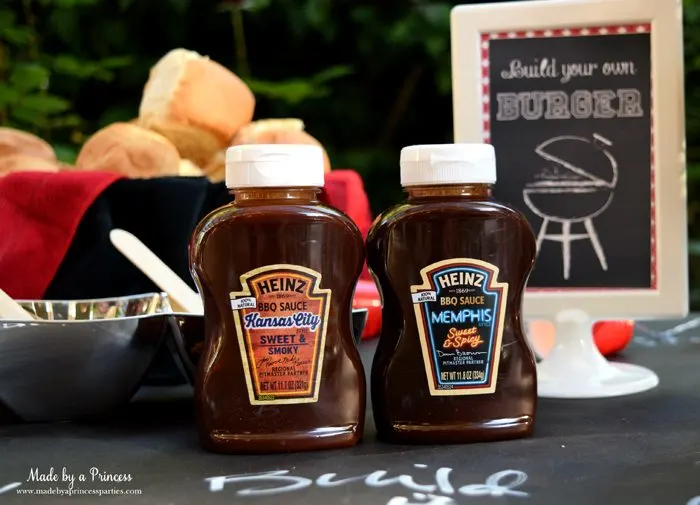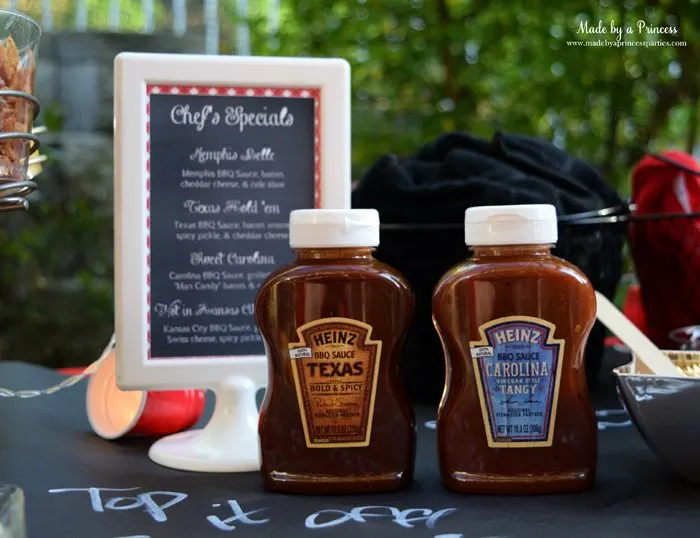 I decided to get a little adventurous and try out some new recipes: grilled pineapple, Man Candy, Swiss cheese, cole slaw, and Kansas City BBQ Sauce on a Hawaiian roll…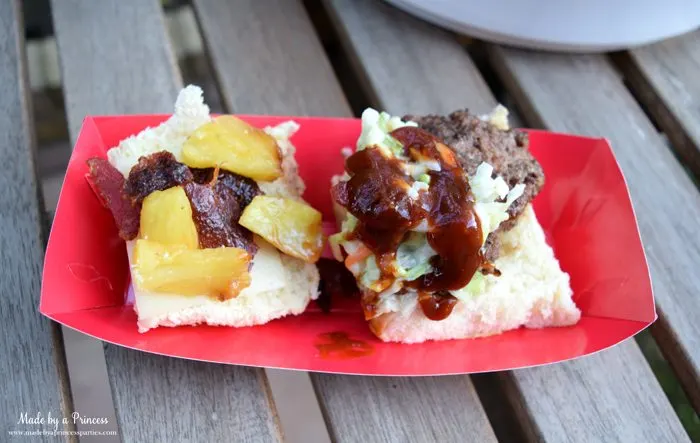 I don't have a name for this one but it's darn gooooood! Grilled onions, cole slaw, Swiss cheese, guacamole, and Texas BBQ Sauce on a slider roll…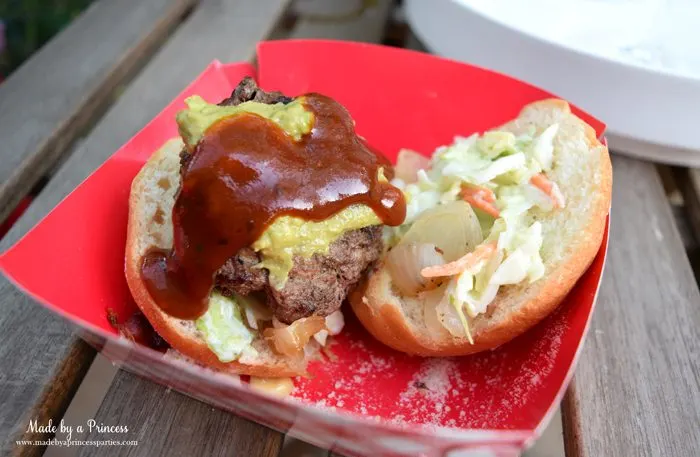 I saw these little red cup lights at the dollar store and thought they were so cute. I just love inexpensive finds!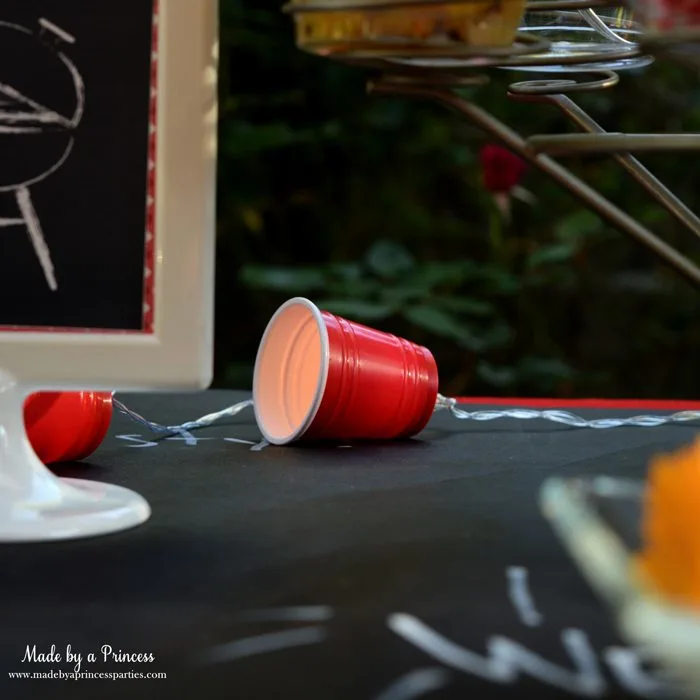 Friend Photo Bomb! My friend Andrea did this at my Downton Abbey party…it's going to be our new thing. I love it!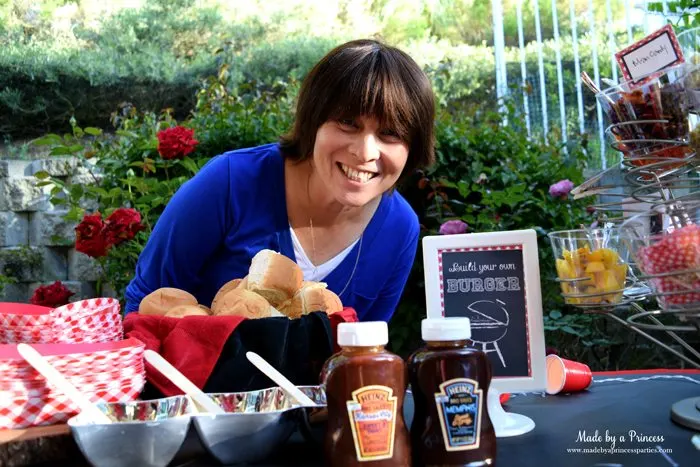 This is my little princess…the cheese thief! She's a cute one though 🙂 Cheese in her hands and a Cheetos mustache…it's good to be a kid!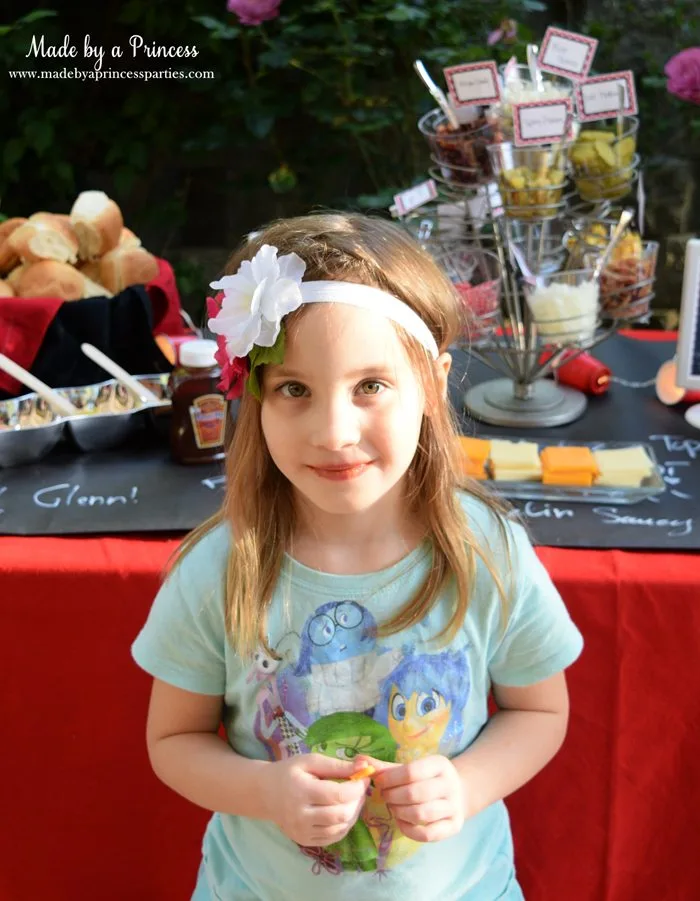 Burgers and corn are like peanut butter and jelly…they just have to go together. I am really happy with plain corn, nothing on it at all, but because this was a special occasion I made my Lemon Parmesan baked corn and am so glad I did. I forgot how much I love lemon on my corn. These are really to make too. Recipe below.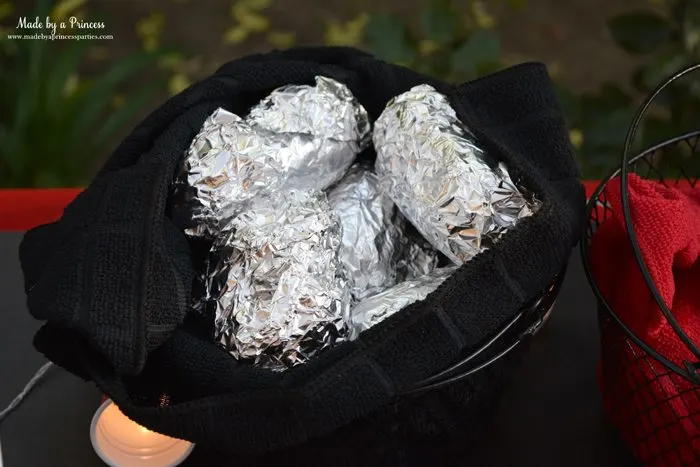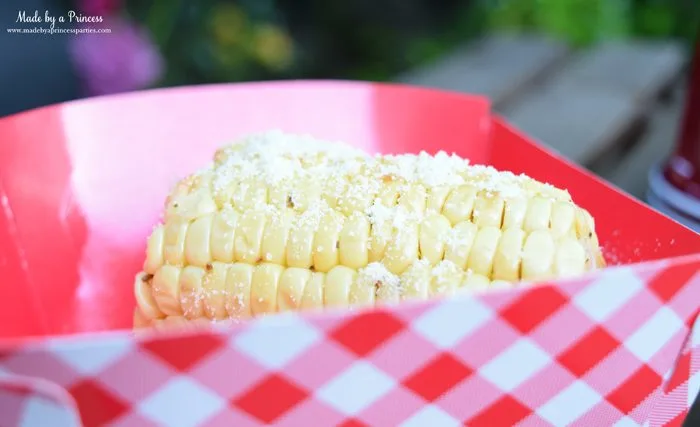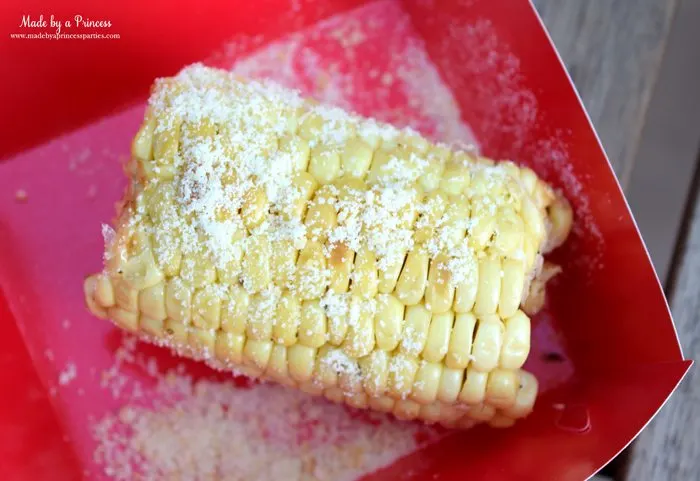 Here is a picture of the Man Candy…OMGoodness this stuff is amazing! I actually put some in my s'mores and it was to die for. Yes, you read that right…my s'mores!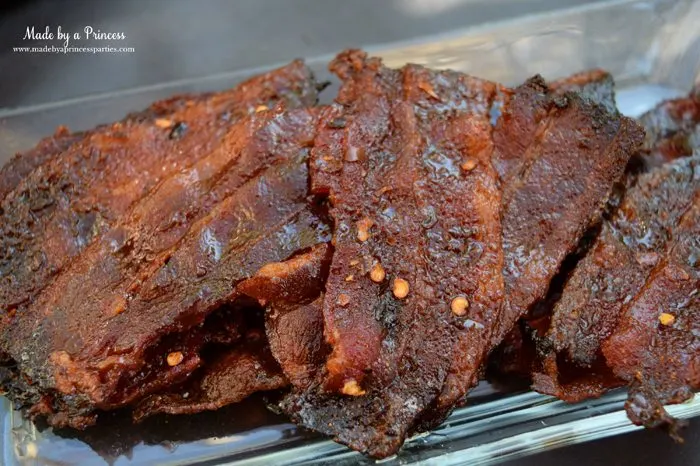 I really wish I had gotten a picture of this dip before it was almost all gone. My friend, Shelly (who is famous for her marinated cheese dish), brought this to the BBQ and it was almost gone in about 3 minutes. I'm going to get the recipe from her and share with you…it's got tater tots, chili sauce, cream cheese, and cheddar cheese…yum!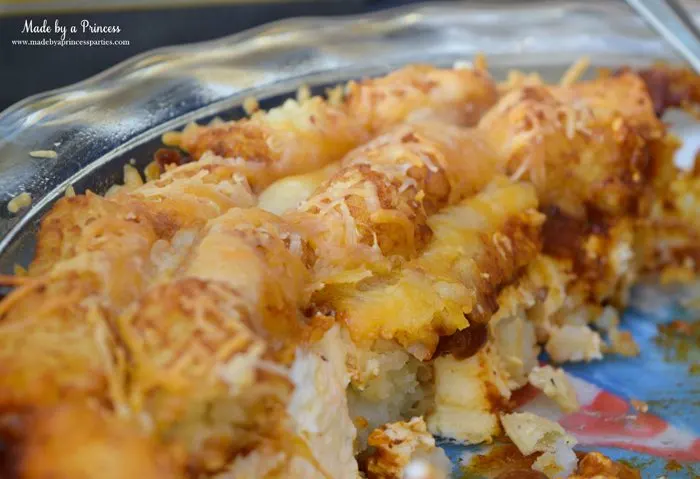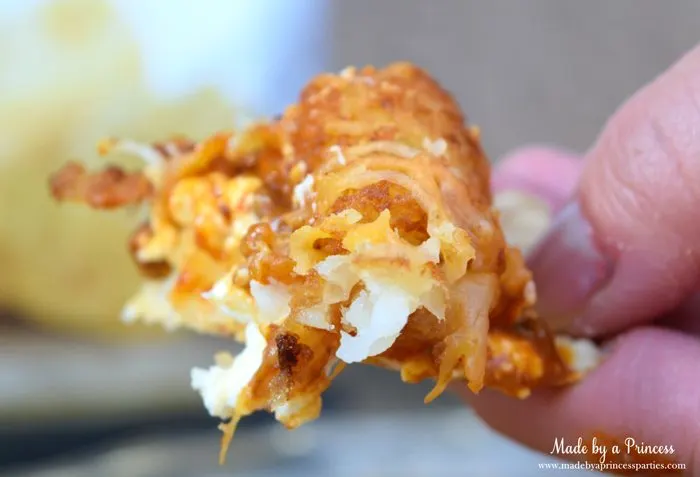 I had another surprise for my guests…a S'mores Bar! It got dark really fast so I don't have great photos of this at all. I'm sorry!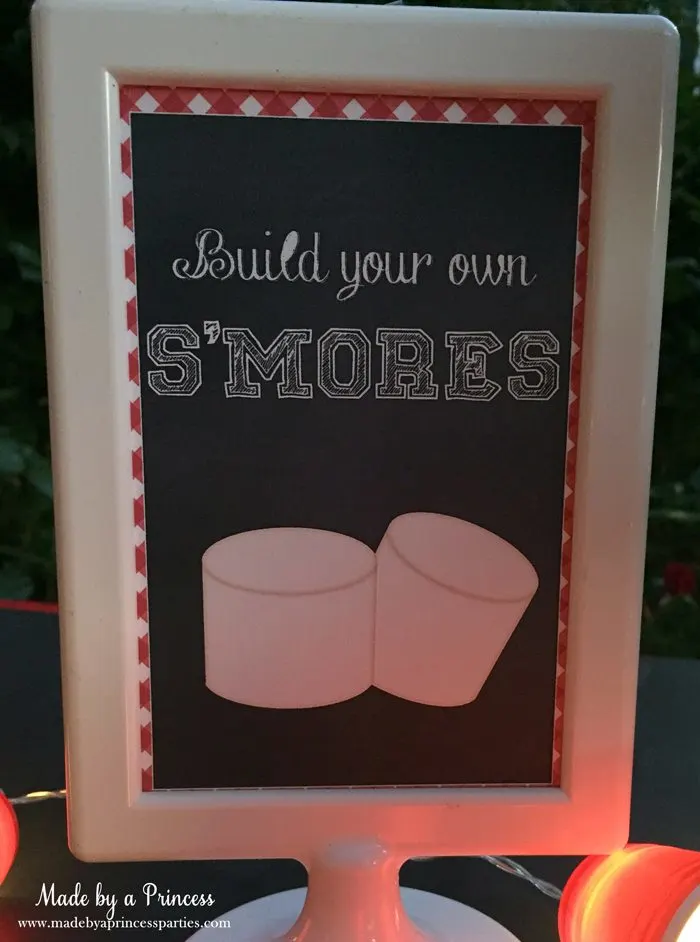 I came up with a few recipes for the S'mores Bar too. Definitely "You Bacon Me Crazy" was my favorite.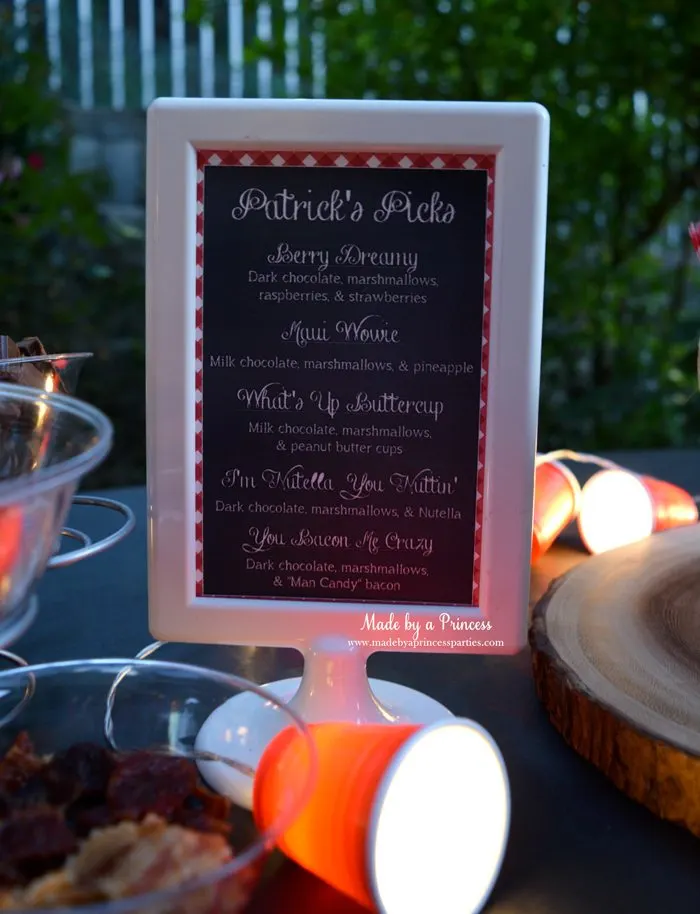 We had some cray good S'mores fixins! Peanut butter cups, Nutella, peanut butter, gummy bears, Man Candy, bacon, chocolate covered cinnamon bears, grilled pineapples, and grilled mangoes. Grilled pineapple was the overall winner.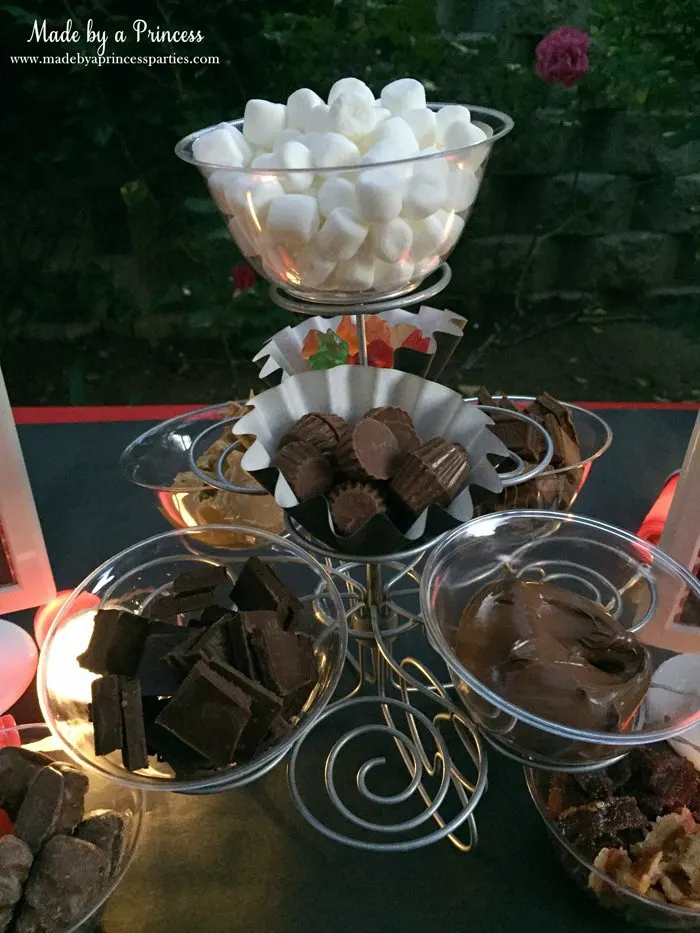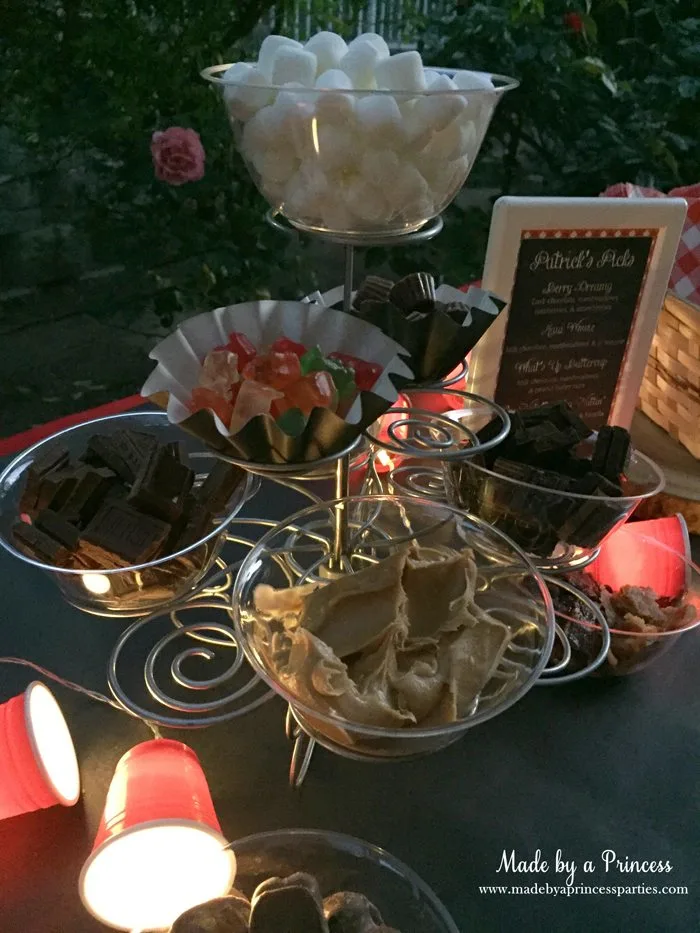 One thing I don't like about S'mores is the mess. I thought about how to fix this problem since I do love the crunch of the graham cracker and didn't want to compromise on that part of it. I walked past a box of waffle cones at the store and thought how perfect they would be to hold gooey chocolate and marshmallows! After one ice cream cone S'mores I am hooked! Load up your cone with all the goodies, wrap in tin foil, and pop on the grill for about 2-3 minutes. Our grill was on the low and they got pretty gooey in about 3 minutes on the lower level.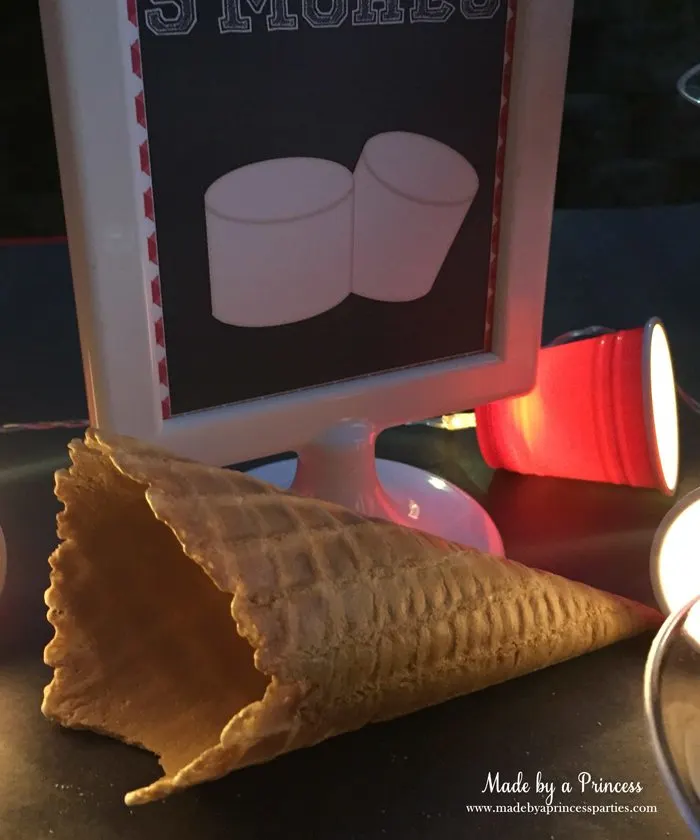 My son said this was the best thing I ever did and after Snapchatting this to his friends they all decided he needs to have a burger/s'mores bar party for his birthday this summer. Looks like we will be doing this again with a teen twist.
We had so much fun at our Build Your Own Burger Bar! Ready to hear the winner of the Heinz Pitmaster Collection BBQ Sauce Challenge? All of them! That's right…9 adults, 3 teens, one preteen, 2 preschoolers, and one toddler…the overwhelming consensus was that they are all really great for completely different reasons. My friend, Heather, who is from Tennessee said the Memphis BBQ Sauce tasted just like home. My husband, who grew up in Virginia, said the Real Carolina BBQ Sauce reminds him of pulled pork sandwiches in Virginia Beach.
I had a long chat with Heather's hubby, Mike, about each flavor and we decided that the Texas BBQ Sauce would taste amazing on a big slab of beef ribs. There is something for everyone in this sampler pack but I think it would be hard to determine a clear winner. One thing is for sure, Heinz really captured the traditions of American barbecue with each of these 100% natural and authentic sauces.
I hope you enjoyed my Build Your Own Burger Bar Party Ideas! So tell me…Which Cue Are You? Try them out and let me know!