We're livin' la vida llama and you're invited! Find out how to throw a fabulous and fun fiesta with these colorful llama party ideas.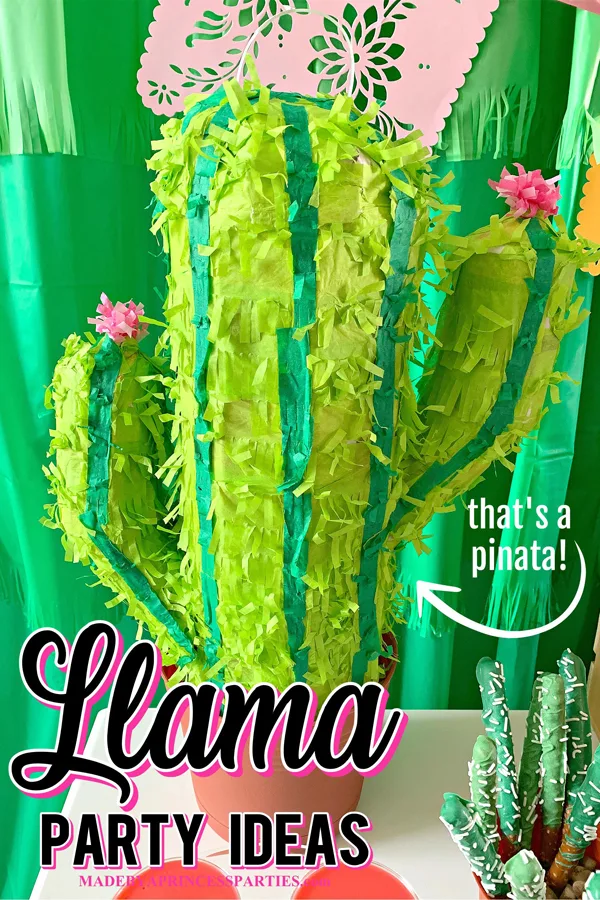 Hey birthday girls…it's fiesta time! Grab your amigas and get ready to party like there's no manana. Find out how to throw a colorful and fun and llamazing event with these simple and easy llama party ideas.
Llama Birthday Party Ideas
Llama mia…here we go again! Looking for girly llama party ideas? You've come to the right place! I styled this party for Birthday in a Box last year and am so excited to be sharing the details with you today.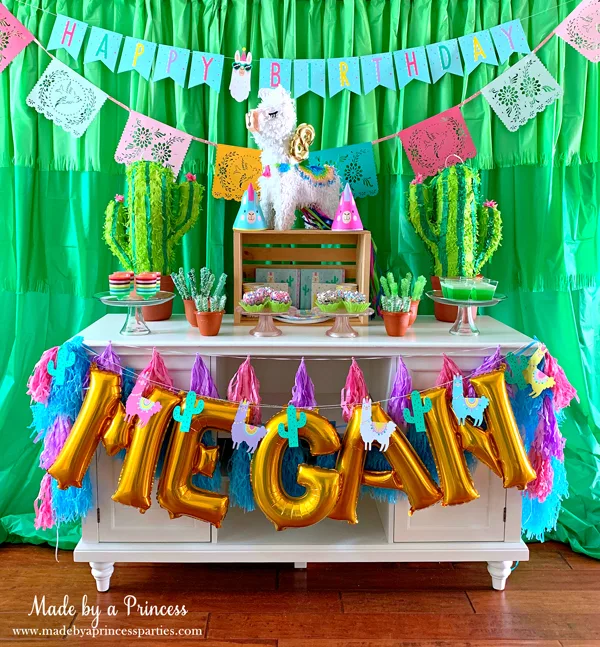 Llama Party Supplies
Let your guests know they are in for a whole llama fun with darling llama invitations. If you are hand delivering your invitations make it a little sweeter with green rock candy. They sort of look like cactus don't you think?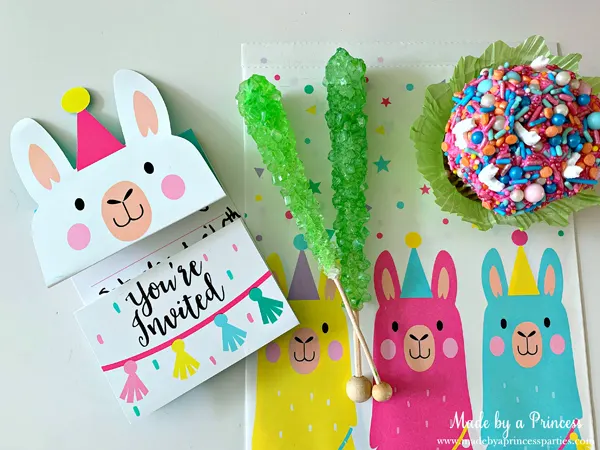 Use coordinating plates like these pretty prism lunch plates to bring the colors together. Don't forget the matching birthday decorations!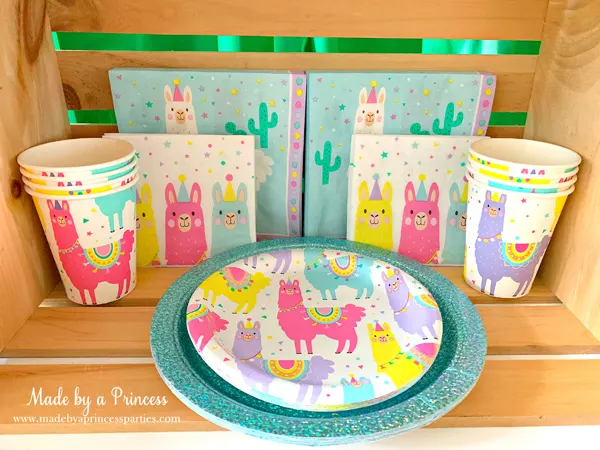 Llama party hats are too cute!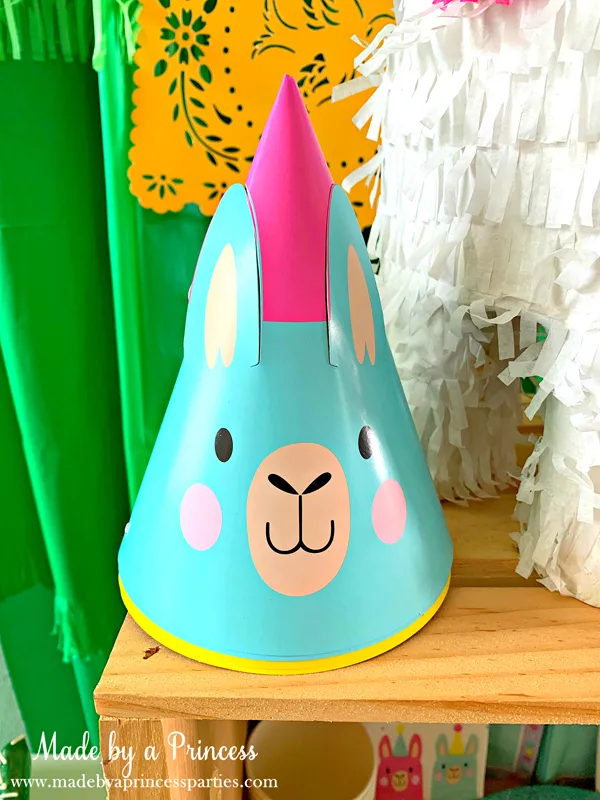 Dessert Table Ideas
Keep your dessert table simple with layered rainbow Jell-O cups, cupcakes, chocolate covered pretzel rods, and rock candy sticks.
Wooden crates from your local craft store are really versatile. They can be used to store party supplies, for instance, and they provide a great place to put a centerpiece. It's always a good idea to add some height to your table.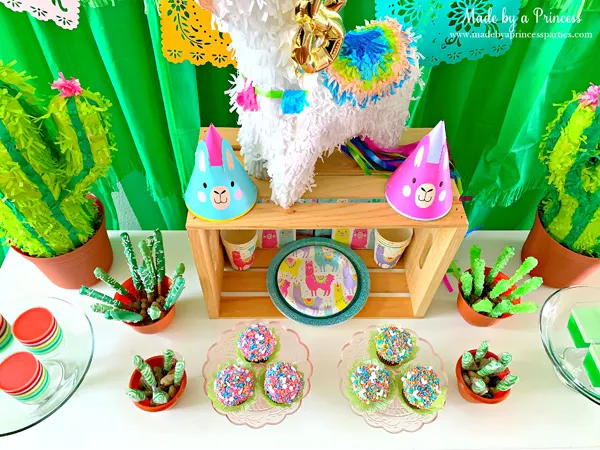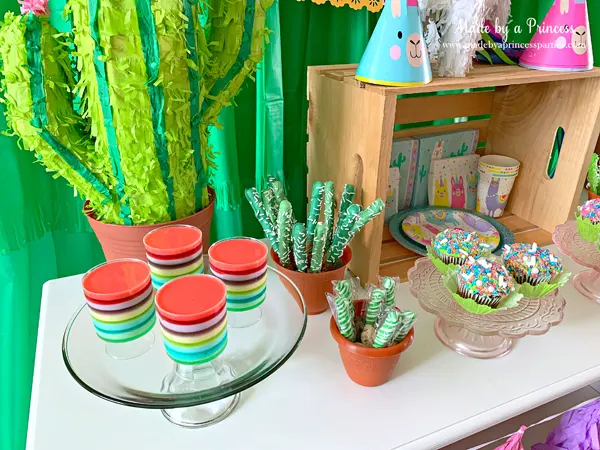 If you don't have the time to make multilayered Jell-O cups you can always opt for simple two layer cups.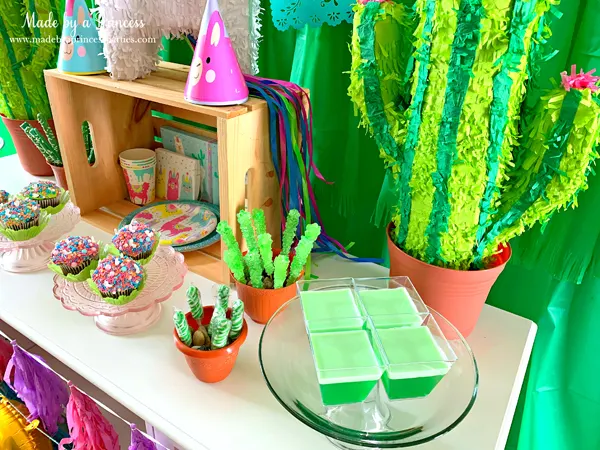 Pots and pebbles from the dollar store make great decorations. They can also double as bowls for lollipops.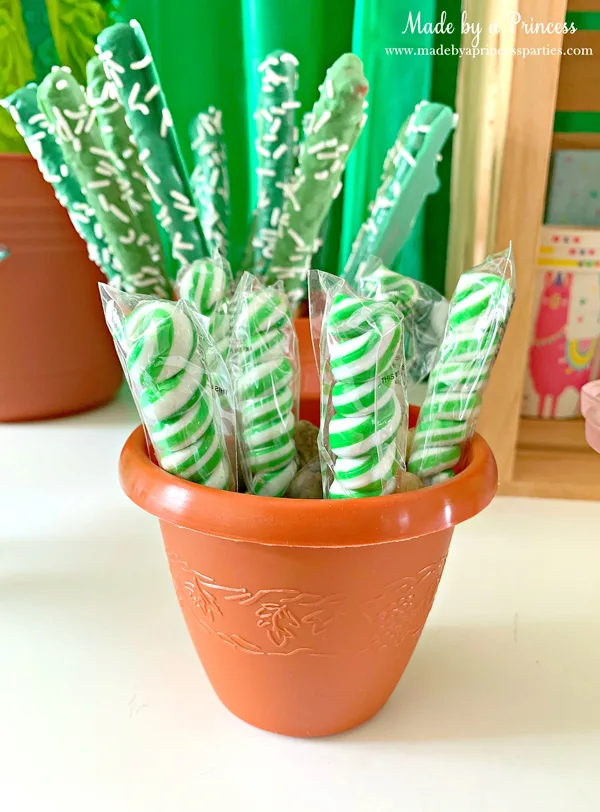 If you are looking for fun themed food try dipping pretzel rods in melting chocolate and sprinkling white Jimmies to look like cactus spines. Place in a clay pot with rocks to look like a cactus plant. These are perfect for a llama themed party!
Quick How To: Place green colored Wilton Chocolate Melts in a microwave safe bowl in 30 second intervals until melted. Stir each time. Dip pretzel rods in chocolate, place on wax paper lined cookie sheet, and add sprinkles. For a quick set, place in refrigerator for about 5 minutes.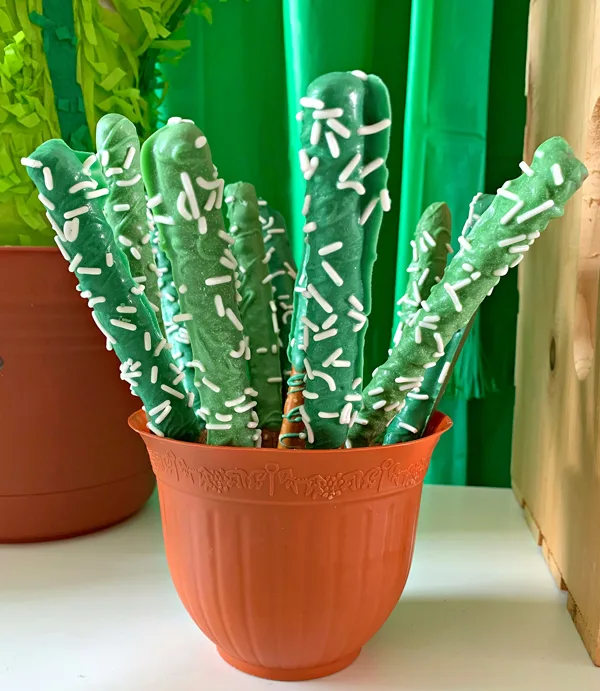 Place green rock candy sticks in pebble filled pot to resemble cactus.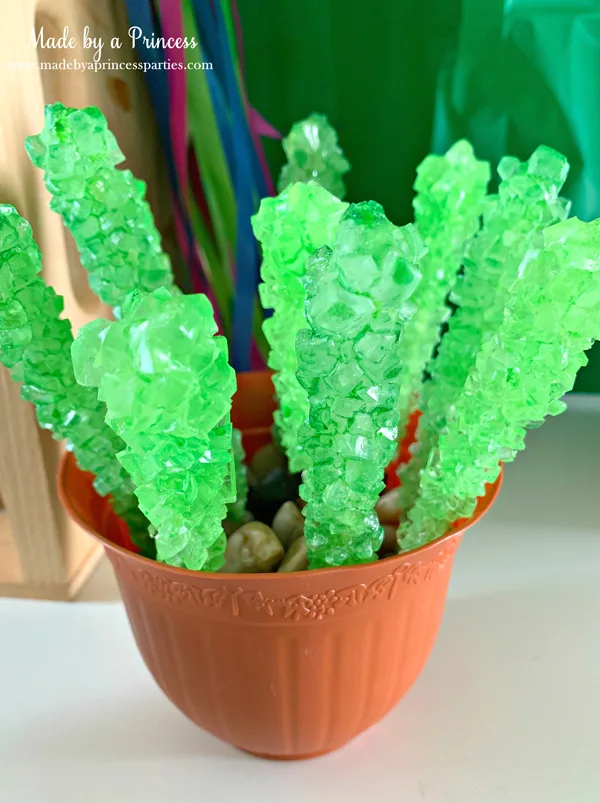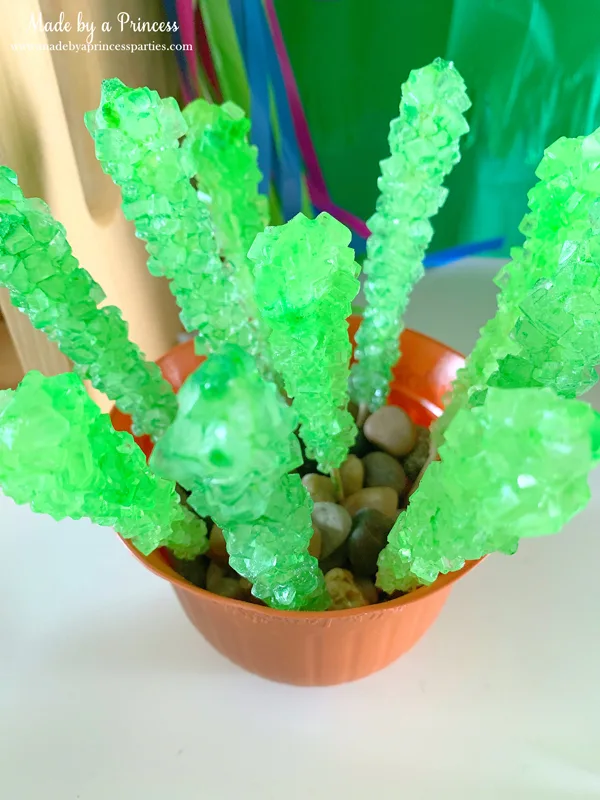 Make decorating llama cupcakes even more fun with custom mixed llama sprinkles from Sweets Indeed. These sprinkles would be so cute on the top of a birthday cake with a llama cake topper.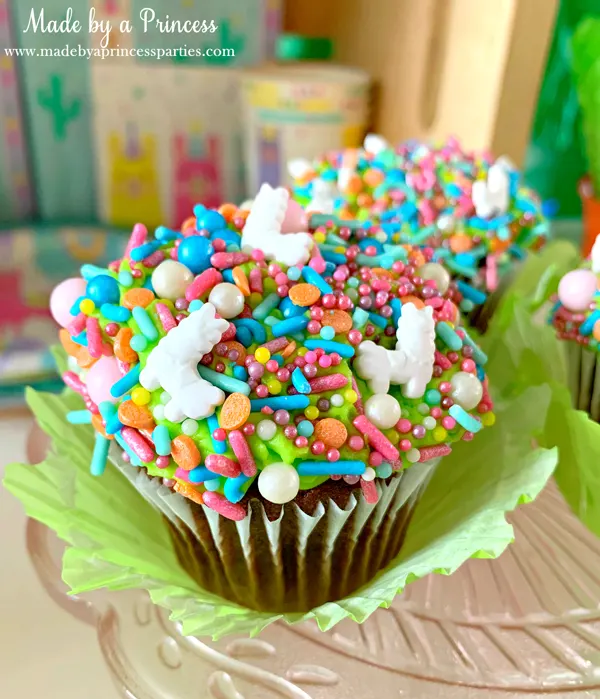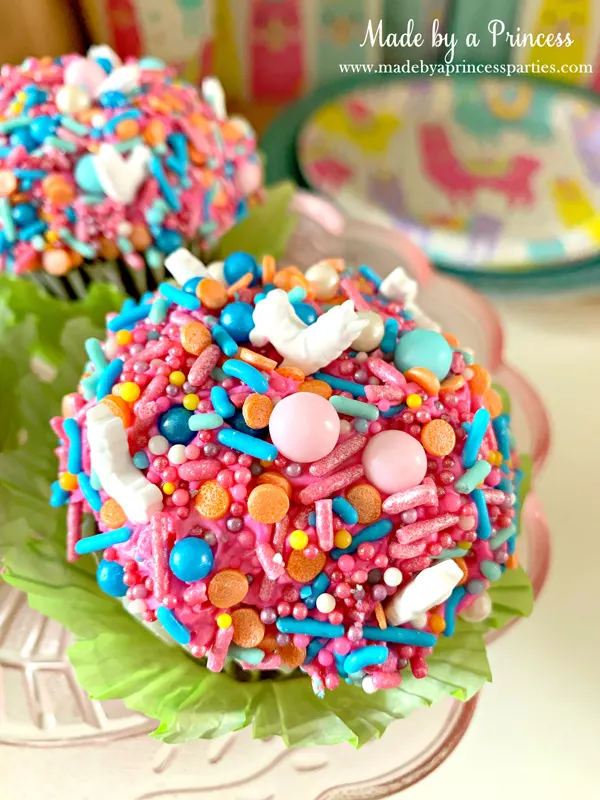 Jell-O may not be a traditional Peruvian dish but they are colorful and delicious! They are time consuming but oh so pretty! You can make them in just about any colors your heart desires. I do kinda love how these rainbow layered Jello cups turned out for this llama and cactus party.
Learn how to make them for your next birthday party, bridal shower, baby shower, holiday, or class party with my tutorial.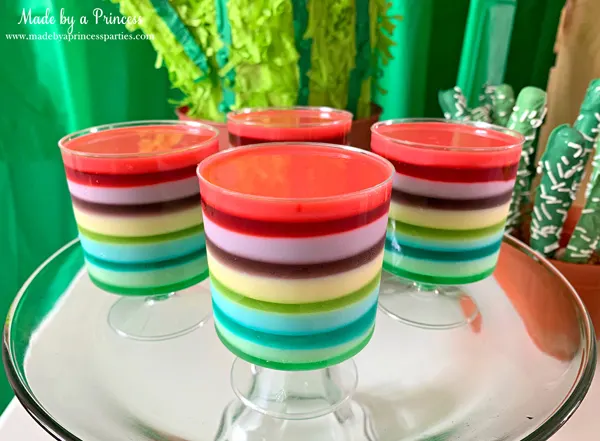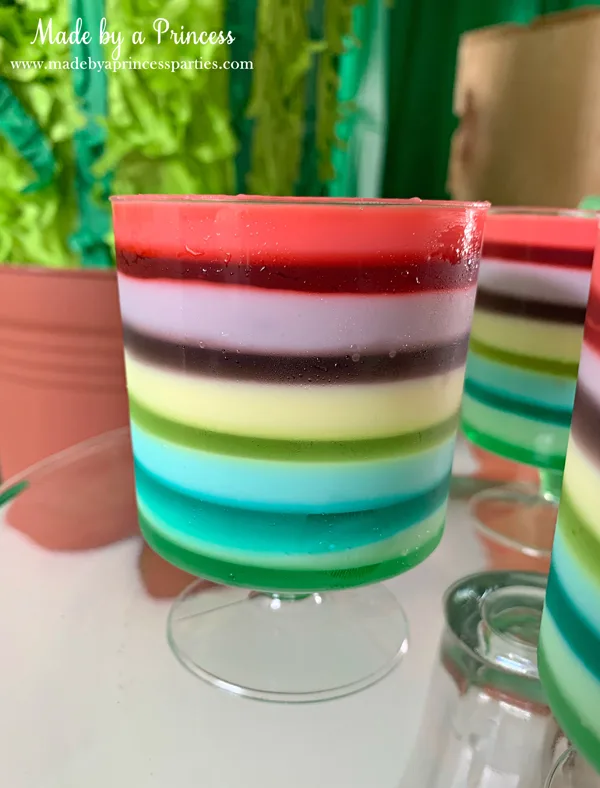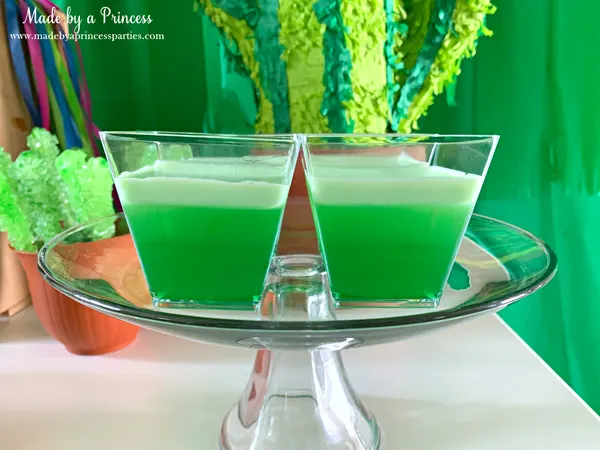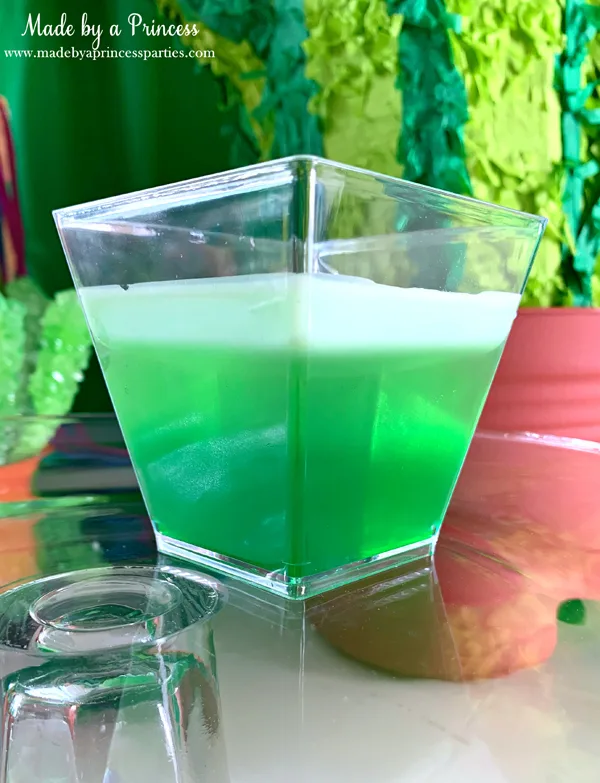 Peruvian Food Ideas
Since llamas hail from South America, fiesta themed food is perfect for a llama party. Taco bars are always crowd pleasers. Some things to include in your taco bar: taco filling and toppings like shredded beef, shredded chicken, cheese, tomatoes, green onions, peppers, onions, guacamole, beans, olives, sour cream, salsa, and hot sauce.
If you are looking for more authentic food here are some traditional Peruvian food ideas:
Anticuchos – grilled meat skewers
Causa Limena – mashed yellow potatoes filled with vegetables and fish or chicken
Ceviche – Peru's national dish
Empanadas – stuffed pastry filled with fried ground beef, onions, olives, hard boiled eggs, and raisins but there are many variations to be found.
Papas a la Huancaina – sliced potatoes with spicy sauce
Quesadillas
Stuffed avocados
Tamales – corn/potato dough filled with meats, cheese, chilies, vegetables, and spices, then wrapped in banana leaves
Tequenos – cheese sticks, Won Ton wrap filled with white cheese
Tiradito – sashimi style fish marinated in spicy lime juice sauce
Llama Party Decorations
Decorate your space with bright colors, Mexicana banners, maracas, lots of cactus, and of course, a llama! In case you don't have access to a real llama, use a llama piñata as the centerpiece of your food table. The great thing about using a piñata as decoration is you can use it as an activity later.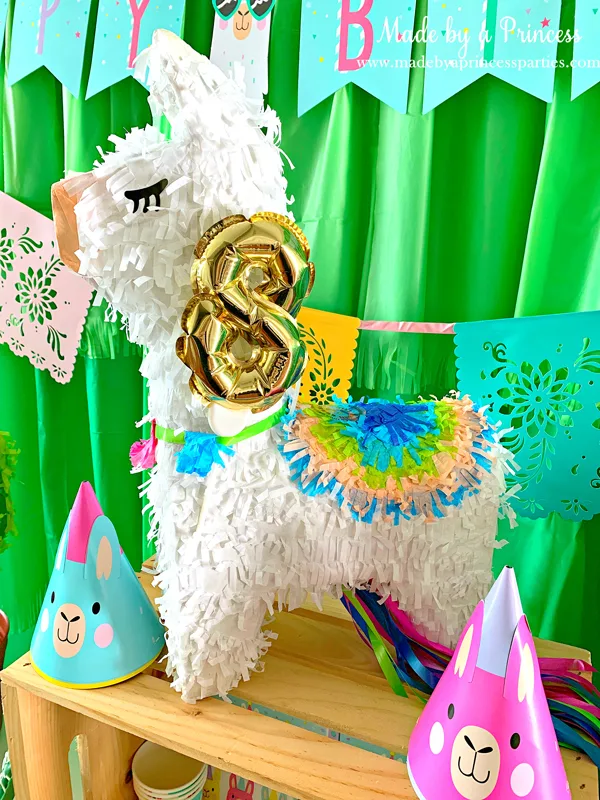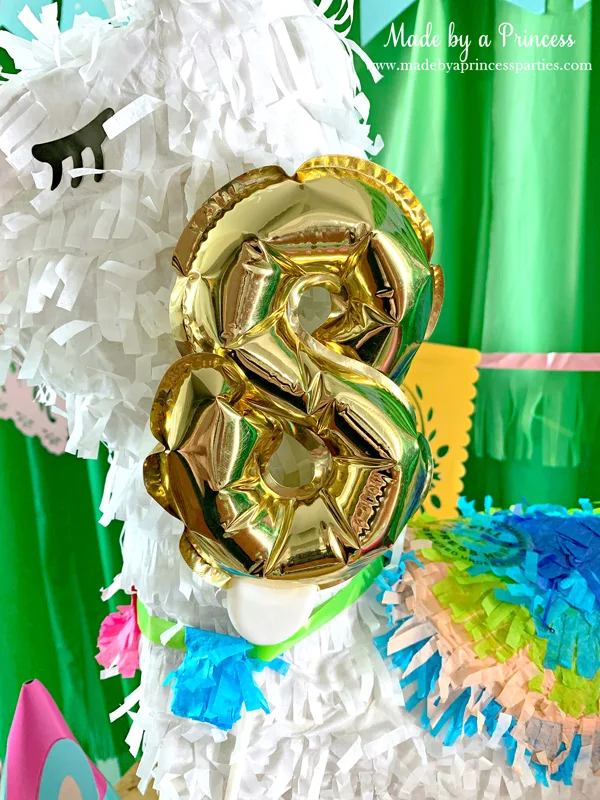 Want the look of cactus on the table but not the worry of guests pricking their fingers? Place cactus pinatas in clay pots at both ends of the table and fill with rocks. Plastic "clay" pots and rocks can usually be found at your local dollar store.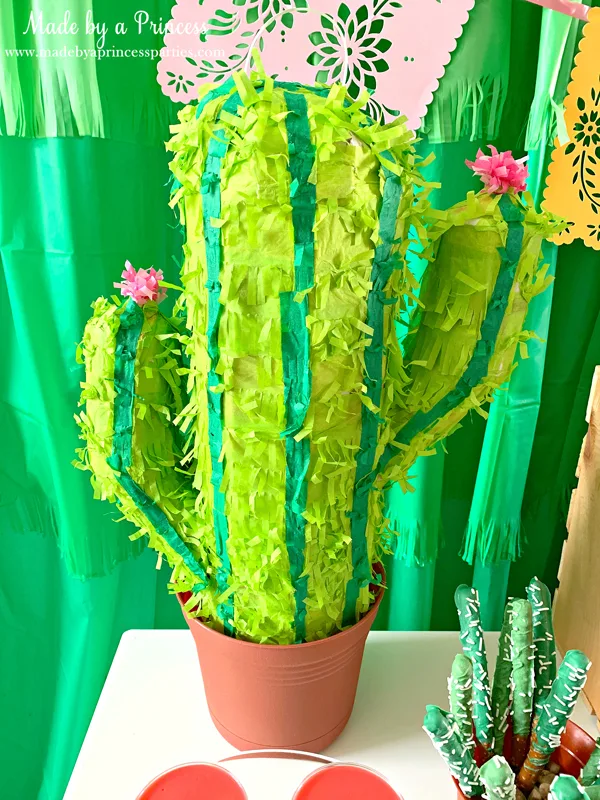 To create an eye catching backdrop with a fiesta flare, use three different shades of green plastic table covers, trim two, fringe, and hang on a curtain rod. To fringe the edges, use scissors and cut slits up every 1/8" or cut down on time and use fringe scissors.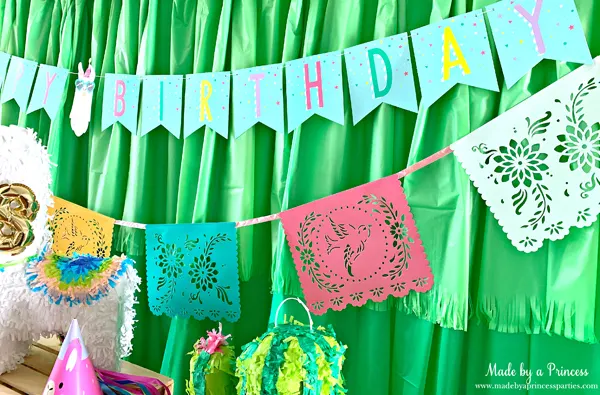 Decorate with a Happy Birthday banner and Mexicana papel garland.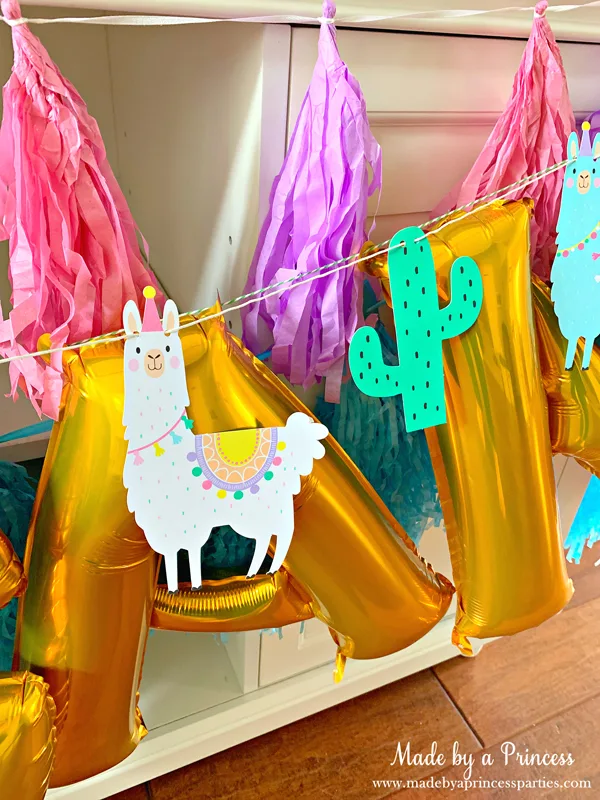 Air filled balloons make great big statement pieces on a food table. You can find ones that say, "Happy BDay", "Party", "Llama", or spell out the child's name.
Name too long? Use the birthday child's initials or birthday age. Air filled balloons do not require helium and usually come ready to hang with tabs with holes on top. Run twine or ribbon through the holes and secure to either end of the table with painter's tape or Glue Dots.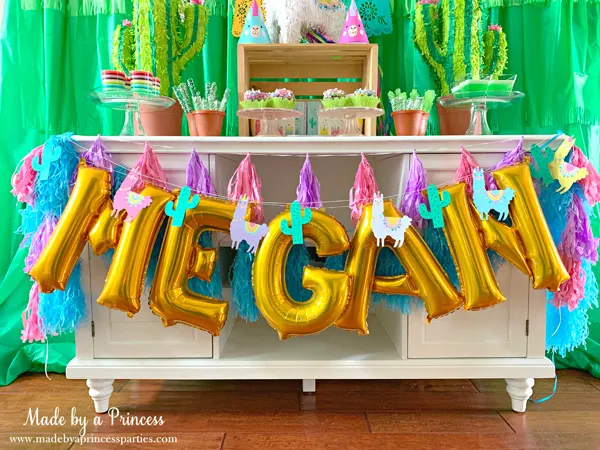 Llama Party Activities & Party Games Ideas
You gotta have a piñata at a llama fiesta! Fill with candy, bracelets, pencils, erasers, and adorable cactus lip gloss.
Other fun activities include:
Making floral headbands
Pin the Tail on the Llama
Cactus toss – cut green pool noodles to look like cactus, place in a large pot or bucket with heavy rocks to weight down, and toss a ring. The guest that hooks the most cactus wins
Adopt a Llama – have a table set up with mini stuffed llamas and let your guests adopt one to take home
Pass the Llama – like hot potato but with a stuff llama
Llama Party Favor Ideas
Give each guest a goody bag and let them take home cactus pretzel rods, rock candy cactus, and all the goodies they snatched up from the piñata. If you really want to make their parents love you, give them maracas 😉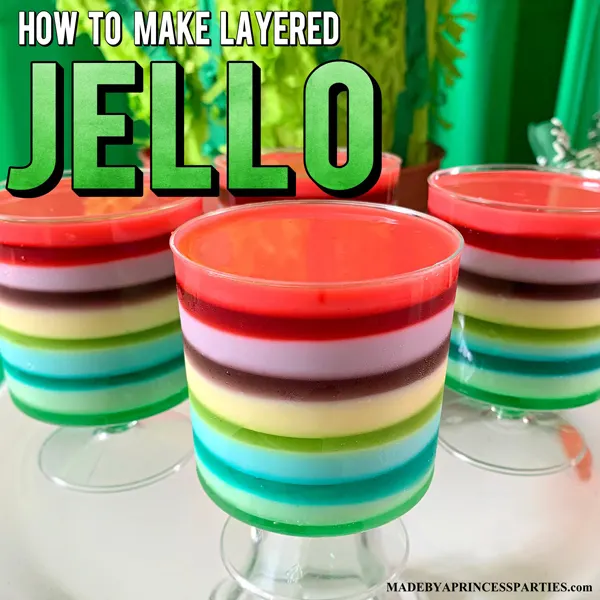 I hope you enjoyed these Girly Llama Party Ideas! Happy Planning!