Ever wondered How to Make Layered Rainbow Jello with Condensed Milk? It's really easy…let me show you how!

Have you ever seen a pic of a layered Jell-O dessert and wondered, "How did they do that?!" It's really not as difficult as it looks…I promise! No special skills are needed…anyone can do it! It can be made a couple days ahead of your event so one less thing to worry about the day of your event. Keep reading to find out how you can create this bright and colorful rainbow treat.
*post contains affiliate links
How to Make Layered Rainbow Jello with Condensed Milk
Making layered Jello isn't as difficult as it looks but it is time consuming. When you are ready to make your Jello cups make sure you leave yourself plenty of time to let your layers set up between colors.
This recipe calls for five different Jello boxes. Here is what you need before you get started:
(5) 3oz boxes Instant Jello, one for each color you will use
14oz can sweetened condensed milk
(1) 4oz box Knox unflavored gelatin (4 envelopes)
Water
Several bowls
(8) 5oz plastic dessert cups
Before you start making the Jello figure out how thick your layers need to be. Use a tape measure and dry erase pen to mark your layers. These pyramid cups were really easy because I only did two layers as you can see from the marks below. The layered rainbow Jello cups were trickier to figure out because I had ten layers.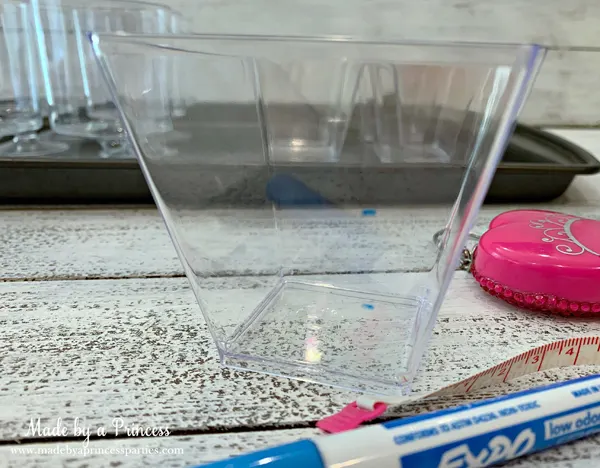 Layered Jello Dessert Preparation
Start by preparing your first layer of Jello. I chose green but if you are going for the traditional rainbow, start with purple. Prepare Jell-O using speed set method on the box. Set aside 1/3 of your Jello mixture to add to the sweet condensed milk layer.
Carefully pour Jello into your cups. If you are afraid of splattering Jello on the sides or overfilling, you can use a kitchen syringe or baster. Fill each cup with the first layer and carefully place in refrigerator to set about 10 minutes. Don't be alarmed if it takes 20-30 minutes to set.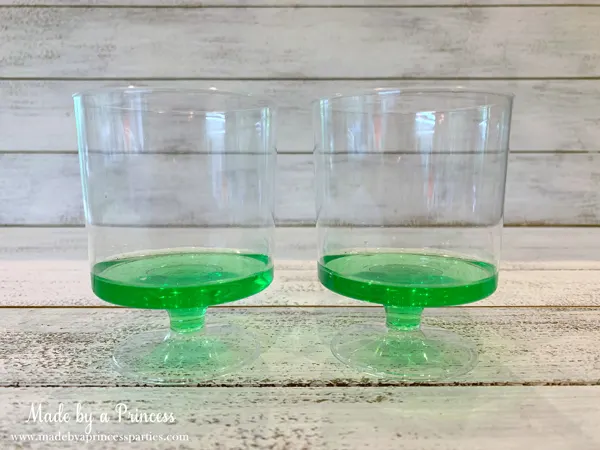 Next, prepare sweet condensed milk or "white layer". Dissolve 2 packages (4 teaspoons) unflavored gelatin in 2 cups boiling water. Add can of condensed milk and stir until well incorporated.
In a separate bowl, pour the 1/3 cup of green Jello you set aside and 1/2 cup condensed milk and stir to combine. Use the same method as above to add this layer on top of the first once it has set. Return to refrigerator and chill.
Note: Do not add layers until the previous one has set.

Slowly keep adding colored layers using the methods above. For each color set aside 1/3 cup to add to the condensed milk mixture.


If bubbles bother you, you can carefully pop them with a toothpick before placing in refrigerator.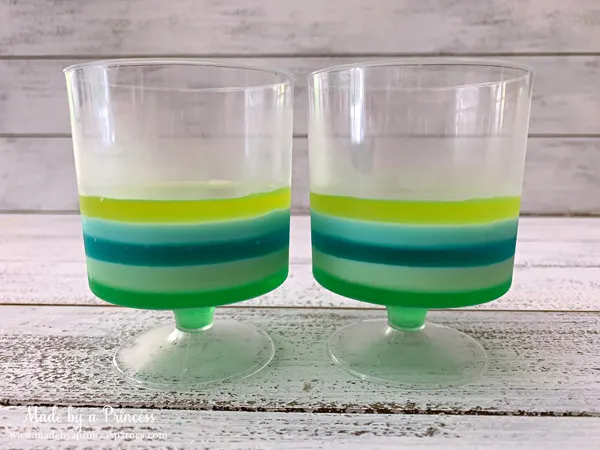 If your condensed milk is getting a little thick, place the bowl inside a bigger bowl filled with warm water and stir gently. The warmth should help melt it a bit just make sure you don't get water in your mixture.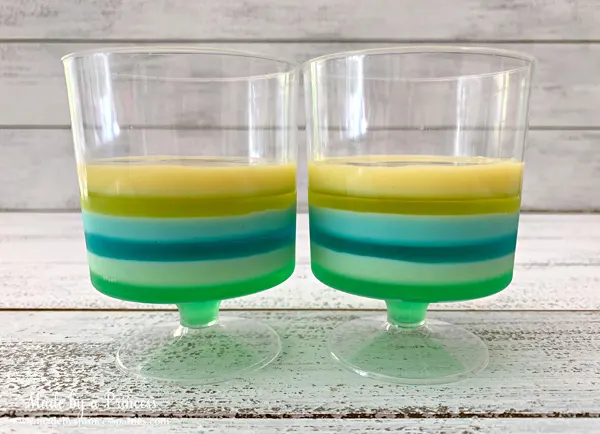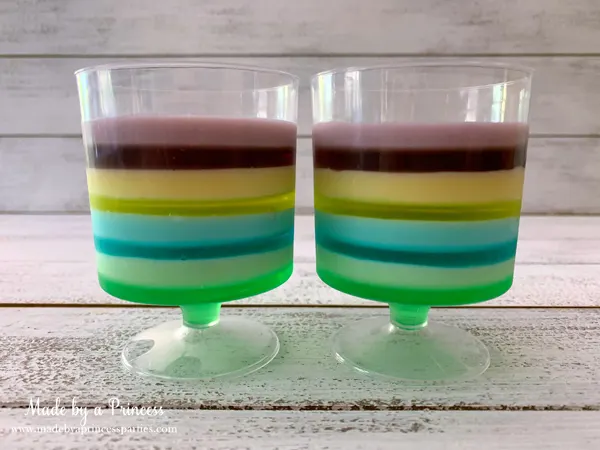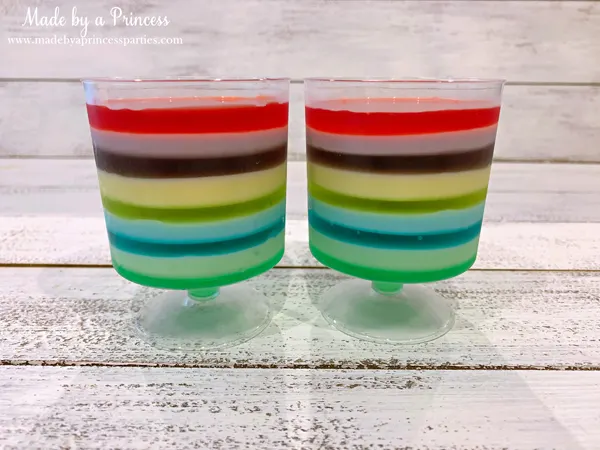 Be careful with that final layer! I was so nervous placing them in the refrigerator…my hands were shaking!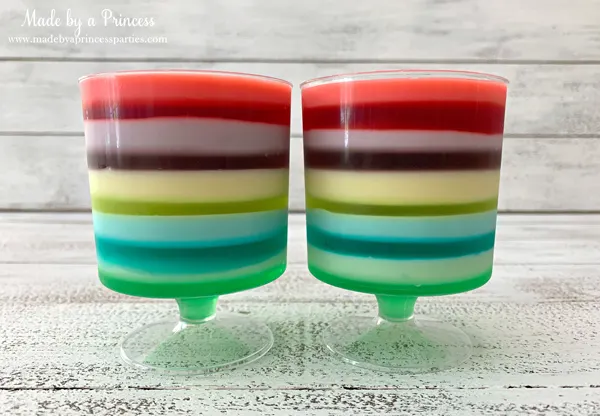 Ta da! If you have the time I totally think layered rainbow Jello cups are worth making! These rainbow colors are so bright and cheerful and can be made in any flavor and color combination for birthday parties, holidays, and school events.

Layered rainbow Jello cups can be made up to 2 days in advance of your event. Keep them refrigerated and they will be perfect.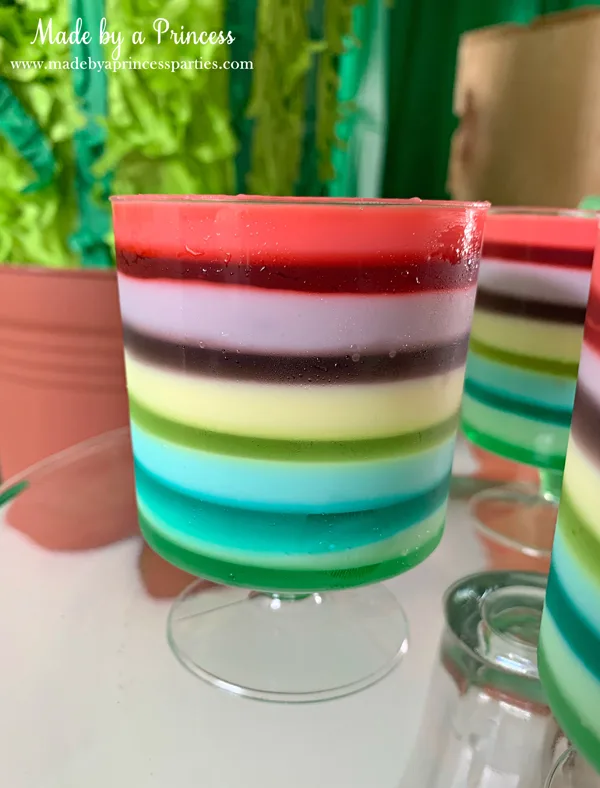 Even a simple two layer Jello cup is cute and easy to make. If you want to get fancy you can add a dollop of whipped cream or Cool Whip and sprinkles.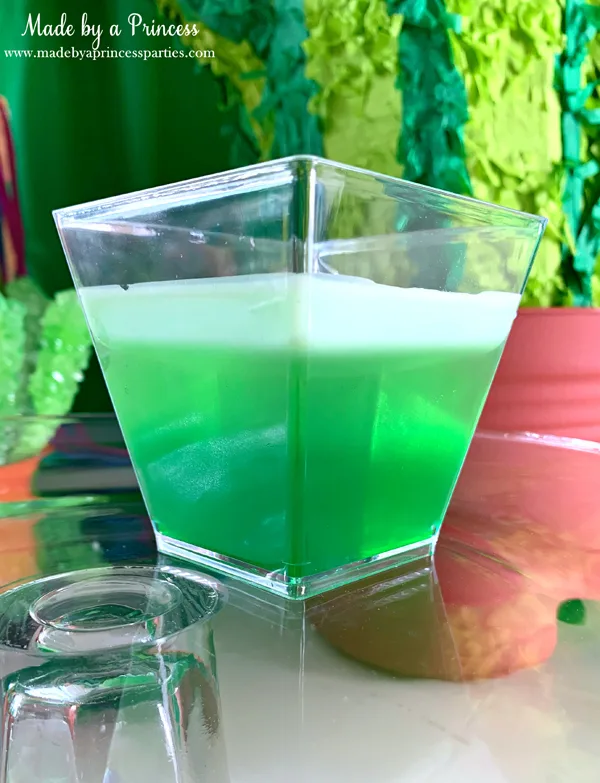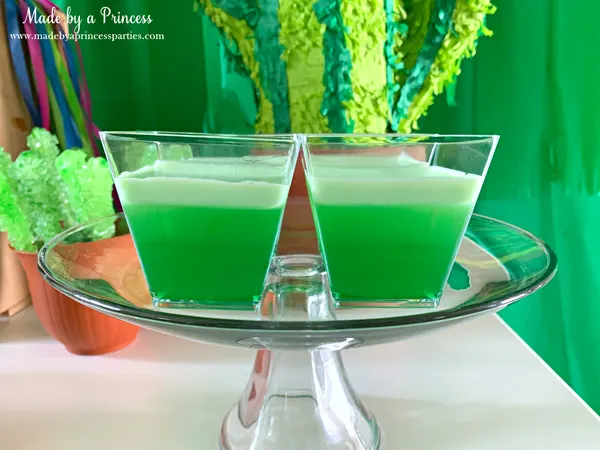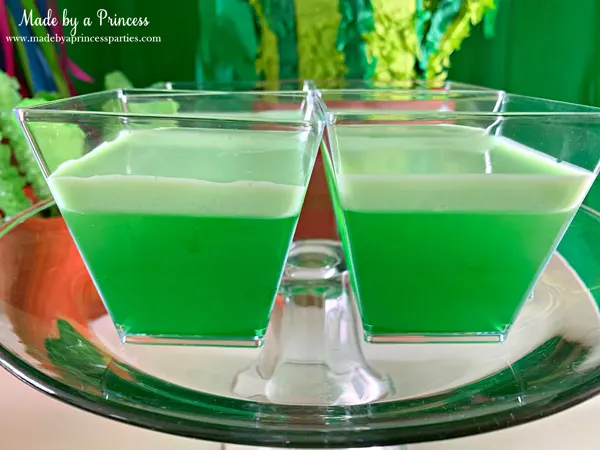 Helpful Jell-O FAQs
Why is my Jello still liquid?
It's important that you not cover your Jello when placing in the refrigerator to set. The warmth from the mixture can cause condensation which may then drip into the Jello. If there is too much liquid the Jello can't set.
What causes Jello not to set?
Make sure your gelatin or Jello mix is completely dissolved before adding cold water.
How do you make Jello firmer?
To make your Jello firm use non-flavored gelatin. Dissolve gelatin powder in boiling water and add to your Jello mixture to make it firmer. The amount of gelatin you use will depend on how much Jello you are making.
Can I use juice instead of water in Jello?
Yes, you can use juice instead of water when making Jello. I would avoid juices like lemonade and opt for juices like apple, white grape, or cranberry.
Why does pineapple stop Jelly setting?
Pineapple, ginger, figs, guava, kiwi, papaya, and mango contain a digestive enzyme called bromelain. While great for digestion, they are not best suited for Jello recipes because they break up the protein molecules needed to bind together in order for the Jello to set. Honey also contains bromelain so it's best not to add honey to your Jello either.
What kind of fruit can you put in Jello?
Strawberries, blueberries, raspberries, etc..
Grapes
Bananas
Cherries
Honeydew
Cantaloupe
Seedless oranges
Mandarin oranges
Apples
Apricots
Peaches
Pears
Canned pineapple (heat from canning renders enzymes inactive which is why you can use canned)
Canned fruit cocktail
Want to see another version of rainbow Jell-O cups? Check out my
Unicorn Party Rainbow Jello Recipe
!