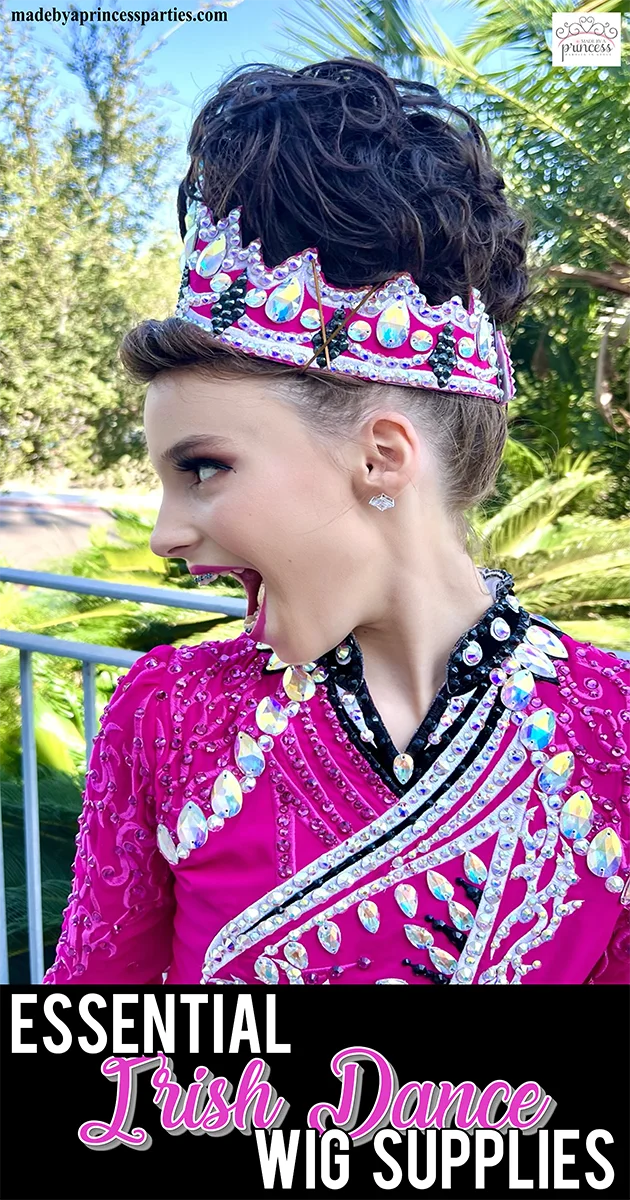 Welcome to the world of Irish Dance wigs! If you're new to this side of Irish Dance then you are probably feeling a bit overwhelmed. This whole glam side of dancing is a lot to process but you're not alone…don't worry, I've got you, friend!
Let me start by saying every "Dance Mom" has their own way of doing things and you will figure out what works for you as time goes on. My biggest piece of advice as you begin this wig journey is to practice, practice, practice and to give yourself grace. There will be tears and they likely won't just be coming from your precious dancer. It's going to take time to learn how to perfect that pouf but you'll get there. With that said, let's get into the list of things you will need to get started.
*post contains affiliate links
Essential Irish Dance Wig Supplies
Wig: Most of us in the Irish Dance community get the wigs from Camelia Rose. They make a number of styles in a large variety of colors. Before you buy anything whether it's from Camelia Rose or a fellow dance friend, check with your dance school because more than likely they will have a specific style they want you to purchase.
Hair Donuts: I'm not talking about the Krispy Kreme kind, unfortunately. Donuts are a must in Irish Dance. Ever heard of the southern phrase, "The higher the hair the closer to God"? We believe in that too here in Irish Dance so get ready for high hair! Talk to your dance school and find out how many donuts they want you to use. Many schools want three, at least for the Majors (Oireachtas, Nationals, Worlds, All Scots, Great Brits, All Irelands, etc..) The best place to get these is directly from Camelia Rose. I have yet to find the same size they sell anywhere else and their own stylists use them so I suggest getting from them if possible.
Tools
Wig Care
One more thing we can't travel without is a baseball jersey. Most schools sell them but in case they don't you can purchase a blank one from Amazon. The reason this is so important is because you don't want to be trying to pull a t-shirt over their hair when it's time to put their dress on. There will be tears. Ask me how I know…
By now you're probably thinking, "What have I gotten myself into?!" It's a lot…I know. The good news is that once you buy the items you need for your Wig Kit you won't need to purchase anything else for awhile. The only thing I have replenished is hairspray and that was only because it stopped working.
Check out my Irish Dance Essentials Amazon Storefront for a complete list of items we can't live without.
Learn how to customize and create your own Irish Dance baseball jersey with my Cricut tutorial!
I hope you find this list helpful as you begin this new chapter of your dancer's Irish dance life. Please feel free to ask me any questions at [email protected].