This post sponsored by World Market. All opinions are my own.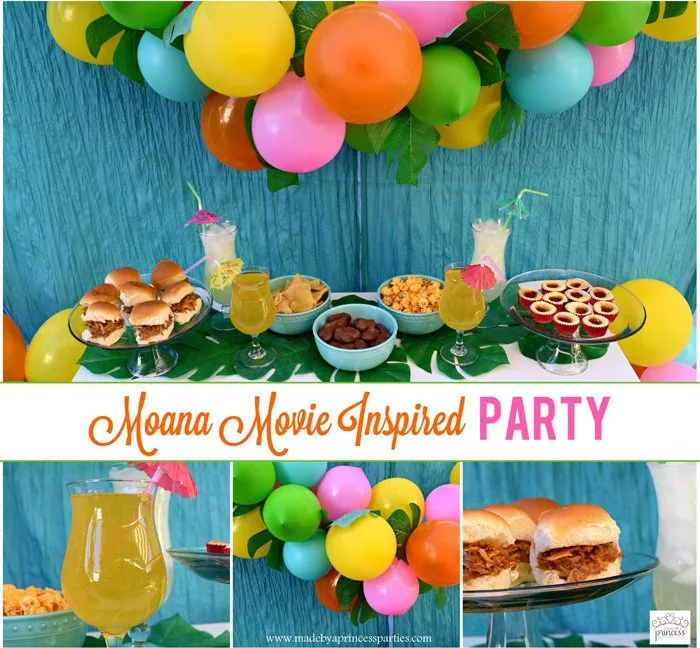 Everyone loves a luau and with the Oscars just around the corner I decided to throw a Disney Moana Movie Inspired Party to celebrate their nomination. Moana is the story of a headstrong teenage girl who sets out on an adventure to prove to her tribe and herself that she is worthy of being the first female chief and no one will tell her any differently. Along the way she meets some colorful characters who help her discover who she is really is and what she is capable of. This is my kind of girl! Keep reading for party details that will help bring this story to life.
Having a headstrong daughter of my own, as well as being fairly strong willed myself, I knew the perfect theme to bring to life for an Oscar party would be Moana. You gotta love a girl who is poised to become the first female chief! The colors in the movie are bright and fun so in addition to some great food (because every party needs some awesome themed goodies) it was important to showcase the beauty of the movie itself. I always wanted to show how easy it is to bring color to your party table with an easy to put together balloon garland.
Balloon garlands are all the rage right now and so easy to create as well as really inexpensive. All you need are some packages of balloons and a balloon strip. Once you blow up the balloons you just attach them to the strip by pulling the bottom of the balloon through one of the holes. I then added big tropical leaves so finish the look. You can use helium but I didn't think it was necessary. I had my son help me blow up the balloons while watching Real Housewives 🙂 I would definitely put this together at least the night before the party.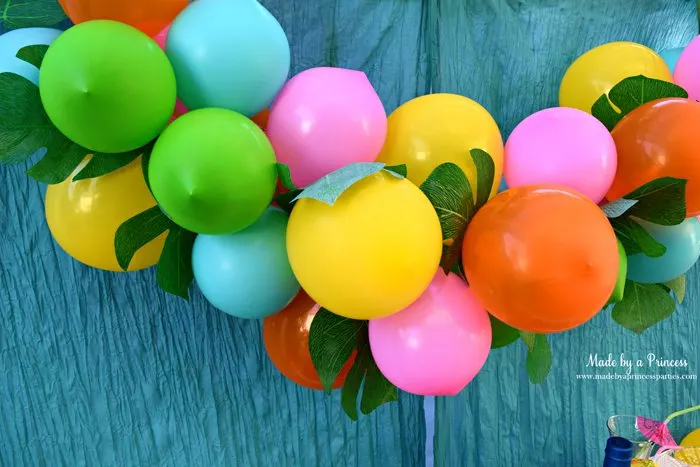 As you can see I really didn't need any other decorations. I had balloons left over so I put a few clusters together and attached them to the curtains on either side of the table.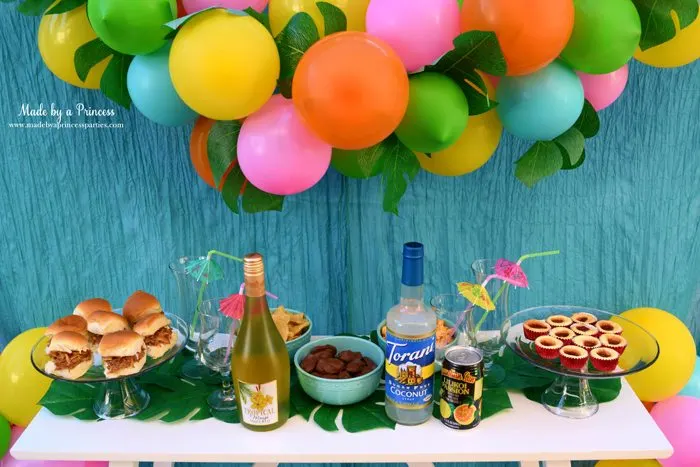 One of my favorite party tips is to create a signature drink and since I was hosting both adults and kids I created two…one alcoholic and one non-alcoholic. The drink for the kids is a Kakamora Coconut Cooler, named after the little coconut guys in the movie. The adult version is a Maui Mango Moscato Sparkler named after the character, Maui, voiced by Dwayne Johnson.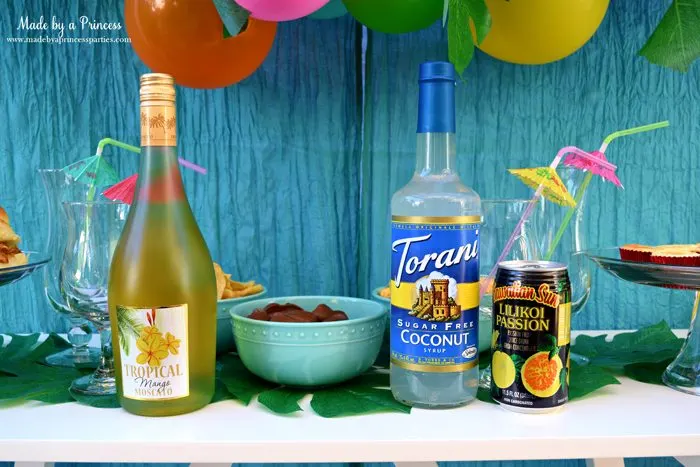 Champagne is my favorite drink of choice so naturally I created a champagne based cocktail. This sparkler is made with champagne, Tropical Mango Moscato, Passion Fruit juice, and a splash of Torani Sugar Free Coconut syrup.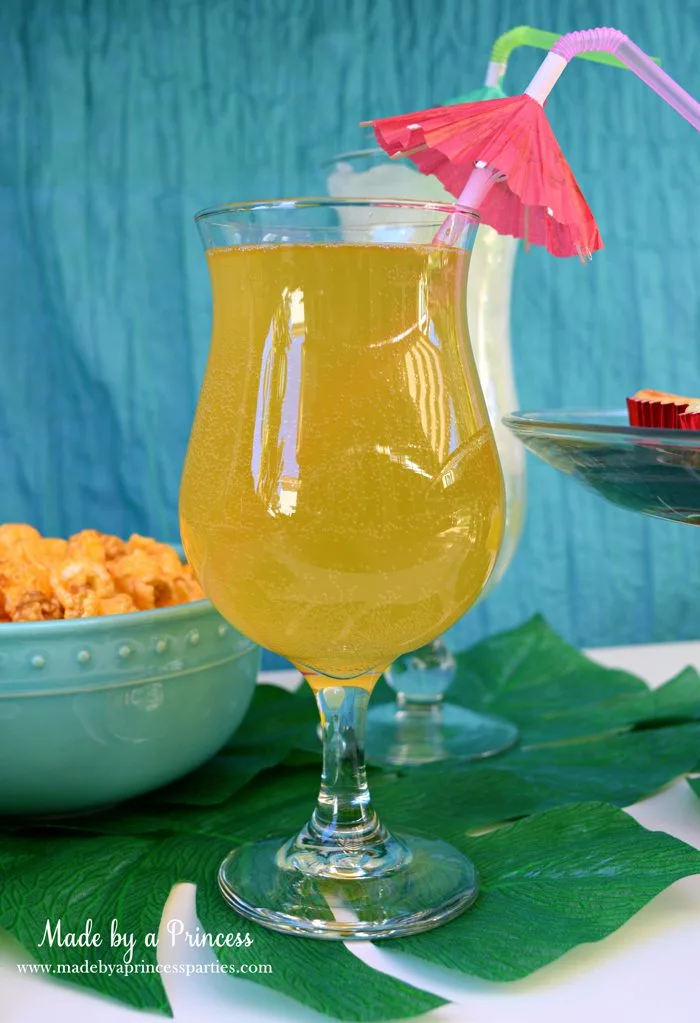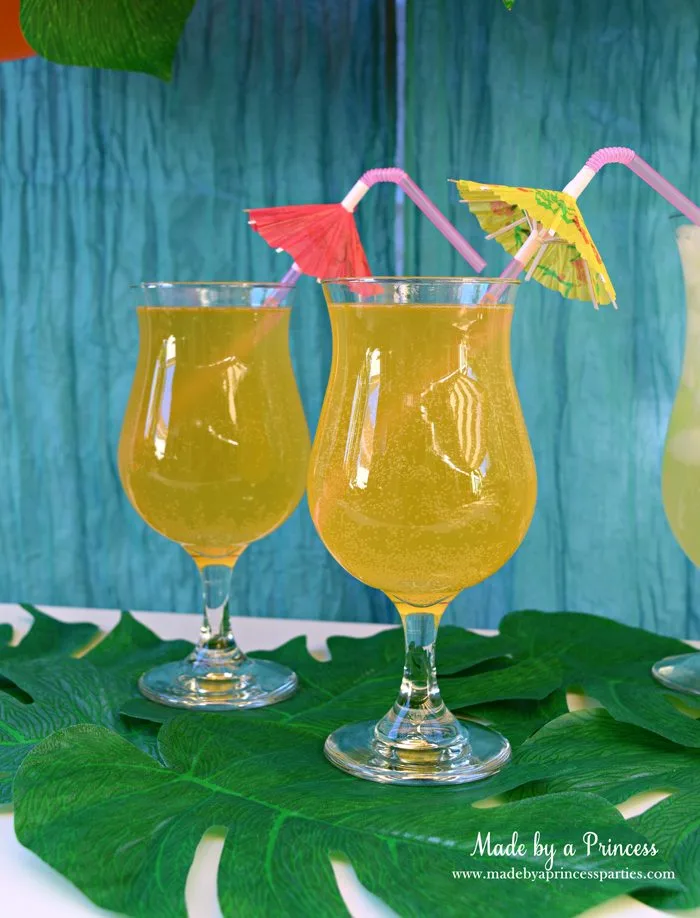 The non-alcoholic Kakamora Coconut Cooler is made with Passion Fruit juice, lemonade, and Torani Sugar Free Coconut syrup.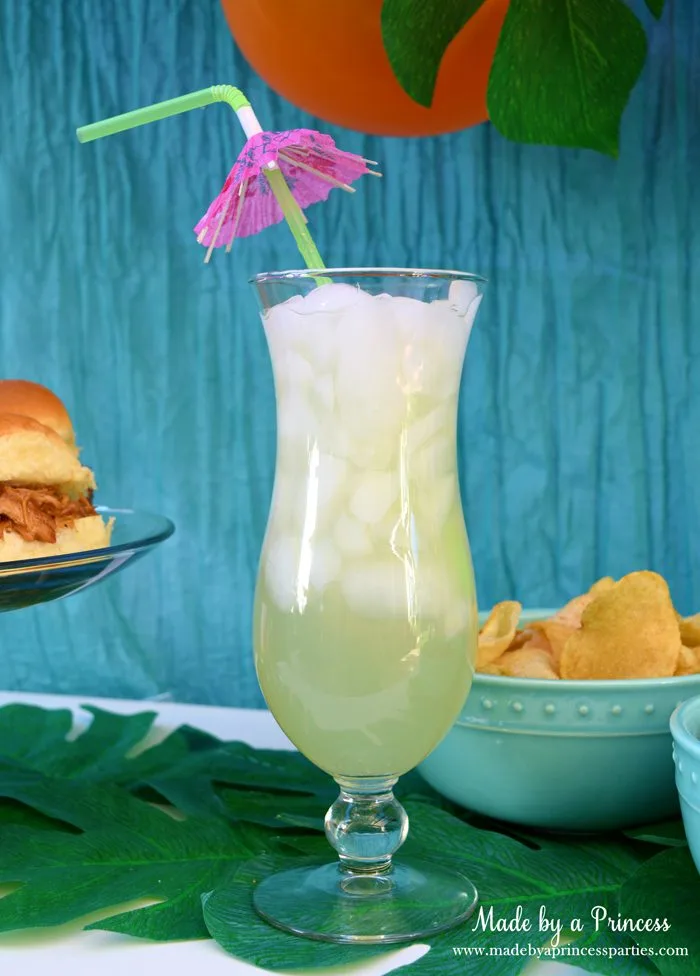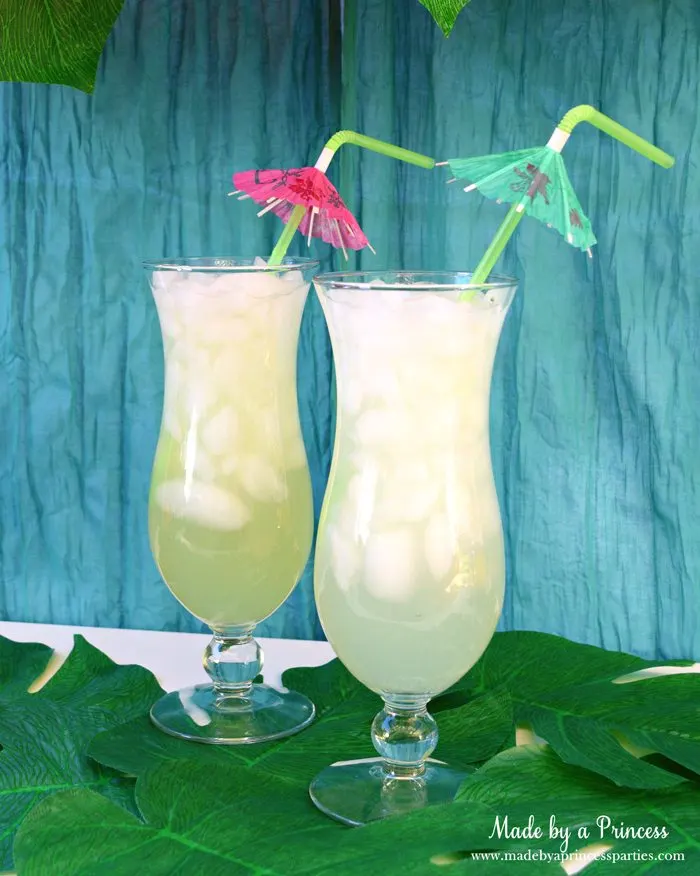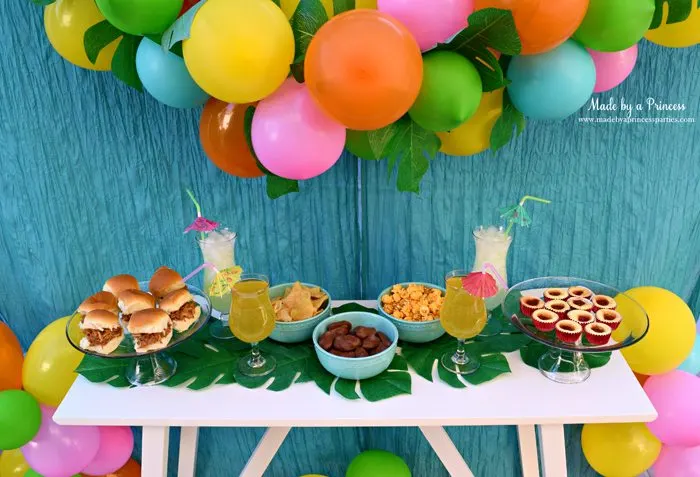 I love finger foods and snacks for parties so I made Strawberry Guava Chicken Sandwiches and Strawberry Guava Cheesecake Bites and set out bowls of chocolate covered macadamia nuts, Maui Onion chips, and caramel and cheddar cheese popcorn.
My son, my growing like a weed almost 15 year old son, ate the entire bag of popcorn right after I took this picture. Not a single crumb was left for the rest of us! I highly suggest getting at least two bags of popcorn!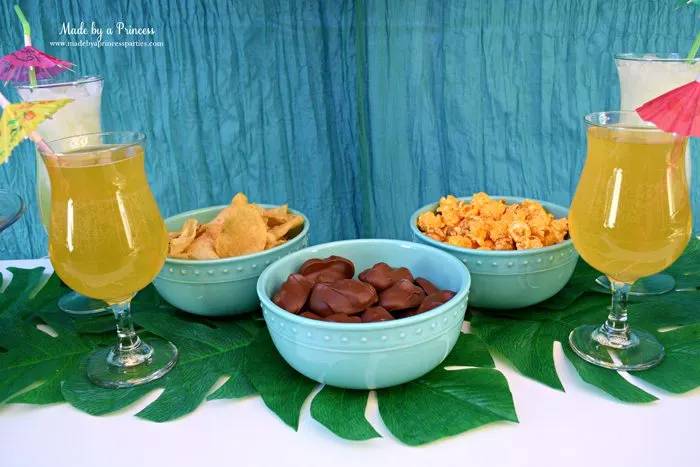 Chocolate covered macadamia nuts are the best!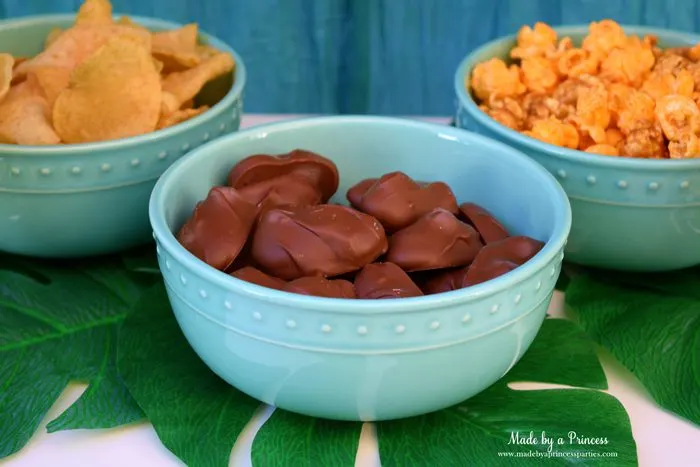 Caramel & cheddar cheese popcorn is great for any occasion…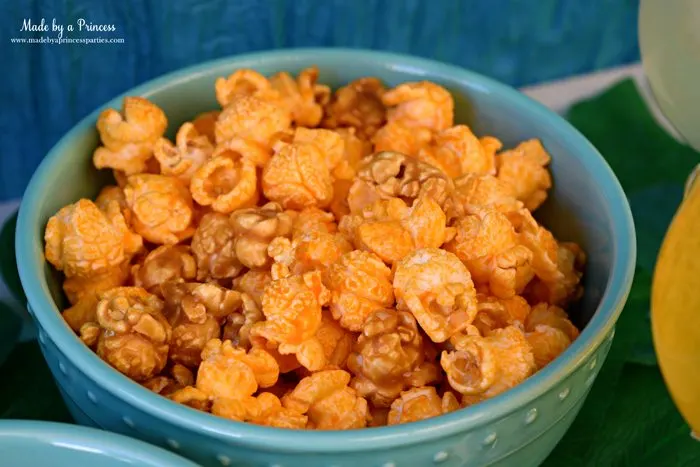 Maui onion chips are the perfect tropical blend of sweet and salty. One day I will get to Hawaii and experience real Hawaiian food but I'll have to settle for all the goodies I can find at World Market until then!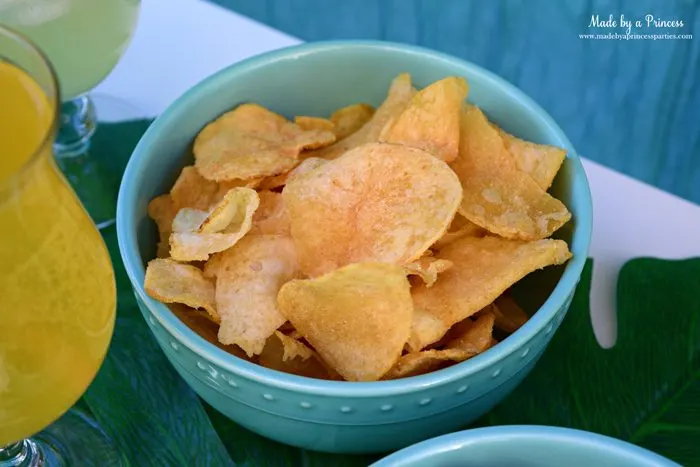 Strawberry guava pulled chicken sandwiches were a big hit with the family and something I will be making again for sure!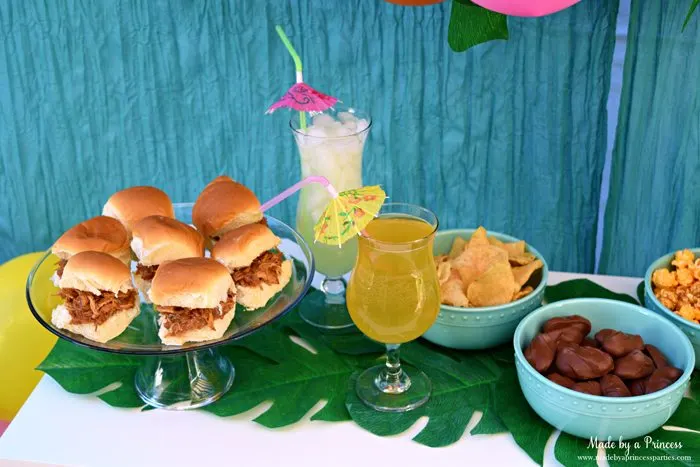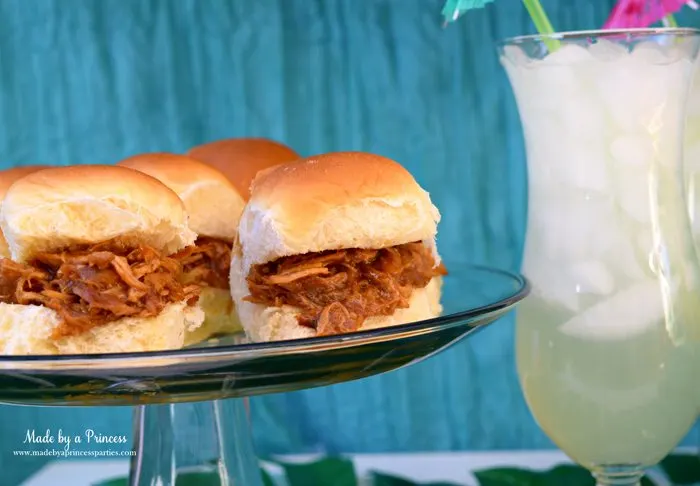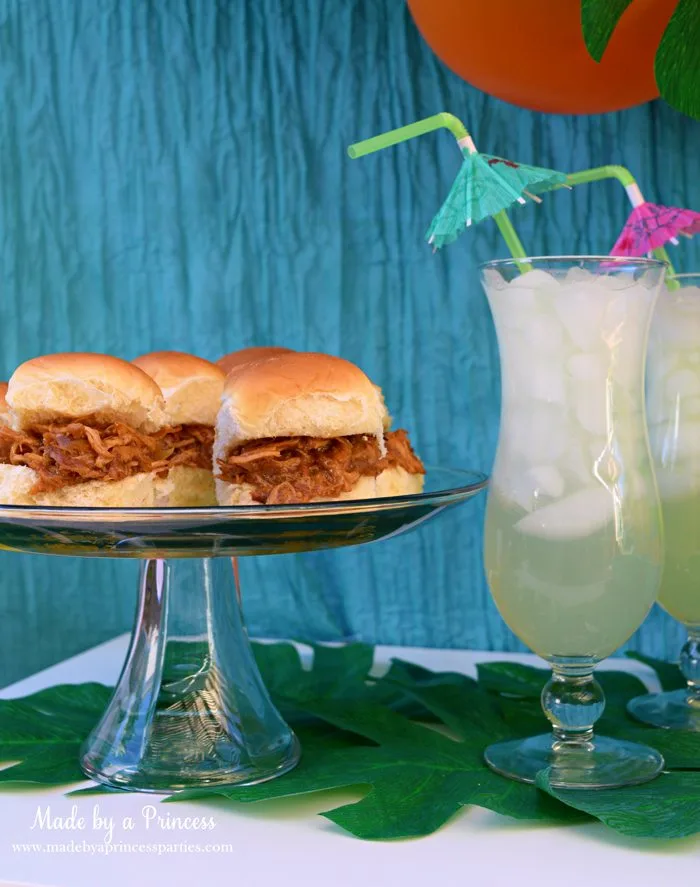 I took my traditional cheesecake bites recipe (actually my BFF Beth's recipe) and added a little tropical twist. These strawberry guava tropical cheesecake bites are the easiest little treats to make and can be made the night before and stored in the refrigerator until ready to serve.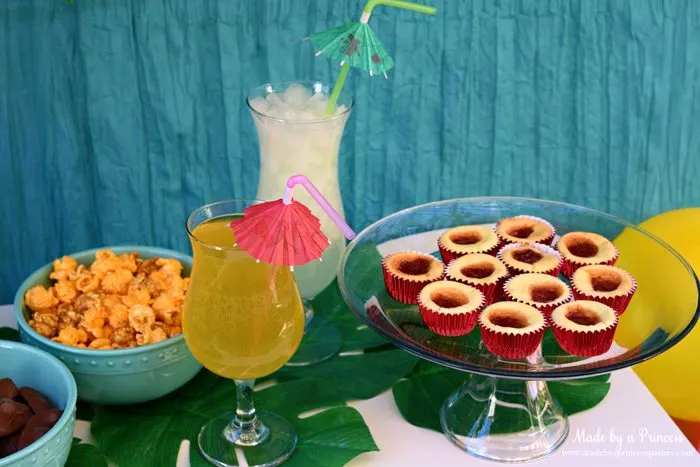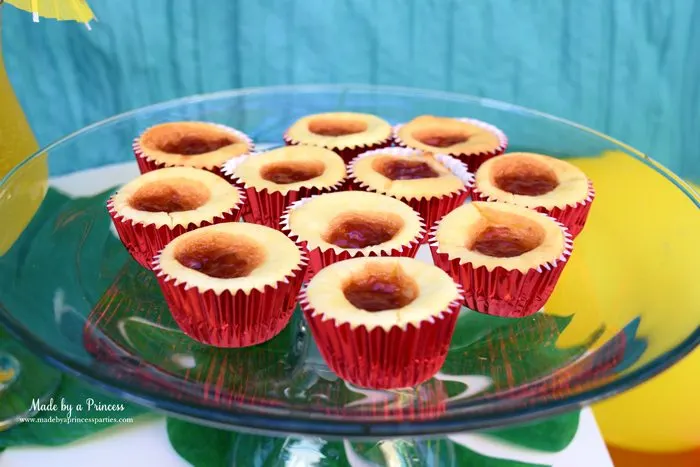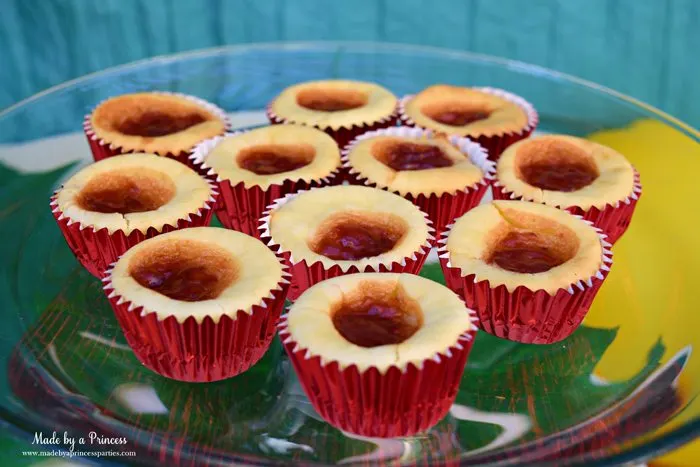 I hope you enjoyed my Disney Moana Movie Inspired Party post! This is something you can easily recreate without taking too much time or effort to put together. My PARTY TIP is to make the chicken and cheesecakes the day before, create the balloon garland a couple days before, and have your table all set up and ready to fill with food and drinks right before the party. Most of all…have fun with it! I have included all the links below so you can easily shop for your party!