This post sponsored by Evite. All opinions are my own.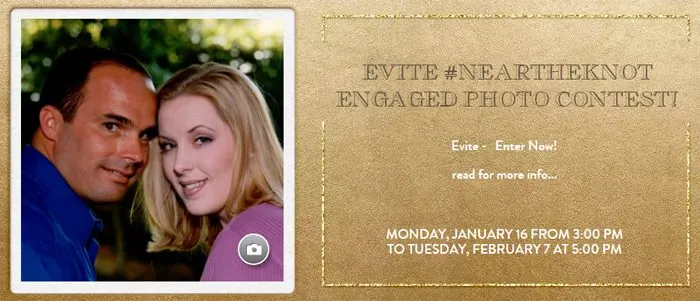 It seems like a lifetime ago that I was planning my "I Dos" to my husband. Our engagement story involves a ranch, sneaking Champagne, my mom, and a Clydesdale sneezing on my boyfriend who is now my husband. I'll tell you my story but I also want to hear yours. If you have an engagement photo that's even better because your photo could actually win you some pretty fabulous prizes so read more on how to enter Evite's #NeartheKnot Engaged Couple Photo Contest!
Before I tell you about Evite's #NeartheKnot Engaged Couple Photo Contest I am going to share a little story…it was 17 years ago, on January 3rd, that my husband proposed and while it was incredibly special and meaningful it wasn't exactly what he had planned. Here's a quick backstory: with the whole Y2K thing we decided we wanted to get out of the city and go somewhere quiet, peaceful, and completely different for us. I found a great ranch online and thought it looked perfect. My then boyfriend, now husband, and I were all set to go and realized my mom would be spending the weekend alone so we invited her to come along. My mom is a pretty fun person and we have a great relationship so we were happy it was going to work out.
As soon as we got to the ranch Pat and I decided to explore the grounds and maybe even get on a horse. We wandered over to the stables and met some very nice horses along the way. We stopped to talk with "Danny" for awhile. He seemed nice, Pat was stroking his mane, telling him what a handsome horse he was, and then all of a sudden Danny looked at him and sneezed right in his face. Have you ever had a Clydesdale sneeze in your face? Well, I haven't either but I can tell you if it doesn't happen to you it's funny as hell it's completely disgusting! I know I shouldn't have laughed but I could not stop myself. I wish I had a picture of that moment. Actually, I wish I had a video of that moment! I do have a photo right before it happened though, when Danny looked like such a nice sweet horse. What a brat!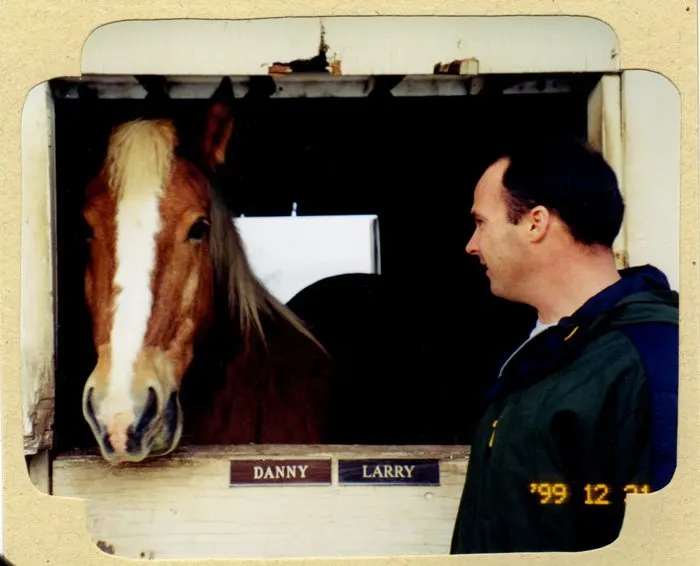 So, that night (12/13/99) the three of us went to dinner and Pat had intended on proposing on New Years Eve but felt kind of awkward with my mom there. I get it. The ring was in his jacket pocket, however, the jacket that was sitting on my lap the entire car ride over there. At one point he did ask me to check his pockets to make sure he brought his wallet. He told me later it momentarily slipped his mind that the ring was there. That would have been something if I had put my hand in the other pocket!
New Years Eve came and went. We came home and had a funny story to tell about the horse. I was secretly hoping he was going to propose on New Years though. Come on girls…how many of you were waiting for the clock to strike midnight and for your man to drop a knee? I feel ya! That Monday, January 3rd, we got up, went to work, came home, and started to settle into our nightly routine when Pat asked if I wanted to go for a walk. That wasn't unusual since we had a neighborhood route we liked to take. What was unusual was the way he was dressed and that he wanted to drive over to the spot. Oooookay. There in front of the fountain we had walked past many times on our nightly walks he pulled out that little box and asked me to marry him. It was very special, it was a place we loved walking to, and there was not a Clydesdale around to ruin it. (Excuse the old grainy photo…it has been scanned from my photo album!)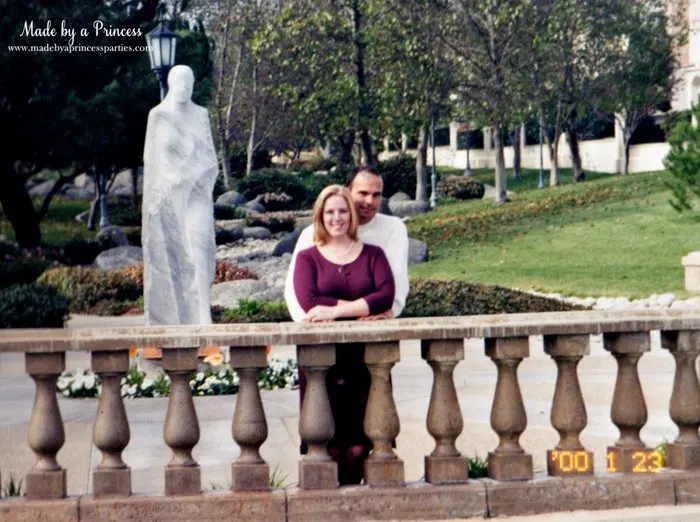 We went and had official engagement photos done in Los Angeles by a wonderful photographer. I still love these photos. Gosh we look so young!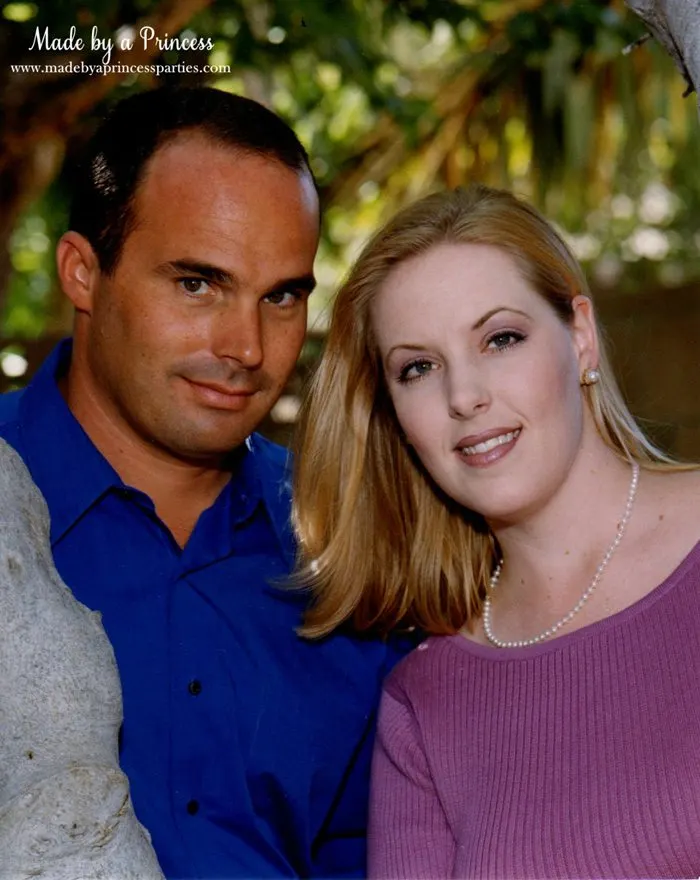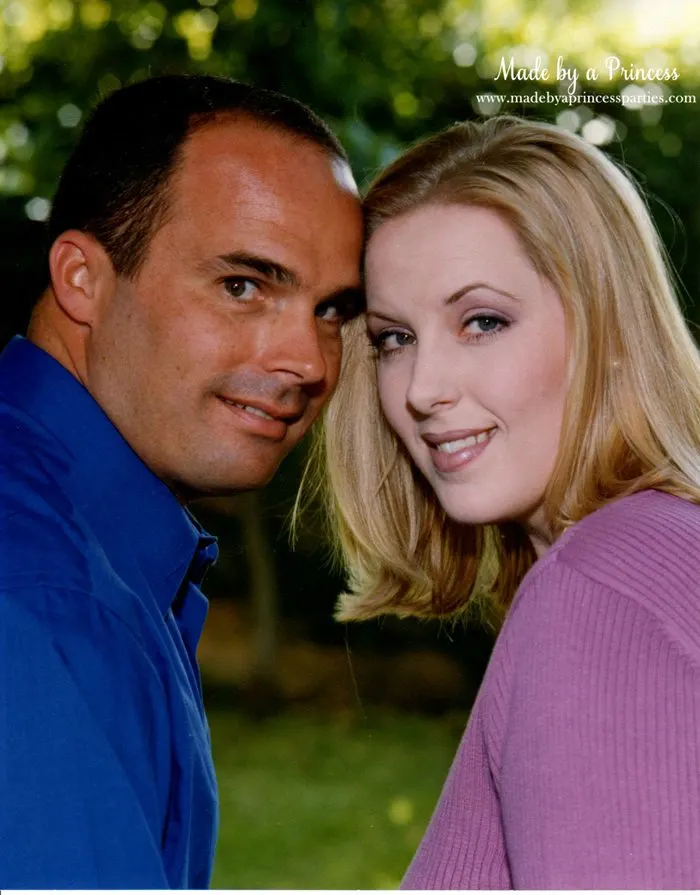 We were married 9 months later in Los Angeles, were I grew up, and let me tell you throwing a big wedding together in 9 months was no small task, particularly from out of town. I wish Evite had been around then because it would have saved me so much time coordinating all of the events and RSVPs. I absoolutely loved planning our wedding, down to the smallest detail, but there is a lot to think about and put together. Take it from me…let Evite step in and help take some of those worries off of your to do list! They have a ton of beautiful invitations to choose from for everything from save the dates, to bridal showers, to even your wedding invitations. I love this gold scroll invite. It kind of reminds me of Cinderella and anything that has to do with princess stuff I'm on board with.

So now it is YOUR TURN! I want to hear your engagement story (tell me below) and Evite really wants to see your engagement photo.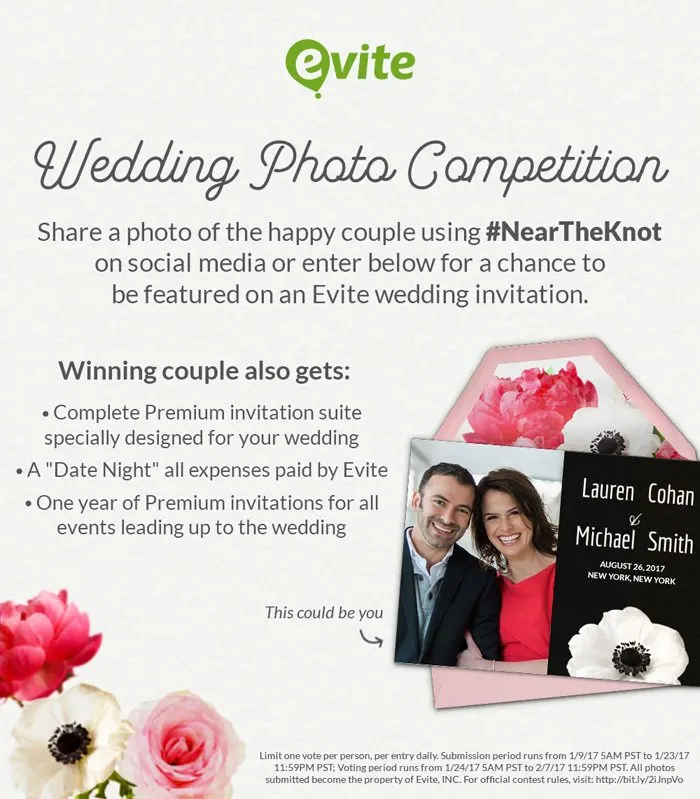 Want a chance to be featured on a Premium Evite wedding invitation? You've got to ENTER!
The winning couple will also receive…
A "Date Night" all expenses paid by Evite
A complete Premium invitation suite specially designed for their wedding events
One year of free Premium invitations for events leading up to the big day
Get those photos in before 1/23/2017 because voting starts 1/24/2017 and goes through 2/7/2017. If you or someone you know is engaged this is such a great opportunity so hurry and enter Evite's #NeartheKnot Engaged Couple Photo Contest before it's too late.
I really do want to hear your engagement stories! If you posted pictures on social media tag me #MBAPrincessParties so I can see your pics. One last thing…CONGRATULATIONS!! This is such an amazing and exciting time for you. Have fun with it, don't stress out, don't spend a house payment on your dress, take time to enjoy all it all, and don't worry about the little things. No one will notice that you were supposed to have Prosecco and they served Champagne. It's bubbly and it's free…just raise a glass, kiss your love, and put on your dancing shoes. And the fact that your beautful dress was bustled wrong all.night.long and no one had a clue including you until months later when you are looking at the wedding proofs won't matter either. Ok, maybe it will matter a little but what will matter more is the story that goes along with it. It's a good one too and it makes me smile when I think about it. That's for another time…