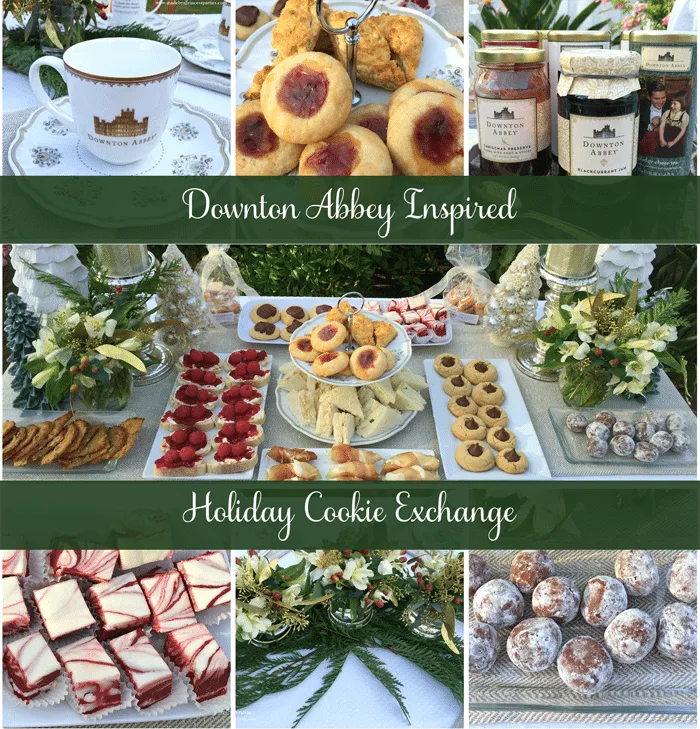 Oh how I love a tea party. One of my favorite things about a tea party is spending time with my girlfriends. This year I hosted a Downton Abbey Holiday Cookie Exchange with a small group of some of my favorite ladies. We enjoyed traditional tea goodies and tried out some new ones as well. I couldn't think of a better way to spend a Sunday than drinking tea, laughing, giggling, sharing stories, and enjoying some wonderful treats.
Last year I had some girlfriends over to welcome my friend, Jen, to the Mommy Club with a Baby is Brewing tea party. This year I decided to go back to doing something my mom and her girlfriends use to do…a good old fashioned cookie exchange but in a very Downton Abbey Christmas kind of way. The "rules" were pretty simple: bring 3 dozen cookies – 2 dozen to exchange and 1 dozen to share. I broke the rules a little bit by making two kinds of cookies. I can't help it…I'm a rebel.
I headed to World Market, a few times, to find the perfect items to decorate my table. Last year I went with pretty pinks since Jen was having a girl but this year I opted for a more wintery feel.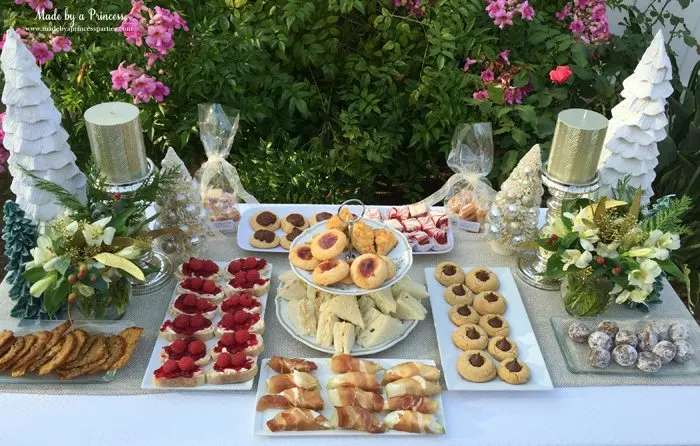 I wanted to create a very subtle tablescape so I chose tall snow covered trees, frosted Christmas tree candles, silver herringbone candles with antique silver ribbed candlesticks, and cream colored bottlebrush trees. Living in Sunny Southern California this is as close to snow covered trees as it's going to get.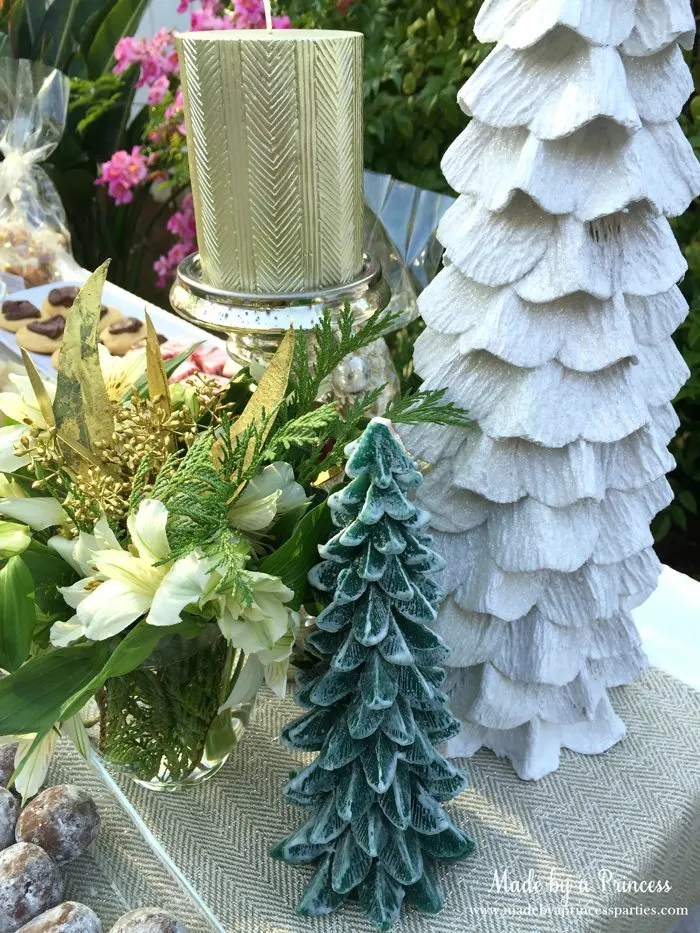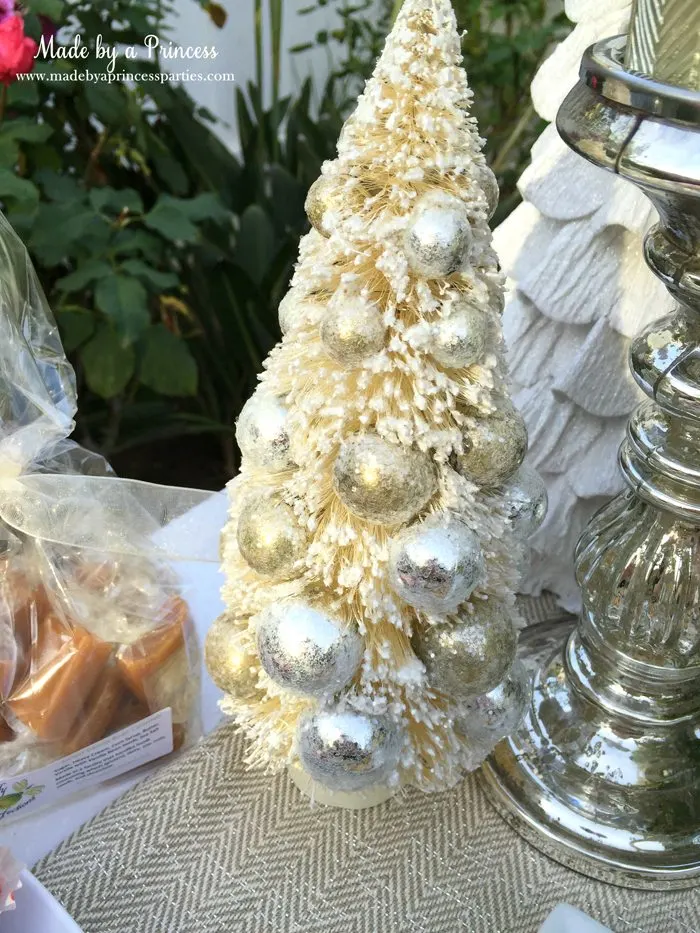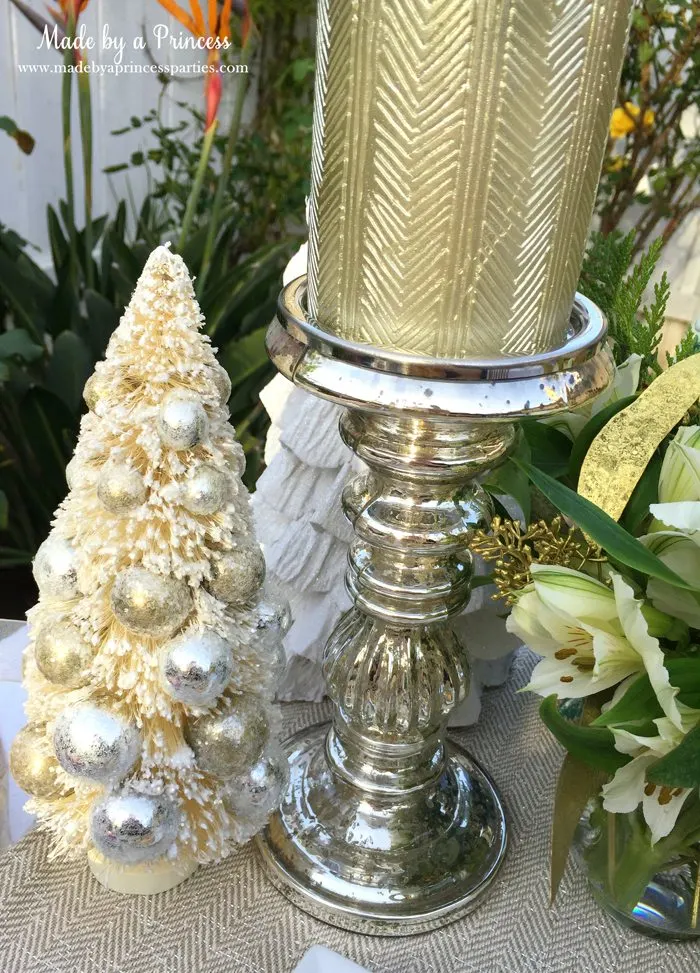 My favorite local place to buy flowers has the best selection of flowers and greens so I stopped in there and found just what I was looking for.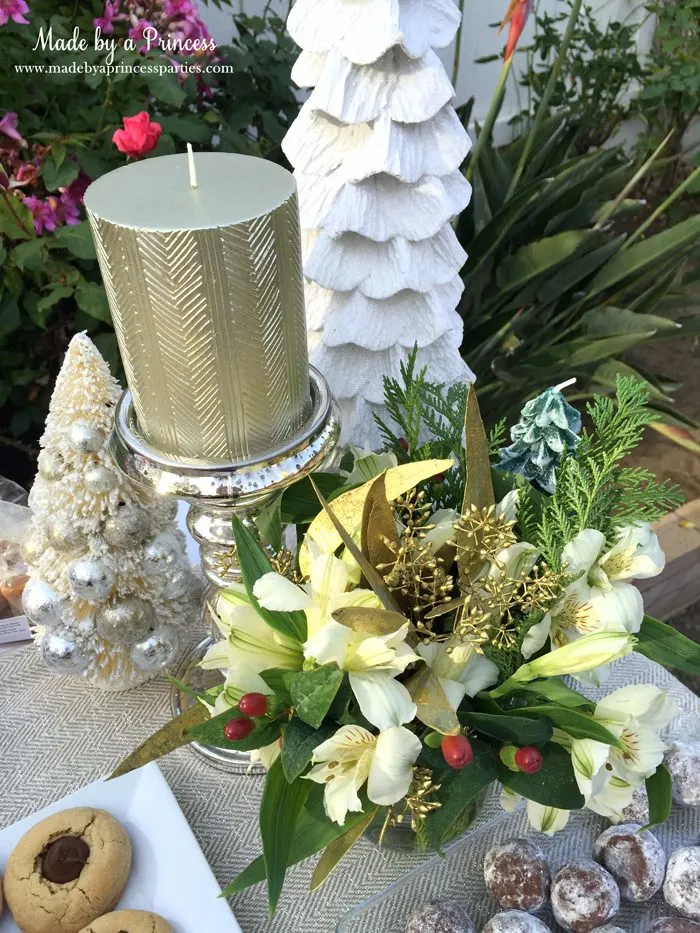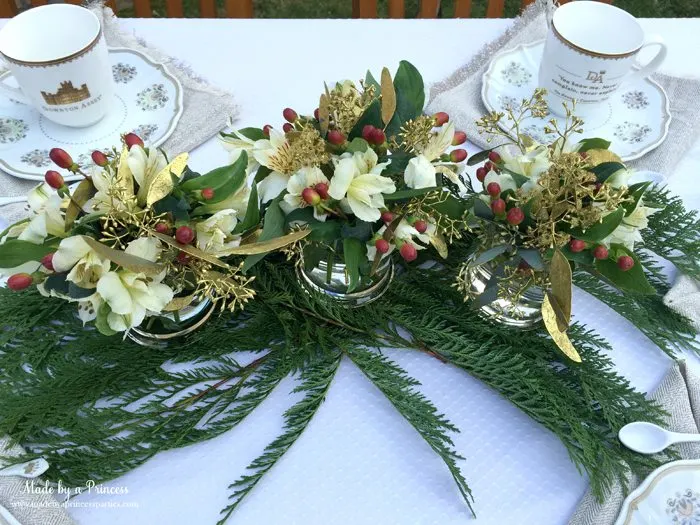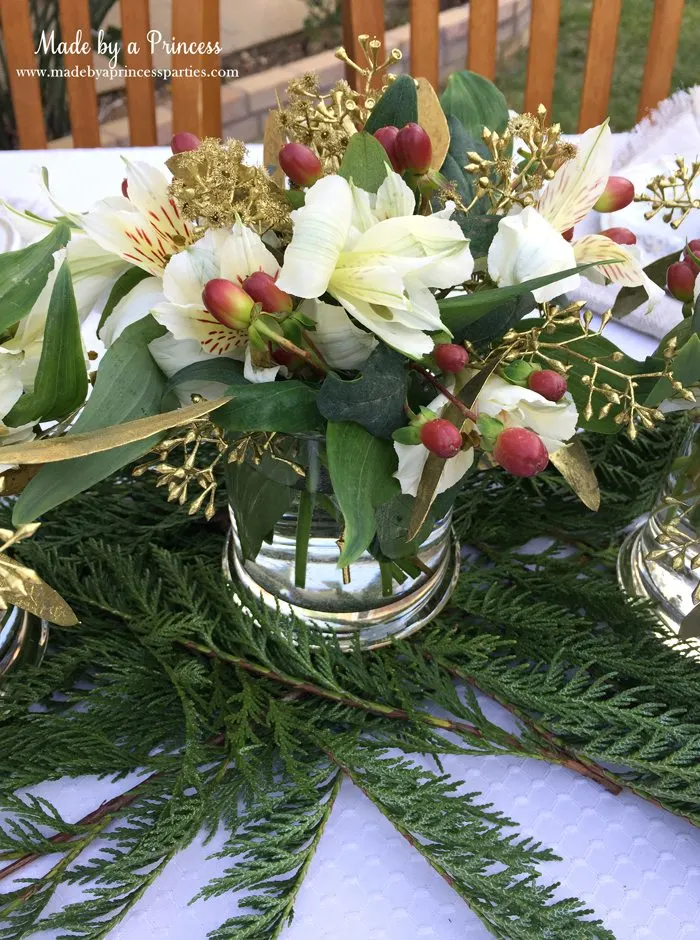 I had quite a lot of fun pouring through all of the new items at World Market. This herringbone napkin matched the Dowton Abbey set perfectly and is really versatile with the parties I have on the horizon. The Downton Abbey teaspoons are new this year and adorable!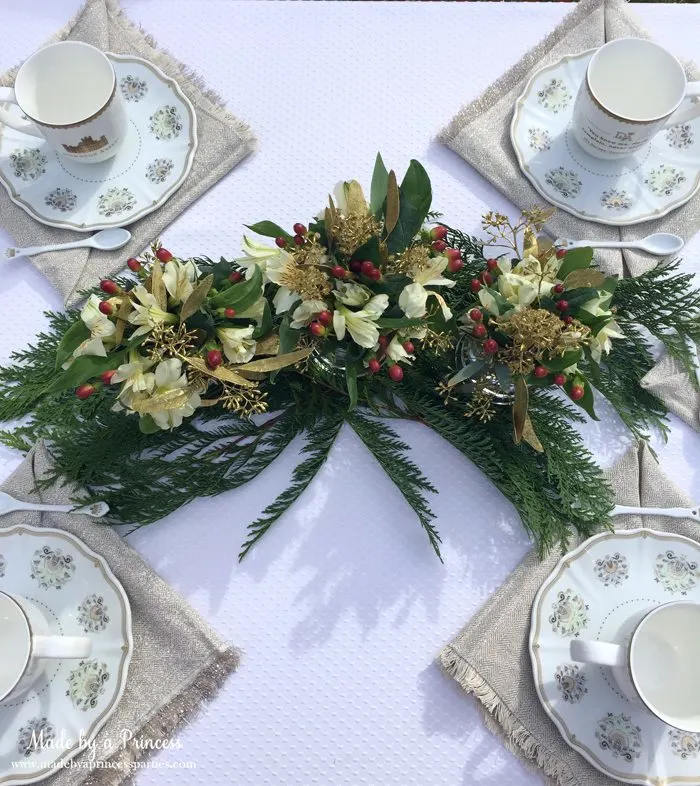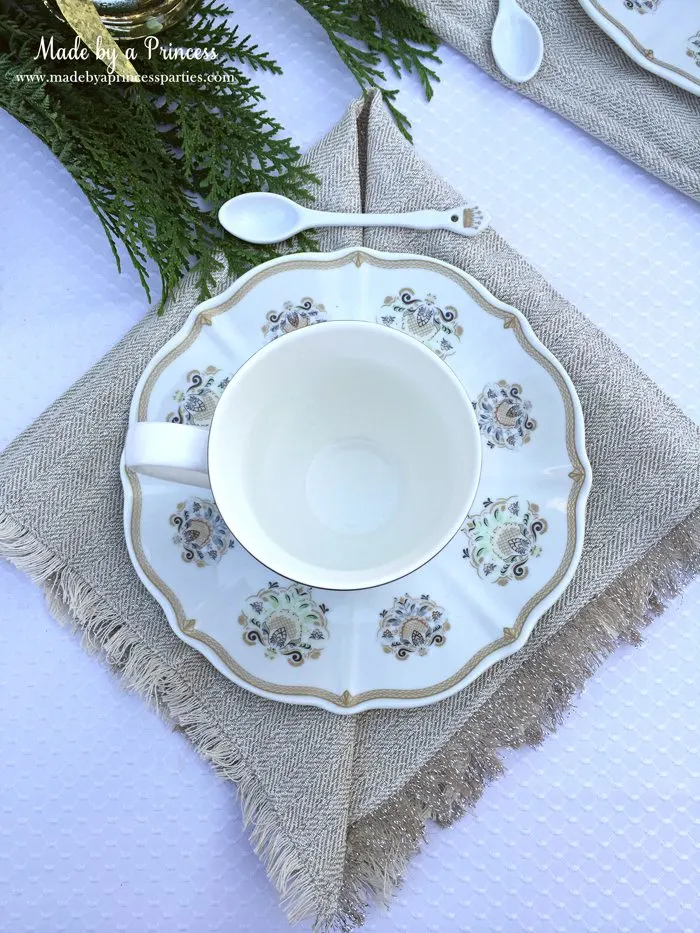 I decided not to use tea cups and saucers this year and opted instead to use the exclusive Downton Abbey mugs I was giving away as favors. I just love that quote!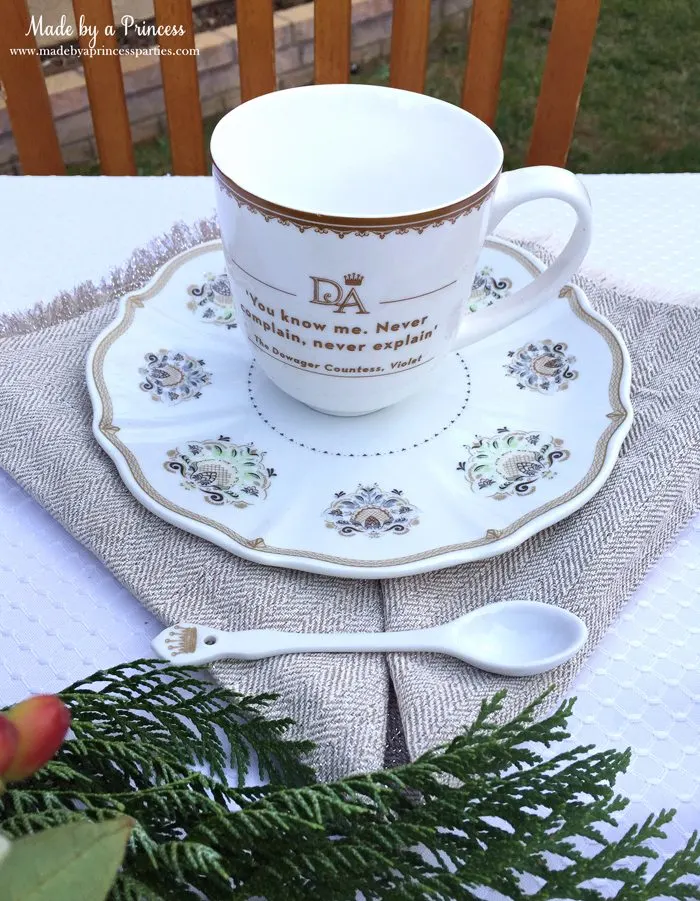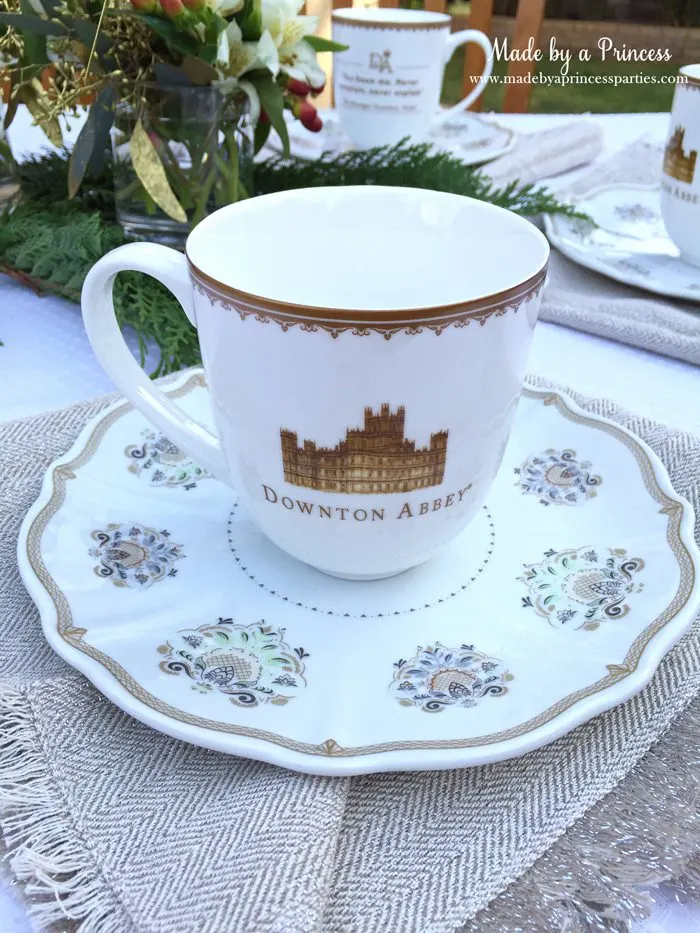 I purchased this bar table last year and use it all the time. I knew there wouldn't be enough room on the table once we had our goodies so it brought it out to serve as our tea table. Worked out perfectly. It also really did match the Downton Abbey teapot and cream and sugar set so well. I just love this Downton Abbey tea set; it is so feminine and regal. I made tea infused butter by adding 2 tbsps of steeped tea to about a half stick of room temperature butter. I mixed very well until the tea was completely incorporated. It is very subtle but really good.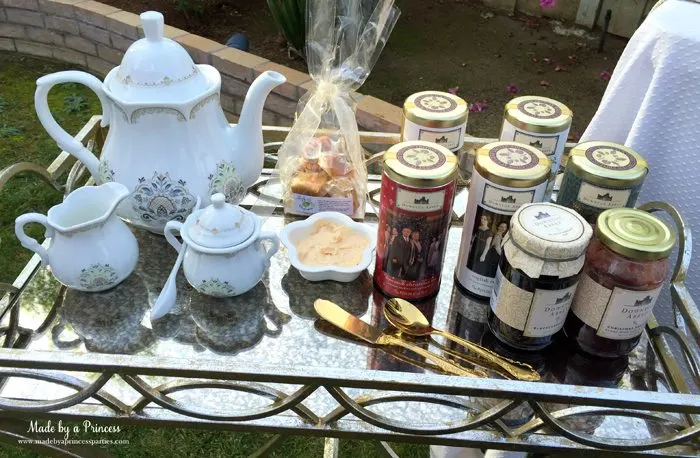 Republic of Tea products are really flavorful. My favorite is still English Rose. Check out the full collection of Downton Abbey products at your local World Market or you can shop the collection online.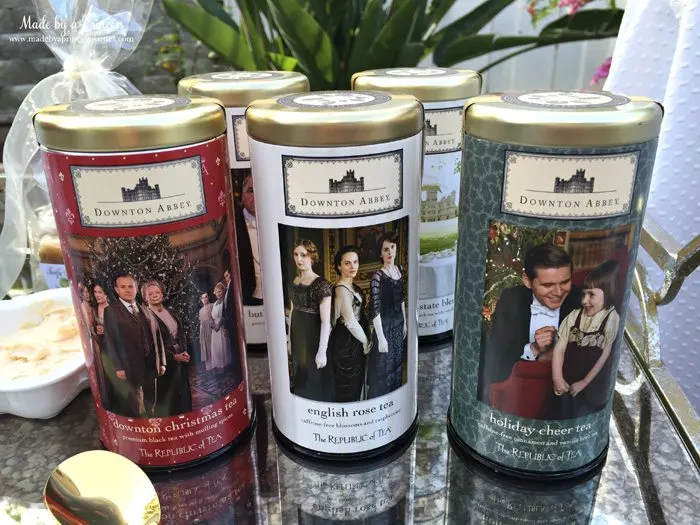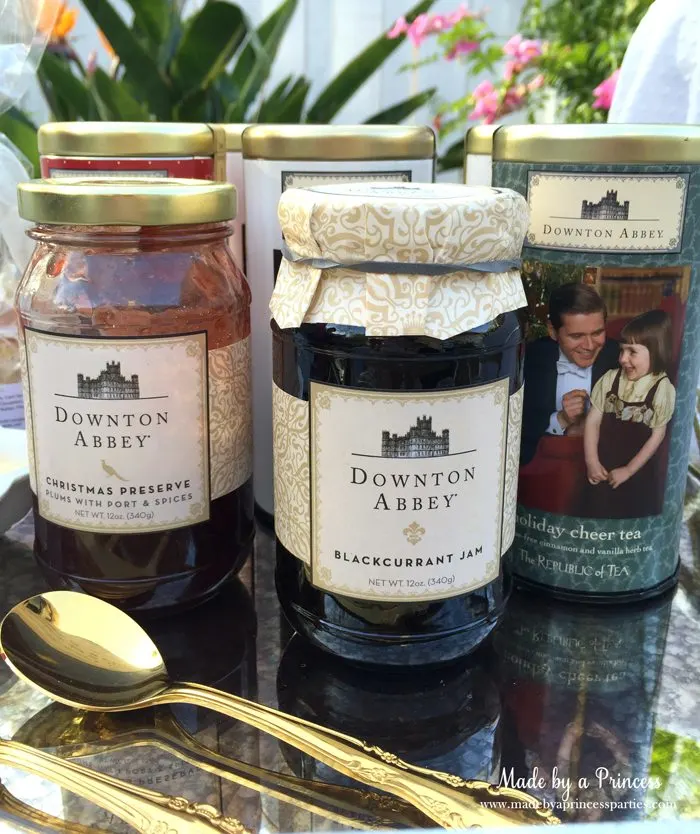 My friend Andrea is hysterical. My friends all know the drill now…take pictures…then eat. I was snapping a pic of the tea set and she photo bombed me…I love it! See, I told you I would use it, Andrea!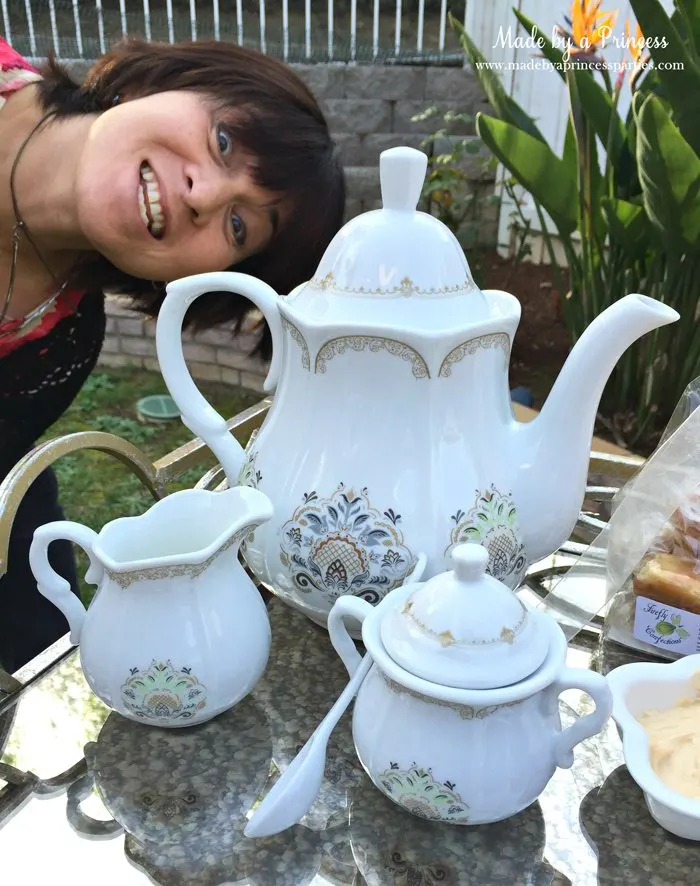 My friends brought some really yummy treats.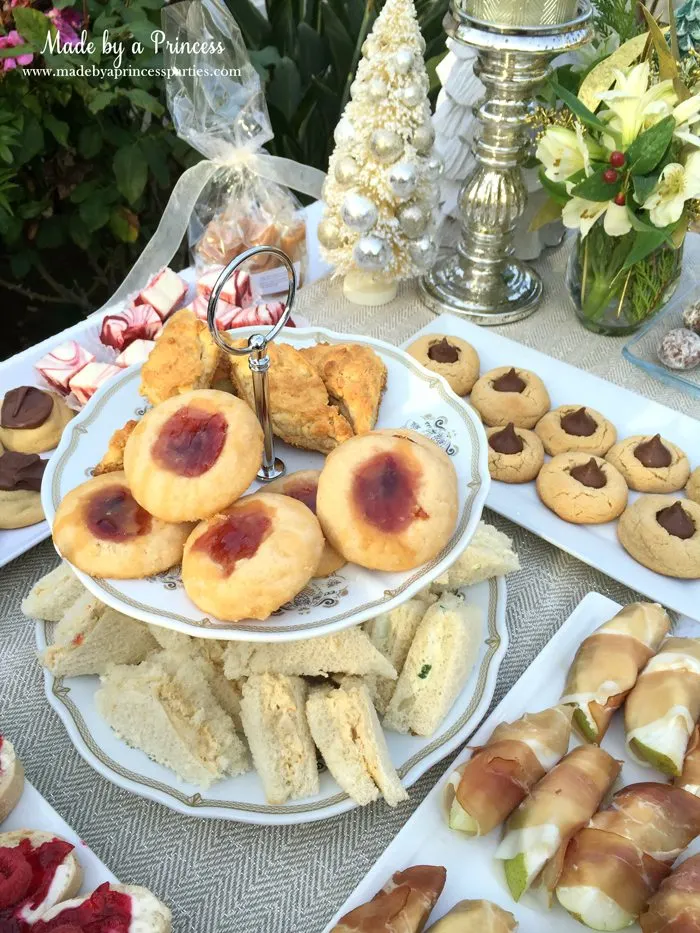 Shelly made peanut butter chocolate kiss cookies…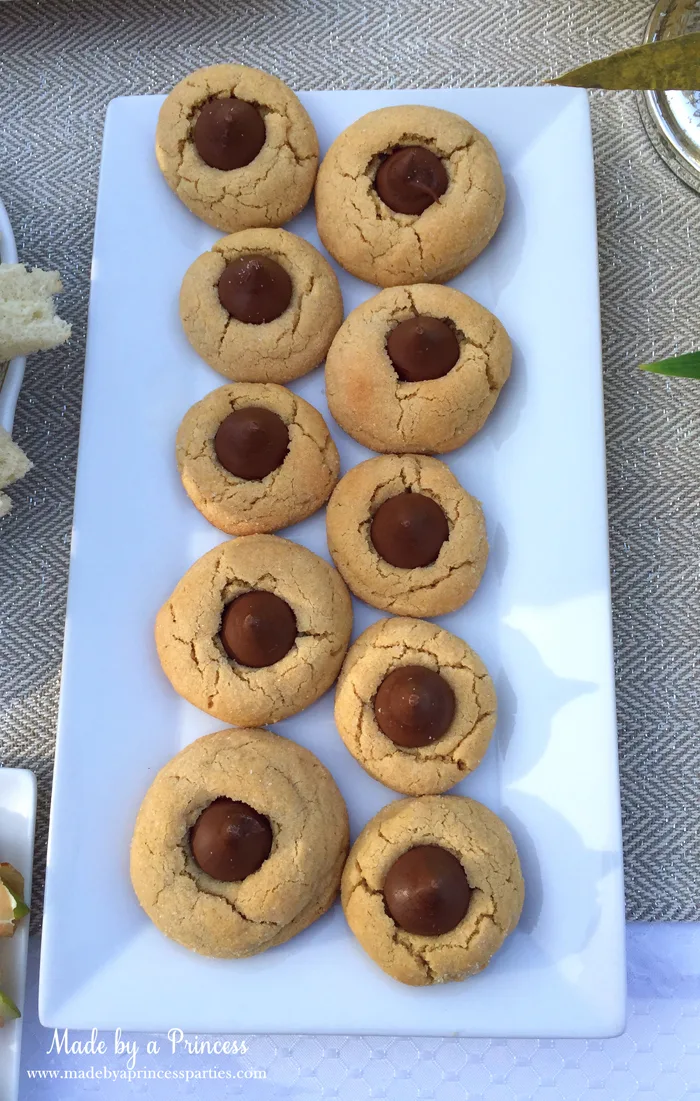 Andrea made peanut butter surprise…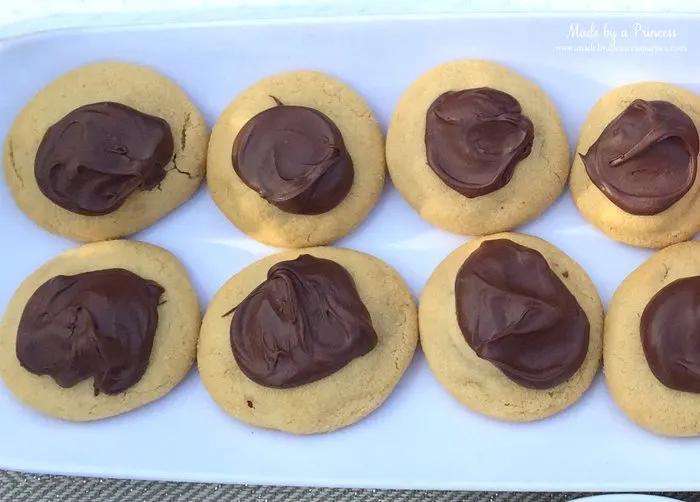 Maria made chewy pecan…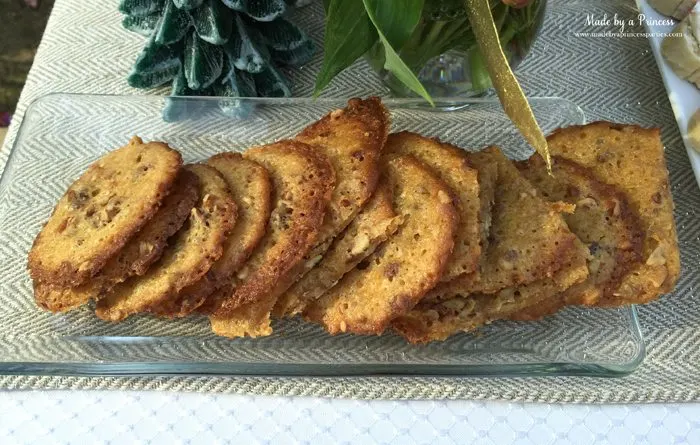 Jo whipped up some red velvet fudge…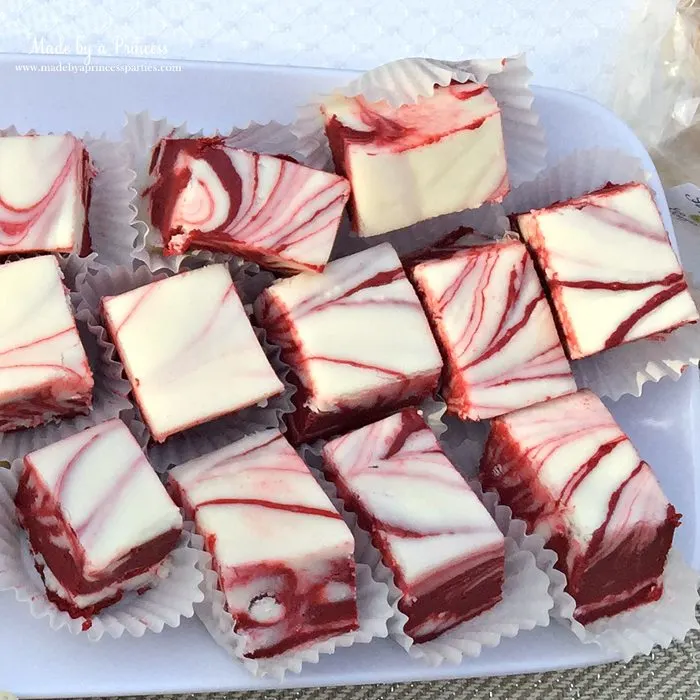 My mom has been moonlighting as Mrs. Claus (no, really, she has) so I made her famous classic rum balls…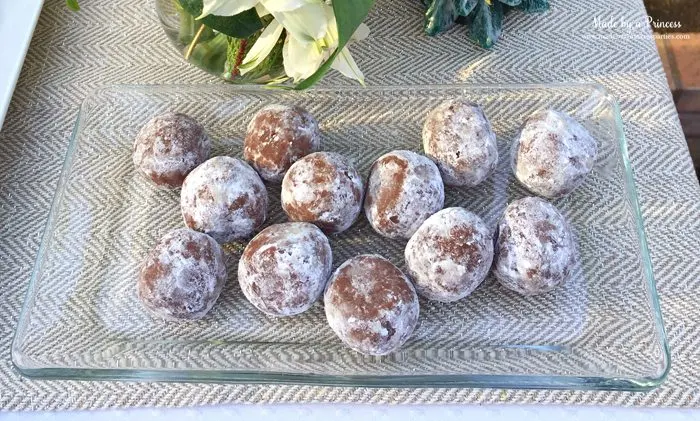 I also made tea infused almond shortbread cookies with a tea infused glaze and Downton Abbey Christmas Preserves. You can find the RECIPE HERE. The Republic of Tea sent me a lovely selection of teas this year and since I was going more for a Christmas theme I used the Holiday Cheer tea in the cookies, glaze, and butter. Yes, you read that right. We also had tea infused butter on our DA scones…yum!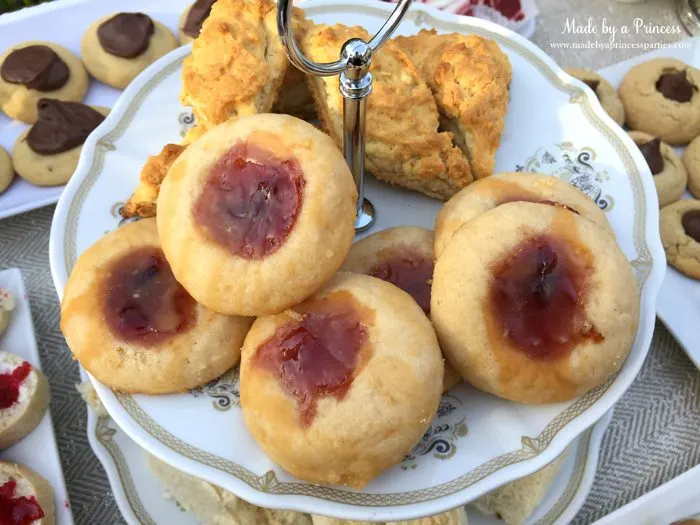 I made Benedictine cucumber sandwiches and coronation chicken sandwiches again because they are quintessential tea sandwiches.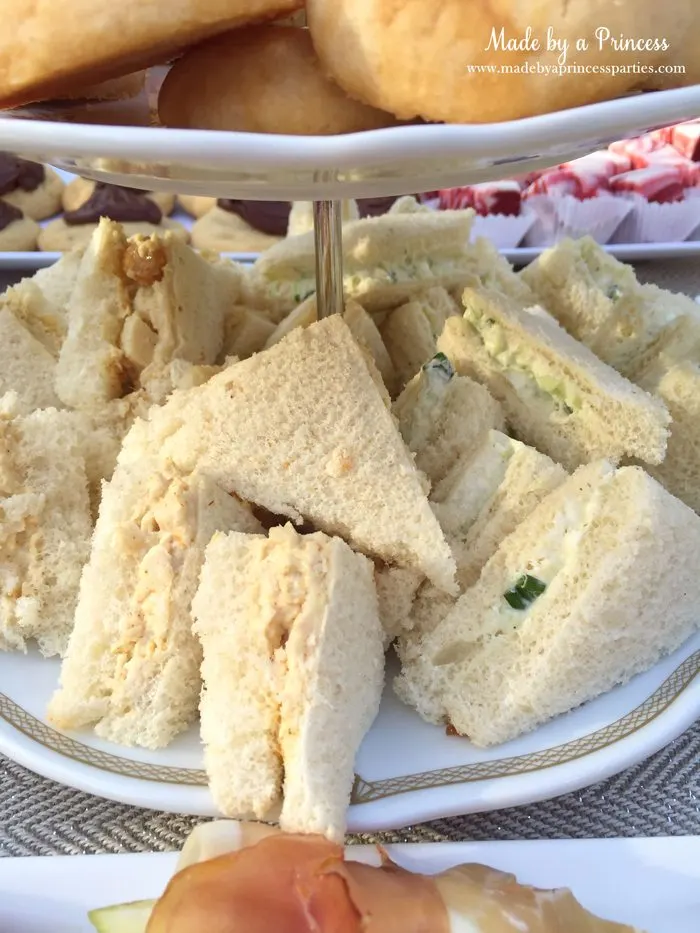 I always have something savory and almost always make date rumaki but I thought pears with mascarpone wrapped in prosciutto would be a great choice. I drizzled a little honey and some sea salt and they were ready to go.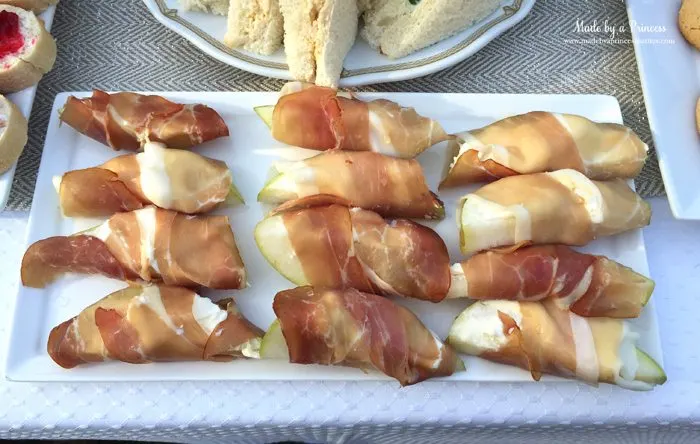 Aside from the great food and treats the absolute best part was sitting in my backyard on a beautiful Sunday with my girlfriends and my mom. We covered topics I am pretty sure are taboo tea party topics and ones Emily Post would not likely approve of but we had so much fun. My husband was in the house with all the kids and he said he could hear us "cackling" and carrying on with the doors and windows closed. He said it sounded like we were having a great time…yes we certainly were having a great time. P.S. we missed you, Trish!
I really enjoy cooking and entertaining, which is why I started this blog in the first place. Being with my girlfriends and sharing stories, creating memories, and laughing are what this is all about. It's about family and friends. I don't think I have laughed so hard in a long time…what great medicine for what ails you. Grab some girlfriends, some tea (or champagne), some treats from Trader Joe's, and have a wonderful afternoon.
Have you ever been to London? I haven't but desperately want to! You can win a Dream Trip to London!
Enter to win our Grand Prize Package:
Trip for 2 to London, England (airfare & accomodations)
Private Chauffered Tour (filming locations & Highclere Castle)
Downton Abbey Script (signed bu the full cast)
$1000 World Market gift card
Three First Prizes: $500 World Market gift card
Enter to win at www.worldmarketsweepstakes.com!
Don't forget to enter to win the Downton Abbey Prize Package as well! This is such a wonderful collection of goodies for you and your friends to enjoy as you watch the premiere next month of the final season.
The Downton Abbey Prize Package includes:
* Downton Abbey Teapot
* Downton Abbey Teacups and Saucers (set of 4)
* Downton Abbey Plates (set of 4)
* Downton Abbey 2-tier serving Stand
* Republic of Tea Downton Abbey "Downton Estate Blend" Tea Tin
* Downton Abbey Napkins
* Notecards
* Mrs. Patmore DA Apron
* Downton Abbey Tea Towels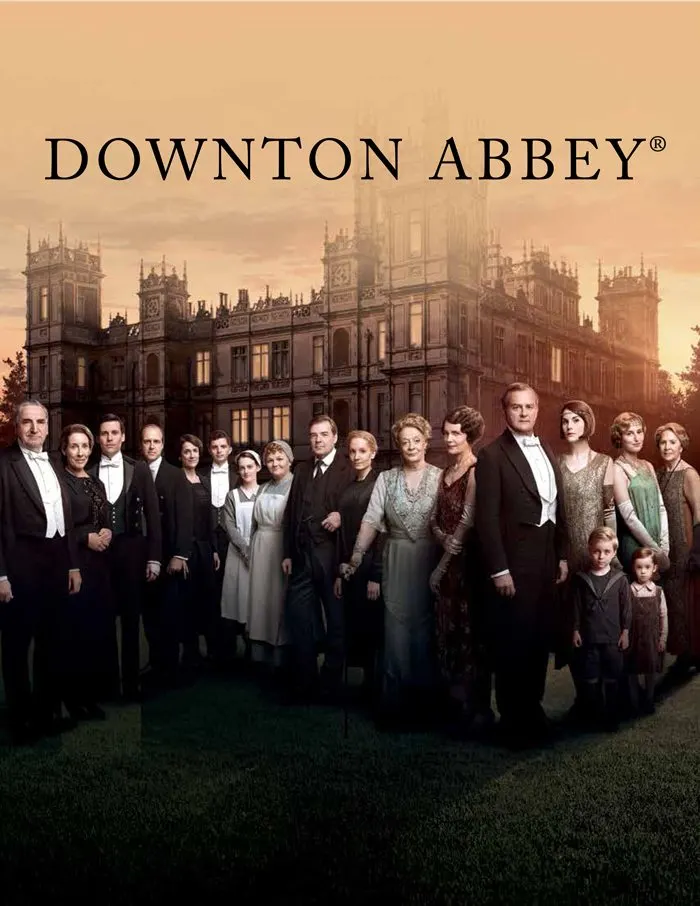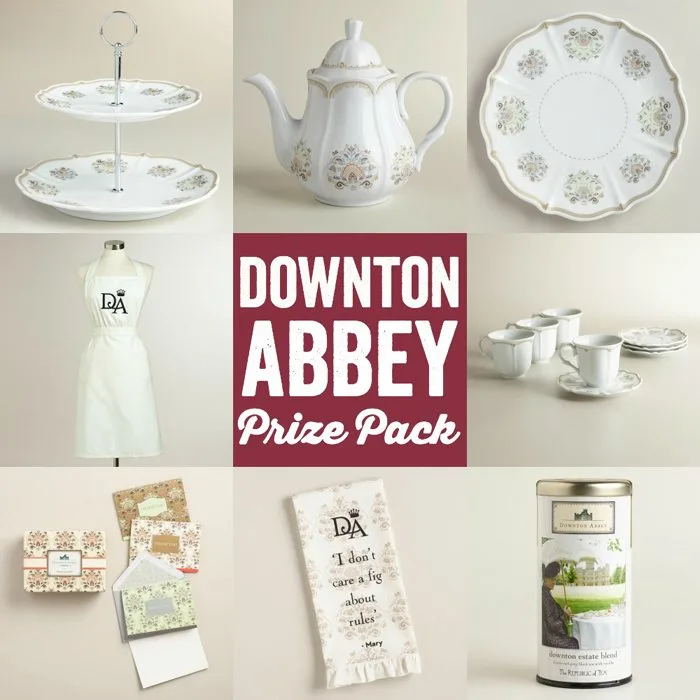 I hope you enjoyed our Downton Abbey Holiday Cookie Exchange and are inspired to host your own Downton Abbey Tea Party.
Did you #DotheDownton with us? I would love to see your pics!
This post was brought to you by World Market. All opinions are my own. #ad