This post sponsored by Evite. All opinion are my own. #Evite #BeThere #MyMMs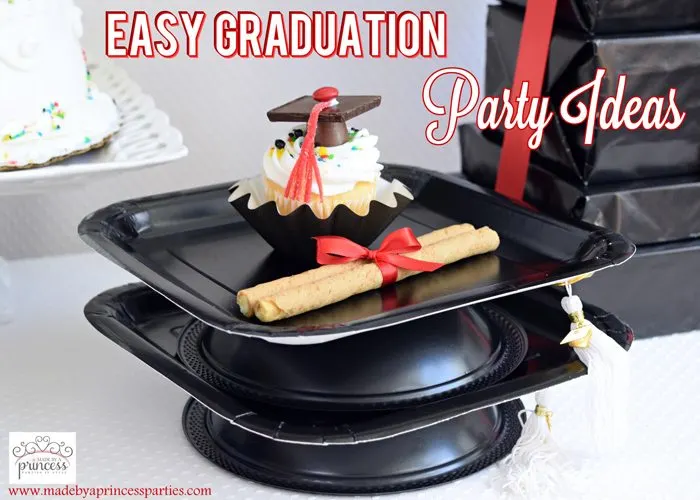 Graduation season is around the corner which means lots of parties to attend. If you are hosting one I have some easy graduation party ideas for you to take the hassle out of the tassel!
When my son graduated from school last year we decided to host just a small party at home. It was a surf theme and perfect for him seeing as how we live in San Diego and he loves to surf. Before we decided on this theme, however, I came up with some other easy to put together ideas that will take the hassle out of the tassel and let you focus on what really matters…your graduate!
Invitation
Make it easy on yourself and create an Evite®. There are so many designs to choose from! You can also personalize some of them with pictures of your grad. One of the things I like best about Evite® invitations is the RSVP management. It keeps track of who has responded in real time and you can send gentle reminders to those guests who haven't responded yet. If you are having a potluck or would like your guests to bring something you can set up those options right in your invitation.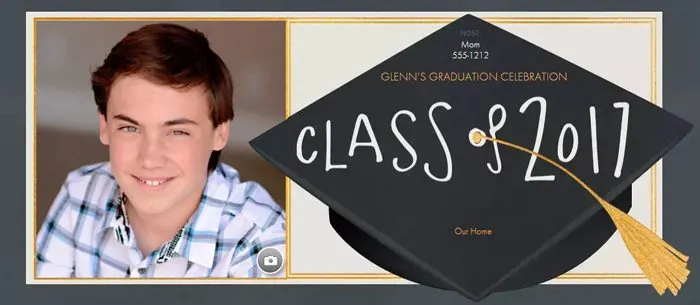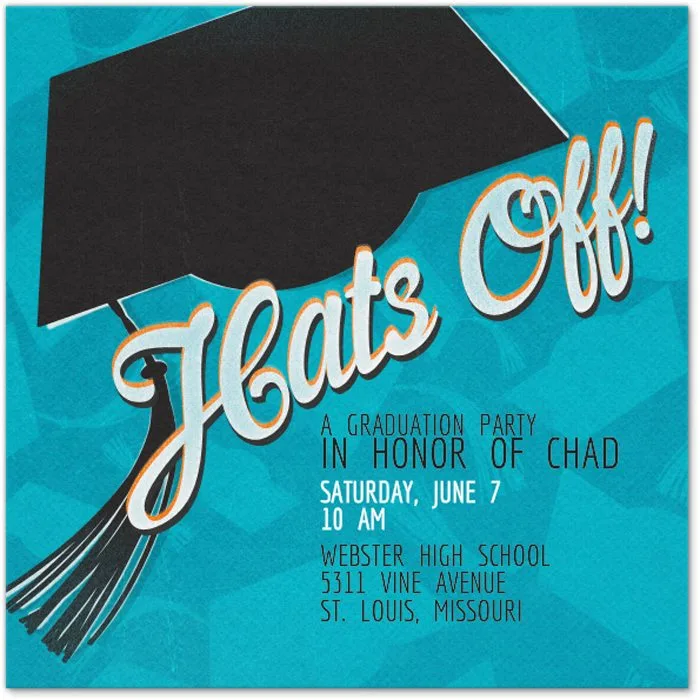 Here are some easy party tips you can prepare ahead of time:
Tower of Books
Create some height on your table by re-purposing things you already have around the house. I borrowed some books from my son's bookshelf, wrapped them in black wrapping paper, and tied them up with a red ribbon to create the base of my cupcake tower.
For the top of the tower I covered a round glass vase and a piece of cardboard in black wrapping paper and glued them together so the cardboard wouldn't slide right off.
If you don't want to use this for cupcakes you could use it for appetizers, party favors, or flowers.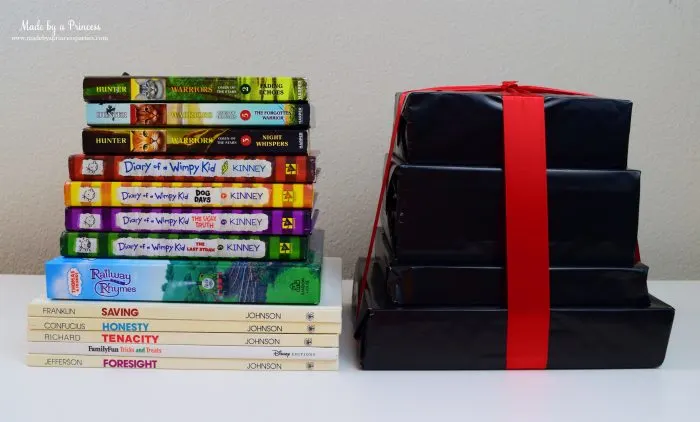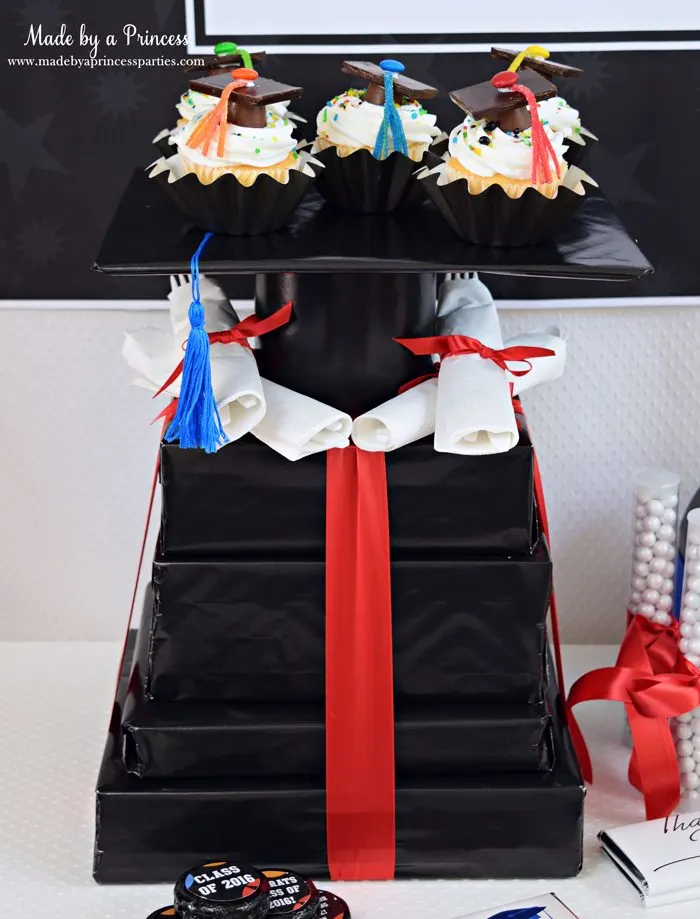 Graduation Cap Cupcake Toppers
Get your graduate involved by making these candy cupcake toppers together. You can make them ahead of time so all you have to do is place them on cupcake before the party.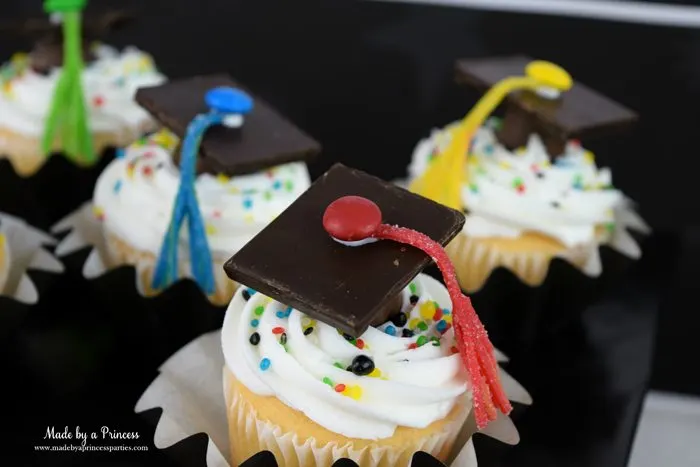 Diploma Napkins
Diploma scroll napkins are a quick and easy way to bring your theme together without much effort. Roll the utensils in a white napkin and tie with a red ribbon. That's it! Can be made long before the party and set aside in a box or plastic zip bag until party day.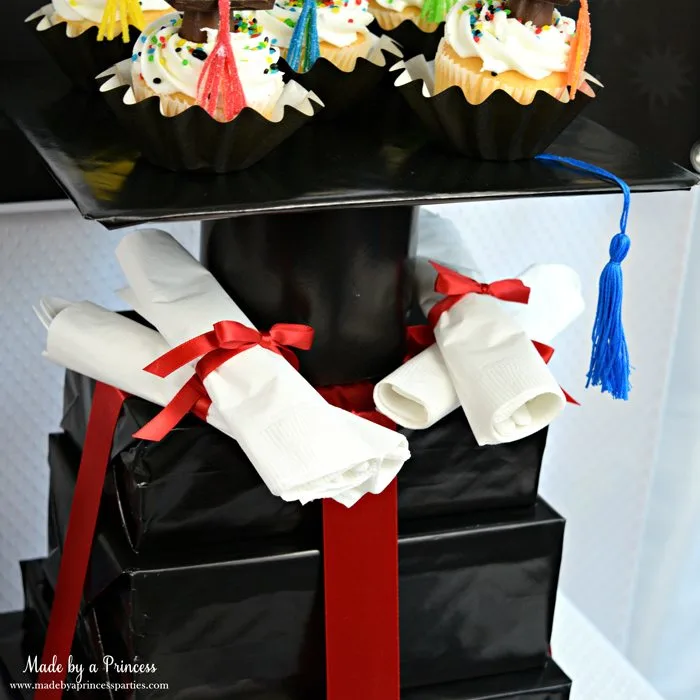 Tassel Decoration
Tassels are another very easy way to tie in your theme. Add them to party favors, milk bottles, or to a plate of cupcakes as pictured below.
Shown here are tassel keychains from Birthday in a Box .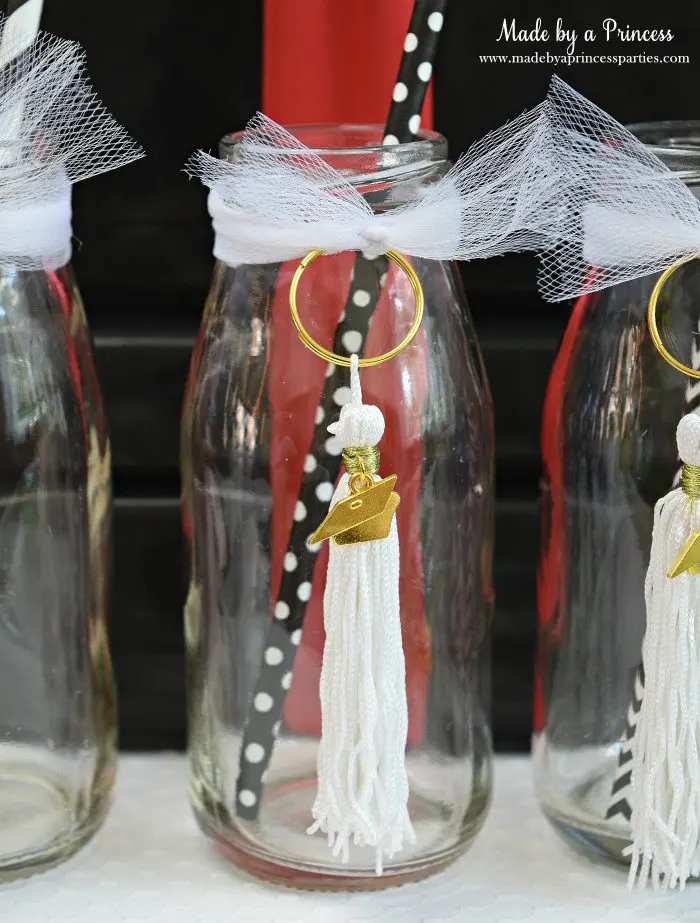 You can also make your own using embroidery floss.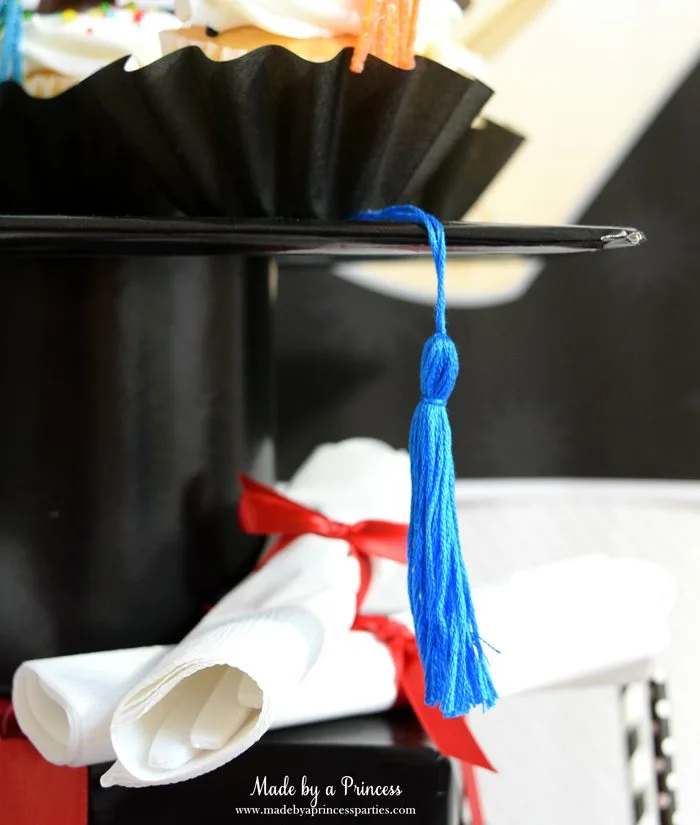 Graduation Cap Plates
My favorite easy graduation themed party idea is this graduation cap plate. All you need are black paper square plates, black plastic bowls, and tassels. Glue the square plate to the bottom of the bowl and add a tassel. That's it! Make weeks ahead and set aside in a box until party day.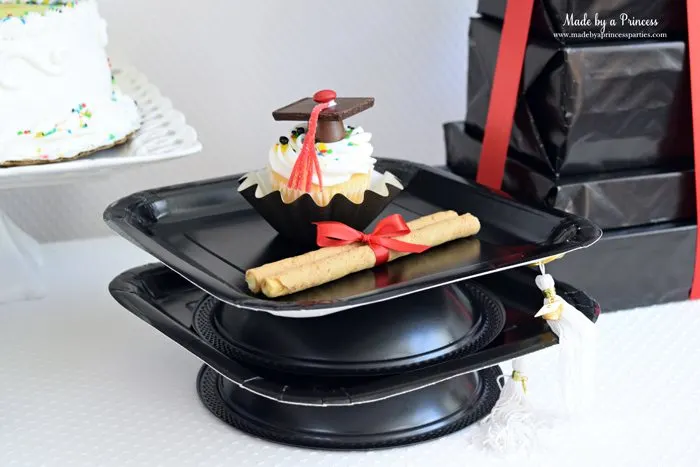 Diploma Cookies
All you need to make these Pirouline cookies look like diploma scrolls is some red ribbon. Take two cookies, wrap the ribbon around them, tie a bow…you're done! You can make these the week of your party and store in an air tight container until the day of the party.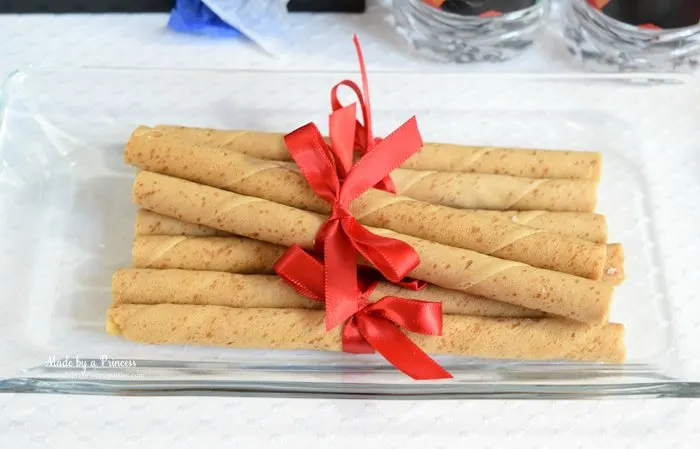 Custom Candy
Surprise your grad and your guests with personalized candy. Create your own M&Ms to match your theme and decor or school colors. You can even add a personal message and photo. I think these are really cool and wish I had known about them last year. I would have loved sending home a bag of M&Ms with my guests that had my son's face on them!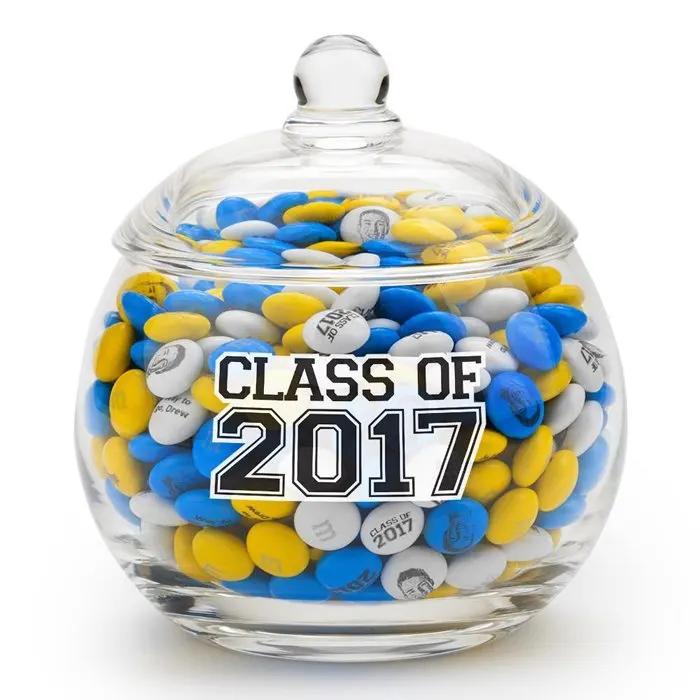 Favor Boxes
Dress up a favor box by adding a little crepe paper (which is extremely affordable) and a decorative sticker. Choose crepe paper in the grads favorite colors, graduating school colors, or the colors of their new school. Secure with a fun sticker and you're all set. Make a few weeks ahead and keep in a box until needed.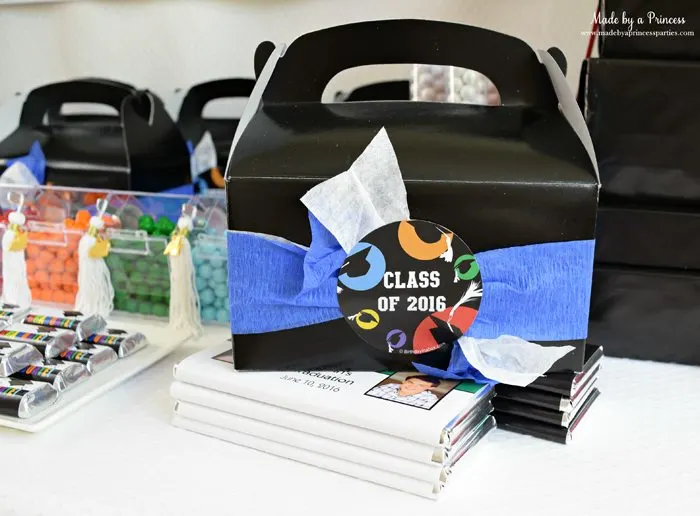 In need of entertainment? Evite® Vendors powered by GigMasters makes it easy to book vendors (photographers, videographers, rental companies, etc…) and entertainment for your graduation event by streamling the process for you. You can search for vendors, refine your budget, send quote requests, and book all through one platform. When planning a party the last thing you need is one more thing added to your to do list. By using GigMasters you will save yourself time, energy, and the stress of looking for four different emails or phone numbers the day before to confirm. It's all about taking the hassle out of the tassel!
All Tassel, No Hassle Sweepstakes is offering a chance to win $1,000 in prizes from My M&M'S® and Evite Vendors powered by Gigmasters for graduation celebrations. Enter for a chance to win!!
I hope you enjoyed my Easy Graduation Party Ideas and feel like you can tackle this graduation season with some great ideas up your sleeve. Don't forget to enter for a chance to win. Good luck and Happy Graduation!
Need some more graduation ideas? I created a Graduation Pinterest board just for you…