Blintzes don't always have to be sweet, try this Savory Strawberry Preserves Toasted Coconut Almond Chicken Blintz Recipe today.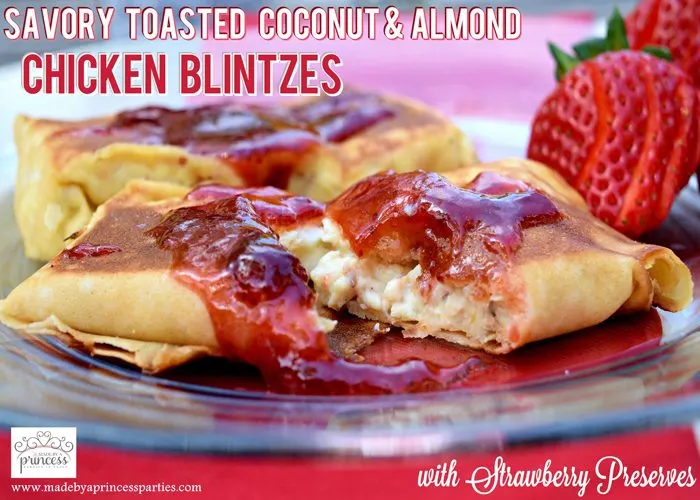 When you think of a blintz you probably don't imagine it filled with chicken and topped with strawberry preserves. I understand…I didn't either until I made one and now I find myself craving them for breakfast. Now I am sharing my Savory Strawberry Preserves Toasted Coconut Almond Chicken Blintz Recipe with you just in time for Mother's Day. I'm going to leave a copy of this recipe out for my family on Saturday so they know just what to make for me.
Savory Strawberry Preserves Toasted Coconut Almond Chicken Blintz Recipe
Are you a little skeptical about this recipe? I totally get it. Blintzes are supposed to be cheesy, creamy, and sweet right? I thought so too until the folks at Bonne Maman challenged me to create a savory breakfast using their Strawberry Preserves. I thought long and hard about this one and after seeing the package of traditional blintzes at the grocery store I decided what I was going to create: a savory chicken blintz made with toasted coconut, toasted almonds, and lemon zest.
If I'm being completely honest I wasn't sure how this was going to turn out. I did have a back up plan but after taking a bite of the filling I was pretty sure I wasn't going to have to use it. I was pretty proud of myself actually. The addition of Bonne Maman Strawberry Preserves really makes this chicken blintz recipe stand out and gives it a little extra sweet kick.
Why choose Bonne Maman preserves?
You probably recognize the traditional red gingham label but have you ever tried Bonne Maman preserves? Did you know Bonne Maman means "Grandmother"? Bonne Maman uses simple, wholesome ingredients…just like your grandma would use. They are produced in France (oui oui!), are non-GMO project verified, have no high fructose cor syrup, no artificial coloring and no preservatives added. I especially love the big chunks of strawberries in their strawberry preserve. If you want to learn more about their process and why Bonne Maman does not make jam you can read their FAQs. The jars are really nice too so if you do your own canning or like to bake in jars or give gifts in jars these are perfect.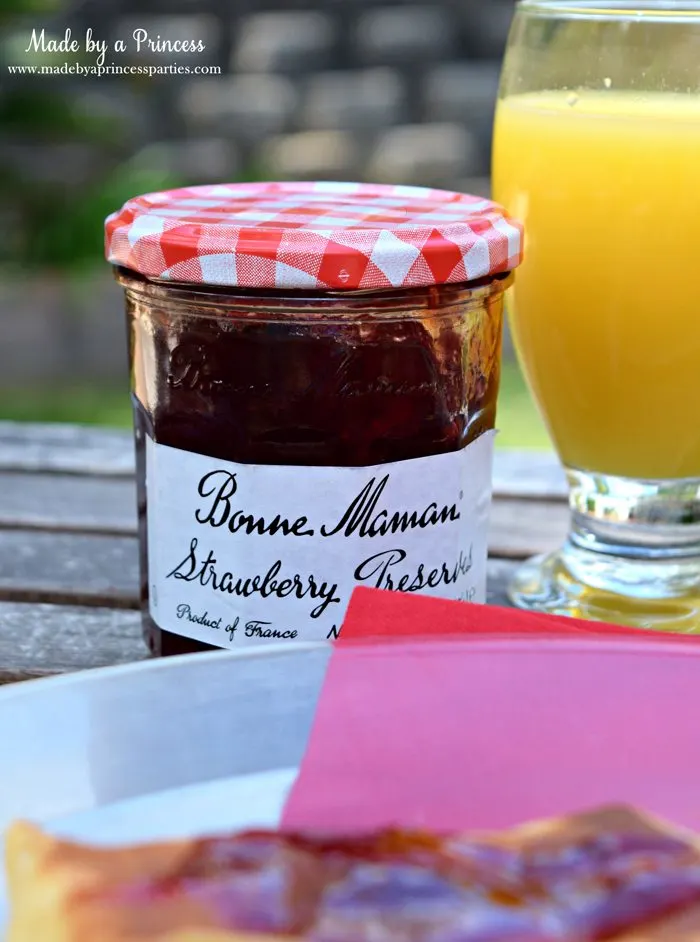 What is a Blintz?
A traditional blintz is made up of a thin crepe like pancake filled with cheese and sometimes topped with preserves. Once prepared they are usually baked or fried in a pan. One of the greatest things about blintzes is that you can fill them with anything you like i.e. fruit, preserves or jams, chocolate, mousse, or something unusual and savory like chicken. A really great blintz will be light, airy, warm, and delicious!
Toppings for Cheese Blintz
There are a number of variations for cheese blintzes. They can be made with ricotta, cream cheese, sour cream, or cottage cheese. Instead of a omelette bar try a blintz bar at bridal shower. Serve blintzes with a simple cheese filling on a pretty tray and offer toppings like strawberry preserves, lemon curd, crushed nuts, Nutella, berry compote, fruit sauce, fresh fruit, fresh whipped cream, applesauce or maple syrup.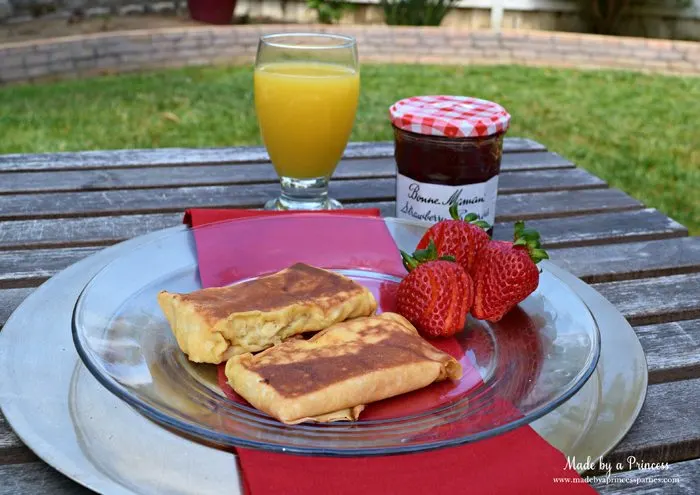 How to Make a Savory Strawberry Preserves Toasted Coconut Almond Chicken Blintz
Warm the preserves in a saucepan before plating so the whole dish will be nice and warm. If you prefer to have your preserves right in your blintz you can add some before folding your crepe.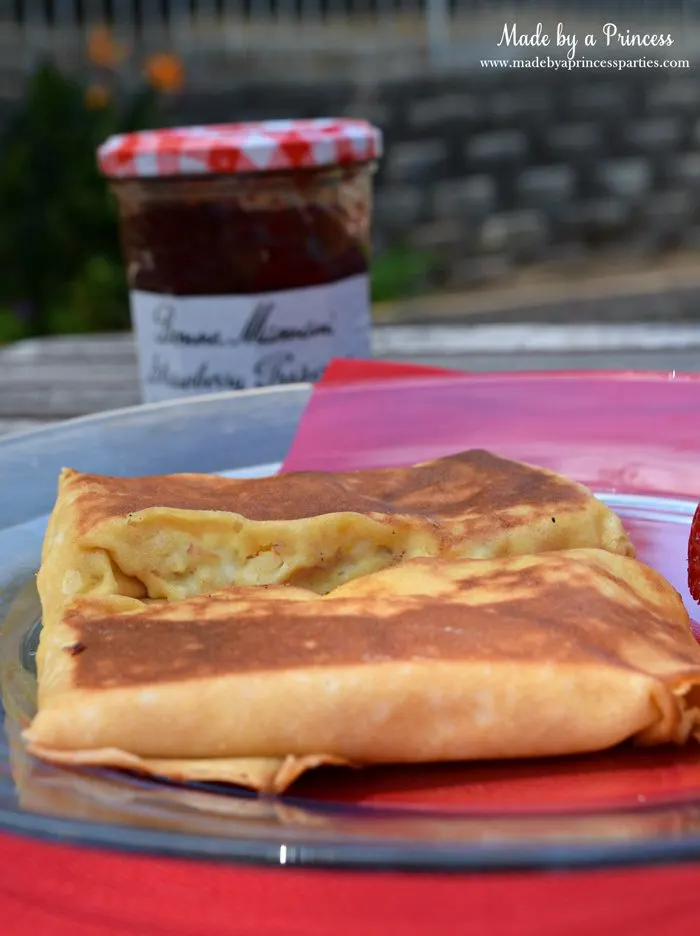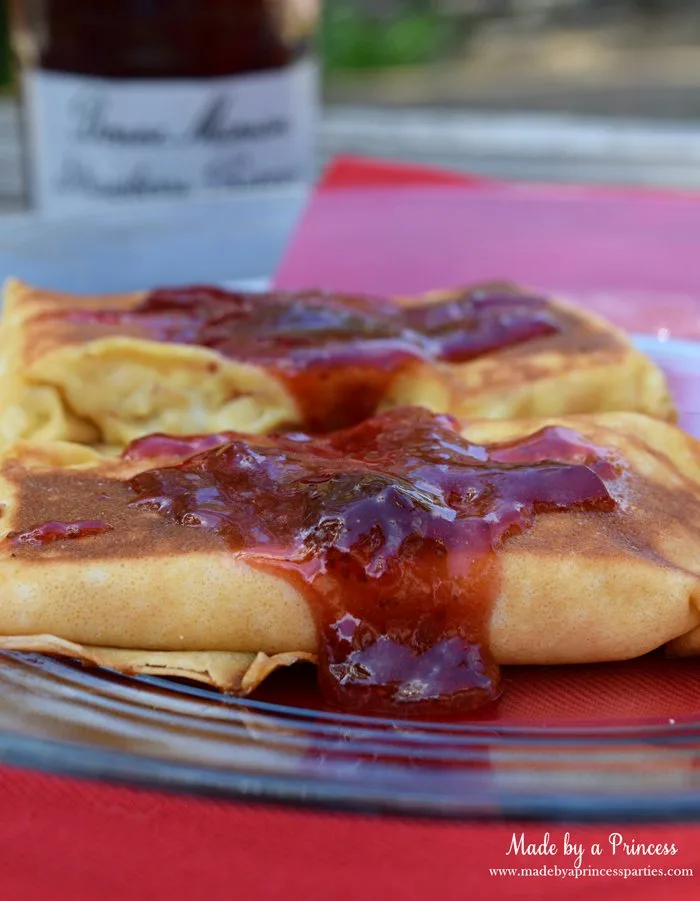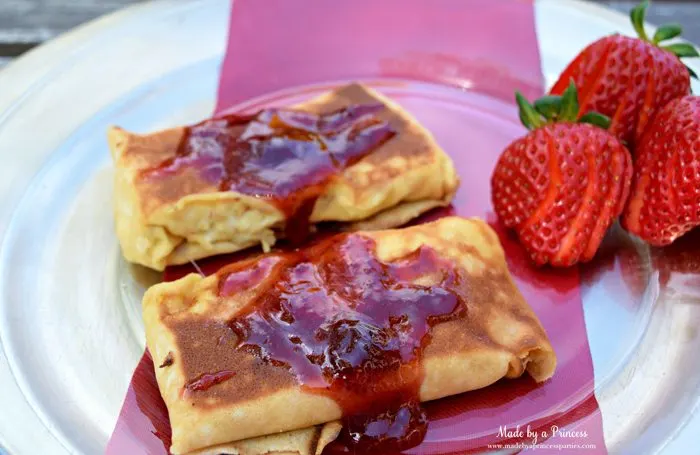 Doesn't this look like something Mom would enjoy on Mother's Day? Serve this to her on a tray for breakfast in bed or take it outside and eat in the garden. It was such a lovely day that I opted for eating my breakfast in the backyard. Serve with a side of fresh strawberries and orange juice (or a mimosa). My kids even liked it! I think I am going to have to add this chicken blintz recipe to my regular rotation.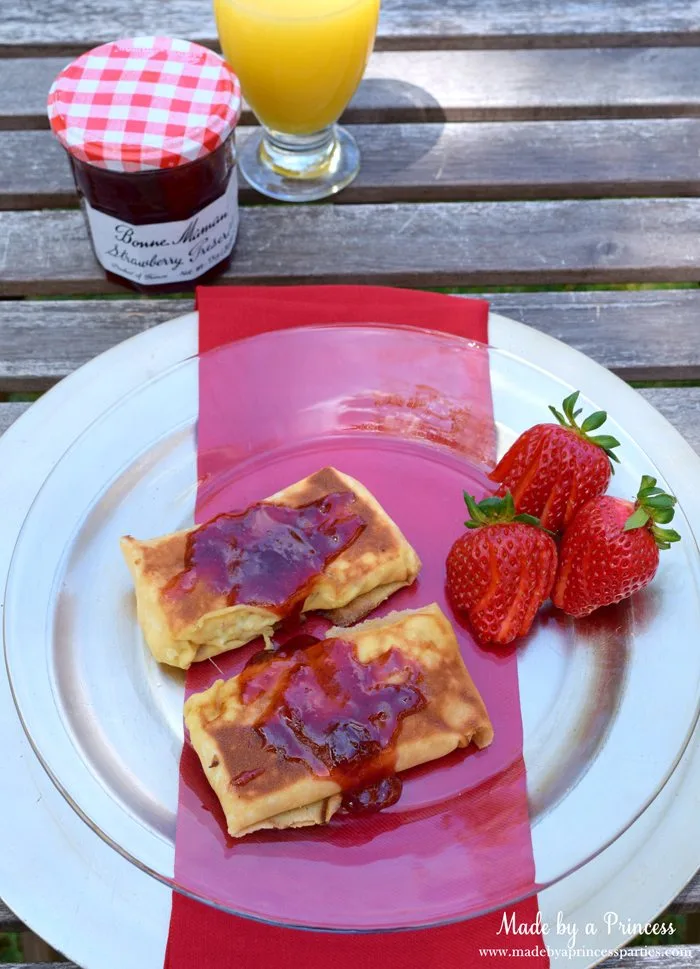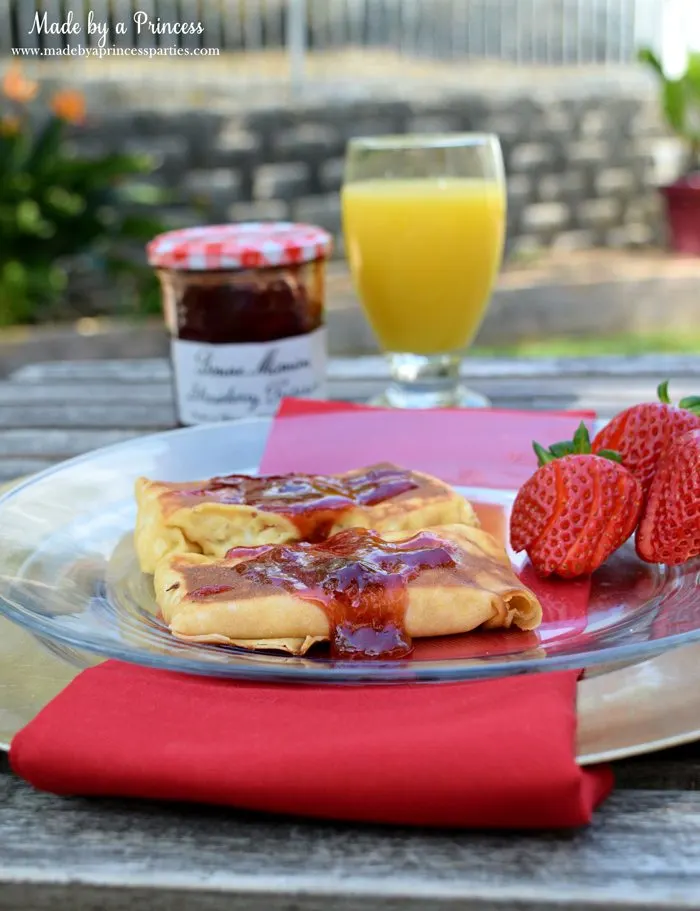 I love fresh lemon zest and tend to use it in a number of recipes. If you really like lemon add some to the top of the preserves. Would make a pretty presentation too.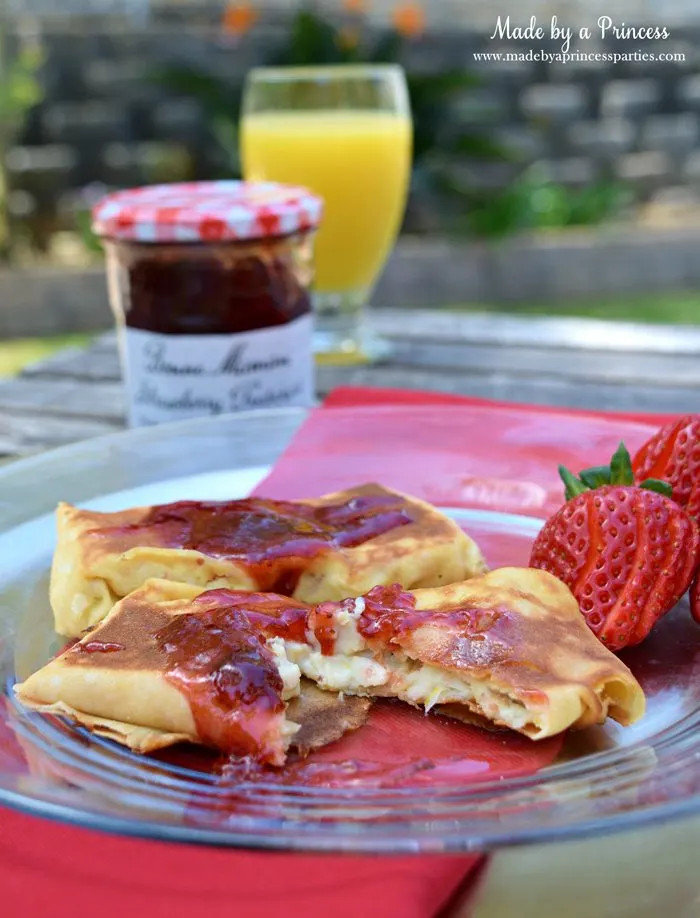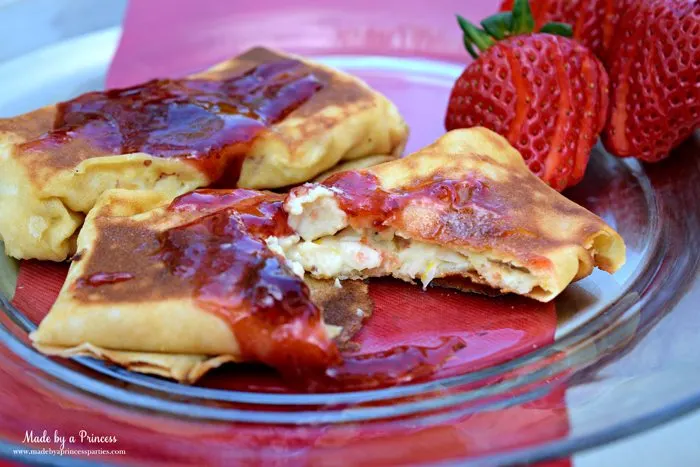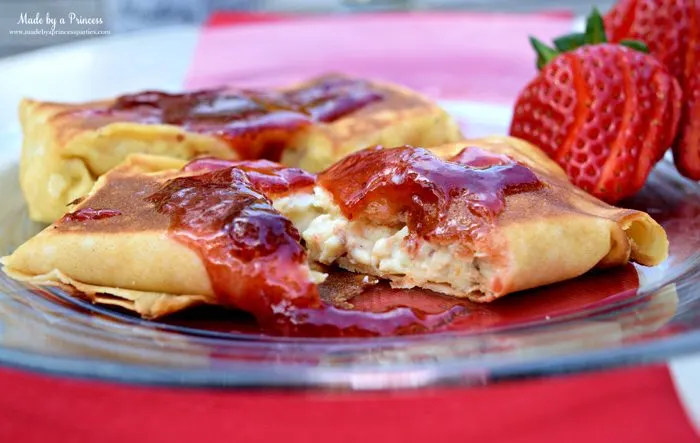 See that toasted coconut right there? So good!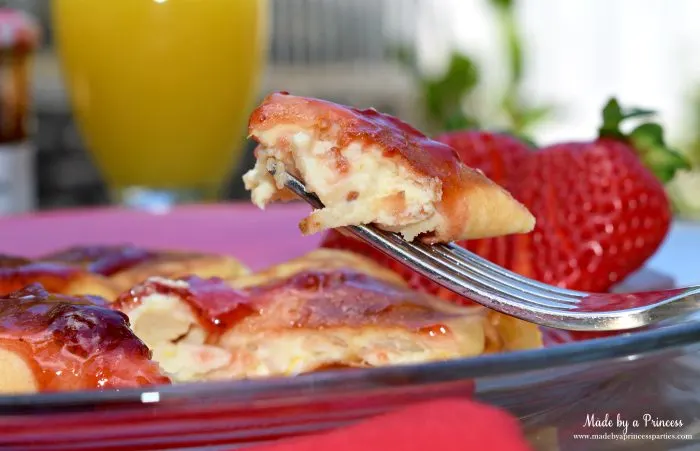 Here's the Savory Strawberry Preserves Toasted Coconut Almond Chicken Blintz Recipe
This Mother's Day Say it With Homemade with this Savory Strawberry Preserves Toasted Coconut Almond Chicken Blintz Recipe!
Blintzes are Not Just for Breakfast!
This chicken blintz recipe isn't just for breakfast. Pair it with a delicious salad and you've got a wonderful lunch or dinner meal.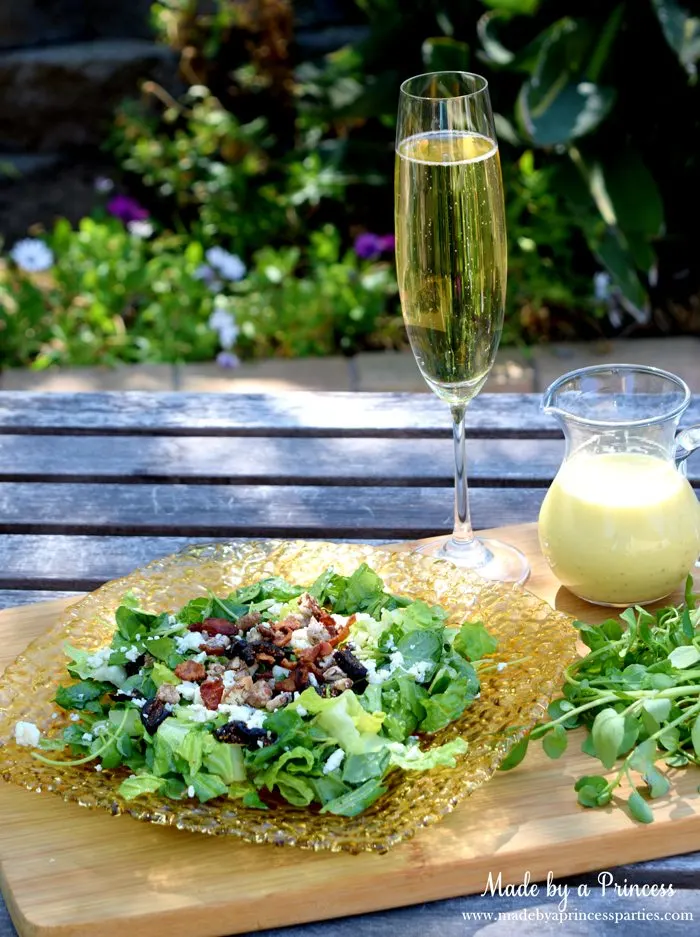 This post sponsored by Bonne Maman. All opinions and ideas are my own.