Who says Valentine's Day is not just for grown ups?! Throw an adorable party for the little loves in your life to say "I love you." This Kissing Booth Valentines Day Party styled by Jordan of Foxes Events is the perfect way to get you ready for Valentine's Day. Pucker up and get your smooch on!
Jordan shares the inspiration and details for her Kissing Booth Valentines Day Party: "When putting my ideas together for this party, I really wanted a playful way to display all of the treats. I started to sketch up some ideas and put some mood boards together.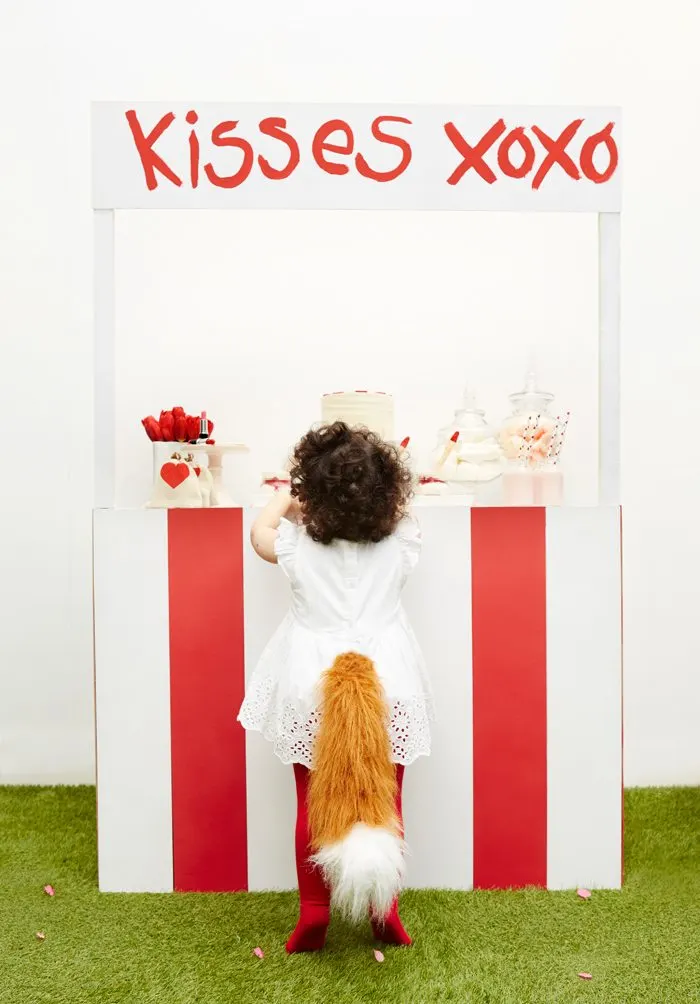 Of course a Kissing booth station is not something you can just pick up in a store, so tasked with this exciting challenge, off I went to the local DIY centre! A strip of MDF, red and white paint, a small brush and some nails in my basket and I had all I needed to start putting my plan together.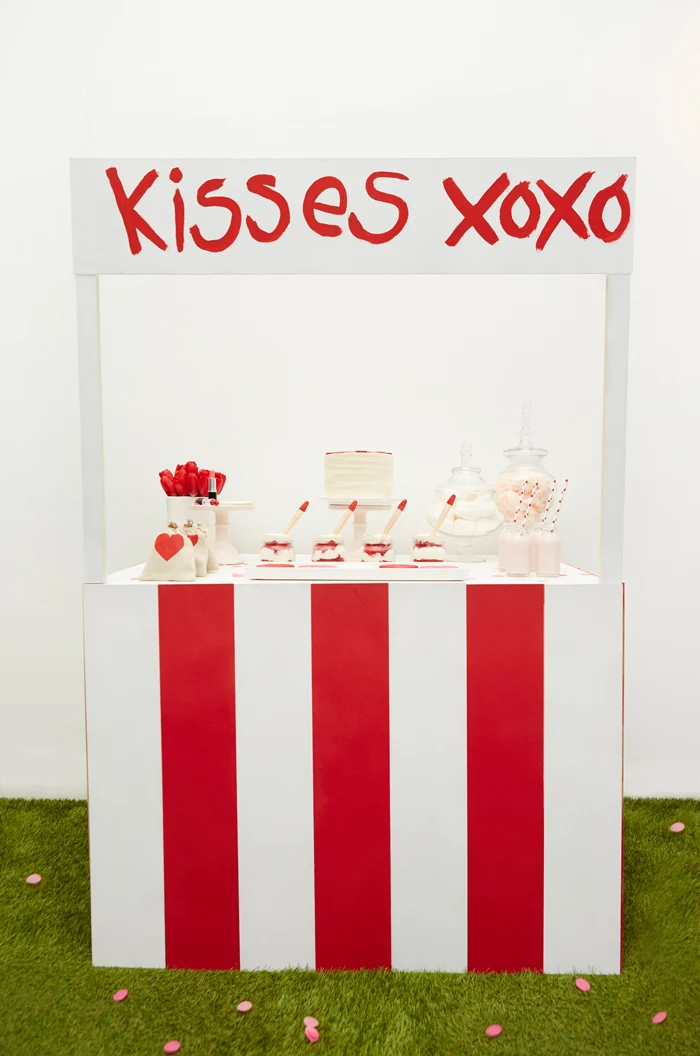 I instantly fell in love with the idea of displaying everything on an interactive 'Kissing Booth' station. This would create an amazing focal feature within the room and I imagined the little guests loving a prop to play with (whilst eating those yummy treats!) throughout the party.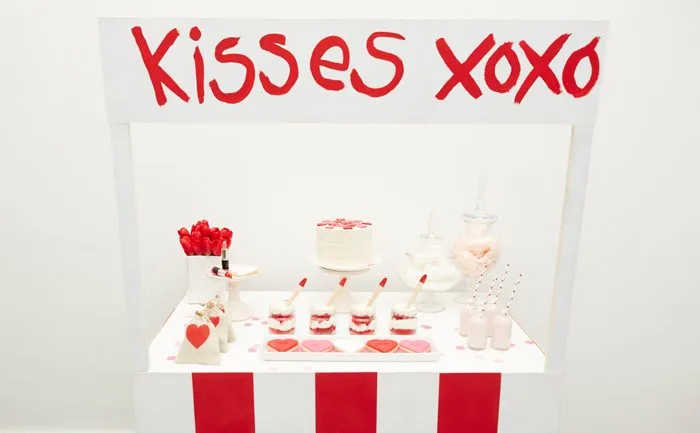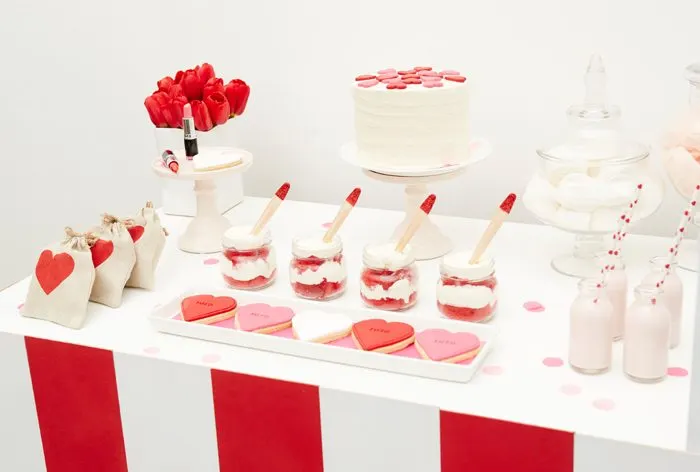 I decided that classic Red, Pink and White would be the chosen colour palette for this XOXO Valentines party! I also wanted to incorporate these colours and theme through all of the treats so I spoke to my fairy "cake mother", Robin, over at Cakes By Robin who really understood my vision and requirements for the treats.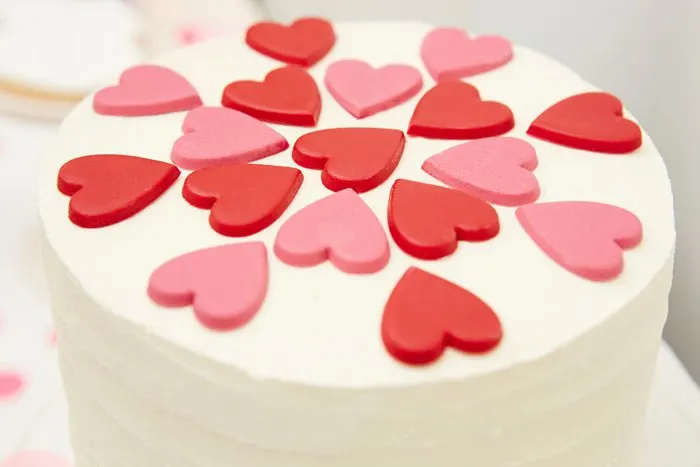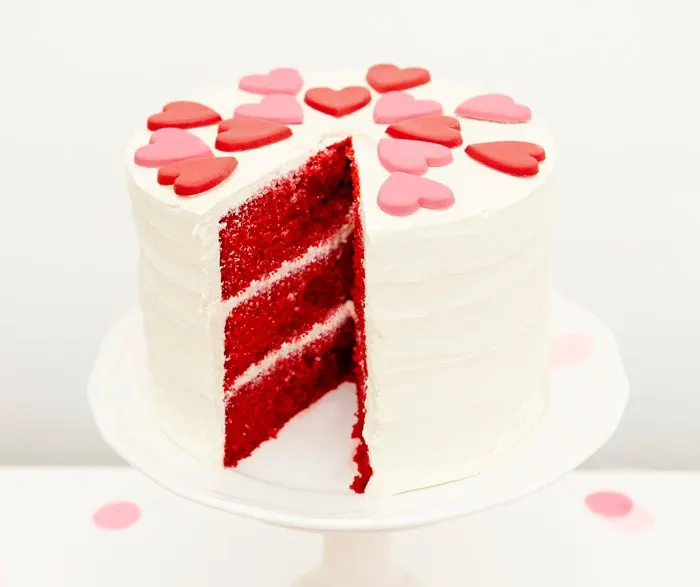 Heart shaped cookies, pink cotton candy and red velvet cake in a jar were just some of the delightful treats to adorn this custom made kissing booth dessert table.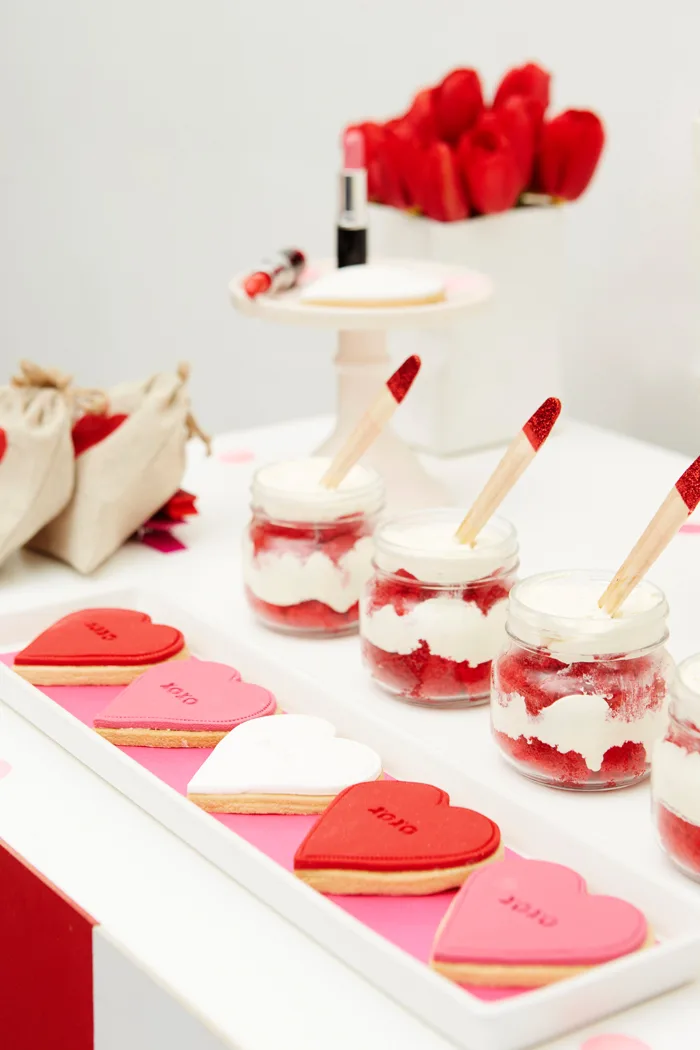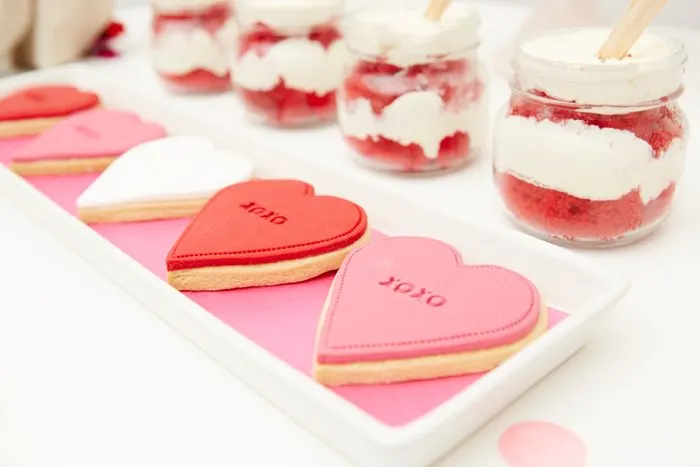 Guests sipped on delicious pink strawberry milkshakes served in cute little milk bottles and each went home with a custom red heart party favour filled with a whole lotta XOXO!"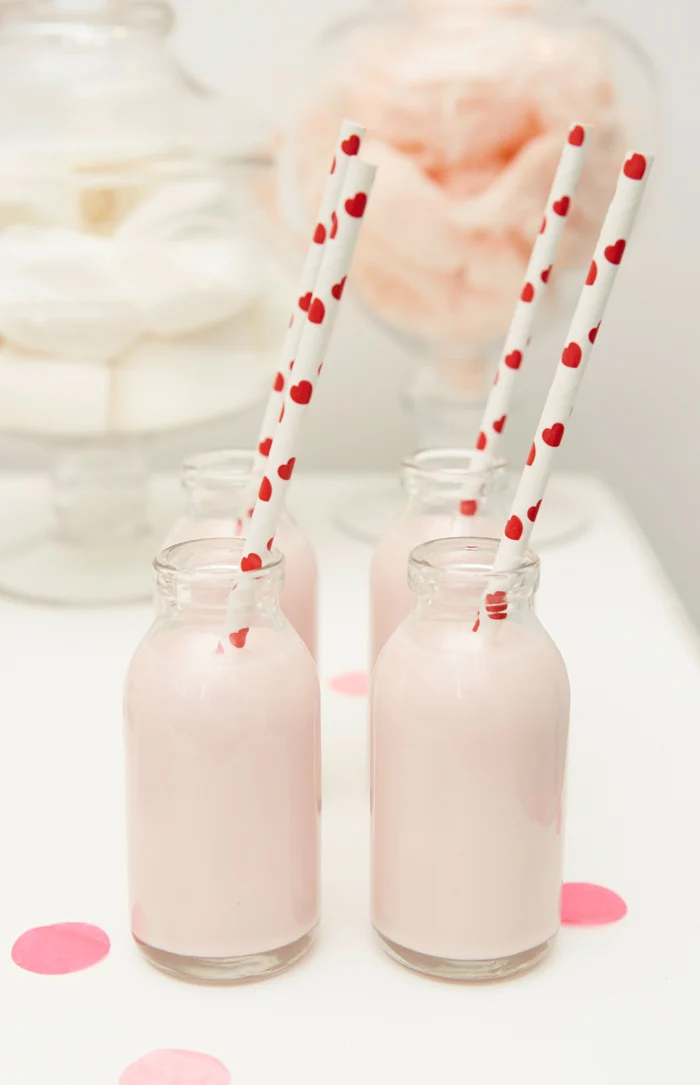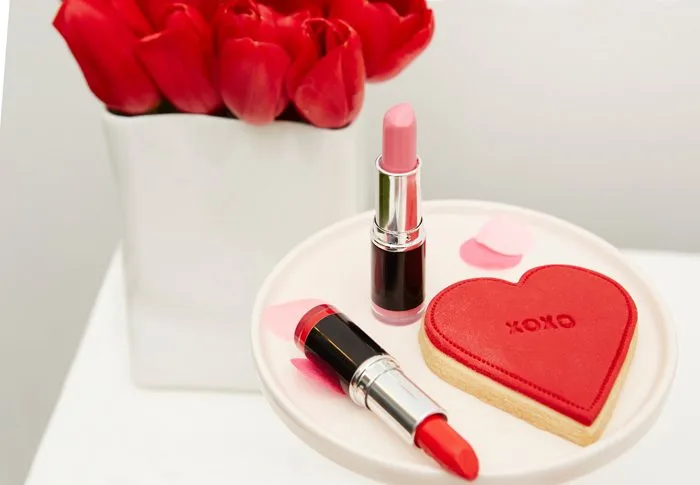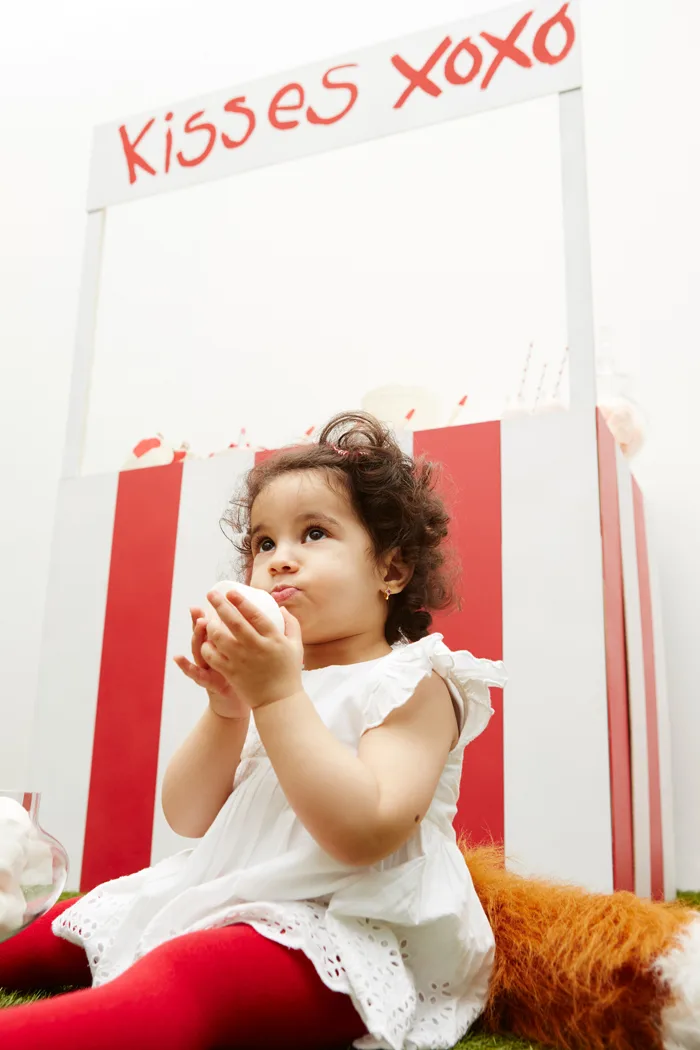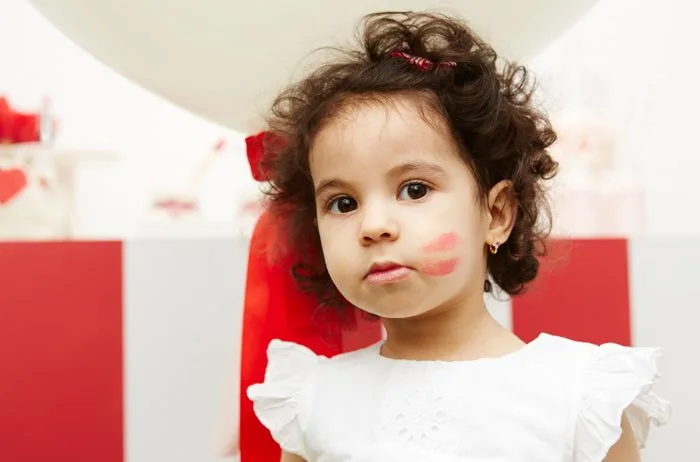 Thank you so much, Jordan, for sharing your Kissing Booth Valentines Day Party with us! Your little fox is just too cute for words!
Vendor Credit:
Events Director: Jordan Cullen (Foxes Events)
Styling Team: Cristina Goxencia (Foxes Events)
Sweet Treats: Robin Green (Cakes By Robin)
Photographer: Emma Tunbridge (Emma Tunbridge Photography)