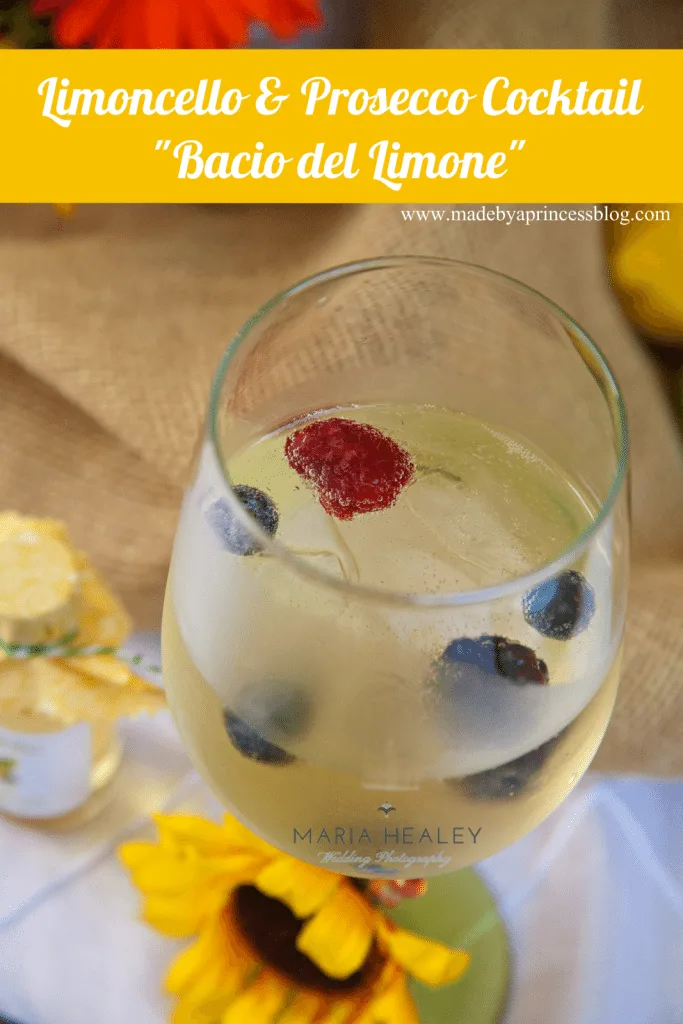 I love signature drinks at parties and always try to have at least one special cocktail. For my "Under the Tuscan Sun" party I knew I had to serve something using the homemade Limoncello I made this summer. I guarantee your guests will love you and cover you in baci (kisses) if you serve them this Limoncello and Prosecco Cocktail otherwise known as "Bacio del Limone". It is light, refreshing, "citrusy", and if you are not careful it will sneak up on you!

I loved the movie "Under the Tuscan Sun" and knew as soon as I saw it I had to created a party around the theme. I have not been to Tuscany yet but I imagine people sitting around in their giant sunflower fields drinking lots of wine and Limoncello. Ok, I know this doesn't really happen but when I go to Tuscany this is what I want to do! In the meantime I'll just enjoy yummy drinks like my Bacio del Limone…
What you need:
Limoncello (either homemade or store bought)
Prosecco (Italian sparkling wine)
Fresh Berries
Directions:
Place a spoonful of ice in your wine glass and top with fresh berries. Pour the Prosecco and Limoncello over ice and berries and stir lightly to mix. Be careful not to destroy the bubbles or crush the berries
Doesn't it look pretty?! If I had any
Limoncello
left I would make one right now. I hope you enjoy this little taste of Italian Heaven!
Enjoy!
Photos courtesy of Maria Healey Photography
Kylie