Want to catch a leprechaun? Lure him with some St. Patrick's Day popcorn sprinkled with tiny gold coins and gold sprinkles!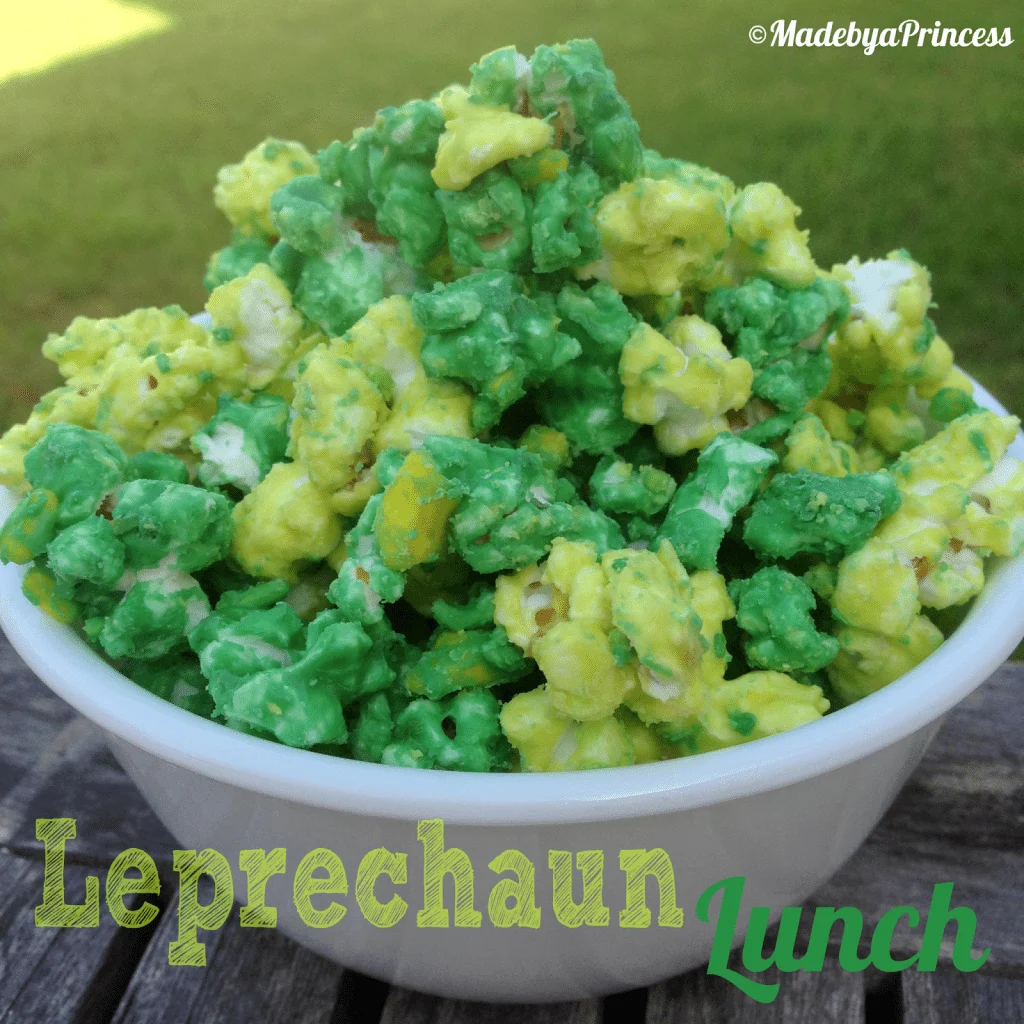 St. Patrick's Day Popcorn
We are starting to get into the St. Paddy's spirit around here in anticipation of our Liam the Leprechaun's arrival. He is a pretty naughty little guy but my kids love him. I thought that maybe this year we could add this to the trap the kids set. I even added mini golden coins and sprinkles to further entice him!
How to Make St. Patrick's Day Popcorn
This is what you will need for one big bowl:
-One bag each of green and lime green chocolate candy melts (I used Wilton brand found at Michael's)
-(2) packages of microwave popcorn
-Green sprinkles, green sugar crystals, and a bag of bubble gum golden nuggets
-Microwave safe bowl
-Very large plastic bowl to put all popcorn in to toss
-Cookie sheet
Pop both bags of popcorn, one at a time, and set one aside. Take one bag and spread the popcorn out on the cookie sheet making sure you take all of the unpopped kernels out. Put them in a small bowl. Pour the lime green chocolate candy melts in the microwave safe bowl and melt in 30 second intervals, stirring in between, until the chocolate is completely melted.
Pour melted chocolate over popcorn on cookie sheet and slowly move around with a spatula until completely covered. Sprinkle sugar crystals and sprinkles before chocolate hardens and move around again until well coated. Place all this chocolate coated popcorn in your large bowl.
Take second bag of popcorn and pour out into cookie sheet and remove unpopped kernels. Place green chocolate candy melts into same bowl used for the lime green chocolate. Pour over popcorn and candy and use spatula to coat well. Toss bubble gum golden nuggets over the popcorn. Place in large bowl with lime green chocolate popcorn.
Let cool for about 30 minutes before eating so all of the chocolate can harden. Toss popcorn so the two colors are even mixed. Enjoy with green milk or Irish Coffee!
For full instructions with detailed photos check out my Valentine Popcorn post.
May your home be filled with laughter.
May your pockets be filled with gold.
And may you have all the happiness
Your Irish heart can hold.
Happy St. Patrick's Day!