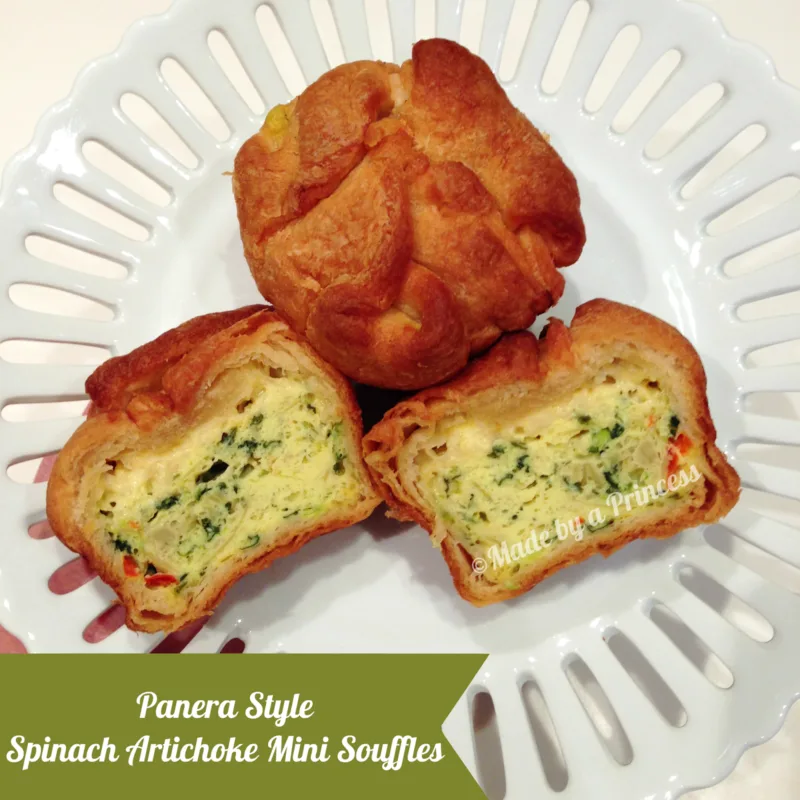 One of my favorite things at Panera is their Spinach Artichoke Souffle. So sinfully good! Don't even bother counting calories for this one because, well, just don't. I found a recipe over on ABCNews that I used as a base but made some minor tweaks.
Recipe for Panera style Spinach Artichoke Souffle…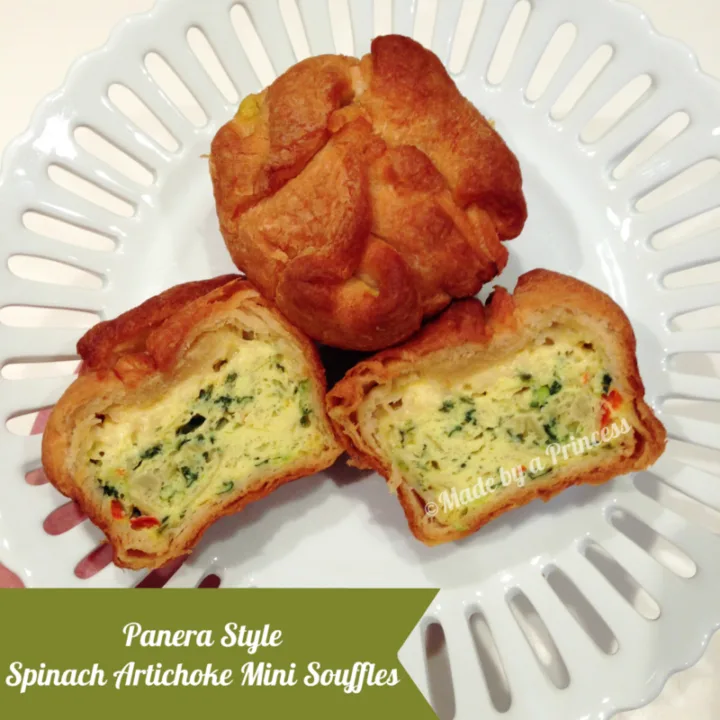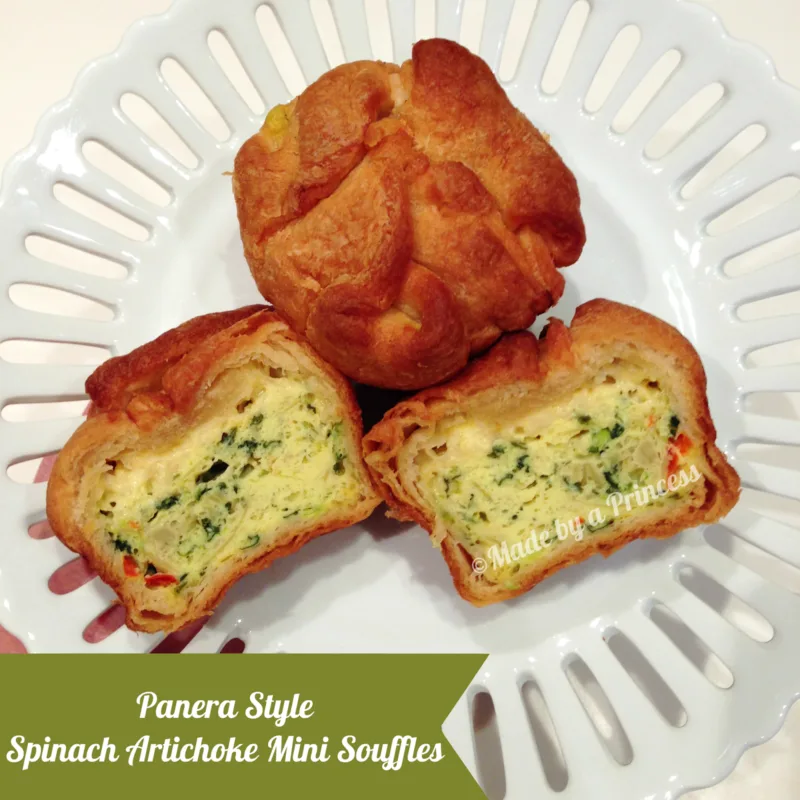 Recipe for Panera style Spinach Artichoke Souffle
Ingredients
4 tablespoons frozen spinach, thawed
4 tablespoons finely chopped artichoke hearts
2 teaspoons minced onion, I used dried
1 tablespoon finely chopped red bell pepper
5 eggs, keep one aside for later
3 tablespoons milk
3 tablespoons heavy cream
1/2 cup shredded Mexican blend
one with cheddar cheese and Monterey Jack cheese
1/4 cup shredded Parmesan cheese
¼ teaspoon salt
¼ teaspoon pepper
1 8- ounce tube Pillsbury Crescent dough, I used the butter flake one
Butter and flour for greasing and dusting pans
¼ cup shredded Asiago cheese
Instructions
Preheat oven to 375 degrees F
Cook Time: 25 to 30 minutes
Combine spinach, artichoke hearts, onion, and red bell pepper in a small bowl. Add 2 tablespoons of water and cover bowl with plastic wrap. Poke a few holes in the plastic and microwave on high for 3 minutes. You can also place a wet paper towel over the bowl if you don't have plastic wrap. Remove from microwave and set aside.
In a medium bowl beat 4 eggs until frothy. Mix in milk, cream, cheeses, salt, and pepper. Fold in spinach, artichoke, onion, and bell pepper mix until well incorporated.
Microwave egg mixture for 30 seconds on high, and then stir it. Do this 4 to 5 more times or until you have a very runny scrambled egg mixture. When the egg mixture started to create a cooked egg "ring" around the bowl I stopped.
Unroll and separate the crescent dough into four rectangles. Pinch the dough together along those diagonal perforations so that you have four rectangles. Flour your work space so it doesn't stick. You can use a rolling pin or flour your hands and smooth the dough out. Cut each rectangle in half so you have two squares. You should end up with eight squares. Place square of dough in buttered and floured muffin tin to create a crust. Spoon equal amounts of egg mixture into each muffin cavity. Sprinkle Asiago cheese on top of the souffles and then gently fold the dough over the mixture. Beat the last egg in a small bowl then brush beaten egg over the top of the dough of each souffle.
Bake for 25 to 30 minutes or until dough is golden brown. Remove from oven and cool for 5 minutes, then carefully remove the soufflés from muffin tin and serve hot.
Did you make this recipe?
Please leave a comment on the blog or share a photo on Instagram
Related