This post sponsored by Wayfair. All opinions are my own.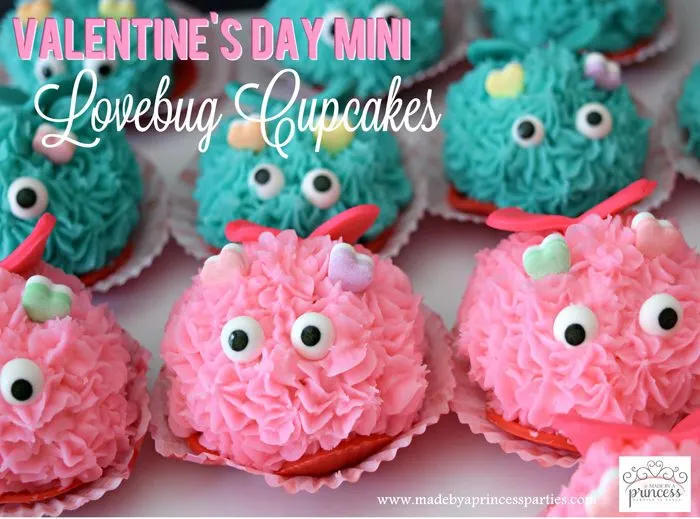 Do lovebugs come visit you for Valentine's Day? Our lovebugs sneak in here in the middle of the night and leave treats for the kids. Usually something small and Valentine's related like a light up necklace or ring. We've actually never seen these cute little creatures but I imagine them to be tiny, furry, and totally adorable. This year I decided to surprise my kids with a special treat and create some cupcakes that looked like our loving little friends. Keep reading for my Mini Lovebug Cupcakes Tutorial. Happy Valentine's Day!

Our lovebugs started coming around when my son was about 3 years old (he's almost 15 now!). Out of the blue one Valentine's Day my son received an extra little treat and a note signed, "Your Lovebugs". He was so excited because he had never heard of anyone having a visit from lovebugs before, although he was a bit unsure how they got in. I hadn't really thought about that so I told him they must have crept in when Daddy took the trash out. I could tell he wanted a more magical explanation so by the next year I had found a lady on Etsy to make us a Lovebug Door similar to the one the birthday fairy used. We have lots of magical creatures that visit us throughout the year! Anyway, these lovebugs have been visiting our house every year ever since and always bring some little knick knack for the holiday. This year I thought it was time to bring our little friends to life based on what the kids thought they looked like. My almost 6 year old said they would be small, furry, and have heart shaped ears. My son added that they must have wings to be able to fly around so quickly. The little one agreed. My daughter also said that her lovebug is pink and her brother's is like a "green-ish blue" since Glenn likes green and blue. I love her imagination!
So…here we go…how to make our mini lovebug cupcakes! You are going to need:
Box of cake mix, prepared as directed for mini cupcakes
Mini cupcake liners (enough for baking and decorating)
Mini cupcake tins (you can find them on the Wayfair website along with some awesome Valentine's Day bakeware)
Mini cupcake liners
Prepared buttercream (you can use store bought tubs but if you do I would add at least a cup of powdered sugar to stiffen the frosting. You will probably need at least two tubs.)
Food coloring
Brach's Valentiny's double layer hearts
Royal icing eyes
Fondant, any colors you like (I used the small fondant tubs from Sweetshop at Michael's)
Buttercream frosting
Heart shaped cookie cutters, one that is bigger than the size of your cupcakes and another one about an inch wide
Wilton Star Tip #30
Wilton couplers
Wilton disposable bags
Bake your cupcakes as directed on the box and set aside until cool. While your cupcakes are cooling, prepare your buttercream. You can make buttercream from scratch or purchase at least three small tubs from the store in the grocery aisle. Don't forget to add at least one cup of powdered sugar per tub as the store bought versions are pretty wet. Divide the buttercream equally and color per your preferences. Place the coupler in the disposable bags and fill one with one color. Do the same with your other color.
Now that your cupcakes are done and your buttercream is colored, carefully roll out your fondant. I used red fondant for the heart to be placed underneath the cupcake. You will have enough fondant to make about 20 larger hearts. If you need to make more than that purchase another tub. Set aside.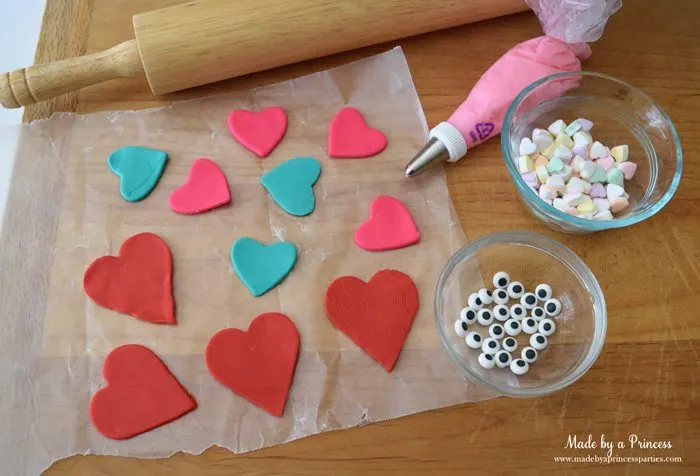 Now roll fondant out to make the wings.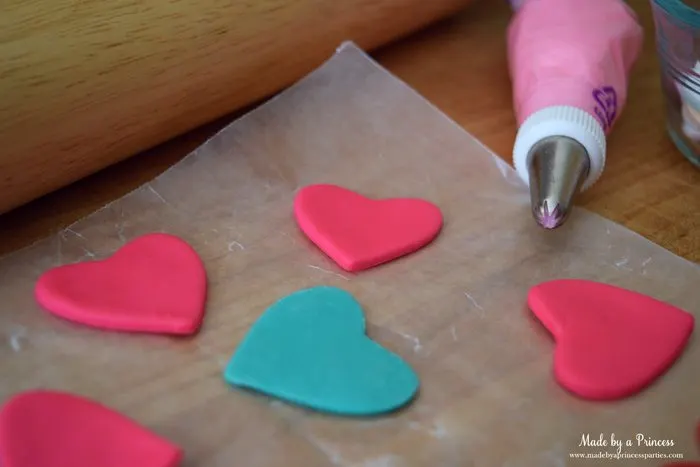 Place your candies in small bowls. You can really use just about any small candies you want for the ears but I thought these double layer hearts were so cute and the perfect size.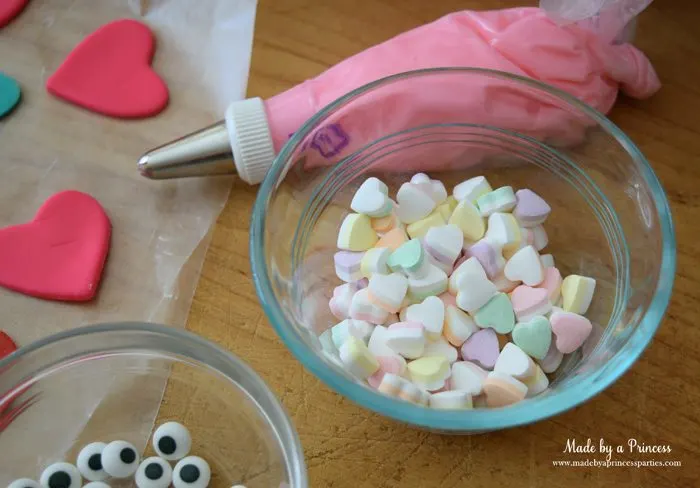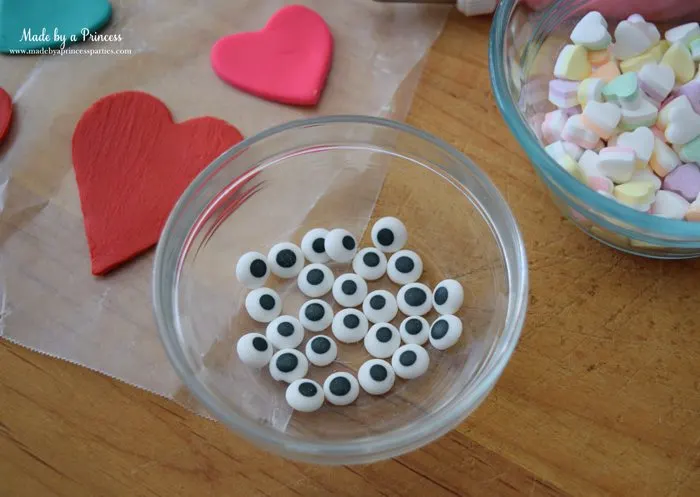 Flatten a mini cupcake liner as much as you can as this will serve as your base.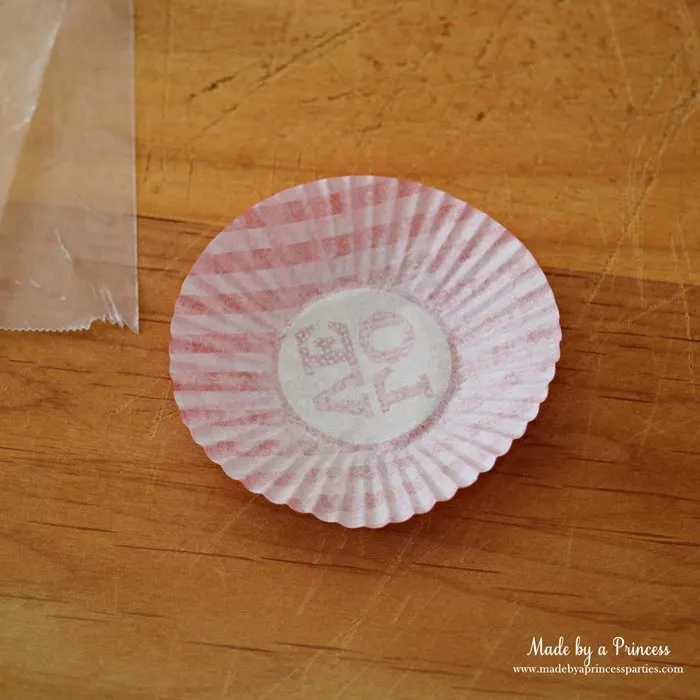 Place one of the larger hearts in the middle and then pipe a small star in the middle of the fondant heart. This will help keep the cupcake in place.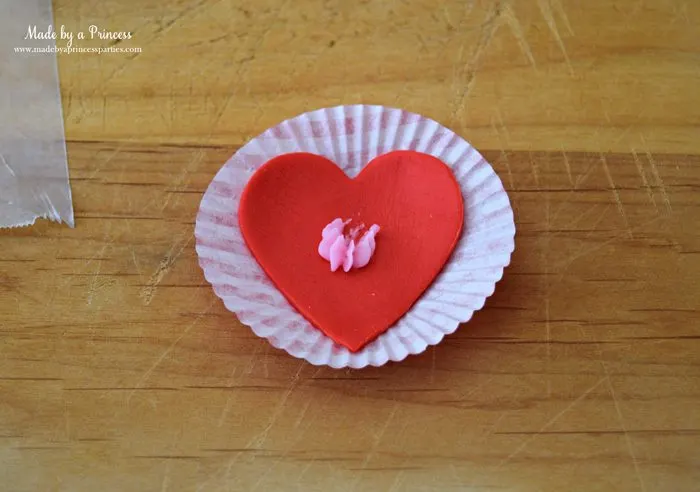 Any flavor cupcake will work.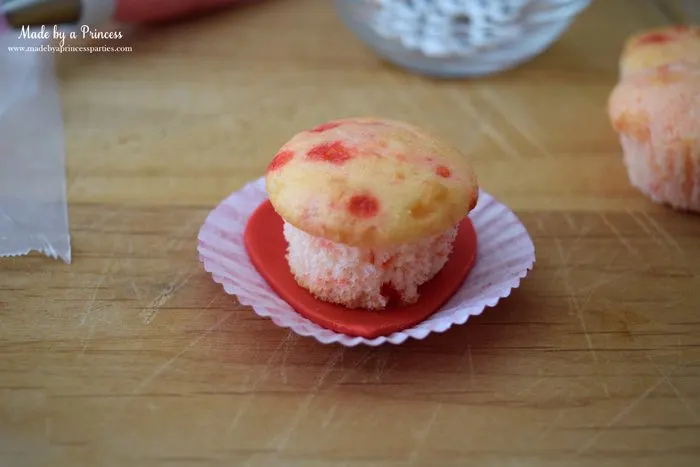 I used Star Tip #30 but you can use a smaller tip if you like. I wouldn't go much bigger since the cupcakes are so small.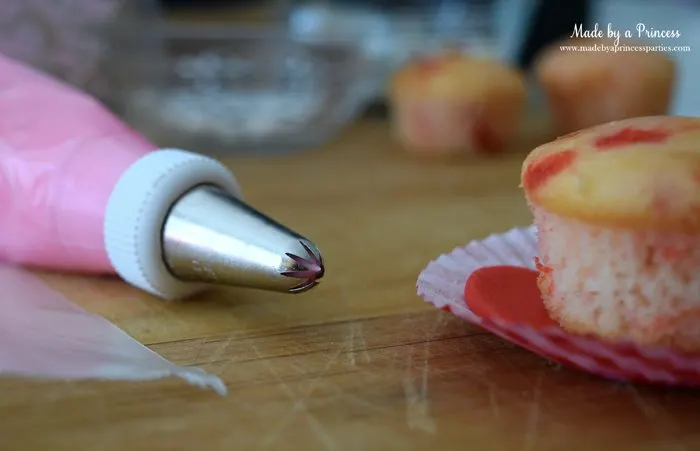 Quickly pipe little stars all around the cupcake, starting at the base and going all the way around.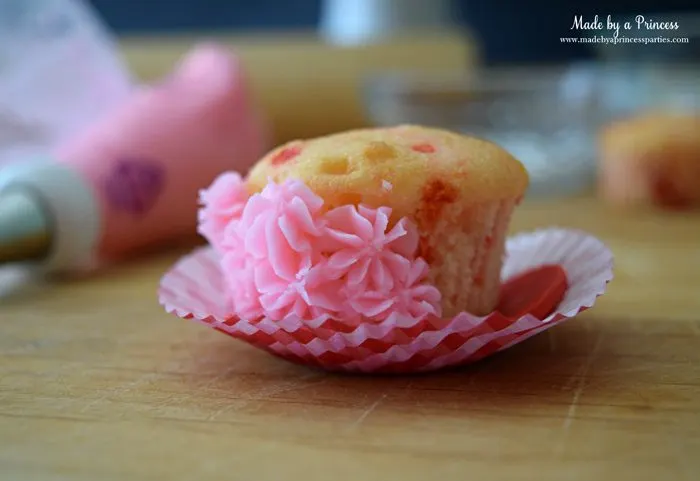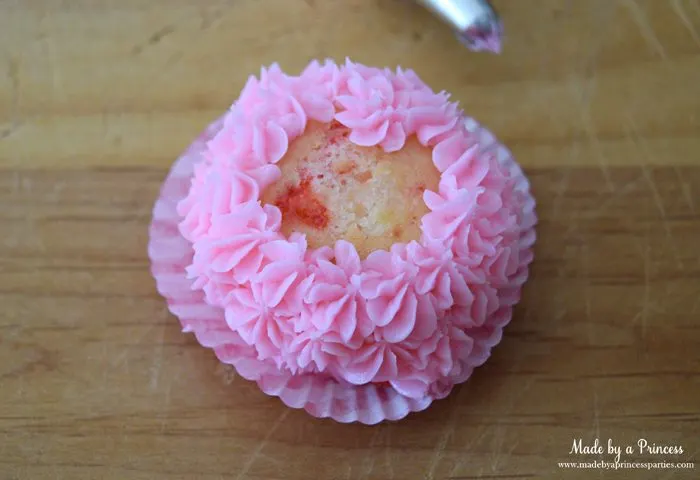 Now set one of your fondant "wings" on the back of the cupcake.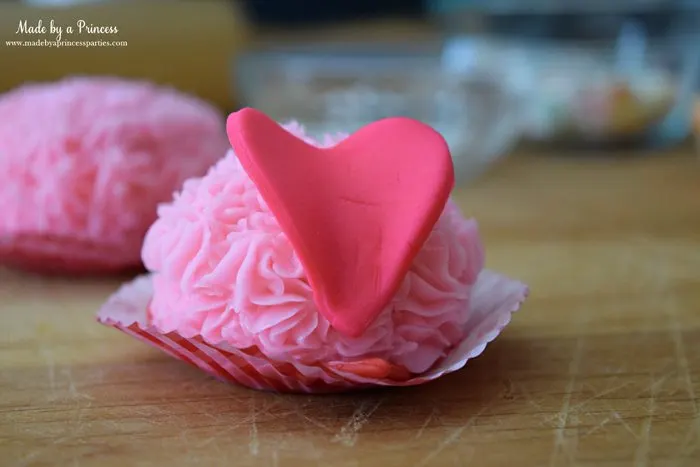 Add candies for ears.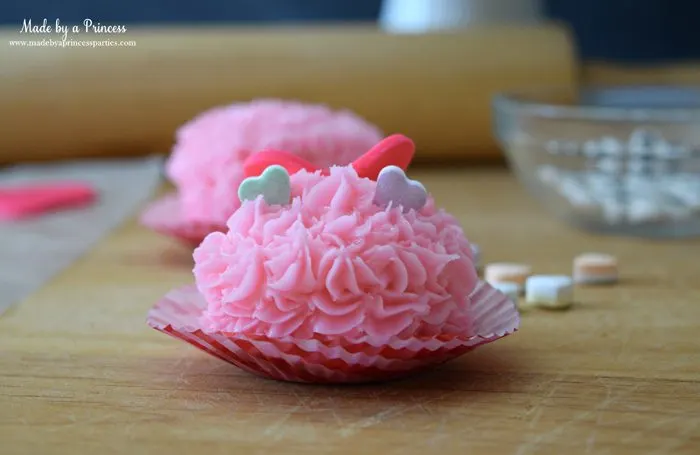 Now add your eyes. That's it! your lovebug is done! You can add a mouth if you like.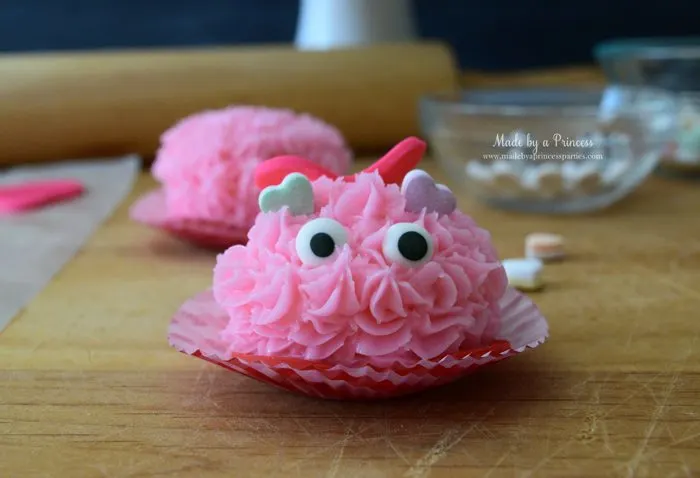 Keep in the refrigerator until ready to serve because buttercream frosting does get very soft if left out too long.
Serve on a pretty platter and get ready for lots of hugs from your kids!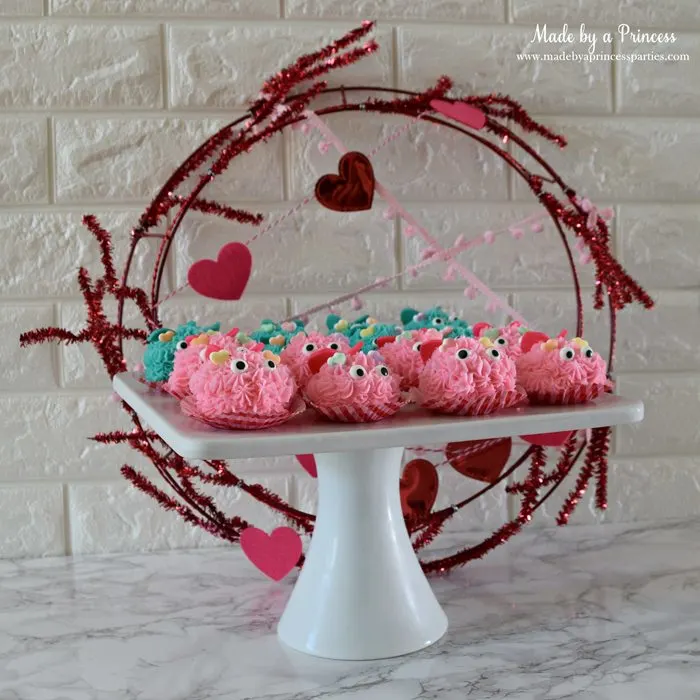 I think we will take some of these to our neighbors to spread the love!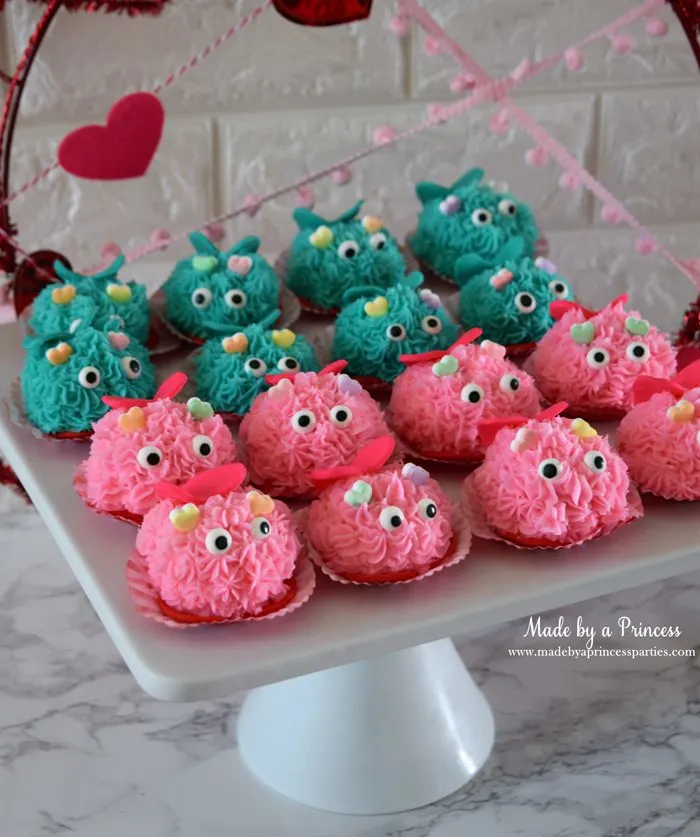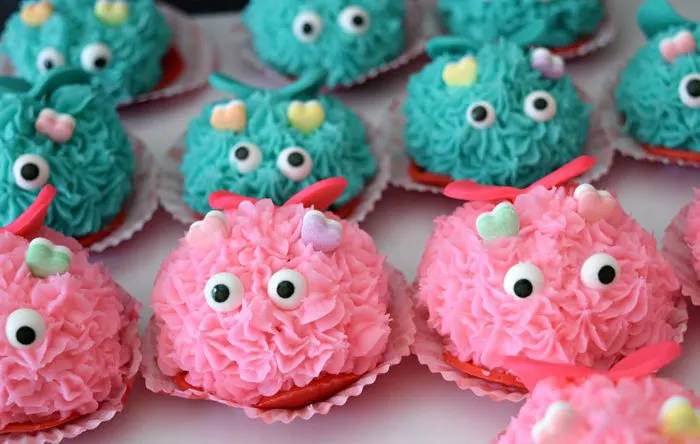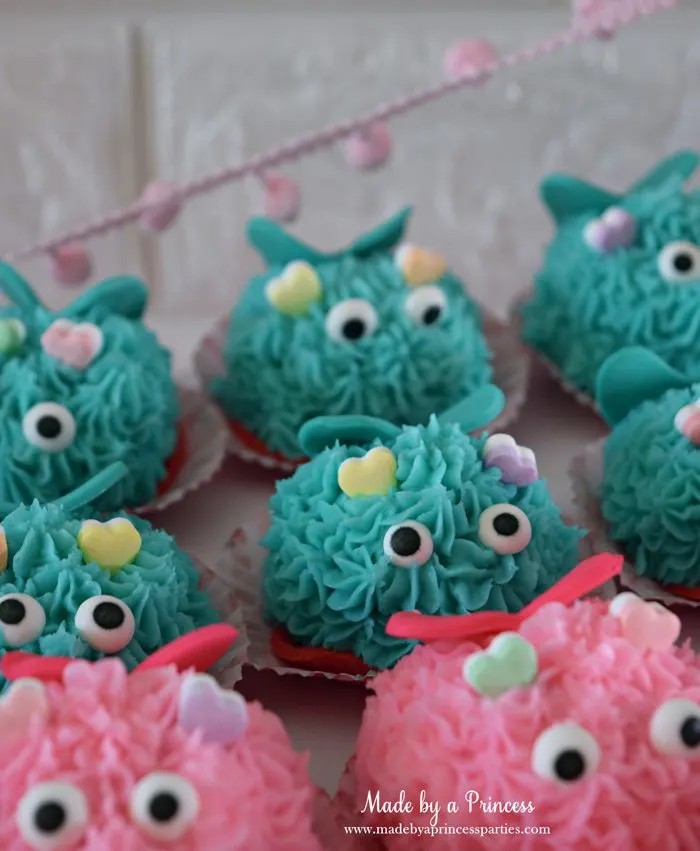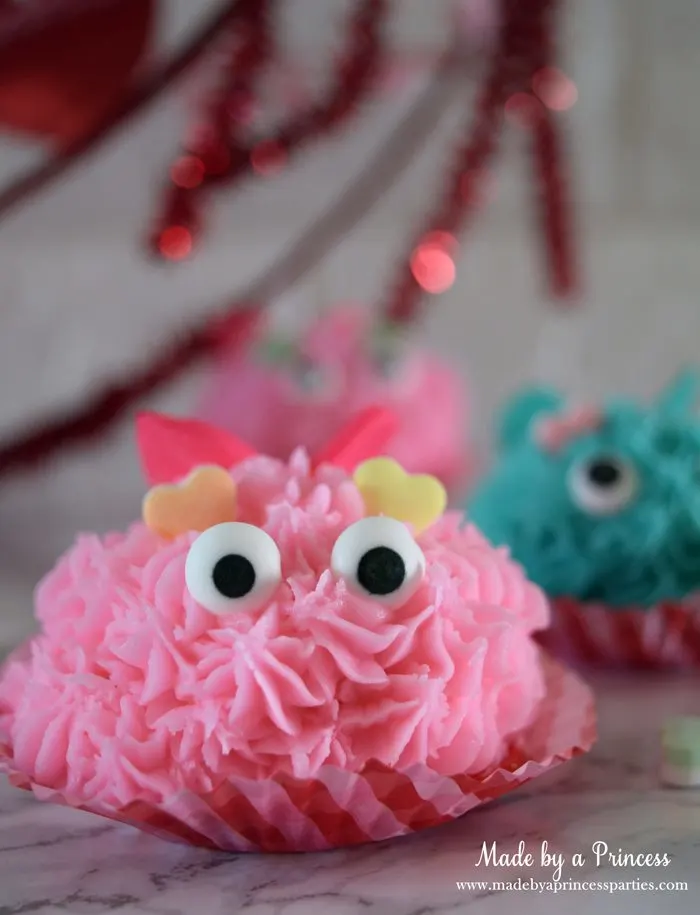 Happy Valentine's Day! I hope you enjoyed my Mini Lovebug Cupcakes Tutorial. What color are your lovebugs?!
Do you have any fun Valentine's traditions? I'd love to hear them!