I have been admiring My Favorite Things parties for some time now.  I just love the concept of learning more about my girlfriends and trying out some of their favorite things.  I mentioned the idea to some friends and they were so excited about the idea and couldn't wait to go shopping.  I emailed my girlfriends a couple months in advance so they could save the date and also to let them know the "rules" and what I would need from them:

1. Each person brings 5 of their favorite things (costing $6 or less) and they can be all of the same or 5 different thing.  
2. Bring your favorite dish.  It can be a dessert, appetizer, entree, whatever you like.
3. Send me the following a couple weeks before the party:
    a. top 2-3 favorite all time songs
    b. favorite color
    c. favorite quote

I did not tell anyone why I needed their favorite songs, color, or quote – they would just have to wait and see!

I wrestled with the theme for quite awhile.  I was so tempted to go with my signature color, pink, but ultimately changed direction because it wasn't a party about my favorite things, it was about celebrating our favorite things.  I went with "rainbow" as a theme to encompass a wide range of favorite colors.

I played around with a lot of different invitations designs and none of them were really speaking to me.  I used to write poetry so one night when I couldn't sleep I started writing down my own version of the "Favorite Things" song from Sound of Music.  When I was done I realized I had exactly what I wanted for the front of the invitation.  The poem was on the front and the party info on the back with ribbon in rainbow colors to tie it all together.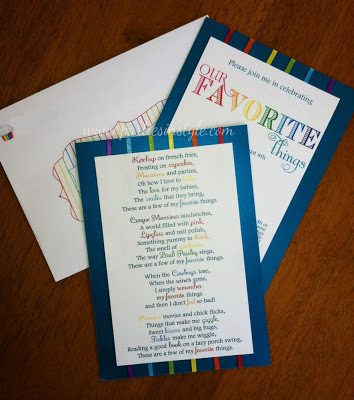 So invitation is done.  Now what?  Well, decorations of course!  I had seen a number of tissue paper garlands and thought those would work well with the feel of the party.  I knew these would take awhile so I gathered my stacks of tissue, a pair of new scissors, a ruler, and a glass of wine while watching the Olympic Opening Ceremony with the family and cut for the next few hours.  


This welcome banner and garland was hanging in my entryway.

I like to have a welcome sign on the door to set the mood for the party and let my guests know right away how excited I am for them to be there.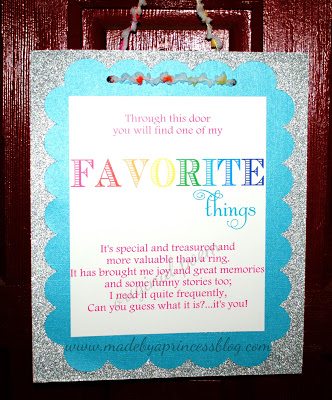 Welcome sign on the front door (original poem)

I had tassels hanging all over the house and backyard which looked to colorful and bright. I just loved it!  
I used a pink sheet that I had left over from my daughter's first birthday (Sugarella's Sweet Shoppe Cupcake First Birthday Party) as a backdrop for the favorite things table.  


This is my friend Erin.  We have been friends for more than 25 years (yes, that's right 25!) and she unfortunately lives in North California now.  When she told me she was going to be in San Diego in August I knew I had to plan my party around her visit because a) I wanted to see her and b) I wanted her to introduce my other friends to NYR Organic.  I have been using the products for awhile and LOVE them.  Since we were talking favorite things she brought 10 of her fave products.  As you can see my little one wanted in on the action too. This mama is going to be in trouble in a few years.  If any of my stuff goes missing I know right where to look.


This is Andy.  She is a kick.  She loves to hike.  I mean really loves to hike.  We don't share that interest (like at all) but we do love to party and have a glass of wine or two.


This is Kelly.  One of the things I love most about Kelly is that she is so real. You don't get any BS with her, you know where you stand, and she always makes me laugh.