It's so easy to make pretzels at home. All you need is a roll of Pillsbury French Bread loaf and an assortment of dipping sauces and you're all set to make these homemade soft pretzel bites!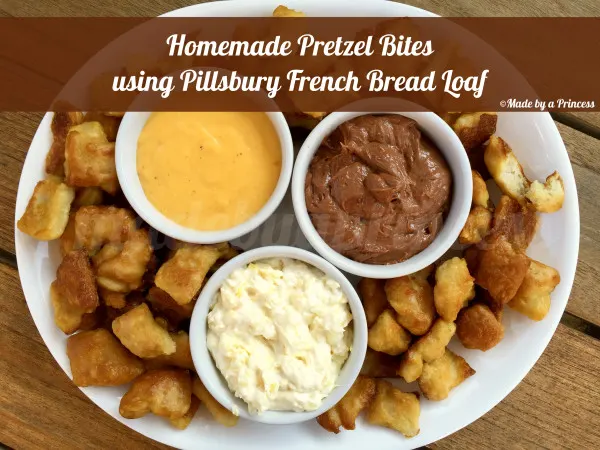 Today I am sharing how to turn a roll of Pillsbury French Bread Loaf into yummy little homemade soft pretzel bites…you're gonna love them!
Homemade Soft Pretzel Bites using Pillsbury French Bread Loaf
Homemade soft pretzel bites are good. Like really really good. Some of the recipes I found online were way too complicated and involved yeast and letting set overnight. When you have a hankerin' for pretzel bites that just won't do! I needed to find a simple solution to this problem and am happy to report that all you need for this recipe is a roll of Pillsbury French Bread loaf, baking soda, salt, and water. Super easy!
How to Make Soft Pretzel Bites Without Yeast
No need to knead the dough or to use a stand mixer, just grab a roll of Pillsbury French Bread loaf from your local grocery store. While the pot of water is boiling, cut up the loaf into small bite sized pieces.
Add baking soda to the pot of water and and drop the pieces of dough into the boiling water for about 30 seconds. You will see they puff up pretty quickly.
Brush soft pretzel bites with egg wash and sprinkle with sea salt. Place pretzel bites on a greased cookie sheet and bake for about 14 minutes or until golden brown. Serve with cheese dip, chocolate mousse dip, and pineapple fluff for an extra yum treat!
Make these for an afternoon snack or Game Day. These would be soooo good served with delicious dips on SuperBowl Sunday!
I made two batches of these bites…the first one (pictured) I used Pillsbury Pizza Crust and the second I used Pillsbury French Bread Loaf. I preferred the French Bread Loaf. Tossing the egg and bread pieces in a bowl will cause them to flattened out a bit. Brushing them helped keep their puffy shape.
I hope you enjoyed my Pretzel Bites using Pillsbury French Bread Loaf recipe!
Happy Entertaining!