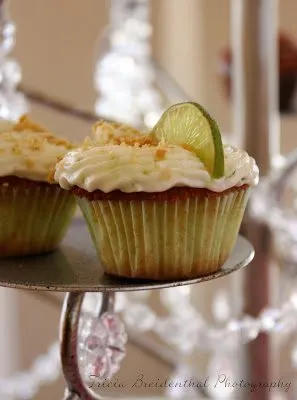 This is the first cupcake recipe I am sharing from Sugarella's 1st Birthday Party. I scoured the internet for just the right looking Key Lime cupcake. There are a lot out there but I finally settled on one from Shirley at What About Second Breakfast because I really liked that she used Greek yogurt. Here is her recipe as originally adapted from Martha Stewart:


Ingredients for Cupcakes:
1 cup (2 sticks) unsalted butter, room temperature
3 cups all purpose flour
4 tsp baking powder
1 tsp salt
1 cup plain yogurt (I used 0% fat Greek yogurt)
1 tsp vanilla extract (I probably used at least a tbsp but I love vanilla)
Zest and juice of 8 key limes (I used the zest of 12 limes because there were pretty small)
2 cups granulated sugar (I use baker's fine sugar)
4 large eggs


Preheat oven to 350. Line a 12 cup tin with cupcake papers. In a medium bowl mix the flour with the baking powder and salt. In a small bowl whisk together the yogurt, vanilla, lime zest, and lime juice. Set aside.


With an electric mixer cream butter and sugar until light and fluffy. Add eggs one at a time, beating well after each addition. With mixer on low speed, add flour mixture in three batches, alternating with two additions of yogurt mixture. Divide evenly among cupcake cups. Bake until a toothpick inserted in the center comes out clean, about 20 – 25 minutes. Cool 10 minutes in tin then cool completely on a rack.


Ingredients for Frosting:
(adapted from her own cream cheese frosting recipe)
8 oz cream cheese, room temperature
1/2 cup (1 stick) unsalted butter, room temperature
Zest and juice of 2 key limes (I used the zest of at least 4 limes)
1.5 cups confectioners sugar
1/2 tsp pure vanilla extract (I used 1 tsp)


Whip the cream cheese and butter together with an electric mixer. Don't over mix as it will get too soft. Add zest, juice, sugar, and vanilla extract, mix slowly until combined. Scrape into a piping bag fitted with the tip of your choice. I don't remember which tip I used but I believe it was a larger opening closed star tip from Wilton.


Once you have frosted your cupcakes you can garnish with crushed graham crackers and a lime wedge. These cupcakes were so popular that I didn't get a single one! No one left me even a bite!


Thank you Shirley for a fantastic Key Lime cupcake recipe!


Note: Since I was making a variety of cupcake flavors I made minis. I halved the recipe and ended up having enough for about 18 cupcakes I believe but I did have frosting left over.