My parents used to serve champagne cocktails at the holidays so as a nod to them I served these yummy drinks on Christmas Eve. I actually tested them out with my husband the night before and he gave two thumbs up so I was greenlighted for Christmas Eve. One was enough for Mom but she is a light weight!
Ingredients:
2 shots Cranberry Juice
1 shot Triple Sec
1 shot Pear Nectar
1 shot Blood Orange Sparkling Juice
Top off with Champagne (I used Cook's Extra Dry)
1 Maraschino cherry
Pour ingredients into a pretty glass and enjoy!
You don't have to make these for Christmas. They would be great anytime you want to tell your honey, Kiss Me, Baby!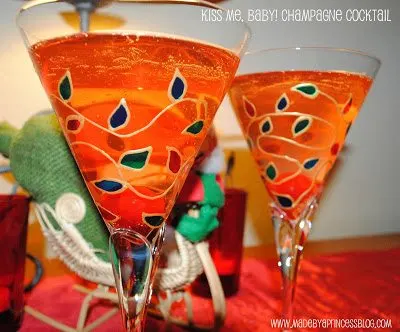 About the glasses (in case you were wondering)…I got these at the Flower Fields in Carlsbad in 1999. I love them! They were so expensive and such a splurge but they remind me of when my husband and I were dating and all the fun little adventures we would take together. Little did we know that we would end up living about ten minutes from the Flower Fields a few years later! The day I got these the flowers were in full bloom and local vendors were out selling their beautiful artwork. The name on the glasses says, "Forbes" so if you are out there and see this please let me know! I only use them for special occasions because I am so afraid of anything happening to them. Anyway, that's the story on the glasses.

TO PIN YOU MUST BE IN THE ACTUAL POST, NOT THE HOME PAGE.