My mom made this a lot when we were growing up and called Mexican Chef Salad. I remember mostly having it in the summertime but really it's just good all year round. My stepson once ate three very large platefuls of this! This is one of those dinners everyone gets excited about (and it doesn't have chicken which my son is super excited about) so I make it whenever they ask for it!
Ingredients:
1.25 lbs of lean ground beef
Taco seasoning packet
Bag of lettuce
Can of sliced olives
Mushrooms, sliced
Tomatoes, diced
Green onions, chopped
Avocados, sliced
Cheddar cheese, shredded
Thousand Island dressing (we use Ken's)
Chips (we use Cool Ranch Doritos)
Cook ground beef according to taco seasoning directions and let cook on low while you gather the other ingredients.
Since everybody likes different things in their salad I set up a taco bar. Put all of your ingredients in small bowls and let everyone build their own salad. Top with crumbled chips and Thousand Island dressing.
This is definitely not a hard meal to put together, it just takes some prep work. Now I'm thinking I should make this for dinner tonight…
Enjoy!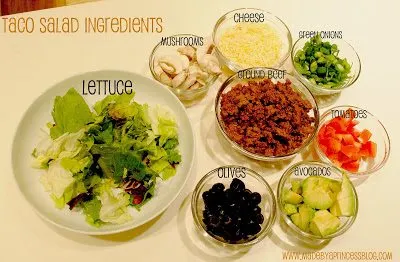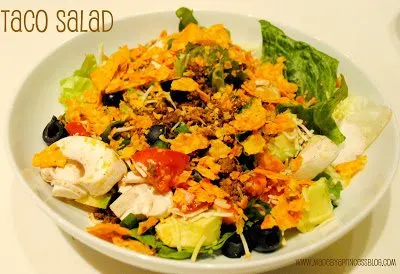 TO PIN YOU MUST BE IN THE ACTUAL POST, NOT THE HOME PAGE.