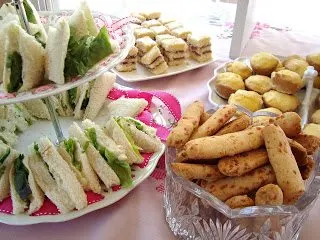 Benedictine Cucumber Sandwiches
Makes 16 triangles
½ cucumber, peeled, seeded, grated, and drained of moisture
1 bunch of scallions, white parts plus 2" of green part, finely chopped
8 oz cream cheese, softened
1 tbsp mayonnaise
1-2 drops green food coloring
8 slices white bread, crusts removed
3 red leaf lettuce leaves
Peel the cucumber, slice it in half lengthwise, scrape out the seeds with a spoon. Using a microplane grater, grate the cucumber into a colander and drain the moisture off. Transfer cucumber to a bowl.
Finely chop the scallions and add them to bowl with the cucumber. In the bowl, combine the cream cheese, mayo, and food coloring, mix thoroughly.
Spread a thin layer of spread onto each slice, spreading almost to the edges of the bread. Place a single layer of lettuce atop one of the slices. Put other piece of bread on top. Cut diagonally into four triangles.
My notes: These were a big hit and really easy to make. I did not use green food coloring but if I were hosting a Kentucky Derby party I would definitely add the food coloring since that is the traditional way of serving them.
Cheese Straws
Paula Deen
Makes 2.5 dozen
350 degrees
1 cup self rising flour
Less than a ¼ tsp of cayenne pepper
Less than a ¼ tsp of salt
1 cup shredded sharp cheddar cheese, room temp
½ cup (1 stick) butter, room temp
Sift together flour, cayenne, and salt, set aside. Using an electric mixer, cream together butter and cheese. Add the flour mixture slowly, beating at low speed, then continue to beat for 5 minutes until very creamy. Scrape down the sides of the bowl several times.
Using a cookie press with star tip, make 3" long cheese "strips", leaving at least ½" between each on ungreased cookie sheet. *you can also use a party bag or cut the tip off a Ziploc bag
Bake for 10-15 mins or until lightly browned. Remove to racks to cool.
My notes: These don't have a lot of flavor to be honest so I would add a bit more salt and cayenne and possibly use 3/4 cup sharp cheddar and 1/4 Irish cheddar. Irish cheddar is very flavorful and I believe would add a lot to this.
Prosciutto Wrapped Mango with Basil
Southern Living
1-2 mangos, peeled (do not use mango slices in a jar, they are too soft and mushy)
2 cups loosely packed arugula
1 package (1-2 oz) fresh basil
4-6 thin prosciutto slices
ground pepper
Cut mango into ¼- ½" slices or spears. Place 1 mango spear on top of 3 arugula leaves and 1-2 basil leaves.
Cut each prosciutto slice lengthwise into 4 strips. Wrap each mango bundle with 1 prosciutto strip. Arrange on serving platter and sprinkle with pepper.
If making ahead, place damp paper towel over the mango and chill for 30 minutes
My notes: I did not sprinkle with pepper as I didn't feel it needed it. These presented very well and no one had ever had them. I like serving things no one had. Got great feedback and would serve again. For the mangos, I used two boxes of fresh mango slices from Trader Joe's and 2 packages of prosciutto. Prosciutto is so thin and easily tears so keep that in mind when purchasing. Don't buy the thinnest possible but opt for prosciutto that is a little thicker to prevent tearing as much.
Date Rumaki
Makes 30
375 degrees
1 box of pitted dates
1 bottle of green olives with pimientos
1 package of bacon
toothpicks
Take the bacon out of the package and cut each slice in half
Slice dates down one side and place a green olive in the date. Take a slice of bacon and wrap around the date, placing toothpick through bacon, date, and olive so it stays in place. Place bundles on a cookie sheet and bake for 30 minutes or until the bacon is slightly crispy. Serve hot.
My notes: I remember eating these at parties my parents and their friends hosted and have been serving them at my parties for years. They are an instant hit. At my son's First Communion we only made one batch and they never made it outside. This time we doubled the recipe and felt like we had enough. Most people have never had these before and are always pleasantly surprised when they take a bite to find salty, sweet, and savory. It is the perfect appetizer at any party. A home run every time.
Lemon Blossoms
Paula Deen
Makes 2.5 dozen
350 degrees
2 large eggs
2 ½ oz packages instant lemon pudding mix
½ package of yellow cake mix
3 oz vegetable oil
Glaze:
2 cups powdered sugar
about 3 tbsp lemon juice
Grated zest of a small lemon
1 ½ tbsp vegetable oil
1 ½ tbsp water
Preheat oven. Spray mini muffin tins with vegetable cooking spray. Combine the cake mix, pudding mix, eggs, and oil and blend well with an electric mixer until smooth. About 2 minutes. Pour a small amount of batter, filling each muffin tin half way. Turn out onto a tea towel once cooked and slightly cooled.
To make glaze sift the sugar into a mixing bowl. Add the lemon juice, zest, and 3 tbsp water. Mix with a spoon until smooth.
With fingers dip the cupcakes into the glaze while still a little warm covering as much of the cake as possible. You can also spoon the glaze over the warm cupcakes, turning them to completely coat. Place on wire racks with waxed paper underneath to catch drips. Let glaze set thoroughly, about an hour, before storing in containers with tight fitting lids.
My notes: I use lemon cake mix because I like these to be really lemony. I also add fresh lemon juice to the mix but don't use too much, just a tablespoon or two, otherwise your mix could become too diluted.
Mint Infused Simple Syrup
1 cup sugar
2 cups water
leaves from a bunch of mint, washed thoroughly
Pull the leaves off of a bunch of mint and put into saucepan with sugar and water
Bring to a boil for about 3 mins. Let cool then pour mixture through a strainer, leaving leaves behind.
My notes: This is such an easy way to serve sugar for iced tea. The mint is subtle but is a nice surprise. I used small glass pitchers found at HomeGoods and placed them next to the iced tea so guests could add sugar to taste. It is such a simple little thing but everyone thinks it is so gourmet.
Petit Fours
350 degrees
3 ½ cups all purpose flour, sifted
1 tsp baking powder
1 cup butter, room temp
8 oz cream cheese, room temp
3 cups sugar
6 eggs, room temp
1 tsp vanilla
1 cup milk
marzipan roll (for later)
Simple Syrup
1 cup sugar
2 cups water
Bring to a boil for 3 mins. Let cool.
Directions for cake:
Line a jelly roll pan with parchment paper in a cross pattern (two sheets) so the cake can be easily lifted out. Coat the paper with butter then dust with flour.
Sift flour and baking powder in a medium bowl and set aside. Using a mixer, cream butter, cream cheese and sugar for about 6 minutes. Add eggs one at a time, mixing well after each addition. Add vanilla and milk until combined. Add flour mixture until completely combined. Slowly pour into jelly pan.
After the cake is baked and cooled, trim off the outer edges and then cut it into eight equal sections. Next, use a serrated knife and cut the height of each section in half. Turn each layer cut side up and brush a thin layer if simple syrup on cake layer. Repeat with two sections. You can also use a spray bottle to spritz the cake with the syrup. Do not saturate. Then spread a thin layer of warmed raspberry jam so that you can still see the cake through the jam. Stack the sections three layers high. There will be three layers of cake and two layers of filling in each stack.
Roll out the marzipan roll into a very thin layer. Using a pizza slicer cut a piece big enough to fit on each cake stack. Brush or spray the cake lightly before placing marzipan piece so that it sticks. Trim off any excess marzipan.
Wrap each section in plastic wrap and refrigerate overnight. The next day, cut the sections into small squares. Each three layer section will give you 12 petit fours. You should be able to get at least 5 three-layer sections.
The next day dip the cakes into poured fondant and place on a wire rack. Set a cookie sheet underneath to catch the drippings. WARNING! Read my notes below.
My notes: A jelly roll pan is basically a large cookie sheet with sides. I did find an actual jelly roll pan at HomeGoods at it was slightly larger than my biggest cookie sheet. Please make sure the pan will fit in your oven before purchasing. The cookie sheet I use the most was a hand me down from my mom because it wouldn't fit in her oven. As for the cake, I thought I would be saving time by making two very thin pans of cake instead of one and cutting it. I don't suggest doing it this way. The layers were still too thick and thus not as moist as they were supposed to be. IF you do it this way, make more simple syrup so that you have enough to really soak the cake so it's moist. One of the best things about petit fours is how moist they are. Everyone said they loved the naked petit fours and they were all gone so something went right, however, the perfectionist in me was not completely pleased with the end result. One more thing, I purchased the Wilton Roll & Cut Mat and used the markings on the mat to measure my cake layers and marzipan. This was the best way to ensure everything was the same size rather than guessing or getting out a ruler. I used a 40% off coupon at Michael's so it ended up being something like $8. Well worth it.
Now my notes about dipping into the poured fondant. You need to let it cool to 150 degrees. Let that sink in. *Cool* to 150 degrees. Have you ever tried dipping your fingers into something that is 150 degrees for a prolonged period of time? It hurts! I tried everything to coat the petit fours. 1) Traditional dunking as recipe suggested. Heck no! Too hot!; 2) Put the cake on a spoon and dipped it. Nope, doesn't coat all sides and ended up with a blob on top; 3) Tried dipping one side at a time so my fingers didn't touch. No again, won't completely coat; 4) Fondue fork. Nada. Cake fell off fork and landed in the piping hot fondant; 5) Placed cake on a rack and attempted to pour fondant over like you would with ganache. Nyet. Another big blob. Oh, I forgot to mention the fact that the fondant needs to stay hot so in between these trials I had to warm it back up in the microwave. 6) Put cake on a fork and dipped. Nein. Cake wouldn't even stay on the fork so then I ended up with little cake pieces in the fondant. UGH! 7) One last attempt at trying to dip it with my fingers. Chan eil! Still hot! At this point I had dissolved into a fit of tears, my BFF attempting to comfort me by suggesting we go buy a cake (it was now 11:15pm the night before the Christening) at which point through the tears I said, "I can't serve a cake I didn't make." While I was staring at a steaming bowl of poured fondant and a pile of ruined little cakes she was on the computer finding similar horror stories of failed petit fours. Ok, I didn't feel quite so bad. Still, it was an epic failure. We regrouped, went to the store, bought dark chocolate cake mix, made 4 dozen mini cupcakes, and dipped them in poured fondant. Success! They were beautiful, tasty, and very gourmet looking. I will never attempt petit fours again (well, I don't think so, maybe I will) but I really liked cupcakes dipped in poured fondant. Consider yourself warned…150 degrees…that's all I am going to say about that.
Poured Fondant
10 cups sugar
2 cups water
1 cup clear corn syrup
Clear vanilla
Clear almond extract
Combine sugar, water, and corn syrup in medium saucepan. Stir well. Place candy thermometer into the mix and place over medium-high heat. Let the mixture bubble until it reaches 238 degrees. This is soft ball candy stage. When the temperature is reached, remove from heat and transfer the hot piqued to the bowl of a food processor fitted with a steel blade. Do not process yet.
Clean the candy thermometer and insert the hot syrup. Let cool to 150 degrees, 35-40 mins. Have a large bowl ready in which to pour the fondant. Also have a wire rack with jelly roll pan underneath to catch drippings.
When thermometer reads 150 degrees add food coloring and flavoring then process for 2-3 minutes until mixture has turned from a clear liquid to opaque.
Immediately pour fondant into bowl for dipping. Hold the cupcake by the bottom and dip top into the fondant. Gently but quickly swirl until the top is coated. Place cupcakes on a platter or wire rack to cool.
Give the fondant one quick stir then repeat the process with another cupcake. Try to dip as quickly as possible. This fondant sets up quickly so you will likely have to heat it in the microwave to loosen up several times depending on how many cupcakes you are dipping.
Let fondant covered cupcakes stand until completely dry.
My notes: I dipped the cupcakes twice because I didn't feel one dip was enough. Right after the second dip we put the fondant rosebud on top and pushed it in a bit to make sure it stuck. I loved the way the poured fondant cupcakes looked and everyone thought they tasted great. It can look pretty but if it doesn't taste good, forget it. I would say they were a hit.

TO PIN YOU MUST BE IN THE ACTUAL POST, NOT THE HOME PAGE.