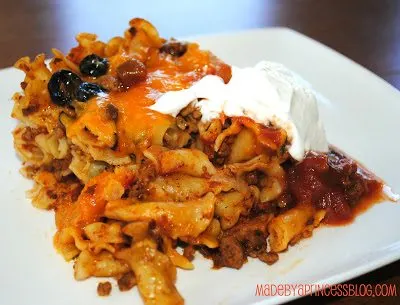 Taco Pasta Bake
This is a really easy yummy dinner to make particularly when you are not feeling very creative in the cooking department:
Preheat oven to 350
Cook for approx 30 minutes
1 lb lean ground round
1 package taco seasoning
1 lb of your choice of pasta
1.5 cups of your choice of salsa (add more if you like)
3/4 cup cheese sauce (I used Tostitos in a jar)
1.5 cups shredded Mexican cheese
Garnish with sour cream and salsa
Optional toppings:
1 small can sliced olives
1 small can sliced mushrooms
1/2 cup diced green onions
Sliced avocado
Directions:
Prepare ground round per instructions on the taco seasoning packet. Once cooked and browned strain so that fat is removed.
While meat is cooking prepare pasta according to package instructions. Drain water and put pasta in a big bowl.
Add meat and salsa to cooked pasta and toss until pasta is coated with salsa. Add more salsa to taste if necessary.
Pour pasta mixture into a baking dish and pour cheese sauce over the top. You can add more than 3/4 cup if you like. We like it really cheesy so we add more.
Cover pasta mix with shredded cheese.
Place in oven for about 30 minutes or until the cheese is melted. Since the pasta and meat are already cooked this is just to marry the flavors and make it nice and hot.
Garnish with whatever toppings you like. Olives, green onions, avocado, mushrooms, crushed chips, or tortilla triangles are all yummy choices.
Top with sour cream and salsa to taste.
Serve with tossed salad (you have to get your greens in there somewhere right?!)
That's it! Pretty easy to prepare. You could easily prepare ahead and just pop it in the oven when you are ready. If it comes out of the refrigerator I would cook it for at least 10 minutes longer.

TO PIN YOU MUST BE IN THE ACTUAL POST, NOT THE HOME PAGE.