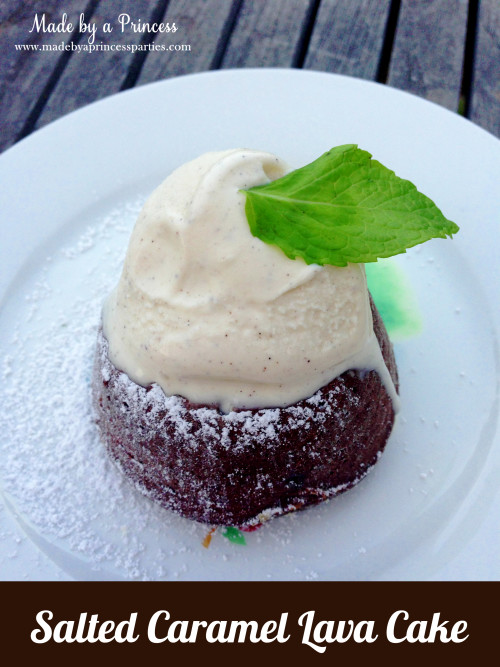 One of my favorite flavors right now is salted caramel. The saltier the better!  Last year my husband planned a wonderful meal for Mother's Day with my favorite cut of meat in the world, Burgundy Pepper Tri-Tip from Seaside Market in Cardiff (aka Cardiff Crack – no joke), Trader Joe's macaroni and cheese, and asparagus.  When he asked me what I wanted for dessert I said, "I got this!"  I think this is going to be a new Mother's Day tradition.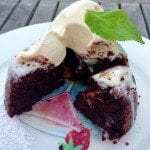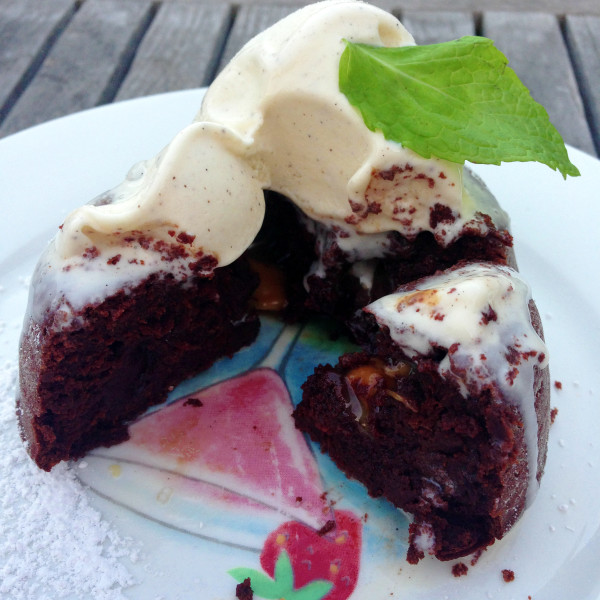 Salted Caramel Lava Cake
Ingredients
4

oz

bittersweet chocolate

4

oz

dark chocolate

1

stick of butter

3

eggs

1/3

cup

flour

½

cup

sugar

1

tsp

vanilla extract

8

caramel squares

soft caramels work best but if you can't find them the packaged caramel squares from the store are fine

Sea salt
Instructions
Grease and butter ramekins or other small oven safe dishes. I used my little glass Arcoroc bowls. Place dishes on a baking sheet and set aside.

In a medium bowl beat eggs and sugar until smooth, about 2 minutes. Add vanilla and incorporate well. Set aside. Melt chocolate and butter in a double boiler and stir over medium heat until smooth. Slowly pour chocolate and butter mixture in medium bowl with the eggs and sugar and whisk until well incorporated. Add flour and mix well.

Cut squares of caramel into small pieces and roll in sea salt. Fill cups about ½ way with batter and place caramel pieces in the middle. Pour more batter on top and until the bowl is about 2/3 full. Place in 425 degree oven for about 12-14 minutes.

If you don't like salted caramel you can still use this recipe to make molten lava cake. You can also place a York patty or peanut butter cup or chocolate chips in the middle instead.
[Tweet "If you are a salted caramel and chocolate fan this is the recipe for you! #saltedcaramel"]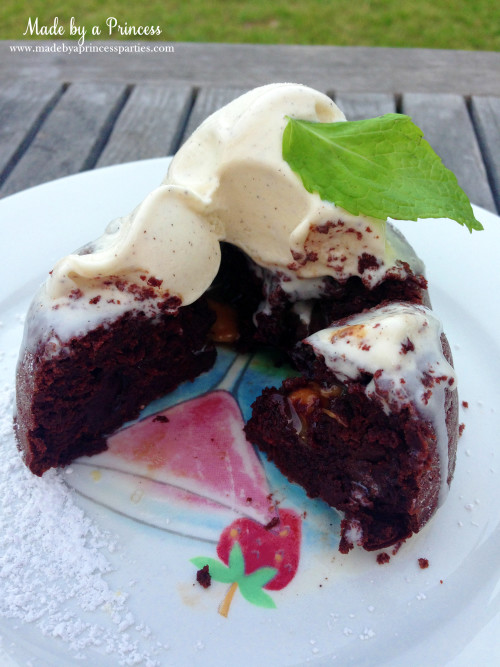 Have fun and enjoy!