So, this was supposed to go up as a What I Made Monday but they didn't actually get done until almost midnight so this is now a Ta-Da! Tuesday craft. It is really is more ta-da! anyway.
Since it is against school policy to bring in things that are not store bought (lame!) I had to come up with something other than food related. Before anyone gets all mad at me, I get it, there are health concerns, allergy issues, etc etc. I get it. But, still, boo! I have always loved making things for his class events. Whatever. I'm over it, moving on.
Ok, so in one of my many trips to Michael's last month I found packages of Mary Engelbreit pencils in the $1 bin. Five for a $1 actually. Scooped up six packages not really knowing exactly what I was going to do with them. After finding out last night from the room mom that those candy treats were a no go I had to go with Plan B which were these cute pencils. These were super easy to create! I originally had a cute picture of Santa in the middle, then remembered these were 4th graders…not wanting my son to be teased for something being "babyish" I changed it to Angry Birds. Not very Christmasy but age appropriate. Glenn liked them but asked if we could change it to a picture of Lego Ninjas. Well, as long as we're not sticking with the Christmas theme – why not? A little Google searching and done. He loved them.
Got out my 2.5″ circle punch, .25″ hole punch, little scissors for scoring and was ready to get to work. This is the final product. I already had the cardstock on hand so these ended up costing less than $.25/pencil.
Please excuse the grainy photo – I had to use my iPhone since my Nikon apparently is requesting a recharge before she performs again.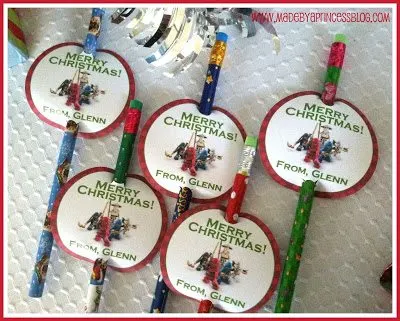 I will be making some Valentine's tags and putting them in my shop next month.
The first five people to comment will receive a set of FREE PERSONALIZED VALENTINE'S DAY PENCIL TAGS. Don't forget to leave me your email address and join my site!
Merry Happy Everything!

TO PIN YOU MUST BE IN THE ACTUAL POST, NOT THE HOME PAGE.
I'm partying with: