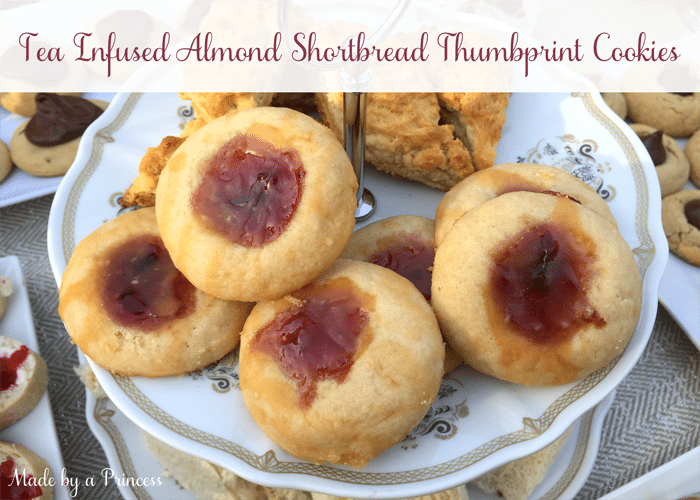 Have you ever had tea infused cookies or butter? Many haven't and I know it sounds fancy, it is kinda, but it's not a difficult kind of fancy. It is actually really easy and a little life to an old recipe. Last year I threw a Baby is Brewing Tea Party and had quite a bit of tea left over so I started experimenting. I found that I really liked tea infused butter on my scones and I really really liked tea infused almond shortbread thumbprint cookies. For my Downton Abbey inspired Cookie Exchange I decided to make these cookies for my friends. Might have to add these to my regular tea party rotation now!
The beauty of these cookies is that you can choose any flavor tea and preserves you like. I chose Downton Abbey Holiday Cheer tea and Downton Abbey Christmas Preserves from World Market because they are both festive and would complement one another.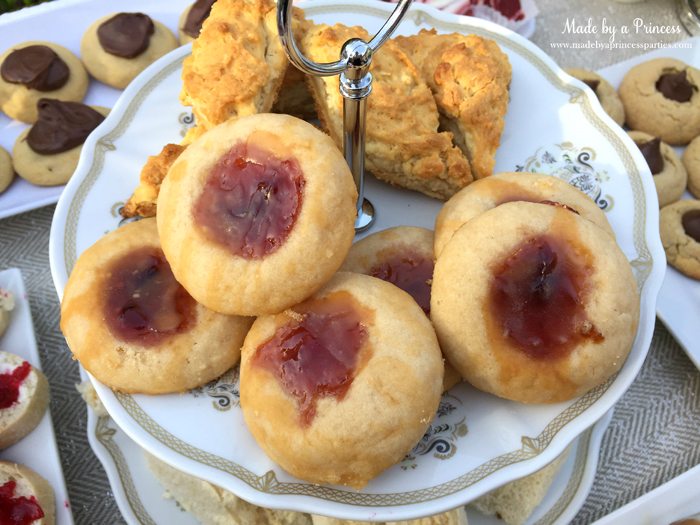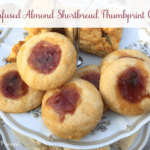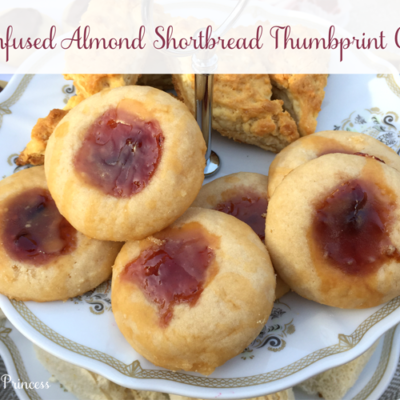 Tea Infused Almond Shortbread Thumbprint Cookies
Ingredients
3

tea bags

steeped in 1/4 cup boiling water

1

cup

softened butter

1/3

cup

granulated sugar

1/3

cup

brown sugar

1.5

cups

all purpose flour

1/2

cup

almond flour

1/2

tsp

vanilla extract

1

tsp

almond extract

3

tbsp

steeped tea

For Glaze:

1

cup

powdered sugar

add more if glaze is too runny

3

tbsp

steeped tea

2

tsp

almond extract

1/3

cup

approx World Market Christmas Preserves
Instructions
In a medium now beat butter on low until smooth.

Add sugars, extracts, and tea and continue to beat until well incorporated.

Slowly add flours and beat until well mixed.

Cover and chill in refrigerator about an hour. The dough should be firm enough to make balls.

Once dough is ready, roll dough into balls about the size of a meatball and place on a cookie sheet.

Don't place dough balls too close to each other. Make a dent in the middle of each ball with your thumb or the back of a spoon. You want to create a little well for the preserves.

Bake at 350 for 10 -12 minutes. Keep an eye on the first batch so they don't overcook.

While cookies are baking prepare the glaze. In a small bowl put powdered sugar, tea, and extract and stir until all clumps are gone and glaze is smooth.

If glaze is too runny add powdered sugar by the tablespoon until desired thickness is reached. You want it thin enough to drizzle but not so thin it makes a big mess.

Drizzle glaze across cooled cookies and let sit until glaze has hardened.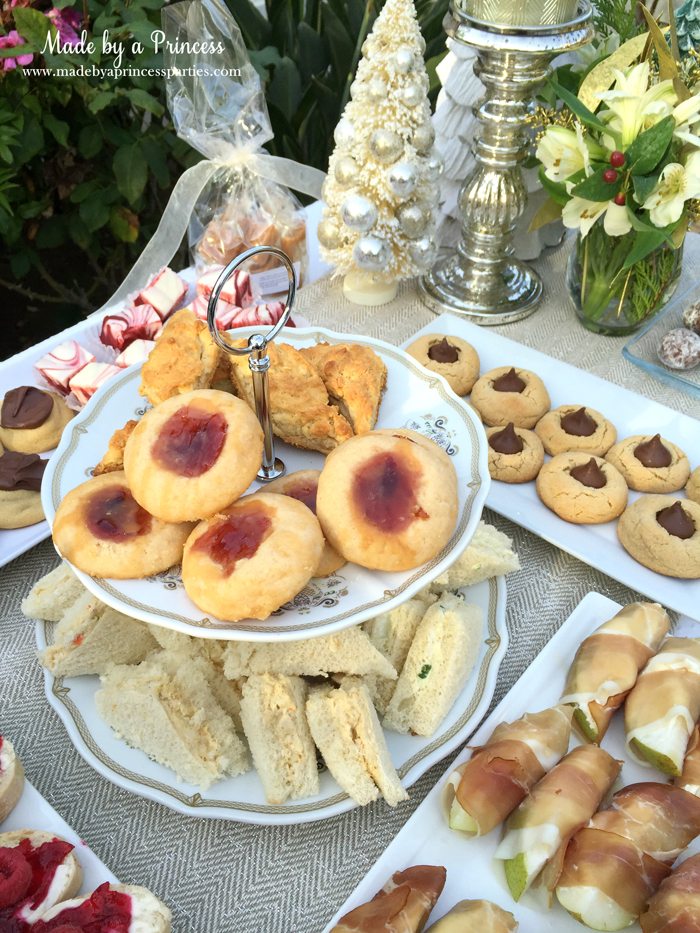 I served these cookies with Benedictine cucumber sandwiches, coronation chicken sandwiches, mascarpone and homemade cranberry sauce on baguette, mascarpone and prosciutto wrapped pear slices with a honey and sea salt drizzle. You can see the all the pictures from the COOKIE EXCHANGE TEA PARTY HERE.
Happy Holidays!