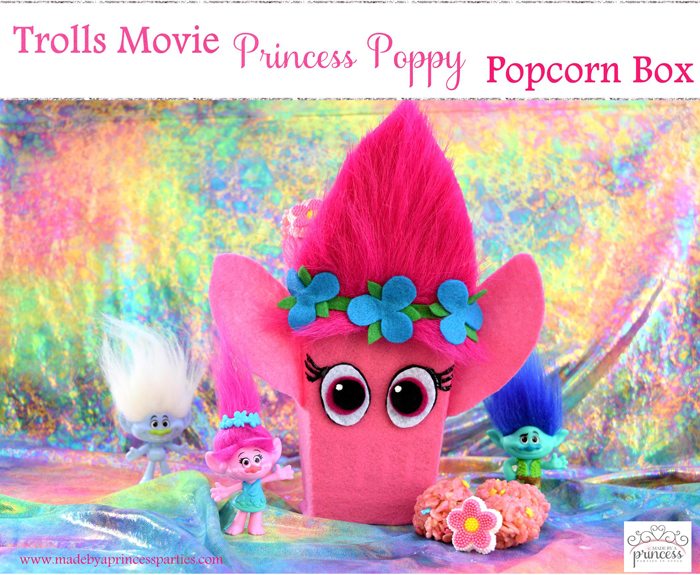 Are you ready to sing and dance and hug and sing and dance hug and then sing and dance and hug some more?! The Trolls movie is coming out and I am so excited I just can't stand it! Princess Poppy is the happiest of the happy trolls and she loves everything about everyone and is positive all the time. When Laura Kelly Walters invited me to be a part of her Popcorn Box Party this year I knew I had to create my box to look like Poppy because she's pink, fun, she loves to party, and she would do anything for her friends and family. Princess Poppy is pretty awesome. I am super excited to bring you my Trolls Movie Princess Poppy Popcorn Box today along with inspiration from a bunch of my other blogger friends!
I was lucky enough to see a preview of the movie today and I was grinning from ear to ear as I left the theater, tapping along with the music, and feeling like I just had to see it again. It is adorable! Poppy is my favorite for so many reasons. She's like everything I would like to be. She's happy all the time, she sings, she dances, she sees the best in everything and in everyone, and she has a secret scrapbook and glitter compartment in her dress that she carries with her at all times. It's very impressive. I can't wait til November 4th now so I can go see it again…and again…and again…oooooohhhhh it's so gooooood! Can we talk for just a second about "the song". You know the one right? Justin Timberlake's new song? "Can't Stop the Feeling?" My absolute favorite song right now. Favorite. Song. Right. Now. It is our jam. Like our family jam. When that song comes on we, as a family, start singing and dancing, and have our own little dance party. I went and bought the Trolls Soundtrack today so right now as I'm writing I am listening to JT singing about sunshine in his pocket and good soul in his feet…I feel you JT…sing it!
Here's a pic of JT, I mean Branch, waving at you…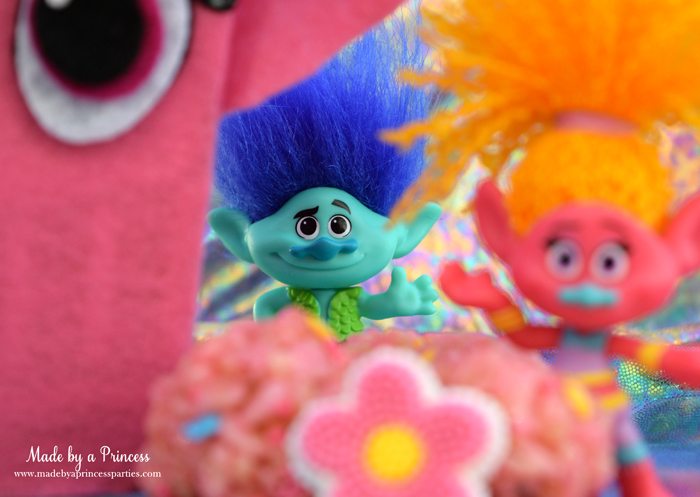 So, my popcorn box…I knew I had to create Poppy.  I am going to create Branch too so be on the lookout for that guy too! I created Poppy out of felt and pink fur fabric. I used two sheets of pink felt and traced the box, cut it, and then hot glued the pieces to the box. The eyes were the trickiest part. I free hand cut each piece. I really should have found a picture of Poppy online, printed it, and then either used it as a guide for the felt OR just pasted the paper eyes on the box. It will take you a lot less time if you find a picture of Poppy, blow it up a bit, print, cut her eyes, and paste.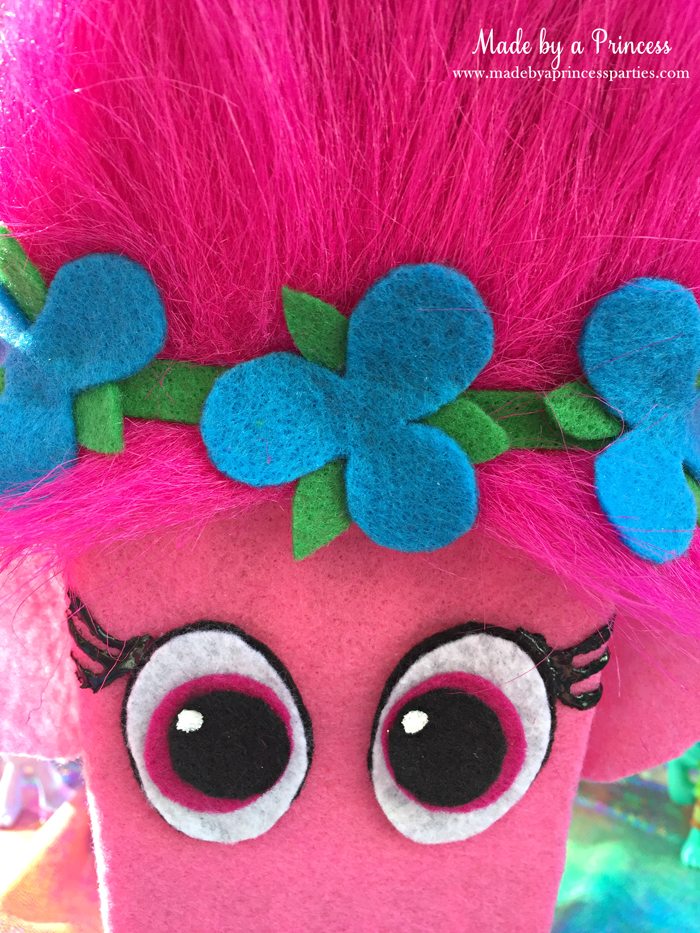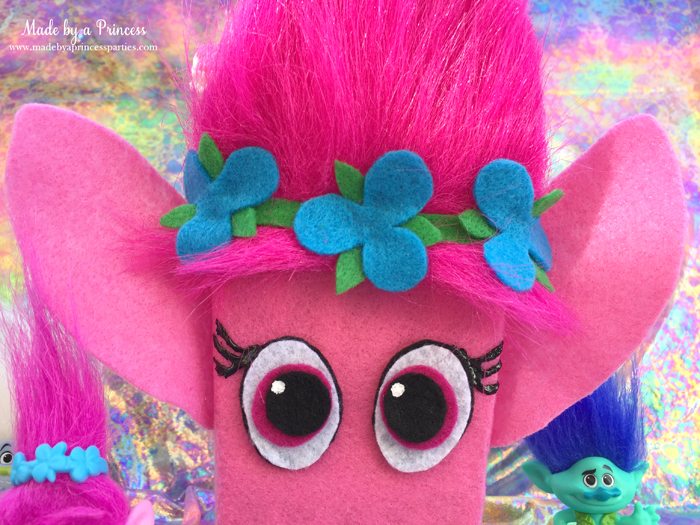 I could have easily made pink popcorn but I instead made pink rice krispie treat balls that I like to call Poppy's Pink Positivity Puffs. I hadn't made RKT in so long I had forgotten how much I liked them!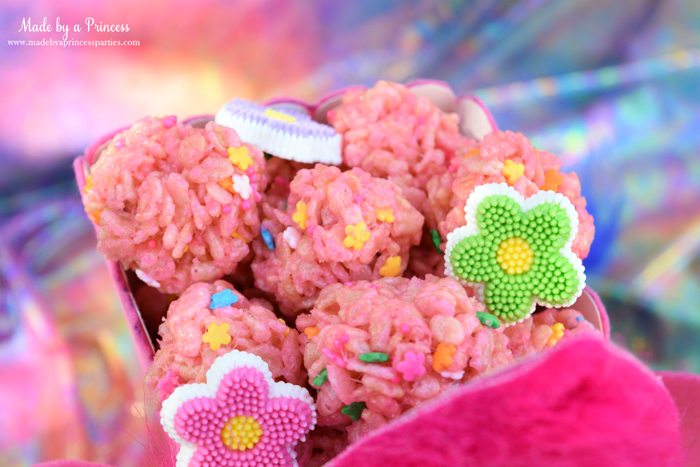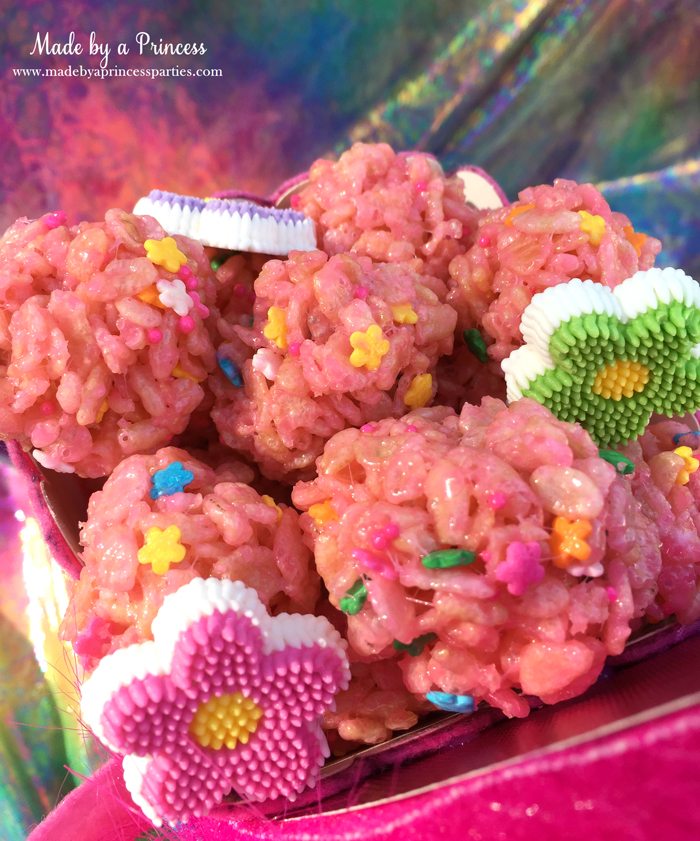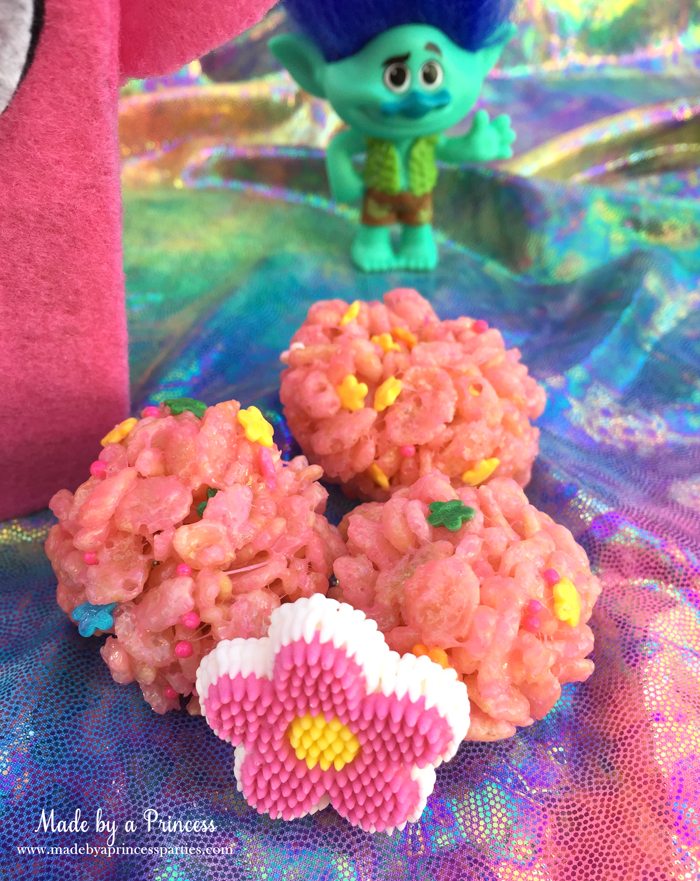 DJ Suki decided to take one for a spin…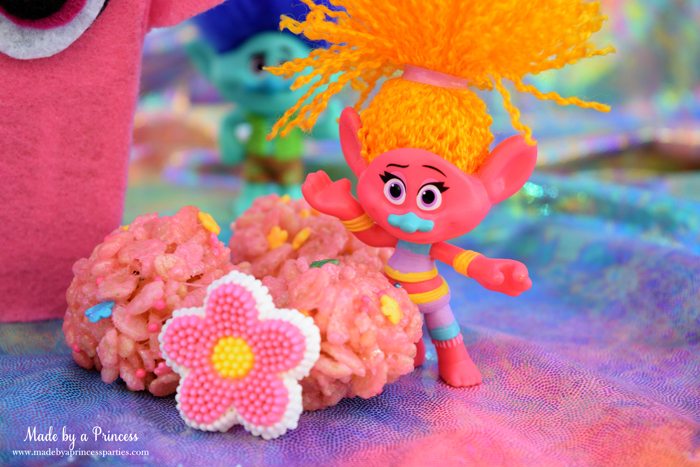 Poppy is just so happy!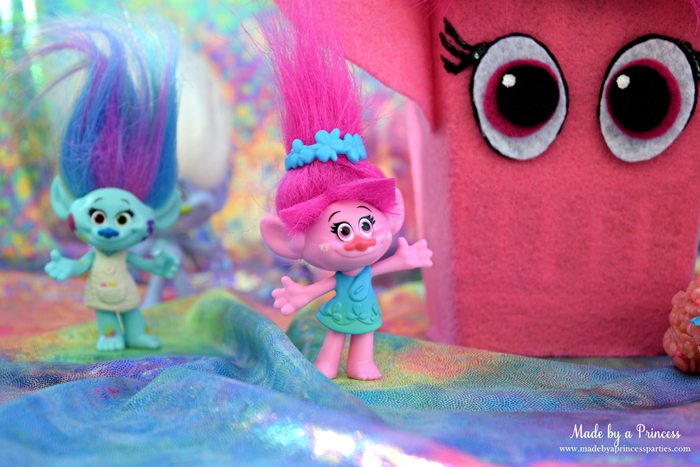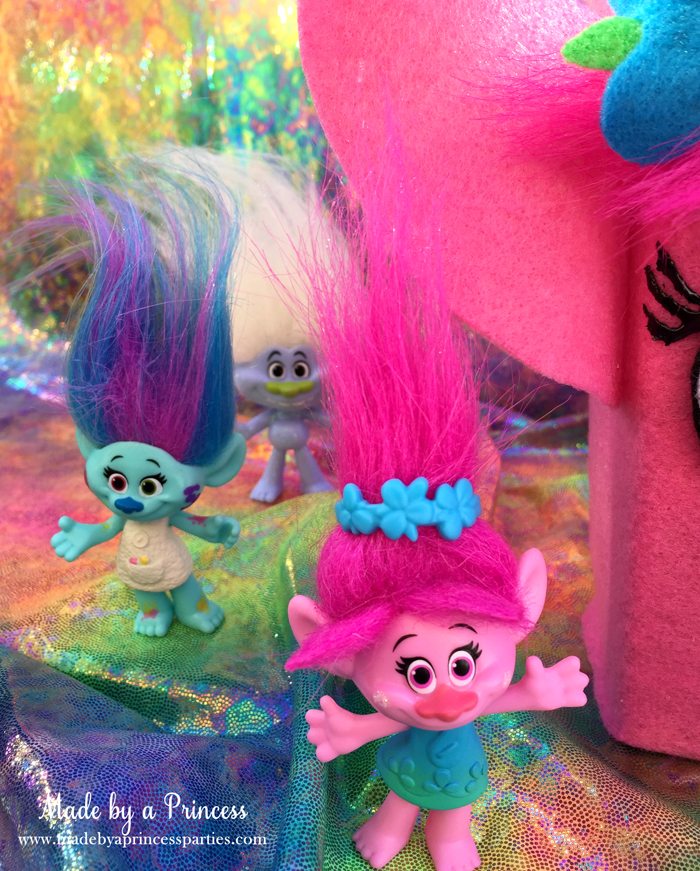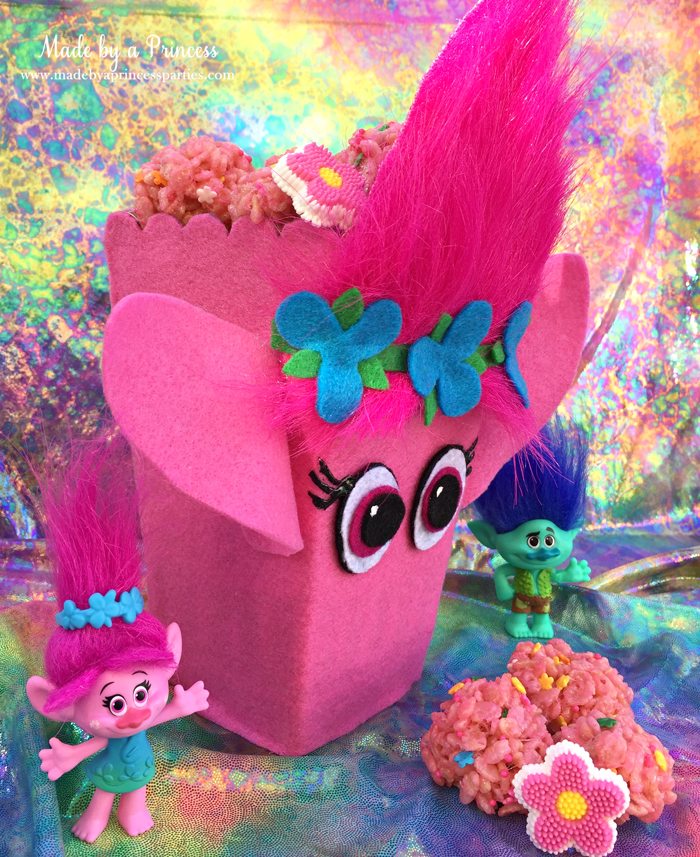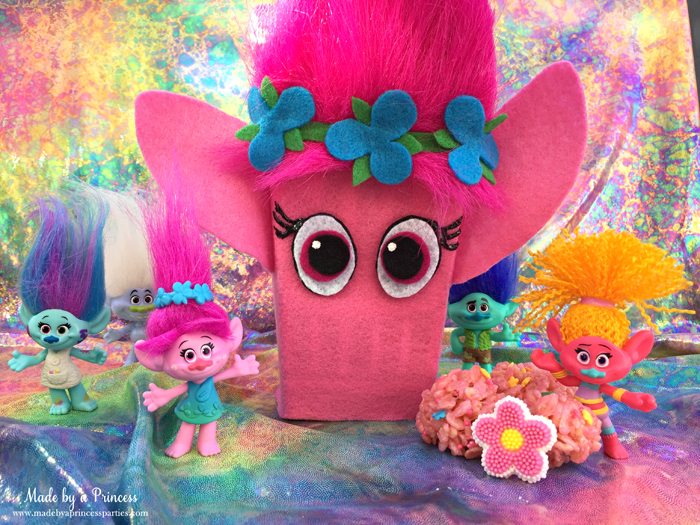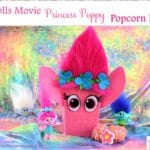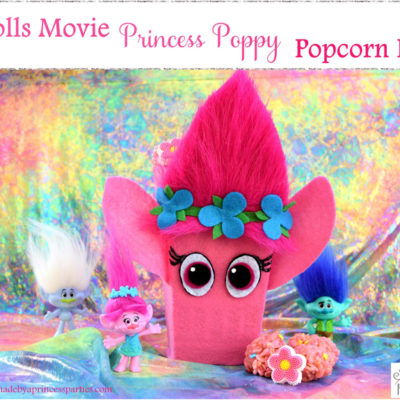 Trolls Movie Princess Poppy Pink Rice Krispie Treats
Ingredients
5

cups

rice crisp cereal

5

tablespoons

butter

1/4

tsp

salt

1/2

tsp

vanilla extract

40

marshmallows

not minis

OR

4

cups

mini marshmallow

pink food coloring

mini flower sprinkles

pink sprinkles
Instructions
Melt butter over low heat in a large saucepan. Slowly add marshmallows stir constantly until completely melted.

Remove from heat and add salt, vanilla extract, and food coloring. You only need a few small drops of food coloring so don't overdo it.

Add rice crisp cereal and stir well until cereal is completely coated in marshmallow mix. Add sprinkles.

Line a cookie sheet with wax paper.

Make small, about one inch sized, balls of rice crisp treats and set on wax paper to cool and harden a bit.

Rice crisp treats are best if served the same day but can be stored. Store in an airtight container.
So now that you have seen what I did with my popcorn box I would love it if you checked out what all of my friends did with theirs because we all did something different! Yep, it's true. Laura and her amazing sponsors sent us a bunch of goodies to decorate our boxes to our hearts content so you are going to see a lot of different themes. Isn't that fun?! Oh! I almost forgot! There's a GIVEAWAY too! You can win a $50 gift card from World Market! I am a World Market Ambassador so I can tell you from first hand experience they are an amazing company and you are going to find some fabulous stuff to buy with that $50! Click the link below to enter.
There was a whole bunch of awesome stuff in the box that www.laurakellydesigns.com sent us…check it out! What would you have made with this haul of goodies?!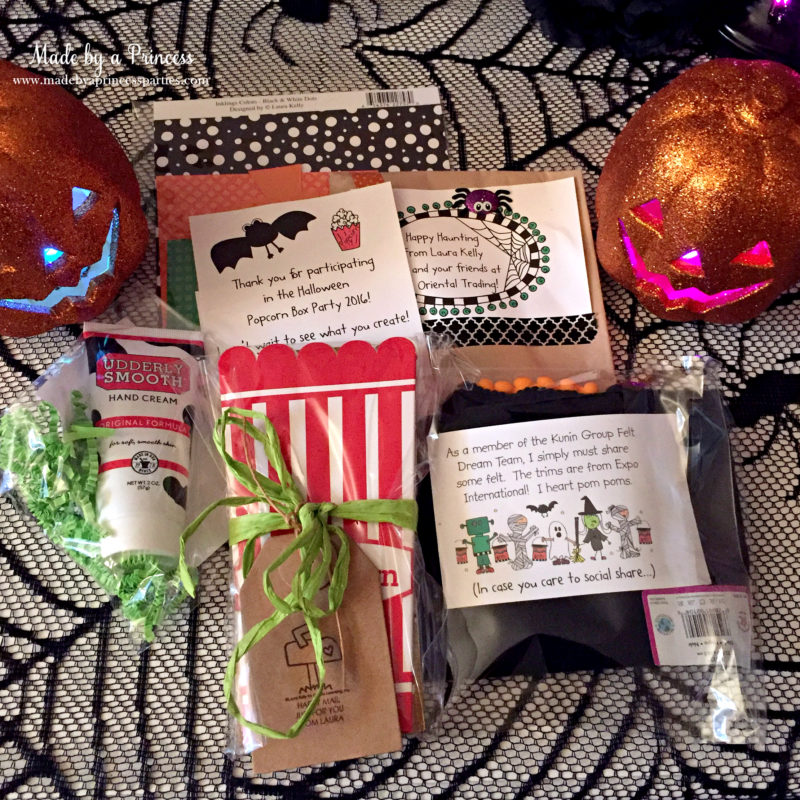 Thank you to our sponsors!
Popcorn Box & S'Mores Bar from World Market
Decorative Papers from Sizzix
Hand Cream from Udderly Smooth
Halloween Pencils & Stickers from Oriental Trading Co.
Felt from wwKunin Group & Trim from Expo International
Linky Code:
Rafflecopter Code: a Rafflecopter giveaway
Thank you for checking out my Trolls Movie Princess Poppy Popcorn Box post and for being here for our #popcornboxparty2016!