Trolls Movie mini rice krispie treats are pink, sweet, and adorable just like Princess Poppy! Get ready for extra hug time when you make these delicious Trolls Movie food snacks in a darling Princess Poppy popcorn box!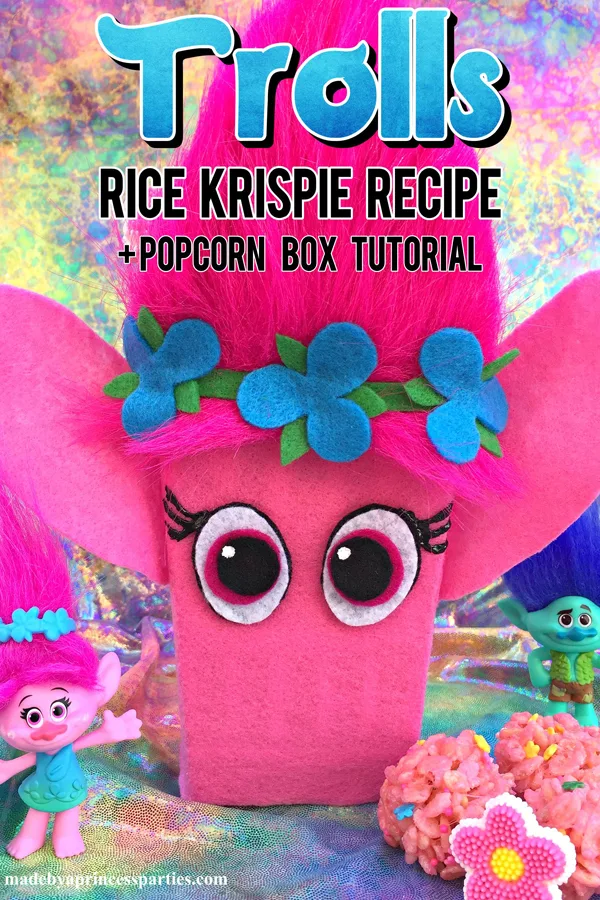 Are you ready to sing and dance and hug and sing and dance hug and then sing and dance and hug some more?! Princess Poppy is the happiest of the happy trolls and she loves everything about everyone and is positive all the time. I am super excited to bring you my Dreamworks Trolls Movie food rice krispie snacks and Princess Poppy Popcorn Box tutorial today!

*post contains affiliate links
Trolls Movie Food Idea
When we left the theater after seeing "Trolls" I remember grinning from ear to ear, tapping along with the music, and feeling like I just had to see it again. It was adorable! Poppy was (and still is) my favorite for so many reasons. She's happy all the time, she sings, she dances, she sees the best in everything and everyone. She also has a secret scrapbook and glitter compartment in her dress that she carries with her at all times which I think is very impressive.
Trolls Movie Song "Can't Stop the Feeling"
Can we talk for just a second about "the song". You know the one right? Justin Timberlake's new song? "Can't Stop the Feeling?" One of my absolute favorite songs. It's also our family jam. When that song comes on we, as a family, start singing and dancing, and have our own little dance party. I'm listening to JT singing about sunshine in his pocket and good soul in his feet…I feel you JT…I feel you.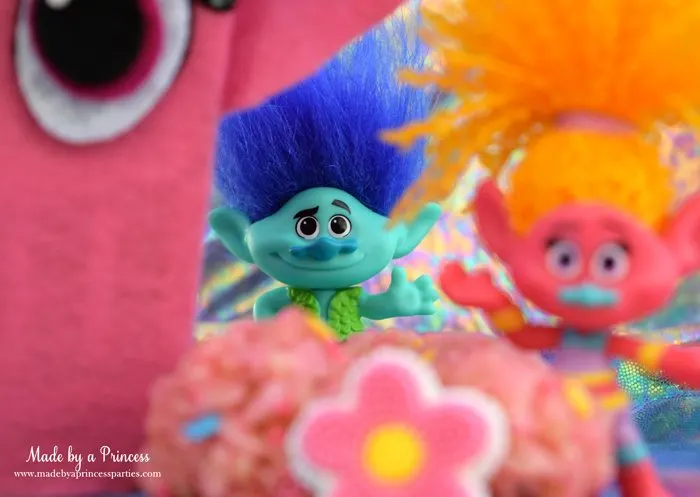 Princess Poppy Popcorn Box
Before I get into how to make the pink Princess Poppy rice krispie treats, let's talk about this Princess Poppy popcorn box. When you are done you can fill it with any kind of Trolls Movie food, cotton candy, or other fun party favors. For this tutorial you will need:
How to Make a Princess Poppy Popcorn Box
Flatten the popcorn box and trace around it on a sheet of pink felt. Do this two times. Cut pieces out.
Open the box and hot glue the pink pieces to the outside of the popcorn box
Trim a piece of pink fur to look like Poppy's hair, approximately 5″ tall
Cut two Princess Poppy ears out of pink felt (free hand like elf ears), about 3″ long
Now make the eyes by cutting (2) black felt ovals, (2) white felt ovals, (2) pink circles, and (2) black circles
Cut (3) tri-petal flowers out of turquoise felt and (3) tri leaves out of green felt
Cut a strip of green felt for the headband
Assembling the Popcorn Box
Glue pink fur on the front of the box. Push a bit of the fur towards the bottom down a little so they look like bangs. Next, glue headband, flowers, and leaves on the fur.
You can free hand the eyes or find a picture of Poppy online and use it as a guide. Once you have glued the eyes on the box, make eyelashes using your puffy fabric paint. Don't forget the little white glimmer in her eye using puffy white fabric paint.
Finally, glue Poppy's ears on the side of the box kind of towards the front. I recommend folding the edge you are gluing to the box just a bit. You can see how an example below.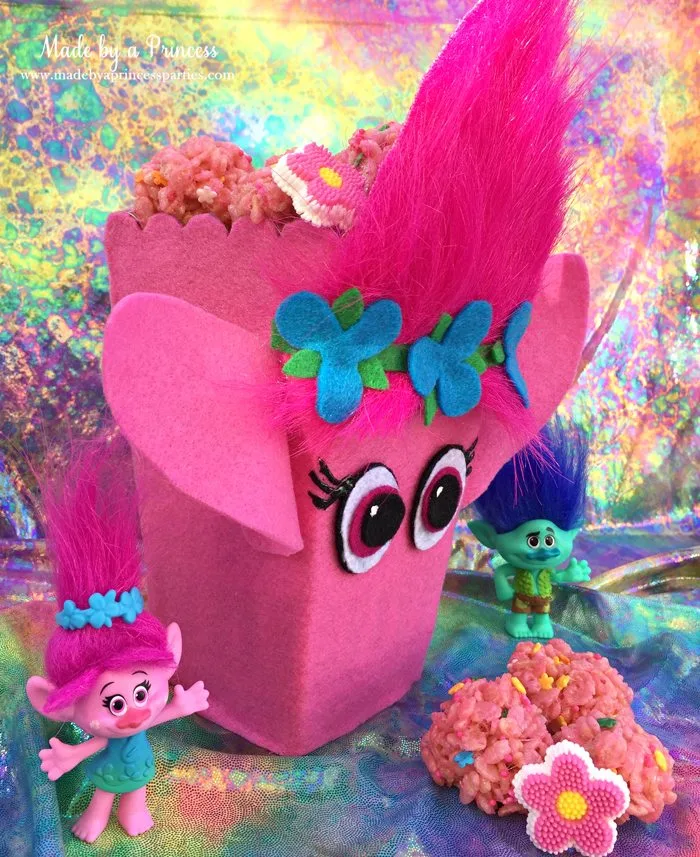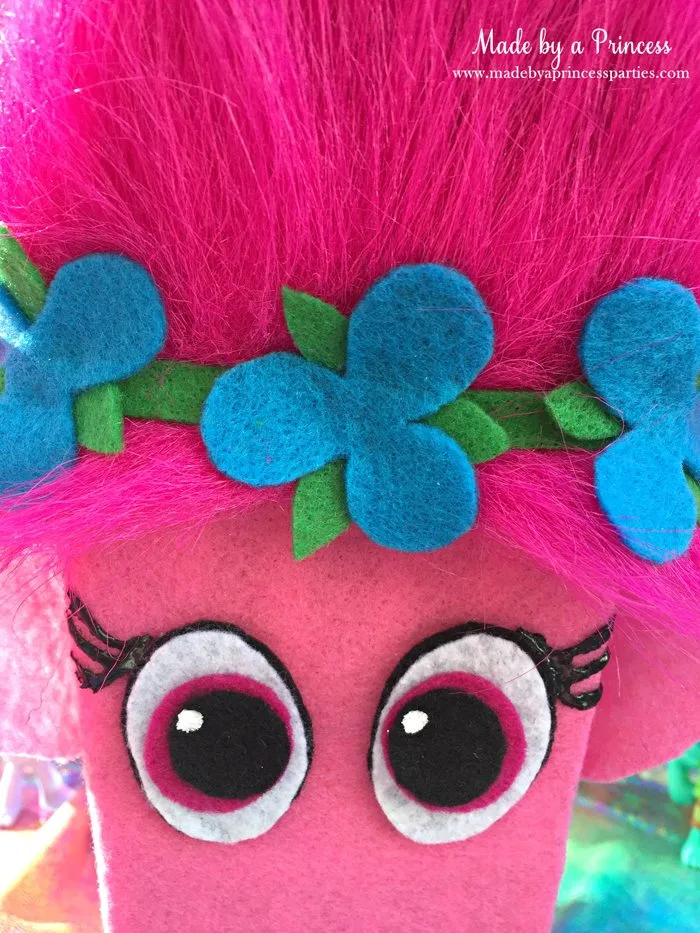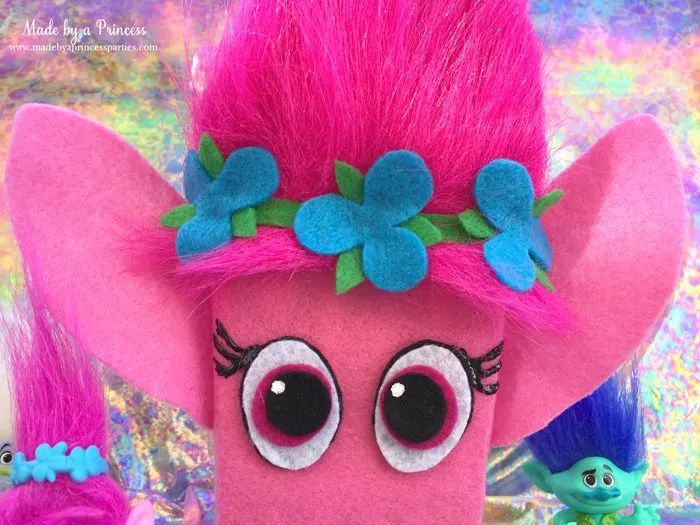 Trolls Movie Food Mini Pink Perfect Rice Krispie Treats
I call these mini pink rice krispie treat balls Poppy's Pink Positivity Puffs. What you need to make these rice crispy treats:
Rice Krispie Cereal
Marshmallows
Butter
Cooking spray
Salt & vanilla extract
Wax paper
If your kids are like mine and they don't like RKT, you can easily make Trolls popcorn using my pink popcorn recipe, flower sprinkles, and edible glitter instead. Trolls Movie popcorn served in this Princess Poppy popcorn box would be adorable!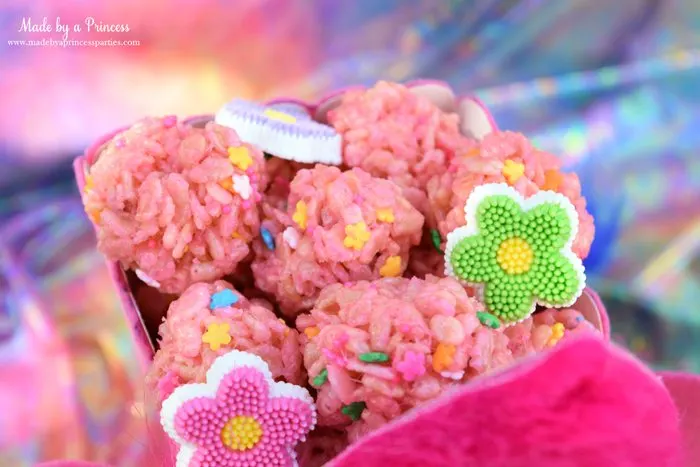 These are really simple to make and something the kids can do with you. First, melt room temperature butter over medium heat. Slowly add marshmallows and stir constantly. (Throw in a few extra marshmallows in you like!)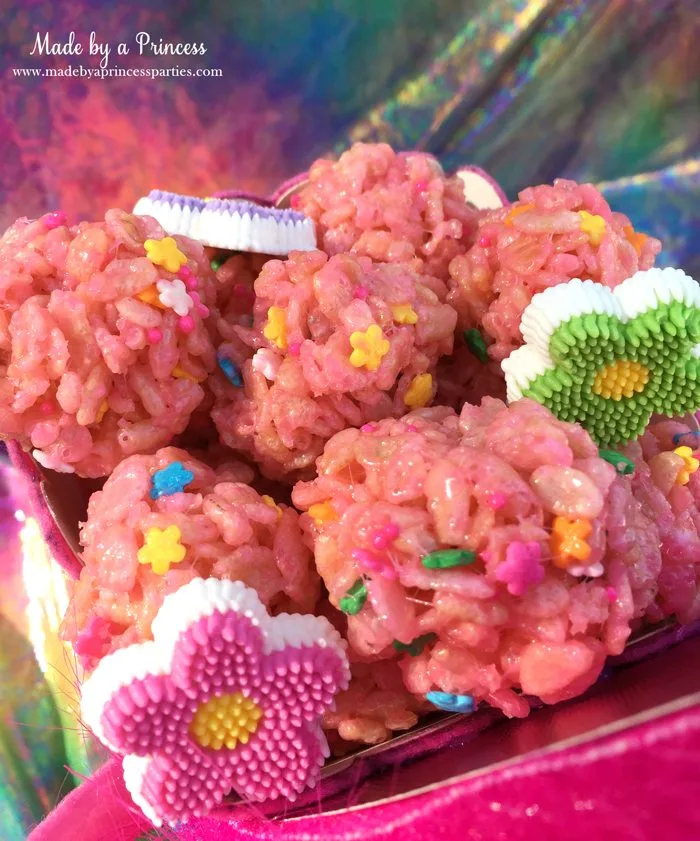 Next, remove from heat and add salt, vanilla extract, and food coloring. Just a few drops will do. Then, add rice crisp cereal to melted marshmallow mixture and mix well. Now add sprinkles.
Finally, roll mixture into inch sized rice krispie treat balls and place on wax paper. You can spray your hands with cooking spray to prevent the mixture sticking to your hands.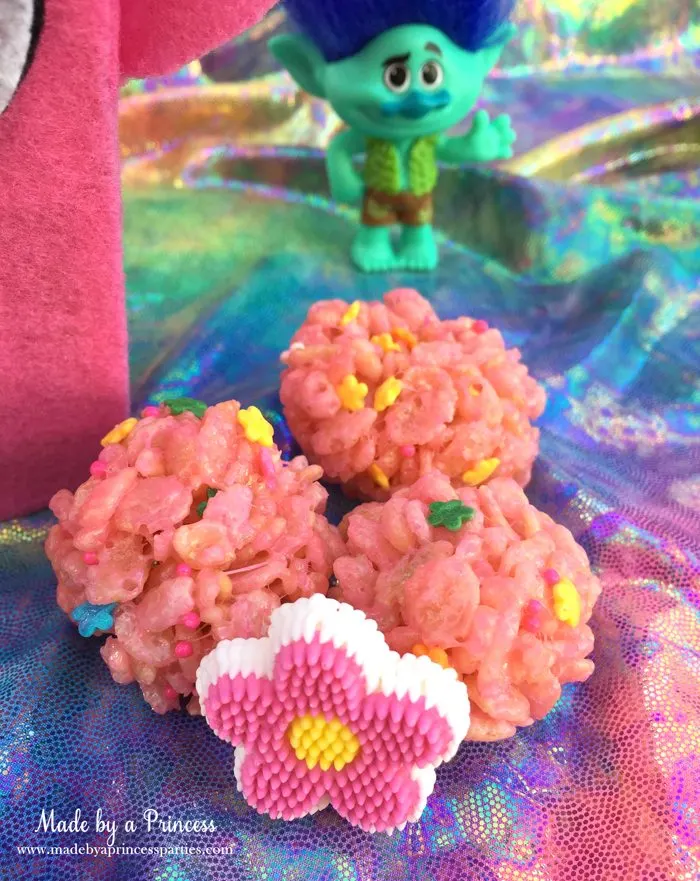 DJ Suki decided to take one for a spin…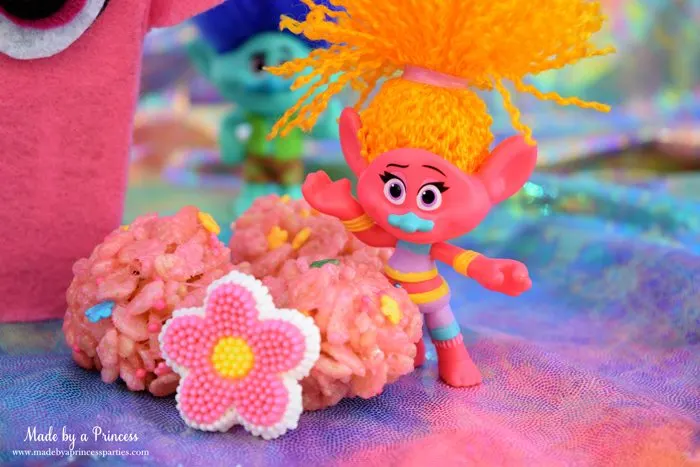 Poppy is just so happy!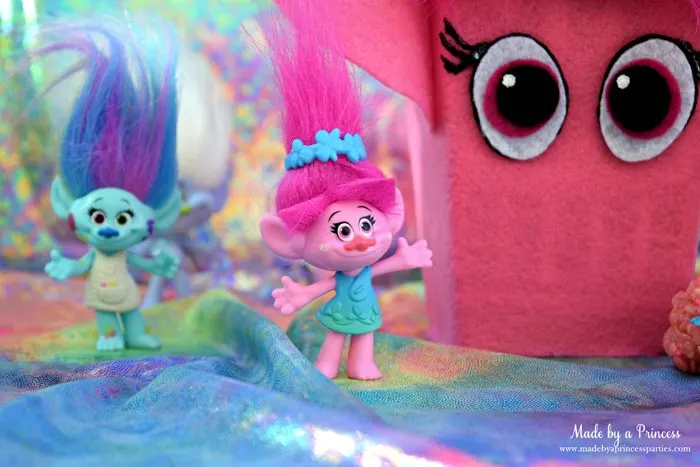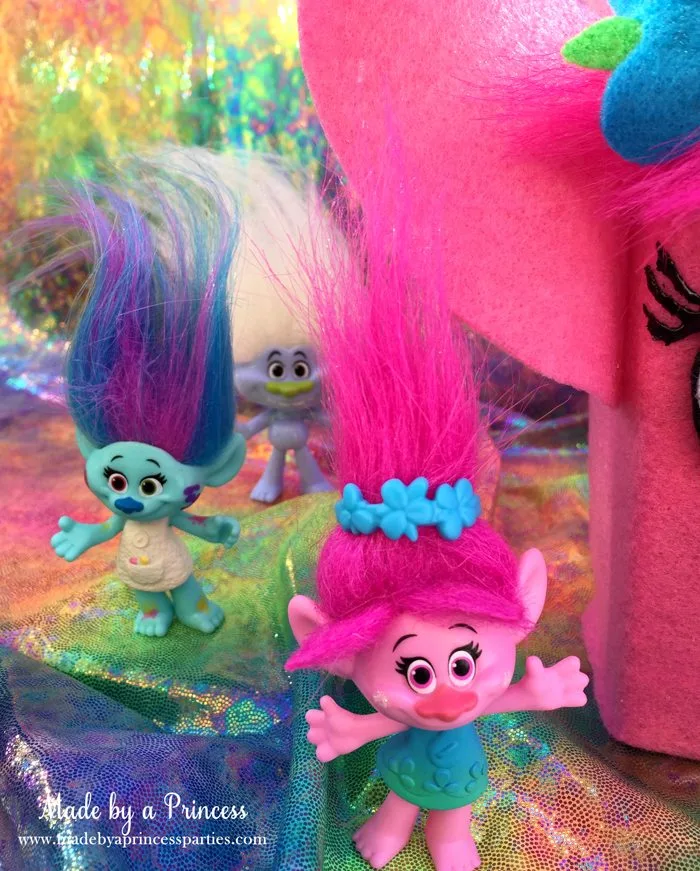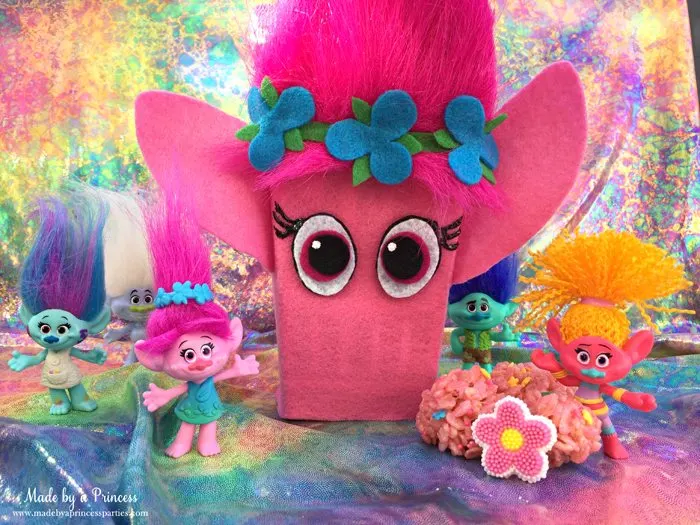 Trolls Movie Food Mini Rice Krispie Treats Recipe
So now that you have seen what I did with my popcorn box I would love it if you checked out what all of my friends did with theirs because we all did something different!
Thank you for checking out my Trolls Movie Food & Princess Poppy Popcorn Box post idea!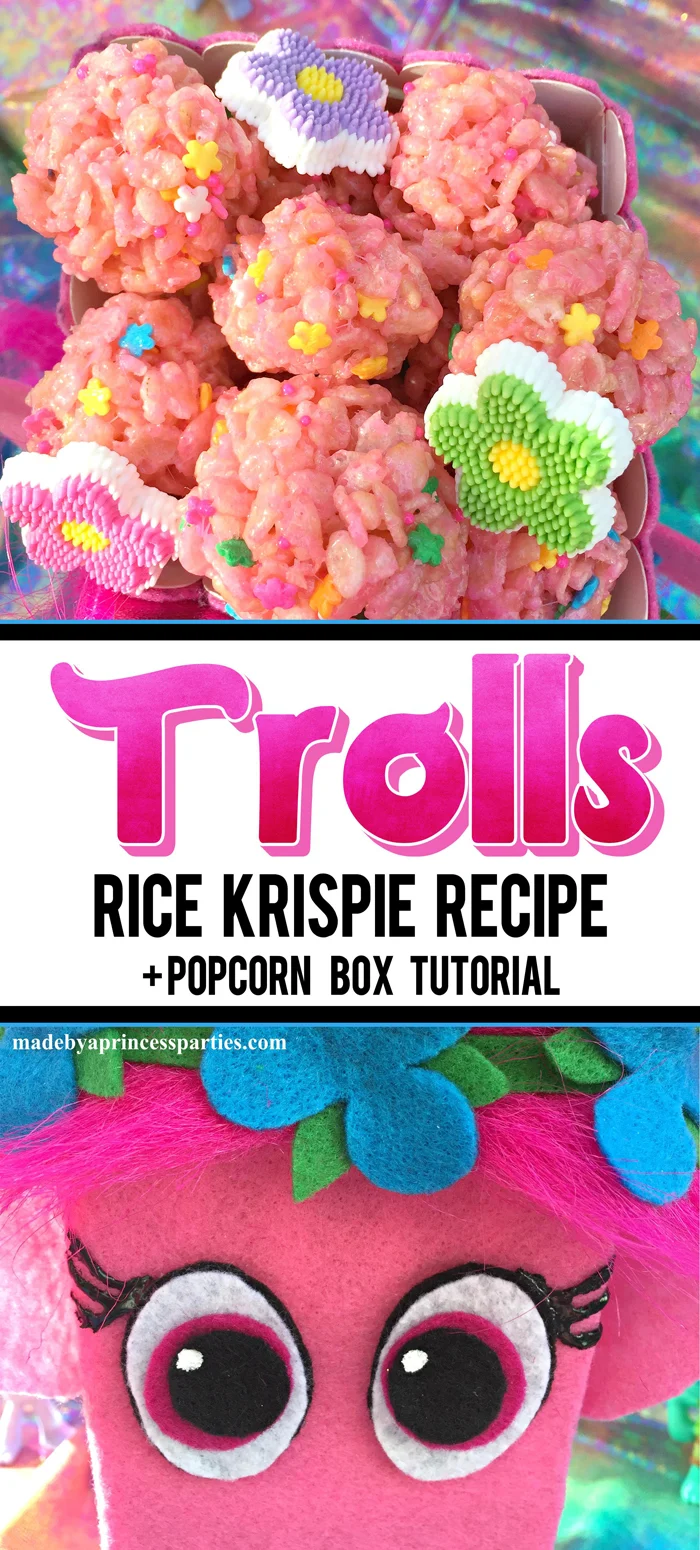 Originally published October 16, 2016
Updated April 8, 2020
Thank you to our sponsors!
Popcorn Box & S'Mores Bar from World Market
Decorative Papers from Sizzix
Hand Cream from Udderly Smooth
Halloween Pencils & Stickers from Oriental Trading Co.
Felt from Kunin Group & Trim from Expo International